25 Best Trader Joe's Foods of All Time
The neighborhood grocery store chain is a treasure trove of countless sought-after items.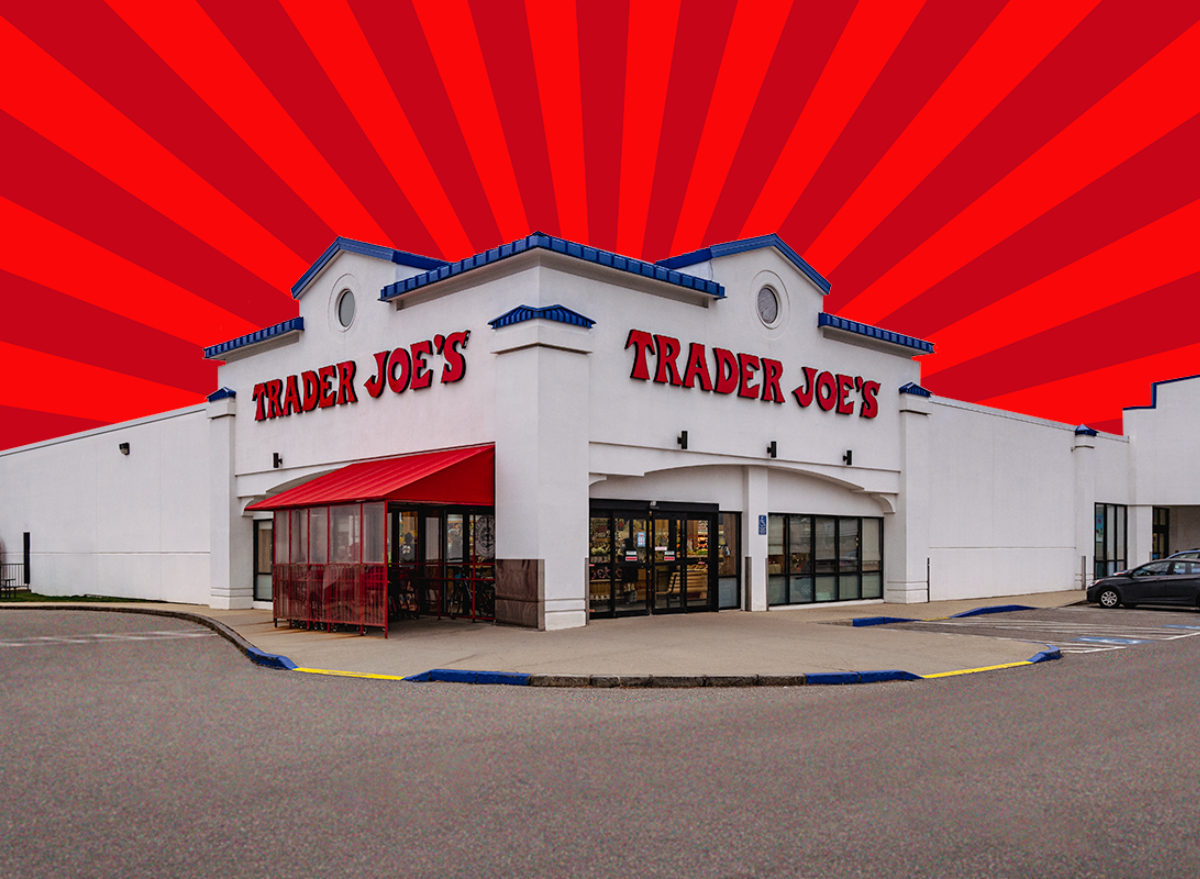 Since its 1967 founding in Pasadena, Calif., Trader Joe's has evolved into an iconic grocery store brand that shoppers have connected with on an emotional level. Between its exceptionally friendly employees, ever-evolving product offerings, and laid-back environment, there are many different elements that drive its fierce customer loyalty. TJ's affordable prices are another big draw. The supermarket chain's famous Charles Shaw wine—once dubbed "Two Buck Chuck" for its original $1.99 price tag—currently sells for the low price of $4.49.
As Trader Joe's continues to grow its presence across the United States, it also remains committed to engaging shoppers. One way it does this is by holding annual Customer Choice Awards, calling on fans to vote for their favorite products across various categories. Some of these items were such consistent winners that this year, the grocer placed them in a Product Hall of Fame to give them "their due recognition" while simultaneously providing other items with the chance to win the yearly contest.
Whether you need an impressive appetizer, a quick and easy meal, or a special occasion dessert, TJ's has it all. Taking both contest accolades and social media commentary into account, here are some of the best foods at Trader Joe's.
Mandarin Orange Chicken
This frozen food is so popular that its multi-year reign as the "Favorite Entree" and "Favorite Overall" in the Customer Choice Awards earned it a spot in Trader Joe's Product Hall of Fame. The ready-to-heat meal consists of chunks of crispy breaded chicken with a mandarin orange ginger sauce.
In addition to shoppers declaring it their favorite frozen item on Reddit, several users offered tips on how to enjoy the dish. While some eat it with rice and vegetables, others recommend pairing it with noodles, adding it to a wrap, or serving it over a salad.
Butter Chicken with Basmati Rice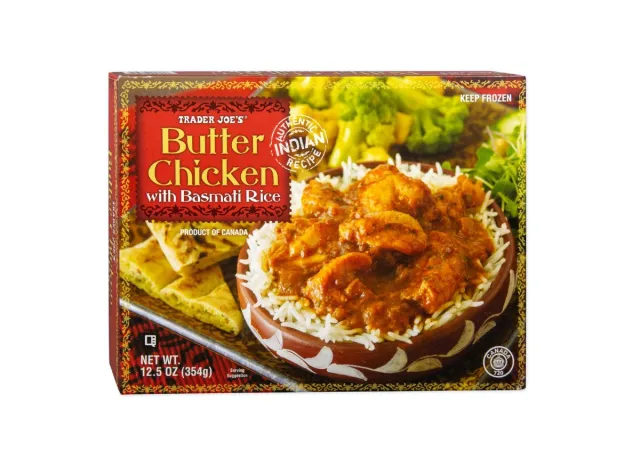 Taking over Mandarin Orange Chicken's spot in the "Favorite Entree" category of this year's Customer Choice Awards is TJ's Butter Chicken with Basmati Rice.
Although some Redditors expressed their disappointment with the item's chicken portion, that didn't stop others from sharing their love for their product. "I would eat this every day if I could and it would be my last meal before dying. so good," one user commented. "Ive bought this at least 200 times," another one added.
Hash Browns
This beloved breakfast food was a runner-up in the "Favorite Overall" category of this year's Customer Choice Awards. It has also been a highly talked-about frozen food on Reddit, with a number of shoppers reporting shortages of the product, along with store-imposed purchasing limits.6254a4d1642c605c54bf1cab17d50f1e
Additionally, within these social media conversations, Reddit users highlighted how the frozen food is dietary restriction-friendly. The listed ingredients don't contain wheat, milk, or beef extract, which can be found in some hash brown products.
Soup Dumplings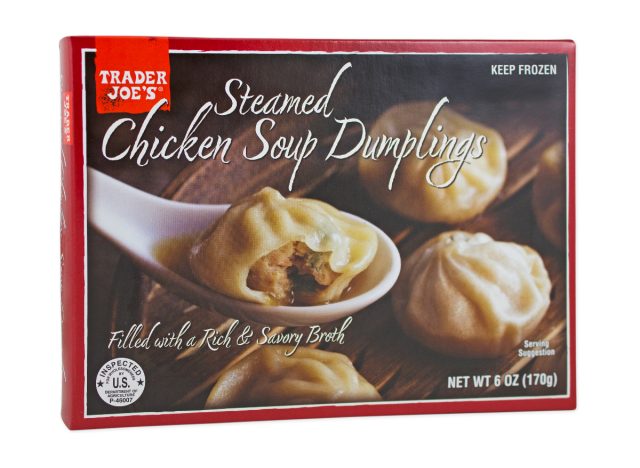 Available in two varieties—Chicken and Pork & Ginger—Trader Joe's Steamed Soup Dumplings have drawn in swarms of fans. While the chicken flavor was a runner-up in the "Favorite Overall" category of this year's Customer Choice Awards, several Reddit users recently said the Pork & Ginger Soup Dumplings are among their top three favorite frozen items from Trader Joe's.
Simply pop the dumplings into the microwave for approximately two minutes, or steam them on the stove for eight to 10 minutes, and enjoy!
Cauliflower Gnocchi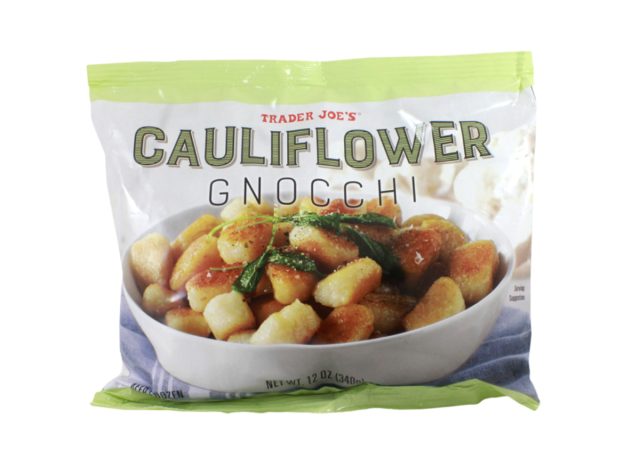 From rice to pizza crust, cauliflower has been taking over packaged foods over the last several years—and gnocchi is no exception. This gluten-free frozen item is made with just five ingredients: cauliflower, cassava flour, potato starch, extra virgin olive oil, and sea salt.
After starting a Reddit thread aimed at gathering tips on how to prepare the Cauliflower Gnocchi, one user wrote, "…holy COW! The cauliflower Gnocchi is literally maybe the most wonderful thing I have tried from Trader Joe's and will be definitely adding it to my routine run to TJ's." While a handful of users recommended air frying or oven-baking the frozen gnocchi, others said to serve it with TJ's Vegan Kale, Cashew & Basil Pesto.
Tarte d'Alsace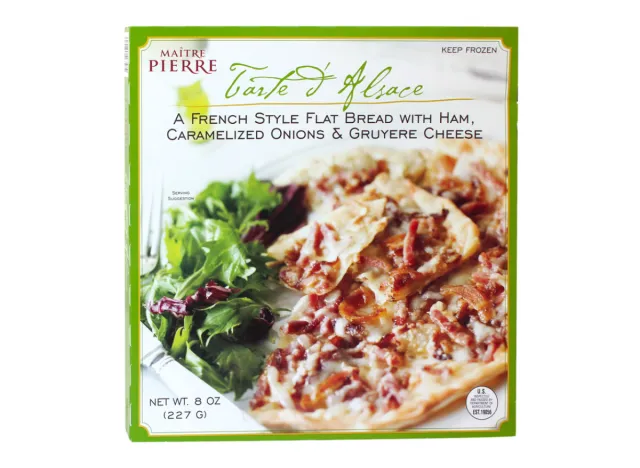 While not technically a pizza, Trader Joe's Tarte d'Alsace received considerable hype in a recent Reddit thread where shoppers identified their favorite frozen pizza from the grocery chain. "Can I nominate a not-really pizza? If so, 100% the Tarte d'alsace...Think: fancy french flatbread, crispy flaky crust, fantastic flavor from the creme fraiche, caramelized onions, gruyere, and ham," one user said.
"One of TJ's best items overall, [in my opinion]. Shockingly true to life to one you'd actually get in Alsace," another one added.
Butternut Squash Mac & Cheese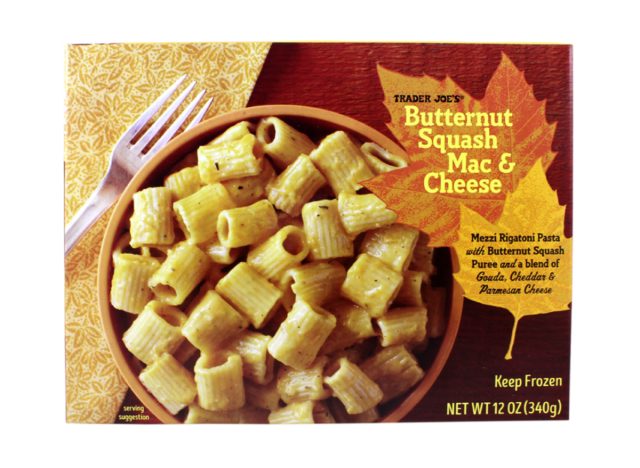 Despite being a limited-time fall item, this frozen food has stayed on customers' minds since its 2017 debut. Back in September, Tara Miller, Trader Joe's Vice President of Marketing, said during an episode of the "Inside Trader Joe's" podcast, "Even though it's only in stores, basically in the fall, it shows up on our Customer Choice Awards every year as a top five favorite because people buy enough of it to stock their freezers for months."
Creamy and comforting, this autumnal product features mezzi rigatoni and a sauce made with cheddar, gouda, parmesan, béchamel, butternut squash purée, and seasonal spices.
Unexpected Cheddar Cheese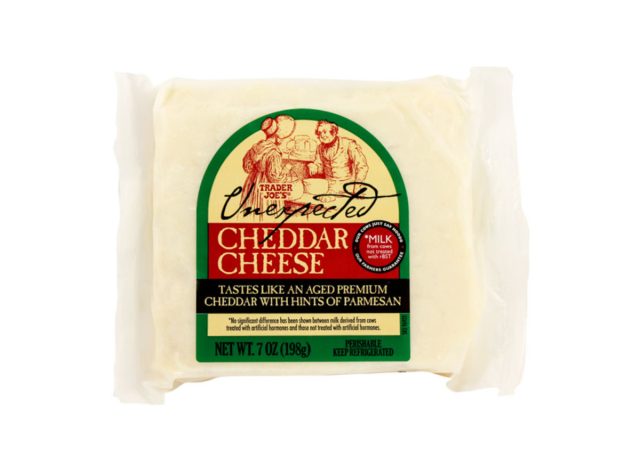 This cherished cheese, which is now sitting in Trader Joe's Product Hall of Fame, has been satisfying customers for years. A few months ago, one Redditor asked the TJ's community to name the grocery chain's best cheese, and Unexpected Cheddar was listed multiple times. "Unexpected cheddar all day, every day, and double it on Sundays!" one user commented. "Every time I buy a variety of cheeses, people eat the Unexpected Cheddar first," another one noted.
According to the Trader Joe's website, "At first bite, it tastes like an aged Cheddar. And then something entirely unexpected happens. The smooth creaminess of the Cheddar gives way to a tangy flavor and slightly crumbly texture, a subtle hint of salt crystallization is discovered, and it begins to taste like an aged Parmesan. Unexpected indeed!"
English Cheddar With Caramelized Onions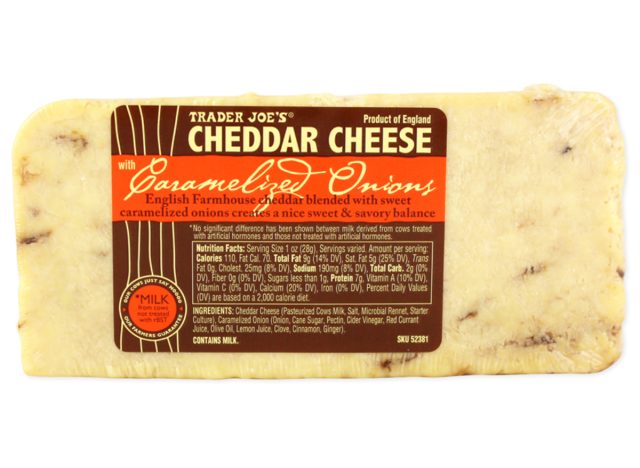 In the same Reddit thread, multiple users raved about Trader Joe's English Cheddar With Caramelized Onions, which also happened to earn the title of "Favorite Cheese" in this year's Customer Choice Awards.
This imported English farmhouse cheddar is blended with caramelized onions, showcasing both sweet and savory flavors. On the product's webpage, TJ's recommends serving it with crackers or bread, incorporating it into cream sauces, or adding it to burgers, grilled cheeses, or pizzas.
Speculoos Cookie Butter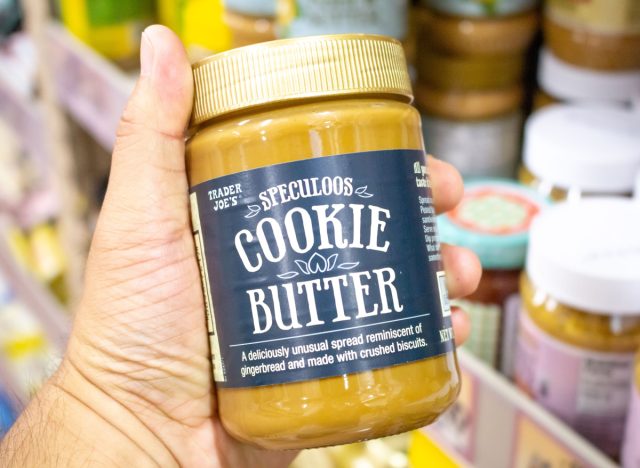 This sweet spread hit Trader Joe's shelves in 2011 and has since transformed into a variety of products, including sandwich cookies, ice cream, beer, and liqueur. The shelf-stable item is made of Speculoos, which are Belgian spiced cookies that have a faint gingerbread flavor.
When a Reddit user posted a photo of an empty cookie butter jar, writing, "I won't allow TJ's cookie butter in my house ever again," others shared similar feelings. At the same time, some offered up what they like to eat with the cookie butter. Examples included pairing it with apple slices, spreading it on toast, and adding it to oatmeal.
Mini Hold The Cone! Ice Cream Cones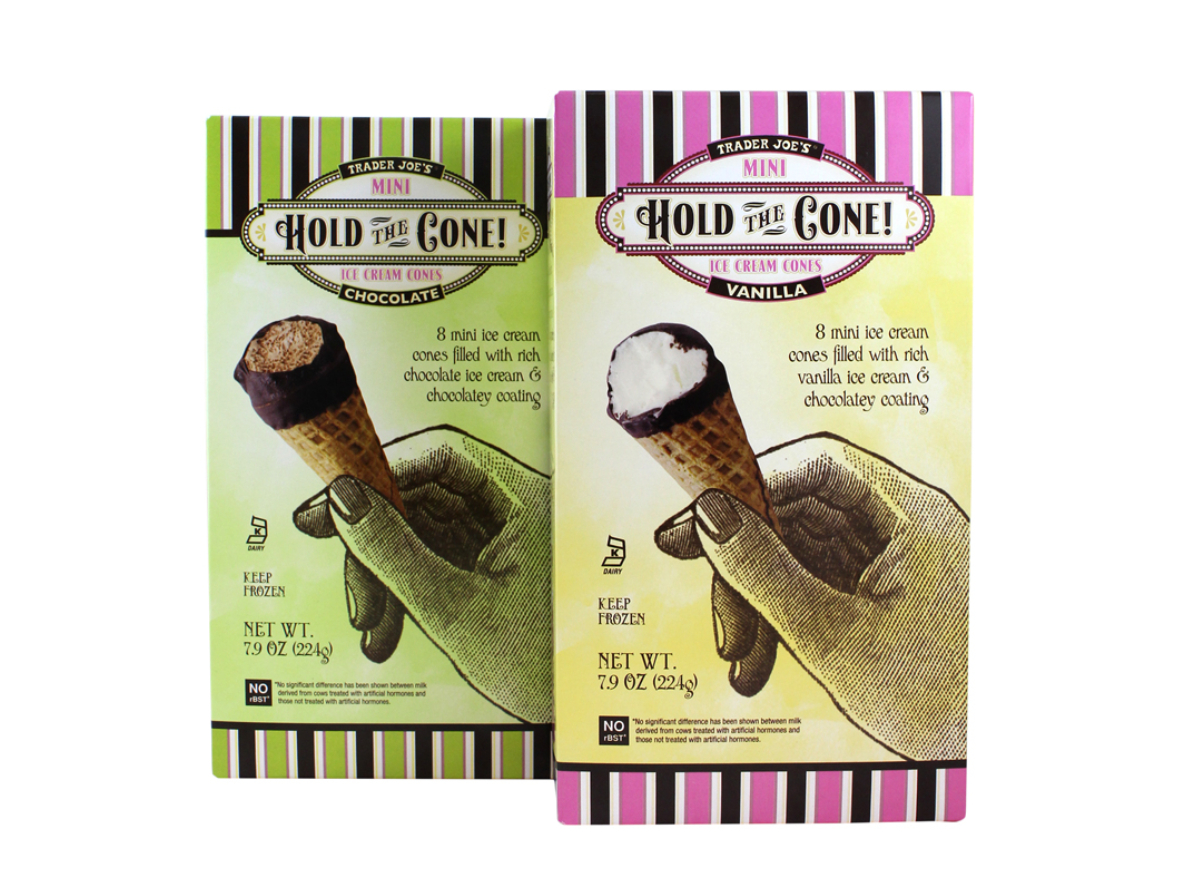 These miniature ice cream cones won "Favorite Sweet/Dessert" this year for a reason. The handheld frozen treats come in various flavors including chocolate, vanilla, and chocolate chip, as well as limited-time varieties like Coffee Bean, Pumpkin, and Peppermint.
"[T]he mini cones are PHENOMENAL. the perfect size for a quick treat," one Redditor commented on a thread focused on the best ice cream and frozen desserts at Trader Joe's. Another user agreed, "…Love them. Nice little two bite thing."
Sublime Ice Cream Sandwiches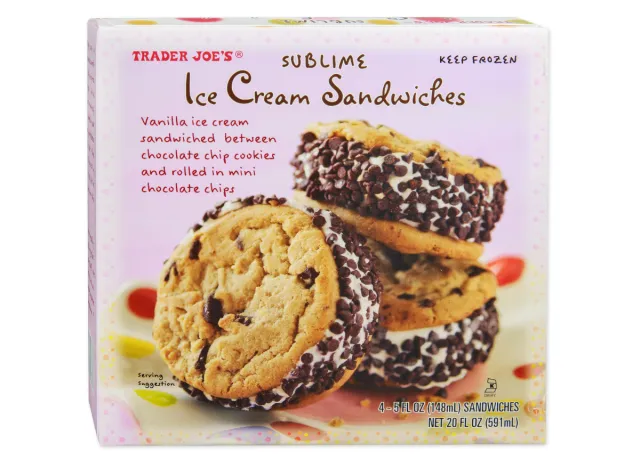 Also bringing customers to Trader Joe's frozen dessert section are the Sublime Ice Cream Sandwiches. This treasured product features two chocolate chip cookies sandwiching a layer of vanilla ice cream rolled in mini chocolate chips.
In a Reddit thread dedicated to the ice cream sandwiches, dozens of users expressed their adoration for the item, with one person writing, "Just tried them for the first time and HOLY MOLY they are perfection." "Delicious" and "dangerous" were other words used to describe the frozen product.
Dark Chocolate Peanut Butter Cups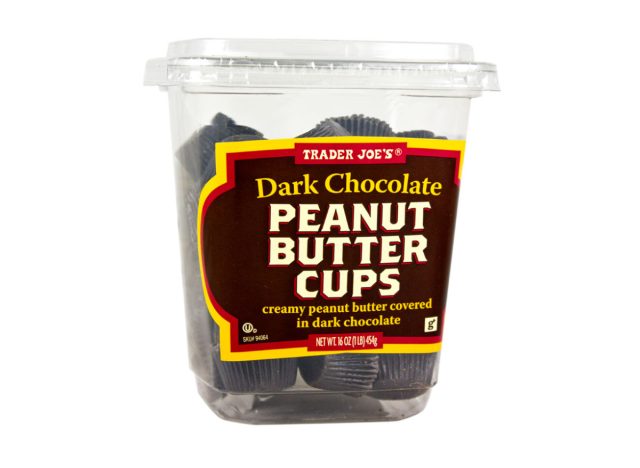 Peanut butter and chocolate are one of the most beloved flavor combinations, so it's no wonder Trader Joe's Dark Chocolate Peanut Butter Cups were inducted into the Product Hall of Fame.
While one Reddit user called the bite-sized chocolates, "One of the best products you can get at TJs hands down," other Redditors asserted that they are better than Reese's Peanut Butter Cups. If you're not a dark chocolate fan, don't worry. Trader Joe's also offers a milk chocolate version of the peanut butter cups.
Chocolate Lava Cakes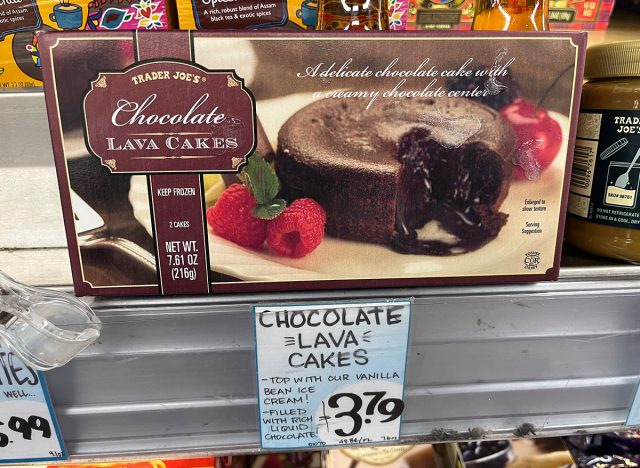 Who needs to go to a restaurant when you can just swing by Trader Joe's for a decadent dessert? The grocery chain's frozen Chocolate Lava Cakes come in a package of two and feature delicate chocolate cake filled with rich, creamy chocolate ganache. Several Reddit users highlighted this chocolatey product as the best TJ's dessert, with some enhancing the cake by topping it with vanilla ice cream, Talenti's Sea Salt Caramel Gelato, or Trader Joe's Coffee Bean Blast Ice Cream.
Chocolate Croissants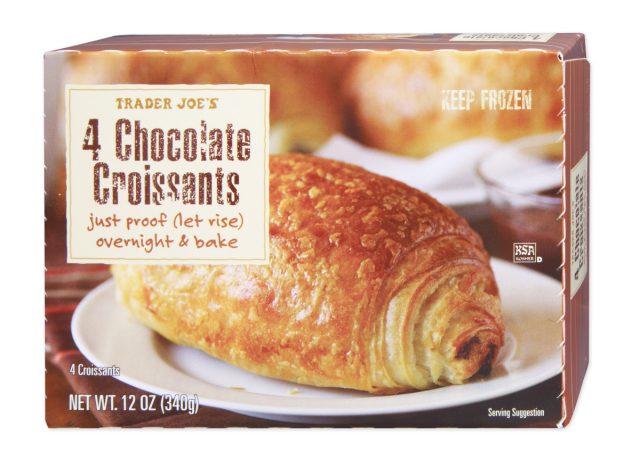 Although nothing can compete with a fresh pastry from a French bakery, Trader Joe's Chocolate Croissants come close, according to some customers.
One Reddit user, who "became obsessed with finding croissants as good as the ones in Paris," shared, "These Trader Joe's [chocolate] croissants were the closest I could find." In a different thread, someone else commented, "I love these, and honestly I prefer Trader Joe's croissants to the croissants I've tried at local French bakeries! I find that the bakery ones taste too overwhelmingly egg-y for me. The Trader Joe's ones are just right."
Peanut Butter Filled Pretzel Nuggets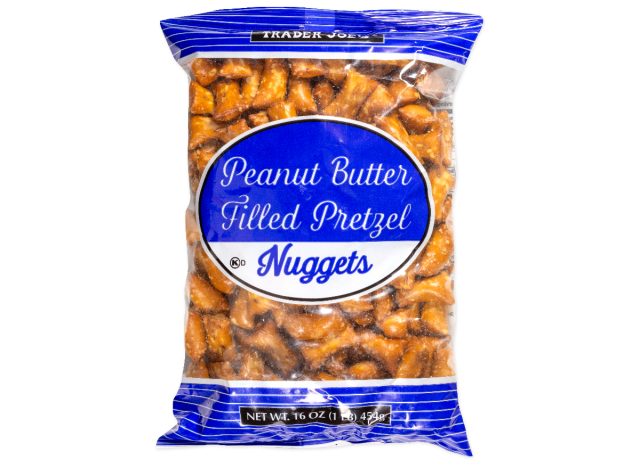 This Product Hall of Fame inductee has been a customer favorite for decades, having launched back in 1992. In addition to being a multi-year winner of the "Best Snack" category in the Customer Choice Awards, Trader Joe's also notes that its Peanut Butter Filled Pretzel Nuggets ranked in its Captains' list of top 10 favorite items.
Chili & Lime Flavored Rolled Corn Tortilla Chips
Snagging the "Favorite Snack" and "Overall Favorite" titles in this year's Customer Choice Awards, Trader Joe's Chili & Lime Flavored Rolled Corn Tortilla Chips have been delighting customers since 2018. The crunchy, flavor-packed snack, which has been nicknamed a "Takis dupe," consists of corn tortilla "scrolls" dusted in hot chili and lime flavored seasoning.
After one Reddit user invited Trader Joe's shoppers to reveal the item they know they will demolish in one day, multiple Redditors praised the spicy snack. "I can't buy the Taki's style chili lime chips. Absolutely dangerous," one user shared. "The chili lime rolled tortilla chips… every time I get a bag, it's gone in a flash 🫣😂," someone else said.
Elote Corn Chip Dippers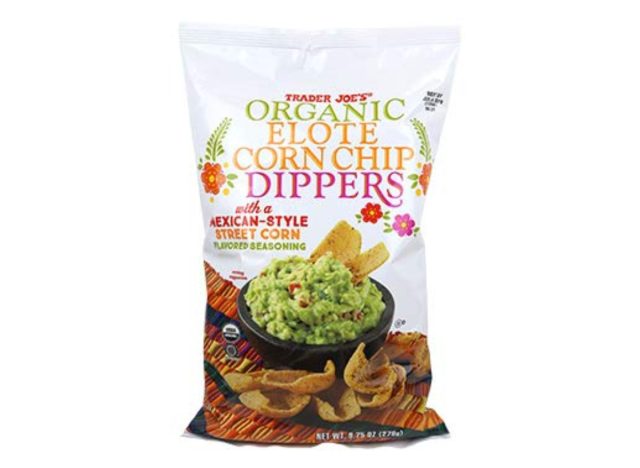 Another corn chip garnering countless compliments from customers is Trader Joe's Organic Elote Corn Chip Dippers. Inspired by seasoned Mexican street corn—aka elote—this crunchy snack showcases "that corny, creamy, spiced elote flavor… in a chip," according to TJ's website. The grocer adds that the chips have "a hint of chipotle, a kick of smoky heat, and a bit of buttermilk-y tang."
Among the Reddit users who shared the products they typically demolish in one day, one user commented, "Those gosh damn elote corn dippers. I hold off on opening every time. Cause when I do, gone." Another one wrote, "Elote dippers I swear they call my name from the cupboard like some kind of ghost of future enjoyment."
World's Puffiest White Cheddar Corn Puffs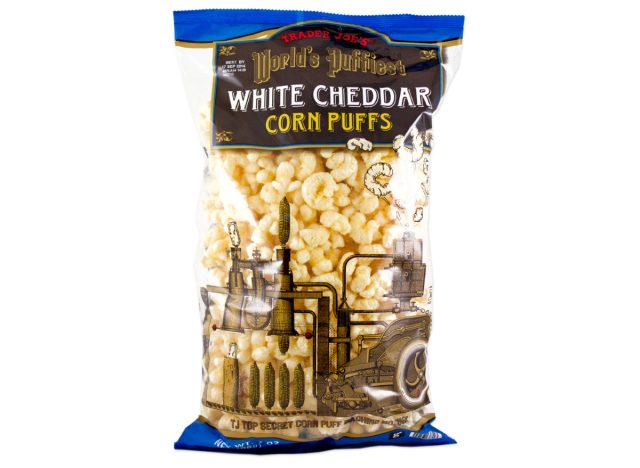 Often compared to Pirate's Booty, these white cheddar corn puffs get a lot of love from shoppers, coming in as a runner-up for "Favorite Snack" in this year's Customer Choice Awards.
In a 2021 Instagram review of the snack, many TJ's fans mentioned their preference for the puffs over Pirate's Booty, while others gave the snack a score of 10/10. One user took it a step further, commenting, "​​These are an unhealthy obsession for me 15/10."
Crunchy Chili Onion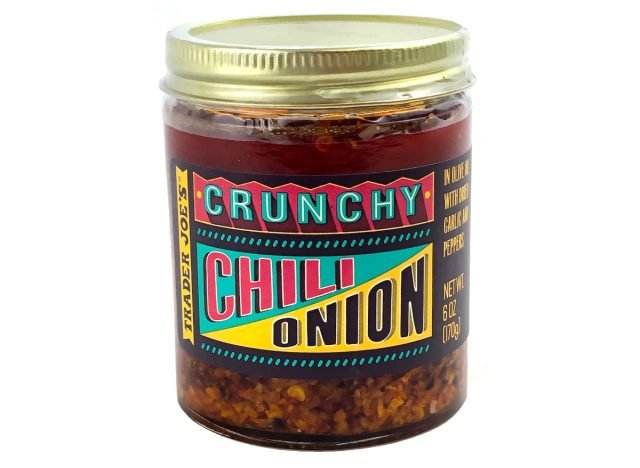 If you're a fan of spice, Trader Joe's Crunchy Chili Onion delivers some heat. This crunchy condiment, made with dried onions, garlic, bell peppers, and crushed chili peppers, has been the focus of several recipe-focused internet conversations. Among the endless list of foods to pair with this chili oil, popular uses include adding it to noodles, rice, dumplings, eggs, vegetables, and pizza, according to Redditors.
Caramelized Onion Dip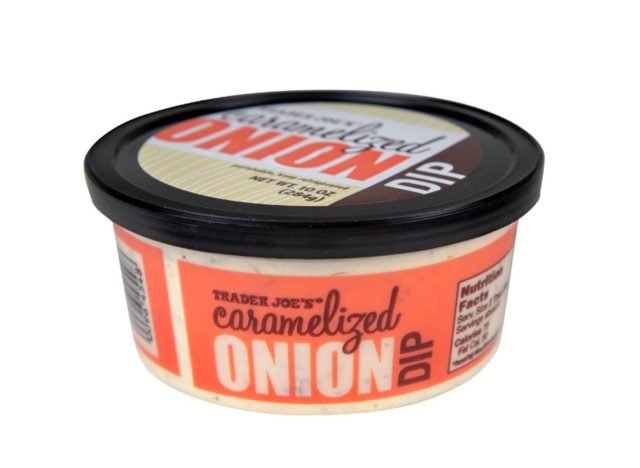 This creamy dip garnered the most support from shoppers in a recent Reddit thread asking users to share their favorite dips. "The caramelized onion dip is heaven," one Redditor wrote. A few others listed their go-to foods to serve with the item, including TJ's Dark Russet Potato Chips and garlic naan with roast beef.
Soy Chorizo
Launched in 2011, Trader Joe's Soy Chorizo has been attracting customers for years, having recently been inducted into the grocer's Product Hall of Fame. In a Reddit review of the product, multiple users applauded the plant-based item despite not being vegan or vegetarian. Others shared recipe suggestions, including adding it to burritos, tacos, scrambles, and chili.
Vegan Kale, Cashew & Basil Pesto
TJ's vegan pesto won the "Favorite Vegan/Vegetarian Product" category in this year's Customer Choice Awards. It's also received plenty of praise on social media, with one Redditor sharing, "[T]he vegan kale pesto is the best pesto I've ever had. Another user agreed: "Same. I can't eat regular pesto anymore."
According to Trader Joe's, the kale offers depth, the basil provides freshness, and the cashew butter "lends it enough creaminess to leave you saying, 'Parmesan? Who needs Parmesan?!'"
Everything But the Bagel Sesame Seasoning Blend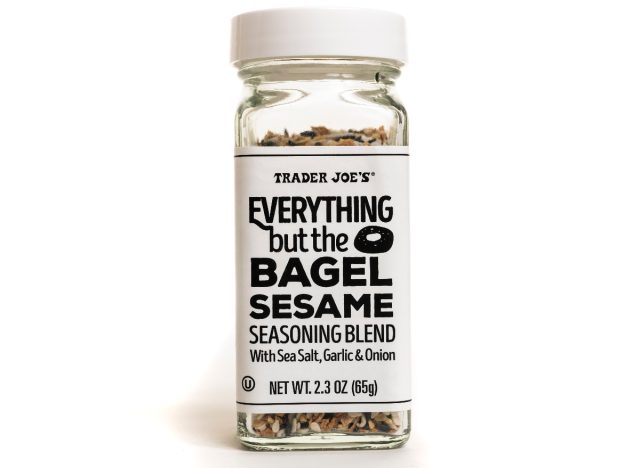 This bagel-inspired blend consists of just six ingredients: sesame seeds, sea salt flakes, dried minced garlic, dried minced onion, black sesame seeds, and poppy seeds. The product took home the "Favorite Overall" title during the Customer Choice Awards in 2020 and has since earned a spot as a runner-up for the following three years. Sprinkle some on your avocado toast, eggs, chicken, mac and cheese, and more!
Bananas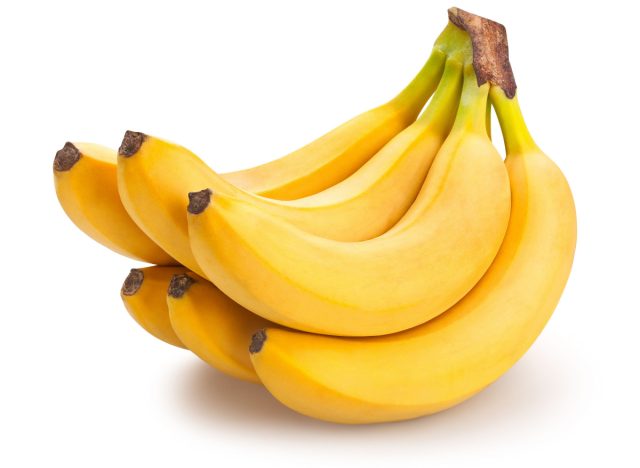 Like Costco's $1.50 hot dog combo and $4.99 rotisserie chicken, Trader Joe's bananas have remained steady in price for years, each one selling for 19 cents. It wasn't always like this, though.
In a 2018 episode of the "Inside Trader Joe's" podcast, Trader Joe's Chairman and CEO Dan Bane explained that the grocery chain used to sell its bananas by the pound. However, one day, he saw a woman look at the banana packages, but she didn't put one in her cart. Bane asked her why, and she replied, "Sonny, I may not live to that fourth banana."
The retailer began selling individual bananas the very next day. Bane said: "And they've been 19 cents ever since."
Brianna Ruback
Brianna is a staff writer at Eat This, Not That! She attended Ithaca College, where she graduated with a degree in Journalism and a minor in Communication Studies.
Read more about Brianna