Bacon and Avocado-Infused Turkey Gobbler Sandwich Recipe
You'll never have to think about what to do with any leftover turkey again.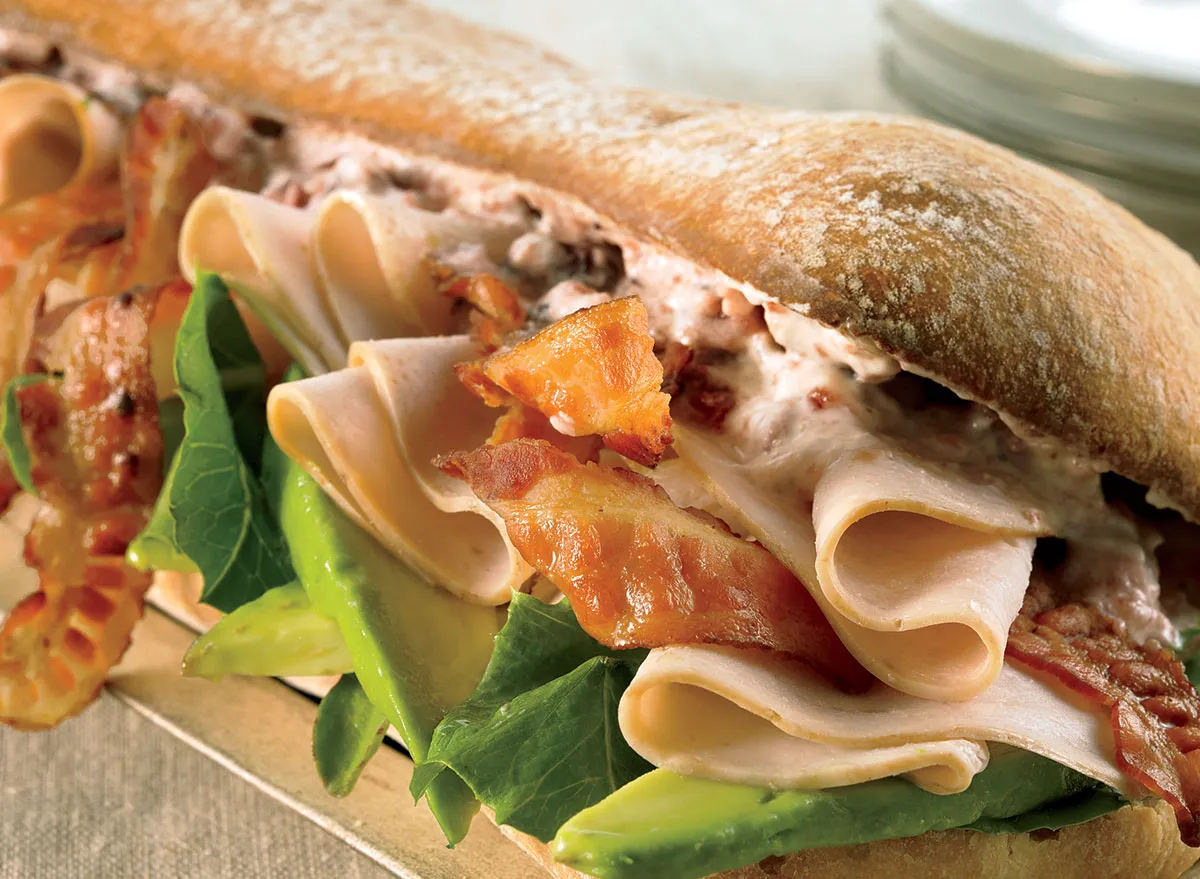 If leftovers are the best thing about Thanksgiving, then this sandwich is the best thing about leftovers. But by all means, don't wait until Turkey Day to make this sandwich. With 900-calorie turkey sandwiches cluttering the menu boards of America's restaurants, you need as many cheap, delicious alternatives as you can get. Strewn with cranberry sauce, creamy avocado, and a bit of crispy bacon, this is the ultimate turkey sandwich. You'll save almost 500 calories by making your own than ordering Panera Bread's alternative. And plus, if you want to shave an extra 100 calories, lose the bacon and make the sandwich on whole-grain bread; you'll still love the results and the taste too!
Nutrition: 480 calories, 16 g fat (4.5 g saturated), 800 mg sodium
Serves 4
You'll Need
1⁄4 cup whipped cream cheese (As always, it's best if this is leftover from dinner, but if you buy it in the can, just be sure to skip the strange jello-like sauces)
1⁄4 cup whole-berry cranberry sauce
4 cups mixed greens or torn romaine
1 loaf focaccia or ciabatta, halved lengthwise and toasted
1 avocado, pitted, peeled, and thinly sliced
1 lb turkey (Either sliced deli turkey or leftover chopped roasted turkey. If you do go for deli turkey, make it Hormel Natural Choice, the most promising of all packaged deli slices.)
8 strips cooked bacon6254a4d1642c605c54bf1cab17d50f1e
How to Make It
Mix the cream cheese and cranberry until uniformly pink.
Lay the lettuce across the bottom half of the bread.
Top with the avocado, turkey, and bacon.
Spread the cranberry cream cheese across the top part of the bread, top the sandwich, and cut into individual servings.
Eat This Tip
Open-Face Options
Open-face sandwiches have two great things going for them: (1) the missing slice of bread helps to mitigate the calories and carbs of the sandwich, and (2) the knife-and-fork treatment means you can be more aggressive with the sandwich construction. Here are a few of our favorite bold combinations:
Chicken Mole Enchiladas
Thai Lettuce Wraps
Grilled Caesar Salad
Chicken Salad Sandwich
Chicken Pot Pie
And just in case you're in the mood for more bread (no shame!), here are a few sandwiches to try:
Healthy Chicken Burger with Sundried Tomato Aioli
Healthy Grilled Chicken Sandwich with Chimichurri
Healthy A.1. Swiss Burger
Healthy Barbecue Chicken Pizza
This recipe (and hundreds more!) came from one of our Cook This, Not That! books. For more easy cooking ideas, you can also buy the book!