This Is the Best Eating Habit for Type 2 Diabetes, New Study Says
There is no cure for diabetes, but new research suggests it's all about timing.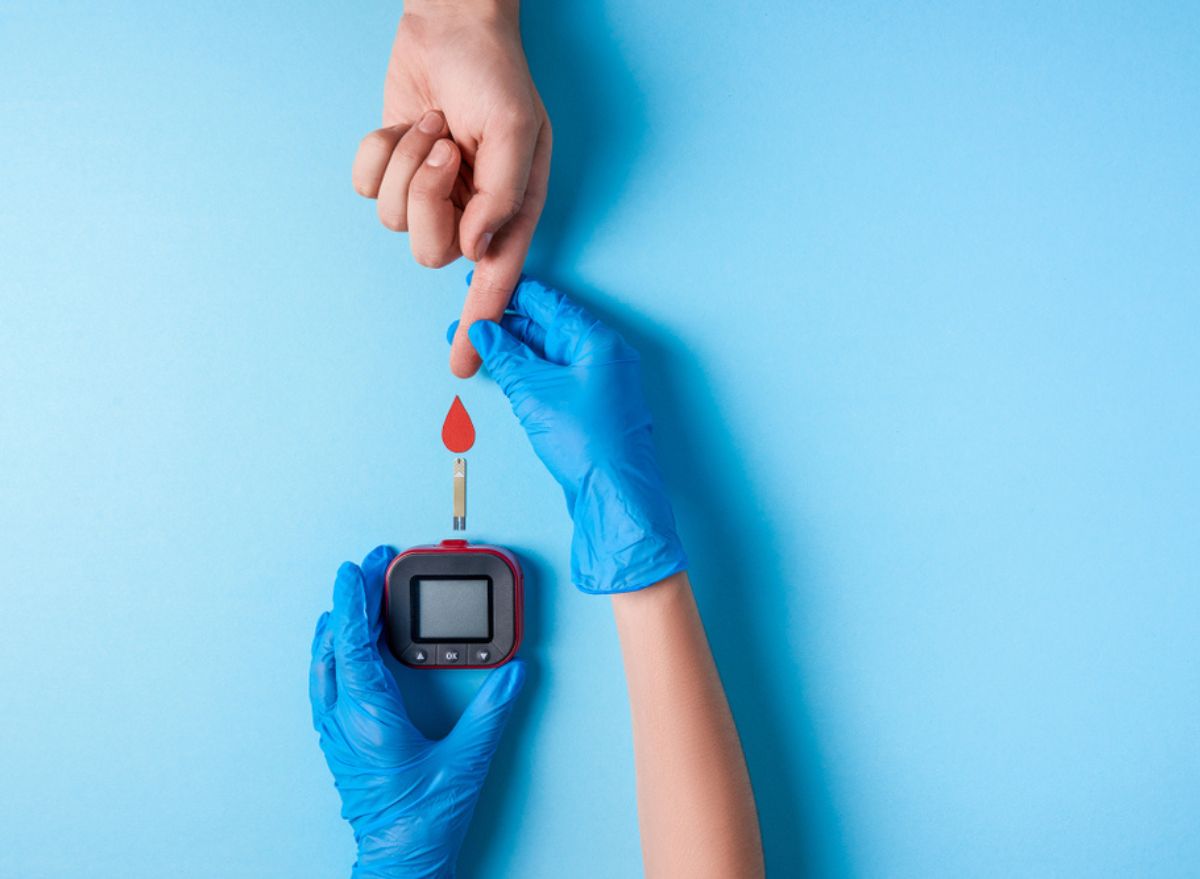 Living with Type 2 Diabetes forces many people to adjust their lifestyle and eating habits. In an effort to manage this disease, the body's blood sugar and insulin levels should be kept consistent and stable. And according to one recent study, Type 2 Diabetes patients who restrict their meals to certain times of the day could see fewer dramatic spikes and drops in their metabolic health.
As published in Diabetologia, researchers conducted a trial where 14 Type 2 Diabetes participants underwent a 3-week TRE, a time-restricting eating diet that keeps one's daily food intake within a 10-hour time period. The findings from the study were that patients on a specific TRE pattern had better-controlled glucose levels (otherwise known as sugar) and spent more time in a normal blood sugar range compared to when they were eating within at least 14 hours (or more).
Whether or not Type 2 Diabetes patients' insulin sensitivity is improved by time-restricted eating was found to be inconclusive, researchers from the trial noted.6254a4d1642c605c54bf1cab17d50f1e
Researchers claim that time-restricting eating helps create a safe and effective metabolic rhythm in the body that supports healthy blood sugar levels throughout the day that carries over to the next day too.
Of course, trials and studies come with individual caveats, which is why it's important to recognize this study's findings were a "secondary outcome," says Dr. Mike Bohl, MD, MPH, CPH, MWC, ELS, Director, Medical Content & Education for Ro Healthcare Tech Company. Due to the discovery of decreased glucose levels at night, "the study did find that restricting eating to a 10-hour window results in decreased 24-hour glucose levels," however, he goes on to explain, "this is not a surprising finding, since glucose levels normally go up after eating, and participants were eating for a shorter period of the day."
Also, there were some mishaps during the trial that should be accounted for. "In one case, there was incomplete data due to technical issues, so only data from 10 of the volunteers were analyzed," Bohl says. This is in addition to many of the trial participants specifically taking glucose-lowering medications at the time, while others were not.
That's not to say this research didn't find a productive form of supporting treatment for some Type 2 Diabetes patients out there. In fact, Bohl says, "some research shows that intermittent fasting can lead to weight loss, which could be beneficial for those with type 2 diabetes."
So while you cannot cure Type 2 Diabetes, restrictive eating that results in "weight loss will lead to improvement with insulin sensitivity, therefore, improvement in Type 2 diabetes," explains Dr. Deena Adimoolam, MD, who specializes in internal medicine and endocrinology, diabetes, and metabolism.
If you have Type 2 Diabetes and you're considering a new diet to help you manage the day-to-day, start with discussing your options with a healthcare provider first, Bohl says. "Consistency can be key when it comes to keeping blood sugar levels controlled—once you've found the right combination of medication and eating timing, staying on the same daily schedule can make it so your levels stay well controlled without it being a constant stressor."
Jordan Summers-Marcouillier
Jordan Summers-Marcouillier was born and raised in San Jose, California and now works as a writer in New York, NY.
Read more about Jordan