The Unhealthiest Restaurant Entrées of the Year, According to a Dietitian
If you're trying to make better choices when you're dining out, the best way to start is by staying far away from these menu options.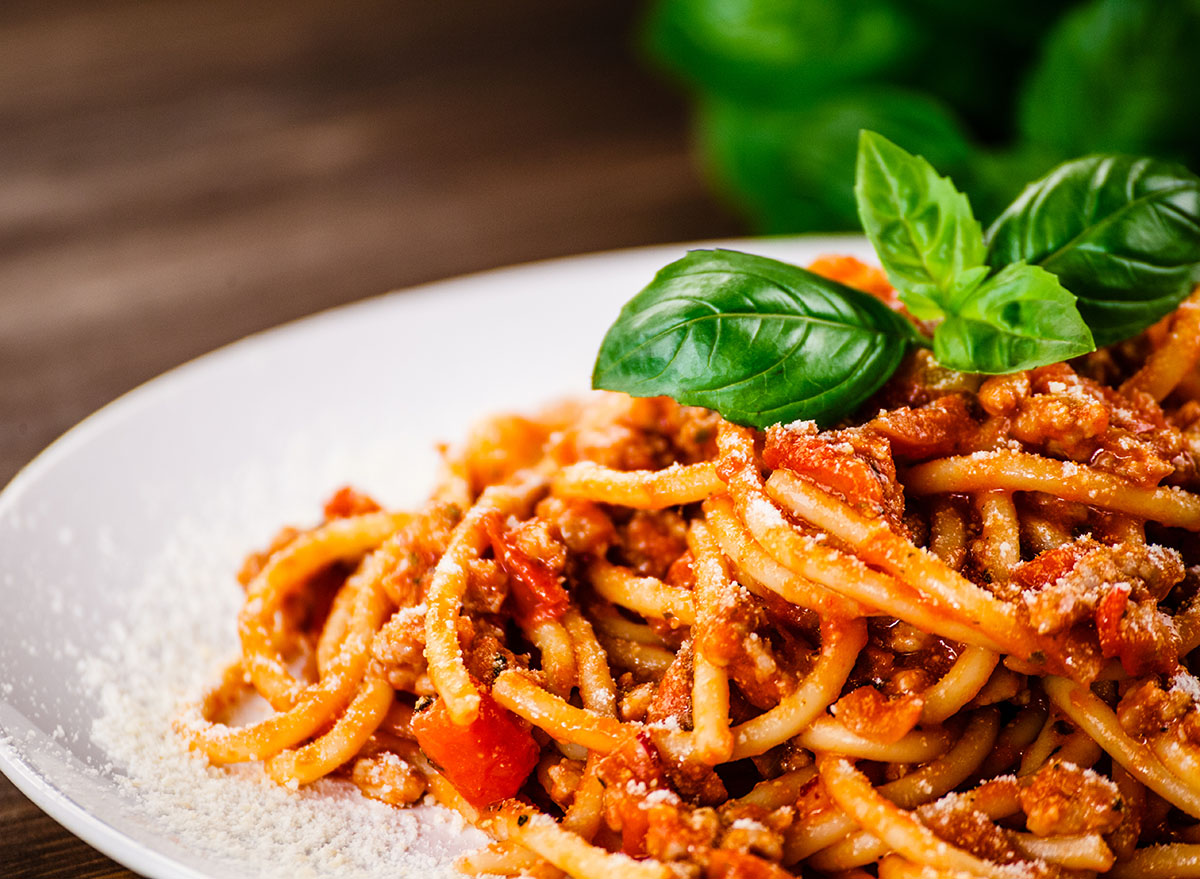 For many, 2020 was a year when dining out truly became a very rare occasion—once your city reopened and you felt it was safe to venture out. So with nights heading out to dinner being few and far between, you likely want to make sure you end up choosing a memorable entrée. One thing you don't want to do is indulge in a highly caloric, fatty, sodium-drenched meal that is going to straight-up sabotage any of your weight loss goals. And that means some dishes are better left on the menu.
So in order to help you make the best choices you can moving forward, we rounded up the unhealthiest restaurant entrées of the year. Whether the meals made their debut in 2020, or they're longtime staples that really should be avoided, we found the worst of the worst. This way, you know which problematic menu options are truly bad news for your health. And while you're making better habits for yourself, be sure to try out any of the 21 Best Healthy Cooking Hacks of All Time.
Olive Garden: Asiago Tortelloni Alfredo with Grilled Chicken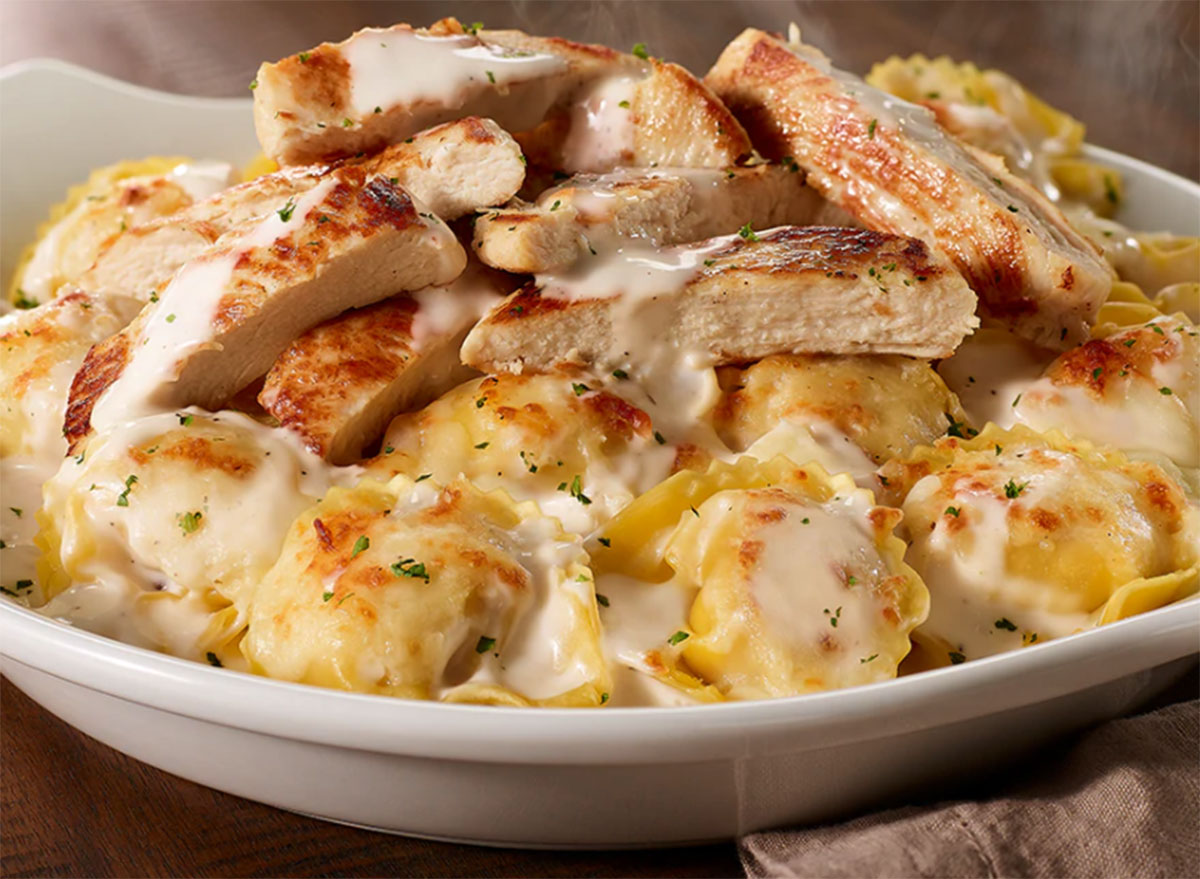 1,980 calories, 131 g fat (76 g saturated fat, 2.5 g trans fat), 3,720 mg sodium, 95 g carbs (5 g fiber, 9 g sugar), 112 g protein
Olive Garden brought back this creamy pasta dish in 2020, but it might be better as a distant memory. This entrée far exceeds the recommended amounts for calories, fat, sodium, and even protein a person should have in one sitting. Yes, having too much of anything (even protein) can be an issue. In fact, excess protein can even heighten your risk of developing kidney stones. Big yikes.
Wendy's Pretzel Bacon Pub Triple Cheeseburger
Per burger
: 1,520 calories, 106 g fat (45 g saturated fat, 4 g trans fat), 1,910 mg sodium, 53 g carbs (3 g fiber, 7 g sugar), 89 g protein
Wendy's Pretzel Bacon Pub Triple Cheeseburger really made quite the impression this year, that's for sure! The burger is made up of three of Wendy's square beef patties that are covered in warm beer cheese sauce, Applewood smoked bacon, smoky honey mustard, crispy fried onions, pickles, and a slice of muenster cheese, all on a soft pretzel bun. It's no wonder it has the most amount of calories out of all the burgers on the Wendy's menu! Plus, the 4 grams of trans fat it's packing are a no-go, as the 2015-2020 American Dietary Guidelines say it's best to limit trans fats consumption to as low as possible.
"I always get nervous when I see 'triple' and 'burger' in the same sentence," says Elizabeth M. Ward, MS, RDN. "Beef is good for you, but nobody needs a burger with three-quarters of the day's calories and nearly all the sodium. Order a single burger instead."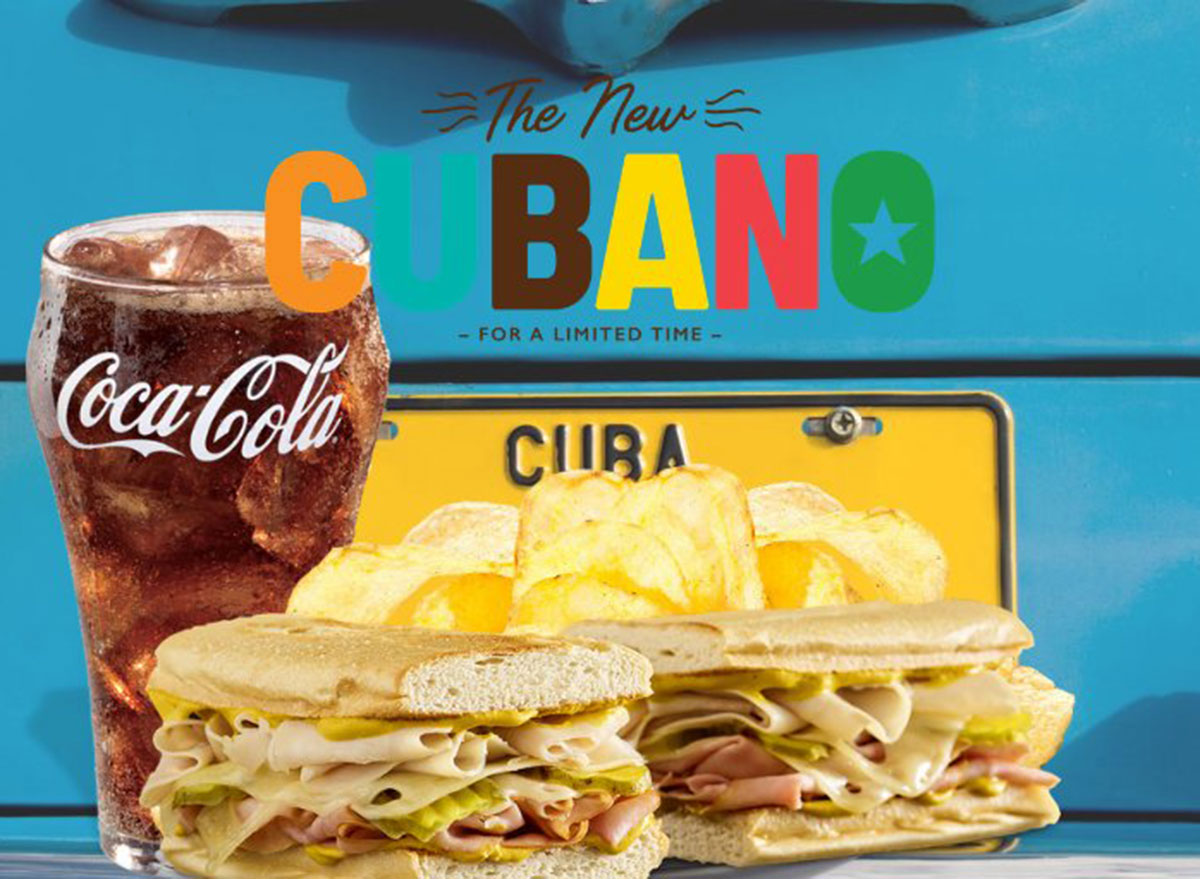 Per 12" sub
: 1,180 calories, 39 g fat (18 g saturated fat, 1 g trans fat), 4,730 mg sodium, 118 g carbs (6 g fiber, 11 g sugar), 94 g protein
While this was a limited-time menu item in 2020, Quiznos really outdid themselves with this take on the classic Cuban sandwich. It featured a half-pound of oven-roasted turkey and ham, melted Swiss cheese, pickles, and yellow mustard, all on toasted and pressed on Cuban-style white bread.6254a4d1642c605c54bf1cab17d50f1e
TGI Fridays Loaded Cheese Fry Burger
Per burger
: 1,450 calories, 93 g fat (37 g saturated fat, 0 g trans fat), 3,660 mg sodium, 99 g carbs (10 g fiber, 14 g sugar), 55 g protein
TGI Fridays took things to the extreme with the Loaded Cheese Fry Burger. It's a hamburger that is topped with American cheese, lettuce, tomato, red onions, loaded bacon-cheese fries, and poblano queso. And let us not forget that you'll find a skewered loaded potato skin on top of the bun. No wonder it has more than a day and half's worth of sodium!
Friendly's Buffalo Mac & Cheese
1,337 calories, 74 g fat (31 g saturated fat, 0 g trans fat), 4,520 mg sodium, 106 g carbs (4 g fiber, 8 g sugar), 67 g protein
If you eat this mac and cheese dish from Friendly's, you're consuming as much sodium as you would get from 46 full-size Snyder's of Hanover Pretzel Rods. In case you were wondering, yes, that is more than the number of pretzels that even come in one bag…
Looking for more helpful tips? Sign up for our newsletter to get daily recipes and food news in your inbox!
Chili's Ultimate Smokehouse Combo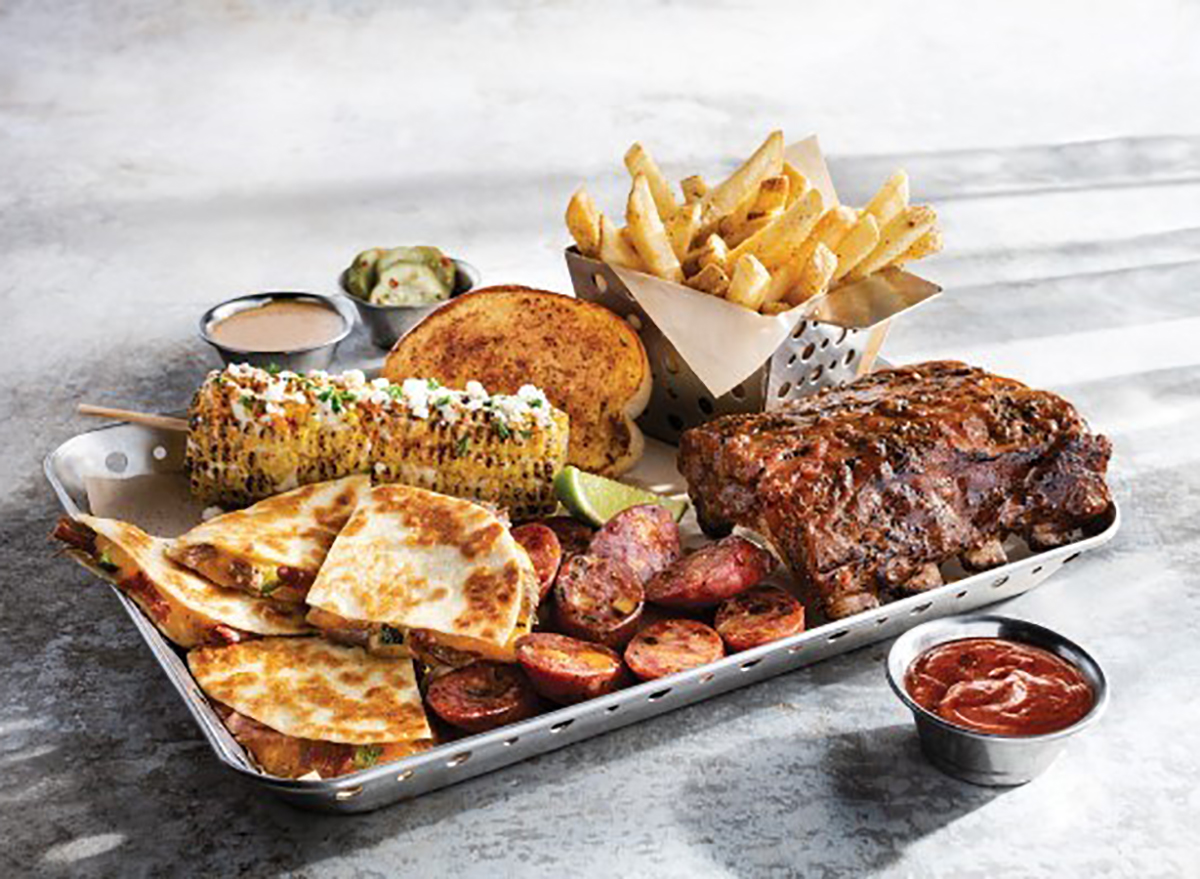 2,470 calories, 173 g fat (52 g saturated fat, 1 g trans fat), 6,590 mg sodium, 122 g carbs (7 g fiber, 55 g sugar), 106 g protein
When it comes to Chili's Smokehouse Combos, these meals can be different for everyone, as you get to customize it yourself. You get to choose from three types of meat, which you eat alongside ribs and sides. You can choose three dishes from their list, so we chose the new brisket quesadillas, honey chipotle crispers with ranch, and the ribs (dry rub). As you can imagine, this makes for an entrée that is high in calories, sodium, fat, and sugar.
And those sides we mentioned? You get four of them here—roasted street corn, homestyle fries, chile-garlic toast, and garlic dill pickles. That base alone totals 955 calories and 1,590 milligrams of sodium. So in reality, if you are this all, you would be consuming 3,425 calories.
If you really want to indulge, you'll want to keep one thing in mind.
"Go ahead and enjoy this—with four of your friends!" says Ward.
UNO Pizzeria & Grill Buffalo Mac & Cheese
Per meal
: 2,200 calories, 133 g fat (58 g saturated fat, 1 g trans fat), 4,310 mg sodium, 160 g carbs (6 g fiber, 14 g sugar), 96 g protein
Smothering Buffalo chicken all over some mac and cheese might make your mouth water, but this dish from UNO is certainly excessive. It has more calories than most people should consume in an entire day!
Cheesecake Factory Pasta Napoletana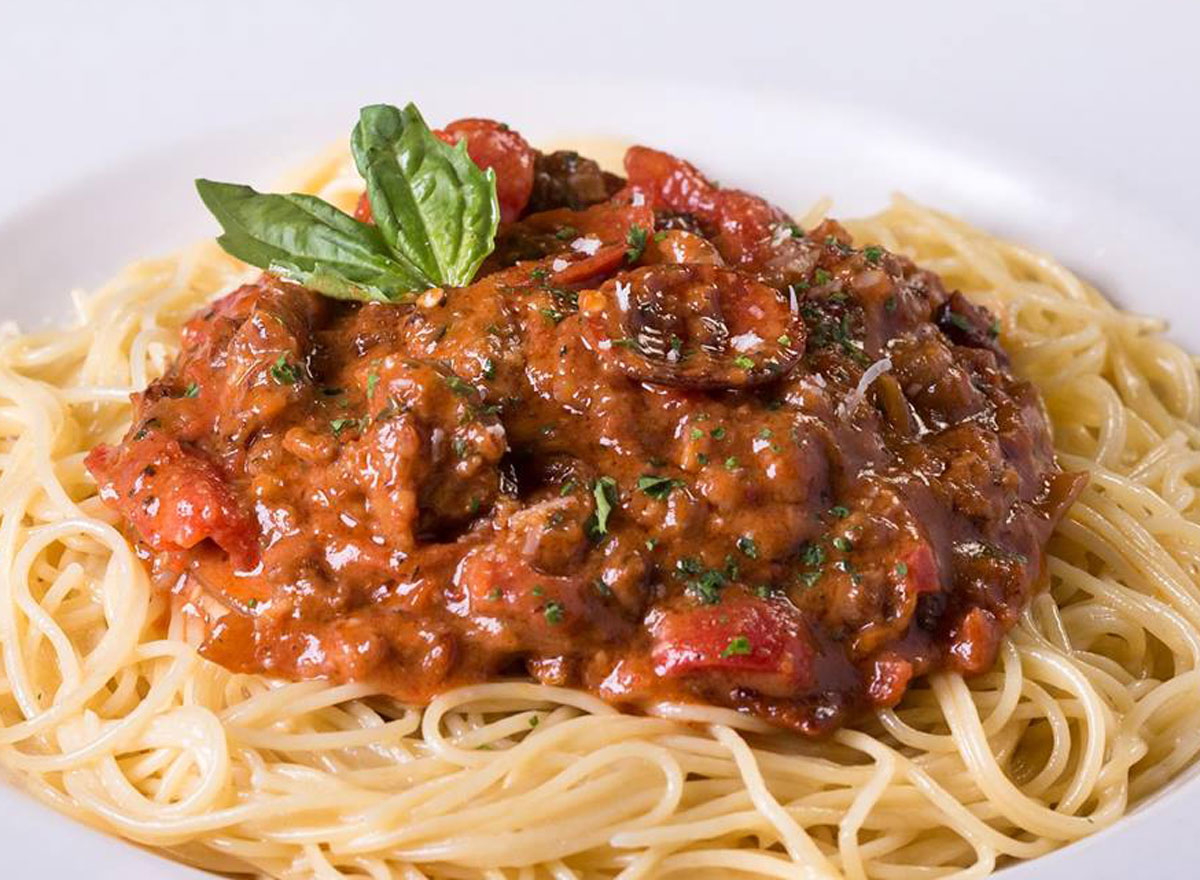 2,480 calories, 177 g fat (82 g saturated fat, 4.5 g trans fat), 5,150 mg sodium, 155 g carbs (11 g fiber, 20 g sugar), 65 g protein
It's safe to say Cheesecake Factory's Pasta Napoletana is just dangerous.
Between the four different kinds of meats (Italian sausage, pepperoni, meatballs, and bacon, for reference), the rich tomato sauce, and the parmesan cream pasta, this dish is overflowing when it comes to the amount of fat, saturated fat, trans fat, carbs, and, sodium. More than two and half days' worth of sodium, to be exact! It's said to be the worst dish to order from The Cheesecake Factory for your health—reason enough to never order it.
Applebee's Loaded Sirloin Steak Fajitas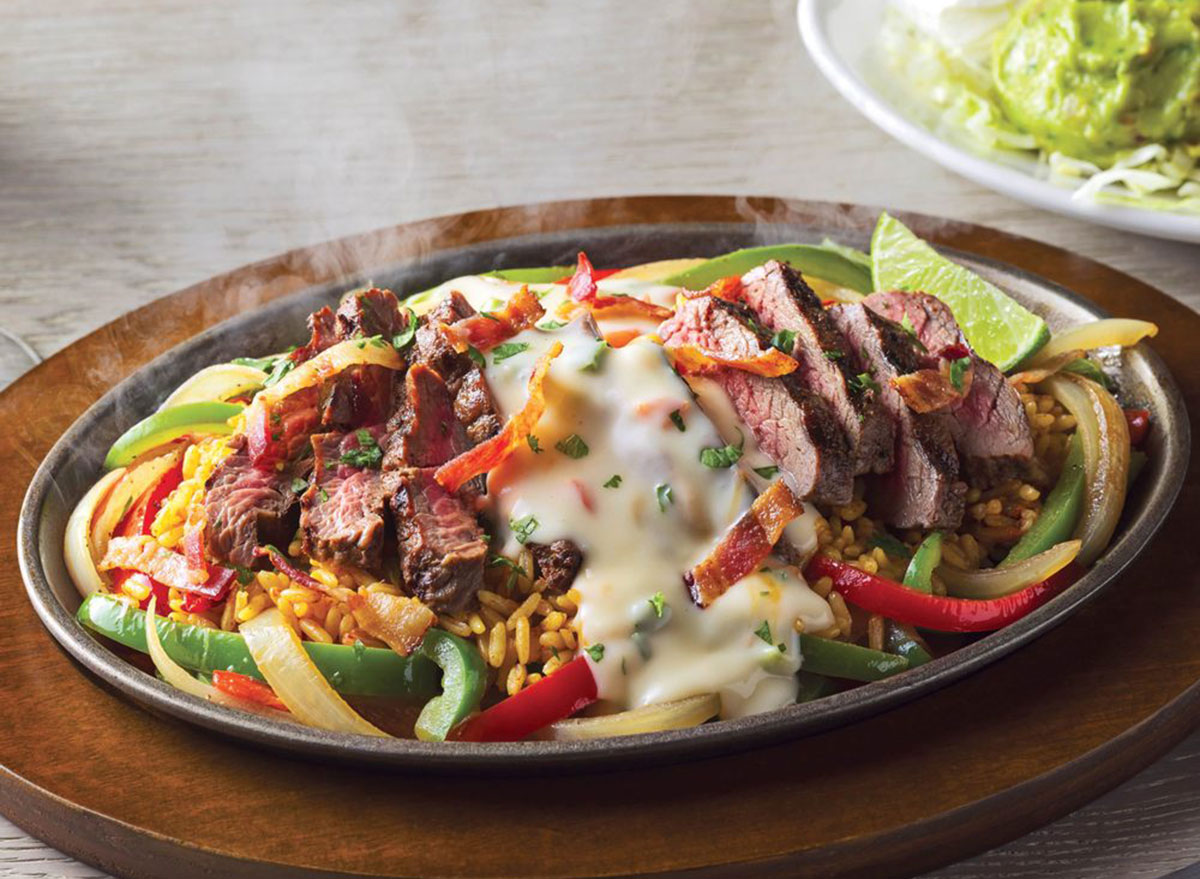 1,620 calories, 88 g fat (35 g saturated fat, 2 g trans fat), 5,130 mg sodium, 130 g carbs (13 g fiber, 17 g sugar), 80 g protein
A sizzling plate of fajita vegetables and steak might sound like a healthy entrée option, but not so fast. At Applebee's, you're served steak that is sitting atop rice, sour cream, guacamole, queso dip, shredded cheese, and bacon. There is simply too much going on here, and the result is a meal with more than 5,000 milligrams of sodium. While there are elements of this dish that aren't so bad, the issue here is the size of the dish.
"This entrée isn't the worst I've seen, but it's just too much food for one person," Ward explains. "Ask for a doggy bag up front and take home half the meal."
Chili's Crispy Honey Chipotle & Waffles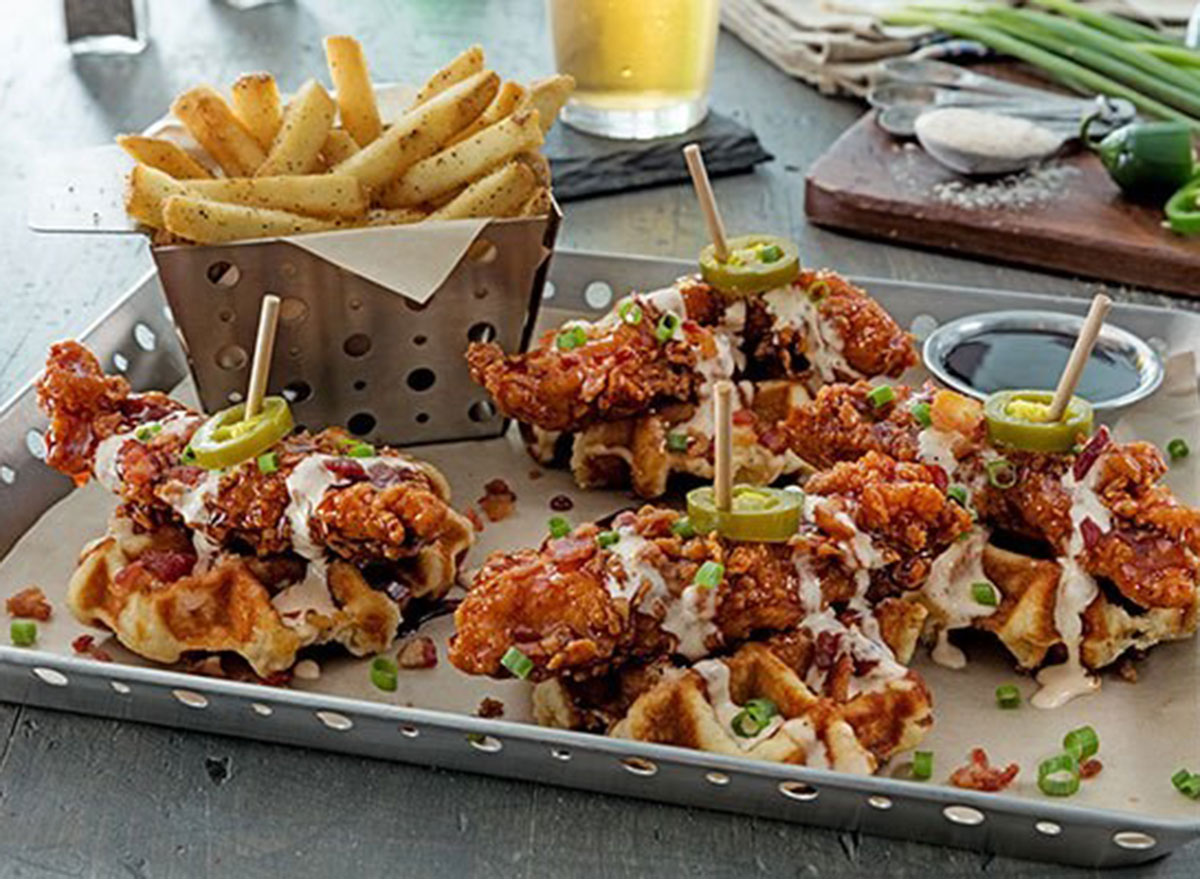 2,590 calories, 126 g fat (42 g saturated fat, 1 g trans fat), 5,180 mg sodium, 303 g carbs (14 g fiber, 128 g sugar), 64 g protein
This entrée from Chili's does what not many meals can do—manages to be high in both sodium and sugar. If your main meal has more than a day's worth of sodium and nearly as much sugar as you would get from 11 Original Glazed Krispy Kreme Donuts, you should rethink this option.
Panera Broccoli Cheddar Mac & Cheese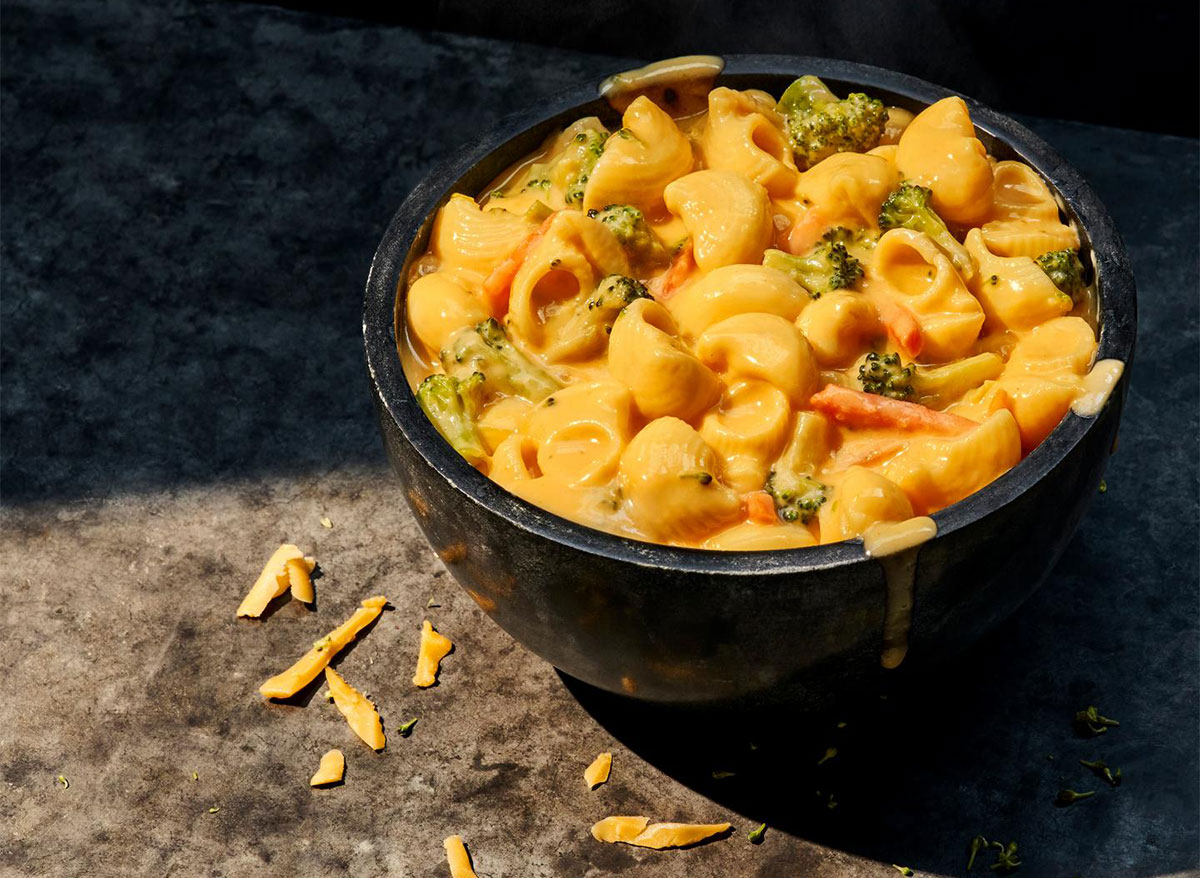 Per bread bowl
: 1,050 calories, 31 g fat (13 g saturated fat, 0.5 g trans fat), 2,290 mg sodium, 155 g carbs (6 g fiber, 8 g sugar), 40 g protein
Panera Bread made the impossible a reality in 2020 with the debut of this dish that combines its broccoli cheddar soup with macaroni and cheese. But when served in a bread bowl, this menu item quickly earns a spot on the "don't eat this" list. It has nearly an entire day's worth of sodium and more than half a day's worth of carbs.
TGI Fridays Chicken Parmesan Pasta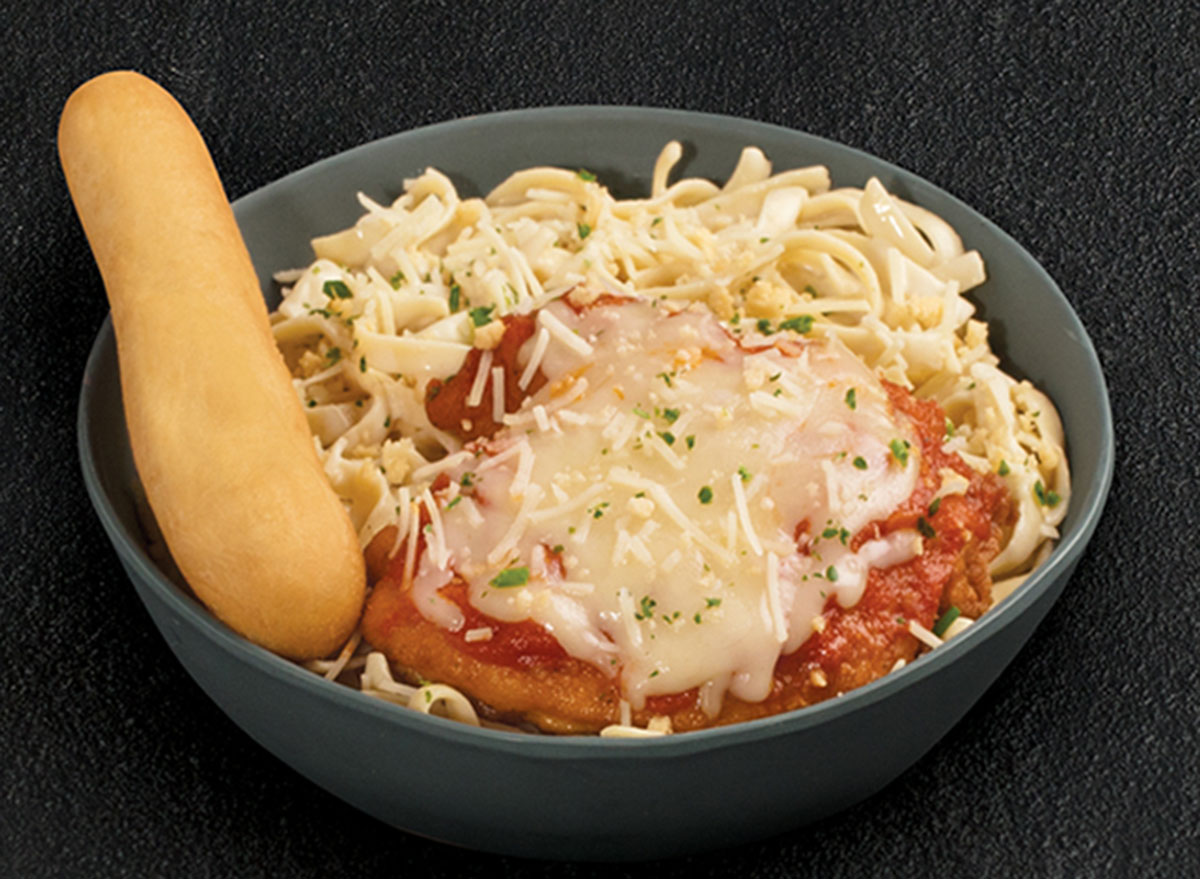 Per meal
: 1,890 calories, 107 g fat (43 g saturated fat, 1.5 g trans fat), 4,130 mg sodium, 154 g carbs (9 g fiber, 22 g sugar), 74 g protein
Anytime there is trans fat in a meal, you want to be wary. This chicken parm pasta entrée from TGI Fridays is packing far too much fat, saturated fat, sodium, and protein. Plus, there's the dreaded presence of trans fat.
"Trans fat is worse for you than saturated fat. Even 1.5 grams in a day is relatively high, as experts say that no trans fat is the best," Ward says.
Jennifer Maldonado
Jennifer Maldonado is a senior editor at Eat This, Not That!, specializing in food and health content.
Read more about Jennifer