The Unhealthiest Orders at 7 Major Southern Restaurant Chains
These stick-to-your-rib dishes from your favorite Southern food chains are loaded with calories and fat.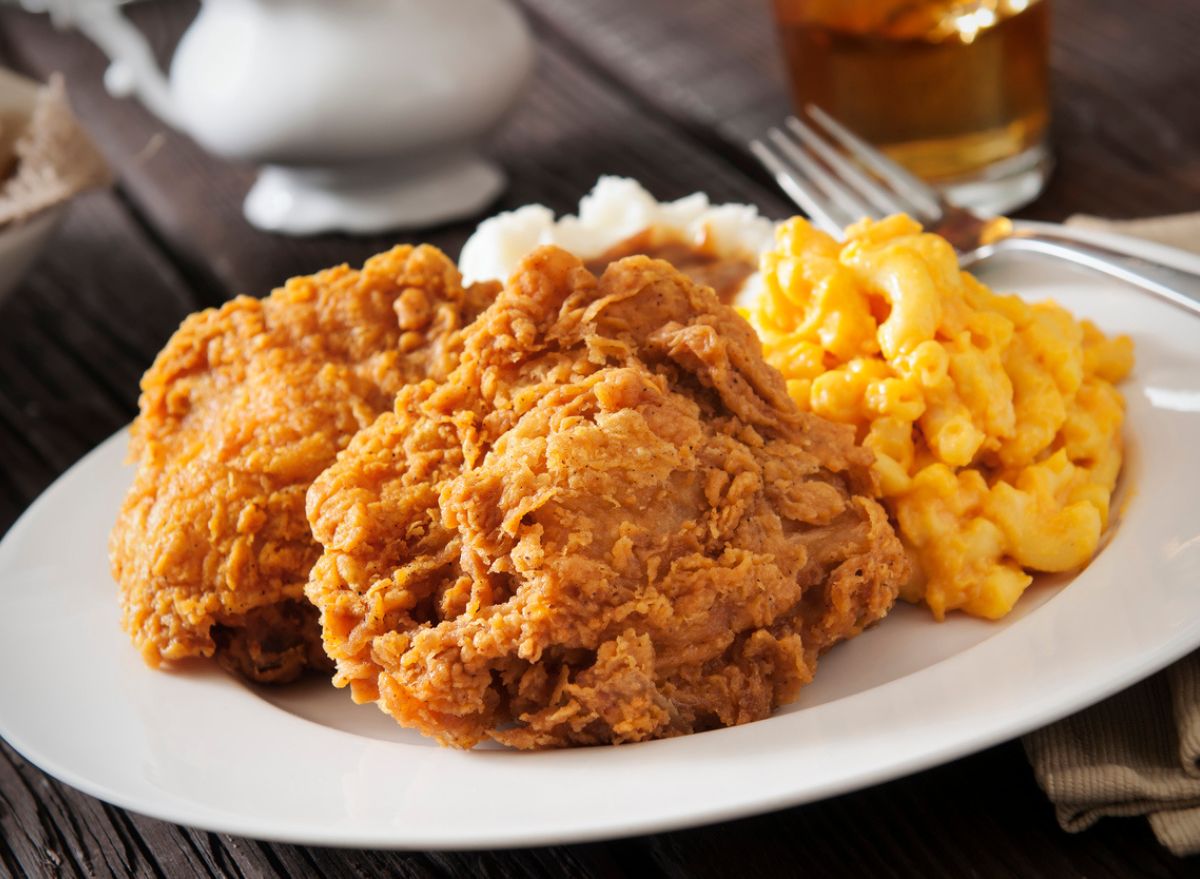 Southern food is called "soul food" for a reason. Tasty comfort foods like biscuits and gravy, fried chicken, and hearty casseroles not only fill your belly, they seem to fill your soul, too. Don't they just evoke feelings of family gatherings and warm, lazy days? It's no wonder Southern fast-food chains are so popular!
The hearty fare of Southern cuisine does come with an unfortunate downside, though. Many stick-to-your-ribs dishes at Southern-themed restaurants are brimming with excess calories, fat, sugar, and sodium. We scoped out the menus at some popular Southern chains to find the eight unhealthiest orders. Read on, and for more healthy dining out tips, check out The #1 Unhealthiest Sandwich at 12 Major BBQ Chains.
Dickey's Barbecue Pit Pork Rib Plate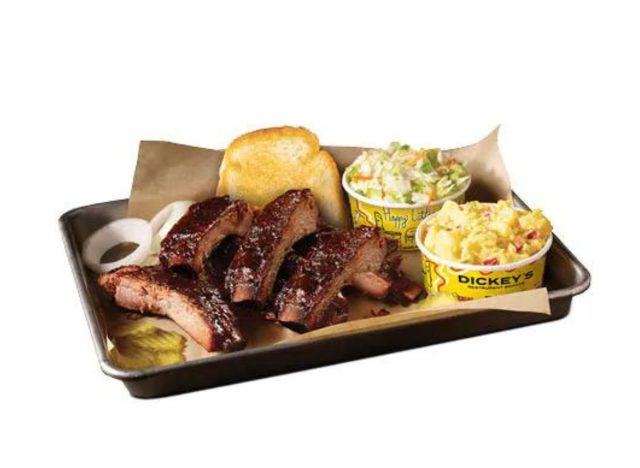 1133 calories, 73 g fat (27 g saturated fat), 4,444 mg sodium, 63 g carbs (0 g fiber, 33 g sugar), 52 g protein
Dickey's Barbecue Pit is known for down-home, Texas-style smoked meats and filling sides. Some options, such as baked beans and cabbage slaw, make for healthy eating. But watch out for the Pork Rib Plate. Before you even add side dishes, this plate will set you back 1,133 calories, 73 grams of fat, 33 grams of sugar, and 4,444 milligrams of sodium (185% of the recommended daily value).
Biscuitville Southern Steak and Cheese Biscuit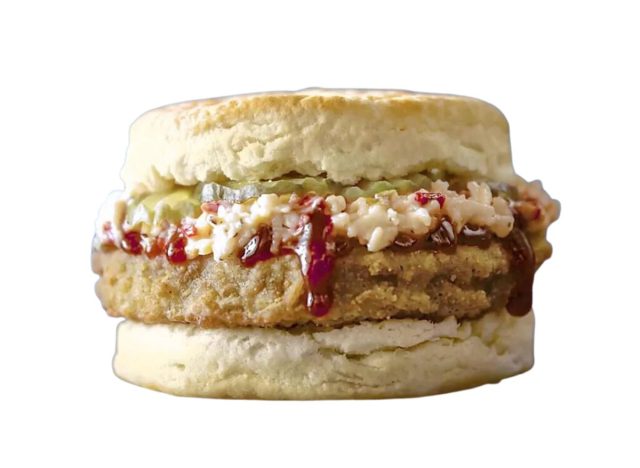 820 calories, 54 g fat (21 g saturated fat), 1,910 mg sodium, 60 g carbs (3 g fiber, 11 g sugar), 28 g protein
If you live in Virginia, North Carolina, or South Carolina, chances are you've tried Biscuitville. True to its name, this chain features a menu of flaky, Southern-style biscuits and biscuit sandwiches, plus breakfast platters, sides, and sweets. Tasty as the menu may be, choose carefully when you order at Biscuitville—opting for the Southern Steak and Cheese Biscuit will blow more than your whole day's saturated fat budget. And at 820 calories, it's a seriously high-calorie breakfast choice.
Cactus Blossom at Texas Roadhouse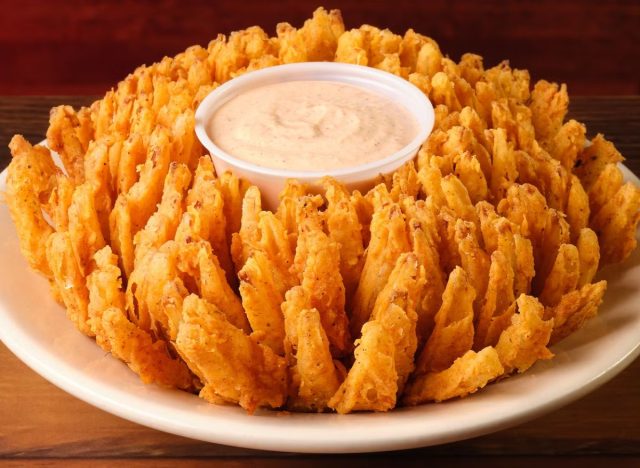 2,250 calories, 135 g fat (26 g saturated fat), 5,000 mg sodium, 236 g carbs (19 g fiber, 36 g sugar), 25 g protein
Texas Roadhouse isn't the only restaurant chain to feature a "blossom" of fried onions with a creamy dipping sauce—Outback Steakhouse holds the claim to fame for the original. But the Texas Roadhouse version is every bit as disastrous for health as the Outback version. Even though the cactus blossom features onions, it's not quite the same thing as eating vegetables.
Much like its Australian predecessor, Texas Roadhouse's appetizer is heavy on several nutrients, including calories, saturated fat, and sodium. If you do order this one, make it an appetizer for the whole table (and stick to a few bites before dinner).
Cracker Barrel Steak and Egg Hashbrown Casserole
1,080 calories, 67 g fat (29 g saturated fat), 2,340 mg sodium, 60 g carbs (6 g fiber, 3 g sugar), 62 g protein
When dining out for breakfast, pass on the Steak and Egg Hashbrown Casserole at Cracker Barrel, says Mandy Tyler, M.Ed., RD, CSSD, LD. A heavy load of sodium and saturated fat will only weigh you down for the rest of your day.
"It is important to note that the nutrition information does not include the buttermilk biscuits served on the side with the meal, which will add another 160 calories per biscuit, as well as two grams of saturated fat," Tyler adds. "For a healthier option, you can build your homestyle breakfast with two eggs, chicken sausage, and multigrain toast on the side."
Popeyes Homestyle Mac and Cheese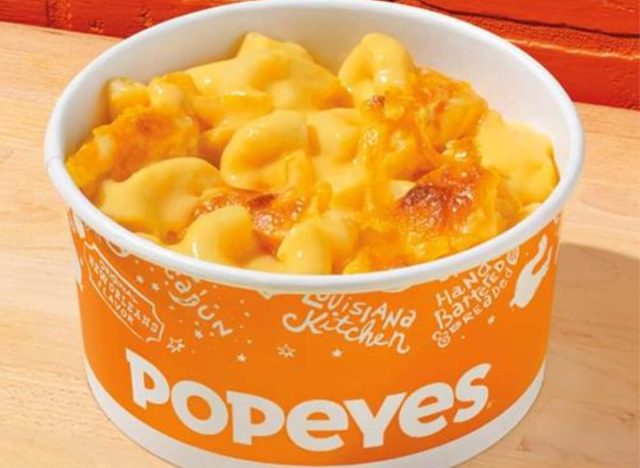 850 calories, 63 g fat (36 g saturated fat), 510 mg sodium, 16 g carbs (3 g fiber, 0 g sugar), 4 g protein
Popeyes' large Homestyle Mac and Cheese is considered a side dish, but for all the calories and fat it contains, it's more than a meal in its own right. And since this side is low in both fiber and protein, it's seriously lacking nutritionally. Maybe Popeye should get back to his roots and focus more on spinach.
Cracker Barrel Southern Fried Chicken
1,640 calories, 100 g fat (23 g saturated fat), 4,730 mg sodium, 78 g carbs (9 g fiber, 0 g sugar), 108 g protein
Cracker Barrel isn't shy about frying their foods, especially this quintessential dish of Southern cuisine. But though fried chicken is synonymous with Southern cooking, it's not synonymous with health.
"[This meal] has a whopping 1,640 calories and over 200% of the daily recommended amount of salt. Not to mention, it has 23 grams of saturated fat, which just about meets the entire day's worth," says Haley Bishoff, RDN, owner of Rūtsu Nutrition in Las Vegas, NV. "This doesn't even account for the two sides that you add with this meal." The combination of high saturated fat and high sodium makes this dish particularly problematic for heart health.
Sonny's Sampler at Sonny's BBQ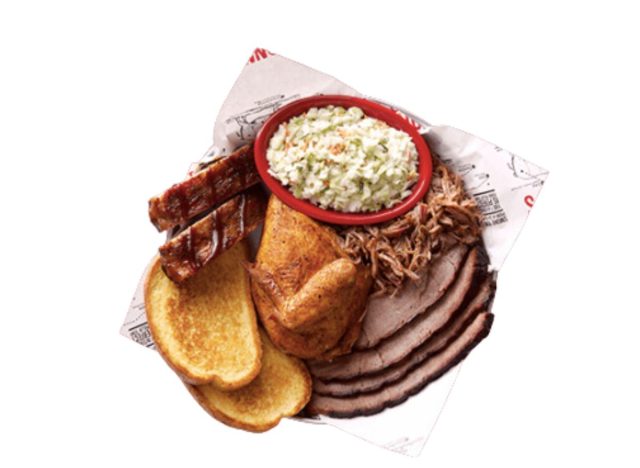 1,960 calories, 111 g fat (37 g saturated fat), 3,060 mg sodium, 124 g carbs (10 g fiber, 60 g sugar), 127 g protein
The Sonny's Sampler at Sonny's BBQ serves up a mix of pulled pork, brisket, ribs, and a quarter barbecue chicken. That's a lot of food for one person. In its favor, this plate of meat packs a wealth of protein at 127 grams, but protein isn't the only thing it has in abundance. It's high in just about everything else—and not everything is good. A cavalcade of sugar (60 grams) gives these barbecue meats their sweetness, while added sodium (3,060 milligrams) tempers them with saltiness. Stick to one of Sonny's smaller sandwiches for a taste of barbecue without the excess.
Jack's Chicken Finger Dinner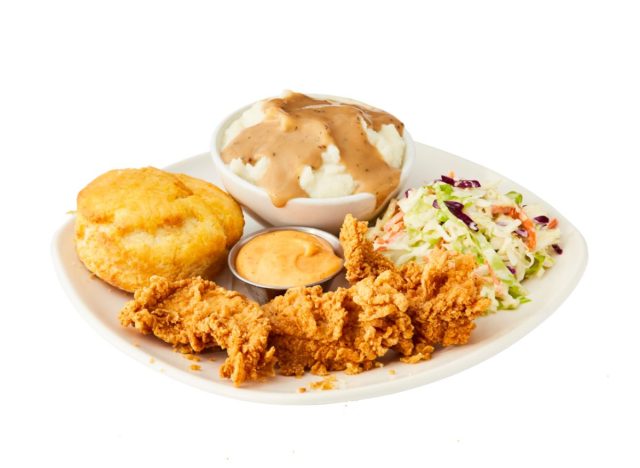 950 calories, 56 g fat (12 g saturated fat), 2,680 mg sodium, 82 g carbs (4 g fiber, 6 g sugar), 30 g protein
Not to be confused with Jack in the Box, Jack's is a Southern fast-food chain out of Homewood, Alabama. Typical fare at their 200 restaurants includes burgers, sandwiches, and plenty of fried chicken.6254a4d1642c605c54bf1cab17d50f1e
As you peruse their menu, take note: their three-piece Chicken Finger Dinner is among the unhealthiest choices. Three pieces of battered, fried chicken rack up 950 calories all by themselves (before the addition of sides). And since fried foods have been linked to heart disease and even mental health problems, we say steer clear of this order.
Sarah Garone, NDTR
Sarah Garone, NDTR, is a registered nutrition and dietetic technician, and a health, nutrition, and food writer.
Read more about Sarah