Upgrade Your Boxed Brownie Mix With These 9 Tasty Tips
Elevate the flavor of your boxed brownie mix with these clever upgrades!
After numerous attempts at making my own brownies from scratch, I have found that my homemade version never lives up to the perfectly fudgy, crinkled brownies that come from a boxed brownie mix. No recipe ever seems to live up to it! So now when I volunteer to bring a tray of brownies to an event, I tend to just go for the boxed brownie mix, because why mess with perfection? And yet, I find myself wanting to give that boxed brownie mix a little something extra special, to at least make my friends think that I attempted making this dessert from scratch.
From mixing in different flavors to adding in decadent ingredients, here are the boxed brownie mix upgrades I like to turn to when I want to turn my brownies into something extra sweet.
Read on, then check out 8 Baking Secrets They Only Teach You in Pastry School.
Make fluffernutter brownies.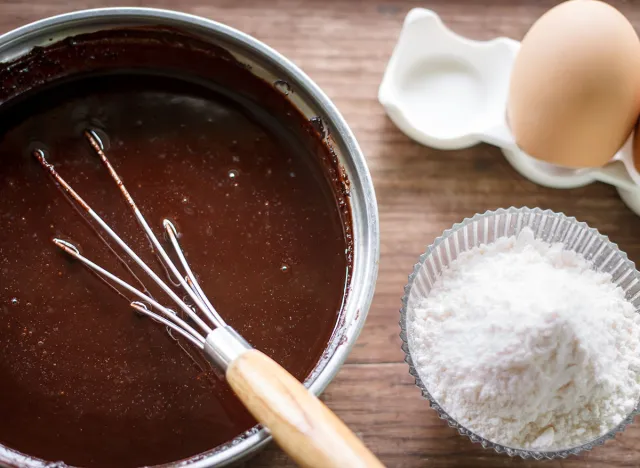 This particular tip comes from Sarah Fennel, owner of Broma Bakery and Foodtography School who is known for posting honest baking videos on Instagram. One of her videos shows her baking a fluffernutter brownie by simply swirling in the two ingredients that make a fluffernutter sandwich—smooth peanut butter and marshmallow flush. To make them, prepare the boxed brownie mix and pour it into a lined pan. Add dollops of peanut butter and fluff and swirl them around, then bake according to package instructions. So brilliant!
Add chocolate chips or other candies.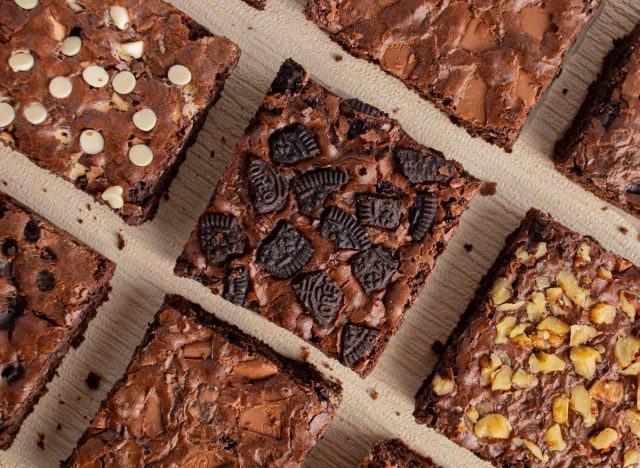 For a lazy upgrade to your boxed brownie mix, sprinkle in some candy to give that brownie a little extra something-something! Chocolate chips obviously work well here, but you could also get crafty with other kinds of baking chips like peanut butter, butterscotch, white chocolate, caramel, or even mint and peppermint. For candy, M&M's and Reese's Pieces work well in boxed brownie mix.6254a4d1642c605c54bf1cab17d50f1e
Sprinkle the tops with some sea salt.
If you love a salty-sweet dessert, this easy boxed brownie upgrade will satisfy your craving instantly. Pour your brownie mix into the lined pan then sprinkle the top with a very light dusting of coarse sea salt. Bake to package instructions, and voila! A sea-salt chocolate brownie.
Add cookie dough for "brookies."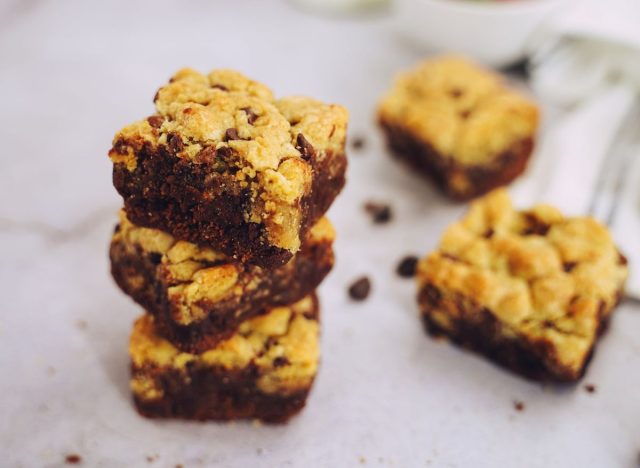 Can't decide between a brownie and a cookie? Make brookies! This upgraded dessert uses both a boxed brownie mix and packaged cookie dough—all baked together in a delicious bar. To make a brookie, press the packaged cookie dough into the bottom of a lined brownie pan. Then top the pan with the brownie mix, and bake at 350 for 30-35 minutes. Some brookie lovers will also switch the order, cooking the brownies on the bottom and dollops of cookie dough on top. Choose what works for you!
Turn them into brownie cookies.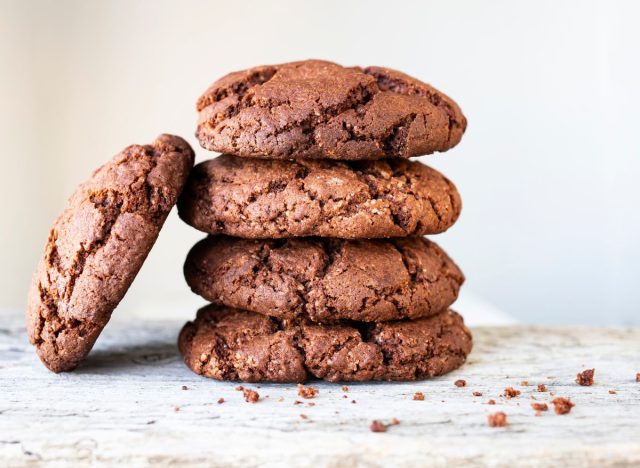 Fennel is at it again with another great boxed brownie tip by turning them into cookies! Mix together a boxed brownie mix with eggs, oil, cocoa powder, water, and chocolate chips. Then you scoop the cookies onto a lined sheet pan and bake at 350 degrees for 10 minutes. And they look delectable. You can find the full recipe specs on the Broma Bakery Instagram.
Swirl in jam and fresh fruit.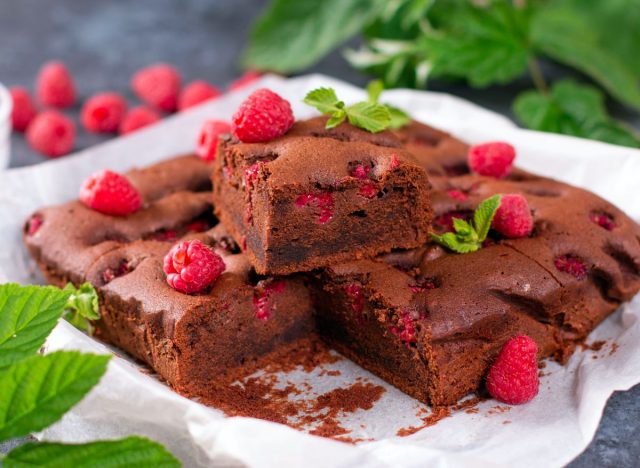 If you're a chocolate-dipped strawberry kind of dessert lover, or you can't help but order anything that features chocolate and raspberries, then this boxed brownie mix upgrade is for you. Add some dollops of your favorite berry jam and swirl it in with a spatula. If you really want to give the brownies some tangy fruit flavor, you can pair the jam with some fresh fruit on top—like raspberries!
Make an espresso brownie.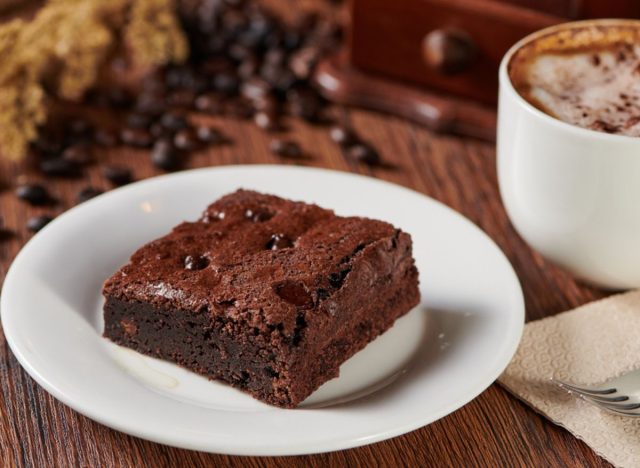 Coffee seems to always elevate any chocolate baked goods (even a boxed cake mix!) so why not add some coffee to your brownie mix as well? You can either add some instant coffee into the mix or even substitute the water in your boxed brownie with leftover coffee. The coffee gives the baked good a richer, decadent taste.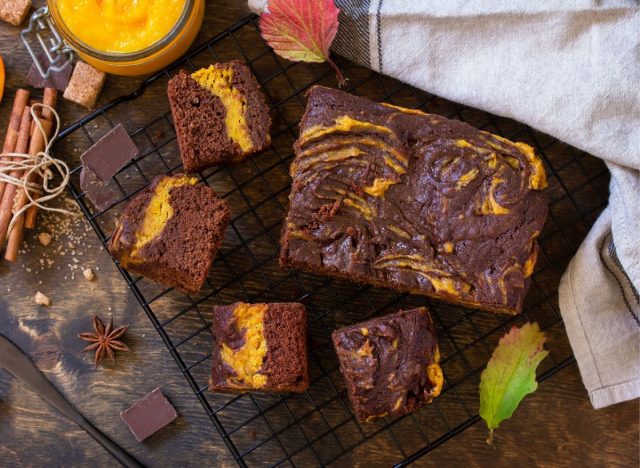 And by pumpkin, we mean adding in the actual vegetable. It may sound crazy, but trust us! Simply mix a can of 100% pumpkin puree into a prepared boxed brownie mix to elevate the flavor and the nutrition of your dessert (pumpkin is full of fiber and vitamins A and C!) Mix them together and bake according to package instructions, or until a toothpick comes out clean. For an even elevated flavor, sprinkle in a small dash of pumpkin spice seasoning.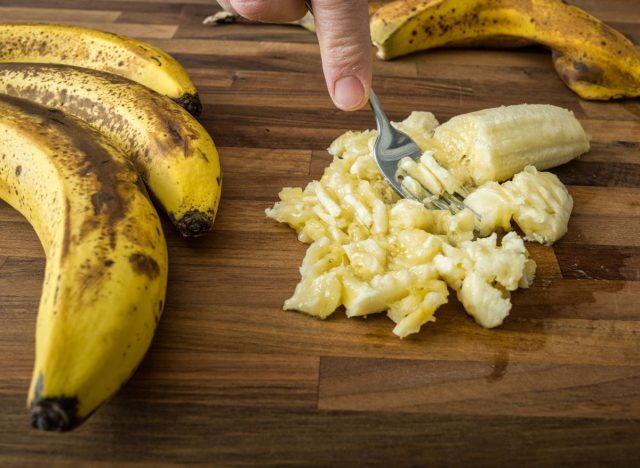 If you're looking to get more plants into your diet, you can substitute them with different types of fruits to give it that texture you desire in a brownie. You can mash up half of a banana, or use 1/4 cup of applesauce instead. You could also make a "flax egg" by mixing together a tablespoon of ground flaxseed with 3 tablespoons of water.