11 Walmart Groceries Customers Are Currently Raving About
Customers love the quality at the superstore.
This post contains affiliate links. If you use these links to buy something, we may earn a commission.
You know Walmart as a one-stop shop for everything you need. From clothing and skincare to furniture and technology, you can find it all in one superstore. According to Progressive Grocer, it's also the largest grocery retailer in the United States just by sheer footprint. Ninety percent of Americans live within a 10-mile radius of one of Walmart's 5,432 stores. And yet, the company still only holds 18% of the grocery market share.
As it reaches more than 60 years of brick-and-mortar presence, this retailer is making a huge push to take over the grocery industry: store remodels, convenient delivery, and "shoppable" recipes are just a few of the ways that Walmart is drawing in more customers.
But prices today look very different than they did a couple years ago, and the rampant inflation poses a unique opportunity for Walmart. The superstore can see more shoppers flocking to the food aisles in order to scale back on their spending, substituting pricey brands for the top-notch generic equivalents.
At lower price points, you might expect to sacrifice on freshness or taste. Not anymore. The company has been cultivating its private-label offerings to increase sales. "Our customers love our private brands because they deliver on taste and quality, while still being affordable additions to the weekly grocery trip," Charles Redfield, Walmart's Chief Merchandising Officer, told Progressive Grocer. "Customers are choosing our private brands more often, driving double-digit growth since 2020."
Skeptics may be hesitant to wade through the overabundant selection one finds at a big-box giant, but the reviews speak for themselves. There are plenty of products that tried-and-true Walmart regulars swear by, and you can find significant savings by buying these 11 items at everyday low prices—without lowering your standards.
Great Value Classic Roast Medium Ground Coffee
With coffee prices growing significantly over the past year, most of us have had to brace ourselves at the cash register. Luckily, this store-brand roast is a cost-effective option and the start to a great brew.
The value-size 3-pound tin retails for just under $11, and many shoppers find it as flavorful as high-quality name brands. "We tried this coffee, on our own, and found it to be as desirable as the more costly brands," reviewer PorkySpoon12 commented. "Some people are brand snobs and miss out on some sound bargains because of it."
Great Value Pure Maple Syrup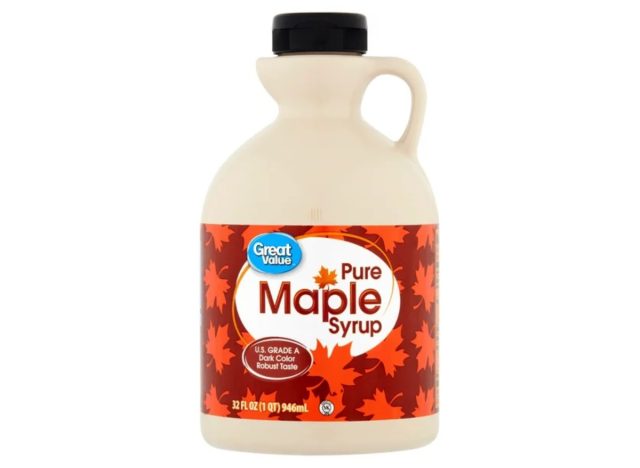 One of the biggest challenges when it comes to finding a high-quality maple syrup from more affordable store brands is avoiding high fructose corn syrup—a sweetener that is linked to a whole host of metabolic diseases. That's why it's paramount to find a true maple syrup, not the "pancake syrup" that uses artificial ingredients.
Many have found that the Walmart-brand Pure Maple Syrup suits their needs when it comes to buying a rich, thick, authentic syrup, to the tune of $15.98 for a 32-ounce jug. "This is pretty good maple syrup – and for a pretty good price. It is 100 percent maple syrup – no sugar syrup fillers," said just one of its five-star reviews.
Chick-fil-A Dipping Sauce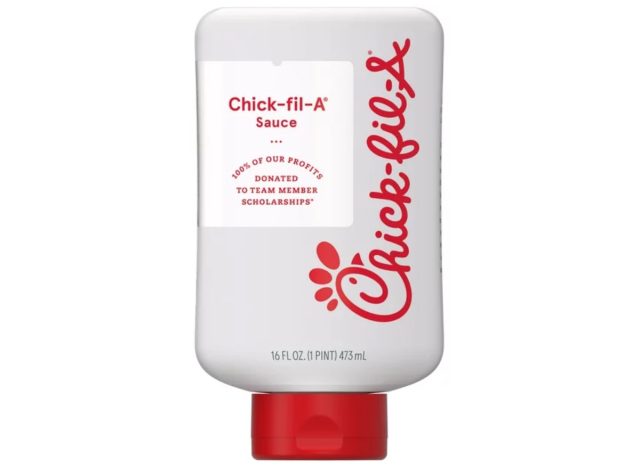 Fans of the fast-food chain should have this item on their radar. Walmart is one of the few supermarkets that carry the Chick-fil-A sauce, but the big-box store sells it for less—$3.48 for a 16-ounce bottle. Reviews on Walmart.com rave about the signature sauce for its flavor. There's also a mission behind the bottle.
Chick-fil-A released its sauce line to select grocers in 2021, announcing that 100% of the royalties from each retail sale would be donated to Chick-fil-A Remarkable Futures Scholarship Initiative, an education fund for the restaurant's team members. So picking up a bottle will have a positive effect on your tastebuds and your community.
Great Value 100% Extra Virgin Olive Oil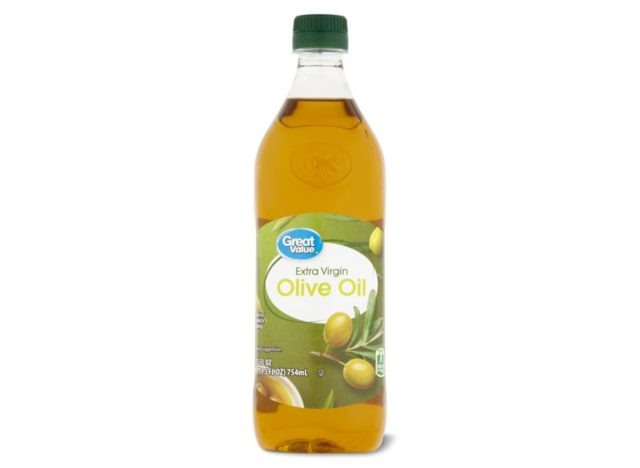 Olive oil is a rich antioxidant with healthy monounsaturated fats that can support heart health and weight loss. If you're trying to reap the benefits, keep in mind that the cooking oil industry can be full of fillers, so picking the right brand is critical. Choosing "extra virgin" is one way to narrow down your options, but the higher the quality, the more expensive it can get.
The Great Value brand hits most of the marks, and for about $6 for 25.5-ounces, it's one of the most affordable quality extra virgin olive oils around. That's the reason so many customers pick this up at Walmart.
According to one customer review, other competitors sell the same product for more. "This same product is also made for Food Lion and is much much more expensive at Food Lion. The smaller bottles at Food Lion are priced higher [than] this larger Great Value brand but it is the same."
One caveat—it comes in a clear bottle. Experts advise storing your olive oil in a dark bottle to minimize the degradation from heat and light. But if you're having a tough time finding a low-cost way to add this health food to your kitchen, pop this in the cabinet as soon as you take it home to keep it fresh.
Nestle NIDO Toddler Powdered Milk Beverage
While recalls and shortages have made formula hard to find and challenging to afford, parents have been leaning on Walmart for this toddler formula, an anchor for families during the price surges. One customer left a positive review because the powder was consistently available at the big-box store, and at a reasonable price to boot.
"This is the only milk my 19 [month] old will drink. It has [been] extremely hard to find right now and that has made for some major issues. So [grateful] that we found it online at Walmart." The 56.4-ounce tub contains around 44 servings to support a growing kid for $19.98.
Great Value Omega-3 Trail Mix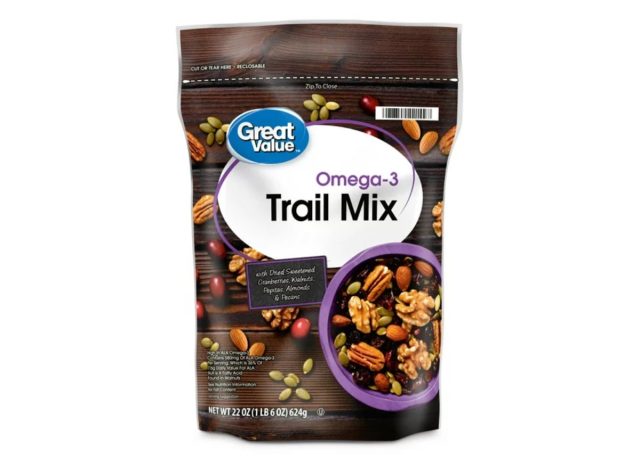 If you know about the ability of Omega-3 fats to reduce inflammation, burn fat, and improve glucose levels, you probably look for easy ways to incorporate more of them into your diet. Nuts and seeds have a good amount of these fats, so why not snack on them?
This mix of walnuts, almonds, pecans, pumpkin seeds, and dried cranberries packs 36% of your daily ALA value in one serving for $7.98 a bag. Customer reviews rank this at 4.7 stars for both quality and quantity. "Outstanding fresh flavors, crunchy nuts, not much sweetness, highest quality ingredients according to my sense of taste," said one reviewer. "A great value for a low price. Wish I had discovered this product when it first came out."
Great Value Minced Garlic in Water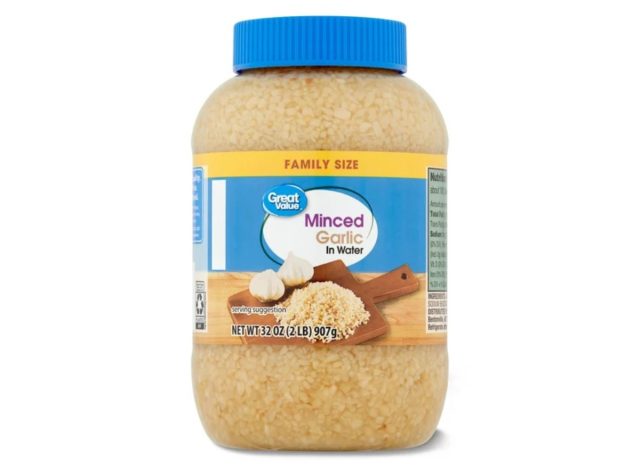 It's a well-known cooking hack that saves time—buy pre-minced garlic to throw in all your recipes for an extra dimension of flavor (along with some hidden health effects). Walmart sells this giant two-pound jar of preserved peeled and chopped garlic to make seasoning a breeze. For $4.98, it beats having to do all the labor yourself.
"I have come to rely on this garlic as my go to. Unlike others that are prepared, this fine chopped garlic is soft and tender," one reviewer said. One warning from many—pick this up from the store yourself, since some jars can come spoiled. If it's brown, toss it. But if you get to it while it's fresh, this can be a helping hand in the kitchen.
Spring Valley Extra Strength Hair, Skin & Nails Dietary Supplement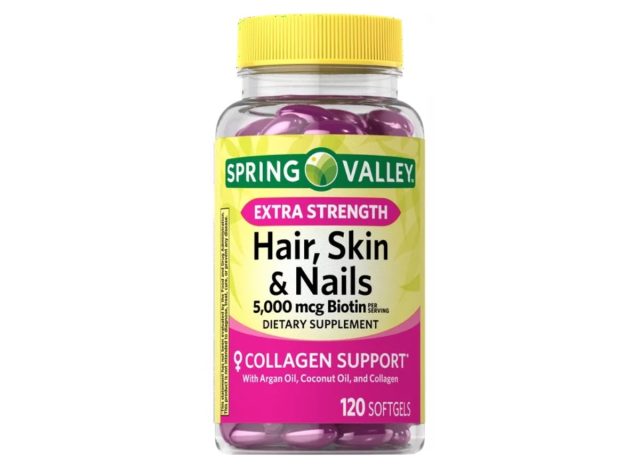 These softgel capsules contain Vitamin A, C, and D, a mix of B vitamins, biotin, argan oil, and coconut oil to benefit more than just your hair, skin, and nails. B vitamins can help regulate your nervous system and energy levels, while Vitamin D plays an important role for your immune system. All of this comes at a steal—just $5.94 for a little over a month's worth of supplements.6254a4d1642c605c54bf1cab17d50f1e
"I suffer from post-Covid hair loss, losing 60% of my hair within 2 months before trying this supplement with Biotin, which is known to slow hair loss—and it has! 3 gel caps daily and this is my 2nd bottle. Wish I had bought this sooner!" said one happy customer.
This may not work the same for everyone, but if you're looking to add biotin and other nutrients to your routine, it's worth a try at this price point.
Great Value Organic Raw Unfiltered Apple Cider Vinegar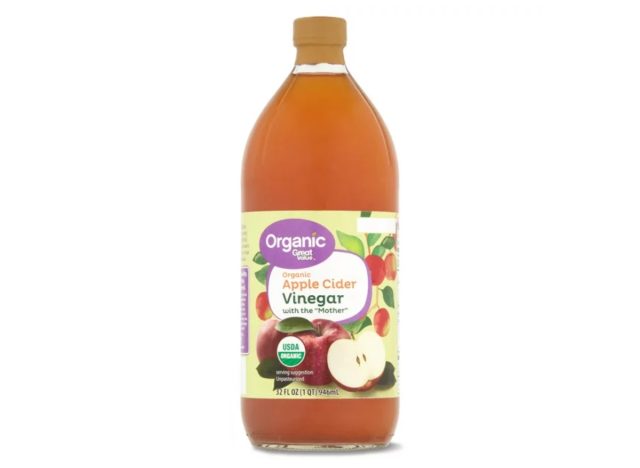 While the miracle effects of apple cider vinegar are still up for debate, a lot of health-conscious people swear by it for managing blood sugar, heartburn, gut health, and weight gain. At $4.98, the Great Value version costs more than a dollar less than the holy grail, Bragg Apple Cider Vinegar, and comes with all of the same properties, including the "mother."
"I was surprised to find Great Value vinegar with 'mother' online, the price is much better than name brands and quality is just as good," said one review.
If you're not in it for the purported health benefits, the vinegar can also be used to make sauces and dressings with a little more acidity.
Great Value Original Unsweetened Almondmilk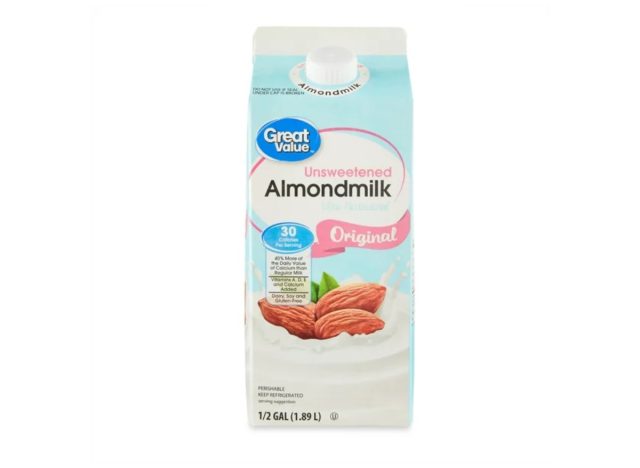 This milk alternative has earned labels for "best seller" and "top pick" at Walmart. Maybe it's because it's almost 40% less expensive than the leading brand name, Silk. But some shoppers actually prefer this $2.00 half-gallon of private-label unsweetened almond milk over the others. "We were using the Silk brand until I discovered this Great Value brand. We have never looked back. This stuff is gold!" one customer said.
For a non-dairy milk that won't break the bank, pick this up at your nearest superstore. Looking to splurge? Check out these high-quality dairy-free milks to treat yourself.
You can find way more than just your classic milk chocolate in Kit Kat's international market. In fact, Japan has over 300 different flavors. But you won't have to travel all the way to Asia for this brand new limited edition flavor.
While it isn't easy to get your hands on this gem (even the Hershey website says the item isn't currently available), Walmart is here to save the day. It's selling this sweet offering, although at a steep price of $7.95 for a 1.5-ounce bar. Or you can also get a 24-bar case for $36.99 and save.
The Blueberry Muffin Kit Kat received high praise from customers. The Impulsive Buy rated it a 10 out of 10 for "the flavors of blueberry and buttery cake batter, with strong undertones of brown sugar and warm cinnamon like you'd find in a crumble topping."
Sarah Wong
Sarah studied at Northwestern University, where she received a bachelor's degree in computer science and experimented with mixing tech and journalism.
Read more about Sarah