Everything a Celeb Dietitian Eats in a Day
Renowned registered dietitian Keri Glassman gives us a look into her go-to foods for breakfast, lunch, and dinner.
Here at Eat This, Not That!, we get exclusive access to tons of celeb-level nutritionists, wellness experts, doctors, and healthy eating influencers. (We know, we're very lucky.) We've learned from them dozens of ways to make overnight oats, what healthy snacks they can't live without, and what foods you should eat every day. But that left us wondering: what do these top-of-the-line experts do on a daily basis to stay healthy and happy? Well, we asked them!
Here, registered dietitian Keri Glassman, MS, RD, CDN, and founder of Nutritious Life, shares a peek into her life and what she eats in a day. (Spoiler alert: one of her favorite breakfasts is a smoothie. Wonder why this is such a common food in healthy people's diets? Read up: What Happens to Your Body When You Drink a Smoothie Every Day.)
Since the very beginning of my career, I've known that healthy living is about much more than food. When I started my practice just over 16 years ago, I incorporated components like sleep and stress management into my clients' meal plans (and my original logo!). I saw that nutrition was just one piece of a much bigger healthy lifestyle pie. My approach has always involved eight important pillars, and that's how I approach my everyday diet.
In other words, as I make food choices throughout the day, I'm always thinking about how what I'm putting on my plate will affect other aspects of my healthy lifestyle, like my stress levels and exercise routine.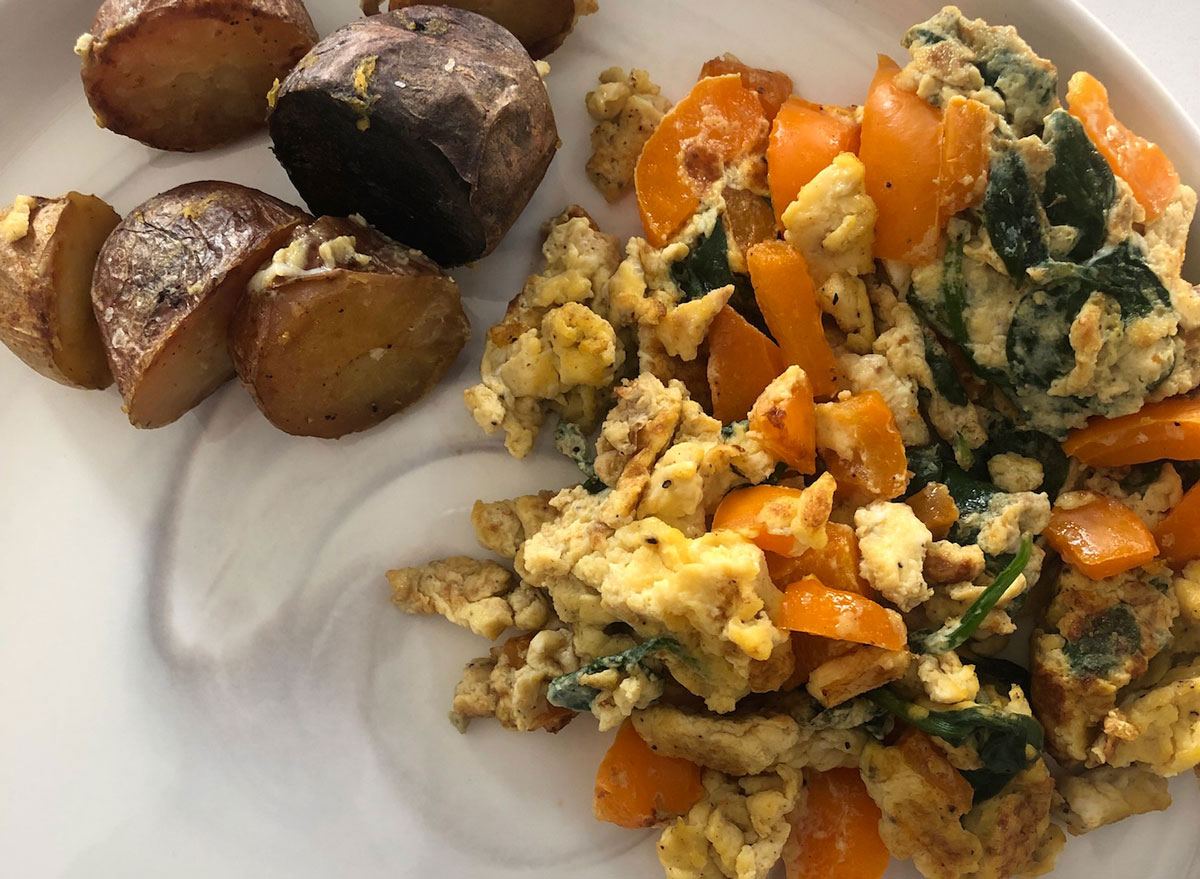 I am a big breakfast person! I almost always get in protein, healthy fat, and veggies. I usually have a smoothie or eggs or some kind of toast such as avocado toast or hummus and tomato toast, but mostly, my go-to is smoothies and eggs. The smoothie is usually comprised of almond milk, my protein powder, greens of some kind, nut butter, and an additional powder, perhaps as a booster.
Eggs are usually an egg scramble with greens on the side or berries. Like, this morning, I had an egg scramble at home. My boyfriend made this one and added in spinach (we always have spinach at home—it's one of my staples) and chopped peppers we had sliced in the fridge. Then we heated potatoes from dinner the night before. Usually, we'd have a little side salad with this, but I guess we were low on greens!
I also generally drink two coffees with almond milk in the morning, followed by water and herbal tea all day long.
I can pretty much never make it to lunch without a snack. I usually focus on getting in healthy fat and/or protein here and try to get veggies into as many meals and snacks as possible. Here, I had olives on the go. I was running to meetings, and I like changing this quick morning snack up from nuts. But often this snack would be a scoop of nut butter, some kind of nut, or even avocado with lemon and sea salt. It just depends on where I am.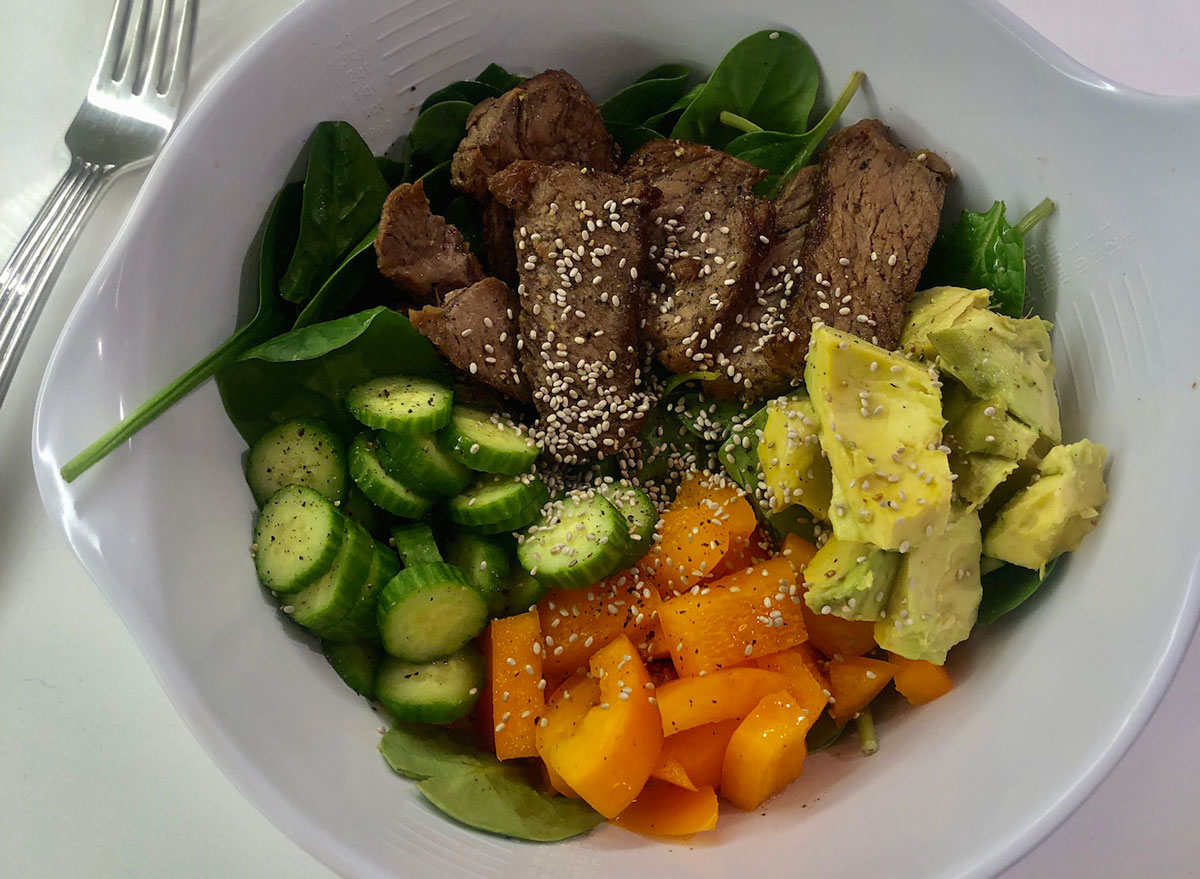 This is a pretty typical at-home lunch. When I'm home for lunch, I'll put together some kind of kitchen-sink salad with greens, whatever veggies I have around, and any leftover protein or legumes. I also add nuts and/or seeds and always make my own dressing. This one, in particular, was spinach, cucumbers, orange peppers (yep, already ate them at breakfast, too!), avocado, and leftover grass-fed steak. The dressing was apple cider vinegar and olive oil with sea salt and pepper, and I wanted to sprinkle hemp seeds but was out, so these are chia seeds you see.
Just like I never go the morning without a snack, I rarely go all afternoon without one, too. Often I'll have nuts again or a piece of fruit and nut butter like I had here. This is a sliced apple with almond butter, and I added some plain, no-sugar-added coconut chips.6254a4d1642c605c54bf1cab17d50f1e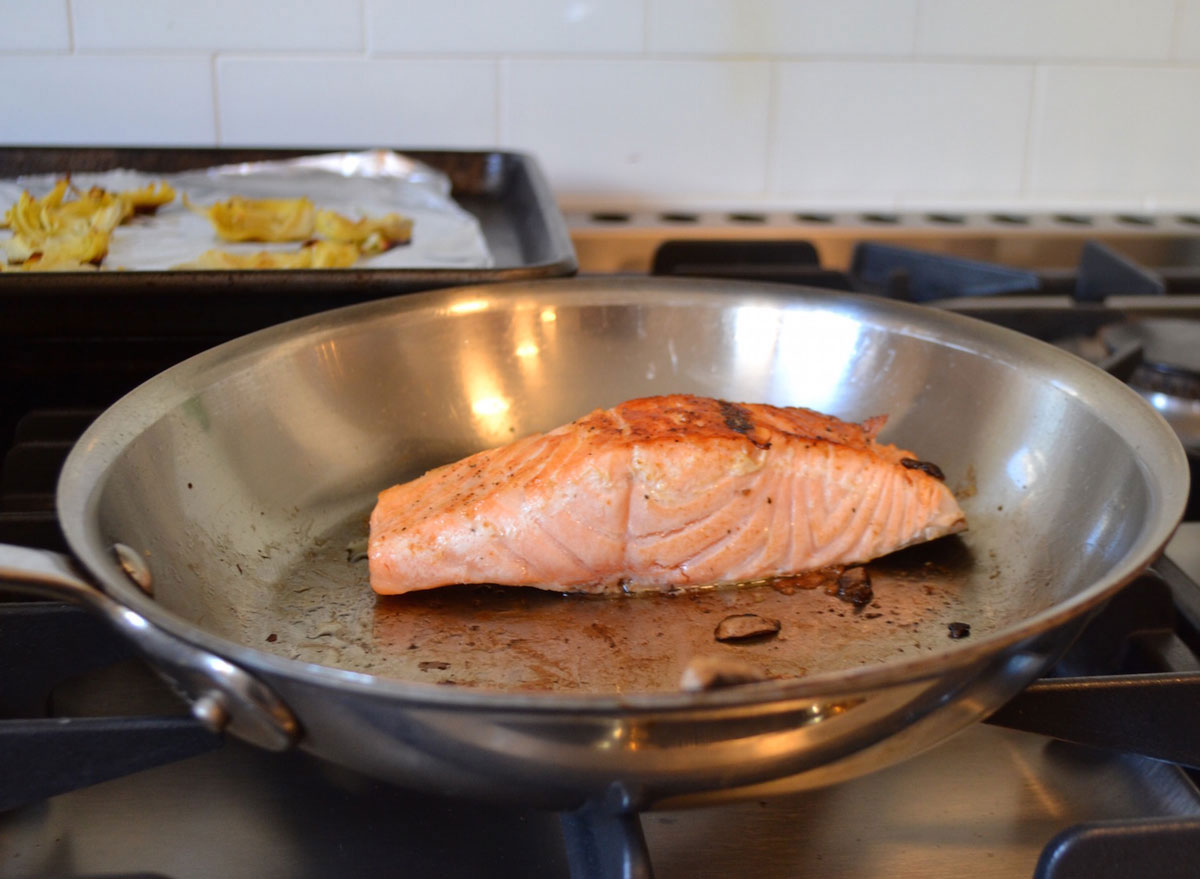 At-home dinners usually consist of raw veggies (I like to have them out on the table for the kids leading up to dinner and then at the meal, too), cooked veggies, protein, and sometimes a grain or potato. I don't show raw veggies here, but I had carrots, endive, cucumber, and radishes. This dish is super simple salmon and artichokes cooked and plated over arugula. I also made the kids a kale Caesar salad. I do sometimes have a glass of wine at dinner, but not always.
Something else I occasionally work into my diet throughout the day—especially when I'm on the go and don't have time to eat enough veggies—is a Life's Abundance green juice. It's so easy to keep the packets in my bag and stir them into a glass of water for some quick extra nutrients.
And, of course, before bed I almost always drink a cup of chamomile tea for a good night's sleep.
STAY INFORMED: Sign up for our newsletter to get the latest food news delivered straight to your inbox.