25 Worst Concession Foods in the History of America
It's not just peanuts and Cracker Jacks anymore. Two-foot hot dogs and nine-patty burgers are just a few of the fattest concessions you'll find in America's sports stadiums.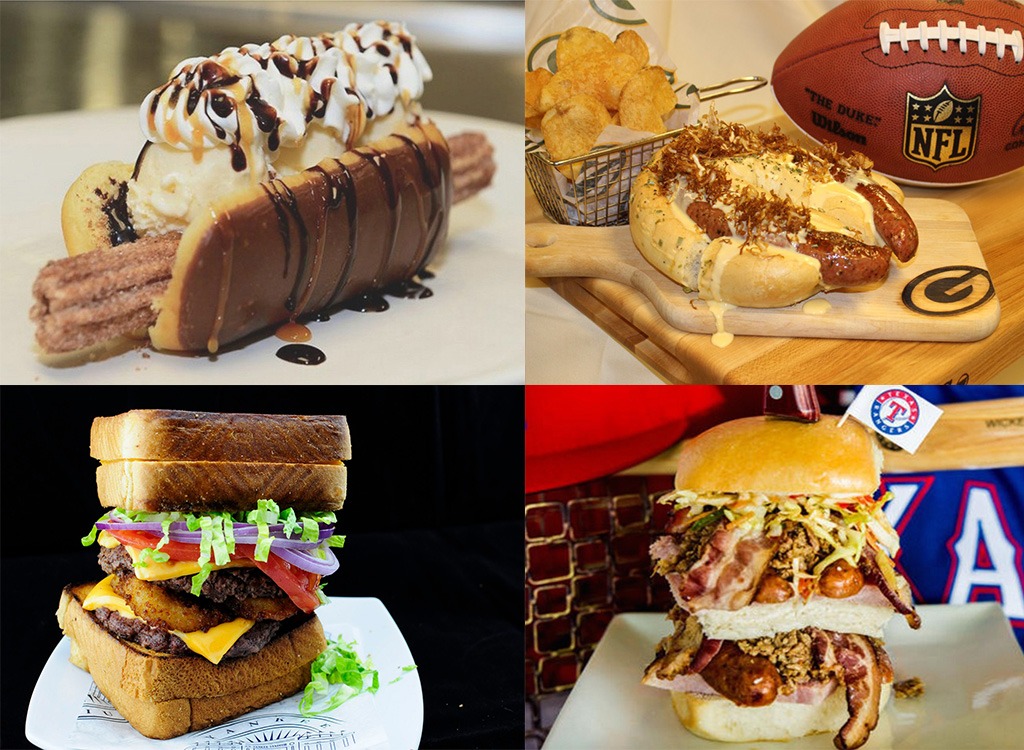 If he played every second of the game, the average 200-pound baseball player would burn about 1,092 calories—just a fraction of what most fans will consume watching the same nine innings. And that's because the concession stands at baseball fields, football stadiums, and basketball courts aren't just selling peanuts and Cracker Jacks anymore; 24-inch hot dogs and 759-calorie bloody Mary's are now among the more tame offerings. Our stomachs hurt just thinking about it!
Despite the irony of gorging on a day's worth of calories while watching athletes blast away fat and spill their sweat on the field, this is one extreme eating trend that isn't going anywhere anytime soon. Debuting bigger, better, and, in our opinion, grosser concessions each season is a major press play for teams across the country. Which means fans' waistlines and blood pressure are likely forever stuck in the danger zone. To show you just how over the top and caloric some of these greasy gameday options can be, we've rounded up the very worst of the lot. (And in case you were wondering, they should all be considered "Not That!" eats.)
While you've got greasy dietary demons on the brain, be sure to check out these Worst New Restaurant Dishes in America!
TEXAS RANGERS: BROOMSTICK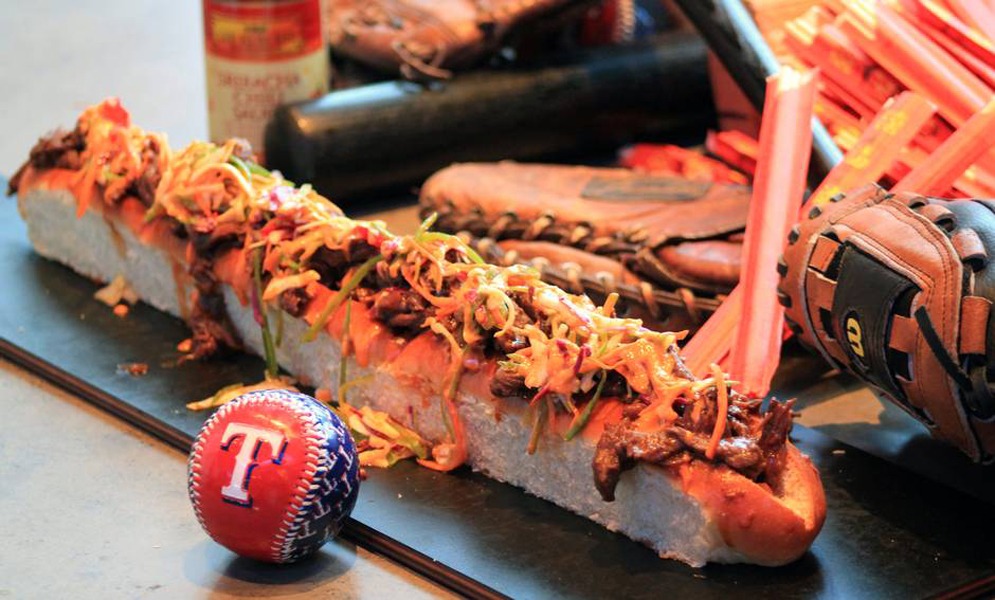 This three-pound, two-foot, $26 potato bun-encased hot dog, was named after the bat used by Texas Rangers slugger Nelson Cruz. While the sentiment is sweet, the meal itself is a disgrace—and arguably a bit dangerous for anyone with high cholesterol. Topped with chili, nacho cheese, jalapeños, and caramelized onions (read: fat, salt, and a hint of spice), this giant dish is well over the 1,000 calorie-mark. For even more foods that should never pass your lips, check out these 20 Worst Breakfasts in America.
TAMPA BAY RAYS: FAN VS. FOOD
What would you do for free baseball tickets? Would you go so far as to throw all your weight loss progress off track? The Tampa Bay Rays are willing to bet you will. In their food eating challenge, Fan vs. Food, they give brave, burger-loving fans, a chance to score two tickets to a future Rays' game and a t-shirt, by eating a four-pound burger and a pound of fries. The catch? They only have a half-an-hour to clear their plate. For some perspective, four pounds of 85 percent lean hamburger meat packs a whopping 4,533 calories, while a pound of fries clocks in around the 1,375 calorie mark. Heck, if you can down nearly 6,000 calories in 30 minutes, we may even give you a prize! That's stomach-churning and impressive all at the same time. Looking for a healthier way to indulge in your fast food cravings? Check out these 25 Restaurant Meals Under 500 Calories.
YANKEES STADIUM: "TAPE MEASURE"
This past spring season, Carl's Steaks at Yankee stadium debuted a two-foot-long cheesesteak dubbed the "Tape Measure." Its primary selling point: customers can either top it with American cheese or Cheez Whiz—fancy stuff! Though there's no nutrition information available on this 24-incher, Subway's half-foot Big Philly Cheesesteak packs a whopping 500 calories. So it's safe to assume that the Yank's Tape Measure carries four times that (or about 2,000 calories). And just as a friendly reminder, that's an entire day's worth of food! So if you plan to indulge, take home a doggy bag or plan to split the sammy with four or five of your friends.
MINNESOTA TWINS: COLLEGE DAZE BLOODY MARY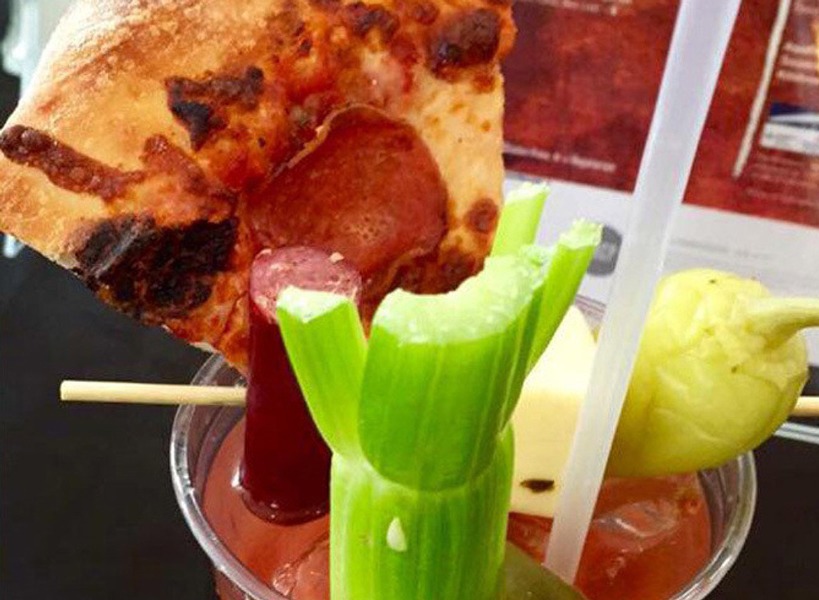 If you've ever wished your Bloody Mary came with a complimentary slice of pizza, some cheese cubes, and a beef stick, we've got some great news: Hrbek's Pub at the Minnesota Twins' home stadium is serving up just that! They also throw in an olive, pepperoncini, and a celery stick for good measure. The beverage, which has been dubbed the College Daze Bloody Mary, will cost you $19 and an estimated 759 calories. That's the equivalent of 19 Pizza Hut Traditional Hot Wings! While we don't advise indulging in this concoction solo, if you really want to give it a try, split it with three or four friends so it won't be as rough on your waistline. And if you're feeling the aftermath of the booze the next day, be sure to check out these The 25 Best Foods for a Hangover Cure — Ranked!!
ARIZONA DIAMONDBACKS: CHURRO DOG
While enjoying a doughnut, a churro or some fro-yo on occasion won't derail your weight loss efforts too much, dousing all three in a thick layer of sugar-laden sauce and eating them in one sitting is another story entirely. Who in their right mind would even think to do that? The Arizona Diamondbacks, that's who. Their concession item, the not-so-creatively-dubbed, Churro Dog, is a sweet-and-savory twist on the classic ballpark frank: A fatty chocolate glazed donut stands in as a "bun"; a cinnamon churro takes the place of the hot dog; and a slathering of frozen yogurt, whipped cream, caramel and chocolate sauces finish off the concoction. Although we'd rather eat fro-yo and whipped cream over sauerkraut and ketchup any day, just thinking about eating all these sweet treats at once is enough to give us a sugar rush! Not to mention the dessert's 1,117 calories. Combine that with a brewski and a fistful of your friend's fries, and you've blown a day's worth of calories in a single afternoon.
YANKEES STADIUM: "BARNYARD WEDDING"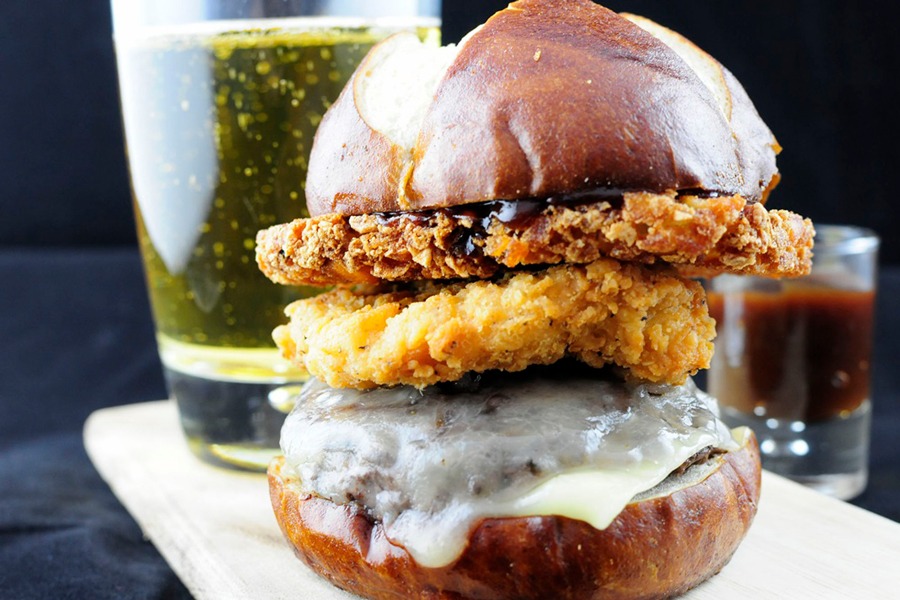 What happens when a cow, a chicken, and a potato decide to get married? They create what the Yankees' have creatively dubbed the Barnyard Wedding. This towering artery-clogging sandwich features a hash brown on top of a fried chicken cutlet on top of a cheddar cheese-smothered beef patty. If you were to piece together a similar concoction from McDonald's, it would clock in at 1,180 calories and pack nearly an entire day's worth of salt and fat. Considering fast food serving sizes tend to be on the smaller size, we estimate this wedding gone bad is even more dangerous for your waistline.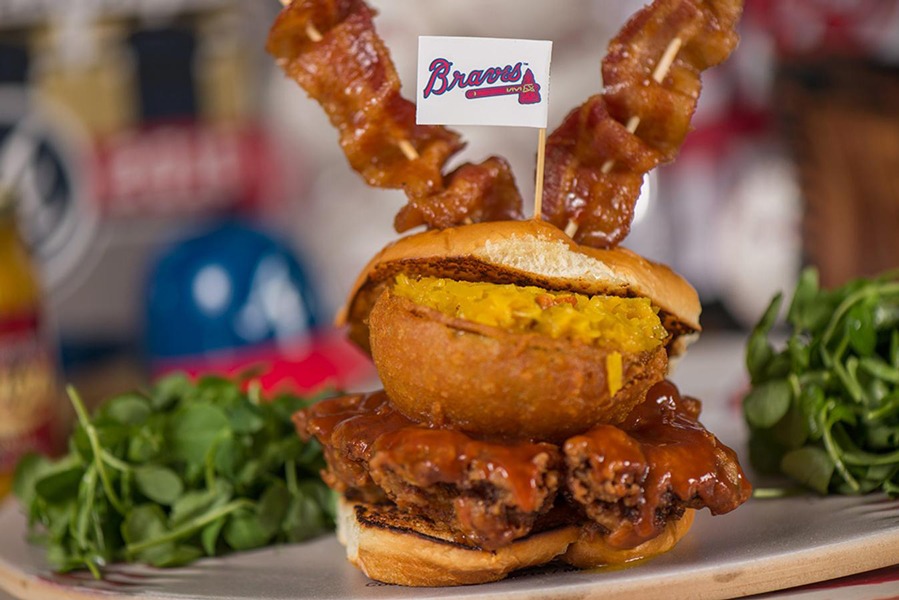 According to foodservice industry firm, Sandelman & Associates, Atlanta locals down fast food 16.4 times per month! That's more than four times per week. That said, we can't say we were surprised to learn about the Braves over the top, fried concoction, the Punisher. It starts with a toasted and buttered bun. Then they add country-fried smoked rib meat to the mix, a beer-battered onion ring, something they call "slawsa," which we presume is a slaw-salsa hybrid, and top it all with a Monster energy drink-infused BBQ sauce (ew!). To make sure the towering sandwich doesn't fall apart, they pin it all together with two slices of bacon—you know, because the sandwich clearly didn't already pack enough saturated fat. Proceed with caution, or the Punisher may just punish your hard-earned abs. To indulge in bacon, chocolate, and peanut butter without falling off track with your weight loss plan, check out these 30 Guilt-Free Snacks for Your Cravings.
WILMINGTON BLUE ROCKS: SWEENIE DONUT DOG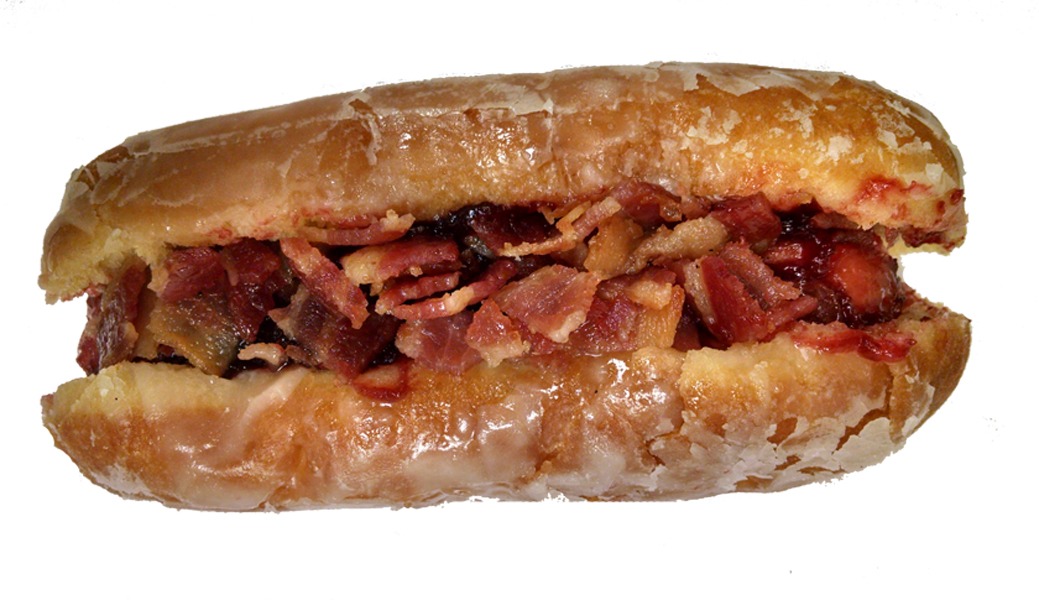 In 2015, the Minor League Baseball team the Wilmington Blue Rocks rolled out what they aptly referred to as, "baseball's sweetest weenie." Since its initial introduction to baseball fans, the sandwich has been named the Sweenie Donut Dog, in honor former Blue Rocks player Mike Sweeney, who went on to play for the Phillies, Kansas City Royals, and Seattle Mariners. A Krispy Kreme donut serves as a mattress of sorts for the hot dog, raspberry jam, and bacon snuggling up inside. Basically, you'll gain 10 pounds just by looking at it—thankfully, though, we can help you burn the flab right off with these, 50 Ways To Lose 10 Pounds—FAST!.
KANE COUNTY COUGARS: HEART ATTACK BURGER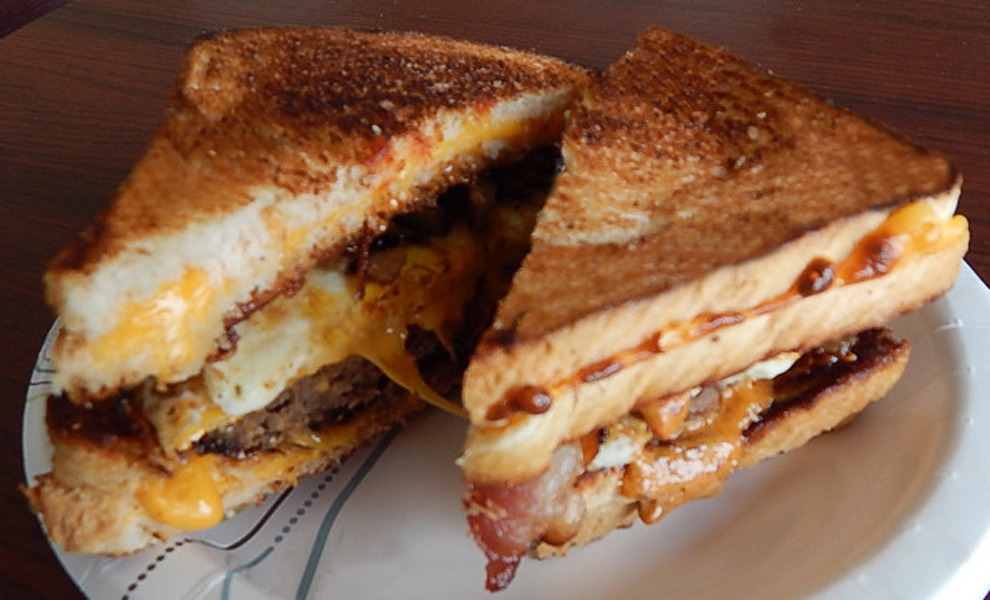 Quick tip: Anything with "heart attack" in its title should be avoided at all costs. Why food marketers think this is an appealing name, the world may never know. This minor league burger does live up to its name, though; a pair of grilled cheese sandwiches serve as its bun, while a half-pound beef patty, a fried egg, a slice of cheese, a smear of chipotle bacon mayo, and two strips of bacon nestle in between. It may only cost $12, but the costs to your health and waistline are insurmountable. For even more foods that may harm your ticker, check out these 30 Foods That Can Cause Heart Disease.
YANKEES STADIUM: G.O.A.T.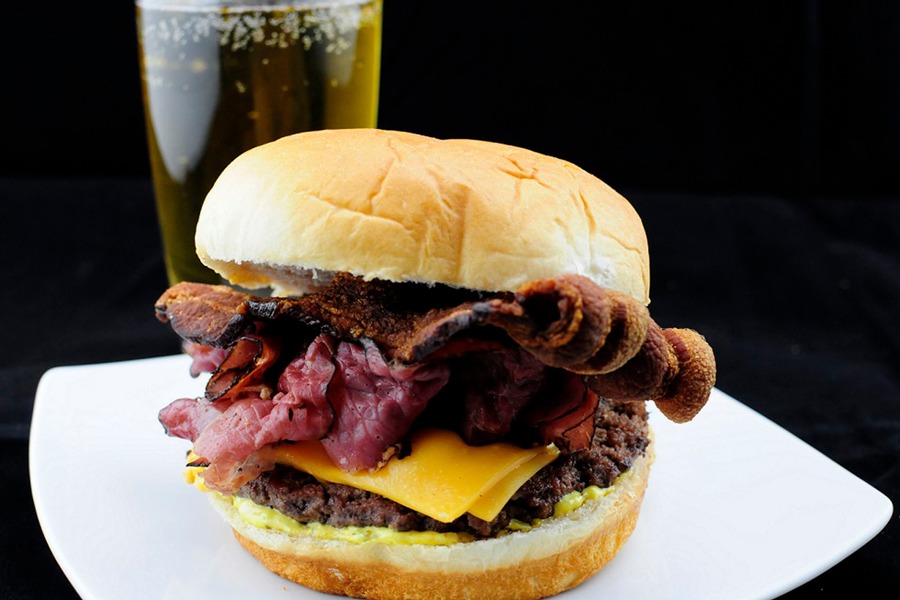 What the heck is a G.O.A.T., you ask? The G.O.A.T. or the "Greatest of All Time Burger," is a beef patty topped with bacon, pastrami, American cheese and a special "G.O.A.T." sauce. So basically it's a fatty meat patty, topped with more fat and a hit of sugar and sodium. Though the Yanks haven't made the nutritional stats for this bad boy available, we're going to go out on a limb here and say this is a definite "Not That!"
BALTIMORE ORIOLES: MAC & CHEESE DOG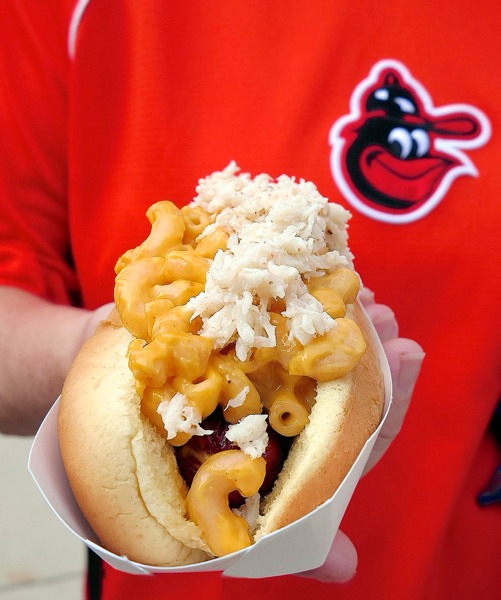 Some cheat meal indulgences, like a giant banana split, for example, are delicious and worth every calorie. The Orioles Mac & Cheese Dog, however, is another story. Maybe it's just us but a hot dog covered in cheesy pasta and crab meat—yes, that's right, crab meat!—doesn't even sound delicious, let alone worth the 1,000+ calories it bound to carry.
ATLANTA BRAVES: BURGERIZZA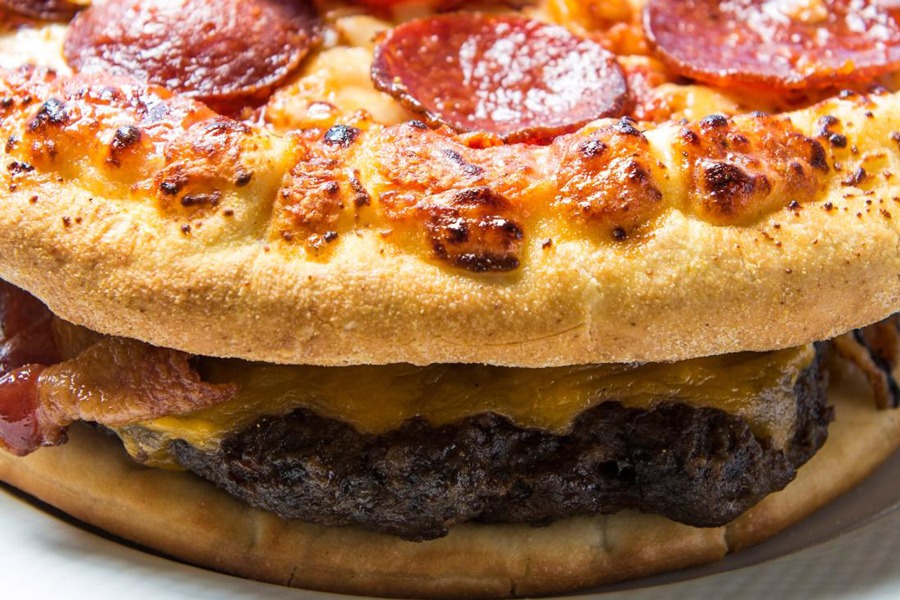 Despite the fact that they're miniature, most personal sized pizzas are packed with calories (some as many as 700!). And this burger comes with not one but two 8-inch pies. And to make matters ever worse for your waistline, the Atlanta Braves concession chefs also stuff a bacon cheeseburger in between the pepperoni-topped carb blankets. Not only will dish cost you a whopping $26, it will likely also blow through your day's salt, fat, and sodium intake. This is one dish that's certainly not American Heart Association-approved.
SEAHAWKS: CHAMPION CHIP NACHOS BUCKET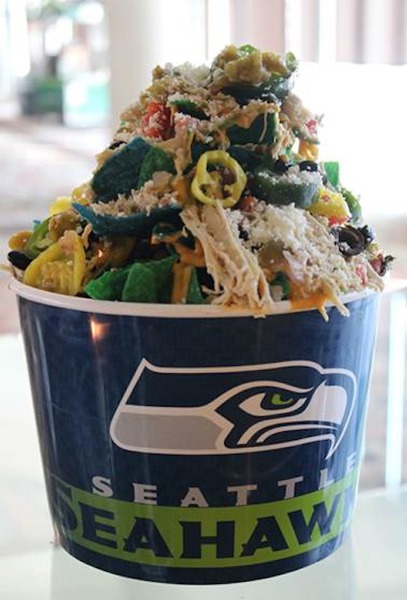 What's worse than eating an entire bucket of popcorn? Eating an entire bucket of nachos topped with a heaping pile of ground beef, chipotle cheese sauce, black beans, cotija cheese, green chilies, jalapeñoos, sliced black olives, guac, sour cream, pico de gallo, and banana pepper rings. If downing this bucket of gunk doesn't put you into a food coma, we're not sure what will. To find out how more of your Tex-Mex favorites stack up in terms of nutrition, check out our exclusive report, 10 Worst Restaurant Tacos.
PHILADELPHIA PHILLIES: TRIPLE TRIPLE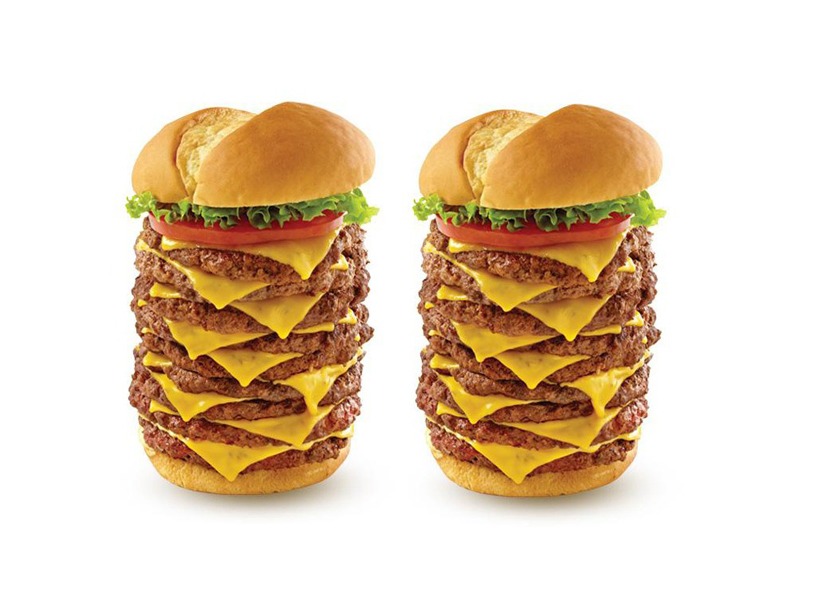 6254a4d1642c605c54bf1cab17d50f1e
It seems baseball teams across the country are doing everything in their power to ensure none of their fans will ever become fitter than their players! This Phillie's nine-patty creation, topped with nine slices of cheese, tomato, and lettuce, carries a whopping 2,200 calories, three days worth of fat and 61 grams of saturated fat—that's equivalent to 91 slices of Canadian bacon! Yuck. If you can actually figure out how to fit this burger in your mouth, or get through eating it without having chest pains, we truly salute you. However, if you want to make it through baseball season without developing any cardiovascular or weight-related issues, we suggest you stay far away from the Triple-Triple! Believe it or not, if you indulged in just two of these burgers during the baseball season you'd add a pound and a quarter to your frame without even trying. For more Not That! dishes you should stay away from, check out our report, The #1 Worst Menu Option at 40 Popular Restaurants.
WISCONSIN TIMBER RATTLERS: BIG MOTHER FUNNEL BURGER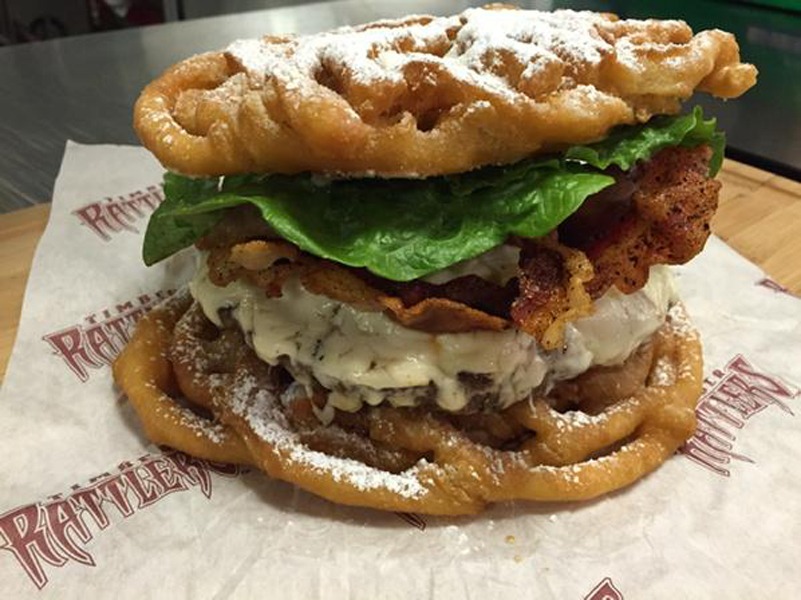 Why eat lunch and then dessert when you can eat them both at the same time? That's the thinking behind this over-the-top hybrid burger comprised of two funnel cakes, eight strips of bacon, a half-pound of cheese, and a one-pound burger. If you don't want to bust a button off of your jeans, we suggest skipping this over-indulgent concoction. If you're concerned that you'll get hungry during the game, your best bet is to stash one of these 23 Grab-and-Go Protein Snacks Perfect for Busy Days in your game day bag.
ATLANTA BRAVES: TATER TOP CHOP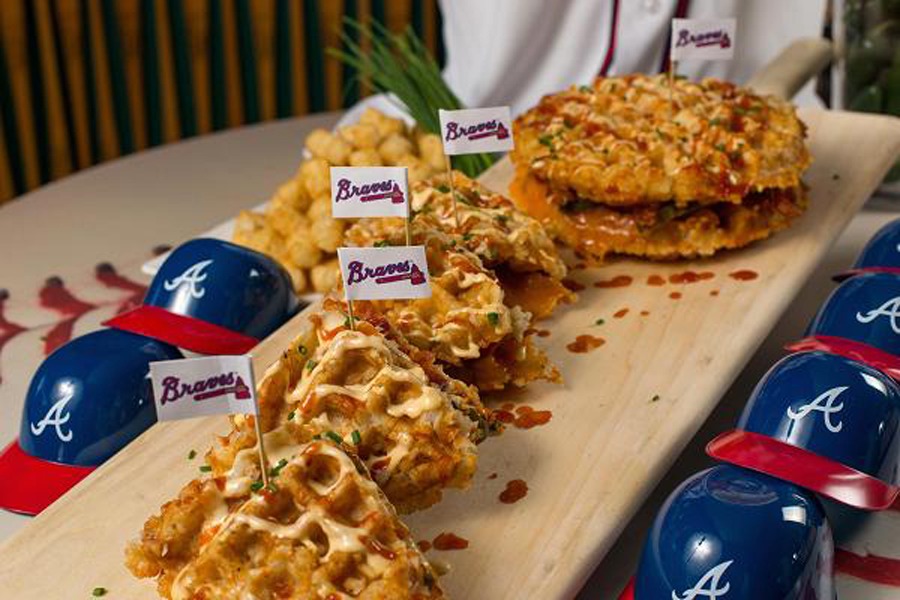 This year the Atlanta Braves and their new food contractor, Delaware North, decided to change up their food scene and experiment with new concession foods. They came up with some pretty absurd offerings and are really pushing the limits with the fat-filled menu item that they're calling the Tater Tot Chop. Bacon, melted cheese, and jalapeños are sandwiched between two layers of a waffle batter and tater tot mix and served with Coca-Cola infused ketchup. For reference: any dish served with a soda-infused ketchup is one you should be steering clear of. This concoction from Taste of the Major's is made with the intention of being shared between two or three people but with those ingredients (and subsequent calorie count) we're thinking it should more like six or seven. For even more ways to cut back on calories, check out these 25 Ways to Cut 250 Calories.
MINNESOTA TWINS: THE CLUCK & MOO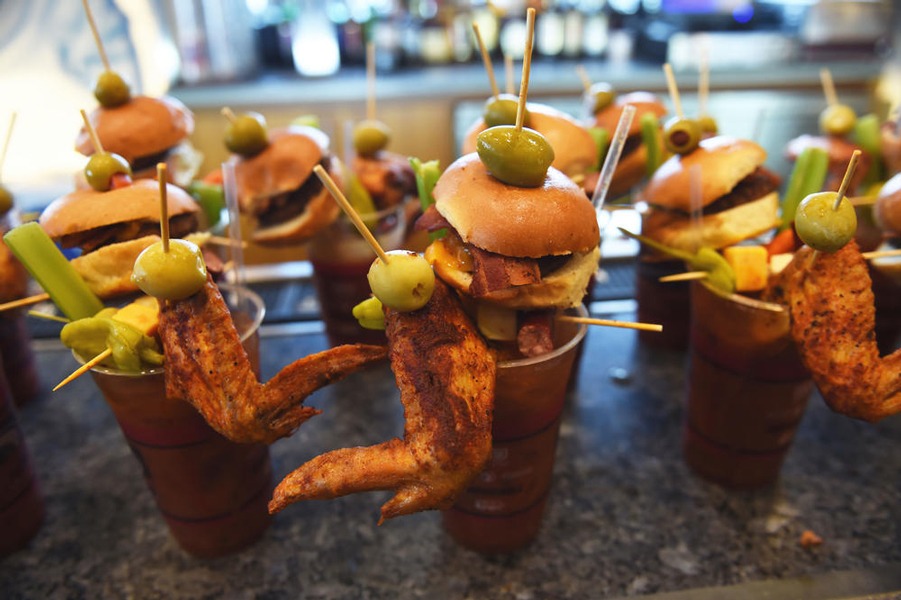 The Cluck & Moo, an overdone bloody mary, is taking center stage at the Twins' final year at Target Field—and it's even bigger their already infamous drink, The College Daze (#4!). This latest belly-busting creation can be found at Hrbek's, and comes garnished with a buffalo chicken wing and the optional upgrade of a bacon cheeseburger (in case, ya know, you're still hungry). As if those garnishes weren't enough, they also add some blue cheese, cheddar cheese, a pepperoni stick, pepperoncini, some olives, and a celery stick, too. Sheesh! A single order of this drink and you'll be getting an entire day's worth of fat, calories, and salt.
TEXAS RANGERS: THE CHOOMONGOUS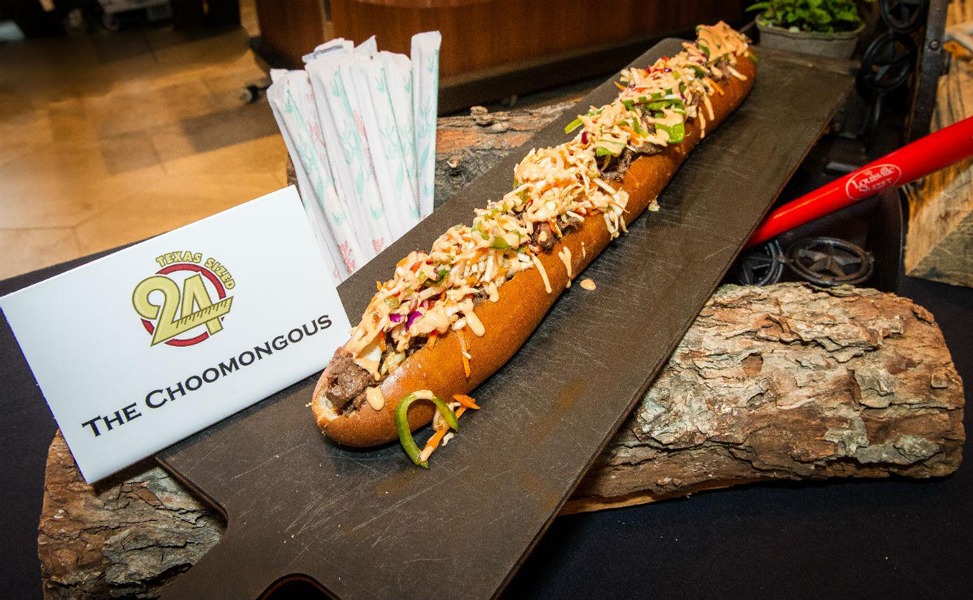 This two-foot Korean beef sandwich, named after the Rangers outfielder, Sin-Soo Choo, comes piled high with coleslaw and Sriracha mayo. In fact, they pile on so many toppings that it needs its very own carrying case. This humungous sandwich comes at a steep price for your wallet and your health. For $26 you get two-feet of salty, fat-packed beef, calorie-packed bread and globs of artery-clogging mayo. Just say no to this massive game day eat.
ATLANTA BRAVES: SAUSAGE SUNDAE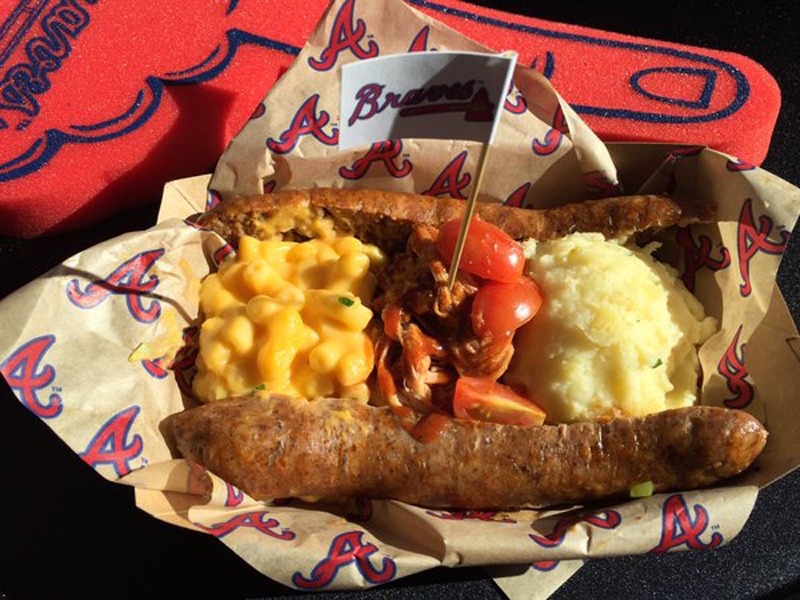 Mac n' cheese, mashed potatoes and pulled pork piled between a split smoked sausage and topped with a BBQ sauce and cherry tomatoes sounds like anything but appetizing to eat while being surrounded by cheering fans in the blistering heat. At $9 a pop, this gut-wrenching meal is going to leave you bloated, exhausted and ready to ditch the game and head for a snooze. As attention-grabbing as this savory sundae may be, it's not worth missing out from the food coma you'll be experiencing after eating.
TEXAS RANGERS: THE WICKED PIG
A sandwich served with a fork and knife is one you should be skeptical of from the start. The $27 Wicked Pig is a double-decker sandwich filled with pulled pork, bacon, sausage, prosciutto, ham and pork rinds. The only other time you'll find that much pig in one place will be in a barn. Don't waste the cash or the cals on this sandwich and go for something that will leave you feeling light. Instead of getting this salt filled sandwich bring one of these Salty Snacks Healthier than Potato Chips to munch on for your next outing.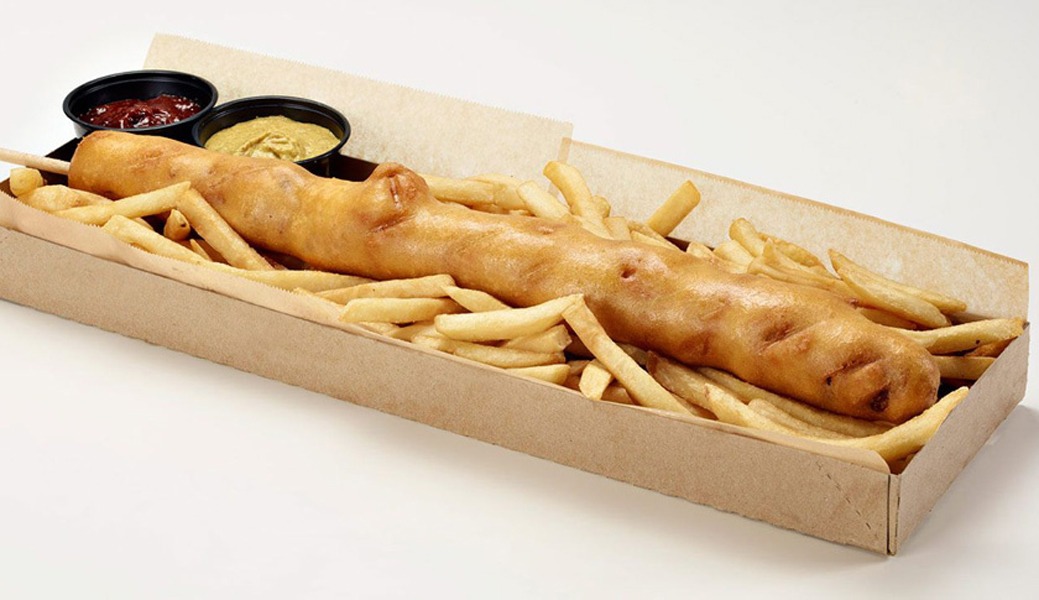 As if a hot dog smothered in batter and deep fried wasn't bad for you enough, the Arizona Diamondbacks upped the ante and made their version of the corn dog 18-inches long, stuffed with cheese, jalapeno, and bacon. This nutrient-lacking meal comes in at a heavy 3,000 calories at around $25. Not to mention the D-Bat Dog also comes served with a copious amount of french fries to add to the madness. The stadium has a list of new healthier options like vegan tamale that could be a better choice to munch on.
TEXAS RANGERS: BACON AND CHEDDAR LOADED FRIES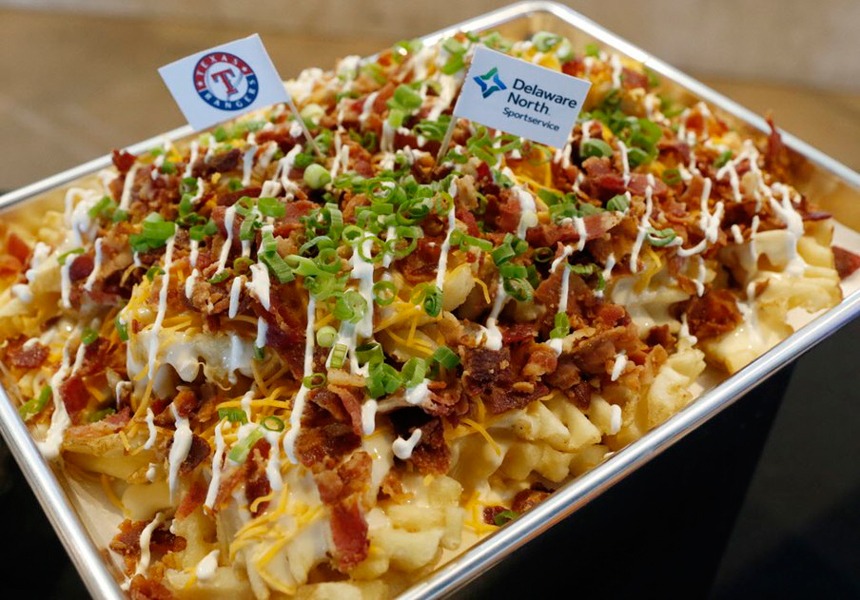 These loaded fries are a combination of fat, grease and, well, more fat. And we're not talking the good kind of fat. Bacon, cheddar cheese, and sour cream top waffle fries at the Captain Morgan Club in Globe Life Park.
Sure, you can cure your salty cravings with fries every once in a while and your diet can stay in tack, but indulge in this monstrosity of a dish and you could be looking at some major health issues. To see when you should be eating good-for-you fat, check out This is the Best Time of Day to Eat a High-Fat Meal.
MINNESOTA TWINS: BRAT DOG
A hot dog stuffed inside a bratwurst, served on a pretzel bun, and topped with bacon and sauerkraut. Now that's a mouthful. The unnecessary combination that makes up this bizarre menu item will pack in your days worth of calories and be enough to leave you feeling unenthusiastic and lackluster about the game.
MILWAUKEE BREWERS: PULLED PORK PARFAIT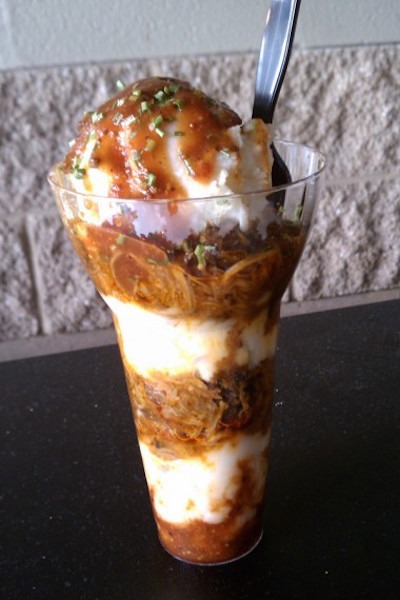 Indulge in this parfait and find yourself in a mouthwatering cry for help. Instead of the typical health-friendly yogurt, berries and granola parfait you're used to seeing on menus, this one comes with layers of pulled pork, mashed potatoes, and chives. Since you're not the one playing ball those calories are sticking to you, so instead go for a menu item that won't give you your days worth of sodium. To see more of the salty food you should be avoiding, check out The 10 Saltiest Foods in America.
GREEN BAY PACKERS: THE HORSE COLLAR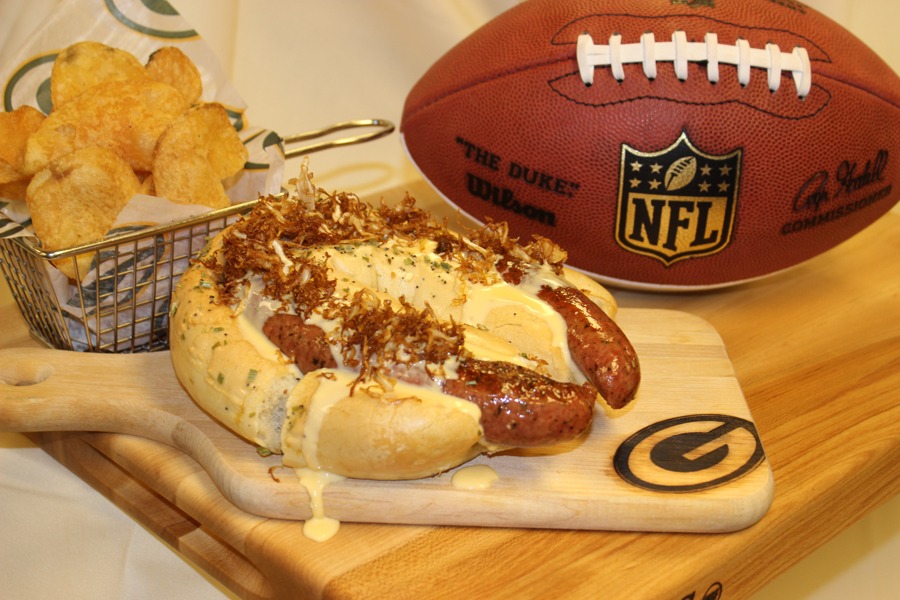 This interestingly shaped concession food is Kielbasa topped with beer cheese and fried sauerkraut on a horseshoe-shaped roll. While sauerkraut could have been a healthy addition to this artery-clogging meal since it's on our list of 14 Fermented Foods to Fit Into Your Diet, it's been fried to nix any actual benefits.