The Unhealthiest Restaurant Tacos—Ranked
When that taco craving hits, there are some options you're going to want to avoid.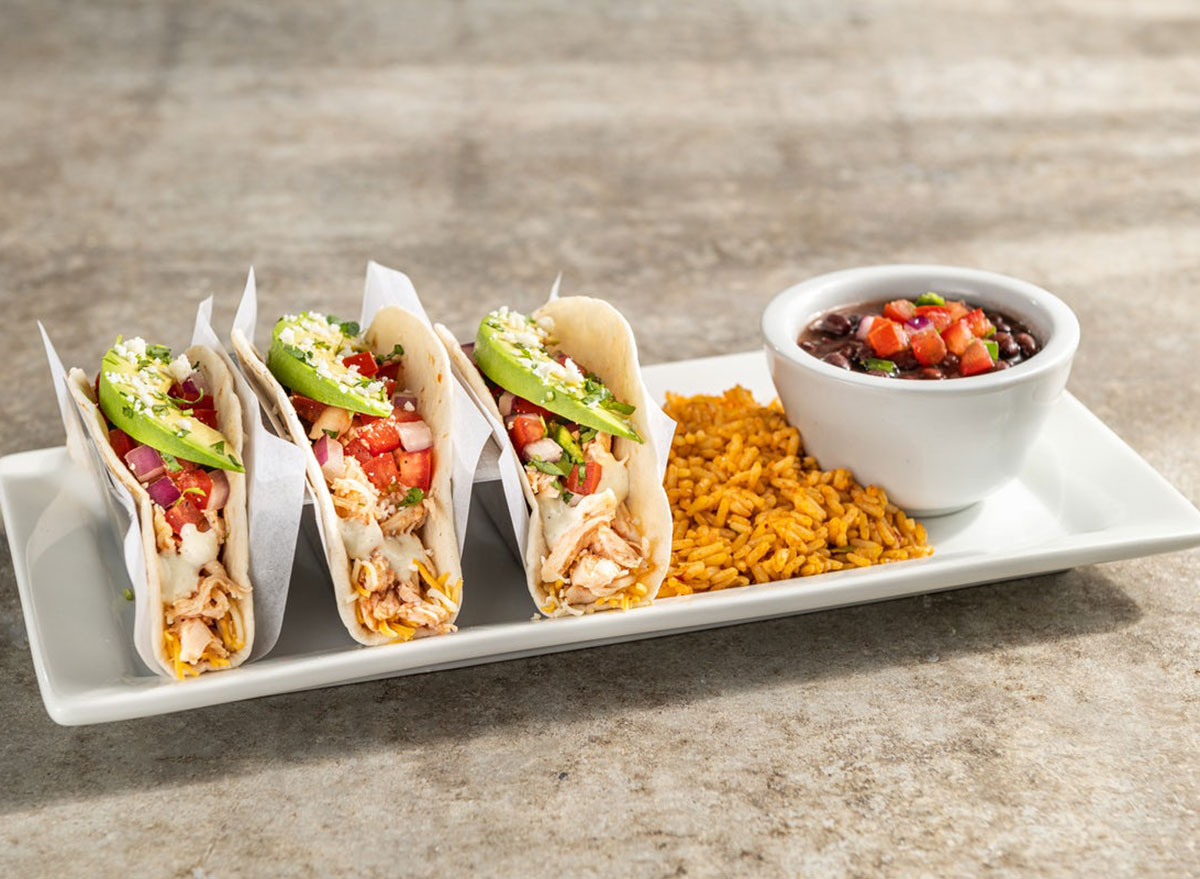 When the craving for tacos strikes, it may seem like an overall healthy option: grilled meat or veggies, pico de gallo, a sprinkle of cheese, a little heart-healthy guacamole—what could go wrong?
The unfortunate truth is, most big chain restaurants really pack in the calories. While going for the restaurant tacos might seem like a better alternative to some of its cheese-covered counterparts on the menu (think nachos and quesadillas), the simple meat-and-veggie combo can quickly spiral out of control and result in a deep-fried, sauce-laden diet disaster.
So the next time you sit down and take a look at the taco options on the menu at your favorite restaurant, you'll want to make sure you don't fall victim to the wrong meal. Read on to uncover the unhealthiest restaurant tacos, ranked from bad to the absolute worst. Also, be sure to avoid the 8 Worst Fast-Food Burgers to Stay Away From Right Now.
BJ's Restaurant & Brewhouse Barbacoa Cauliflower Pita Tacos
Per meal
: 720 calories, 28 g fat (6 g saturated fat, 0 g trans fat), 1,597 mg sodium, 89 g carbs (7 g fiber, 15 g sugar), 21 g protein
BJ's Restaurant & Brewhouse has an "Enlightened" section of the menu, which essentially means any dish listed there is a healthier meal option. But these tacos are proof that, well, this isn't necessarily always the case.
They're made with roasted barbacoa cauliflower and topped with roasted red peppers, sweet corn, onion, tomatoes, and even a Greek yogurt cream sauce. There are also Jack and cheddar cheeses to factor in and overall, while this meal comes in under 1,000 calories (which is sadly hard to find in most restaurants!), it's still high in sodium, the highest out of all the taco options at BJ's.
Bahama Breeze Coconut Shrimp Tacos
Per 2 tacos
: 840 calories, 57 g fat (11 g saturated fat, 0 g trans fat), 1,380 mg sodium, 67 g carbs (5 g fiber, 17 g sugar), 16 g protein
Not only do you need to be worried about the sodium in these crispy coconut tacos from Bahama Breeze, but the sugar, too!
Hooters Baja Fish Tacos (Fried)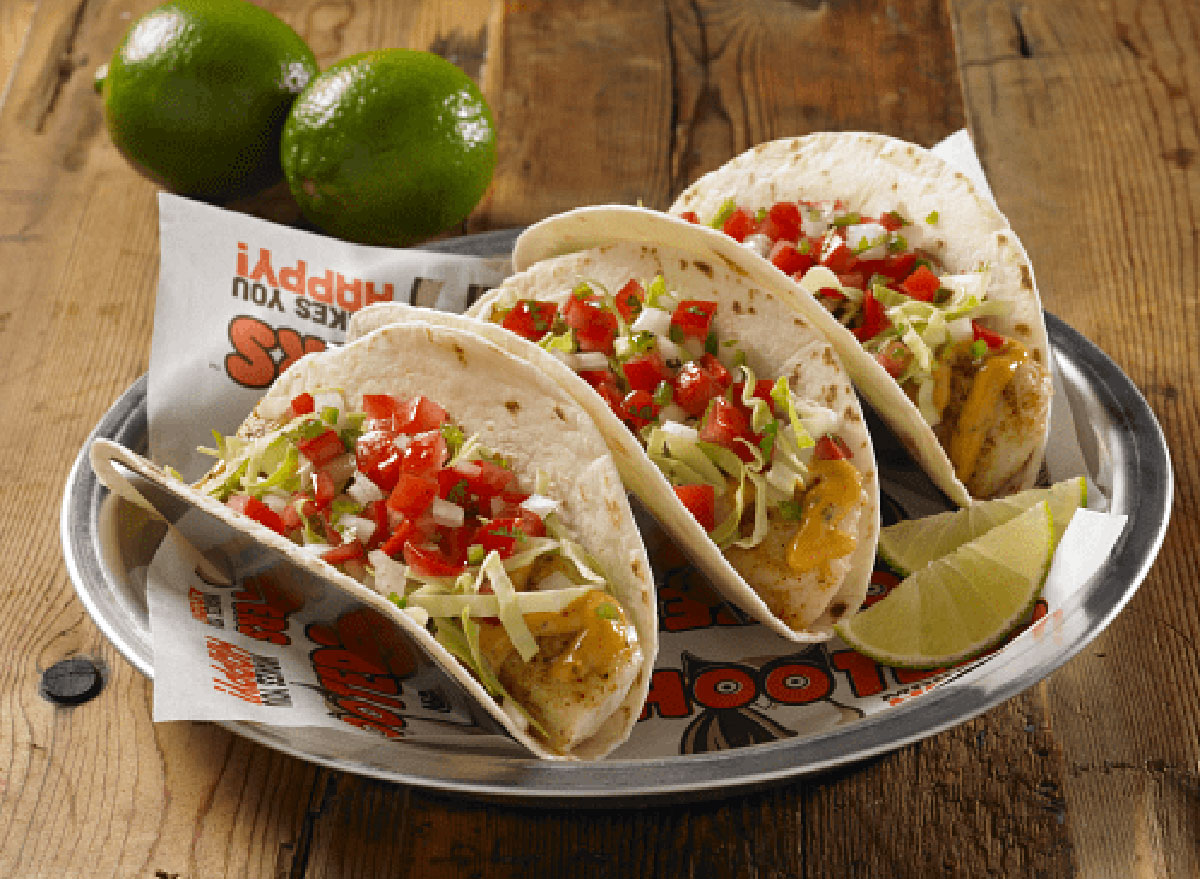 Per meal
: 870 calories, 49 g fat (9 g saturated fat, 0 g trans fat), 1,940 mg sodium, 77 g carbs (6 g fiber, 6 g sugar), 27 g protein
At Hooters, the tacos are rather simple, as they're just filled with pico de gallo, cabbage, and a special sauce. But choosing the fried fish over the grilled is where the calories, fat, and sodium go up. Always be careful of anything labeled "crispy," as it's one of the common menu words that are secretly red flags.
California Pizza Kitchen Crispy Fish Tacos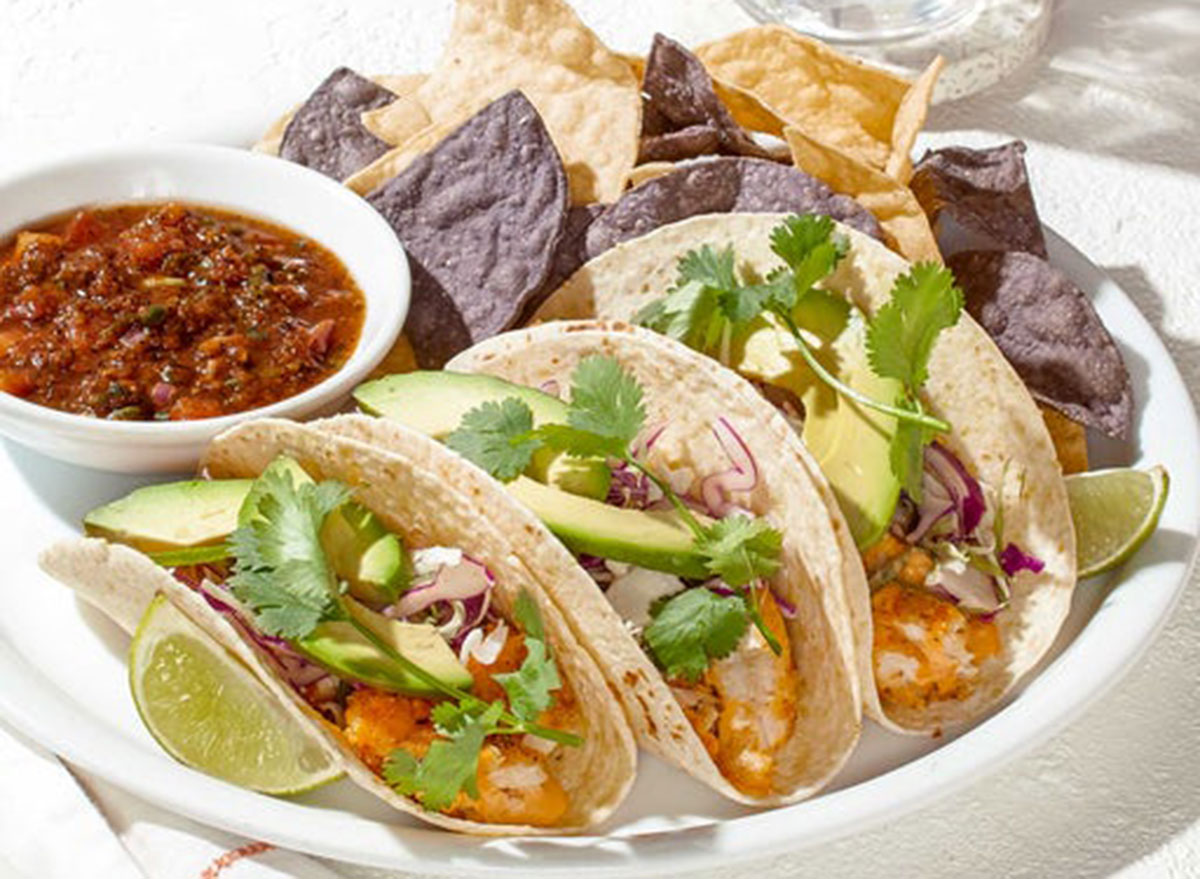 Per meal
: 1,150 calories, 67 g fat (12 g saturated fat, 0 g trans fat), 1,580 mg sodium, 101 g carbs (14 g fiber, 5 g sugar), 39 g protein
No, you don't have to get pizza when you're dining at California Pizza Kitchen, but these crispy fish tacos are a no-go. The tortillas are filled with panko-crusted filleted white fish, and again, its the fried fish that's not ideal.
Don't miss Dangerous Side Effects of Eating Fried Foods, According to Science.
Chili's Ranchero Chicken Tacos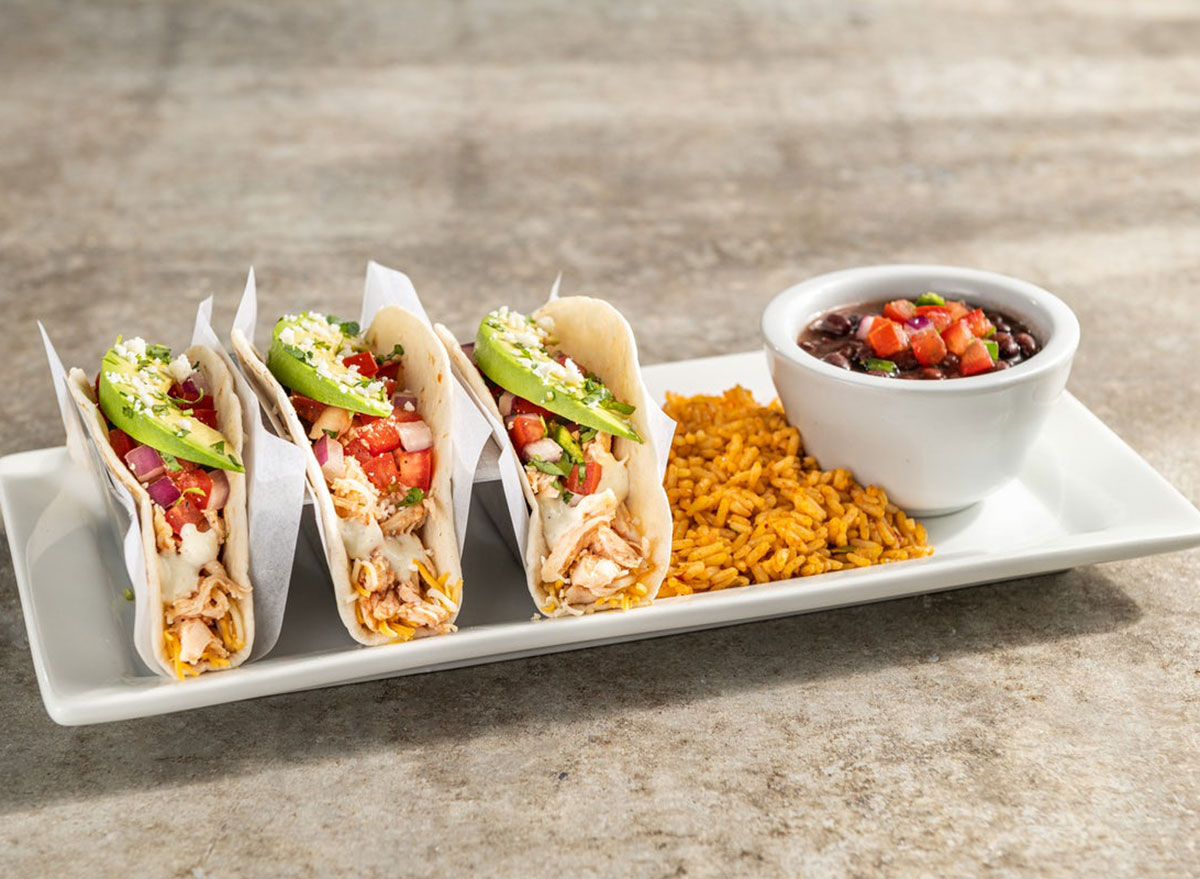 Per meal
: 1,020 calories, 44 g fat (13 g saturated fat, 0 g trans fat), 3,050 mg sodium, 100 g carbs (13 g fiber, 9 g sugar), 56 g protein
Three flour tortillas are filled with seasoned chicken, pico, avocado, mixed cheese, jalapeño aioli, cilantro, and queso fresco—doesn't sound all that bad, right? Well, let's not forget that The American Heart Association recommends no more than 2,300 milligrams of sodium per day for most adults, and this dish is coming in with more than 3,000 milligrams.
Skip this dish as well as any of the saltiest restaurant meals on the planet.
Cheesecake Factory Crispy Beer Battered Fish Tacos
Per meal
: 1,380 calories, 68 g fat (11 g saturated fat, 0.5 g trans fat), 1,870 mg sodium, 141 g carbs (17 g fiber, 15 g sugar), 51 g protein
It's no secret that all of the dishes served up at Cheesecake Factory are over-the-top, and the Crispy Beer Battered Fish Tacos are no exception. When fish is fried, and in a beer batter no less, you know that means you're in for a highly caloric, fatty, sodium-filled dish. That's exactly what you get here!
TGI Friday's Bacon, Egg & Cheese Breakfast Tacos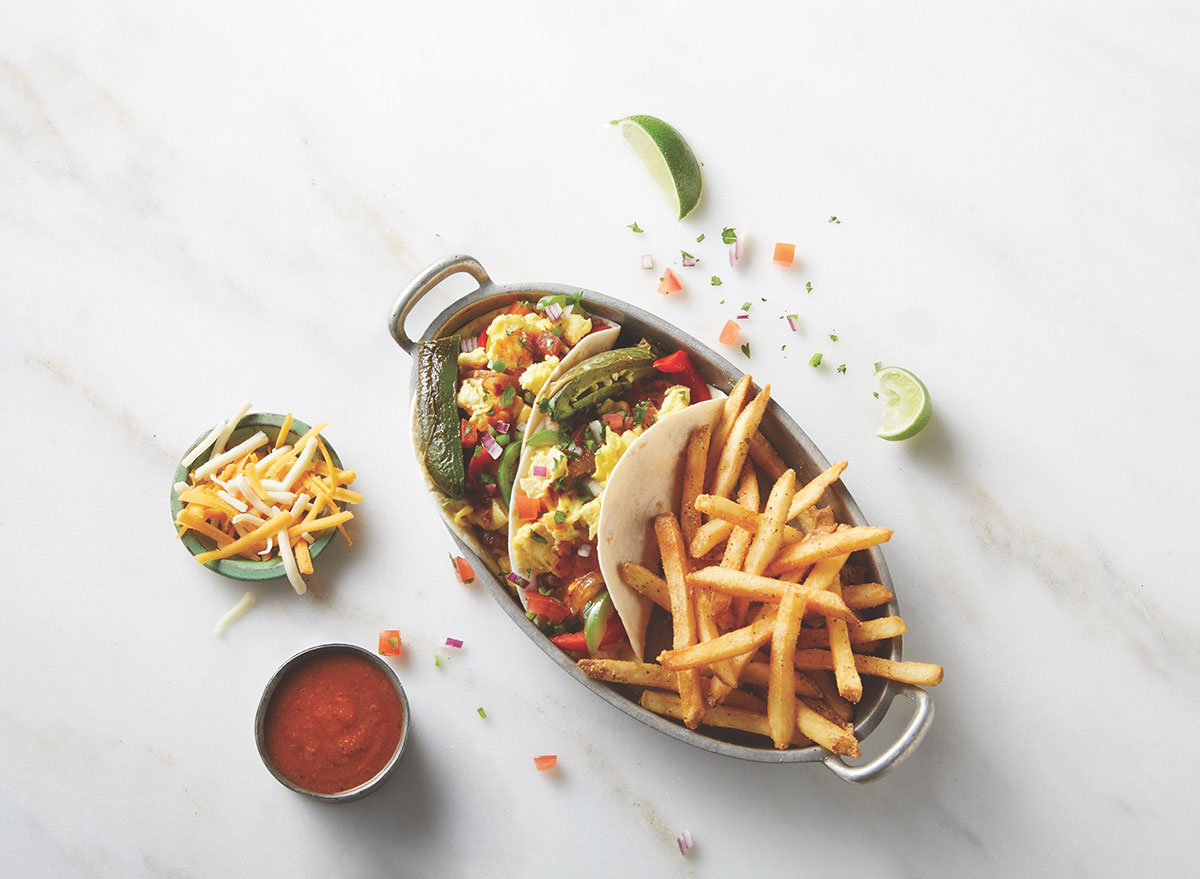 Per meal
: 1,340 calories, 87 g fat (24 g saturated fat, 0.5 g trans fat), 4,230 mg sodium, 94 g carbs (9 g fiber, 12 g sugar), 47 g protein
Breakfast tacos count, too! Especially when they're as caloric and salt-laden as TGI Friday's variation. But seriously, this meal has absolutely no business surpassing 4,000 milligrams of sodium. What the heck is in these tacos, anyways?
On the Border Dos XX Fish Tacos
Per 3 tacos
: 1,500 calories, 103 g fat (28 g saturated fat, 0.5 g trans fat), 3,640 mg sodium, 103 g carbs (4 g fiber, 7 g sugar), 42 g protein
On the Border thought it was a good idea to also deep-fry beer-battered fish for its tacos. With a creamy red chile sauce, cheese, and flour tortillas, it's the perfect belly fat storm of calories, sodium, and saturated fat.6254a4d1642c605c54bf1cab17d50f1e
Bonefish Grill Bang Bang Shrimp Tacos
Per meal
: 1,560 calories, 98 g fat (23 g saturated fat, 1 g trans fat), 3,820 mg sodium, (12 g fiber, 19 g sugar), 42 g protein
Bonefish Grill's bang bang shrimp is a beloved menu item, but that doesn't excuse the lack of nutritional value. The shrimp in these tacos are deep-fried and covered in a sweet Thai chili mayo and sour cream. Plus, the tacos are served with a side of fries, quickly creating a fattening nutritional profile for this dish.
For more, don't miss 9 Hacks for the Best Tacos Ever!
Jennifer Maldonado
Jennifer Maldonado is a senior editor at Eat This, Not That!, specializing in food and health content.
Read more about Jennifer