The Worst Frozen Foods You Should Never Buy
Just stay away from these if you can help it, as they're nothing but bad news for your health.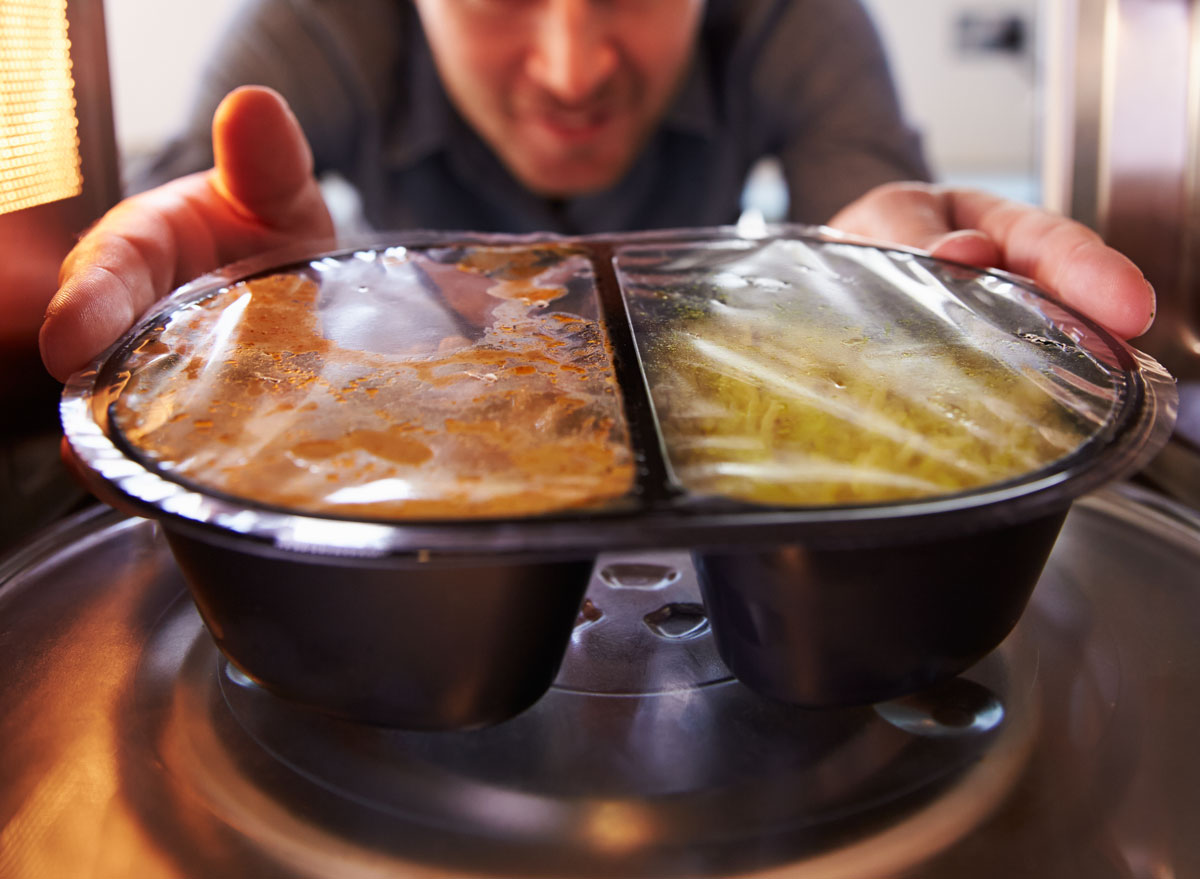 The frozen foods section of the grocery store is always a tempting aisle. It's filled with premade meals that make cooking easier and they last a long time too, something that is of major value. This became especially true living through a pandemic, as many people were trying to limit the number of trips they took to the supermarket. So it's no wonder the demand for frozen foods surged! And now, many have come to love the easiness frozen foods bring to their lives. You do want to make sure you're stocking up on the right frozen foods, though. There are plenty of options out there that aren't all that great for your health.
Amongst the healthy frozen fruits and veggies, there are plenty of pizzas, appetizers, dinners, and desserts also lining the freezer aisles. To help you make the best choices when you're navigating the grocery store, we've rounded up the worst culprits out there from the most common categories of foods you'll likely encounter. This way, you'll know exactly which worst frozen food options to never add to your shopping cart. Stay away from these frozen foods, and instead, eat any of The 7 Healthiest Foods to Eat Right Now.
Frozen Pizza—DiGiorno Three Meat Croissant Crust Pizza
Per serving
: 410 calories, 22 g fat (10 g saturated fat, 0 g trans fat), 840 mg sodium, 36 g carbs (2 g fiber, 4 g sugar), 17 grams protein
This frozen pizza from DiGiorno is one you want to avoid. It's high in calories, sodium, and saturated fat while lacking in fiber, and fiber is one nutrient that helps you stay full for longer. It also has an ingredients list that is miles long. Nothing redeeming here!
Frozen Breakfast—Bob Evans Sausage & Potatoes Brunch Bowl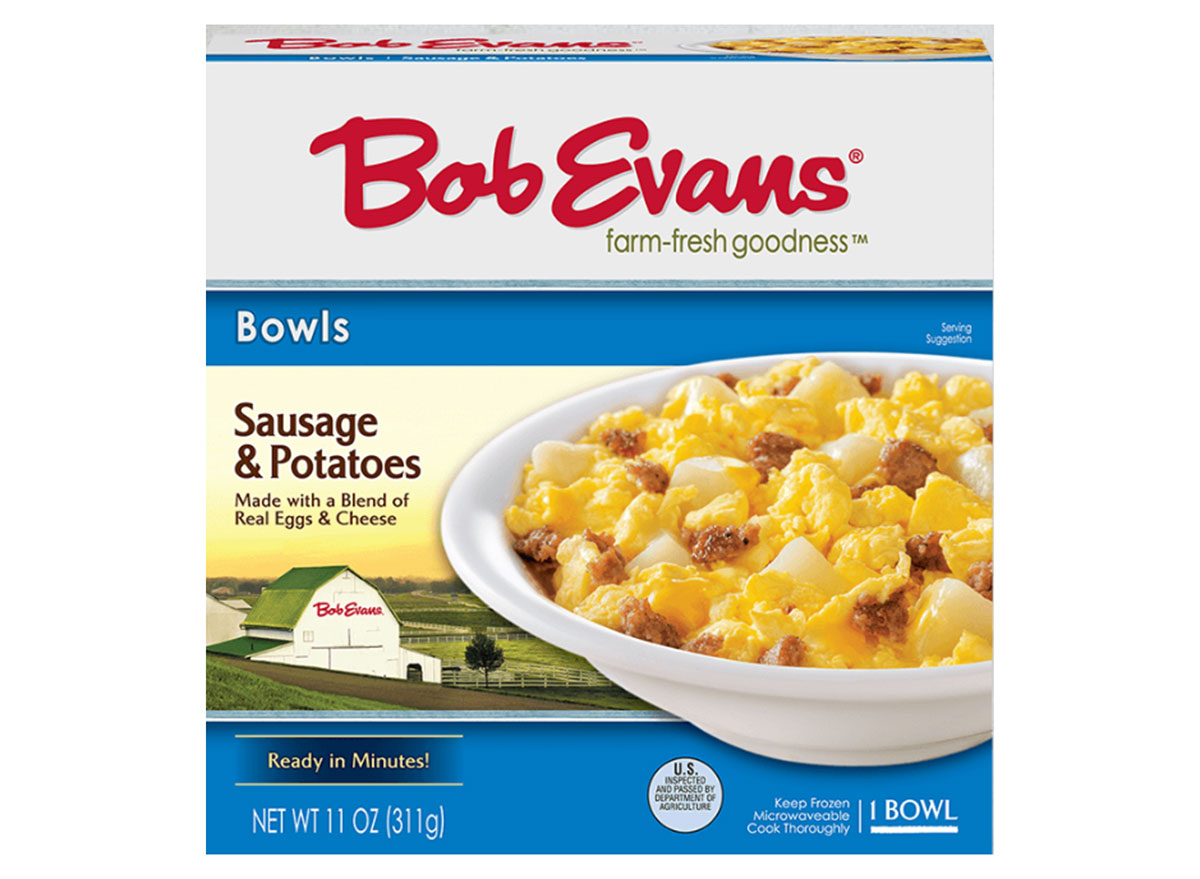 Per bowl
: 440 calories, 25 g fat (12 g saturated fat), 1,470 mg sodium, 17 g carbs (1 g fiber, 0 g sugar), 36 g protein
If you stop in and eat at a Bob Evans restaurant, then you know the breakfast options are rather over-the-top. The same can be said for the frozen meals the chain sells, too. This bowl is loaded up with sodium, coming in at more than 1,400 milligrams.
Keep in mind The American Heart Association recommends no more than 2,300 milligrams a day, moving toward an ideal limit of no more than 1,500 milligrams per day for most adults. And that 36 grams of protein? That's far too much, as ideally, you don't want to eat more than 30 grams of protein at any meal.
Frozen Appetizer—Tyson Any'tizers Honey BBQ Boneless Chicken Bites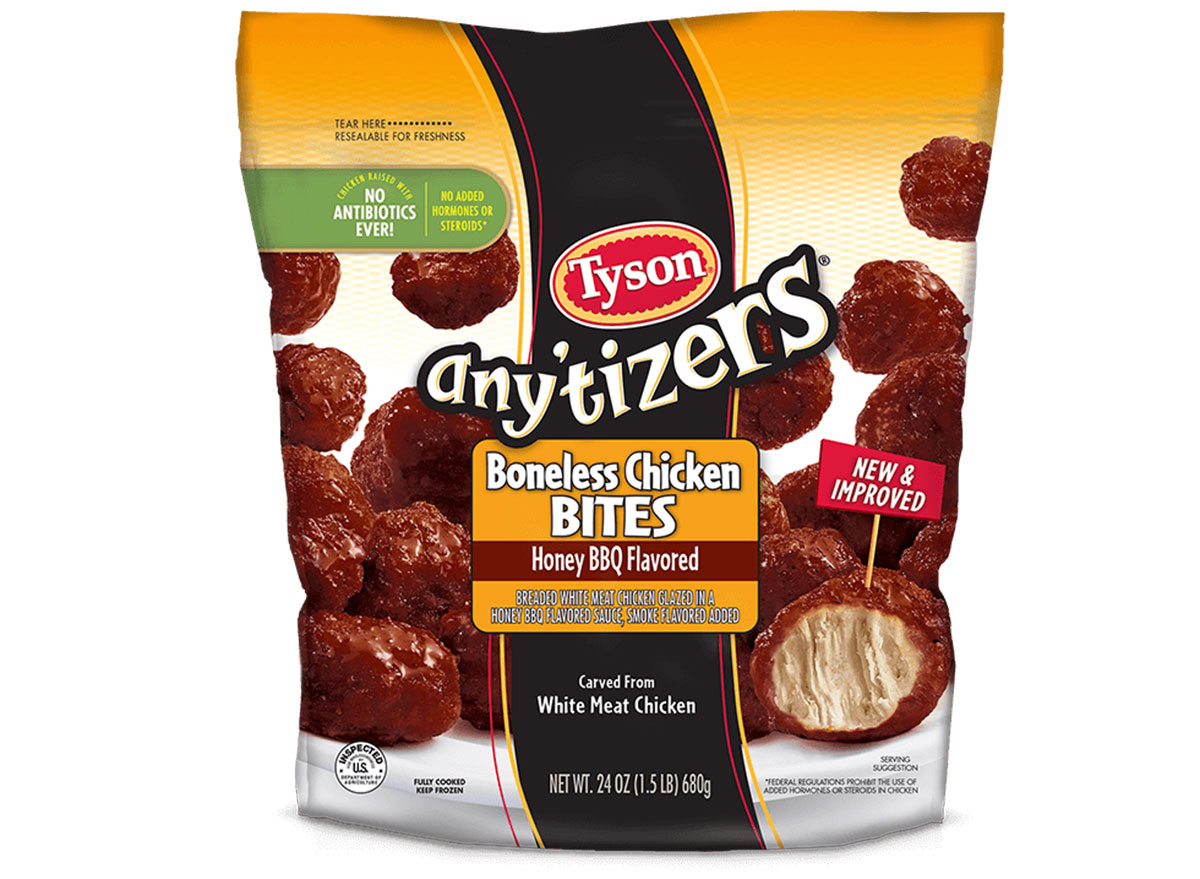 Per 1 serving
: 210 calories, 9 g fat (1.5 g saturated fat, 0 g trans fat), 510 mg sodium, 20 g carbs (0 g fiber, 7 g sugar), 12 g protein
Some boneless chicken bites seem like a solid way to start a meal, especially if you're gearing up for movie night or to watch a football game. But you wouldn't want to feast upon an appetizer that contains several types of sugars and a long list of preservatives, right? This option gets a skip.
Frozen Lunch—Marie Callender's Sweet & Sour Chicken
Per meal
: 550 calories, 15 g fat (2.5 g saturated fat, 0 g trans fat), 1,060 mg sodium, 88 g carbs (4 g fiber, 28 g sugar), 17 g protein
The convenience of having your lunch ready in minutes is part of the frozen food appeal. This sweet and sour chicken dish from Marie Callender's, though, is packing when it comes to sodium and sugar. Here, you're in for some battered chicken that is tossed with vegetables, pineapple, and a sweet and sour glaze sauce, all atop rice. While it has a solid protein serving, it's serving up nearly as much sugar as you would get if you ate three Original Glazed Donuts from Krispy Kreme. That's just scary!
Frozen Dessert—Sara Lee Lemon Meringue Crème Pie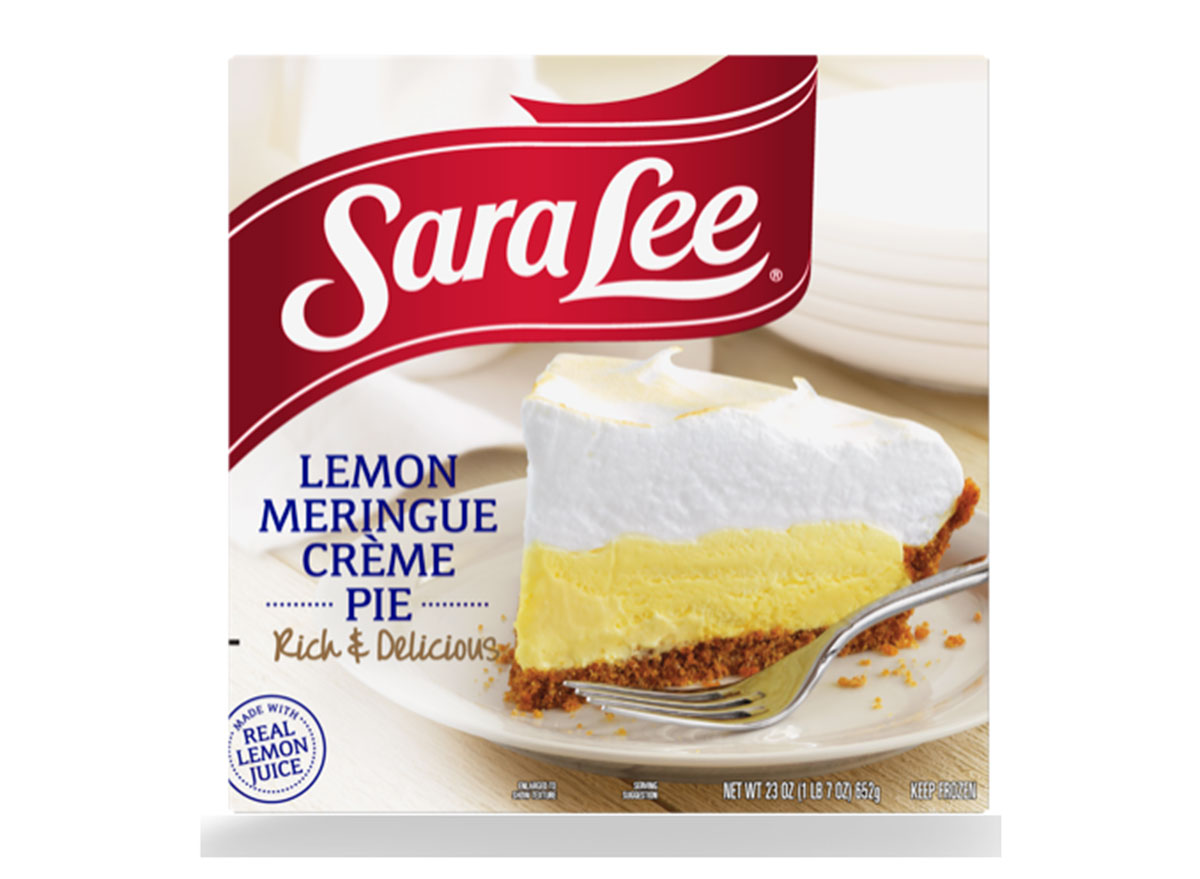 Per serving, 1/5 pie
: 380 calories, 12 g fat (7 g saturated fat, 0 g trans fat), 320 mg sodium, 63 g carbs (1 g fiber, 51 g sugar), 5 g protein
A premade pie takes out all the work of, well, having to bake a pie from scratch yourself! Not every pie is created equal. This Lemon Meringue Crème option from Sara Lee that you'll find in the freezer aisle is serving up 51 grams of sugar per slice. That is reason enough to leave it alone.
See, if you happen to consume more added sugars than is recommended by The American Heart Association often, you might end up gaining weight. Not only is there plenty of research linked to sugar and weight gain, but you'll notice that sugary foods leave you less satisfied, so you're just going to end up eating more.
Frozen Side Dish—Stouffer's Macaroni and Cheese
Per serving
: 330 calories, 16 g fat (7 g saturated fat, 0 g trans fat), 920 mg sodium, 33 g carbs (1 g fiber, 3 g sugar), 14 g protein
Serving up a spoonful of mac and cheese always makes for a hearty, comforting side dish. Heating up Stouffer's version means you're in for yet another sodium-packed dish. You're much better off making your own. (And just so you know, this is the easy way to make healthier comfort foods!)
Frozen Entrée—Hungry-Man Double Chicken Bowl Boneless Fried Chicken
Per meal
: 760 calories, 34 g fat (10 g saturated fat, 0 g trans fat), 2,090 mg sodium, 76 g carbs (4 g fiber, 8 g sugar), 39 g protein
This Hungry-Man meal is one of the worst frozen dinner options you'll find in any freezer aisle. This dish is made of two fried chicken patties that are served with mac and cheese. Sounds innocent enough, but the fact that it has more than 2,000 milligrams of sodium is just not OK. Plus, it's serving up 760 calories and it contains a high amount of fat, too.
Ice Cream—Ben & Jerry's Chubby Hubby
6254a4d1642c605c54bf1cab17d50f1e
Per container
: 1,380 calories, 84 g fat (45 g saturated fat, 2 g trans fat), 650 mg sodium, 134 g carbs (1 g fiber, 106 g sugar), 29 g protein
Those ice cream pints are quite tempting and if you want to indulge every once in a while, you should treat yourself. As long as you're staying away from Ben & Jerry's (highly popular) Chubby Hubby flavor. That mix of fudge, peanut butter, and pretzels makes for one frozen treat that is high in saturated fat, carbs, and sugar. Just one serving of this ice cream has more calories than you would get if you ate an order of nuggets and fries from McDonald's…
Jennifer Maldonado
Jennifer Maldonado is a senior editor at Eat This, Not That!, specializing in food and health content.
Read more about Jennifer