The Worst Milkshakes in America
On a hot summer day, a milkshake is the ultimate two-fer: the frosty chill of a refreshing drink combined with the rich, indulgent sweetness of the very best desserts. Every summer craving gets satisfied with that first sip.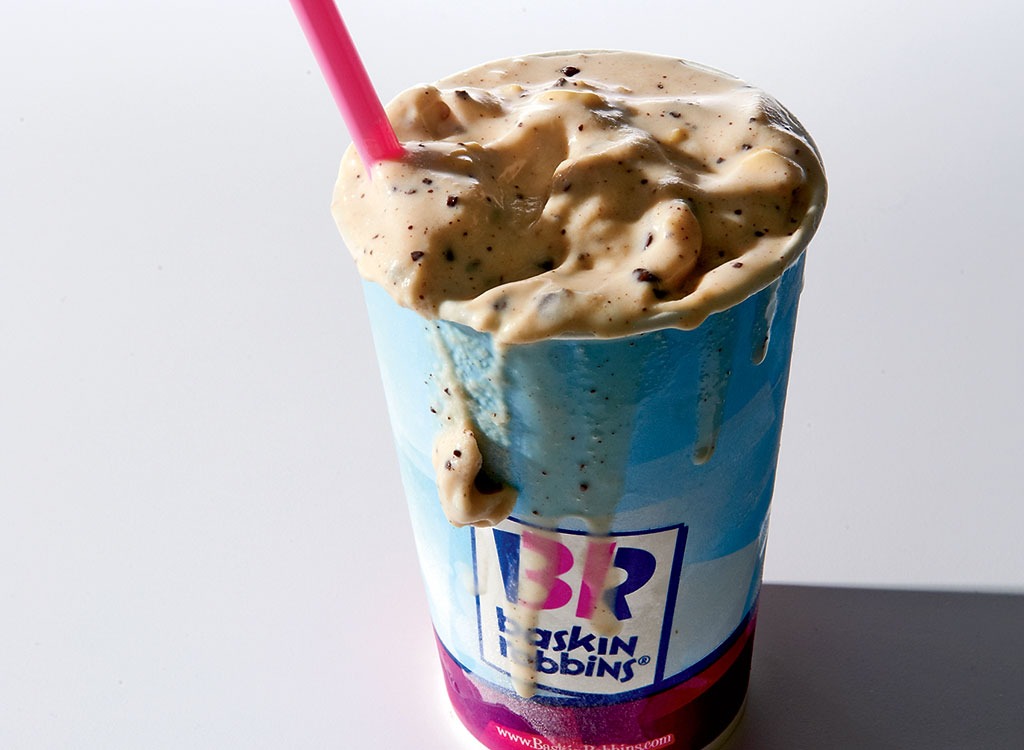 But that five-second slurp of refreshment may set you up for a major flat stomach setback. Certain chain restaurants have found ways of turning this American classic—which, let's face it, should have two ingredients, milk, and ice cream—into a liquid fat trap, packing 1,000 calories or more—half of what an adult should consume in a day!—into one cold, creamy, cholesterol-delivery device.
You don't have to blow your belly budget to realize your ice cream treat fantasies. A milkshake made at home—with 3/4 cup skim milk, 3/4 cup frozen yogurt, 1/2 Tbsp peanut butter, and frozen banana—will cost you just 350 calories. A large classic Frosty at Wendy's is just 580. Totally reasonable prices to pay for a frosty Nirvana. Pick wisely and avoid the unjust desserts below, freshly researched by the editors of Eat This, Not That! magazine. And if you're looking for a quick way to turbocharge your own weight-loss, sip your way thin with The 7-Day Flat-Belly Tea Diet and Cleanse. Test panelists lost up to 10 pounds in just one week!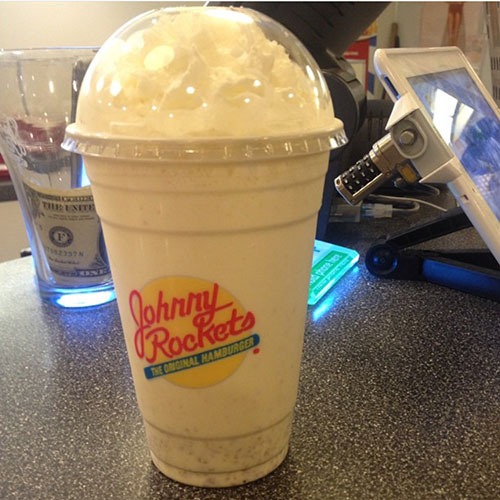 THE #9 WORST MILKSHAKE IN AMERICA
Johnny Rockets Big Apple Shake
1,140 calories, 67 g fat (37 g saturated fat), 121 g carbohydrates, 84 g sugar
You can just imagine some bored chefs at Johnny Rockets: "What if we put a slice of apple pie…in the blender!?!" The result is a marketing ploy posing as a dessert, with the carbohydrate equivalent of 6 Krispy Kreme doughnuts. Try not to drink your food like this, and don't encourage this trend. (Otherwise, they might blend burgers next.)
Drink This Instead!
Barq's Root Beer Float
560 calories, 29 g fat (17 g saturated fat), 75 g carbohydrates, 63 g sugar
Johnny Rockets fashions itself as a 1950's diner, so why not enjoy one of the most popular desserts from that era, the Root Beer Float—especially because it has half the calories of most shakes here.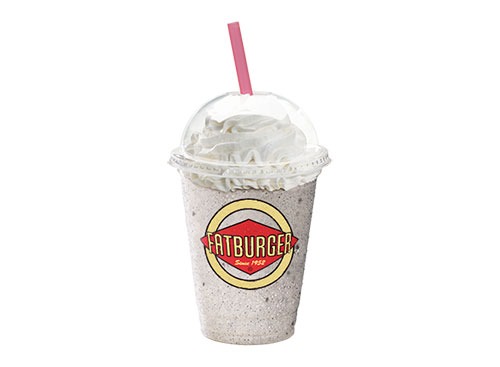 THE #8 WORST MILKSHAKE IN AMERICA
Fatburger Cookies and Ice Cream Shake, One size
1,180 calories, 59 g fat (30 g saturated fat), 163 g carbohydrates, 105 g sugar
The chain is called Fatburger but this shake has more fat than anything on the menu—more than the Sausage and Egg sandwich (53 g), more than a Large Fatburger (41 g) and more than the Chili Cheese Fat Fries (33 g)—not to mention, twice the calories of most of the burgers!
Drink This Instead!
Vanilla Shake, One size
880 calories, 44 g fat (30 g saturated fat), 111 g carbohydrates, 85 g sugar
This is the lowest-calorie milkshake, but honestly, if you're still hungry after dinner, you're better off ordering a small Fatburger, which has half the calories, 71 g less sugar, and more protein than the Vanilla milkshake. Also, slim down fast by offsetting all these empty calories with these 8 Best-Ever Superfoods for a Flat Stomach!
6254a4d1642c605c54bf1cab17d50f1e
THE #7 WORST MILKSHAKE IN AMERICA
Wayback Burger Oreo Mint Milkshake, Regular
1,270 calories, 46 g fat (26 g saturated fat), 187 g carbohydrates, 144 g sugar
The "Oreo milkshake"—on the menu here, as well as at Cold Stone, Fatburger, Burger King, and Chick-fil-A, among others—is usually the highest-calorie option on the shake menu. This one is the worst of them all, with the sugar equivalent of 43 Oreos in just one cup!
Drink This Instead!
Coffee Milkshake, Junior
590 calories, 24 g fat (16 g saturated fat), 75 g carbohydrates, 59 g sugar
Get a hit of sweet milkshake—with energy-boosting, fat-burning caffeine—for a more reasonable calorie count.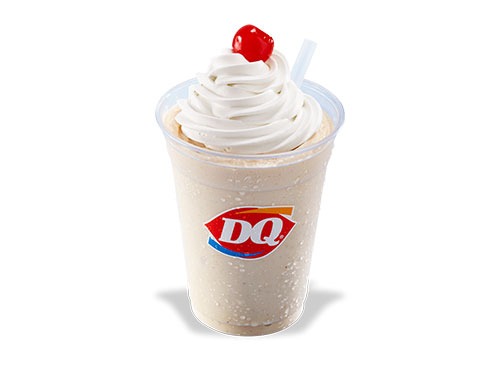 THE #6 WORST MILKSHAKE IN AMERICA
Dairy Queen Peanut Butter Shake, Large
1,270 calories, 72 g fat (26 g saturated fat, 1 g trans fat), 125 g carbohydrates, 93 g sugar
Packed with protein and a salty kick that perfectly balances sweetness, peanut butter is the perfect in-shake mixer. Unfortunately, DQ also blends in corn syrup solids, binding agents like carrageenan, artificial flavors, and diglycerides, aka fatty oils you don't need. This isn't the worst peanut butter shake on this list—see #2—but it is the trans-fattiest peanut butter shake.
Eat This Instead!
Peanut Butter Sundae, Small
390 calories, 22 g fat, 7 g saturated fat, 0 g trans fat, 260 mg sodium, 39 g carbohydrates, 28 g sugar
Most of the shakes at DQ have trans fats, so instead enjoy a reasonably-sized sundae for your PB fix. And maybe skip the burger, too—especially after seeing what's in these Worst Burgers in America!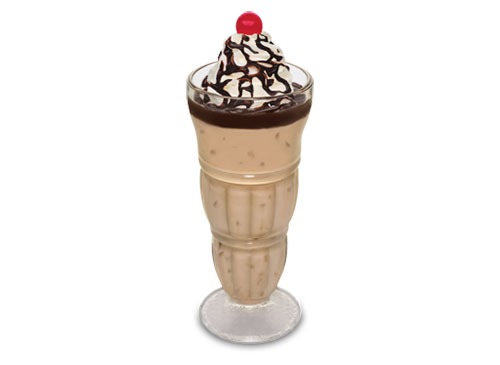 THE #5 WORST MILKSHAKE IN AMERICA
Steak 'N Shake Chocolate Fudge Brownie, Large
1,280 calories, 44 g fat (28 g saturated fat, 1 g trans fat), 203 carbohydrates, 172 sugar
This Frankenfood takes a perfectly fine chocolate milkshake—an indulgence, to be sure, but often delicious with a burger—and tops it with a full-blown ice cream sundae. You'll find brownie bits, whipped cream and chocolate syrup, with the top hand-dipped in chocolate and finished off with a cherry. No decent milkshake should require a spork.
Eat This Instead!
Strawberry Sundae
390 calories, 22 g fat (11 g saturated fat, 0.5 g trans fat), 47 g carbs, 40 sugar
We can't fully recommend any dessert at Steak 'N Shake, because they all contain trans fats—even their chocolate chip cookie has 2 grams of it! But the Strawberry Sundae is the lowest calorie dessert with the least amount of this artery-clogging fat.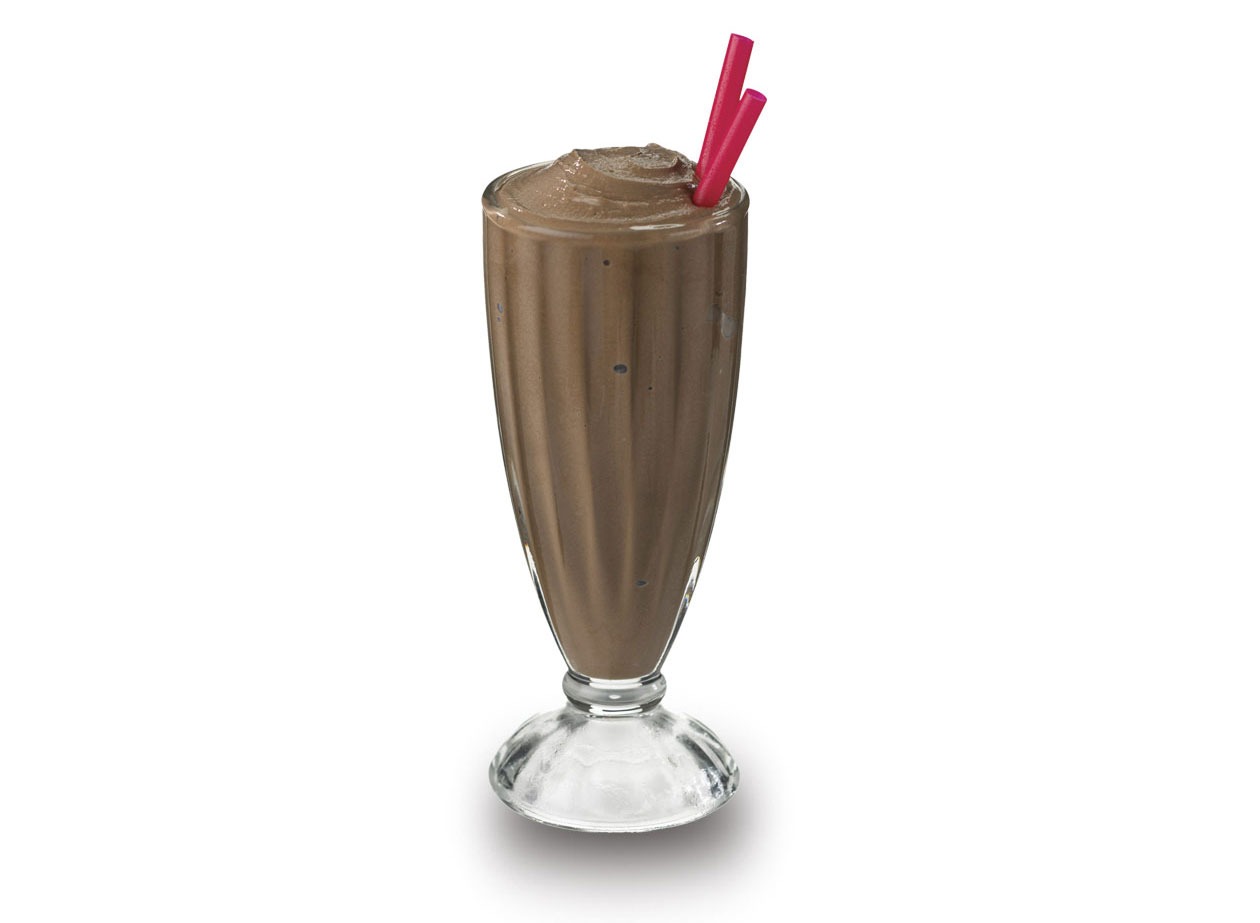 THE #4 WORST MILKSHAKE IN AMERICA
Cold Stone Creamery Oh Fudge! Milkshake, Love It size
1,360 calories, 78 g fat (52 g saturated fat, 2 g trans fat), 161 g carbohydrates, 148 g sugar
"Oh Fudge!"—that's what we said when we saw the nutrition count here. Made with chocolate ice cream and fudge, it has a full day's worth of trans fat, and more than twice the calories of their decadent-sounding Cake Batter shake. "Try it, we triple-dog-dare you," taunts Cold Stone, quoting A Christmas Story. Return this gift.
Eat This Instead!
Salted Chocolate Caramel Ice Cream, Like It size
350 calories, 21 g fat (13 g saturated fat, 0 g trans), 38 g carbohydrates, 35 g sugar
None of Cold Stone's shakes are trans fat-free. Avoid them, and order this ice cream instead. Then keep your belly toned and tight—in no time flat—with these essential 7 Best Foods for Rapid Weight Loss!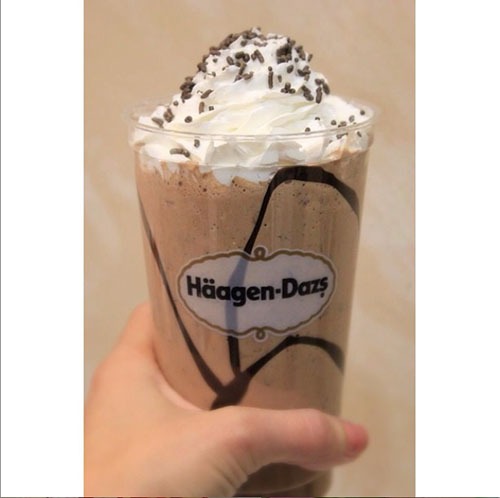 THE #3 WORST MILKSHAKE IN AMERICA
Häagen-Dazs Belgian Chocolate Milkshake, 20 oz
1,480 calories, N/A g fat (53 g saturated fat), 156 carbohydrates, N/A g sugar
Ooh la la, the Häagen-Dazs Belgian Chocolate Milkshake sounds so sophisticated. But Belgians, who pride themselves on the purity of their sweet export, would faint if they saw it mixed into an ice cream cup with more calories than seven Hershey's chocolate bars. To burn that off, you'd have to do yoga for seven hours!
Drink This Instead!
Strawberry Banana Smoothie
470 calories, N/A g fat (1 g saturated fat), 45 mg sodium, 106 carbohydrates, N/A g sugar
If you want chocolate ice cream, enjoy a scoop—or drink this fruity, healthier substitute, made with vanilla frozen yogurt, strawberry sorbet, cranberry juice and a whole banana.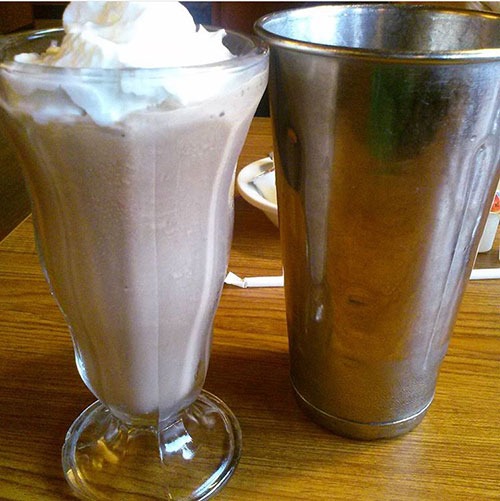 THE #2 WORST MILKSHAKE IN AMERICA
Denny's Chocolate Peanut Butter Milkshake, 20 oz
1,490 calories, 92 g fat (39 g saturated fat), 146 g carbohydrates, 103 g sugar
What is it with Denny's and peanut butter? Their Peanut Butter Cup Pancake Breakfast—two buttermilk pancakes with chocolate and white chocolate chips, topped with hot fudge and peanut butter sauce—made Eat This, Not That!'s list of The Worst Breakfasts in America, clocking in at 1,510 calories. And here, they've basically pulverized it into one cup: This shake has nearly the same amount of calories, and even more fat!
Drink This Instead!
Denny's Vanilla Milkshake, 20 oz
750 calories, 37 g fat (21 g saturated fat), 95 g carbohydrates, 62 g sugar
Denny's fashions itself as America's restaurant. But this shake, amazingly, is the healthiest on their menu. Enjoy it, but then slim down—fast—with these essential 14 Ways to Lose Your Belly in 14 Days!
THE #1 WORST MILKSHAKE IN AMERICA
Baskin-Robbins Chocolate Chip Cookie Dough Milkshake, Large
1,590 calories, 72 g fat (46 g saturated fat, 2 g trans fat), 205 carbohydrates, 165 g sugar
Baskin-Robbins, once home to a 2,310-calorie Heath Bar Shake, still has more than a few nutritional nightmares on its menu. Even an average small shake at the chain features 16 teaspoons of sugar! Order this large cookie dough and you'll gulp down 51 spoonfuls of sugar and more than two days' worth of saturated fat.
Eat This Instead!
Chocolate Chip Cookie Dough Ice Cream, 1 large scoop, 4 oz
280 calories, 15 g fat (10 g saturated fat, 0 g trans fat), 20 g carbohydrates, 24 g sugar
Enjoy the ice cream, and you get all the doughy goodness with 83% fewer calories.
Images: Johnny Rockets (Instagram / @kapital1); Wayback Burgers (Instagram / @waybackburgerscc); Haagen Dazs (Instagram / @haagendazs_us); Denny's (Instagram / @lmeg_han)
Eat This, Not That!
Inspired by The New York Times best-selling book series, Eat This, Not That! is a brand that's comprised of an award-winning team of journalists and board-certified experts, doctors, nutritionists, chefs, personal trainers, and dietitians who work together to bring you accurate, timely, informative, and actionable content on food, nutrition, dieting, weight loss, health, wellness, and more.
Read more about Eat This