The Worst Restaurant Meals for Your Heart, Say Experts
Some foods are worth breaking up with because they shouldn't break your heart first.
Heart disease, which accounts for about 1 in 4 deaths in the U.S., is the leading cause of death in the country, according to the Centers for Disease Control and Prevention. It's no secret that you should do everything you can to keep your ticker strong because the heart is one of your body's most vital organs.
The easiest way to start? Take a closer look at the food you eat, especially when you're dining out at a restaurant.
"We are the same humans we were then thousand years ago. Our biology has not changed, but our society and culture around food has dramatically changed," says Dr. Satjit Bhusri, founder of Upper East Side Cardiology. "Instead, we eat food high in fats, added sugar, and salt, all of which have created heart disease as the #1 cause of death in the world."
Restaurant food, in particular, makes it a bit harder to ensure that you're eating to strengthen your ticker. In fact, a study in the Journal of the Academy of Nutrition and Dietetics found that the more often you dine out or order in takeout, the greater the risk of early death. That's likely due to the large meal portions you're being served at most chain restaurants, which are loaded up with sodium and fat.
"Fats are everywhere in restaurants; butter is essentially in everything; [and] sugars are very common in sauces, desserts, and even drinks such as coffee and tea," Bhusri says. "[Then you factor in] foods high in salt . . . bread, cheese, cured meat, and even ice cream are very high in salt. One slice of cheese pizza [can] fulfill your whole day's daily allowable requirement of salt."
What should you look out for at restaurants if you're concerned about heart health?
"The main nutrients that can have adverse effects on cardiovascular health are saturated fat, excess sugar, and excess sodium for those who are salt sensitive," says Eat This, Not That! medical board expert, Leslie Bonci, MPH, RD, CSSD, LDN.
You really can't tell simply by looking at a restaurant meal that it's loaded with these less-than-stellar credentials, but there are plenty of red flags on menus that you can keep in mind when deciding what to order.
"Look for words such as 'creamy,' 'deep-fried,' and 'crispy' [on menus]. For the dessert items, look at the size—cupcake or cake size, one scoop of ice cream or the pint, dessert with ice cream on the top, deep-fried dessert," Bonci says. "You also may want to be aware of creamy drinks, such as those made with coconut milk or cream, and also sugar-laden drinks, such as sweet tea, mixed drinks, and the words 'endless refills.'"
Along with skipping those never-ending refills, "little changes will go a long way in heart health prevention when eating out," according to Bhusri. He suggests making sure that you drink water throughout a meal, and if you're ordering a meal that comes with sauce, ask for it on the side for dipping instead of having it arrive already slathered all over your food.
Now that you're armed with the information you need to protect your ticker, we decided to take things one step further. That's right—we rounded up 10 restaurant meals that are the worst for your overall heart health. They're some of the most high fat, sodium-filled, and surprisingly sugary dishes that you can find on menus.
The next time you're at a restaurant, focus on ordering an entrée filled with foods that can positively impact heart health, such as avocados, beans, fatty fish, fruits, olive oil, and veggies. While you're making better choices, be sure to add The 7 Healthiest Foods to Eat Right Now to your grocery shopping list, too.
The Cheesecake Factory: Pasta Napoletana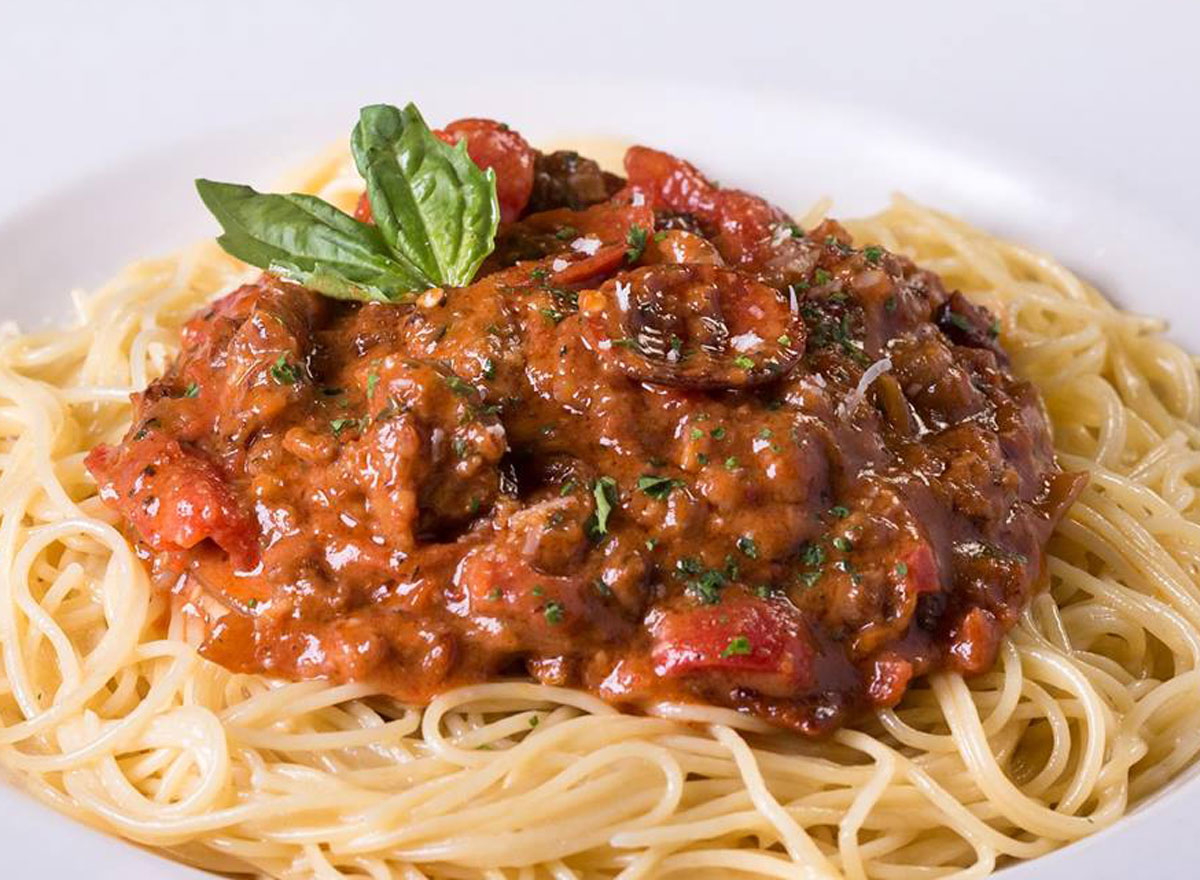 2,480 calories, 177 g fat (82 g saturated fat, 4.5 g trans fat), 5,150 mg sodium, 155 g carbs (11 g fiber, 20 g sugar), 65 g protein
This pasta dish from The Cheesecake Factory features bacon, Italian sausage, meatballs, and pepperoni. After taking a look at the nutrition information, it's easy to see why this meal isn't the best for your heart.
P.F. Chang's: Korean Bulgogi Steak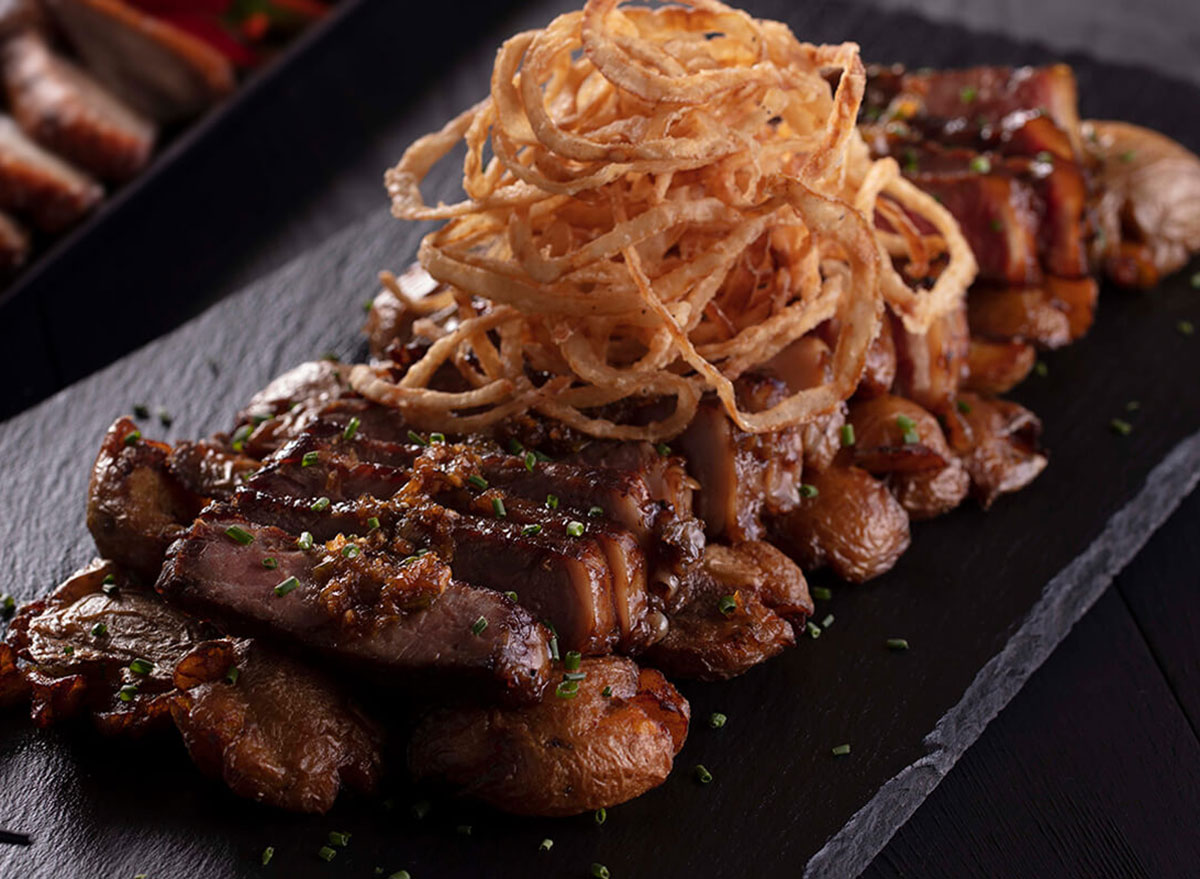 1,370 calories, 58 g fat (11 g saturated fat, 1 g trans fat), 3,740 mg sodium, 121 g carbs (8 g fiber, 44 g sugar), 88 g protein
There's nothing wrong with enjoying a piece of steak every now and then, but this isn't the best way to go about it. This steak is swimming in a savory glaze, and it's served with fried onion straws on top. No wonder both the sodium and sugar counts are so dangerously high here!
Chili's Crispy Honey-Chipotle Crispers & Waffles
2,590 calories, 126 fat (42 g saturated fat, 1 g trans fat), 5,180 mg sodium, 303 g carbs (14 g fiber, 128 g sugar), 63 g protein
Chicken and waffles is a rather decadent dish, but Chili's version is seriously extreme. It has over a day's worth of calories, more fat than eight hot dogs, and three times the American Heart Association's (AHA) recommended daily intake of saturated fat. Oh, and we haven't even talked about salt yet! The AHA recommends that the average person consume no more than 2,300 milligrams of sodium daily, but this meal blows that limit out of the water.
Applebee's: Four-Cheese Mac & Cheese with Honey Pepper Chicken Tenders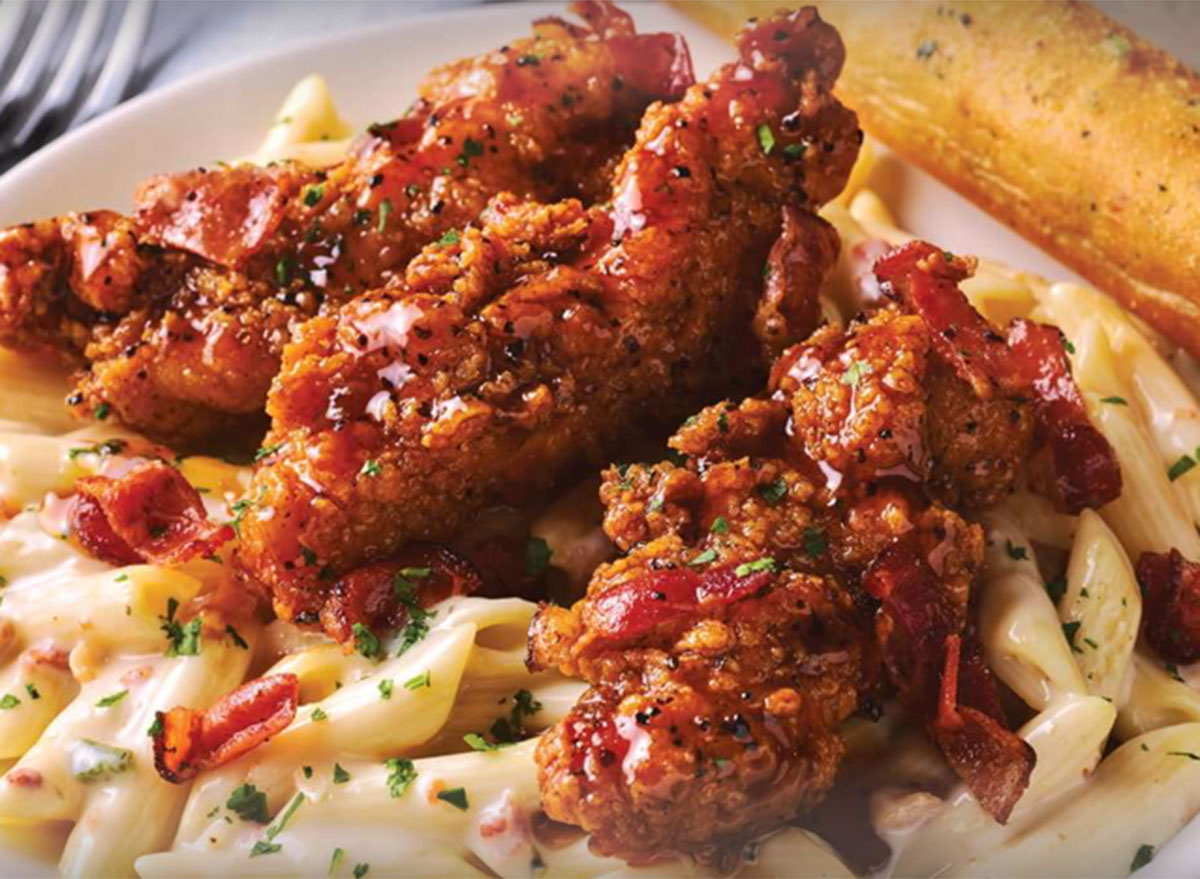 1,420 calories, 62 g fat (23 g saturated fat, 1 g trans fat), 3,080 mg sodium, 152 g carbs (7 g fiber, 41 g sugar), 60 g protein
Loaded with carbs, fat, salt, and sugar, the lack of solid nutrition in this Applebee's dish is . . . excessive. If you're really in the mood, you're better off picking just the chicken tenders or mac & cheese and pairing one of them with some veggies.
Olive Garden: Asiago Tortelloni Alfredo with Grilled Chicken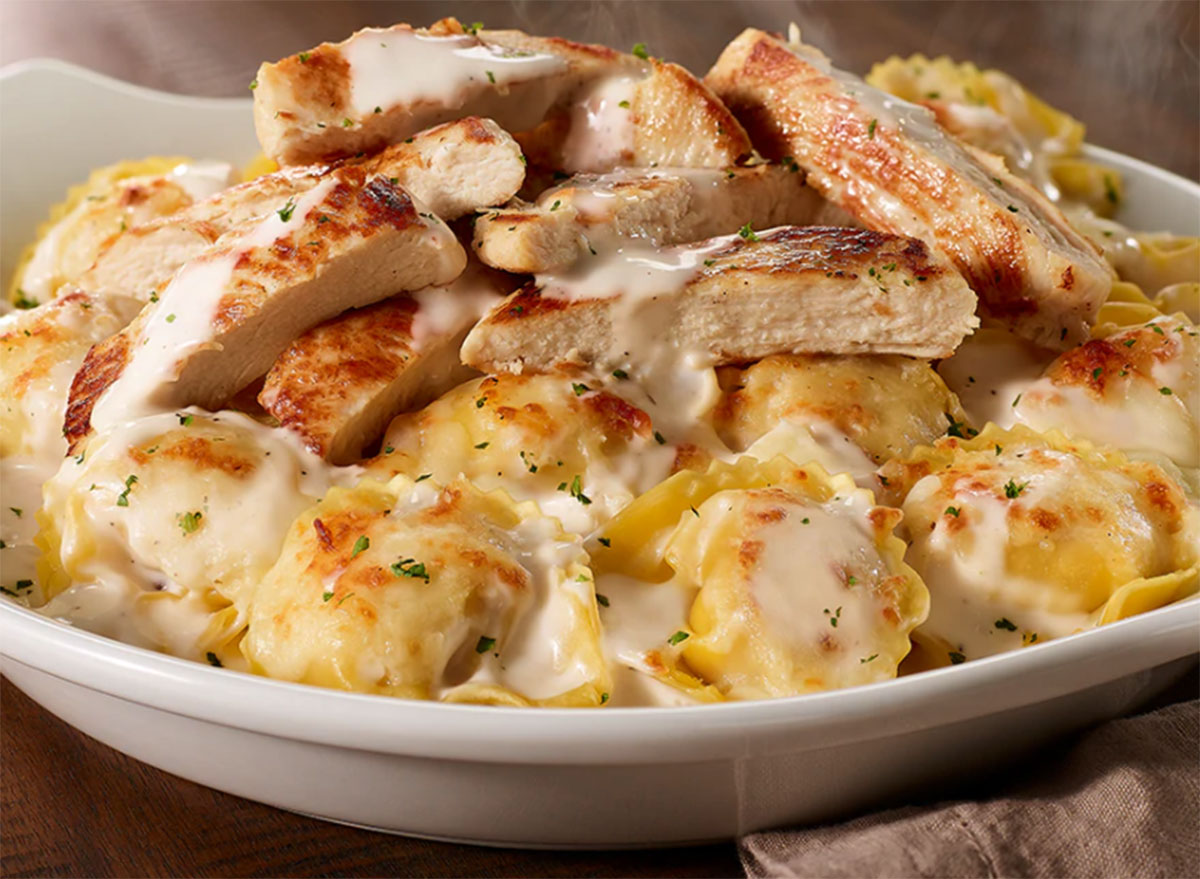 1,980 calories, 131 g fat (76 g saturated fat, 2.5 g trans fat), 3,720 mg sodium, 95 g carbs (5 g fiber, 9 g sugar), 112 g protein
Not only does this Olive Garden meal pack more sodium than the average person should have in a day, but it also serves up 2.5 grams of heart-harming trans fat. Trans fat lowers your HDL levels (aka your good cholesterol) and promotes inflammation, and it can even trigger heart disease and stroke, according to Harvard Health.
Looking for more helpful tips? Your ultimate restaurant and supermarket survival guide is here!
UNO Pizzeria & Grill: Buffalo Mac & Cheese
2,200 calories, 133 g fat (58 g saturated fat, 1 g trans fat), 4,310 mg sodium, 160 g carbs (6 g fiber, 14 g sugar), 96 g protein
Smothering Buffalo chicken all over mac & cheese sounds like the ultimate comfort food, right? Any sense of comfort surely disappears when you see just how damaging this meal from UNO can be to your heart!
Texas Roadhouse: Cactus Blossom
With sauce
: 1,970 calories, 115 g fat (23 g saturated fat, 2.5 g trans fat), 5,630 mg sodium, 211 g carbs (13 g fiber, 32 g sugar), 27 g protein
Even appetizers can be dangerous. At Texas Roadhouse, you have the option to order a Cactus Blossom. Here, a "Texas-sized onion" is golden-fried and served with Cajun Horseradish sauce. The sodium is simply through the roof!6254a4d1642c605c54bf1cab17d50f1e
Maggiano's Little Italy: Gnocchi Tomato Vodka
1,170 calories, 57 g fat (27 g saturated fat, 1 g trans fat), 4,040 mg sodium, 106 g carbs (8 g fiber, 5 g sugar), 45 g protein
You already know that pasta is carb-heavy. You might not realize that you're likely also downing tons of fat and sodium in restaurant pasta dishes. This meal from Maggiano's serves as proof!
Outback Steakhouse: Prime Rib Sandwich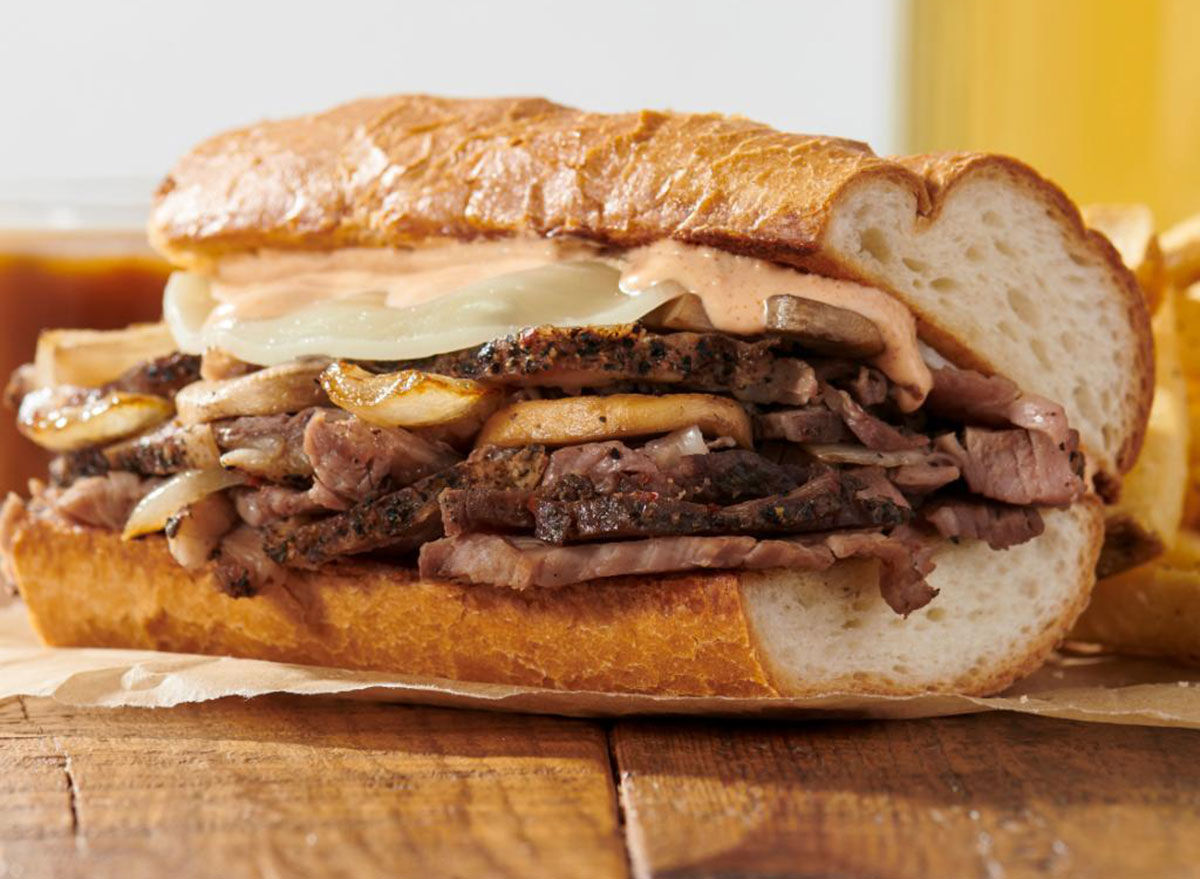 1,820 calories, 127 g fat (60 g saturated fat, 4 g trans fat), 4,580 mg sodium, 94 g carbs (10 g fiber, 21 g sugar), 77 g protein
Even sandwiches can be tricky to navigate. Outback Steakhouse's Prime Rib Sandwich features slow-roasted prime rib, grilled onions, mushrooms, Provolone cheese, and a spicy signature bloom sauce on a toasted baguette. It's served with a side of French onion au jus and creamy horseradish sauce. This makes for a fat- and sodium-packed meal that contains a scary 4 grams of trans fat. Plus, there's as much sugar here as you would get from two Original Glazed Krispy Kreme Donuts.
TGI Friday's: Signature Whiskey-Glazed Ribs, Full-Rack (with coleslaw & seasoned fries)
1,630 calories, 75 g fat (25 g saturated fat, 0 g trans fat), 2,940 mg sodium, 178 g carbs (7 g fiber, 132 g sugar), 69 g protein
Sugary, salty, and fat-laden are the words that come to mind when you take a look at this TGI Friday's dish. You would consume fewer calories, carbs, fat, sugar, and blood-pressure-spiking sodium if you ate two Big Macs from McDonald's instead. Big yikes!
Jennifer Maldonado
Jennifer Maldonado is a senior editor at Eat This, Not That!, specializing in food and health content.
Read more about Jennifer