The Unhealthiest Restaurant Meals You Should Never Order
Don't worry—there are plenty of healthier alternatives to enjoy instead.
Does this sound familiar? You've had it with cooking at home every day, so you've begun ordering from your favorite restaurants to spice up your nighttime routine.
Unfortunately, there's something you should know.
A 2021 study in the Journal of the Academy of Nutrition and Dietetics found that the more often you eat takeout from home or at a sit-down restaurant, the greater the risk of premature death.
The study looked at over 35,000 adults aged 20 years or older and found that people who ate two or more meals prepared away from home on a daily basis were more likely to die early as compared to those dining out less than once weekly—with a particular emphasis on more deaths from cancer, heart attack, and stroke.
It's not difficult to understand the connection between a steady diet of restaurant fare and poor health. For starters, the calorie levels in food not made at home can be astronomical. A 2016 analysis of meals at 123 non-chain restaurants in three large American cities found the average meal served up about 1,200 calories without drinks, appetizers, or dessert, or more than half the amount most adults need in a day.
Excess calories contribute to being overweight, which is also linked to a greater risk for certain cancers, cardiovascular disease, and many other conditions. To make matters worse, the majority of prepared foods from pizza joints, sandwich shops, and other dining establishments are rich in artery-clogging saturated and trans fat and sodium and are low in fiber and phytonutrients (a powerful plant compound that helps guard against the conditions that can shorten your lifespan).
We know: major buzzkill, right? But all is not lost!
Whether you enjoy takeout or sit-down restaurant food, it's best to learn how to navigate the menu for the healthiest choices possible. Luckily, chain restaurants are mandated by law to provide nutrition information, which can be found online. Establishments with fewer than 20 locations are not required to provide nutrition information, however, so you need to be more mindful there.
We took a look at the offerings at some beloved chain restaurants so you know exactly what to order and what to avoid. And while you're making healthier changes, try our 22 Best Meals to Melt Belly Fat in 2022.
P.F. Chang's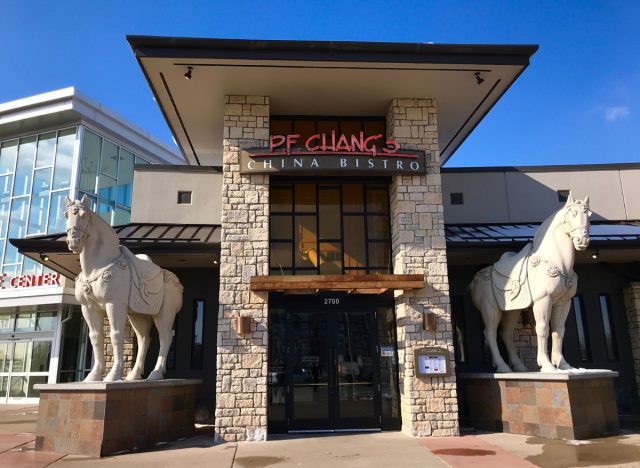 Worst: Crispy Honey Chicken
1,120 calories, 60 g fat (9 g saturated fat, 1 g trans fat), 750 mg sodium, 87 g carbohydrate (1 g fiber, 38 g sugar), 47 g protein
As entrees go, Crispy Honey Chicken is relatively reasonable for sodium, but not so for sugar, which is thanks to the added sugar from honey. This dish supplies two-thirds of the suggested daily added sugar limit on a 2,000-calorie diet, nearly all the fat, and more than half the calories. Its fiber content is negligible because the entrée lacks vegetables. If you must have Crispy Honey Chicken, start with a cup of a broth-based soup, such as egg drop, and split the entrée with at least one other person, if not two. Research shows that sipping a low-calorie soup before a meal can actually help you to eat less.
Best: Buddha's Feast (Steamed)
260 calories, 4 g fat (0 g saturated fat, 0 g trans fat), 310 mg sodium, 32 g carbohydrate (9 g fiber, 13 g sugar), 25 g protein
Buddha's Feast is a mixture of green beans, shiitakes, broccoli, carrots, and tofu in a velvety sauce, and, as restaurant entrées go, a rarity. That's because it's possible to eat the entire dish on your own without putting a dent in a healthy eating plan. For a completely plant-based meal, add a side of brown rice for a total of 450 calories, 72 grams of carbohydrates, 12 grams of fiber, and 29 grams of protein, with the same amount of fat, sodium, and sugar.
On the Border
Worst: Stacked Nachos
2,030 calories, 129 g fat (53 g saturated fat, 1.5 g trans fat), 3,820 mg sodium, 145 g carbohydrate (23 g fiber, 15 g sugar), 76 grams protein
Stacked Nachos is listed as a starter on the On the Border menu, but it could easily feed four for dinner. The 23 grams of fiber and 76 grams of protein—about the amounts an adult requires daily on a daily basis—are appealing, but consider that you must consume nearly a day's worth of calories, an exorbitant amount of fat, and a boatload of sodium to get them. In this case, the fiber and protein in this dish just aren't worth it.
Best: Grilled Chicken Fajitas, Side of Black Beans
570 calories, 16 g fat (3 g saturated fat, 0 g trans fat), 1,710 mg sodium, 48 g carbs (13 g fiber, 3 g sugar), 59 g protein
You'll do better in nearly every way with grilled chicken fajitas and a side of black beans. This combo is healthier overall but is still hefty in sodium. Black beans may be a side dish, but they elevate any meal with their plant-based protein, fiber, and antioxidants that help fight heart disease and cancer. Beans are vegetables, which are often in short supply in the American diet, and in restaurant meals. Adding a serving of black beans to grilled chicken fajitas boosts the fiber in this meal by 12 grams and makes it more balanced. Now, that's worth the calories.
Subway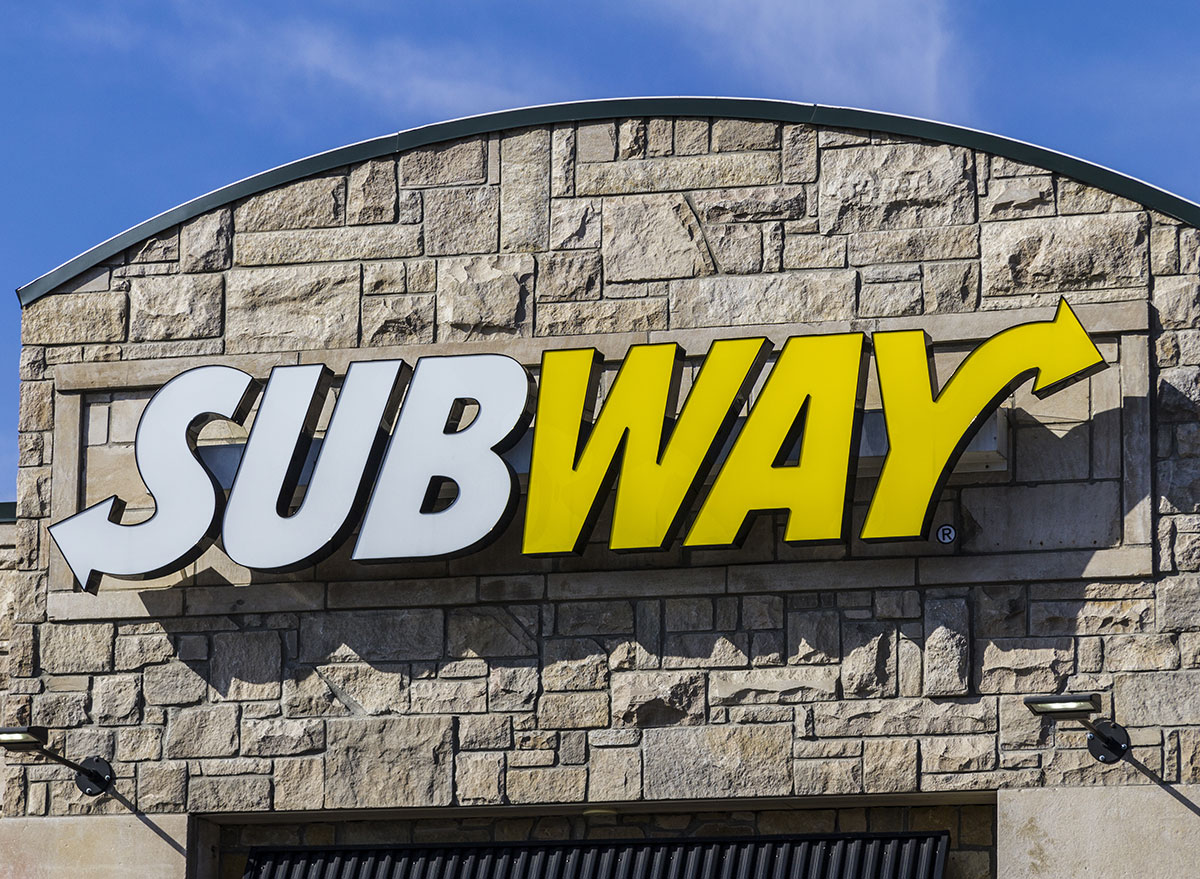 Worst: Turkey and Bacon Guacamole Sandwich
800 calories, 29 g fat (7 g saturated fat, 0 g trans fat), 2,300 mg sodium, 86 g carbs (9 g fiber, 12 g sugar), 49 g protein
You think you're doing a good job by skipping fast-food joints for a sandwich shop, but that depends on what you order. Subway's Turkey and Bacon Guacamole Sandwich, which has more calories and sodium than a Quarter Pounder with Cheese and an order of small French fries from McDonald's, is not the best choice.
Best: 6-inch Turkey Breast on 9-Grain Bread with Guacamole, Lettuce, and Tomato
310 calories, 8 g fat (1.5 g saturated fat, 0 g trans fat), 830 mg sodium, 42 g carbs (7 g fiber, 7 g sugar), 20 g protein
Stick with Subway's Fresh Fit Menu. You can still get your guacamole and turkey combo fix with a 6-inch sandwich, but for nearly one-third the calories and sodium and only 8 grams of fat as opposed to 29 grams in the Turkey and Bacon Guacamole option. Most of the fat in the smaller sandwich is the heart-healthy, unsaturated variety, thanks largely to the guacamole, while bacon contributes most of the harmful saturated fat in the Turkey and Bacon Guacamole sandwich.
Sarku Japan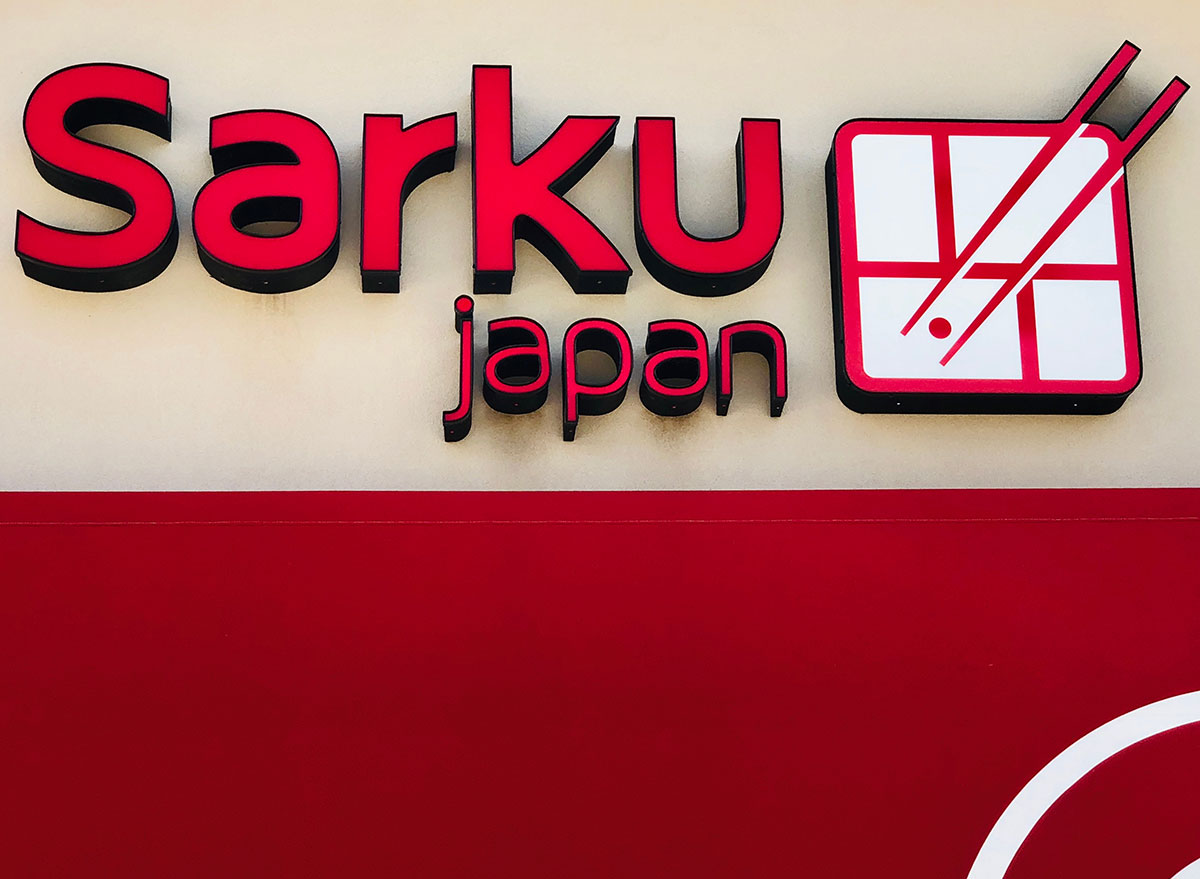 Worst: Chicken and Shrimp Teriyaki Meal with White Rice
980 calories, 36 g fat (7 g saturated fat, 0 g trans fat), 2,160 mg sodium, 111 g carbs (7 g fiber, 15 g sugar), 55 g protein
The traditional Japanese diet is based on whole and lightly processed foods and also includes some seafood or plant-based protein with minimum use of animal protein, added sugar, and fat. However, Americanized Japanese food that you grab for lunch may veer from typical Japanese fare, so be cautious.
Take teriyaki sauce. It's high in sodium. The trick is not avoiding teriyaki, it's limiting it. That's next to impossible with Sarku Japan's Chicken and Shrimp Teriyaki Meal with white rice because the portions are large, which drives up the calorie, carbohydrate, and sodium levels. And, this item provides far more protein than you need in one sitting.
Best: Shrimp Teriyaki Meal with Brown Rice
550 calories, 12 g fat (2 g saturated fat, 0 g trans fat), 1,210 mg sodium, 75 g carbs (6 g fiber, 11 g sugar), 30 g protein
On the other hand, the Shrimp Teriyaki meal provides just the right amount of protein, and nearly all of it is from the shrimp. The 2020-2025 Dietary Guidelines for Americans (DGA) advise adults to eat at least two fish/shellfish meals weekly. In addition to protein, seafood supplies healthy omega-3 fats for your heart and brain.
The DGA also advises adults to choose the most nutrient-dense foods possible. So, even though the two meals have about the same fiber content, the Shrimp Teriyaki with brown rice delivers fiber with fewer calories—and that's the definition of nutrient density. The sodium content is no bargain in either meal, but the better choice has nearly half the sodium of the worst choice.
The Cheesecake Factory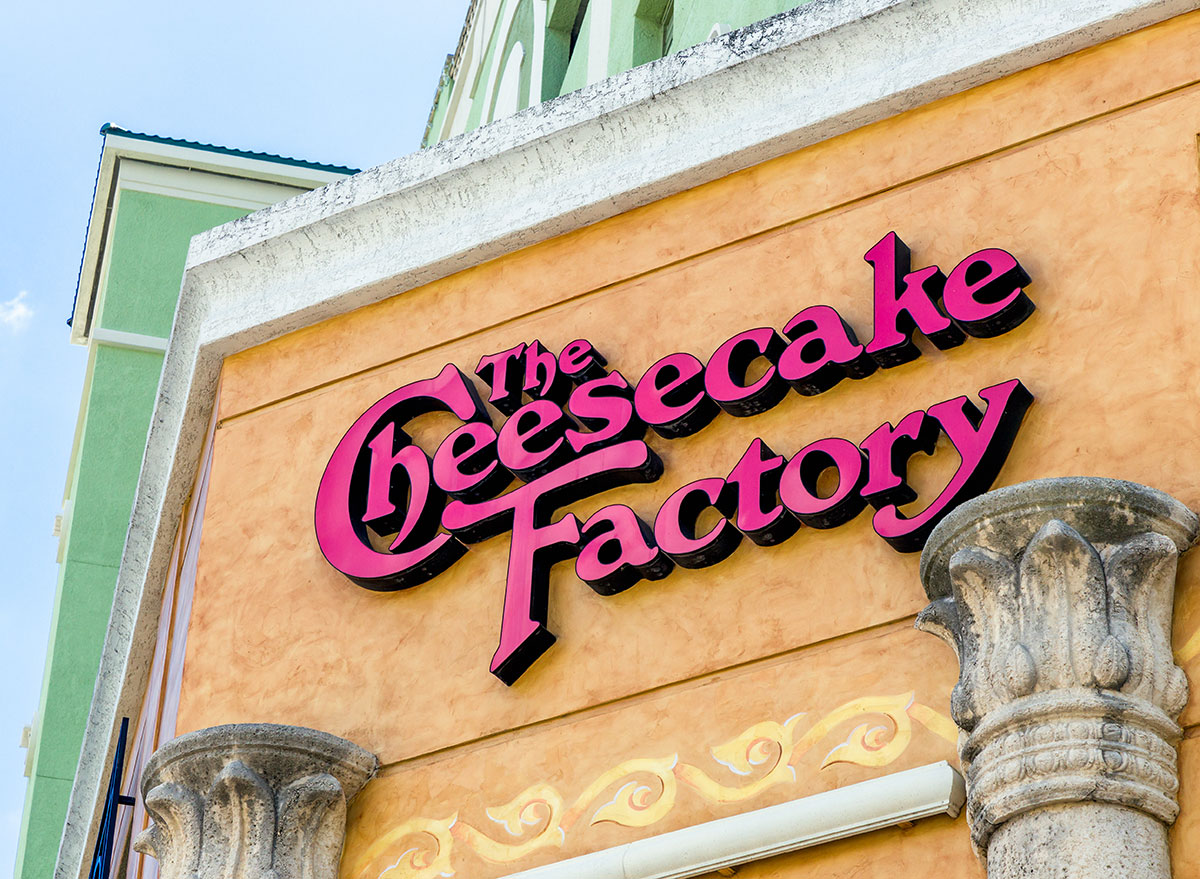 Worst: Louisiana Chicken Pasta
2,120 calories, 125 g fat (65 g saturated fat, 4 g trans fat), 4,030 mg sodium, 168 g carbs (10 g fiber, 16 g sugar), 83 g protein
When it comes to The Cheesecake Factory, it's a tight race for the worst menu item because so many are vying for the top spot. For the most part, the menu goes mostly from pretty bad to almost unthinkable in terms of nutrition, including what's in the Louisiana Chicken Pasta, which should be served family-style, not as a single portion. In addition to the exorbitant calories, fat, and carbohydrate levels, the sodium content exceeds the suggested daily upper limit and is equal to 1 3/4 teaspoons of salt.
Best: SkinnyLicious Chicken Pasta
590 calories, 12 g fat (1.5 g saturated fat, 0 g trans fat), 1,750 mg sodium, 76 g carbs (6 g fiber, 10 g sugar), 46 g protein
Thankfully, Cheesecake Factory has a SkinnyLicious Menu, albeit a relatively small one. While the SkinnyLicious choices are improvements over most of the Cheesecake Factory's main menu, sodium is still sky-high in most of the items. Still, the SkinnyLicious Chicken Pasta is a far better option than the Louisiana Chicken Pasta; the chicken isn't fried and the portion is reasonable, so the calories, fat, carbohydrate, and protein levels are more in line with what you should eat in a single meal.
Domino's
Worst: California Chicken Bacon Ranch
Per 2 slices of a large pie
: 820 calories, 46 g fat (16 g saturated fat, 0 g trans fat), 1,780 mg sodium, 66 g carbs (2 g fiber, 2 g sugar), 32 g protein
Depending on what you make of it, pizza can be a nutritious food. But if it has bacon and ranch in the title, that should raise some red flags. It's obvious what's wrong when you consider that for 820 calories, you only get two slices of California Chicken Bacon Ranch pizza, which also serves up 46 grams of fat and 1,760 milligrams of sodium.
Best: Extra Small Pizza with Chicken
430 calories, 9 g fat (6 g saturated fat, 0 g trans fat), 705 mg sodium, 66 g carbs (2 g fiber, 4 g sugar), 22 g protein
There are ways to navigate the Domino's menu that can make you feel like you hit the jackpot, though. For example, an extra small pizza with tomato sauce, cheese, and chicken is one of the healthiest choices available. You get an entire pizza to yourself for under 500 calories and it has adequate protein and an acceptable amount of sodium, fat, and saturated fat. A great win!
Carrabba's Italian Grill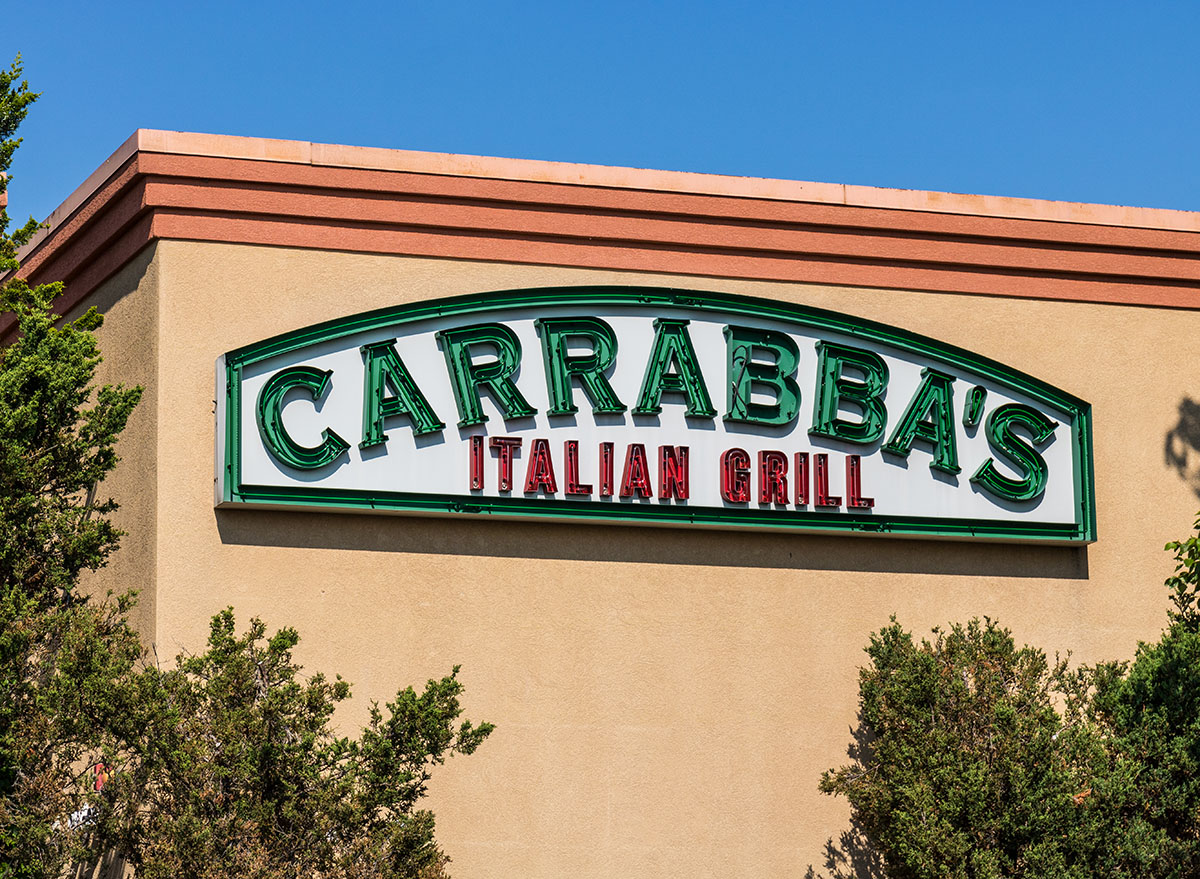 Worst: Fettuccine Carrabba
1,470 calories, 78 g fat (49 g saturated fat, 2 g trans fat), 2,180 mg sodium, 107 g carbs (10 g fiber, 7 g sugar), 71 g protein
You've heard of Fettuccine Alfredo. Fettuccine Carrabba takes the buttery, cheesy dish up several notches with chicken, sauteed mushrooms, and peas. Kudos for the vegetables that provide a lot of great fiber, but the dish as a whole comes with a steep cost. If you ever order a meal with 1,470 calories, it should be delivered with a doggy bag to immediately put away at least half of it before you really dig in.
Best: Spaghetti with Pomodoro Sauce with Whole Wheat Spaghetti
630 calories, 11 g fat (2 g saturated fat, 0 trans fat), 2,010 mg sodium, 112 g carbs (23 g fiber, 17 g sugar), 23 g protein
You could save yourself a lot of grief and opt for the Spaghetti with Pomodoro Sauce and whole wheat spaghetti. You'll get more than twice the fiber found in the fettuccine dish and nearly satisfy your daily quota, and the entrée has enough protein to keep you feeling full. Whole grain pasta is also richer in nutrients that protect against chronic illness, such as phytonutrients, that are only found in plant foods. The cooked tomatoes in the Pomodoro sauce contain large amounts of lycopene, a potent phytonutrient that's associated with a lower risk for cardiovascular disease and certain cancers.
RELATED: 13 Fast-Food Copycat Restaurants You Never Knew Existed6254a4d1642c605c54bf1cab17d50f1e
Five Guys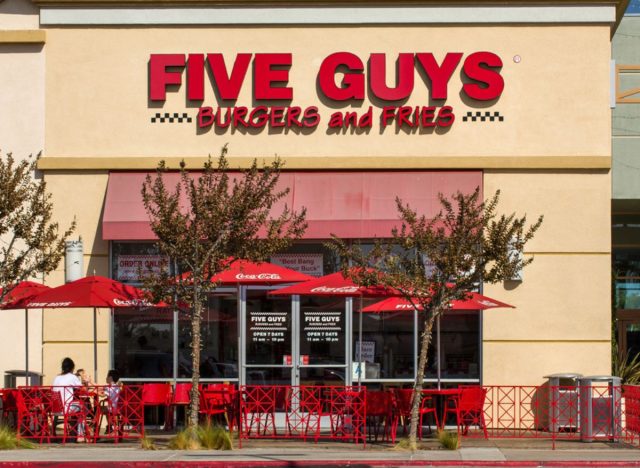 Worst: Bacon Cheeseburger
994 calories, 58 g fat (49 g saturated fat, 2 g trans fat), 1,000 mg sodium, 39 g carbs (2 g fiber, 0 g sugar), 47 g protein
Five Guys' Bacon Cheeseburger is more than meets the eye as listed on the menu: it actually has two beef patties, which contributes to the sky-high calorie count, never mind the sodium from the bacon, cheese, and bun, which is about 50% of what you need in a day.
Best Choice: "Little" Hamburger with Grilled Mushrooms and Onions
561 calories, 28 g fat (12 g saturated fat, 1 g trans fat), 435 mg sodium, 39 g carbs (2 g fiber, 1 g sugar), 23 g protein
While two patties are standard in Five Guys' sandwiches, it's possible to get a smaller serving. A "little" burger is one patty, which provides plenty of protein. You won't miss the cheese with grilled onions and grilled mushrooms, which are free. Mushrooms provide umami, which is often described as the meaty, savory deliciousness that deepens the flavor and provides eating satisfaction.
No matter what burger you decide on, it will be tough to skip the fries at Five Guys, but you might want to try. The Large Fry has an astonishing 1,314 calories, 57 grams of fat, and 1,327 milligrams of sodium. Even the Little Fry is over the top with 526 calories, 23 grams of fat, and 531 milligrams of sodium. If you must have the fries, split them with as many friends as possible! Those with allergies should note that the fries and made with 100% peanut oil.
Elizabeth M. Ward, MS, RDN
Elizabeth M. Ward, MS, RDN is an award-winning nutrition communicator, writer, and recipe developer, as well as a former spokesperson for the Academy of Nutrition and Dietetics.
Read more about Elizabeth M.