The Worst Restaurant Salads in America in 2021
And here you thought ordering a bed of greens from one of these chains was a "healthy" choice.
There's a big chance each and every one of us is guilty of thinking an item that's marketed as "fresh" or "healthy" on a restaurant menu is actually good for us—because many times, it's not.
We see words like "salad" and "acai vinaigrette" and assume that these dishes are heart-healthy options, but the truth is, most salads contain an equivalent amount of calories (if not much more) than other entrée items on the menu.
We took a look at the salad offerings at 11 popular restaurants in the U.S. and pinpointed the very worst bed of greens at each location. Read on to find out what they are, avoid ordering them on the regular, and remember to steer clear of these #1 Worst Menu Option at 40 Popular Restaurants as much as possible.
California Pizza Kitchen Waldorf Chicken Salad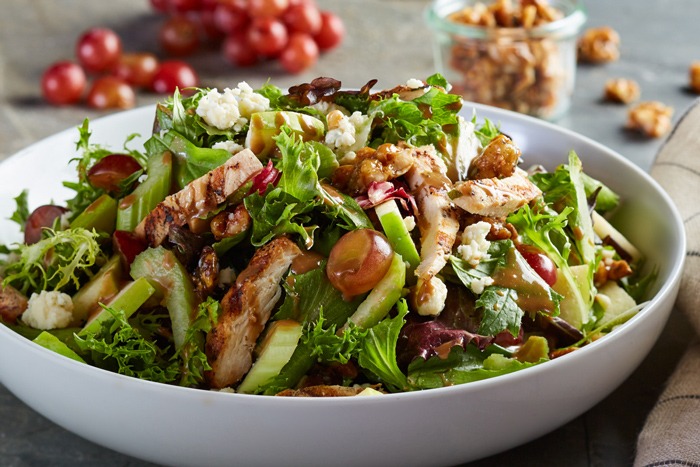 Per full salad
: 1,320 calories, 94 g fat (22 g saturated fat, 0 g trans fat), 2,020 mg sodium, 76 g carbs (10 g fiber, 54 g sugar), 54 g protein
If you wouldn't want to eat two and a half Hostess Chocolate Cupcakes in one sitting due to their sugar content, then you'd best steer clear of this super sweet salad. Granted, some of the sugar in this salad comes from the apples, but definitely not the majority. Ordering the half size instead of the full will get you down to 27 grams of sugar, but you'd be better off just having the half portion of the Roasted Veggie salad instead (it only contains 12 grams of sugar).
Chili's Quesadilla Explosion Salad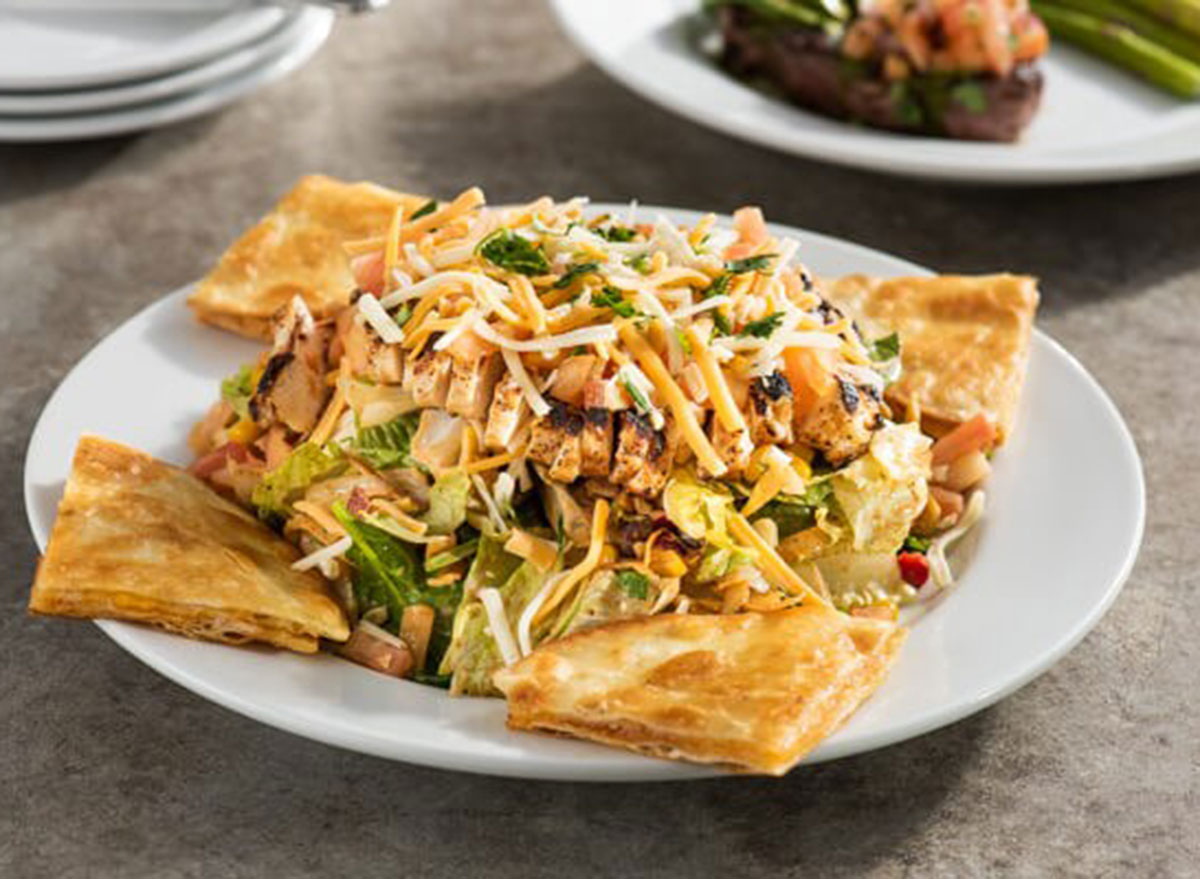 1,340 calories, 87 g fat (24 g saturated fat, 0.5 g trans fat), 2,140 mg sodium, 82 g carbs (9 g fiber, 17 g sugar), 58 g protein
But let this be a lesson for all: If a dish seems too good to be true, it probably is. Not only does this salad pack nearly a day's worth of the recommended dietary intake of salt (2,300 milligrams) and well over a full day's worth of calories, but it also has 17 grams of added sugars.
Applebee's Oriental Chicken Salad With Crispy Chicken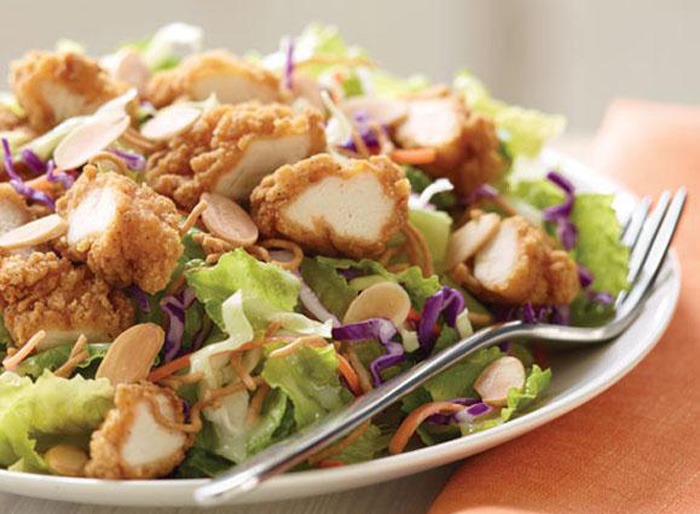 1,570 calories, 105 g fat (17 g sat fat, 1 g trans fat), 1,730 mg sodium, 120 g carbs (11 g fiber, 44 g sugar), 41 g protein
A fair number of Applebee's entrée salads sit around the 1,000-calorie mark, making them just as unhealthy as some of the pasta dishes. This Asian-inspired bed of greens is no exception. Thanks to the sugary vinaigrette and fatty, crispy noodles and fried chicken, this "healthy" salad serves up more calories, fat, and sugar than an order of the chain's Brew Pub Pretzels & Beer Cheese Dip!
Friendly's Crispy Chicken Salad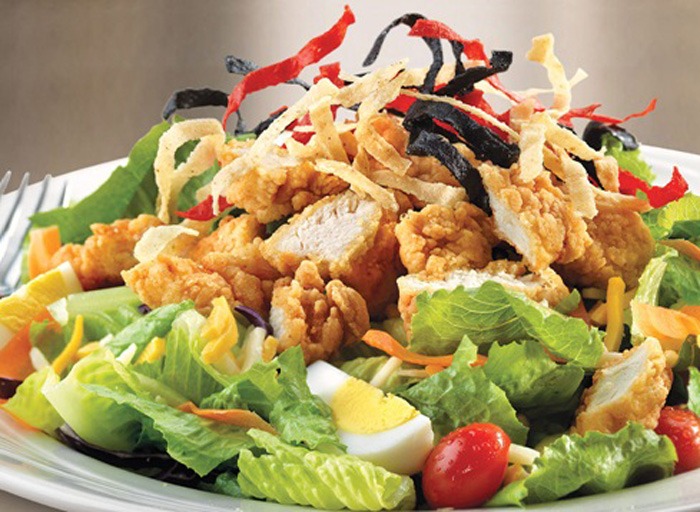 977 calories, 54 g fat (14 g saturated fat), 2,189 mg sodium, 81 g carbs (3.7 g fiber, 22 g sugar), 40 g protein
This calorie- and fat-filled salad is really just an excuse to eat chicken tenders and tortilla chips without the guilt. But your waistline doesn't care if this meal is marketed as a healthy salad. All it knows is that you're overfilling it with nearly a thousand calories and just under a day's worth of sodium.
Hooters Chicken Caesar Salad with fried chicken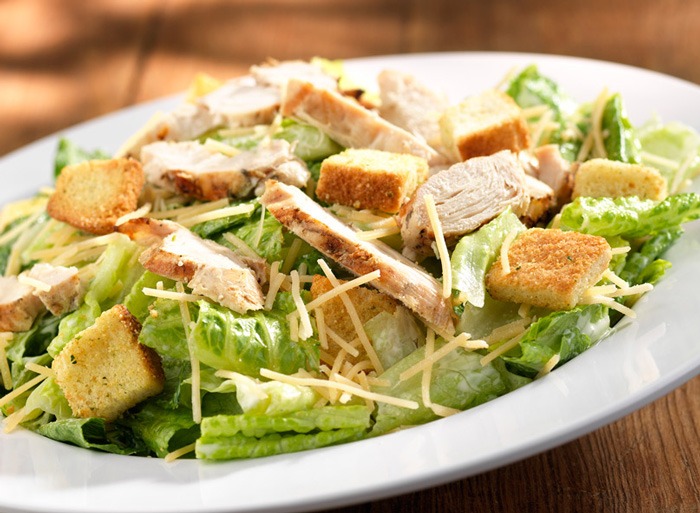 770 calories, 47 g fat (9g saturated fat, 0 g trans fat), 2,190 mg sodium, 45 g carbs (5 g fiber, 6 g sugar), 46 g protein
Back in the early 2000s, Hooters refused to disclose their food's nutritional information—and now that the info is in the public domain, it's easy to see why. A salad has no business packing nearly 2,200 milligrams of sodium, period.
Chick-Fil-A Cobb Salad with Avocado Lime Ranch Dressing
850 calories, 61 g fat (13 g saturated fat, 0 g trans fat), 2,220 mg sodium, 34 g carbs (5 g fiber, 9 g sugar), 42 g protein
This is a prime example of how fast-food chains turn salads into junk food. The high-fat toppings like fried chicken and shredded cheese make this salad one of the most calorie-high entrees on the menu. And speaking of devious fast food maneuvers, check out these 25 Things Fast Food Chains Don't Want You to Know.
Perkins Honey Mustard Chicken Crunch Salad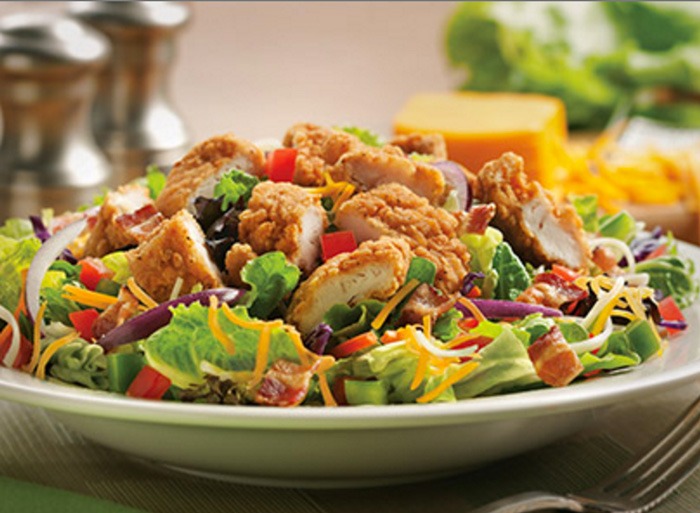 980 calories, 63 g fat (17 g saturated fat, 0 g trans fat), 2,050 mg sodium, 63 g carbs (5 g fiber, 28 g sugar), 44 g protein
What do you get when you combine fatty, honey mustard-topped veggies with bacon and salty chicken tenders? Answer: This sad excuse for a salad from Perkins. Besides staying away from this waist-widening salad, there are plenty of other ways to slim down in time for spring.
Red Lobster Classic Caesar Salad With Grilled Salmon
830 calories, 65 g fat (13 g saturated fat, 0.5 g trans fat) ,1,540 mg sodium, 19 g carbs (4 g fiber, 3 g sugar), 41 g protein
If salad is what you crave at Red Lobster, stick with the chicken or shrimp Caesar salads and ask for the dressing on the side. Or better yet, order the Maine Lobster Tail and a small garden salad.
Uno Pizzeria & Grill Chopped Honey Crisp Chicken Salad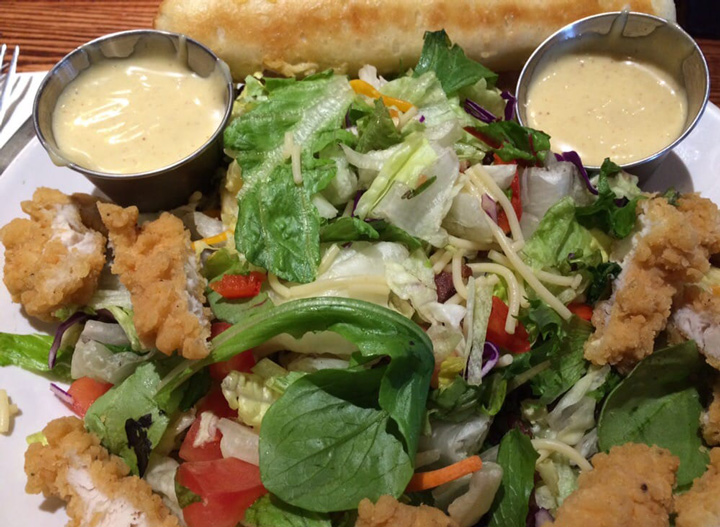 6254a4d1642c605c54bf1cab17d50f1e
1,320 calories, 90 g fat (24 g saturated fat, 0 g trans fat), 2,000 mg sodium, 67 g carbs (5 g fiber, 18 g sugar), 53 g protein
If you thought you were ordering a healthy meal when you asked your Uno server for the chicken salad, guess again. This dish carries 490 more calories and 41 more grams of total fat than a 20-piece order of McDonald's nuggets! Move this meal to your "Not That!" list to avoid excess calories.
Don't miss One Surprising Side Effect of Cutting Calories, New Study Finds.
Wendy's Taco Salad
690 calories, 34 g fat (13 g saturated fat, 1 g trans fat), 1,870 mg sodium, 68 g carbs, (12 g fiber, 16 g sugar), 30 g protein
Not that we're suggesting it, but you'd ingest fewer calories by slurping down a small Vanilla Frosty and a small soda than ordering this salad.
Buffalo Wild Wings Buffalo Wedge Salad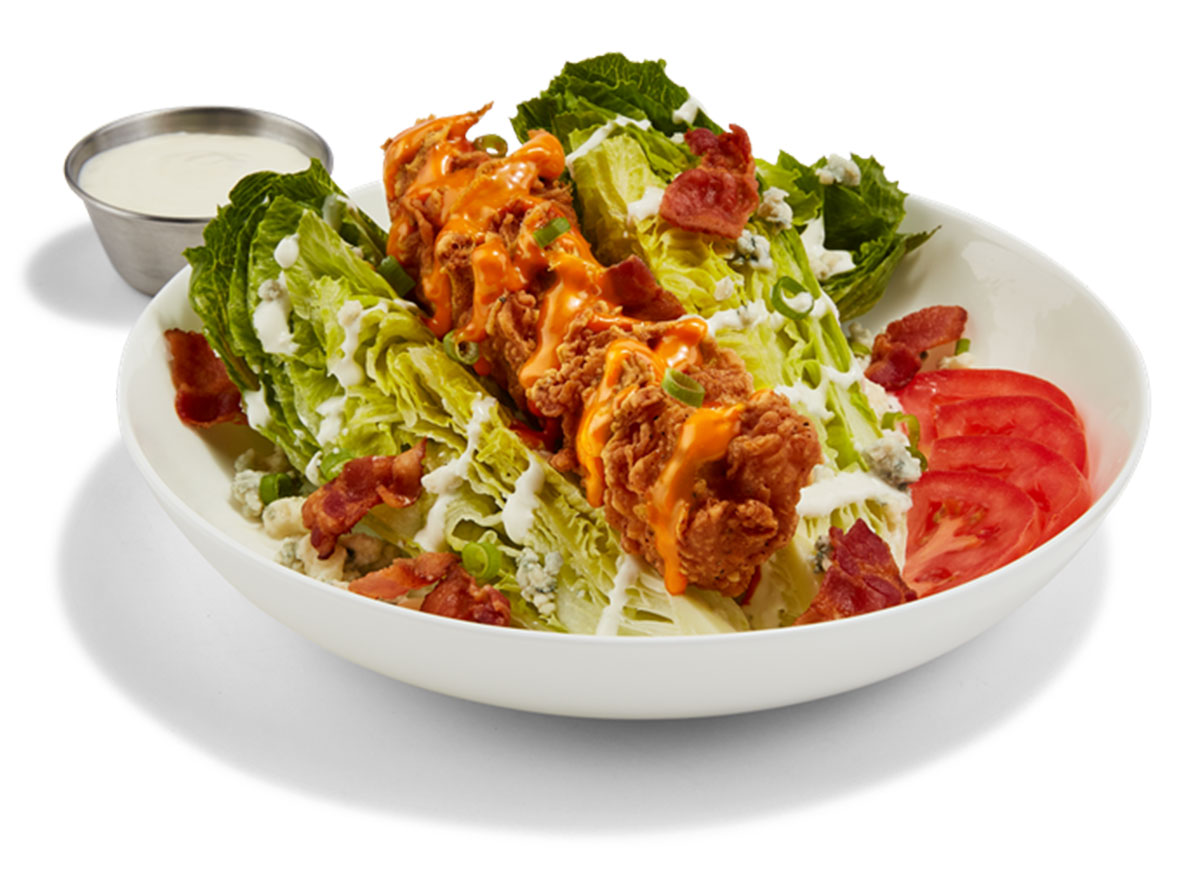 800calories, 66 g fat (17 g saturated fat, 1.5 g trans fat), 2,860 mg sodium, 25 g carbs (6 g fiber, 7 g sugar), 28 g protein
Your first clue to stay far away from this salad is the fact that it contains a giant hand-breaded chicken tender—grilled chicken is a different story. Between the fried chicken and bleu cheese crumbles and dressing, this salad contains nearly 3,000 milligrams of sodium!
Now, check out The Worst Salad Dressing on Store Shelves.