These Before & After Weight Loss Pics Prove the '12-3-30' Workout Works
These 12-3-30 workout transformations are truly inspiring.
If you're a regular on TikTok's #FitTok, you've likely come across the viral 12-3-30 treadmill workout. The routine, which was brought to life by TikToker Lauren Giraldo, has gained so much traction—and it's clear the hype isn't dying down anytime soon. In fact, people are sharing insight on their 12-3-30 workout transformations. Whether you're looking to spruce up your workouts to boost your weight loss efforts or simply want to stay fit, you'll likely find these before and after photos, videos, and personal accounts to be incredibly motivating. Keep reading to see them for yourself, and when you're finished, be sure to check out the 7 Best Ways To Burn 500 Calories, According To Personal Trainers.
What is the 12-3-30 treadmill workout?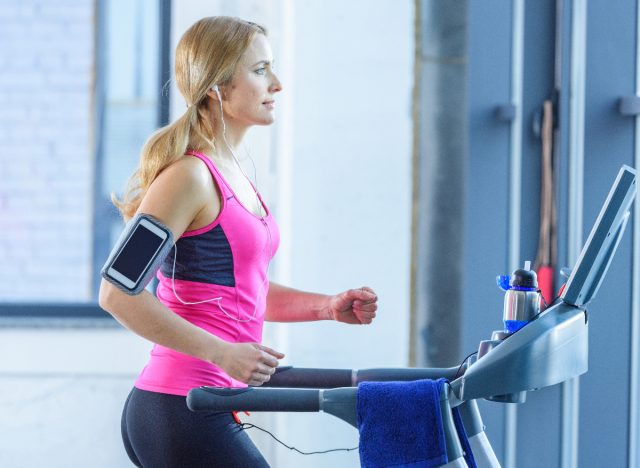 The instructions for the 12-3-30 incline treadmill workout are simple. All you have to do is head on over to your treadmill, set the incline to 12%, and walk at three miles an hour for 30 minutes. That's it!
Giraldo first posted a TikTok video about the 12-3-30 workout back in 2020, stating, "I used to weigh 30 more pounds than I do right now. I've been able to keep the weight off for about two years now, and I'm going to teach you how I did it … all you need is a treadmill. You put it on an incline of 12, a speed of three, and for 30 minutes, as many times as you can a week; I do it about five." Giraldo noted she used to be intimidated by the gym and not motivated to go. "But now I go, I do this one thing, and I can feel good about myself. Plus, I feel like I look snatched," she added.
Now, people are sharing their before and after 12-3-30 workout transformations—and they are truly inspiring.
This TikToker lost six pounds in 30 days.
TikTok user @rachyrooandhercrew posted a video documenting her journey doing the 12-3-30 workout for 30 days. She wrote in the caption, "This workout is [fire emoji]. For those that don't know what it is, it is walking at 3.0 mph speed on a 12.0 incline for 30 minutes. I did it for 30 days straight and noticed positive physical and mental changes. I'm proud of myself and plan to continue." By day 30, the TikToker noted she lost six pounds, felt less anxious, and had more energy.
This TikTok user dropped seven pounds in 23 days.
Weight loss looks different for everyone, but it's clear the 12-3-30 workout is helping many individuals shed unwanted weight. TikTok user @annettem.barbosa posted a video about the 12-3-30 workout, noting in the caption, "7lbs down in 23 days. After my 3rd child, my body didn't 'bounce back,' I started to let myself go, [and I] wasn't happy … so I did something about it."
This TikToker lost 16 pounds in 17 days by following 12-3-30 and eating clean.
TikTok user @sashawiley documented her progress doing the 12-3-30 workout, noting she challenged herself to do the routine for 30 days. Performing the viral workout, along with following an eating plan, helped her shed a whopping 16 pounds in 17 days.6254a4d1642c605c54bf1cab17d50f1e
She wrote in her video caption, "It's only been 17 days and I'm down 16 pounds!!!! I challenged myself to complete the #12330 incline for 30 days and I'm not stopping! This is a great low-impact cardio workout. However, you may have to work your way up to the suggested incline and speed. It took me a week and a half to walk on the incline for 30 minutes straight. I also strength trained prior to getting on the #treadmill. I followed an 80/20 meal plan where I try to eat clean 80 percent of the time or more. Can't wait to see what day 30 [will] look like!!!"
This TikToker's before and after transformation reveals noticeable changes.
TikTok user Grace James (@gracekimjames) revealed she was influenced by TikTok to test out the 12-3-30 workout for herself. In her video, James explained she wrapped up the second month of doing the treadmill routine, and she included a few before and after shots (the start of the first month, the end of the first month, and the end of the second month).
"My first month of 12-3-30, I did it about five times a week and then got my 10,000 steps in, or at least a run in … for month two, I ended up only doing 12-3-30 about three to four times a week, and I incorporated some Pilates," James said. During month one, James noted she initially didn't notice any drastic changes—just less bloating and a bit of thinning in her legs. "However, when I look at where I started, and then when I look at the end of month two, I think the changes are absolutely there … I am so encouraged to see these results."
This TikToker lost two inches around her belly.
TikTok user @sujanpang did an honest review video about the 12-3-30 routine after six weeks of sticking with it. She noted from the get-go that the routine isn't "beginner-friendly," but rather a "tough workout," even though she considers herself to be pretty fit. However, the TikToker did experience noticeable changes to her body. "I really think if you stick to it, it could be such a great addition to your workout routine," the TikToker explained. "I only did 12-3-30 with no other exercises and no special changes in dieting, and I lost half an inch on my arms, and my thighs, and my waist, and I lost two inches around my belly.
Alexa Mellardo
Alexa is the Mind + Body Deputy Editor of Eat This, Not That!, overseeing the M+B channel and delivering compelling fitness, wellness, and self-care topics to readers.
Read more about Alexa