The #1 Eating Rule To Follow if You Have Low Blood Sugar
If your blood sugar reaches below a certain level, there's a trick to help elevate it.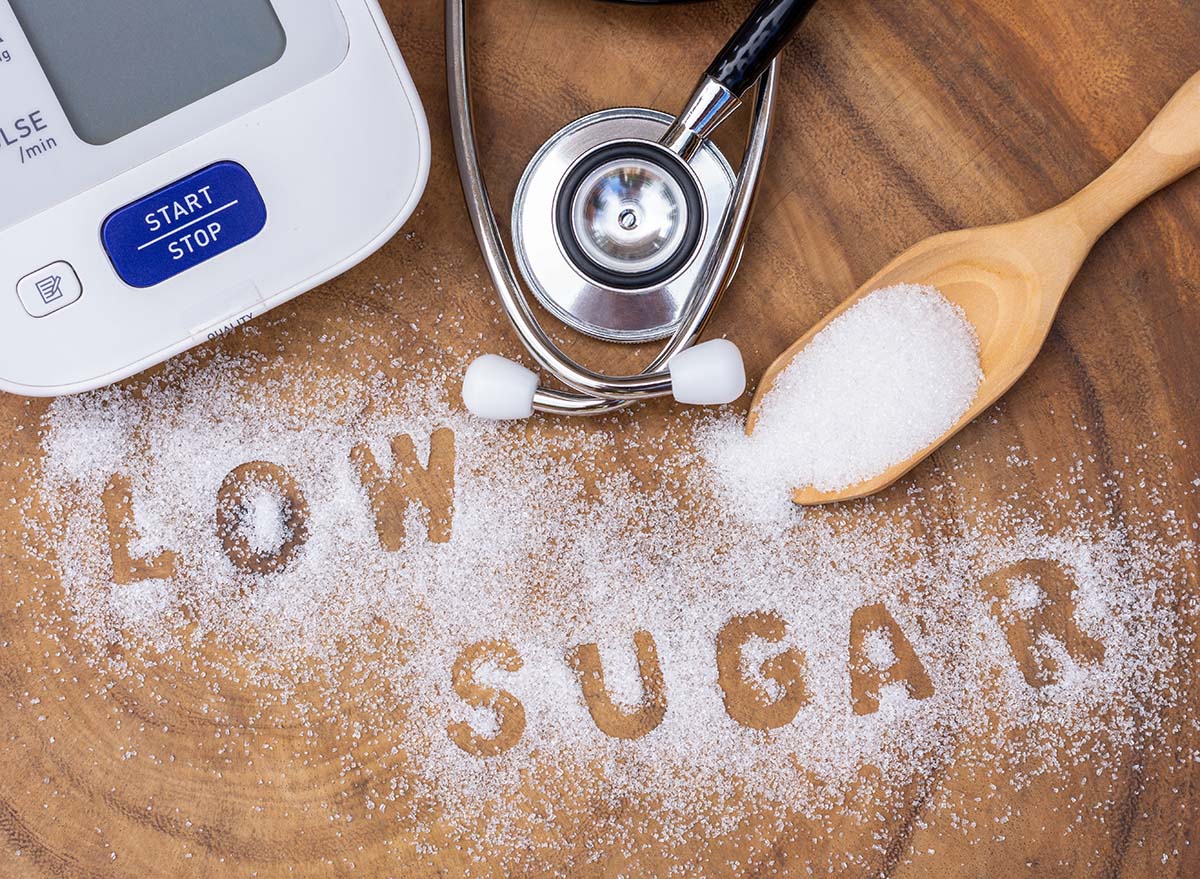 If you have ever experienced low blood sugar with diabetes, then you already know the importance of constantly monitoring your levels to make sure you get them back to where they need to be. There are ways to balance them, including maintaining specific eating and drinking habits; however, if you are in need of an immediate boost, what can you do to help prevent a more serious issue?
Thankfully, there's a method to balance your blood sugar if your levels are low. According to the Centers for Disease Control and Prevention (CDC), the #1 eating rule you should follow if your glucose needs to be elevated is the 15-15 Rule.6254a4d1642c605c54bf1cab17d50f1e
The importance of raising low blood sugar
At times, you may be unaware of the signs that you have low blood sugar. Being more cautious as well as paying attention to the variety of symptoms that may occur can help you know when it's time to take action.
"Most of the time when people experience low blood sugar, it's because of one of three things, or a combination of the three," Amy Goodson MS, RD, CSSD, LD, a registered dietitian on our medical expert board, tells Eat This, Not That!
They have not eaten a meal or snack in a while.
They ate a carbohydrate-heavy meal or sugary a snack.
They ate a meal with little to no protein.
"In all cases, your blood sugar can drop, leaving you feeling lethargic and fatigued. Other symptoms can include headache, dizziness, lightheadedness, and even feeling shaky," Goodson explains.
Aside from these symptoms, low blood sugar, or hypoglycemia, can also lead to more serious side effects. By being left untreated, you may suffer from problems like blurred vision, slurred speech, numbness, and drowsiness, along with difficulty concentrating and confused thinking. In worse cases, continuing to ignore your low levels may lead to your brain starving from not getting enough glucose. This can potentially lead to seizures and coma.
"The goal is to keep a stable blood sugar throughout the day by eating smaller, frequent meals containing high-fiber carbohydrates and protein," Goodson says. "This helps blood sugar gradually rise and gradually lower versus having blood sugar spikes and drops."
Although this is the desired routine to keep your levels at bay, nobody's perfect. You may skip a meal on a busy day or just make poor eating choices. If this happens and your blood sugar declines to a level between 55-69 mg/dL, that's where the 15-15 Rule comes into play.
What is the 15-15 Rule for low blood sugar?
The CDC defines the 15-15 Rule as "having 15 grams of carbs and checking your blood sugar after 15 minutes."
If you follow this rule once and your levels are still below 70 mg/dL, repeat the method by having another 15 grams of carbs and waiting another 15 minutes. You can do this as many times as needed until you achieve a healthy target range.
"When blood sugar gets too low, you need a 'shot' of sugar to help bring it back to the normal range," Goodson says. "Consuming 15 grams of simple carbohydrates like juice, candy, fruit chews, processed carbohydrate, etc. will digest quickly and can help raise blood sugar. But, it takes a few minutes for that to happen, hint the second 15 in the rule."
Although a general rule of thumb for getting your blood sugar levels back to normal, there is still more to be done than eating carbs and waiting a certain amount of time on loop until you feel better.
"The challenge is that low blood sugar can make you feel poorly and cause people to eat more sugar or carbohydrate than necessary (the 15 grams), setting themselves up for another blood sugar spike and drop soon after," Goodson explains. "The goal is to consume the quick-digesting carbohydrate, wait approximately 15 minutes, then consume a more balanced meal or snack of high-fiber carbs and protein once you feel better. Because protein and fiber digest slower, they help stabilize blood sugar after a meal/snack, helping to prevent a blood sugar drop."
The best foods to raise low blood sugar
When selecting foods to consume for the 15-15 Rule, the trick is to find carbs that match exactly 15 grams. Not more, not less.
"If a person finds themselves with low blood sugar, they can consume15 grams of carbohydrate by drinking 4 oz of juice, eating fruit snacks or hard candy (the equivalent of 15 grams of carbohydrate will vary based on brand), glucose tablets (basically, sugar in tablet form), or approximately one tablespoon of honey," says Goodson.
Kayla Garritano
Kayla Garritano graduated from Hofstra University, where she majored in Journalism and double minored in Marketing and Creative Writing.
Read more about Kayla