8 Best Fast-Food Sandwiches for Weight Loss
For health conscious folks on the go, picking up a sandwich from a fast-food joint seems like a safe bet. It's far better than the burger and fries, right?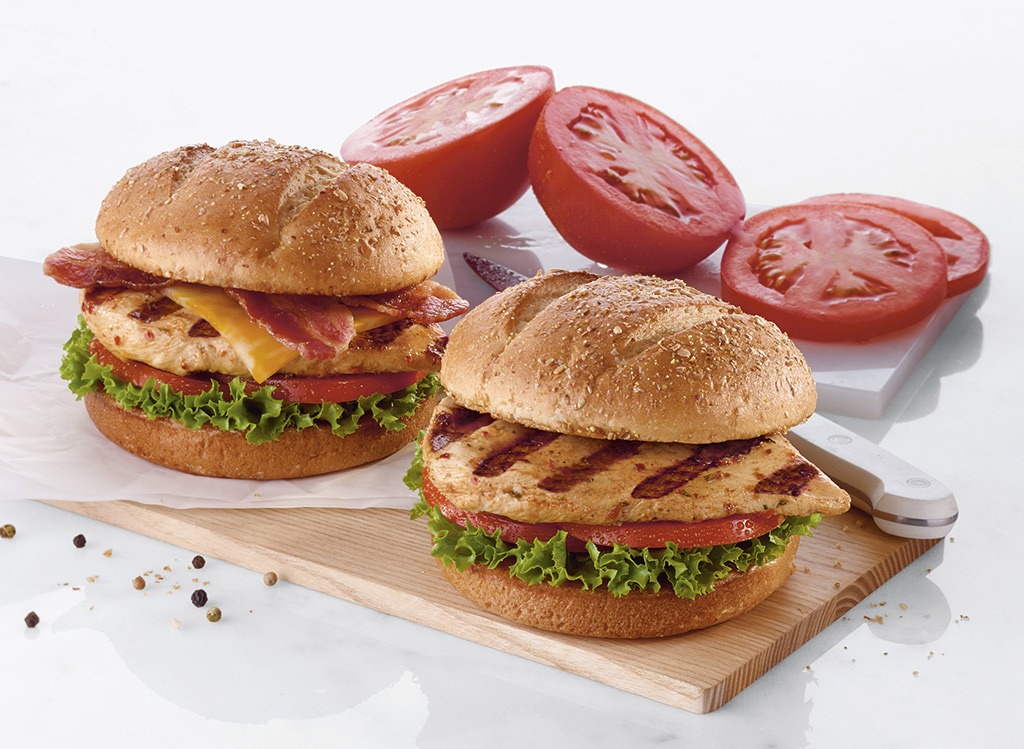 Well, it's hit or miss, really. While some subs carry enough fat, calories and sodium to make you sink, a fair number of them are smart picks that can help you lose weight. The trick is identifying sandwich friend from foe—and that's where we come in. Eat This, Not That! scanned through all the nutrition data from the nation's top fast-food joints to find the best sandwiches for your waistline. This way, all you have to do is sit back, enjoy your meal and watch the pounds melt away.
All of our delicious finds come in below 360 calories and have less than 15 grams of fat and 970 milligrams sodium—which will lean you out and also keep bloating and high-blood pressure at bay. Read on to find out exactly what you should order and why.
Arby's Roast Beef Classic
360 calories, 14 g fat, 5 g sat fat, 970 mg sodium, 35 g carbs, 1 g fiber, 6 g sugar, 23 g protein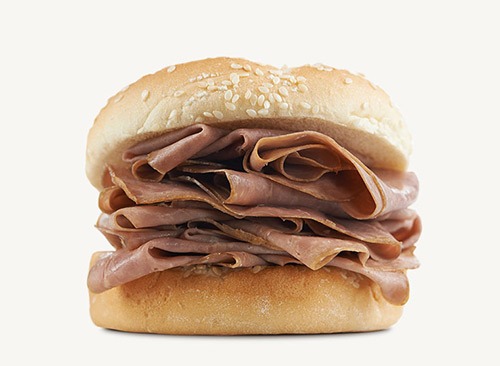 Coming in at just 360 calories, Arby's Roast Beef Classic is one of the best bangs for your nutritional buck. Compared to the chain's other menu items, it's relatively low in calories and fat. It also delivers 23 grams of protein, a nutrient that aids muscle growth and keeps your metabolism humming. To boost the taste without adding many calories, ask for some lettuce, tomato and onion between the buns.
350 calories, 12 g fat, 3.5 g sat fat, 840 mg sodium, 45 g carbs, 3 g fiber, 3 g sugar, 15 g protein
Coming in at just 350 calories, Tim Hortons proves it's possible to eat a bacon-filled sandwich even when you're on a diet. The sandwich not only delivers that slightly salty taste and satisfying crunch you crave, but also provides 25 percent of the day's iron—an essential nutrient (it helps transport oxygen through the body) that many women don't get enough of.
Burger King Tendergrill Chicken Sandwich Without Mayo
320 calories, 5 g fat, 1 g sat fat, 750 mg sodium, 38 g carbs, 6 g sugar, 31 g protein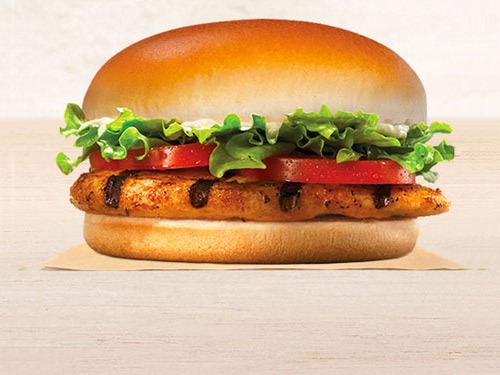 With over 7,000 locations nationwide, Burger King has one of the easiest to find sandwiches on our list—consider it your go-to safe bet for long road trips. While in theory you can't go wrong with a white meat chicken fillet with veggies, the burger joint smears 11 grams worth of fat in the form of mayo on the bun. Axe the spread to cut fat and 90 excess calories from your meal. Add a bit of ketchup or mustard if the bun seems a bit dry.
Cosi Lighter Side Tandoori Chicken Sandwich
349 calories, 2.5 g fat, 1 g sat fat, 828 mg sodium, 50 g carbs, 2 g fiber, 5 g sugar, 29 g protein
Opting for Cosi's slimmed-down take on their Eastern-flavored Tandoori Chicken Sandwich will save you 151 calories and 19 grams of artery-clogging, waist-widening fat. How do they do it? By swapping out full-fat vinaigrette for a fat-free variety. While we typically suggest topping greens and buns with standard dressings (the fat helps the body absorb the veggies' nutrients), here, it's simply not worth the calories.
Chick-Fil-A Grilled Chicken Sandwich
320 Calories, 5 g fat, 1.5 g sat fat, 800 mg sodium, 40 g carbs, 3 g fiber, 7 g sugars, 30 g protein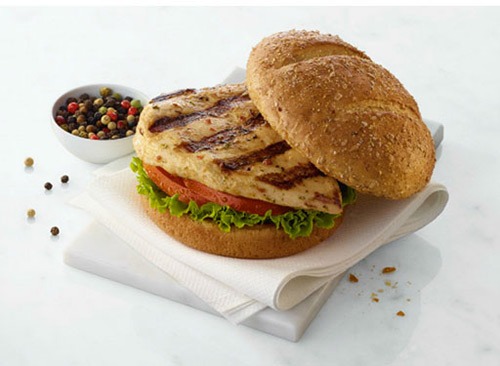 Choosing this protein-packed, low-cal sandwich over the chain's Chicken Salad variety saves you 180 calories and 15 grams of fat—leaving plenty of room for a healthy dessert if you're still hungry. We recommend grabbing a 50-calorie fruit cup to fill up your belly and add some immune-boosting vitamin C to your meal.
Quiznos Small Honey Bourbon Chicken Grilled Flatbread
290 calories, 6 g fat, 1 g sat fat, 880 mg sodium, 45 g carbs, 4 g fiber, 14 g sugar, 17 g protein
Filled with chicken, greens, tomatoes, onions and two different savory sauces, it's hard to believe this sandwich comes in under the 300-calorie mark. In fact, bearing both flavor and nutrition in mind, this is one of the best sandwiches you can get from Quiznos. Some of the chain's other menu picks carry over three times the calories, fat and sodium!
Subway 6" 9-Grain Wheat Turkey Breast and Ham with Honey Mustard, No Cheese
238 calories, 4 g fat, 1 g saturated fat, 850 mg sodium, 53 g carbs, 5 g fiber, 13 g sugar, 18 g protein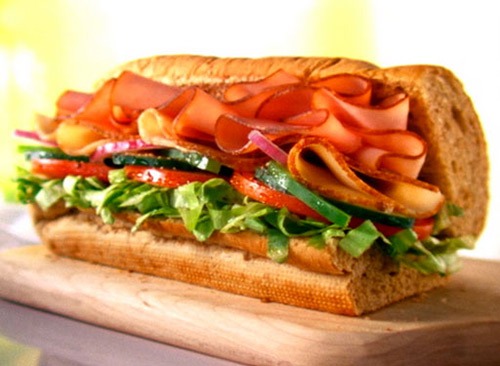 6254a4d1642c605c54bf1cab17d50f1e
Sliced turkey breast, Black Forest ham, tomatoes and red onions come together between fresh wheat bread to bring you a 238-calorie sub you're sure to enjoy. Hold the cheese to keep excess sodium at bay and hundreds of calories off your plate.
Arby's Jr Turkey and Cheese Sandwich
220 calories, 6 g fat, 2.5 g saturated fat, 670 mg sodium, 23 g carbs, 1 g fiber, 4 g sugar, 17 g protein
Appearing on both the kids' and the adults' menu, this roast turkey and cheddar sandwich is a smart pick no matter how you slice it. Besides being the lowest-cal sandwich on our list, it also carries the least amount of sodium—a rare combination in the fast-food world.
FOR HUNDREDS MORE WEIGHT-LOSS IDEAS, click here for our new book Eat This, Not That! 1,247 Awesome Slimming Swaps. Order now to get your FREE GIFT!
Image: Chick-fil-A
Eat This, Not That!
Inspired by The New York Times best-selling book series, Eat This, Not That! is a brand that's comprised of an award-winning team of journalists and board-certified experts, doctors, nutritionists, chefs, personal trainers, and dietitians who work together to bring you accurate, timely, informative, and actionable content on food, nutrition, dieting, weight loss, health, wellness, and more.
Read more about Eat This