11 Worst Fast-Food Sandwiches to Stay Away From Right Now
These subs are packing way more calories, fat, and sodium than you should be eating in one sitting.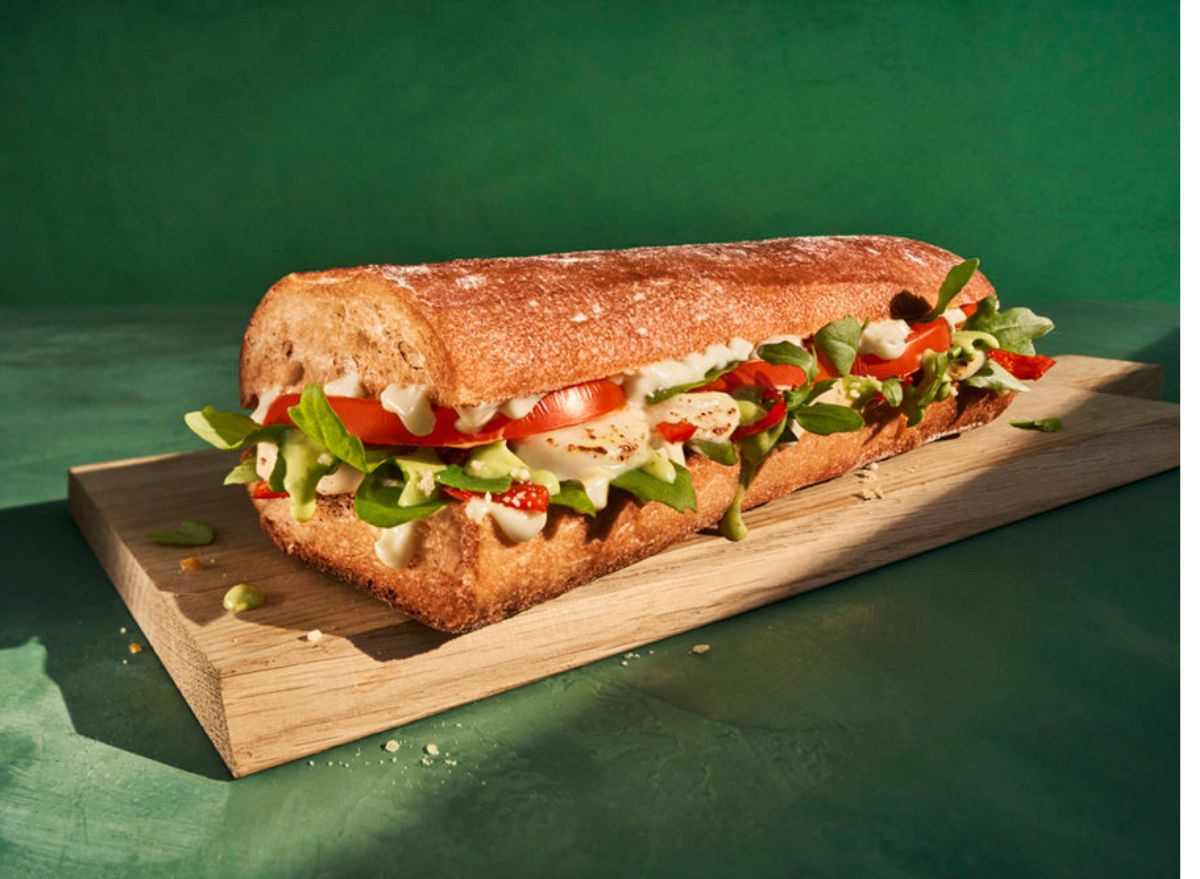 Compared to other fast-food favorites, sandwiches generally don't do as much harm—or they don't have to. If you're choosing between pizza, a burger, or a sandwich, for example, the latter is probably easiest to customize into something more nutritious. But the lesser of evils option doesn't always hold up as a healthy one on its own.
As registered dietitian Amy Goodson, MS, RD, CSSD, LD, explains, creamy sauces, heaping piles of processed meat, and hefty bread slices can quickly take a sandwich into the dangerously high-calorie and high-fat territory. She also points out that the super-size nature of many fast-food sandwiches is problematic, especially when they come with bells and whistles on the side like soda, chips, fries, and cookies. Indeed, there are many ways for a fast-food sandwich meal to turn unhealthy.
After getting specific insight from a few dietitians, we gathered 11 fast-food sandwiches you should stay away from right now.
Panera's Green Goddess Caprese Melt Toasted Baguette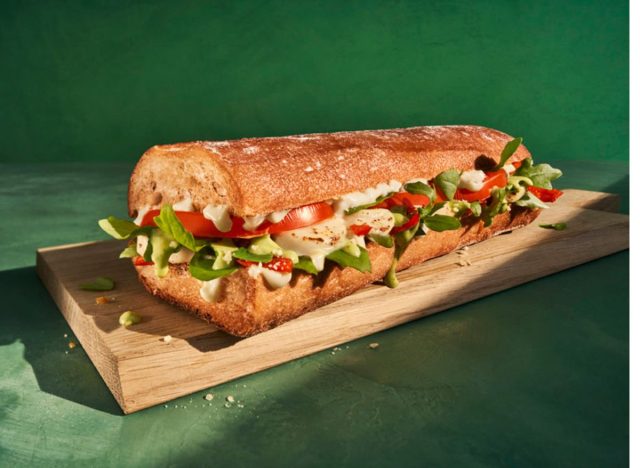 Per Sandwich
: 1,000 calories, 43 g fat (15 g saturated fat), 1,900 mg sodium, 117 g carbs (5 g fiber, 7 g sugar), 36 g protein
"You'd think a Green goddess sandwich would be healthy but this option has sky-high calories, fat, and sodium," says Julie Upton, M.S., R.D., award-winning registered dietitian and co-owner of Appetite For Health. Inside Panera's Green Goddess Caprese Melt, you'll see an array of fresh veggies like tomatoes, sweet peppers, and arugula, but there's more than meets the eye.6254a4d1642c605c54bf1cab17d50f1e
"The sandwich has about 50% of your daily calories, 80% of the sodium you should have in a day, and around 80% of the saturated fat you should have in an entire day," Upton explains.
Starbucks' Grilled Cheese Sandwich
Per Sandwich
: 520 calories, 27 g fat (16 g saturated fat), 1,040 mg sodium, 47 g carbs (4 g fiber, 1 g sugar), 21 g protein
Thankfully, your average grilled cheese sandwich has minimal ingredients—bread, cheese, and butter—but, as always, too much of a good thing is never healthy. This innocent-looking sandwich "packs in 80% of the saturated fat you should have in a day [into] a 520-calorie sandwich, thanks to the butter and cheese used to make the sandwich," says Upton. Plus, she warns, "its sodium counts are high, at 1,040 milligrams, which is equal to nearly half of the sodium you should have in a day."
McDonald's Filet-O-Fish Sandwich
Per Sandwich
: 390 calories, 19 g fat (4 g saturated fat), 580 mg sodium, 39 g carbs (2 g fiber, 5 g sugar), 16 g protein
While McDonald's Filet-O-Fish sandwich is the ideal substitute for non-beef-eaters who are looking to dine from the chain, it won't do you any favors from a nutritional standpoint. On its own wild-caught Alaska Pollock—the type of fish Mcdonald's uses in this sandwich—is low in calories and fat, with a high amount of protein. That changes drastically once fried and topped with a heavy, cream-based tarter sauce spread, that comes out to almost triple the macronutrients in this dish. So essentially you're eating a little bit of fish with a big spoonful of pure fat—and not the good kind.
Subway's Footlong Supreme Meat Sandwich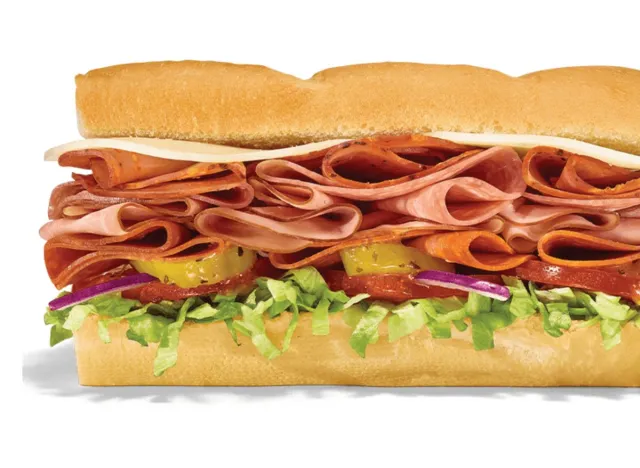 Per Sandwich
: 510 calories, 29 g fat (10 g saturated fat), 1,720 mg sodium, 41 g carbs (4 g fiber, 5 g sugar), 25 g protein
In a Footlong Supreme Meat Sandwich from Subway, you'll receive several sliced sandwich meats—such as thin-cut ham, salami, pepperoni, and Italian-style capicola—topped with slabs of provolone cheese, a parmesan vinaigrette, and the works (lettuce, tomato, red onion, etc.) if that's your thing.
"It is the processed meats that are just too much and not in moderate portions," explains Toby Amidor, MS, RD, CDN, FAND, a nutrition expert and WSJ best-selling author of Up Your Veggies: Flexitarian Recipes for the Whole Family. "Based on a 2,000 calorie diet it provides 160% the daily recommended maximum for artery-clogging saturated fat, and 241% the recommended amount of sodium (one of the highest I have ever seen for a sandwich)."
"Subway has many healthier options to choose from like a 6-inch Oven Roasted Turkey Sandwich, or my favorite, the 6-inch Sweet Onion Teriyaki Sandwich," says Amidor.
Burger King's American Original Chicken Sandwich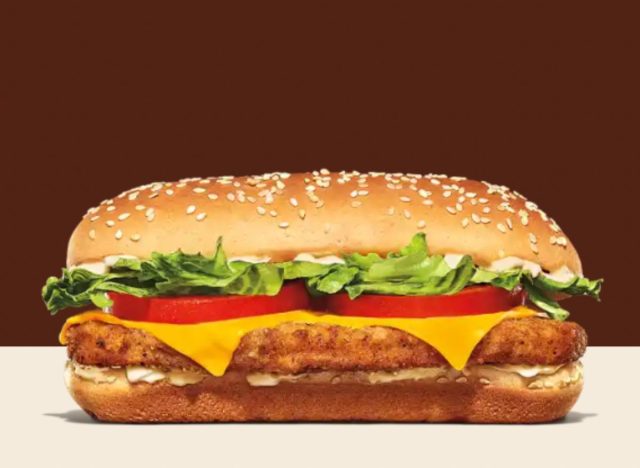 Per Sandwich
: 777 calories, 48 g fat (11 g saturated fat), 1,722 mg sodium, 64 g carbs (4 g fiber, 10 g sugar), 34 g protein
With the new year came new sandwiches at Burger King. As part of the chain's new international lineup, the American Original Chicken Sandwich has made a big splash, but it's probably not the best idea to indulge in it often.
This hefty crispy chicken sandwich may be loaded with a few "fresh" veggies, like lettuce and tomato, but it's also full of empty calories and a sodium palooza. When there's an excessive amount of creamy mayonnaise, an excessive amount of unhealthy fats follow. Plus, the majority of the sandwich is the large, fluffy sesame seed bun—great flavor, but not so great when you're consuming double the carbs.
Arby's Half Pound Beef 'n Cheddar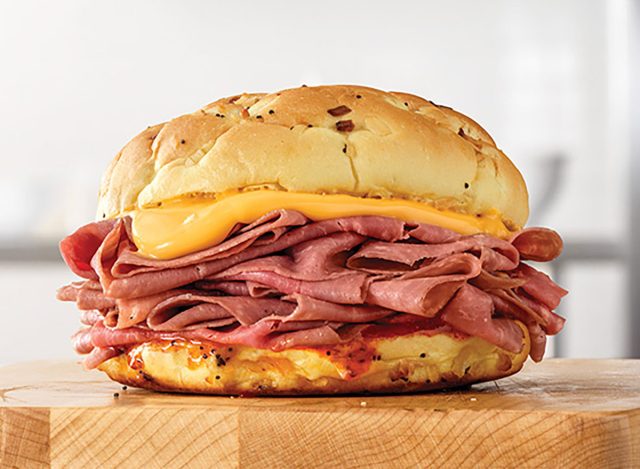 Per Sandwich
: 740 calories, 39 g fat (14 g saturated fat), 2,530 mg sodium, 45 g carbs (2 g fiber, 9 g sugar), 23 g protein
Arby's is a beloved fast-food option for sure, with new offerings added to the menu often. But if you're thinking about ordering this bad boy, which features a half-pound of roast beef on an onion bun, topped with a cheddar cheese sauce and red ranch, maybe think again.
Goodson acknowledges that there is less bread here, which cuts down the calories a bit. But, she says, "a half-pound of beef is more than most people should have per serving," and it will load your sandwich up with additional calories and sodium. And let's not forget that the ranch—a thick, creamy sauce that makes everything delicious—also adds more calories and fat to this sandwich.
Instead, Goodson suggests opting for Arby's Classic Roast Beef Sandwich, which will still satisfy your roast beef cravings but won't overload you with processed meat.
Potbelly's Big Mama's Meatball Sandwich on White Bread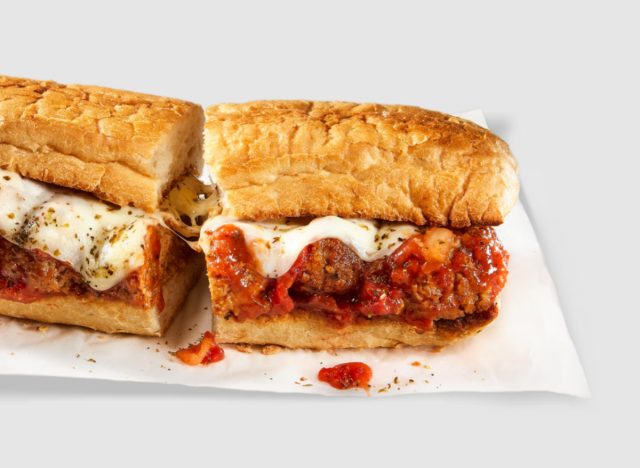 Per Sandwich
: 1,350 calories, 70 g fat (31 g saturated fat), 2,970 mg sodium, 73 g carbs (5 g fiber, 6 g sugar), 44 g protein
Consider the name of the sandwich, and it's clear you're in for an indulgent feast of comfort food with meatballs, provolone cheese, and marinara sauce. But when you opt for the big size and get this sandwich on white bread, it becomes one of the unhealthiest subs out there.
"The reality is meatballs are pretty caloric as they are often not made with the leanest ground beef or pork," says Goodson. "And the marinara sauce is likely the ingredient pushing up the sodium content on this sandwich."
While everyone loves a meatball sub, if you're aiming to be healthy, she recommends going for white meat and reasonable portion sizes. At Potbelly, that could be the original size of the Turkey Breast and Swiss on Multigrain Bread. Plus, she adds, you can (and should!) load it with all your favorite veggies!
Quiznos's 12-inch Classic Italian on White Bread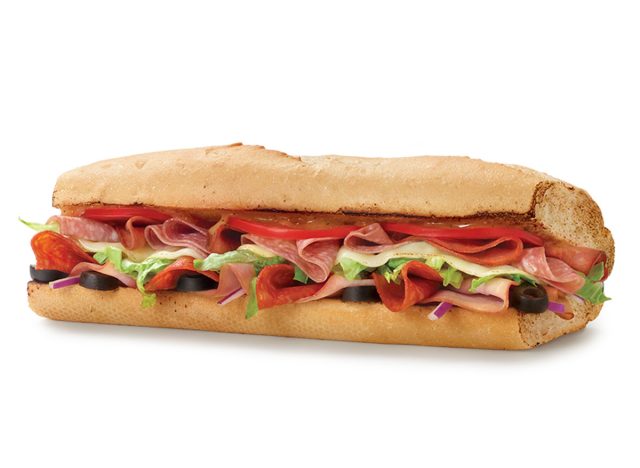 Per Sandwich
: 1,400 calories, 78 g fat (25 g saturated fat), 4,150 mg sodium, 115 g carbs (8 g fiber, 13 g sugar), 61 g protein
Quiznos' 12-inch Classic Italian is made with four different types of meat including pepperoni, salami, spicy capicola, and smoked ham, which translates to plenty of flavors—and plenty of fat and sodium as well.
"While there are some lighter toppings here, like melted provolone, black olives, fresh lettuce, tomatoes, onions, banana peppers, and red wine vinaigrette, the size of this sandwich and the amount of meat takes it through the roof with calories, fat, and sodium," Goodson says.
She recommends opting for the 4-inch Spicy Monterey sandwich on wheat bread, which will save you calories (it's a fraction of the calorie count), while also cutting sodium and fat content way down.
Firehouse Subs' Large Smokehouse Beef & Cheddar Brisket on White Bread
Per Sandwich
: 1,915 calories, 137 g fat (42 g saturated fat), 4,668 mg sodium, 30 g carbs (1 g fiber, 8 g sugar), 61 g protein
The sodium count on this sub is out of control. At more than double the recommended sodium level for an entire day in just one sandwich, the Smokehouse Beef & Cheddar Brisket, which additionally comes layered with mayo and BBQ sauce, should be avoided at all costs if you value your cardiovascular health.
As Goodson explains, "While you can eat lean beef and cheese as a part of a healthy diet, the large size of this sandwich means more meat and more cheese, thus increasing the amount of calories and fat. Tack on some mayo and BBQ sauce and those numbers go through the roof."
Instead, she suggests, going for the medium Turkey Sub on wheat bread next time you're at Firehouse Subs. This sandwich rings in at about a third of the calories and fat and less than half the sodium.
Jersey Mike's Giant Club Sub on White Bread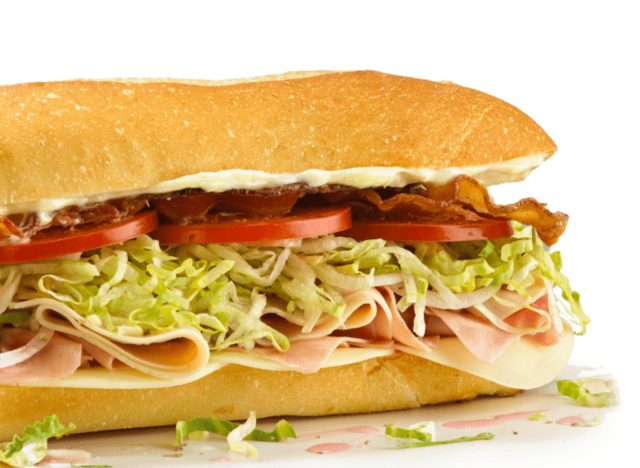 Per Sandwich
: 2,170 calories, 151 g fat (33 g saturated fat), 4,464 mg sodium, 122 g carbs (8 g fiber, 14 g sugar), 84 g protein
This Club Sub is a bit of a classic American throwback, loaded with ham, turkey, bacon, provolone cheese, onions, lettuce, tomatoes, oil, vinegar, salt, and mayonnaise. However, looking at the calories, fat, and sodium content, all we can say is that there has to be a better way to enjoy this popular favorite.
"While none of these ingredients are terrible on their own, things like bacon, oil, and mayonnaise combined together really pack a calorific punch," says Goodson. The size of this sandwich is an additional issue.
Instead of indulging in a 2000-plus calorie sandwich, Goodson recommends Jersey Mike's regular-sized Grilled Portabella Mushroom and Swiss on Wheat Bread.
Jimmy John's The J.J. Gargantuan on French Bread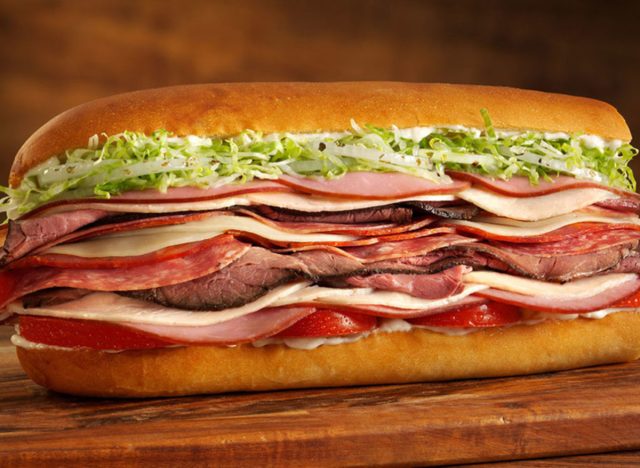 Per Sandwich
: 2,160 calories, 99 g fat (30 g saturated fat), 7,750 mg sodium, 78 g carbs (6 g fiber, 5 g sugar), 78 g protein
Just look at this thing! The sheer size and moniker of this Jimmy John's sandwich should tip you off about why it took the spot of the #1 unhealthiest sandwich on our list.
Consider what goes into this Gargantuan sandwich: five different meats including salami, Capocollo, turkey, roast beef, and ham. There's no scenario in which that amount of meat does not translate to a sodium bomb—and, looking at the sodium content of this one is enough to make your heart stop. The Gargantuan is then topped with provolone cheese, onion, lettuce, tomato, mayonnaise, oil, and vinegar with oregano and basil seasoning.
"The mayonnaise and oil combo really tack on extra fat and calories," Goodson says. "This sandwich has over three times the recommended about of sodium per day, so it's definitely one to avoid."
But never fear, JJ's has a great healthy option as well. The 8-inch Slim 4 comes on wheat bread, and the only two set ingredients are turkey and bread. From there, load up this sandwich with all your favorite veggies, and you've got yourself a much healthier option.
A previous version of this article was originally published in April 2022. It has been fact-checked and updated with new information.
Jordan Summers-Marcouillier
Jordan Summers-Marcouillier was born and raised in San Jose, California and now works as a writer in New York, NY.
Read more about Jordan