7 Best Almond Butter Brands Worth Buying
We asked registered dietitian nutritionists for the low-down on the health benefits of almond butter and which jars are the best you can find.
Almond butter—it's a saving grace for those with peanut allergies and has its own impressive nutrition profile to boot. But if you've taken a stroll through the almond butter section of your supermarket lately, you've likely realized that there are dozens of different varieties of this nutty staple to choose from.
To help you suss out the best almond butter from the deceptively unhealthy counterparts, we consulted a team of registered dietitian nutritionists and other experts.
We gathered their thoughts on the benefits of almond butter, how they choose the best of the bunch, what separates the best almond butter from the one you should avoid.
What are the benefits of almond butter?
In its purest, best form, almond butter is nothing more than almonds and maybe a dash of salt to help bring out that nutty flavor. Because almonds have a myriad of health benefits, it's no surprise that the best almond butters are packed with nutrients, too.
Good source of plant-based protein: "Nut butters are versatile, nutrient dense, and a great source of plant-based protein," says Trista Best, RD, a registered dietitian at Balance One Supplements. Almond butter, in particular, has around 7 grams of protein per 2-tablespoon serving.
Nutrient-dense: "Almond butter packs a significant amount of nutrients including monounsaturated fat, vitamin E, manganese, magnesium, fiber, and protein," adds Best. "The vitamin E content of almond butter makes it beneficial for heart health and potentially Alzheimer's disease."
Contains satisfying healthy fats. "While the fat content may scare the novice healthy snacker away, the quality of fat and nutrient content make it a much better option than chips or pastries." Best adds, "some studies indicate consuming almond butter (rather than peanut butter) can lower and stabilize blood glucose." This helps to prevent the spikes and crashes in blood sugar that lead to being hungry again.
Almond vs. peanut butter:
It's preferable to peanut butter, overall: "Almond butter is one of my favorite products out there. Like all nut butters, it's a delicious and convenient way to add protein to your meals and snacks. Compared to peanut butter, almond butter has about four times as much calcium, plus about 50 percent more iron and fiber," says Grace Goodwin Dwyer, MS, RD, LDN, CLC. "Almond butter also has a slightly milder taste, which works great in smoothies or baked goods in which you don't want it to be a primary flavor."
It's heart-healthy: "Almond butter is an excellent source of protein, healthy fats, and fiber, which is why it is such a heart-healthy food!" says Rebecca Stib, RD, a registered dietitian and the founder of Nutritious Gifts.
It's packed with healthy fats that might help protect you against certain cancers and other diseases: "Almond butter has slightly more healthy fats (monounsaturated fats and polyunsaturated fats) than regular peanut butter," says Amanda A. Kostro Miller, RD, LDN, who serves on the advisory board for Fitter Living. "Monounsaturated fats can help increase the good cholesterol in the body. In a 2019 systematic review that looked at types of fat consumed and the risk of certain skin cancers, researchers found that high consumption of monounsaturated fats significantly reduced the risk of basal cell carcinoma. Polyunsaturated fats help reduce the amount of bad cholesterol in your body, which is beneficial for the cardiovascular system. Consuming foods with adequate polyunsaturated fats can help reduce your risk of stroke and heart disease."
It's got plenty of fiber, which can help you shed some pounds: "Almond butter has over two times more fiber than peanut butter," says Miller. "Fiber is good for everyone, but it can make you feel more satisfied for longer (preventing early hunger/snacking), which is helpful for those on a restricted-calorie diet for weight loss."
It's convenient: While it's simple enough to pick up some almond butter at the store or order it online, almond butter is also really easy to make on your own. "My top recommendation is to make your own almond butter at home," says Abby Vichill, MS, RDN, LD. "Simply use a food processor to grind raw almonds and add sea salt (optional.)"
It's an alternative to those with peanut allergies: For people with peanut allergies, almond butter often acts as a tasty stand-in for PB. That's because, peanuts are legumes and are therefore different from tree nuts, such as almonds.
How do you choose the best almond butter?
When it comes to finding the crème de la crème of healthy almond butters, our experts consider several factors.
The fewer ingredients, the better: "When choosing an almond butter, I recommend selecting one with as few ingredients as possible. Ideally, the almond butter would contain just almonds," says Amy Gorin, MS, RDN, and a nutrition partner with NOW Foods. "If it has other ingredients, those should only be oil and/or salt—and no sugar or other ingredients."
Look for almond butter with no added sugar and oil: "As a general rule of thumb, the fewer added sugars and processed oils we can eat, the better," says Dwyer.
Keep an eye on the sodium content: "Some almond butter brands may have salt added into the recipe. The amount of sodium you eat can have an effect on blood pressure and water retention. It is important to control your sodium intake as part of a healthy lifestyle, even for people who don't have high blood pressure," Miller says. "Sodium is one component of salt. If you are choosing between two different almond butters, try to choose the one that has the least amount of sodium."
Ingredients to avoid
Now that you know what to look for in an almond butter, it's also crucial that you know what ingredients to avoid when choosing an almond butter.
Watch out for all those oils: Palm oil is often added to nut butters as a stabilizer so that the solids and oils don't separate. While a little bit of the substance is fine, you don't want a nut butter that's packed with palm oil or similar ingredients such as palm kernel oil and coconut oil. "Even though these are plant-based oils, these oils contain high amounts of saturated fats," says Miller. "Saturated fats can negatively impact your cholesterol levels and heart health, so you should reduce them in your diet."
Avoid too much added sugar: "Some almond butters are flavored with sugar, honey, chocolate or anything sweet. Try to look for plain almond butter with no 'added sugars' on the label. While you may see 'sugar' or 'total sugar' on the label, look for the presence of 'added sugars,'" says Miller. "Added sugars are sugars that are not naturally found in the product. If you are choosing between a flavored or unflavored almond butter, chances are the unflavored almond butter will have less added sugar."
The best almond butters you can buy.
Keep reading to find out the 7 best store-bought almond butters our pros recommend!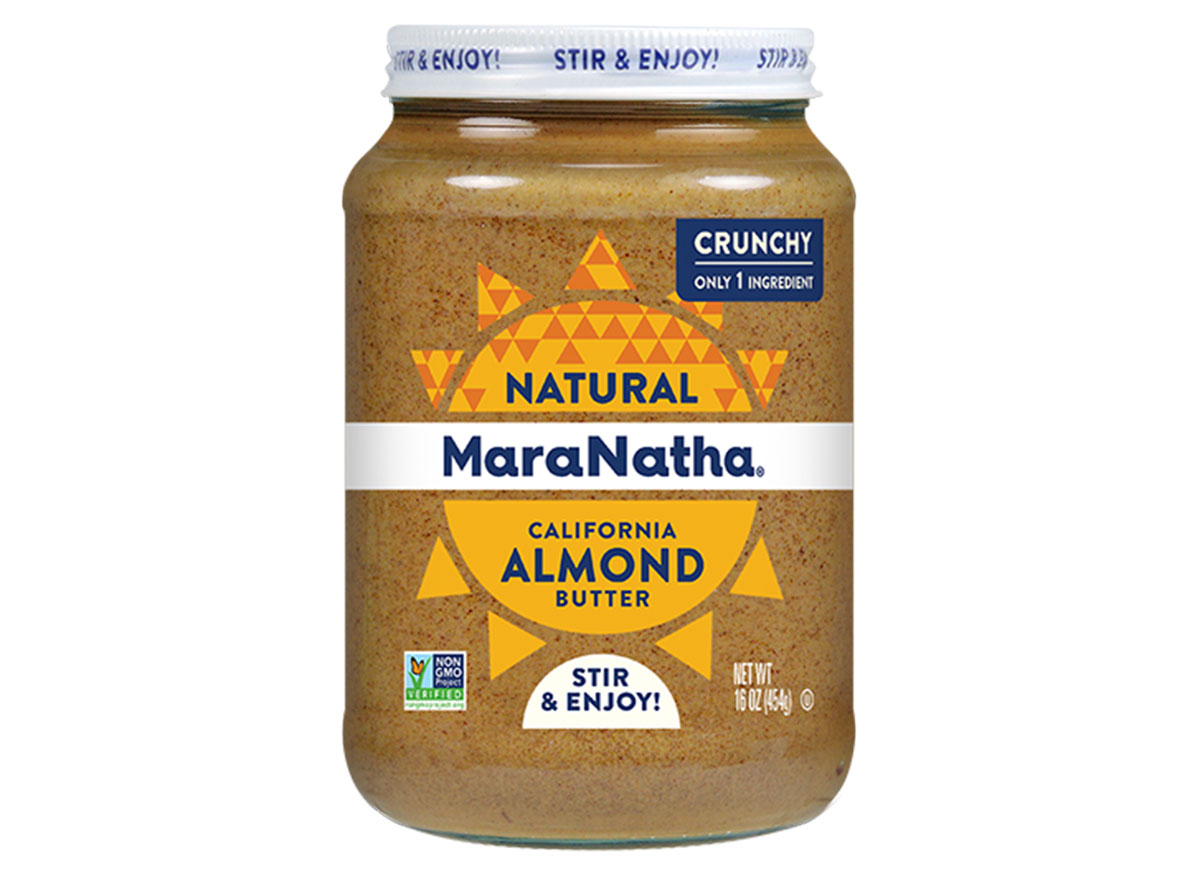 Best likes this almond butter (which is made with just almonds) because it contains only one gram of sugar and seven grams of protein per serving. "Protein is a valuable nutrient when choosing an almond butter," she says. "An adequate amount of protein in a serving of almond butter is around six to seven grams."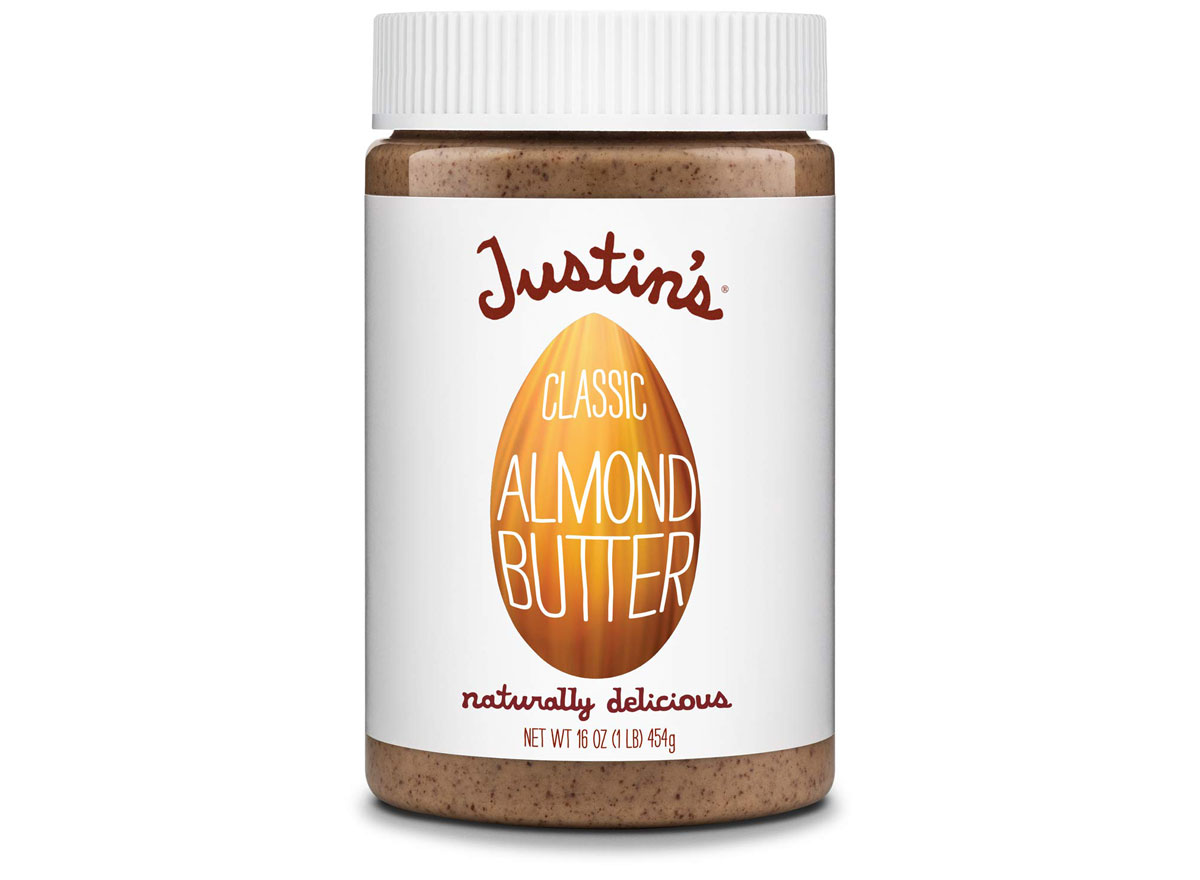 "I always look for minimal ingredients when it comes to almond butter," says Stefani Sassos, MS, RDN, CDN, and a registered dietitian at the Good Housekeeping Institute. "Almonds (raw or dry roasted is fine), maybe a little bit of oil and salt, but that should be it!" She is a fan of this popular choice because it contains just two ingredients: almonds and palm oil.
Sassos also likes that Justin's, unlike some other nut butter brands, uses ethically sourced ingredients. "Many manufactured nut butters contain palm oil, which is derived from the African oil palm tree. Unfortunately, millions of acres of rainforest are cut down yearly to create more palm oil plantations and this destroys the habitat for orangutans," she says. "Justin's uses sustainably sourced palm oil that is non-GMO and non-hydrogenated, and they follow a protocol that has a zero deforestation policy."
6254a4d1642c605c54bf1cab17d50f1e
This almond butter contains less than three ingredients, which helped it earn Stib's seal of approval. "I choose almond butter based on two factors: price and ingredients. Despite the steep price point of almond butter when compared to peanut butter, some almond butter jars with little to no added ingredients are worth it," she says. "Some almond butter brands have added salt, palm oil, sugar, or other binding ingredients. Although extra ingredients can compromise the nutritional value of the nut butter, a little bit of salt can also help preserve the nut butter for longer shelf life."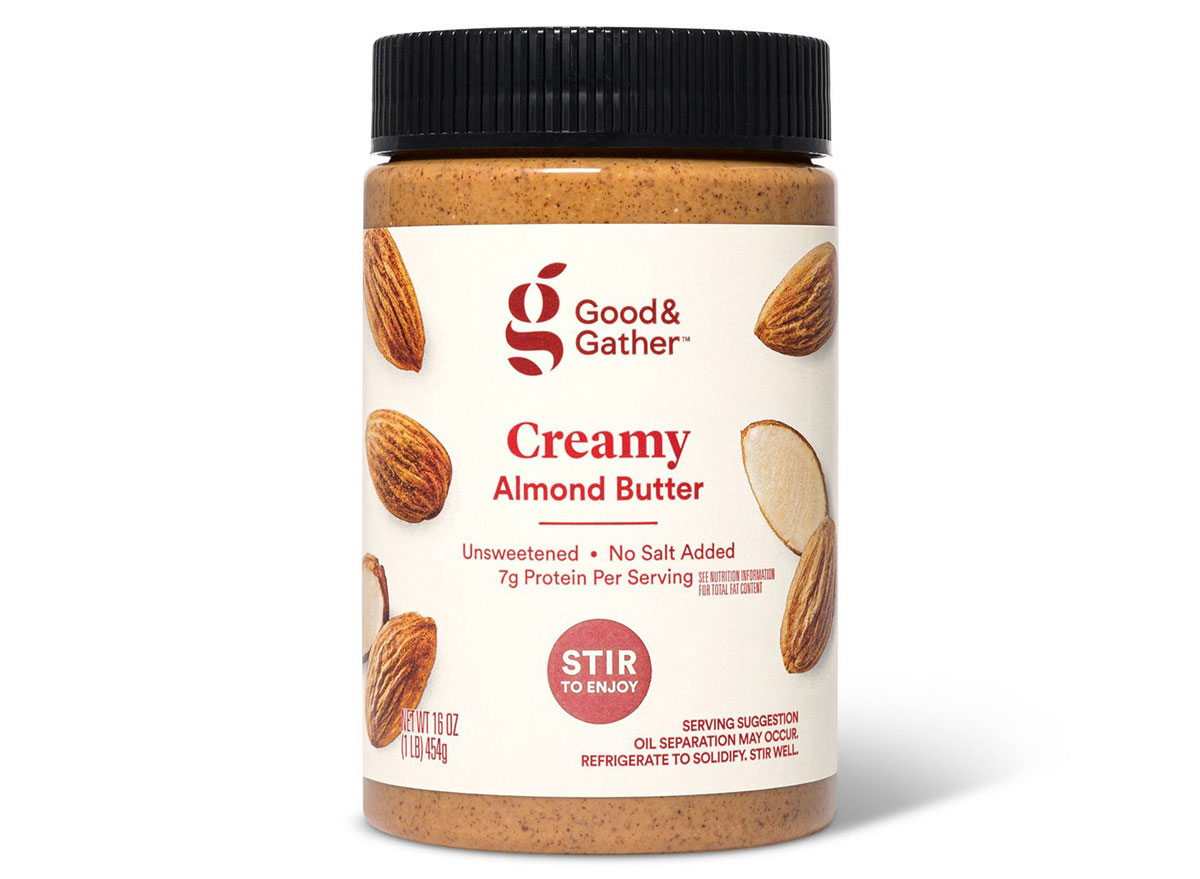 "I like this Target-brand almond butter because it is unsweetened and unflavored. The only thing in it is almonds!" says Miller. "What's also great is that there is no salt added to the almond butter. This helps you control the amount of sodium you consume. Using this almond butter gives you protein, healthy fats, and a good amount of fiber to keep you satisfied for hours."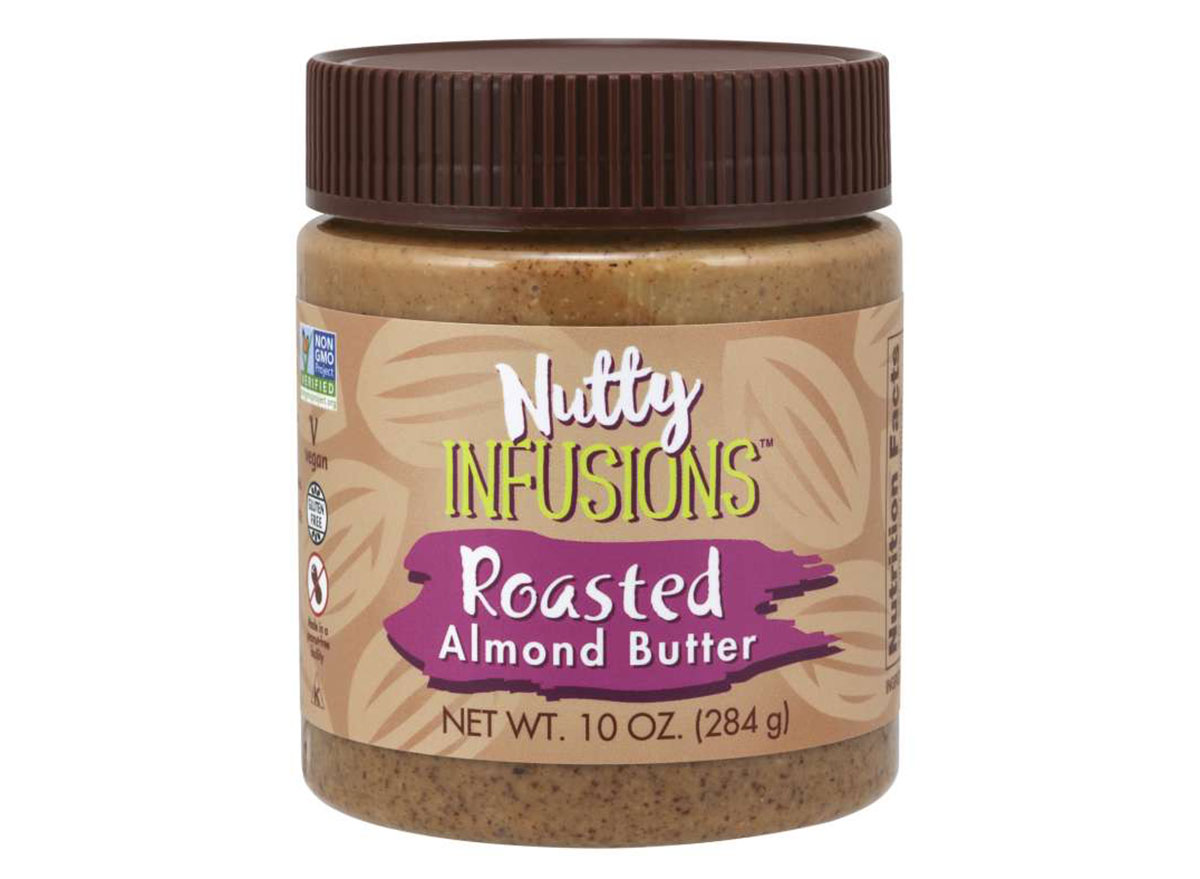 "This almond butter is my top choice because it contains just one ingredient: dry-roasted almonds. You don't get any added oil, salt, or sugar" says Gorin. "Two tablespoons provide heart-healthy mono- and polyunsaturated fats. They also include four grams of fiber and six grams of protein. This nut butter is a good source of both fiber and protein!"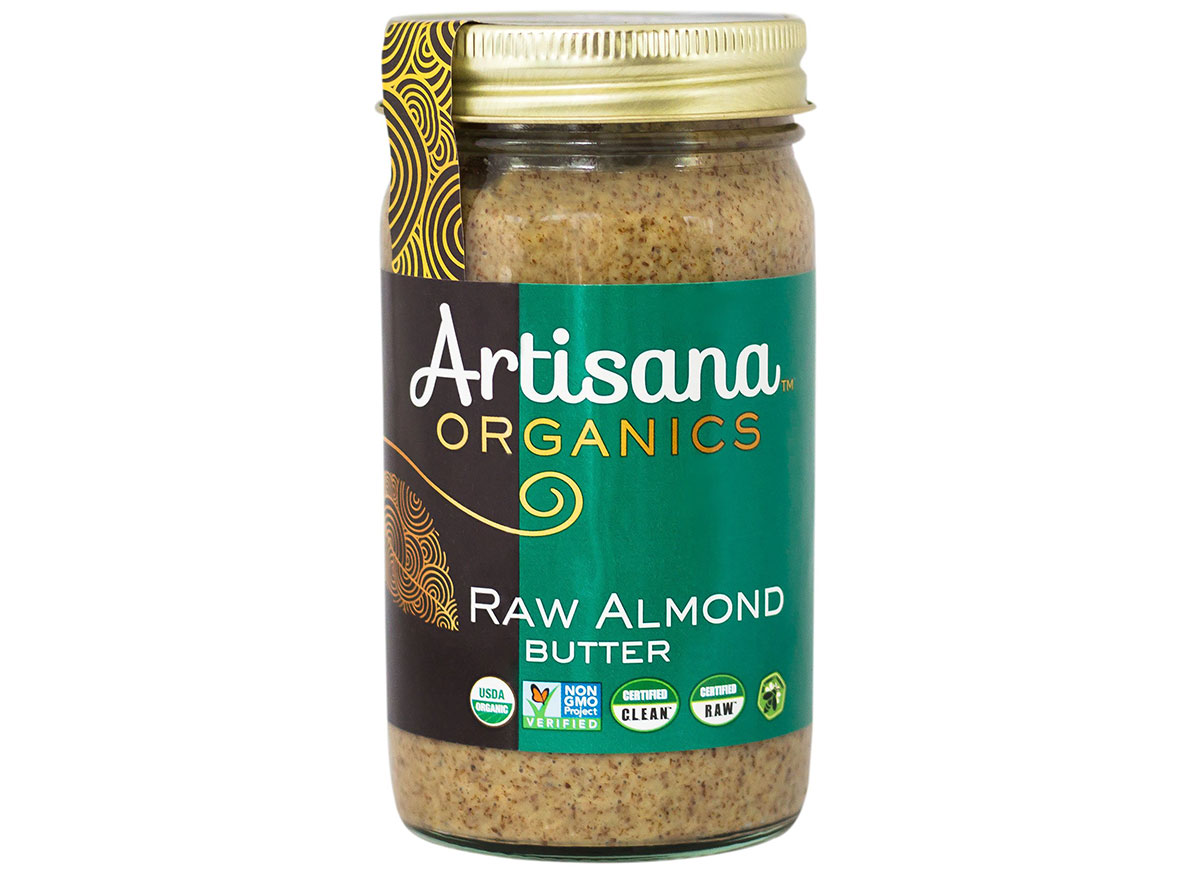 Vichill is partial to this almond butter because it contains only one ingredient: almonds. What's more? The almonds used in this tasty spread are all organically sourced. Vichill also likes that Artisana uses a BPA-free glass jar instead of plastic.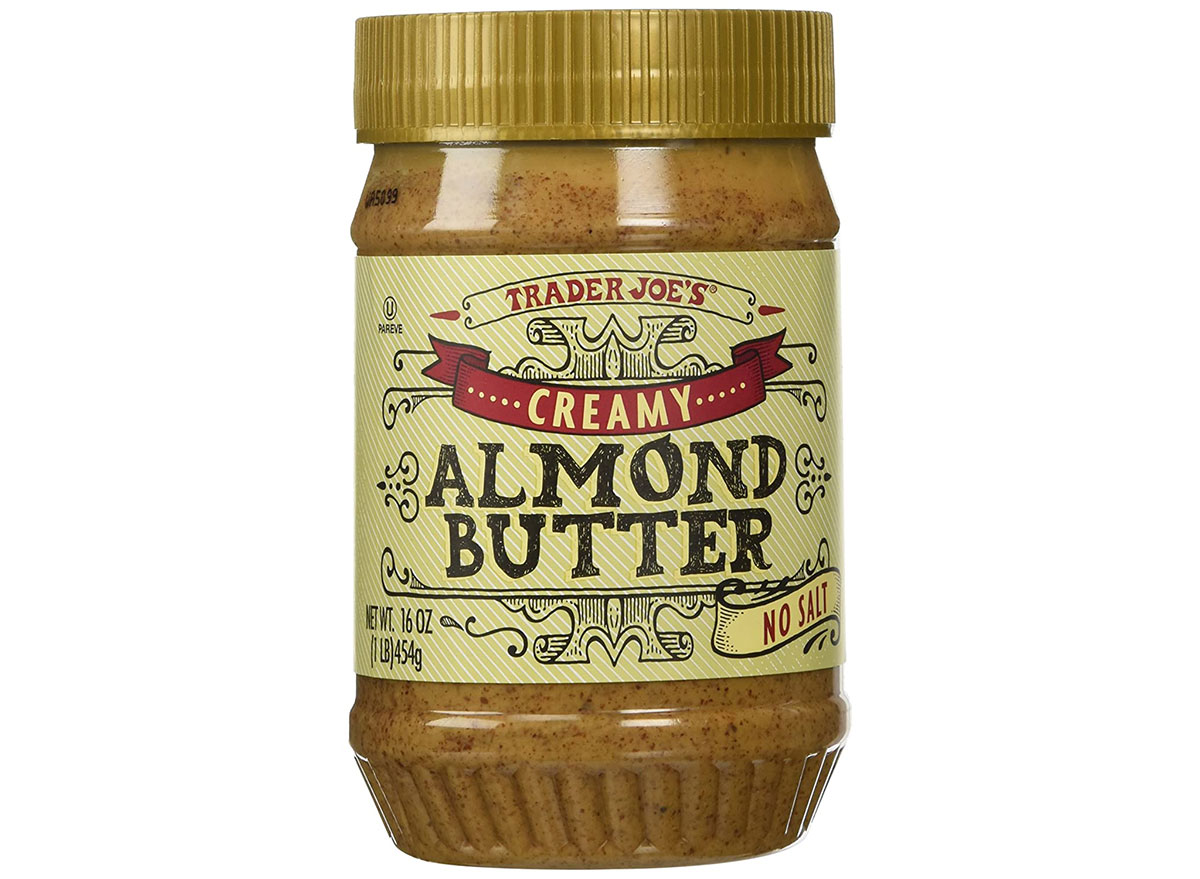 "My go-to almond butter is the roasted version from Trader Joe's. It's one of the most affordable options out there," says Dwyer. "Plus, it's all nuts—no extra fillers or sweeteners. It does contain less than one percent cashews, so keep that in mind if you have an allergy." For those who like a little texture, the crunchy version has the same nutrition profile.