7 Best Foods to Buy When You're Totally Stressed
These foods are the closest you're going to get to a literal chill pill.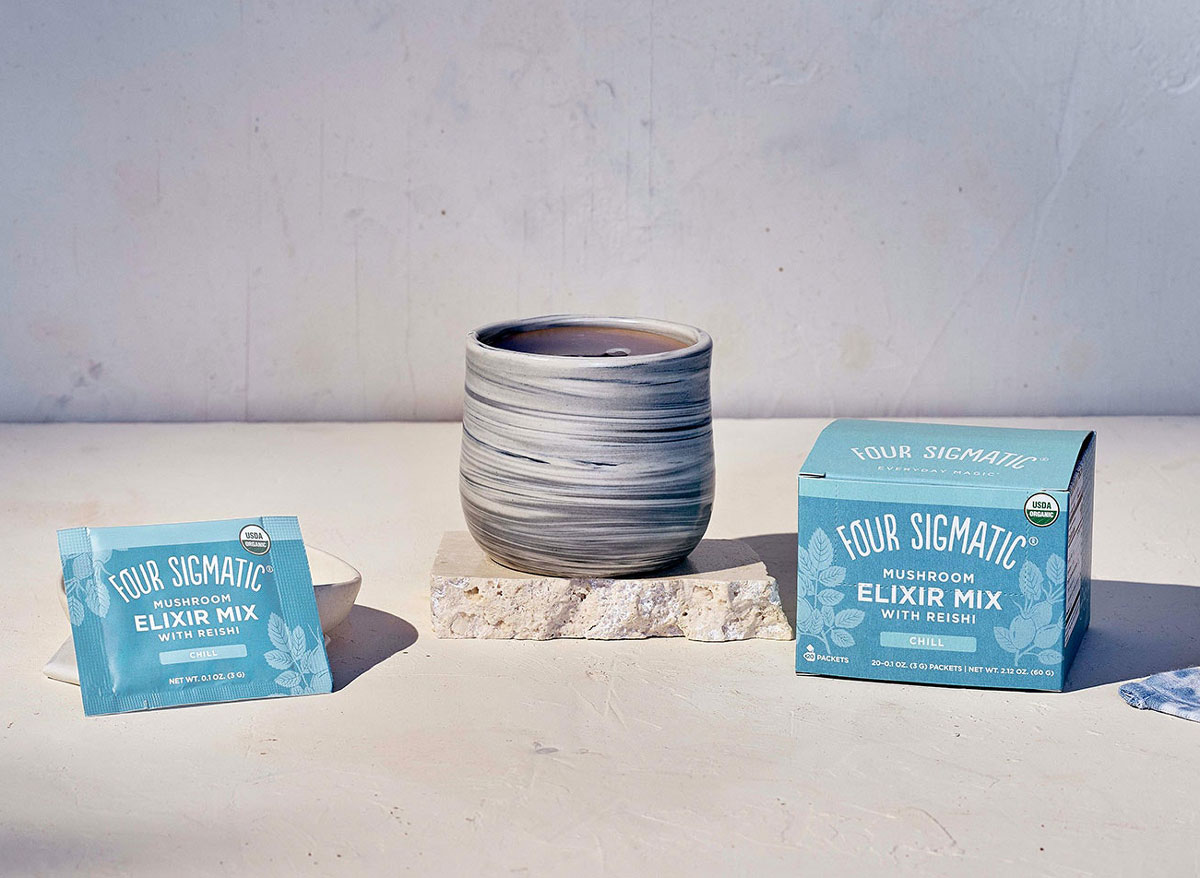 This post contains affiliate links. If you use these links to buy something, we may earn a commission.
With everything going on in the world, it is completely normal to feel overwhelmed and stressed. But that doesn't mean that you have let anxiety creep into everything you do. While we may not have access to common stress-relieving habits like getting a massage, what we can do is stock up on stress-relieving foods that can help you mellow out and calm down.
These functional foods contain ingredients that are known to relieve stress, balance mood, increase "feel good" hormones, and promote better sleep. From beverages to chocolates, these picks are both tasty and can help you calm down.
So when you feel like you've been burning the candle at both ends and need something to quickly unwind, turn to these best foods to buy when you're stressed.
Good Day Chocolate Calm Supplement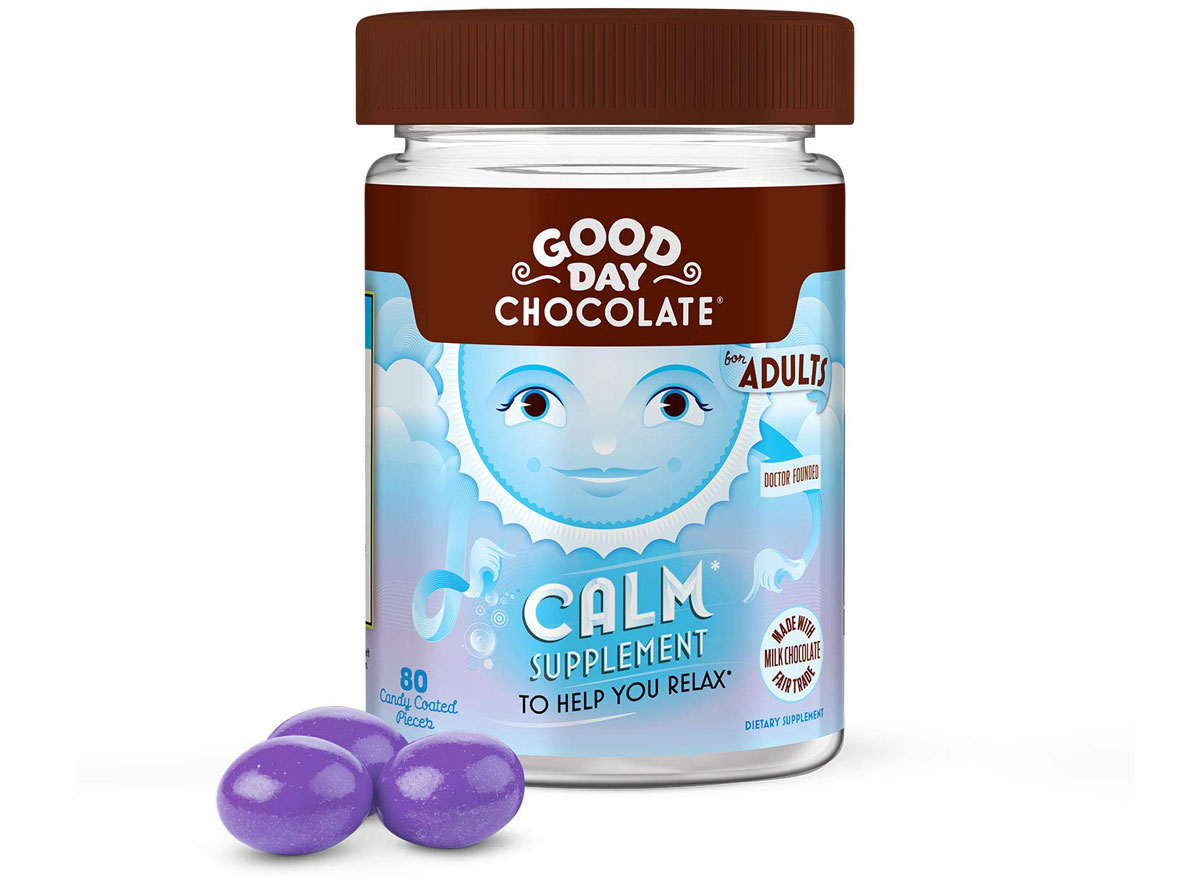 You were probably going to reach for chocolate when you're stressed anyway, so why not make it calm your nerves in more ways than one? These Good Day chocolates contain a "calming blend" of magnesium, L-theanine, and chamomile flower extract. Research shows that magnesium can help you feel calm by quieting the nervous system as well as regulating melatonin production.
REBBL Ashwagandha Spicy Chai Super Herb Elixir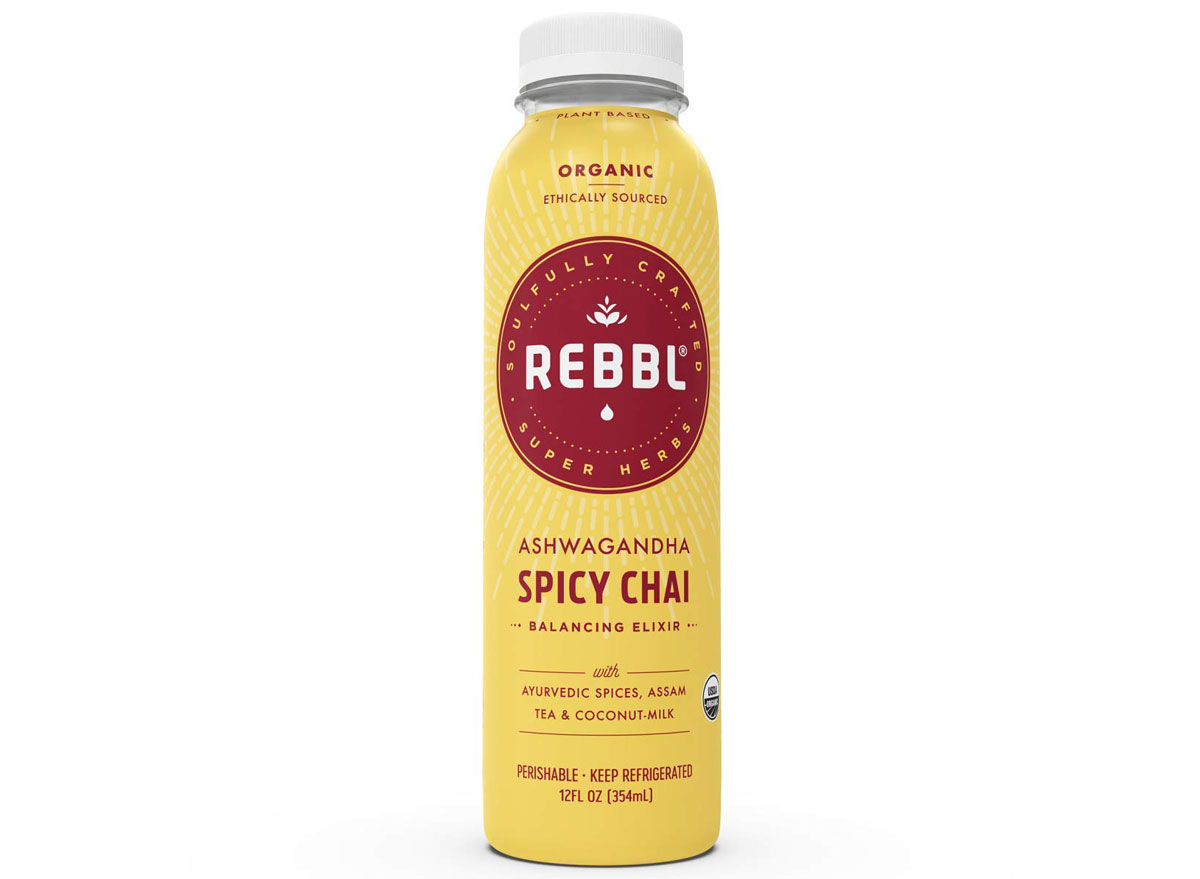 6254a4d1642c605c54bf1cab17d50f1e
Ashwagandha is an herb that's best known for reducing levels of cortisol, the stress hormone. Researchers have found that taking ashwagandha in doses as low as 300 milligrams per day for just two months can lower cortisol levels by over 27 percent and self-reported stress scores by over 44 percent. Grab a bottle of REBBL's Ashwagandha Spicy Chai Super Herb Elixir, and you'll sip on 650 milligrams of ashwagandha — a dose that's large enough to calm those anxious thoughts. It doesn't hurt that this beverage tastes like your favorite chai tea latte.
STAY INFORMED: Sign up for our newsletter to get the latest coronavirus foods news delivered straight to your inbox.
Recess CBD Sparkling Water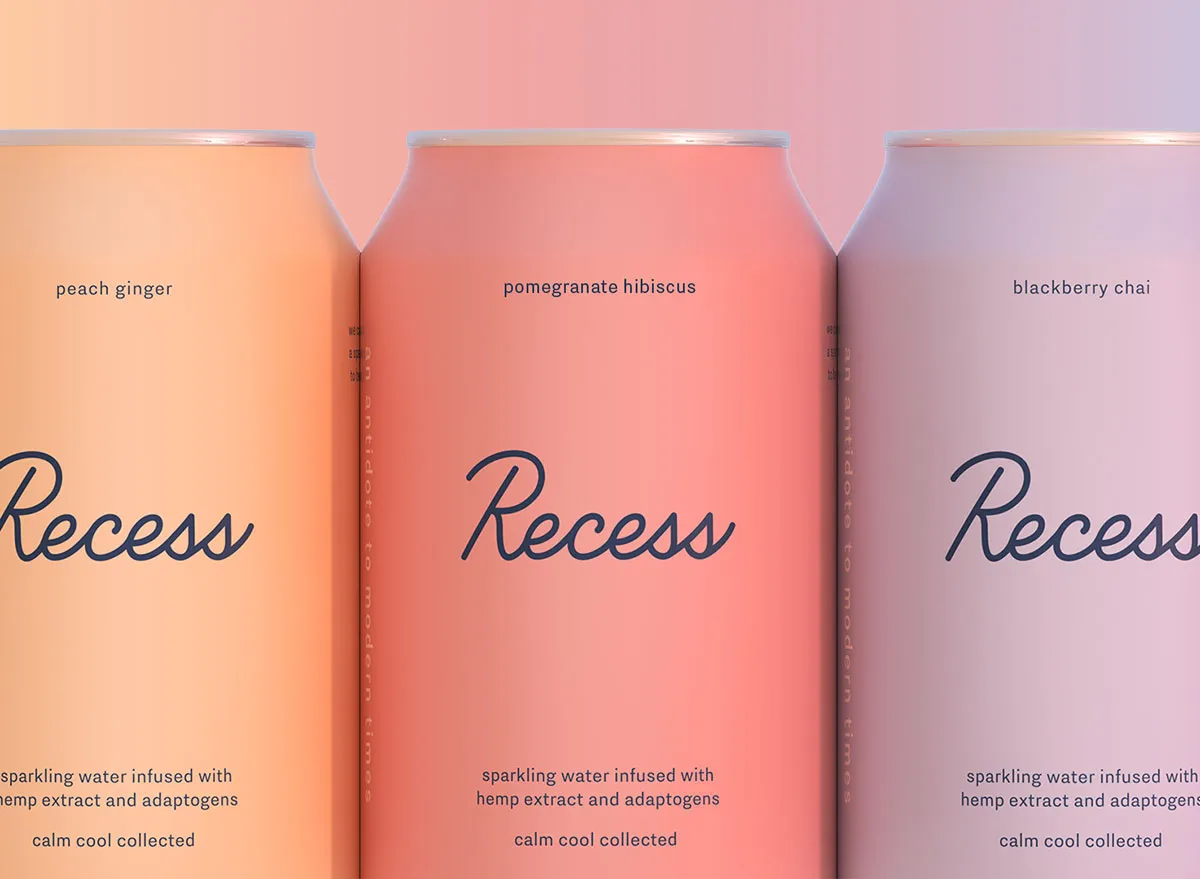 Crack open a can of Recess and feel a wave of calm take over your body. This sparkling water delivers the ultimate duo of stress-relieving ingredients: adaptogens and hemp extract. Adaptogens are botanicals and herbs said to balance hormones and combat stress and fatigue. Hemp extract, also known as CBD, has been linked to reducing stress. (Note: more research is needed to support adaptogen and hemp extract benefits.) Combine these two functional ingredients with the flavor profile of your favorite sparkling water, and you have the perfect stress-busting beverage to sip on while you lie outside with a book.
The Republic of Tea SuperAdapt Stress Suppress Tea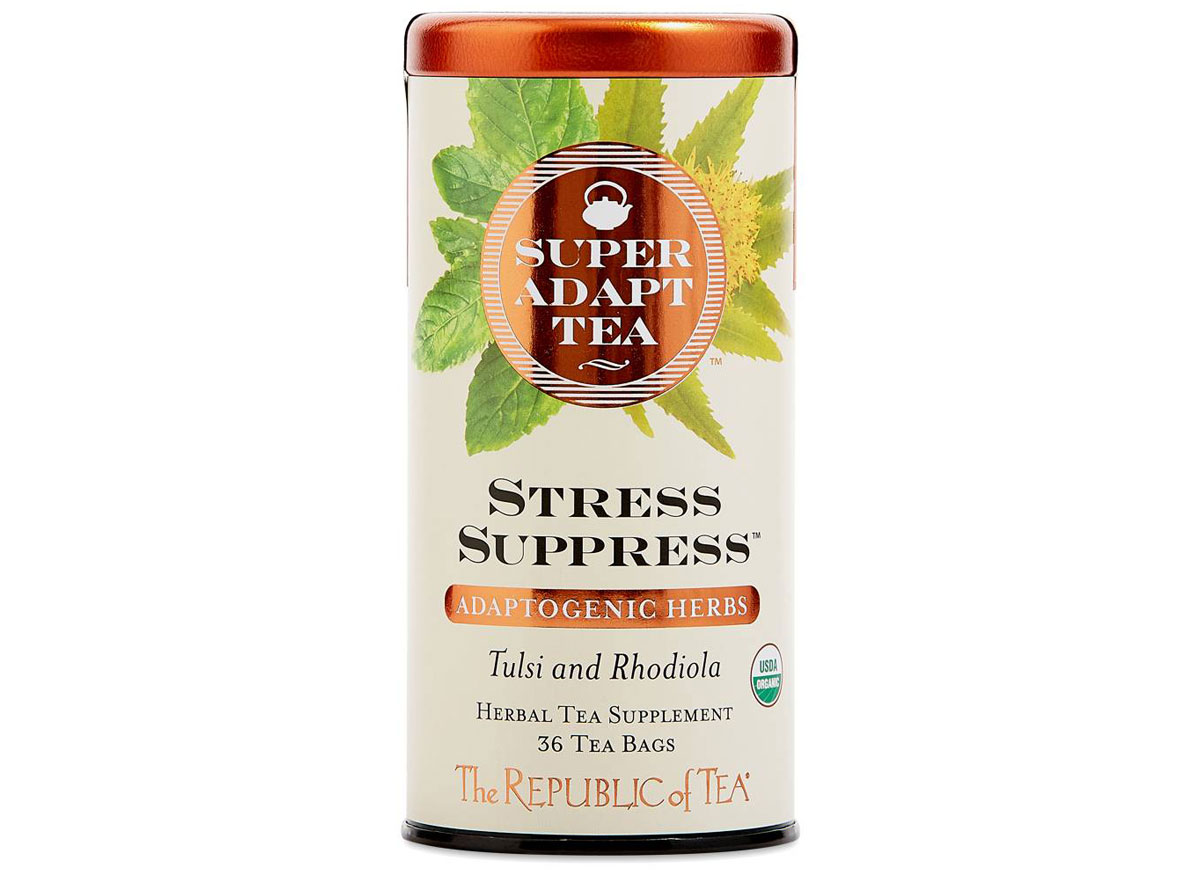 Steep this caffeine-free herbal tea whenever you need to sip away your worries. Tulsi is a member of the basil family (hence the common name "holy basil") and has been cultivated in India for its calming attributes. It's paired with relaxing Rhodiola, an herb that has been shown to improve symptoms of stress like fatigue, exhaustion, and anxiety. This blend is rounded out with the distinctive flavor of hibiscus flour to create calming effect perfect to wind down the day with.
Four Sigmatic Reishi Elixir
Wind down your stressful day with a ritual of sipping on a warm cup of reishi mushroom tea. This elixir from Four Sigmatic, a functional mushroom and superfoods company, is a blend of organic reishi mushroom, organic tulsi (holy basil), and organic field mint and rose hips extract. Reishi is a powerful adaptogen that has been used for centuries to help your body manage stress, boost 'feel-good' feelings, enhance wellbeing, and improve sleep; while there is evidence to support reishi's nutraceutical benefits, more research is needed to confirm these claims.
Strava Craft Coffee Dark Roast Colombian Coffee 250mg CBD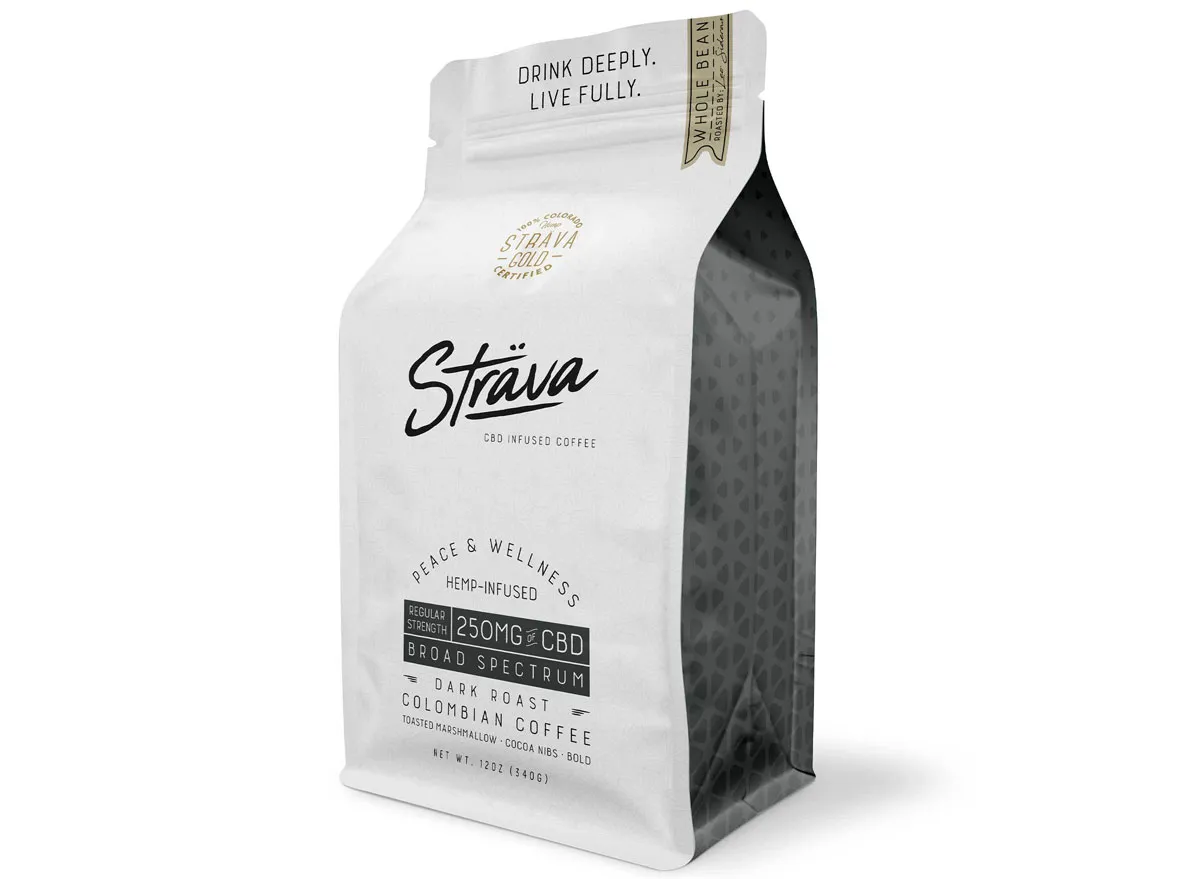 It might sound counterintuitive to combine coffee with CBD—an "upper" with a "downer"—but the result is the most mellow, even-keeled, steady stream of energy you've ever experienced after sipping a cup of coffee. So if you feel like you need to take a breath, but still get your work done from home, brewing a cup of Strava in the morning is your solution.
Copina Co. Cacao Calm Beauty
If the adaptogenic roots in this superfood powder don't relax you, the fact that you'll be boosting your body's natural production of skin health-promoting collagen sure will. This beauty blend contains the perfect blend of collagen-boosting foods—all of which are entirely plant-based. Although collagen proteins can only be derived from animals and fish, you can also increase your body's natural production of the beauty protein by feeding it the essential building blocks it needs to synthesize collagen.
Olivia Tarantino
Olivia Tarantino is the Managing Editor of Eat This, Not That!, specializing in nutrition, health, and food product coverage.
Read more about Olivia