The Best CBD Products You Should Try Right Now
Wind down after a long day, a tough workout, or before bed with these CBD-infused bites, sips & supps.
If you haven't already, you're about to start seeing CBD-infused products everywhere. And by everywhere, we mean in everyday groceries like water, gummy bears, coconut bites, and even honey.
Why all the hype?
CBD, or cannabidiol, is a natural compound extracted from industrial hemp and cannabis plants. People use CBD to ameliorate a myriad of health-related problems that include anxiety, pain, sleep disorders, inflammation, and nausea, although most food products will not market these health claims because they require sufficient evidence and legally-required FDA approval. Unlike its notable cousin, THC (tetrahydrocannabinol), which is more often associated with cannabis products, CBD is non-psychoactive and will not make users feel "high."
Also unlike THC, the CBD you'll find in food and beverage products is likely derived from hemp as opposed to cannabis: "Cannabis is harvested for the plant's buds, which contain greater amounts of THC," explains Preet Marwaha, health and wellness expert and founder of Blue Sky Biologicals. "Industrial hemp contains greater amounts of CBD and does not contain enough THC to create any psychoactive effects," he adds.
While folks in the wellness industry have used CBD for years to manage symptoms, the compound is poised to go mainstream after the 2018 Farm Bill allowed the federal government to fully recognize industrial hemp as a legal agricultural product.
With dozens of new CBD-infused products coming to market every month and the fact that there isn't much quality control in the market yet, it's not going to be easy to find the best CBD products worth the money. (And, as you'll see, a few of these CBD products are quite the investment.) That's why we put together a list of Eat This!-approved CBD products with the help of industry experts. As we'll note below, because THC is only recreationally legal in 10 out of the 50 states, we decided to exclude any product with even the FDA-acceptable trace amounts of THC (less than 0.3%) from our list of best CBD products.
What we looked for in the best CBD products.
Because there's still a gray area with the efficacy of CBD to alleviate many health problems, we made sure that each CBD-infused food, beverage, snack, and tincture listed below still fits our high (no pun intended) Eat This, Not That! nutritional standards, so you can feel comfort in knowing that each product will still be good for you.
Find a CBD product (or two…) that works for you below, and if you'd like to set out to find your own picks, learn more about what to look for when buying a CBD product.
The types of CBD oil and hemp extracts added to food and beverages.
"Most CBD products contain an extract made from the aerial parts of the plant," explains Brandon Beatty, CEO and founder of Bluebird Botanicals. Aerial meaning the leaves and flower but not the stalk. Here are the different types of extract you'll see in your CBD products.
Full-spectrum extracts: "Full-spectrum extracts contain the entire array of 80+ cannabinoids, including CBD," Beatty says. Unless explicitly stated on the label, Beatty tells us that most full-spectrum hemp extracts on the market will have some THC, but it will be less than 0.3% THC, per federal guidelines. Food manufacturers opt for a full-spectrum extract because of something known as the "entourage effect," which is what happens when CBD and THC work together. "In essence," Beatty begins, "the whole of the cannabis plant is greater than the sum of its parts, so using full-spectrum hemp extracts is the best way to maximize the health benefits of CBD." Because THC is only recreationally legal in 10 out of the 50 states, we decided to exclude any product with even trace amounts of THC from our list of best CBD products.
THC-free full-spectrum extracts: If you are looking to avoid even a small amount of THC, you can opt for this THC-free full-spectrum extract. Although you won't get the "entourage effect," Beatty adds that "CBD is still effective on its own and many prefer it over full-spectrum extracts for a variety of reasons." In this case, the whole plant extract results in an array of cannabinoids and terpenes and then THC is removed from the extract. Note that the dosage in milligrams you see on a label doesn't equate to CBD directly. For example, 12.5 milligrams of organic full spectrum hemp extract may only have 10 milligrams of CBD.
Broad-spectrum extracts: This is essentially the same thing is THC-free full-spectrum extracts. Broad-spectrum hemp oils are often whole plant extracts that contain an array of cannabinoids (including, but not limited to CBD) but absolutely zero THC based on manufacturer or third-party lab testing. In some cases, broad-spectrum might be a CBD isolate with additional cannabinoids and terpenes added back in.
CBD isolates/CBD oil/high-potency hemp oil: "Isolate products take a full-spectrum extract and strip away the additional components to leave a pure, isolated cannabinoid," explains Beatty. The labeling gets a little confusing because there's currently no regulation for CBD terms. Marwaha explains that a "CBD oil" can also refer to an "oil-based formulation that contains at the very least CBD and may sometimes contain other phytocannabinoids." You'll have to look for labels like 99 percent CBD if you want a high-CBD oil. "Common carrier oils used in CBD oil include coconut oil, MCT oil, sunflower oil, and hemp oil."
A note on "hemp oil": You may have heard of hemp seed oil or hemp oil before, but know that this is not the same as CBD oil or high potency hemp oil. Hemp oil "is the product of pressing industrial hemp seeds which are grown to contain trace levels of phytocannabinoids," explains Marwaha. He adds that hemp oil will have little to no phytocannabinoids, including CBD; however, it does contain omega-3 and omega-6 fatty acids.
How often should you consume CBD products?
"While Bluebird doesn't make health claims about CBD or hemp, you can expect all CBD products, including CBD isolate, to help promote and maintain homeostasis within the body," shares Beatty.
"To make sure you're getting the most out of your product, consistency is key. Everybody reacts differently to CBD, so we strongly recommended taking the same amount at roughly the same time every day for several weeks to properly gauge the effects on your wellness."
What dosage should you look for when choosing a CBD product?
"Our favorite mantra to tell new CBD users is to start low and go slow," cautions Beatty. "You may find that you only need a few drops every day to achieve the desired effects," he adds.
The best CBD products to try…
Recess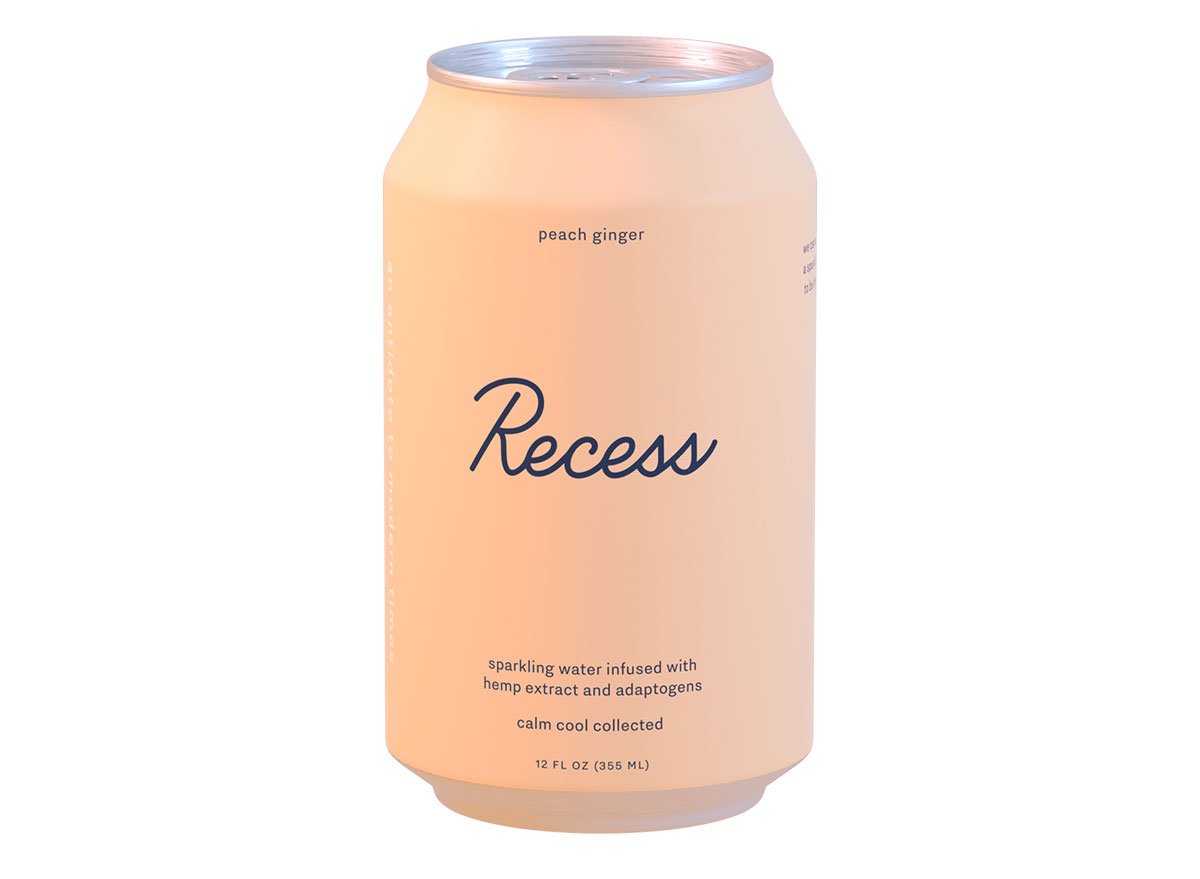 Dosage per can: 10 mg full-spectrum hemp oil
Nutrition (per 12 fl oz): 15 calories, 4 g sugar
Recess knows that the weekdays can be tough, which is why the lifestyle brand released a first-of-its-kind CBD- and adaptogen-infused sparkling water. Recess comes in three delicious flavors—Peach Ginger, Blackberry Chai, and Pomegranate Hibiscus—that will help kick your soda addiction to the curb. In addition to zen-inducing CBD, each pastel-colored can is spiked with Schisandra berry, an adaptogen that reduces inflammation and boasts stress-relieving properties; ginseng, an adaptogen that helps you focus; and L-theanine, an amino acid that promotes relaxation without drowsiness, a study in the journal Beverages found.
Beekeeper's Naturals B.Chill Honey Sticks
Dosage per stick: 20 mg high potency hemp oil
Nutrition: 23 calories, 0 g fat, 0 g sodium, 6 g carbs (0 g fiber, 6 g sugar), 0 g protein
Beekeeper's Naturals makes a ton of nourishing bee-based products from raw superfood honey to bee pollen and even a brain elixir spiked with royal jelly—so you know their CBD-infused honey is a game changer. The B.Chill honey is formulated with high potency hemp oil, which is over 99 percent CBD (and doesn't bother with other phytocannabinoids), as well as brain-boosting MCTs for maximum bioavailability. The brand says they chose a high-CBD hemp extract "specifically for the synergistic effects of CBD and raw honey." Plus, the BPA-free packaging breaks down in sunlight, so you can feel good about enjoying this environmentally-friendly snack.
Not Pot Vegan CBD Gummies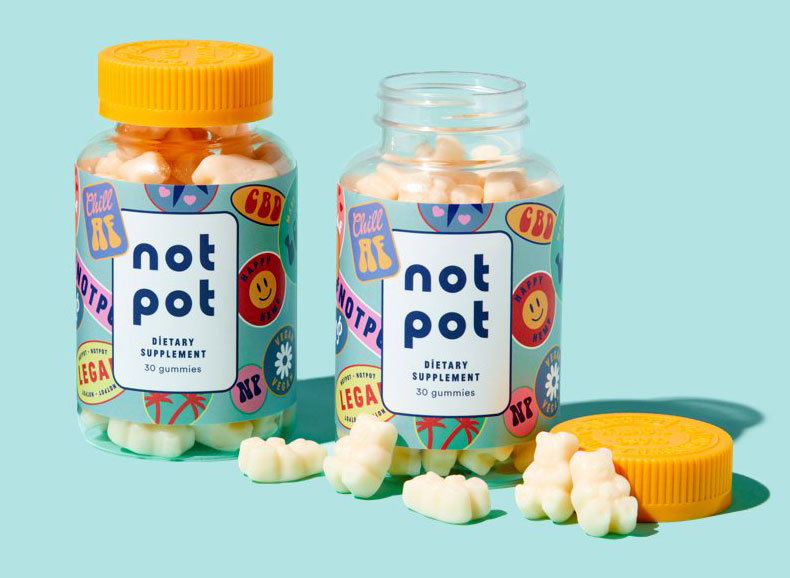 Dosage per gummy bear: 10 mg CBD
Not only does Not Pot guarantee its gummies are THC-free in its name, but they also disclose that their proprietary technology preserves all the phytocannabinoids while eliminating the THC in its full-spectrum, hemp-derived CBD. Like Sunday Scaries vegan line, Not Pot is 100 percent vegan. The brand dubs their product as a "daily, strawberry-flavored hug for your endocannabinoid system," so you'll get a hint of fruity sweetness with your daily dose of chill.
Plant People Stay Sharp
Dosage per 1 capsule: 15 mg CBD from organic hemp
While plant people's oils do have FDA-approved trace levels of THC (less than 0.3%), their capsules are THC-free. In addition to CBD, you'll find 525 milligrams of a proprietary herbal blend in these Stay Sharp capsules, which includes "clinical-strength, adaptogenic herbs and nootropics that support cognitive function, memory, focus, and overall health."
PLNT Blend Mint + Matcha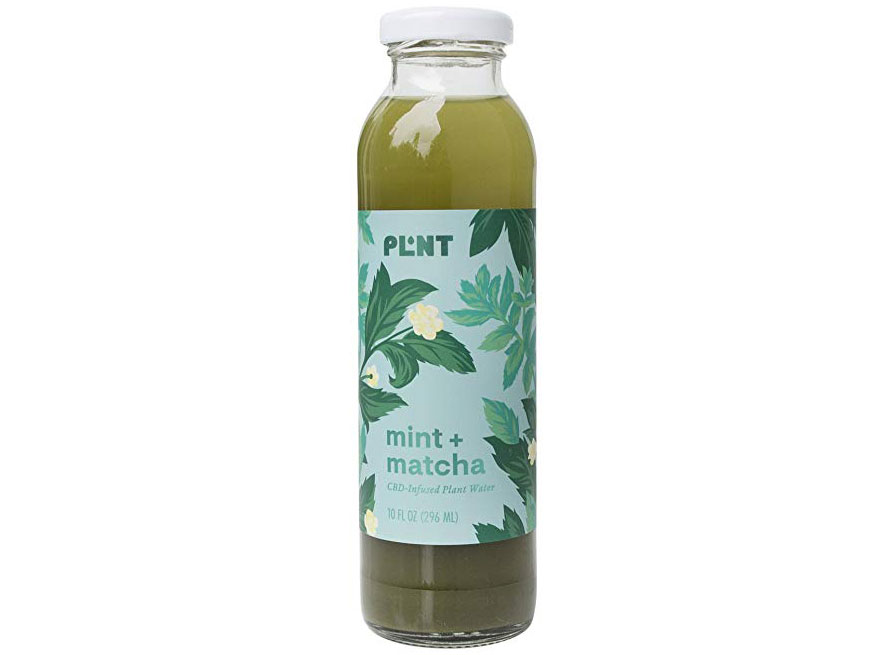 Dosage per bottle: 15 mg full spectrum phytocannabinoid rich (PCR) hemp CBD6254a4d1642c605c54bf1cab17d50f1e
Nutrition (10 fl oz bottle): 60 calories, 0 g fat (0 g saturated fat), 25 mg sodium, 14 g carbs (1 g fiber, 10 g sugar), 1 g protein
In addition to providing 15 milligrams of full-spectrum CBD per bottle, PLNT Blend offers up added superfoods such as antioxidant-packed matcha tea and craving-crushing mint extract. You'll find PLNT beverages in two other flavors including pineapple + chamomile and turmeric + ginger. The beverages pack in nine to 10 grams of sugar per bottle, so you can sip on them guilt-free. We like the mint + matcha flavor because it also has just the right amount of caffeine to pique your focus.
Grӧn Milk Chocolate Bar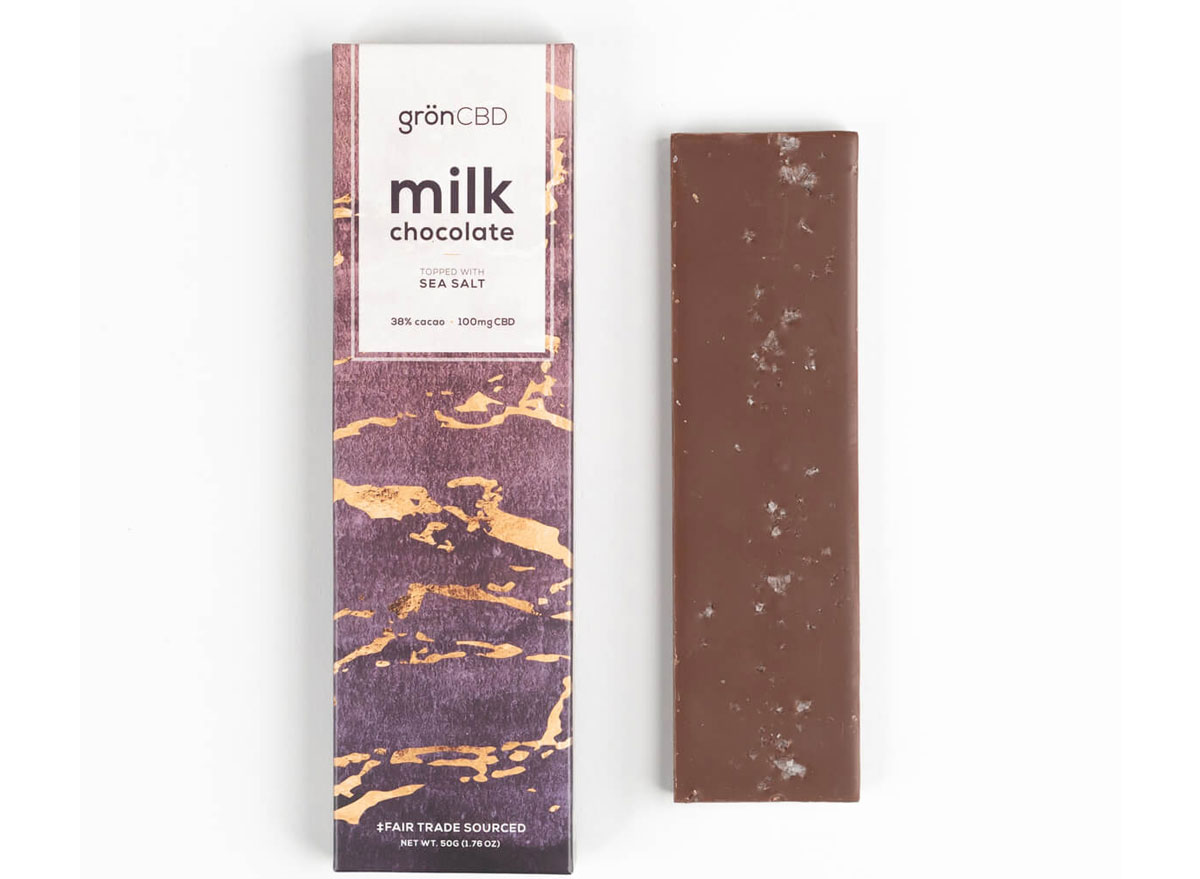 Dosage per square: 10 mg CBD
Nutrition (1 square): 30 calories, 2 g fat (1.2 g saturated fat), 0 mg sodium, 2 g carbs (0 g fiber, 2 g sugar), 0 g protein
Grӧn sources fair-trade cocoa for its 38-percent milk chocolate bar thats silky smooth and indulgent. Each small square is packed with 10 milligrams of CBD, so if the cannabidiol doesn't get you super chill, the velvetiness of this chocolate bar definitely will. If you're not a fan of milk chocolate and prefer the robust flavor of dark, Grӧn makes a mean dark chocolate raspberry bar—and their newest line of hand-crafted squares feature a delicious array of flavors including Texas Praline and Bourbon Vanilla.
Sunday Scaries Vegan AF Gummies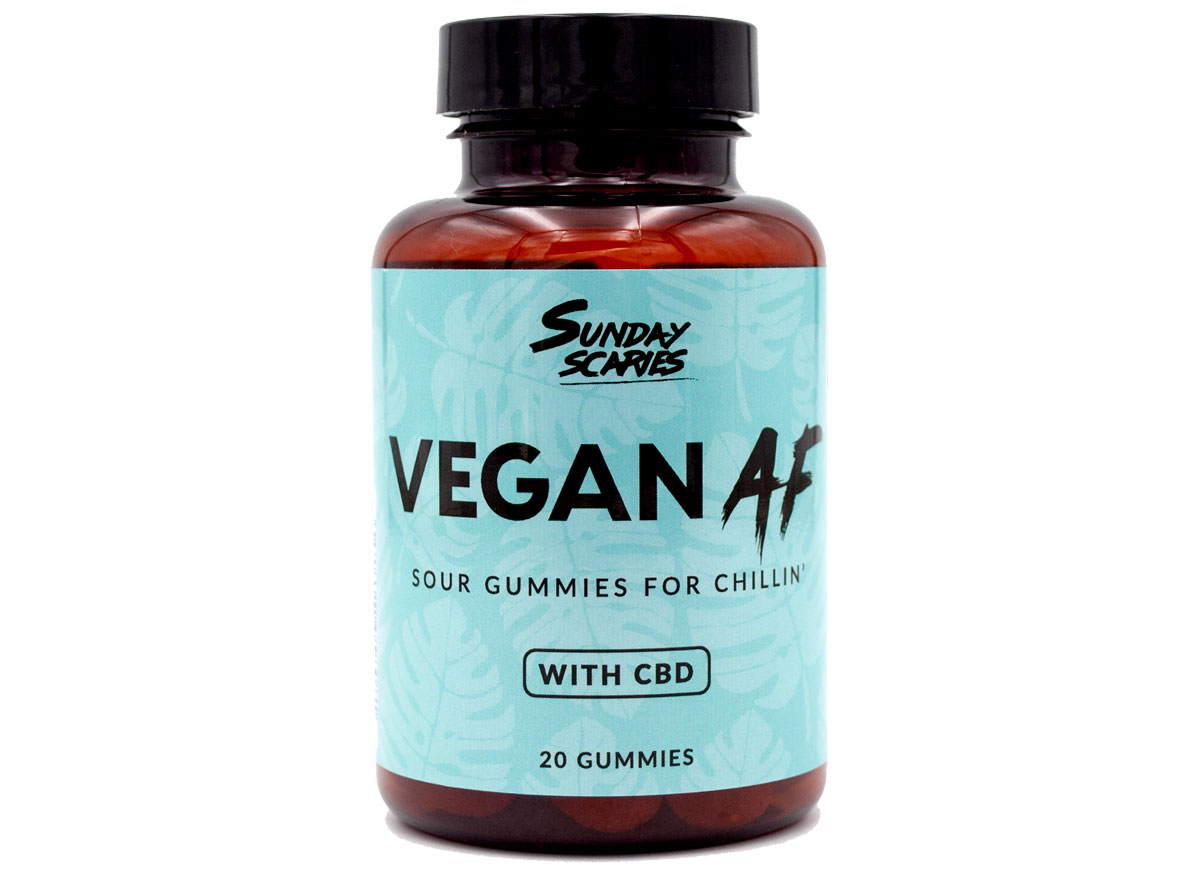 Dosage per gummy bear: 10 mg CBD
Nutrition (1 gummy): 8.13 calories, 0 g fat, 1.25 mg sodium, 2 g carbs (0 g fiber, 1.38 g sugar), 0 g protein
Most gummies are made with gelatin, so we're glad to see a vegan CBD gummy on the market. Sunday Scaries Vegan AF swaps gelatin for corn syrup in their candy, which also features full-spectrum CBD as well as energizing vitamin B12 and immune-boosting vitamin D3. Sunday Scaries sources their pesticide-free CBD from American farms regulated under the 2018 Farm Bill, deeming it top-quality. Talk about candy with benefits!
Highline Wellness CBD Chews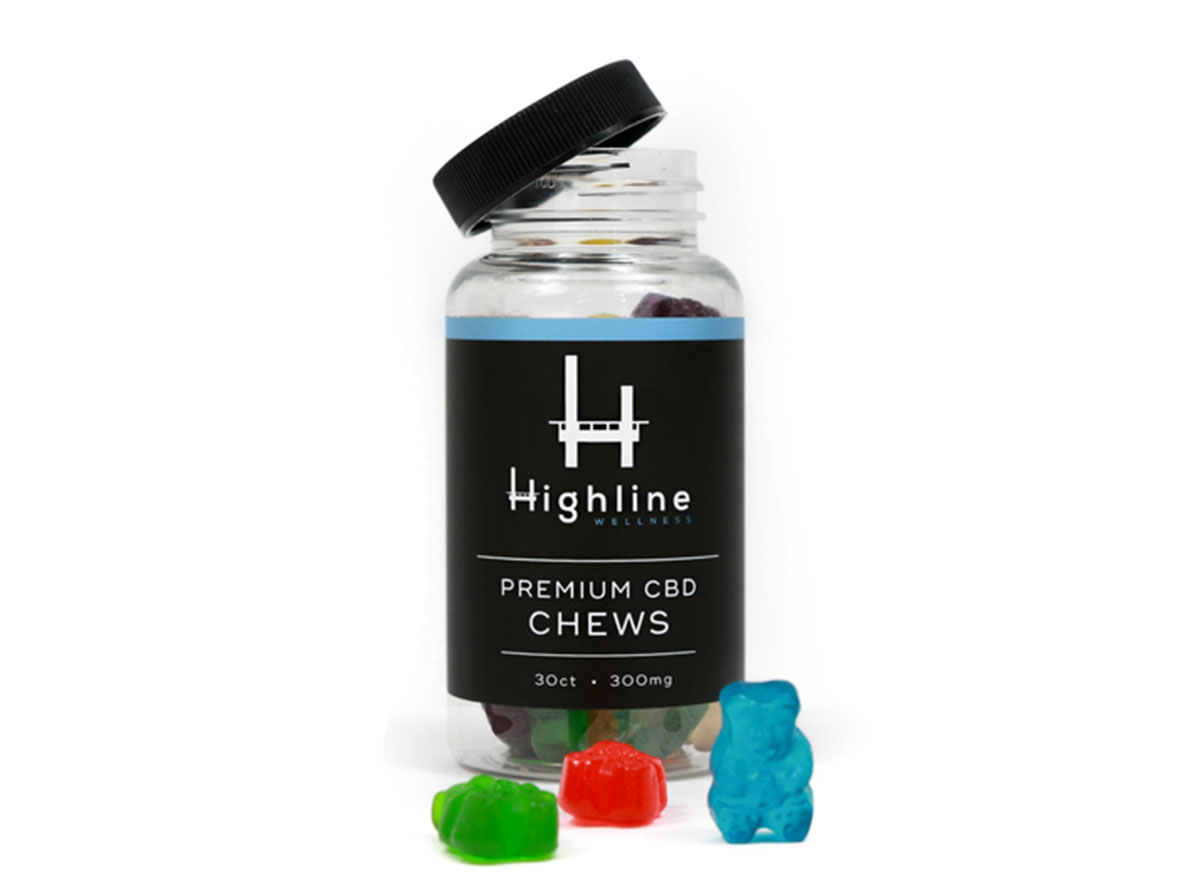 Dosage per gummy bear: 10 mg full-spectrum hemp oil
Nutrition (1 gummy): 11.5 calories, 0 g fat, 12 mg sodium, 2.7 g carbs (0 g fiber, 2.1 g sugar), 0.1 g protein[/nutrinfo-black]
Highline Wellness remains super transparent about their CBD product and discloses their third-party lab test results to guarantee you're snacking on a gummy that's free of high-inducing THC. Pop one or two gummies before bed to get a better night's rest or enjoy these colorful bears before your next work meeting to take the edge off.
CBDistillery CBD Softgels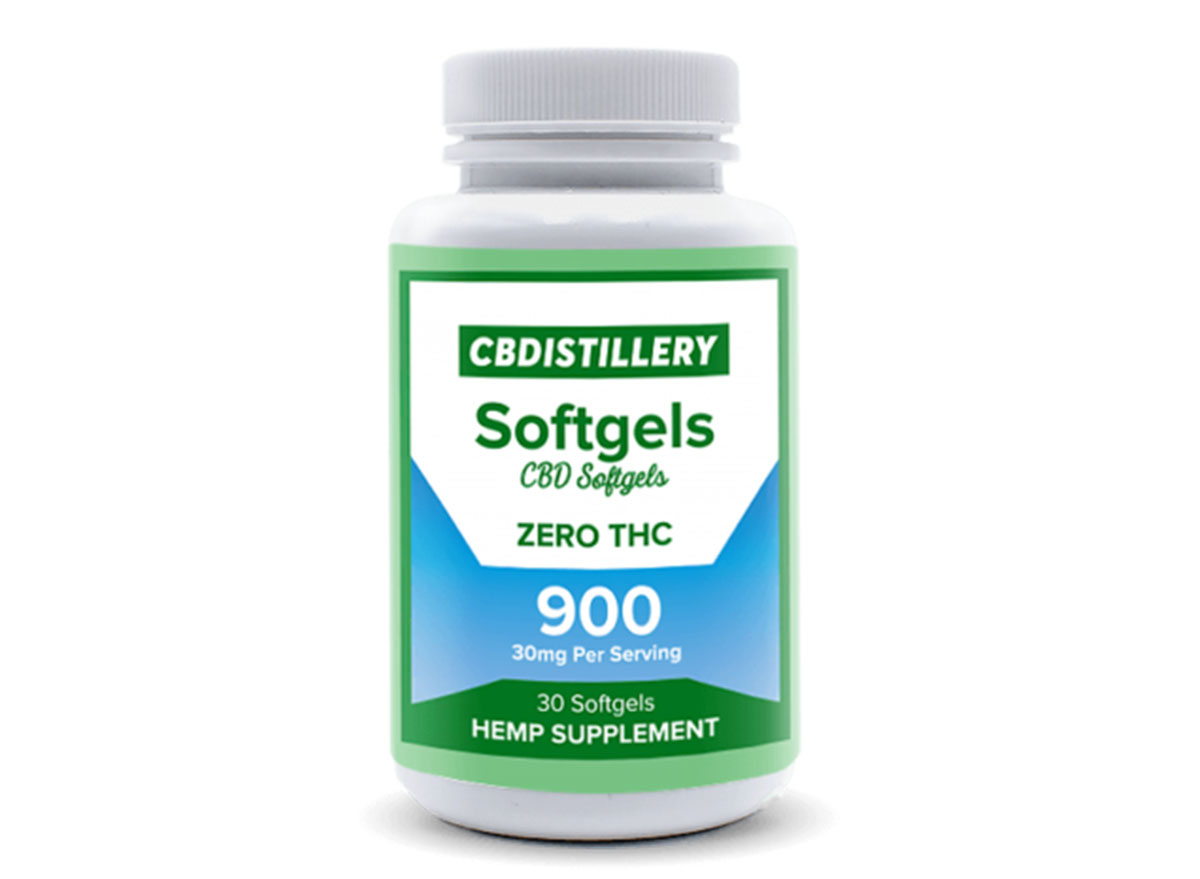 Dosage per softgel: 30 mg CBD
Need a chill pill? If you're not looking for something flavorful and would prefer to pop plain CBD, CBDistillery's softgels are for you. The CBD is sourced from non-GMO, U.S.-grown industrial hemp and is suspended in coconut oil as well as hemp seed oil to ensure maximum absorption. Just like Highline Wellness, CBDistillery also discloses its lab test results, which indicate the softgels are completely THC-free.
Bluebird Botanicals THC-Free CBD Oil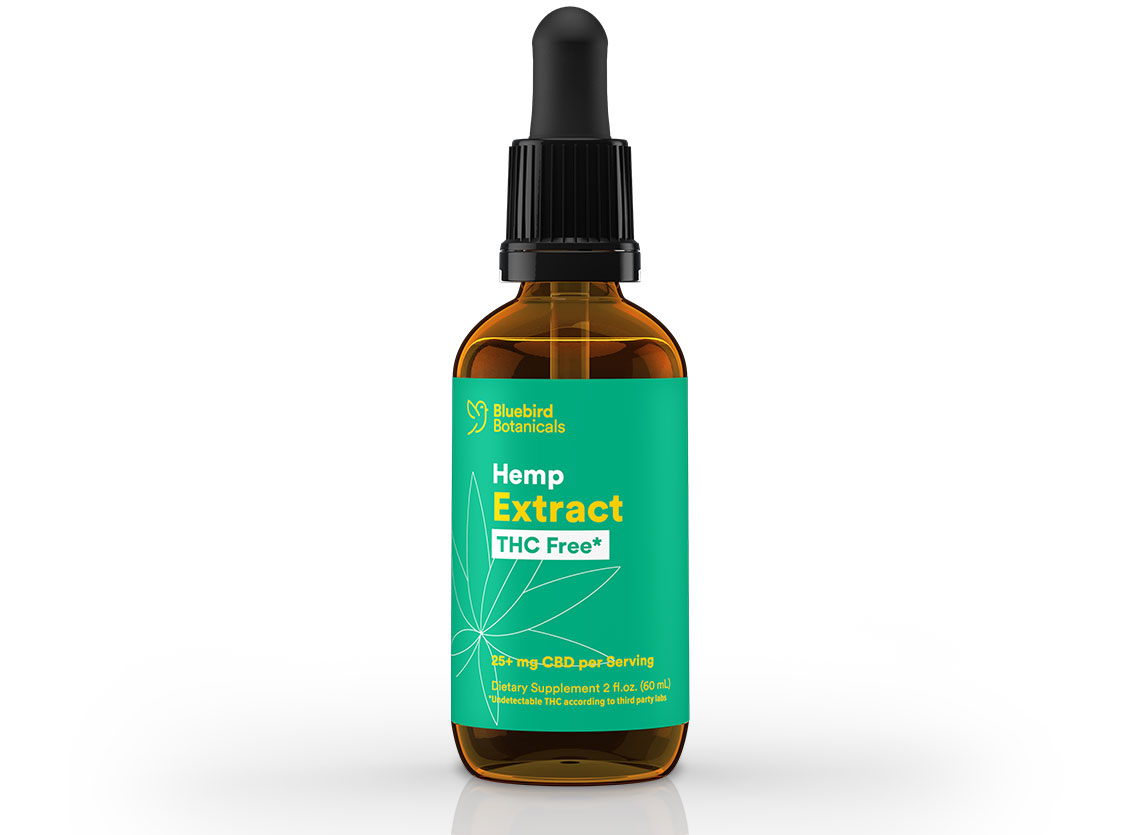 Dosage per 0.5 ml (approx. 15 drops): 25+ mg CBD
Bluebird discloses that while most of their full spectrum products contain THC along with CBD to promote the entourage effect, this specific tincture is free of psychoactive THC.
WillPower ReGen PCR Vanilla Protein Powder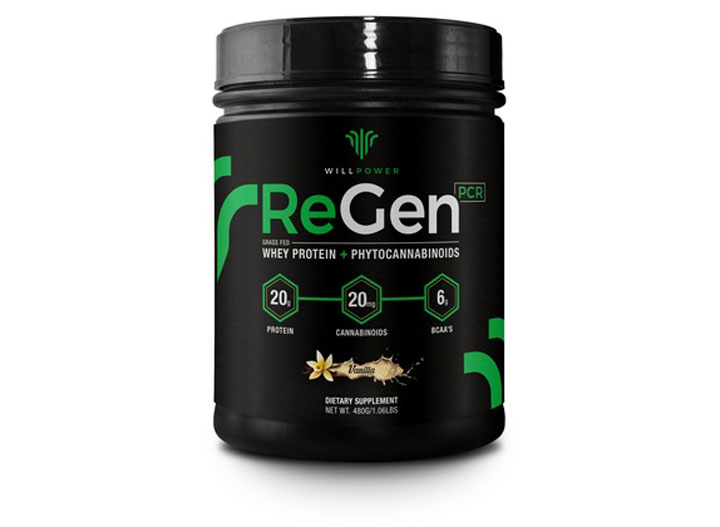 Dosage per scoop: 20 mg hemp oil extract
Nutrition (1 scoop): 140 calories, 2 g fat (1.5 g saturated fat), 50 mg sodium, 6 g carbs (3 g fiber, 2 g sugar), 20 g protein
ReGenPCR combines a naturally derived grass fed whey protein blend, with the most advanced, high quality (phytocannabinoid rich, aka PCR) industrial hemp oil, containing the full entourage of naturally occurring Phytocannabinoids, including Cannabidiol, sourced domestically in beautiful Colorado. Trying to ditch dairy? Don't miss our selection of the best vegan protein powders.
Olivia Tarantino
Olivia Tarantino is the Managing Editor of Eat This, Not That!, specializing in nutrition, health, and food product coverage.
Read more about Olivia