10 Best Sparkling Water Brands, According to Dietitians
Bored by basic water? Stay hydrated and stock up on these refreshing upgrades.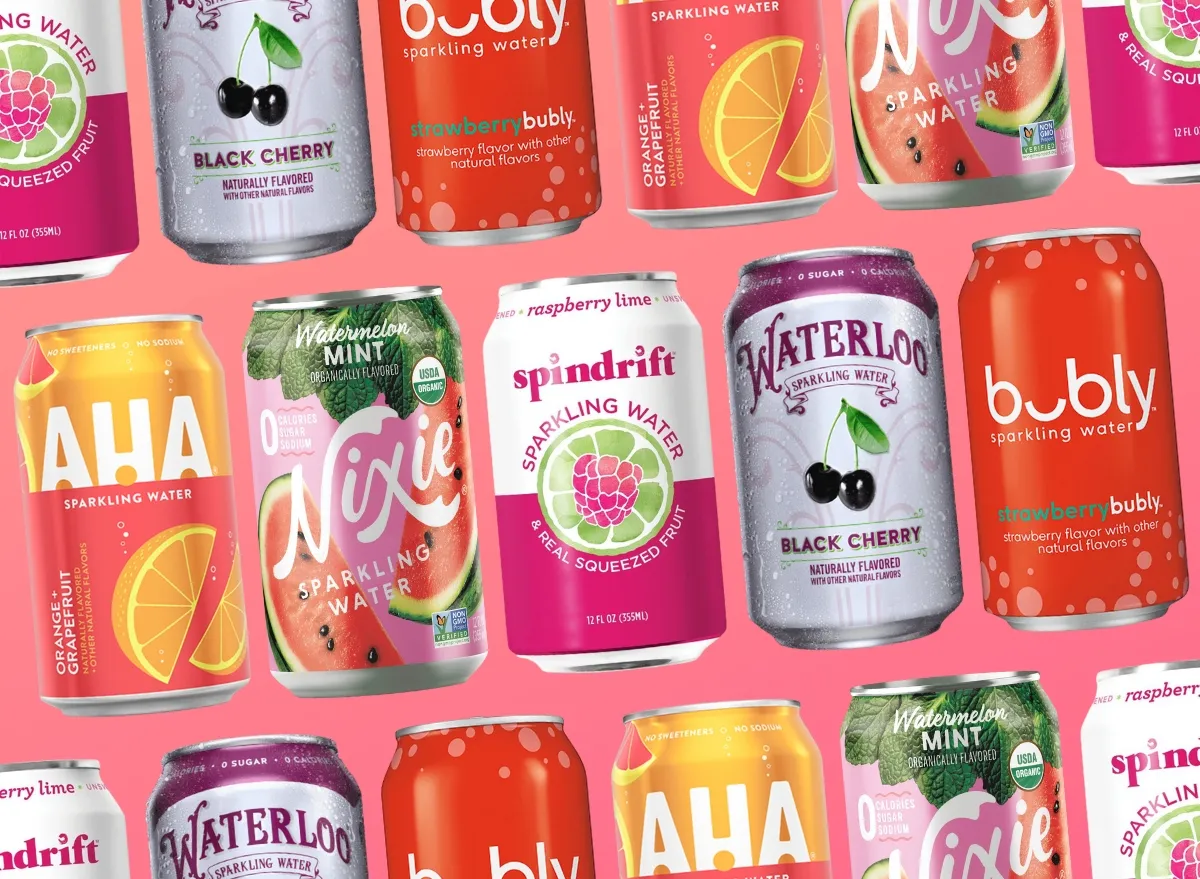 The product recommendations in this post are recommendations by the writer and/or expert(s) interviewed and do not contain affiliate links. Meaning: If you use these links to buy something, we will not earn a commission.
We all know we should stay hydrated, but plain water can get a bit, boring. While all fluids can help you stay hydrated, many drinks come with added sugars and calories without adding other nutrients to your diet.
Thankfully, sparkling water can keep you hydrated and add a little variety to your drink menu. Most sparkling waters are low in calories and sugars, making them a great choice to sip on throughout the day or use for fun mocktails or cocktails in place of sugary juices or soda.
To avoid the negative effects of added sugars, you should aim for less than 10% of your total calories, or less than 50 grams (12 teaspoons) of sugar on a 2,000-calorie diet. Sparkling water can be a great option to replace soda, which can have 37 grams of sugar in a 12-ounce can.
While many sparkling waters are just carbonated and naturally flavored water, there are a few that stand out among the crowd. We asked nutrition experts for their favorite sparkling waters to sip on and recommend to clients to bring you the 10 best sparkling water brands, according to dietitians.
What makes the best sparkling water
Dietitians agree that this is what they look for when it comes to choosing the best sparkling water.
Low to no calories. Choosing sparkling water with little to zero calories can help you stay hydrated without adding calories. While drinking your calories isn't always a bad thing, choosing nutrient-dense options that also have protein, fiber and other nutrients with calories is a better choice.
No added sugar. Choose sparkling water that's slightly flavored with natural flavors or naturally sweetened with a small amount of fruit juice instead of added sugars to avoid going over the recommended amount.
Fun flavors. If you like plain sparkling water, that's great. But, most of us want a little variety and flavor in our day. Some sparkling water brands have just slight hints of flavor while others are more potent.
10 of the best sparkling waters you can buy
Read on for registered dietitians' favorite healthy sparkling waters, and for more of our top bubbly picks, check out 25 Healthy, Low-Sugar Soda Alternatives.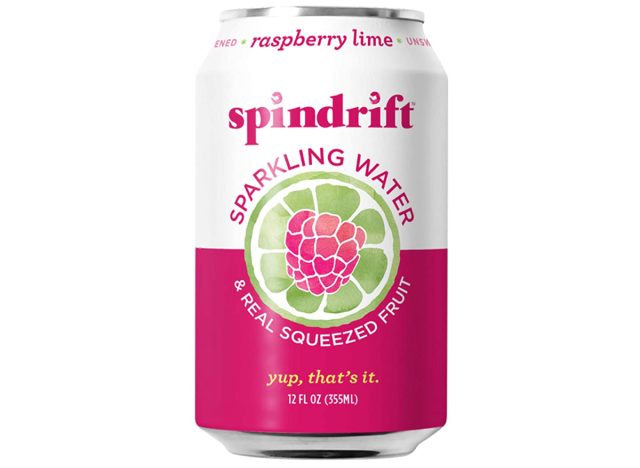 Per 1 CAN (12 FL OZ)
: 5calories, 0 mg sodium, 1 g carbs (0 g fiber, 1 g sugar)
Spindrift isn't calorie-free, but it's very low-cal as the flavors range from just 5-15 calories per 12-ounce can, and the calories are all from fruit juice. "I find that other sparkling water all tastes the same, but the fruit juice in Spindrift gives it a pop of natural flavor that you don't find in other brands," says Cassie Madsen, MS, RD, whose favorite flavors are grapefruit and raspberry lime.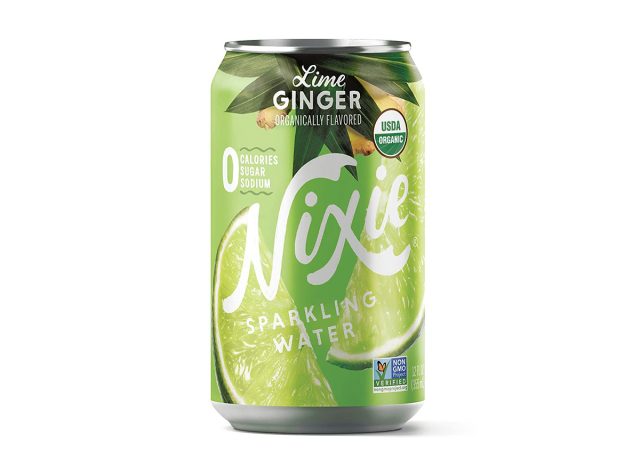 Per 1 CAN (12 FL OZ) 0 calories, 0 mg sodium, 0 g carbs ( 0 g fiber, 0 g sugar)
If you've ever wondered what is in the "natural flavors" listed on most sparkling waters, Nixie has changed the game. The added flavors come from botanicals and tea and are all certified organic with no added sugars, explains Jenna Gorham, RD. You can choose from regular sparkling water flavors like grapefruit, lemon, or lime or their tea and botanical line that has a small caffeine boost from organic black and green teas.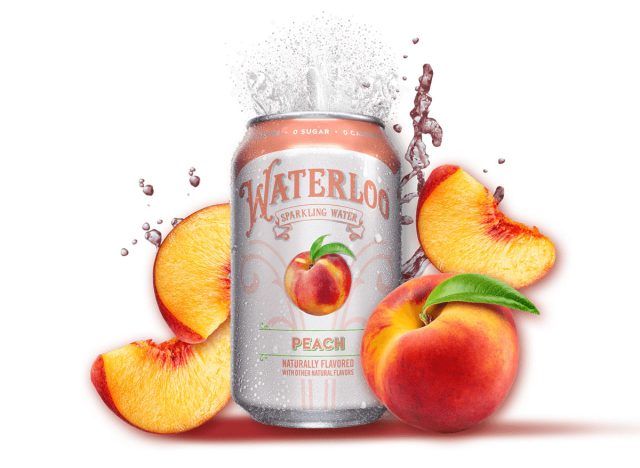 Per 1 CAN (12 FL OZ) 0 calories, 0 mg sodium, 0 g carbs (0 g fiber, 0 g sugar)
"Waterloo Sparkling Waters have a great variety of flavors, are made with purified water, and contain no added sweeteners," says Mandy Tyler, M.Ed., RD, CSSD, LD. Flavors like peach, grape, blackberry lemonade, and ginger citrus twist make it easy to stay hydrated on a hot day.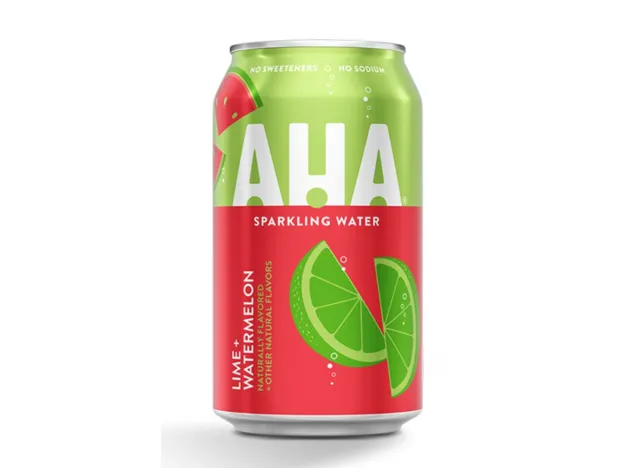 Per 1 CAN (12 FL OZ)  0 calories, 0 mg sodium, 0 g carbs (0 g fiber, 0 g sugar)
AHA water has no added sugars or calories, and is available in most grocery stores, making it a top sparkling water choice for Patricia Kolesa MS, RDN. The flavors are unique in that they come in pairs. Try Blueberry pomegranate, orange grapefruit, lime watermelon, or blackberry lemon.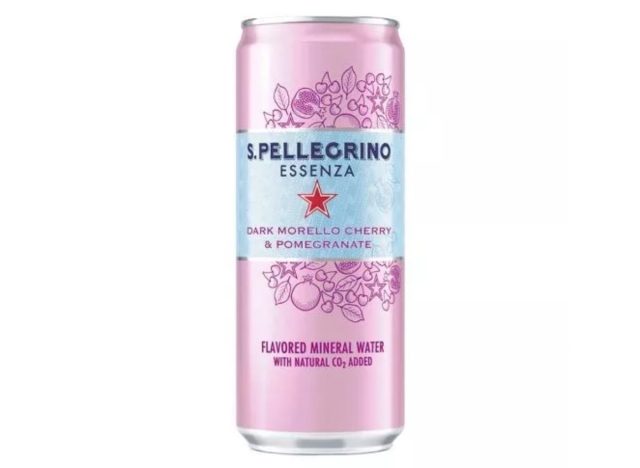 Per 1 CAN (11.15 FL OZ) 0calories, 10 mg sodium, 0 g carbs (0 g fiber, 0 g sugar)
Amanda Lane, MS, RD, CDCES loves San Pellegrino for its bold flavors, smooth carbonation, and no added sugars. She recommends the Dark Morello Cherry and Pomegranate flavors for fun variety, but you can also enjoy this water plain. They place a lot of emphasis on the mineral quality of their water, sourcing it from the San Pellegrino Terme area in the foothills of the Italian Alps.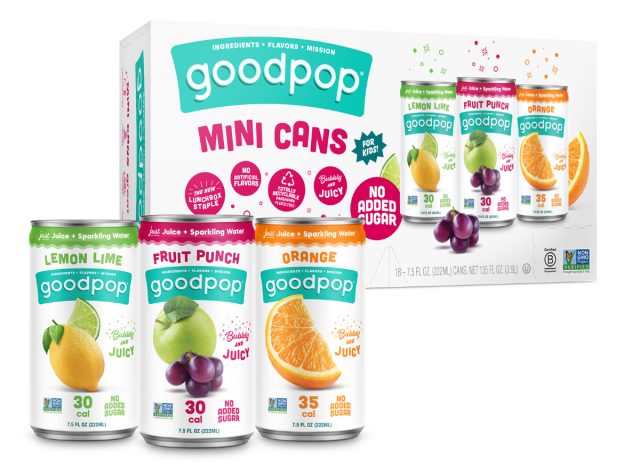 Per 1 CAN (7.5 FL OZ) 35 calories, 0 mg sodium, 8 g carbs (0 g fiber, 6 g sugar)
If you're attempting to get your children to drink more water, GoodPop Mini Cans may be the solution. "My new favorite sparkling water that my 8-year-old and her friends are currently obsessed with is the GoodPop Mini Cans, a blend of real fruit juice and sparkling water," says  Lauren Manaker MS, RDN, LD. She loves that they have nothing artificial and are appealing to kids with a touch of fruit juice added and only 30-35 calories per serving.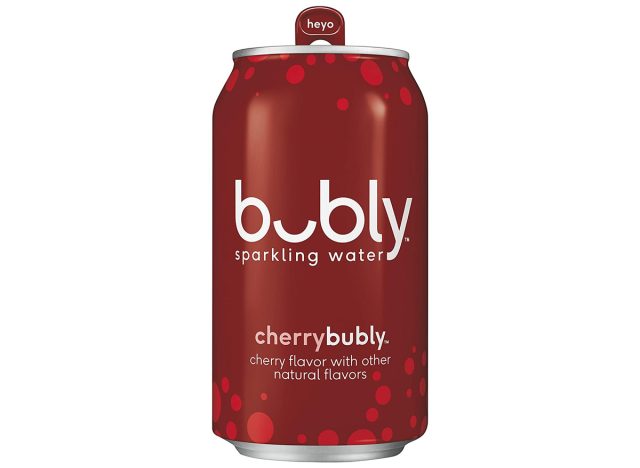 Per 1 CAN (12 FL OZ) 0 calories, 0 mg sodium, 0 g carbs (0 g fiber, 0 g sugar)
Bubly has no shortage of flavors with 12 originals and plenty of limited edition options to choose from throughout the year. It's just carbonated water and natural flavors with no sugars, sodium or anything else added. Kayley Myers, MS, RDN loves adding a splash of juice to her Bubly for a simple, low-sugar mocktail.
 6254a4d1642c605c54bf1cab17d50f1e
Per 1 CAN (12 FL OZ) 0 calories, 0 mg sodium, 0 g carbs ( 0 g fiber, 0 g sugar)
"LaCroix sparkling water is refreshing by itself and the perfect mixer for nonalcoholic summer drinks," says Melissa Altman-Traub MS, RDN, LDN. You can enjoy original flavors like lime, orange, or mango or try their unique flavor combinations including beach plum or La cola.
LaCroix is packed full of flavor, but free from calories, carbohydrates, and sugars, making it the perfect pick for an after-meal dessert, says Kristen White, RDN, CLT, who recommends the LemonCello flavor that tastes like a drink of lemon pie!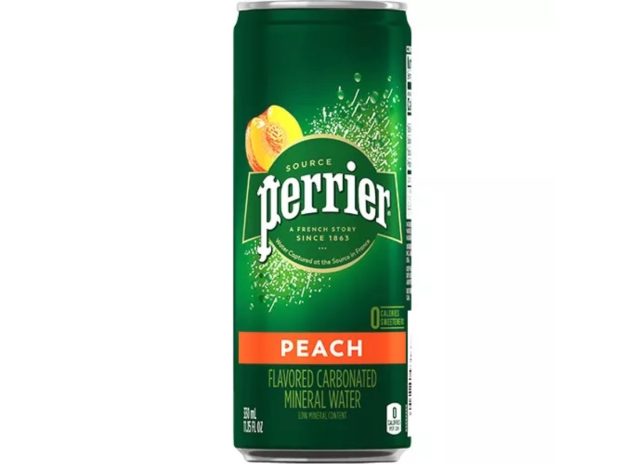 Per 1 CAN (11.15 FL OZ) 0 calories, 0 mg sodium, 0 g carbs ( 0 g fiber, 0 g sugar)
Perrier has a wide range of sparkling waters to choose from, including some with added caffeine and others with juice for a more robust flavor. Stacey Bender MA, RD recommends Perrier peach for its natural flavor and zero sugar.
Good and Gather Sparkling Water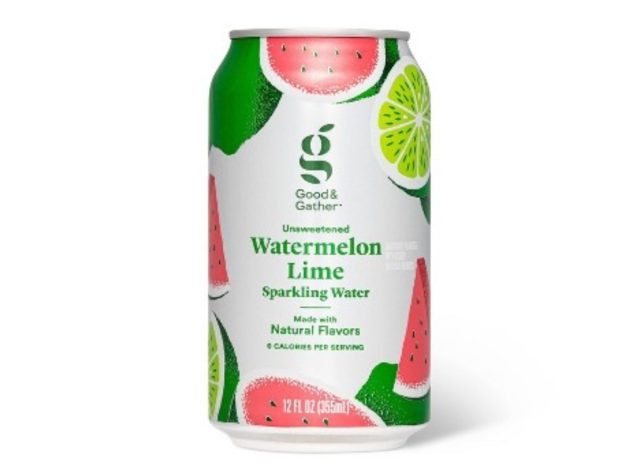 Per 1 CAN (12 FL OZ) 0 calories,0 mg sodium, 0 g carbs ( 0 g fiber, 0 g sugar)
Even store brands are coming out with their own unique sparkling water brands. "Target's Good & Gather Sparkling Water is more affordable than many other brands and comes in fun and creative flavors including Raspberry Hibiscus and Caffeinated Cherry Cola," says Chelsea Jackle, MFN, RDN, LD. 
Kelsey Kunik, RDN
Kelsey Kunik is a registered dietitian, freelance writer, nutrition consultant, and sustainable food blogger.
Read more about Kelsey
Sources referenced in this article