7 Tips For Buying Good Quality Canned Fish
Something fishy is going on here.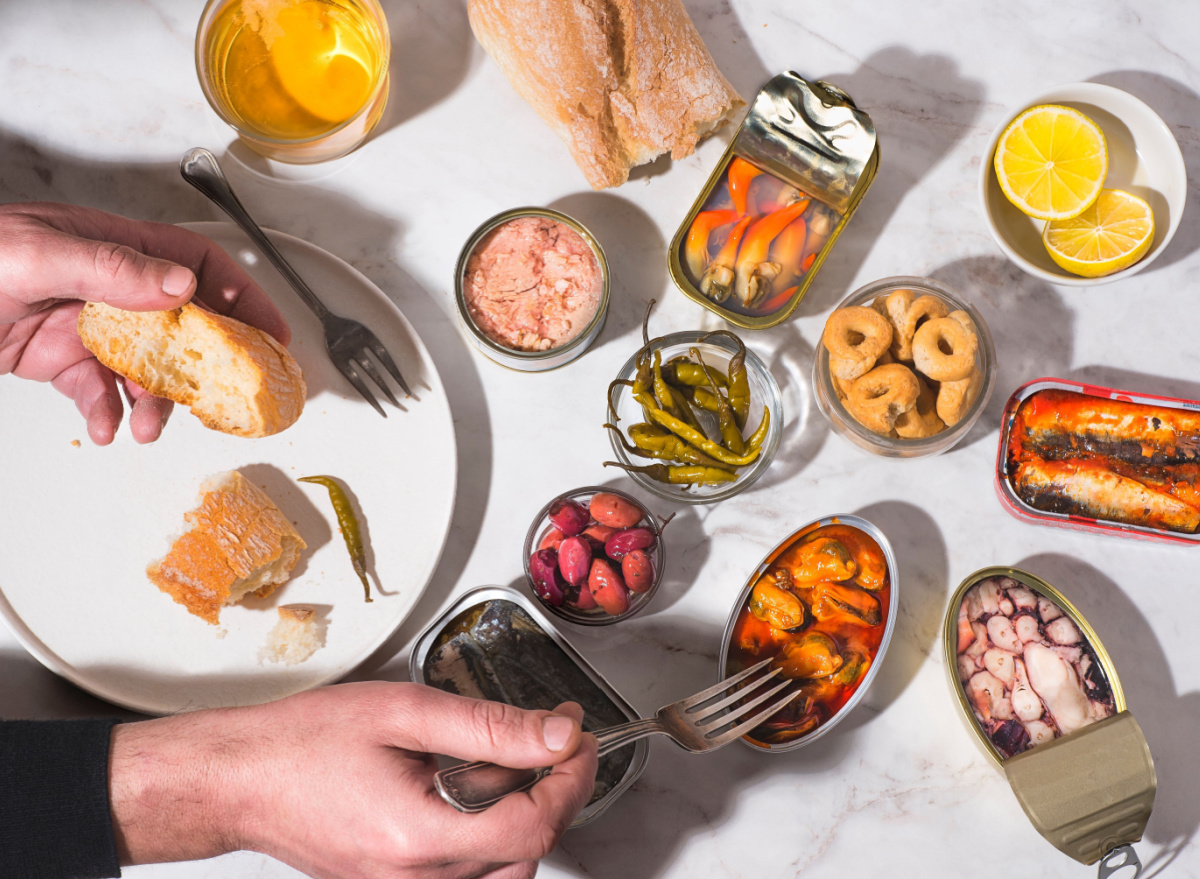 With the current state of grocery prices, it's time to start getting a little more creative about what we're adding to our carts and serving on our dinner tables. And one area that could use some serious work is proteins.
As you've likely noticed—and scoffed at like the rest of America—prices for items like eggs and meat have gone through the roof over the past several months. Eggs have seen a nearly 60% increase year over year and poultry is at about a 12% increase, according to the latest data from the U.S. Bureau of Labor Statistics. It's no wonder shoppers are looking for alternatives and stores are starting to see an uptick in demand for a different product: canned fish.
Fish, whether it's canned, fresh, or frozen, is a low-fat protein option packed full of essential vitamins and minerals, that offers a lot of diversity in terms of flavor profile. With canned fish, there's even more to love. This option is generally more cost-effective, convenient, and has an incredibly long shelf-life. If the scales and eyeballs on fresh fish freak you out, canned fish will help you bypass those details completely!
As you can imagine, there are plenty of canned fish options on the market. But before you swim into the vast ocean of options unguided, check out these tips from dietitians to make sure you're only reeling in the most high-quality canned fish that is both safe for consumption and offers the greatest amount of health benefits.
Look for BPA-free cans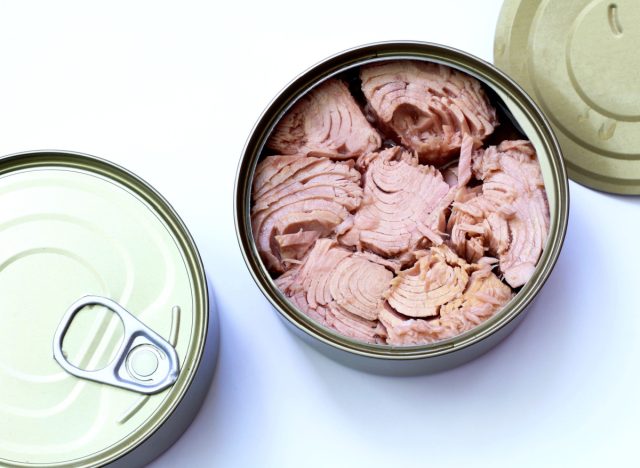 Bisphenol A, or BPA, is an industrial chemical standardly used in the manufacturing of plastics and other commercial products—including some varieties of canned fish. "Opt for cans that aren't lined with BPA," says dietitian and health author Lauren Manaker. "While it is true that most manufacturers have moved away from BPA lined cans, it is still a good practice to ensure that the one you are choosing isn't the exception."
Registered dietitian and nutritionist with Nutrition Society New Zealand, Krutika Nanavati, adds that "BPA has been linked to various health issues such as infertility, and certain types of cancer." So, it is best to avoid it when possible. When shopping for cans of fish, you'll know which ones to grab because they will say "BPA-Free" clearly on the label. And, if they don't? Don't buy it. Simple as that.
Keep an eye on sodium levels
"Choose fish that isn't loaded with added salt," advises Manaker. "While many options have some salt in the mix, some varieties have more than others. Salt acts as a preservative, so it certainly does serve a purpose. But keeping the level at a reasonable amount is key."
Registered dietitian and health writer Johna Burdeos recommends staying below 400 milligrams of sodium per 100 gram serving of fish as a standard guideline—the World Health Organization (WHO) even sets its standard lower than that at 360 milligrams per 100 gram serving of canned fish. Burdeos also mentions that flavored, brined, and smoked fish typically rank higher in terms of overall sodium content. Opt for canned fish with no added flavoring or ingredients, and just season at home instead (it will likely taste better that way anyway).
Less mercury = safer for consumption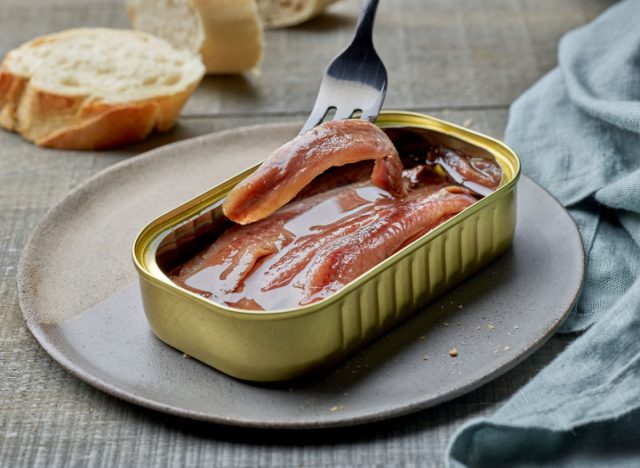 While fish is a great source of protein and chock-full of other essential nutrients, it can also contain an unwanted additive: mercury. Nearly all kinds of fish contain some level of the mercury as they absorb it from the bodies of water they live and feed in. Talk about a toxic environment!
While these trace amounts of mercury are oftentimes unavoidable, Manaker says that too much mercury could increase a person's risk of muscle weakness, vision challenges, and more. High mercury levels are also extremely problematic for pregnant women.
Reach for fish like anchovies, salmon, flounder, trout, and shrimp, which are lower in mercury, as opposed to options like swordfish, orange roughy, or marlin. Manaker also suggests Safe Catch Elite Tuna "because tuna found in these cans is 10 times lower in mercury than the FDA's recommended limit."
Select sustainably-certified fish
Does that can of fish you're examining come with a small blue label that reads "MSC"? If so, you can breathe easy knowing it's a safe, environmentally-friendly option. This stamp of approval from the Marine Stewardship Council (MSC), affirms that the fish was caught in the wild using sustainable methods that did not cause harm to the surrounding environment or other sea life.
Burdeos says to look out for additional labels like Best Aquaculture Practices (BAP) Certified and Aquaculture Stewardship Council (ASC) Certified as well when you're perusing the canned fish aisle. These certifications focus on the sustainability of farmed seafood rather than wild-caught, meaning fish that is bred and harvested in a more controlled water habitat.
If the fish is packaged in liquid, go with water or a healthy oil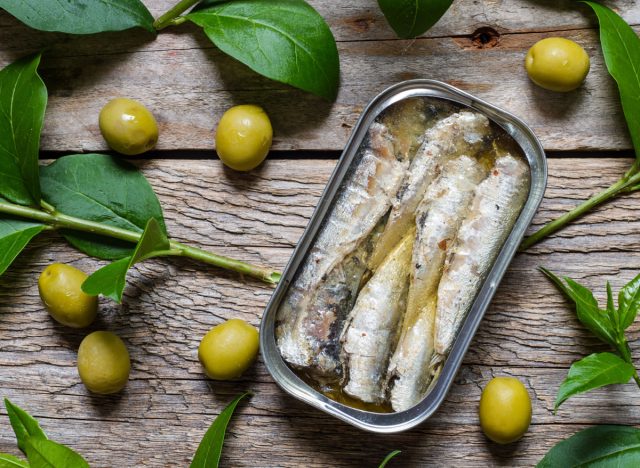 A few varieties of canned fish come swimming in some sort of liquid. This helps to preserve the fish and keep it moist for consumption. But not all liquids will yield the same result. "Pay attention to whether the product is packed in water or oil as this affects its overall nutrition quality," says dietitian and co-founder of Max Health Living Joseph Tucker. "For instance, water-packed products tend to be lower in fat and calories than oil-packed varieties—be sure to read the label to compare."
Water-based canned fish is the common choice among other dietitians as well. But, if you do choose to go the oil route, 100% olive oil is a solid number two. Don't forget to also check the nutritional label for any added preservatives, while you're at it. A quality can of fish should have a minimal list of ingredients. And we mean it when we say minimal—we're talking either just the fish or the fish accompanied by water or oil, and perhaps a smidge of added salt.
When picking a fish variety, remember 'SMASH'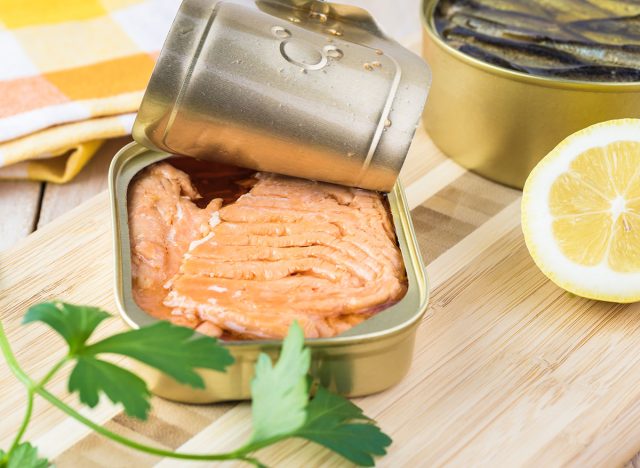 There's plenty of fish in the sea—literally. There are over 30,000 known species of fish living in our oceans and fresh waterways. So we understand how overwhelming it can be to pick the best one for your next meal. Luckily, Jessica Gutsue, MA, RDN, has a clever trick that could save you as you stare blankly at the canned foods aisle. "When shopping for canned fish remember the acronym SMASH, which stands for; Sardines, Mackerel, Anchovies, Salmon and Herring." She explains that these species are the best sources of healthy fats such as omega-3 fatty acids, which are great for your cardiovascular health and contain the lowest amount of harmful toxins.6254a4d1642c605c54bf1cab17d50f1e
Although not included in Gutsue's acronym, tuna is another noteworthy option. But, be careful to choose varieties like skipjack tuna (typically seen as "chunk light tuna") instead of yellowfin or bigeye tuna. A few favorite canned fish brands among dietitians are Wild Planet, Safe Catch, and Bar Harbor.
Double check cans for damage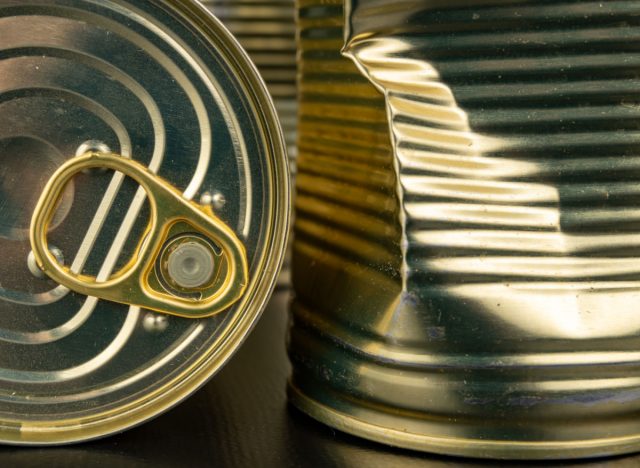 This is one scenario when you do want to judge a book by its cover. Nanavati stresses the importance of performing a thorough inspection on your cans of fish. "Make sure the can is free of dents, rust or corrosion," she says. "These are all signs that the fish may have been exposed to air and bacteria, which could affect its freshness and taste. Exposure to air or moisture can also lead to spoilage."
She even suggests giving canned fish a quick whiff. "The smell should be mild and not overly fishy," she advises. "If it smells like ammonia or is too strong, the fish may be past its prime and should not be consumed." A quick look at the product's date can also help you confirm if it's a smart purchase or not.