5 Best Cheap Cheeses That Taste Expensive, According to Experts
Take it from the pros: you can find good-quality cheese for not much money—if you know where to look.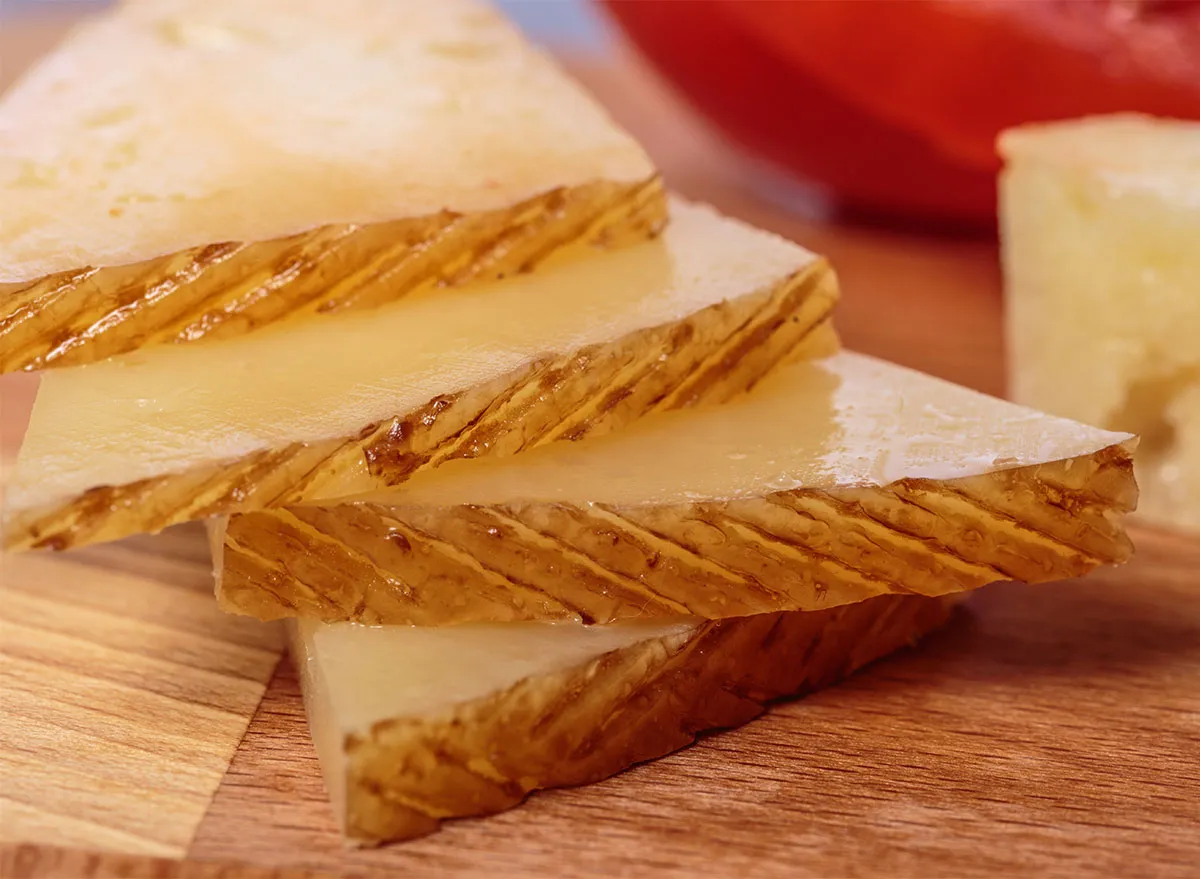 The product recommendations in this post are recommendations by the writer and/or expert(s) interviewed and do not contain affiliate links. Meaning: If you use these links to buy something, we will not earn a commission.
Crafting the perfect charcuterie board is truly an art: meats arranged just-so, juicy grapes to give a pop of flavor, or a handful of nuts for crunch. Of course, then there's the cheese—arguably the star of the show—and don't forget the wine! But, whether you're assembling a full board or just looking to have a nice chunk on hand, shopping the cheese aisle can be pricey.
Here's the good news: excellent cheeses at the grocery store can be found for relatively cheap, if you know where to look. To find the best affordable cheese, we turned to cheese experts and cheese makers for their top picks and hot tips.
Experts say the easiest way to discern the best from the rest is to look at recent cheese awards online, like the American Cheese Society competition or the World Championship Cheese Contest. Scroll to your favorite category and check out which cheese placed first.
"As a producer and consumer, I look to buy a product that symbolizes a story and has awards at different cheese contests," says George Crave, founder of Crave Brothers Farmstead Cheese and licensed cheesemaker. "It really depends on what you like. Different cheeses have different make processes, ingredients, and packaging and that is a lot of what contributes to pricing."
Crave also buys the store brand, aka private label, at his local grocery store. Those are cheeses made by a well-known producer but packaged with the store's own branding.  These typically have a lower price point than a name-brand cheese. "They could very well be made by any of the producers competing against it on the shelf," he says. "This is one way to still have good cheese at an affordable price."
Also: ask for samples! Mary Ann Ferrer is a cheese and dairy educator at the University of Guelph food science department. She knows her cheese: since 1997, she has taught many courses in cheese-making to students and the public alike, and has even served as a cheese judge. She advises shoppers to taste-test any samples offered at the deli counter. "If you see a sign mentioning 'award-winning' you should try it," she says.
Don't forget to look at the ingredient list. "If you are looking for flavor and great tasting cheese, stick to those with simple-to-read labels that don't contain 'milk ingredients' or 'milk protein concentrates,'" Ferrer says.
With those tips in mind, here's a list of reliable, inexpensive cheeses picked by these experts and more—blocks that offer amazing quality for their price. (A quick note: prices will vary based on your location.)
Prairie Breeze Cheddar from Milton Creamery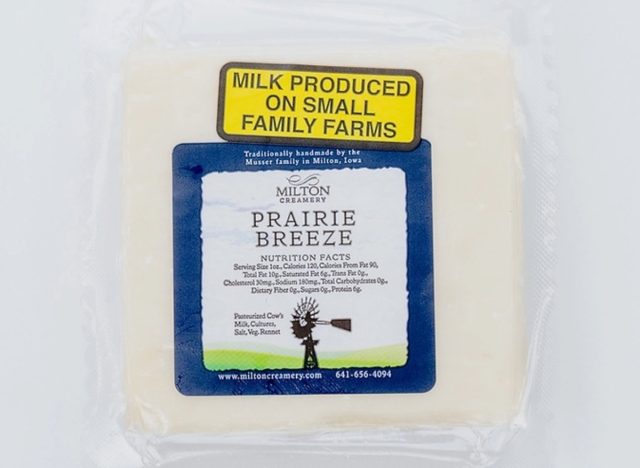 Precuts of this cheddar from Milton Creamery are a must-try, according to Gayle Martin, owner of Plum Plums Cheese in Connecticut and American Cheese Society-certified cheese professional. Though she doesn't like to use the term "cheap" (great value is more apt), she says the precuts are worth trying. "It's a crowd-pleasing, delicious cheddar that is sharp yet sweet, creamy yet crunchy, all at once," she says. "A perfect bite and a great melter."
Hot tip: Martin advises shoppers to look out for individual wheels or cuts that are packaged by the producer, not pieces that are cut, shrink-wrapped, and relabeled by the grocery store. "Those could be sitting in their case and suffocating in plastic wrap for weeks," she says. Because Milton Creamery's pre-cuts are vacuum sealed at the producer, she says this cheese is in the right element to age well. Prairie Breeze Cheddar retails for around $6.50 for a five-ounce piece.
Tillamook Extra Sharp Cheddar
The experts have spoken: this cheese is a must-try. Ferrer's go-to grocery store cheese is Tillamook's Extra Sharp Cheddar, which can be found at Costco, Kroger, Walmart, and other retailers, for as little as 50 cents per ounce—sometimes cheaper if it's on sale.
This year, it placed first in the aged cheddar category at the American Cheese Society competition. What makes it so great? Ferrer says it's sharp, but not in-your-face sharp. "The body has the smoothness and silkiness I expect from this age," she says. "It's a little bit crumbly but still cuts perfectly, instead of that elastic texture of younger cheddars."
She says this cheese strikes a perfect balance between nuttiness, saltiness, and sharpness. "This is not the average grocery store cheese, it actually tastes like artisanal, farmstead cheese. It is the perfect high-end grilled cheese sandwich cheese!" This retails for around $5 for an eight-ounce block.
Odyssey Feta from Klondike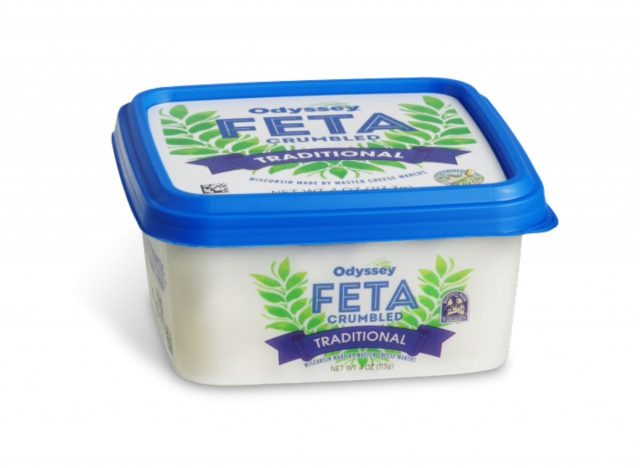 This family-owned cheese company in Wisconsin knows its feta. Ferrer says Klondike's Odyssey Feta, flavored or unflavored, is a winner in many cheese competitions. This feta comes in seven varieties, including flavors (like Mediterranean herb, tomato basil, and peppercorn) and presentations (crumbles, chunks, or in brine.)
In 2022, Klondike's feta won first place in the World Championship Cheese Contest with a score of 99.7. "That is an amazing score!" Ferrer says. Though there's lots of varieties to choose from, "they each have the exact balance of crumbly but creamy texture, salty, creamy and sharp taste and the aroma of all the condiments used in the different varieties," she says. The eight-ounce in brine retails for around $5, with price varying depending on chunks or crumbles.
Red Dragon English Cheddar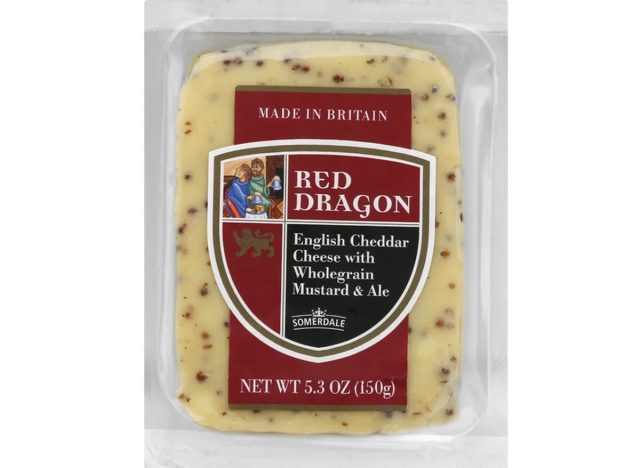 For fans of something a little different, this is an aged cheddar with mustard seeds that give it a unique texture. Moist yet firm, it's aged three months for a buttery and spicy flavor. "My suggestions that you can find at most grocery stores would be Red Dragon, a white cheddar with whole grain mustard seeds," says Will Brady, executive chef of YŪGŌ Oxford in Oxford, Mississippi. This is more of a specialty cheese and therefore a slightly more expensive pick; it retails around $10.50 for eight ounces.6254a4d1642c605c54bf1cab17d50f1e
Great Lakes Extra Sharp Cheddar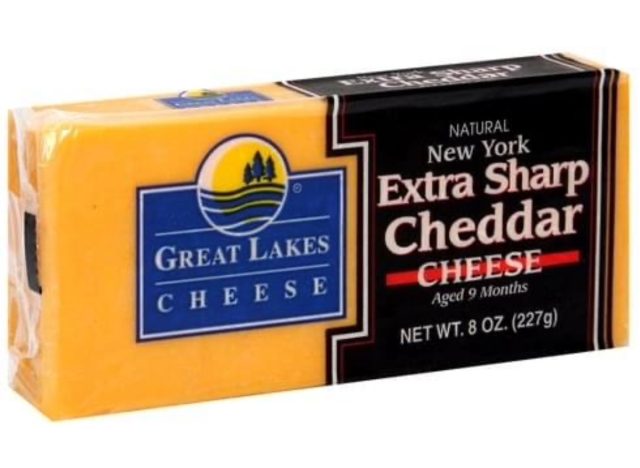 This Great Lakes-brand cheddar has a "good flavor and body/texture for a commodity produced style cheese," says Robert Ralyea, a cheese judge for the New York State Fair cheese contest and the American Cheese Society. "But 'cheap' is a relative term," he explains. "I'd rather educate consumers about cheese and how to buy it." One thing to keep in mind? "Not all cheese gets better with age. Some cheese made and aged properly can have better flavor profiles than cheeses aged much longer."