The Best Egg Dishes In Every State
These egg dishes are so good they will have you scrambling to go try them.
The idea that people love their eggs in the morning may be an understatement. According to the Washington Post, each American eats on average 279 eggs annually, with the number only growing higher each year. We have to admit though that this fact isn't incredibly surprising—eggs are one of the most versatile foods out there that seem to always pop up on menus. It just goes to show you that there are countless ways to prepare an egg, and we are here for it.
In honor of one of the most consumed food items in the country, we put together a list of the most popular egg dishes you can find throughout the U.S. From elevated scrambles and variations on the classic eggs Benedict to masala omelets and mammoth burritos, here are the best egg dishes in every state.
ALABAMA: Over Easy in Birmingham
Over Easy is the Birmingham eatery that prepares delicious food using local and organic products whenever possible. One of its dishes that people cannot stop talking about is the Hash Basket, which is a bed of hash browns topped with two eggs over easy, meat, cheese, diced tomatoes, and creme fraiche. Looks tasty doesn't it?
ALASKA: Snow City Cafe in Anchorage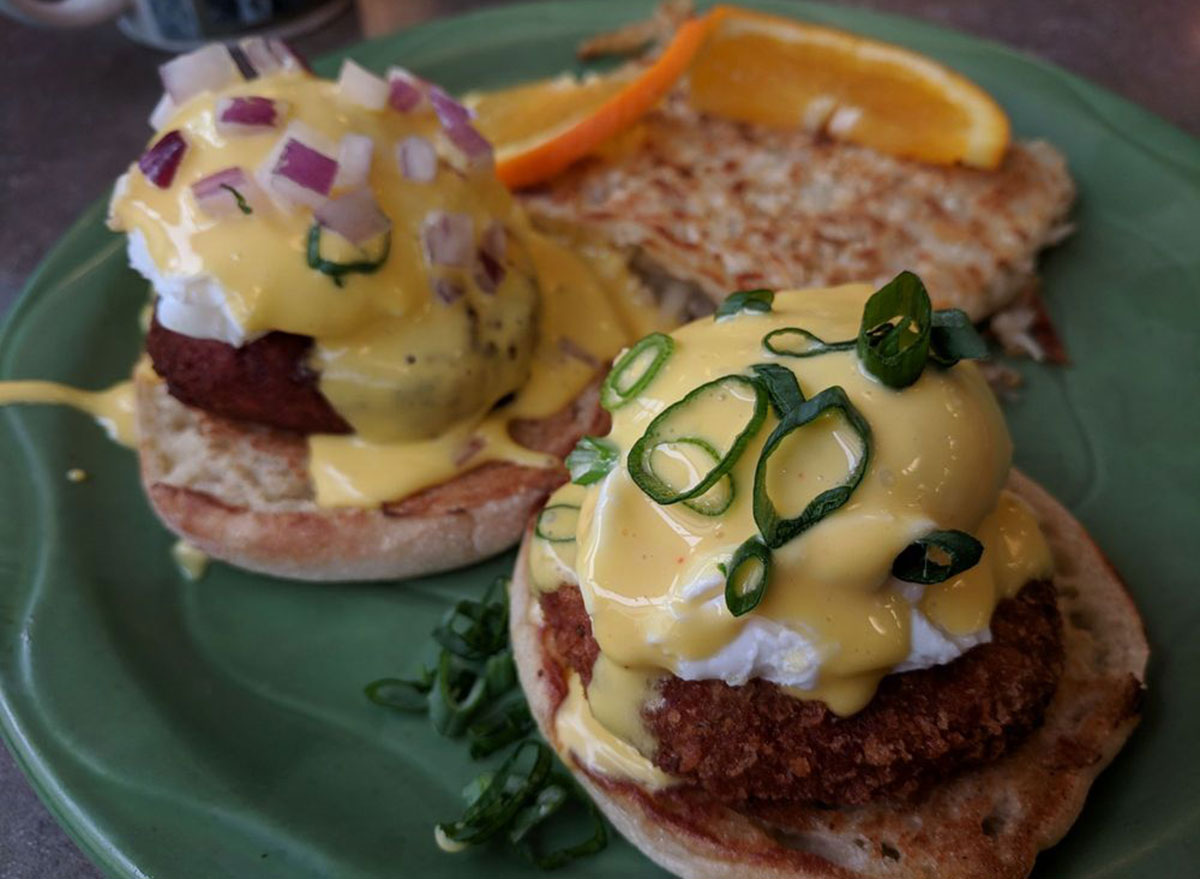 Located just steps away from the waterfront, Anchorage's Snow City Cafe has been cooking up fabulous fare since 1998. A favorite among restaurant-goers is their Deadliest Catch Benedict, which is a delectable combination of poached eggs, a homemade smoked salmon cake, Alaskan King crab cake, an English muffin, and scratch-made hollandaise sauce. Enjoy this dish with a tall glass of cold brew and you are on your way to having a great day.
ARIZONA: U.S. Egg Restaurant in Scottsdale
Made with a combination of mouthwatering meats and topped with two eggs, cheese, hash browns, and an English muffin, the Meat Lovers hot skillet dish at Scottsdale's U.S. Egg Restaurant really hits the spot.
ARKANSAS: Delicious Temptations in Little Rock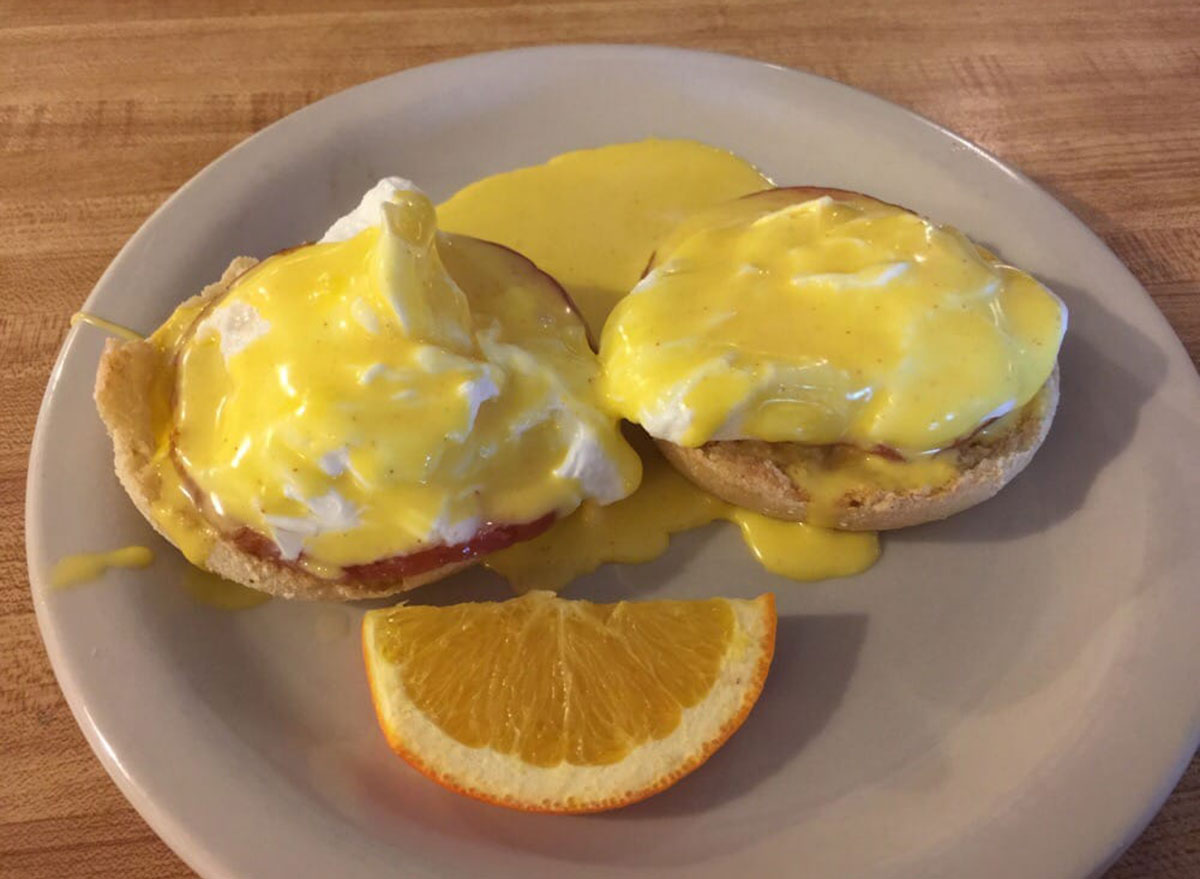 Delicious Temptations is one of the best places to enjoy brunch in Little Rock due to its flavor-packed menu and welcoming atmosphere. If you stop by, make sure you give their popular Eggs Benedict a try. Made with a poached egg and Canadian bacon on an English muffin smothered with hollandaise sauce, this classic egg dish is not one to miss.
CALIFORNIA: Square One Dining in Los Angeles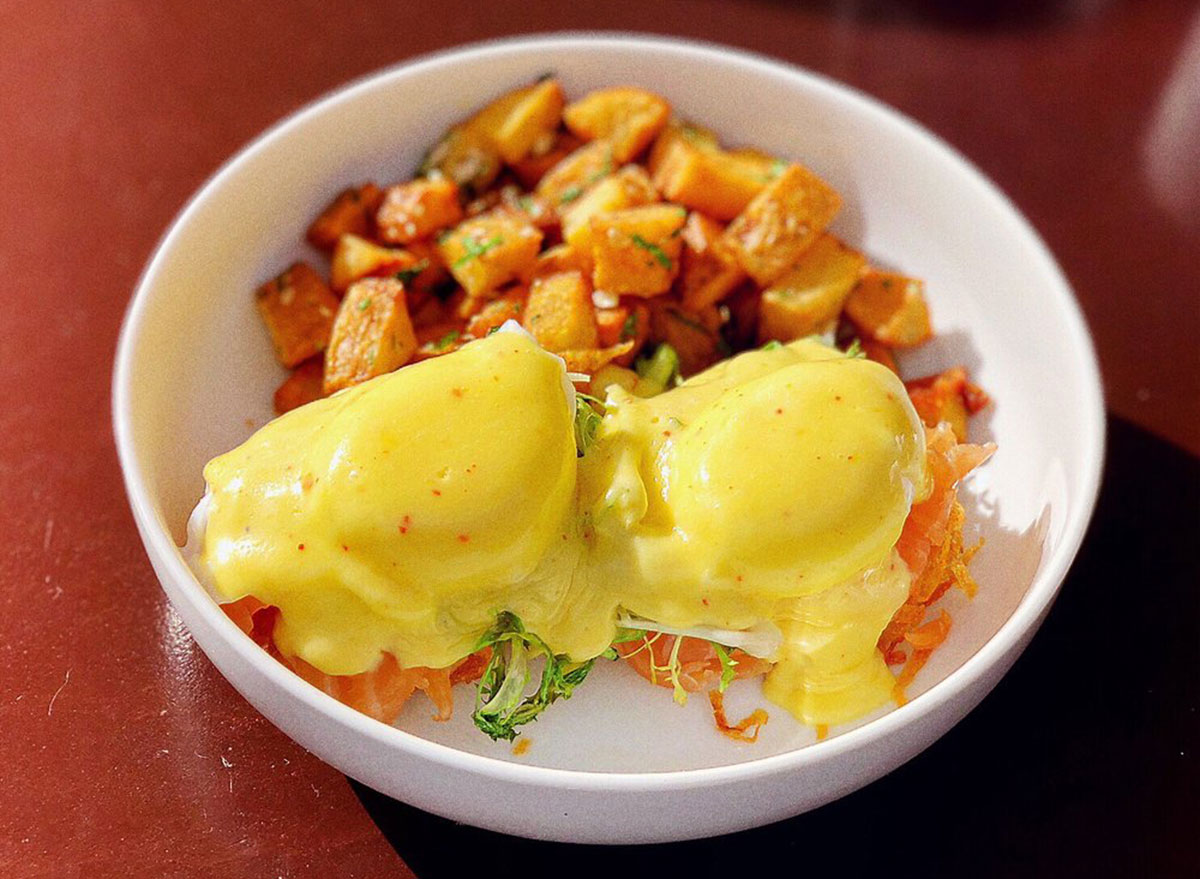 The best place in Los Angeles to enjoy an Instagram-worthy Salmon Eggs Benedict is Square One Dining. The cozy Californian cafe is found right on Fountain Avenue and people cannot stop sharing images of the dish. House-cured salmon and perfectly poached eggs rest on top of a crispy potato pancake, then it's all topped with a thick pour of Hollandaise. In case you're wondering, this is the one thing you need to make perfect poached eggs every time.
COLORADO: Urban Egg in Colorado Springs
Urban Egg's menu is packed with a variety of delicious egg dishes. One standout dish is the Colorado restaurant's breakfast burrito, which is scrambled eggs, black beans, hash browns, peppers, onions, cheese, and your choice of bacon, chorizo, or portabello mushroom, all wrapped up in a green chile tortilla. Their breakfast burrito is so beloved that it has even won awards.
CONNECTICUT: Ken's Corner Breakfast and Lunch in Glastonbury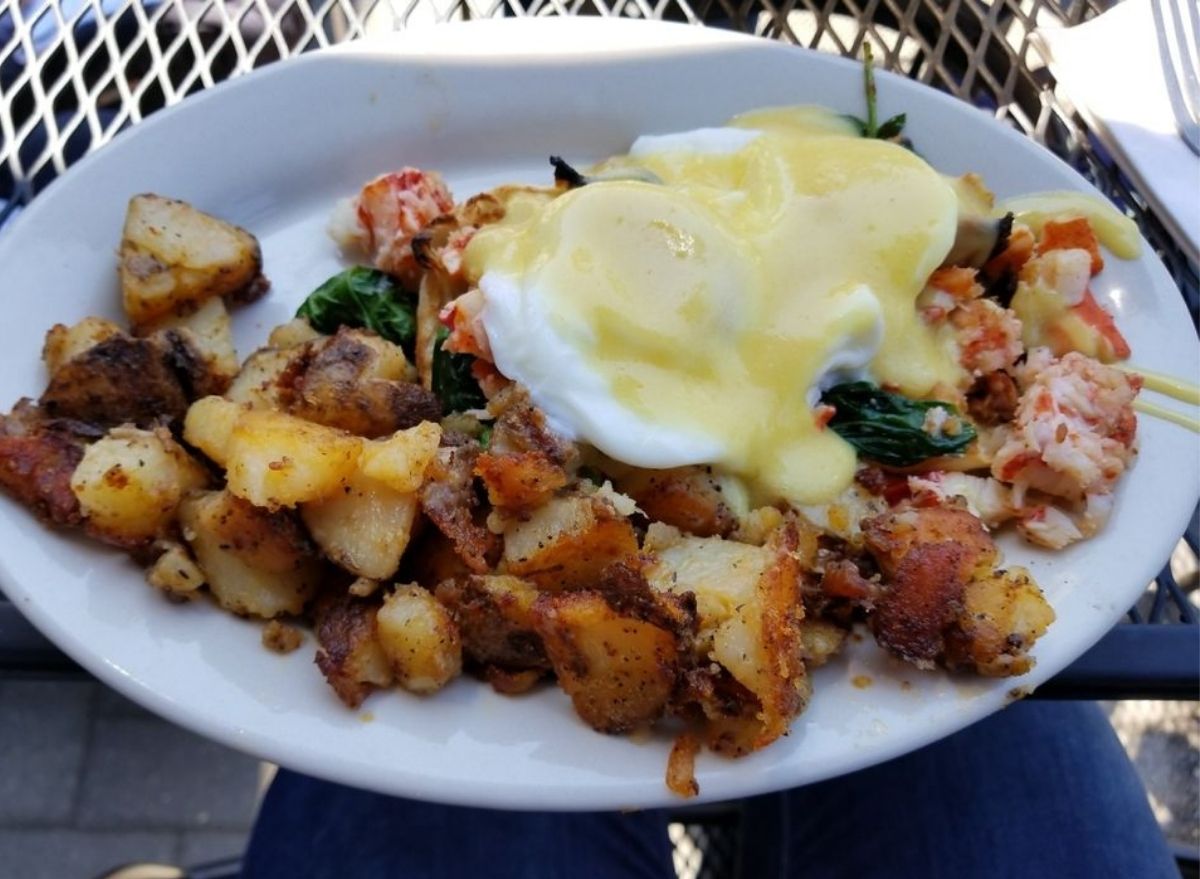 An early morning spot you have to try out in Connecticut is Ken's Corner Breakfast and Lunch, a quaint breakfast cafe located in Glastonbury. Their beloved Lobster Benedict takes a traditional eggs Benedict and adds in juicy lobster for an elevated twist. Yes, please!
DELAWARE: 'Egg in Rehoboth
People love 'Egg's sriracha candied bacon, peanut butter French toast, and lemon crepes, but what keeps visitors coming back is their Eastern Shore Benedict. Made using jumbo lump crab, poached eggs, and a hollandaise sauce, this dish is both filling and flavorful.
FLORIDA: Keke's Breakfast Cafe in Orlando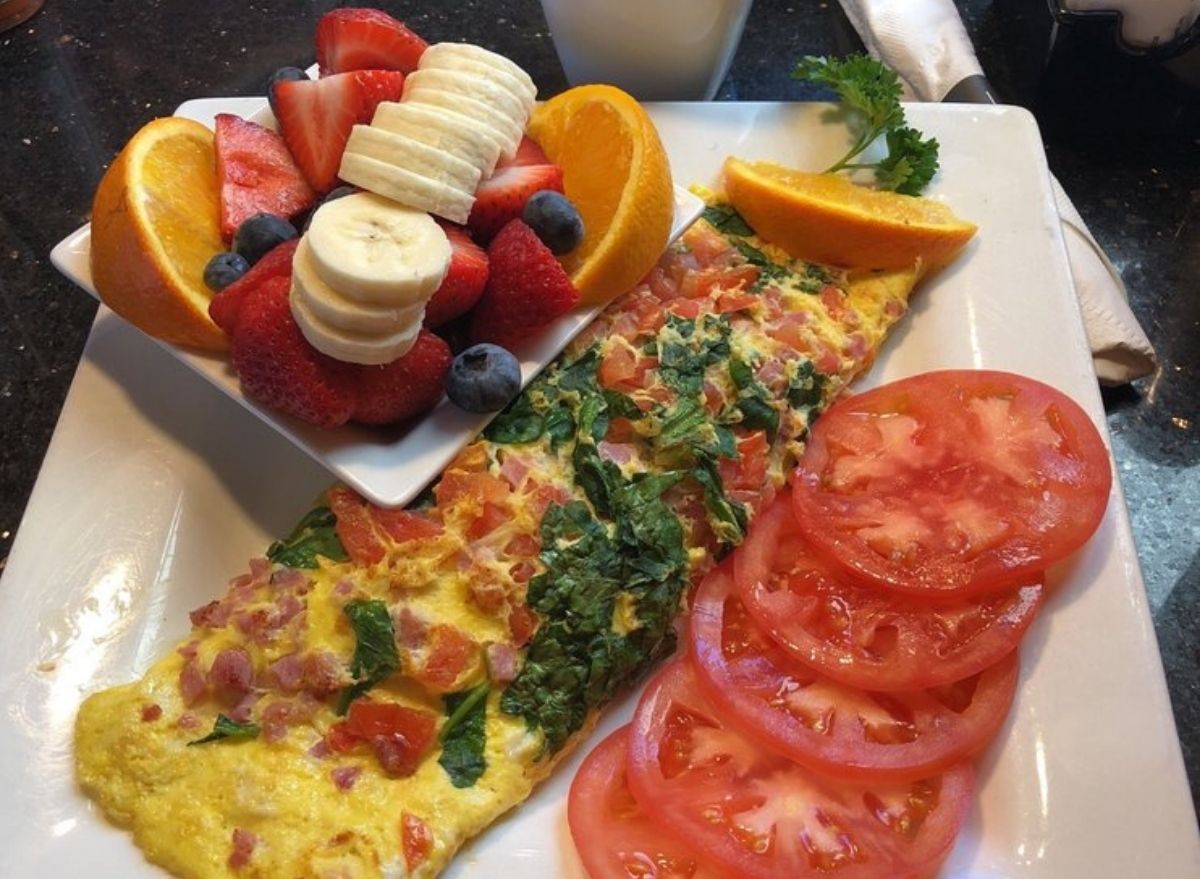 If you love Greek salads then you need to give Keke's gorgeous Greek Omelet a try. Featuring wholesome ingredients, such as fresh baby spinach, chopped tomatoes, and Athenos feta cheese, this omelet is absolutely delicious and has only 410 calories!
GEORGIA: Atlanta Breakfast Club in Atlanta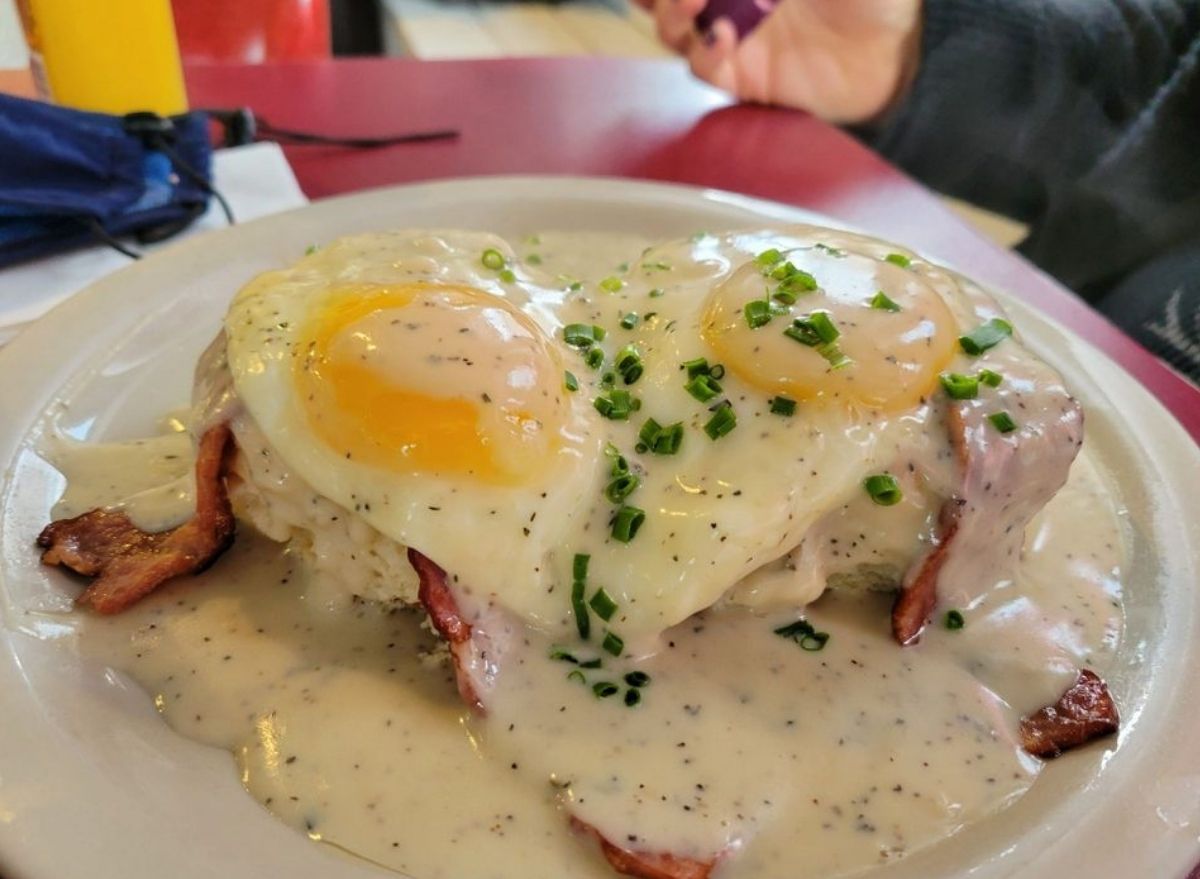 Atlanta Breakfast Club's Southern Benedict, which is made using black pepper gravy, turkey bacon, and a buttermilk biscuit, is raved about by restaurant-goers. Make sure to enjoy it with one of their delicious coffees or hot teas.
HAWAII: Hau Tree in Honolulu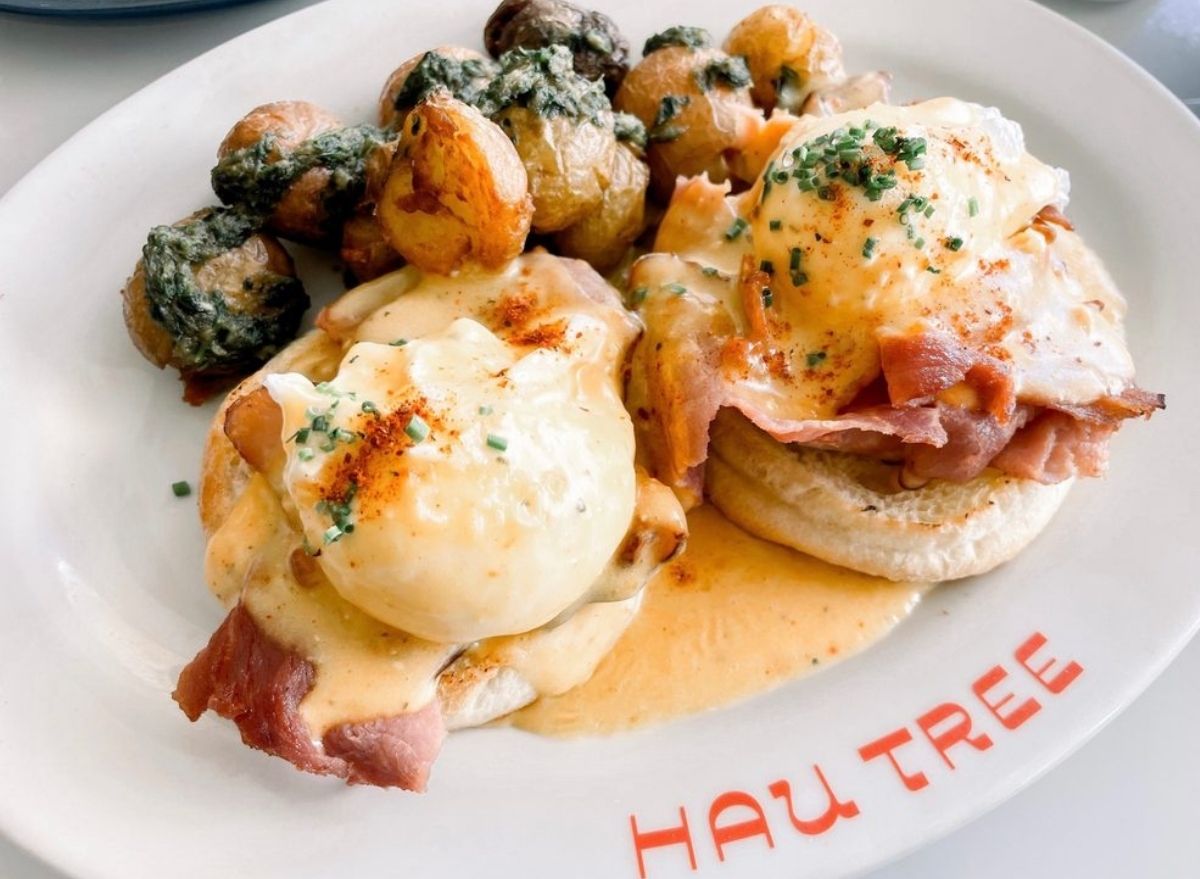 Honolulu Magazine named Kaimana Beach Hotel's Hau Tree as one of the best places to get breakfast in the area, and we can understand why. The establishment's Eggs Benedict, which is served with a La Tour English muffin, ham, poached eggs, bearnaise instead of hollandaise, and potatoes, is the perfect way to start any morning.
IDAHO: Hoot Owl Cafe in Ponderay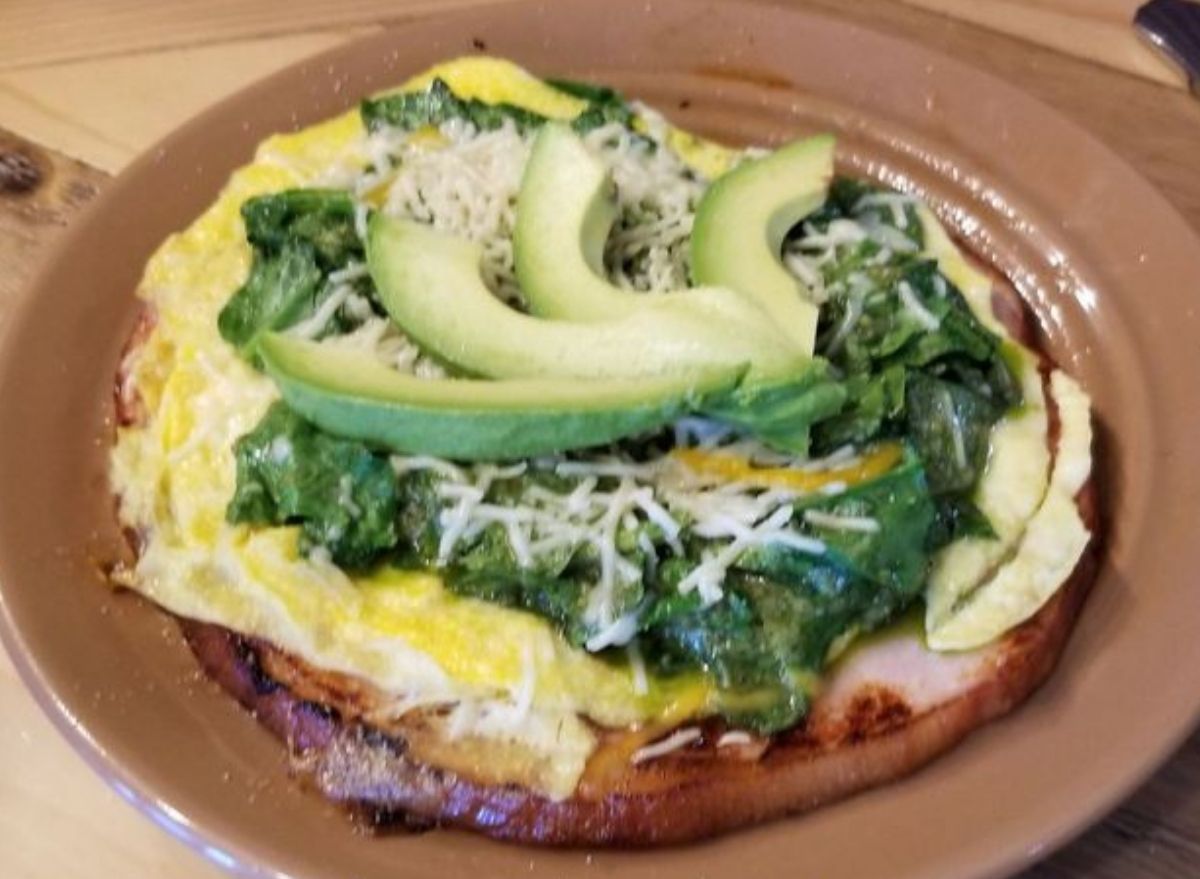 Hoot Owl Cafe's Green Eggs and Ham, a delightful breakfast dish made with old-fashioned pit ham, scrambled eggs, pesto, spinach, avocado, and Asiago cheese, remains a top pick for many restaurant visitors.
ILLINOIS: Eggy's Diner in Chicago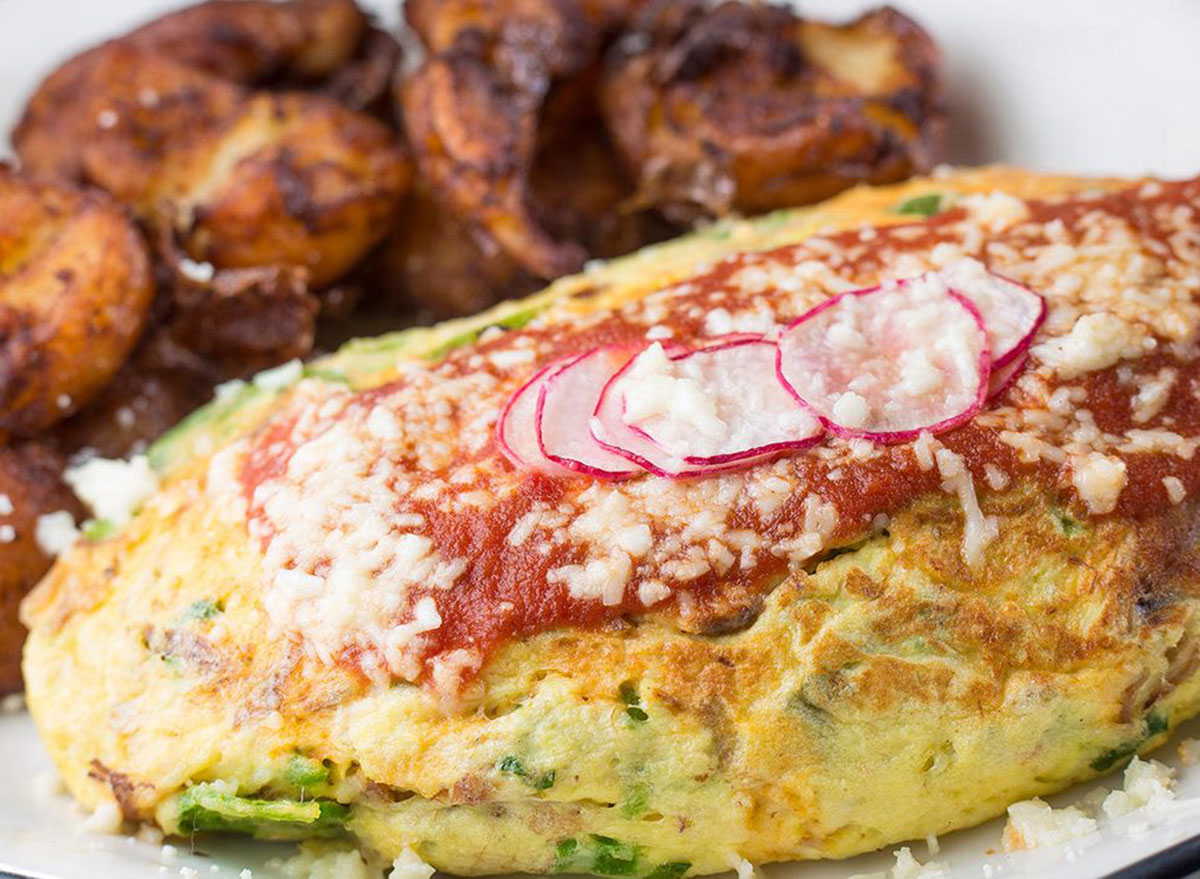 Reminiscent of diners of yesteryear, Eggy's in Chicago creates some of the best breakfast items in the region. A favorite among many is their Verb Omelet, which is an egg white omelet packed with avocado, spinach, Swiss cheese, green peppers, and jalapenos. Hint: Be sure to try out the house-made ranchero salsa that they serve on the side, it is bursting with flavor.
INDIANA: Good Morning Mama's in Indianapolis
Housed in a former corner filling station, Good Morning Mama's is the adorable breakfast and lunch eatery that prepares some of the best food in Indianapolis. If you give them a visit, make sure to order their highly lauded egg option, Eggs in Purgatory, which is a traditional Italian dish that incorporates eggs, homemade tomato sauce, and sweet basil. Also check out Good Morning Mama's sister restaurant, Mama Carolla's, for dinner while in the area.
IOWA: Eggs & Jam in West Des Moines
Eggs & Jam is the fun hip-hop-themed Iowa restaurant where you can enjoy delicious food while listening to old-school rap acts, such as the Beastie Boys and Nas. If that's your jam, make sure to give their Yo Homes to Bel Air egg dish, which is a mouthwatering omelet featuring Philly-style steak, provolone, and grilled onions, a try.
KANSAS: Eggtc. in Kansas City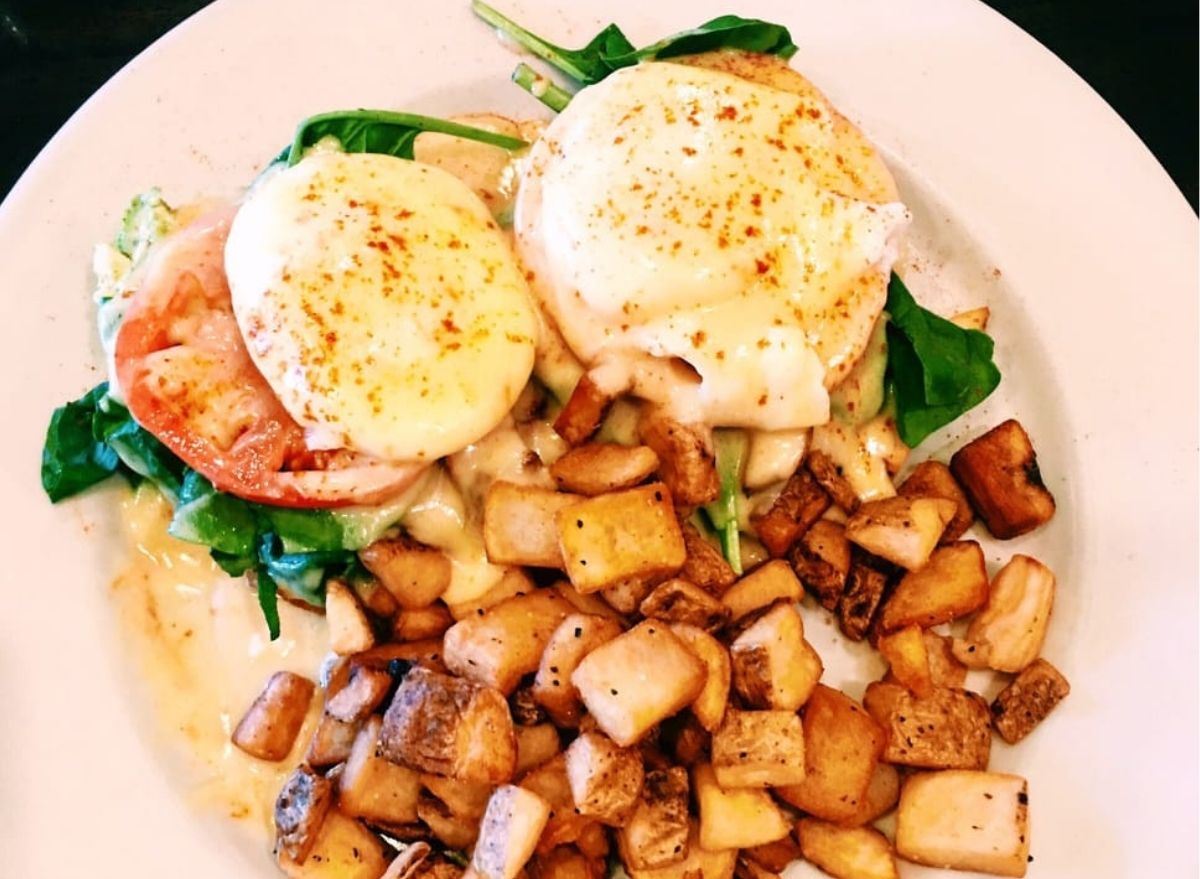 For years, Eggtc. in Kansas has been preparing scrumptious breakfasts and lunches for the city. A go-to pick for many patrons is their Eggs Benedict Florentine, which is a traditional eggs Benedict served with avocado, spinach, and tomatoes.
KENTUCKY: Wild Eggs in Louisville
Wild Eggs, the Louisville restaurant that centers around soul-warming homemade dishes, has been making some of the best breakfast, brunch, and lunch items since 2007. One of their menu highlights is the Kalamity Katie's Border Benedict, which is an appetizing combination of poached eggs, green chile cheddar corn cakes, queso fundido, sour cream, and more.
LOUISIANA: Stanley's in New Orleans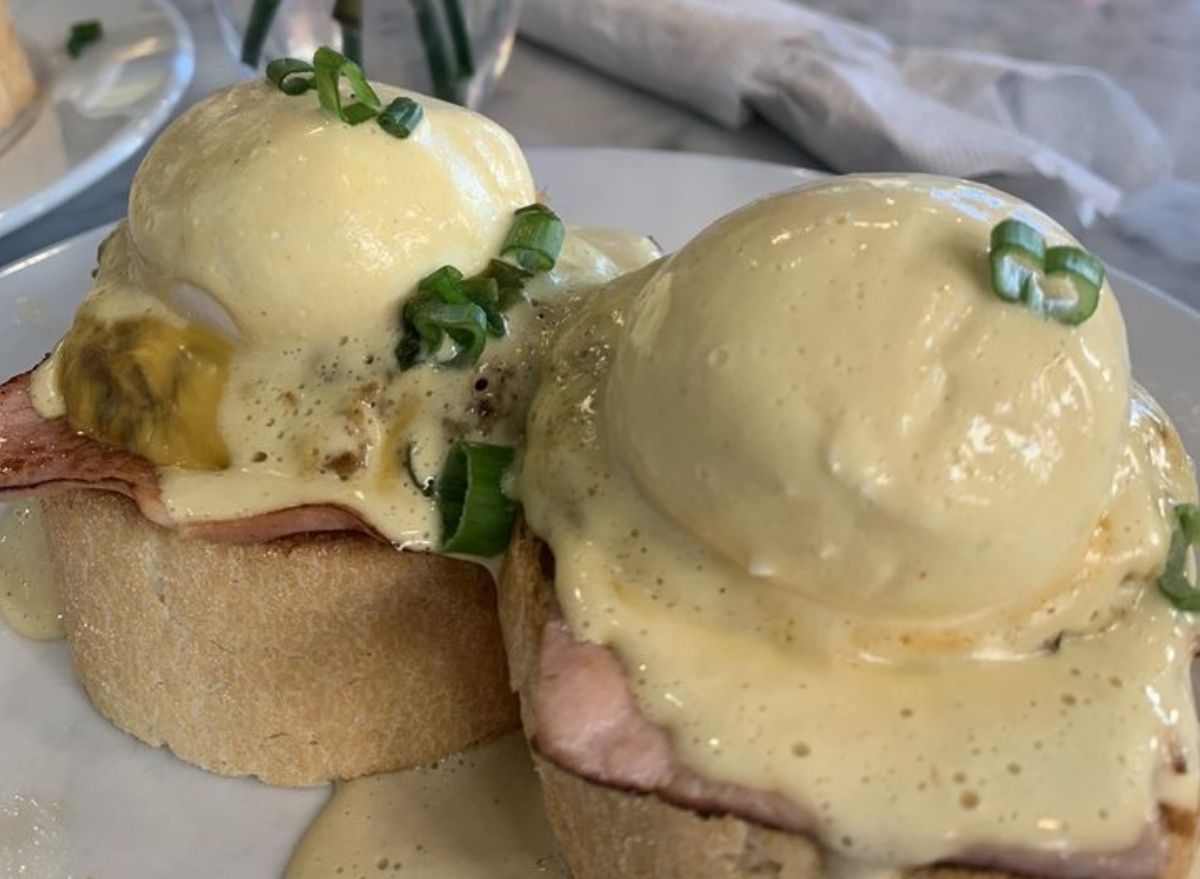 The Breaux Bridge Benedict at Stanley's is one to remember. Featuring Boudin patties, poached eggs, and smoked ham, and drenched in a Creole hollandaise sauce, this one-of-a-kind egg dish is a favorite among many.
MAINE: Becky's Diner in Portland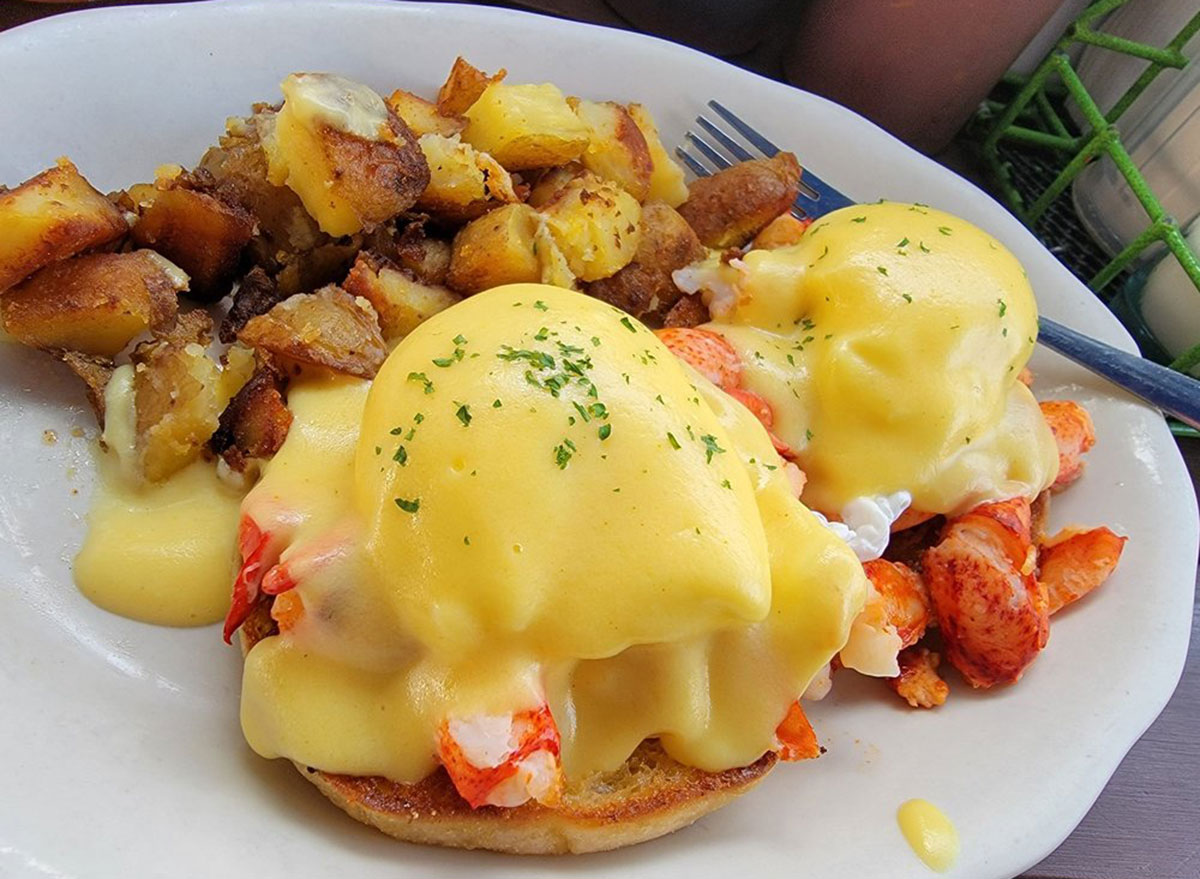 Maine is known for its lobster, so why not enjoy some with your eggs? Becky's Diner, the waterfront district diner that has been open since 1991, makes an out-of-this-world lobster benedict with fresh Maine lobster meat. A bonus? It is available every day until 4 pm.
MARYLAND: Miss Shirley's Cafe in Baltimore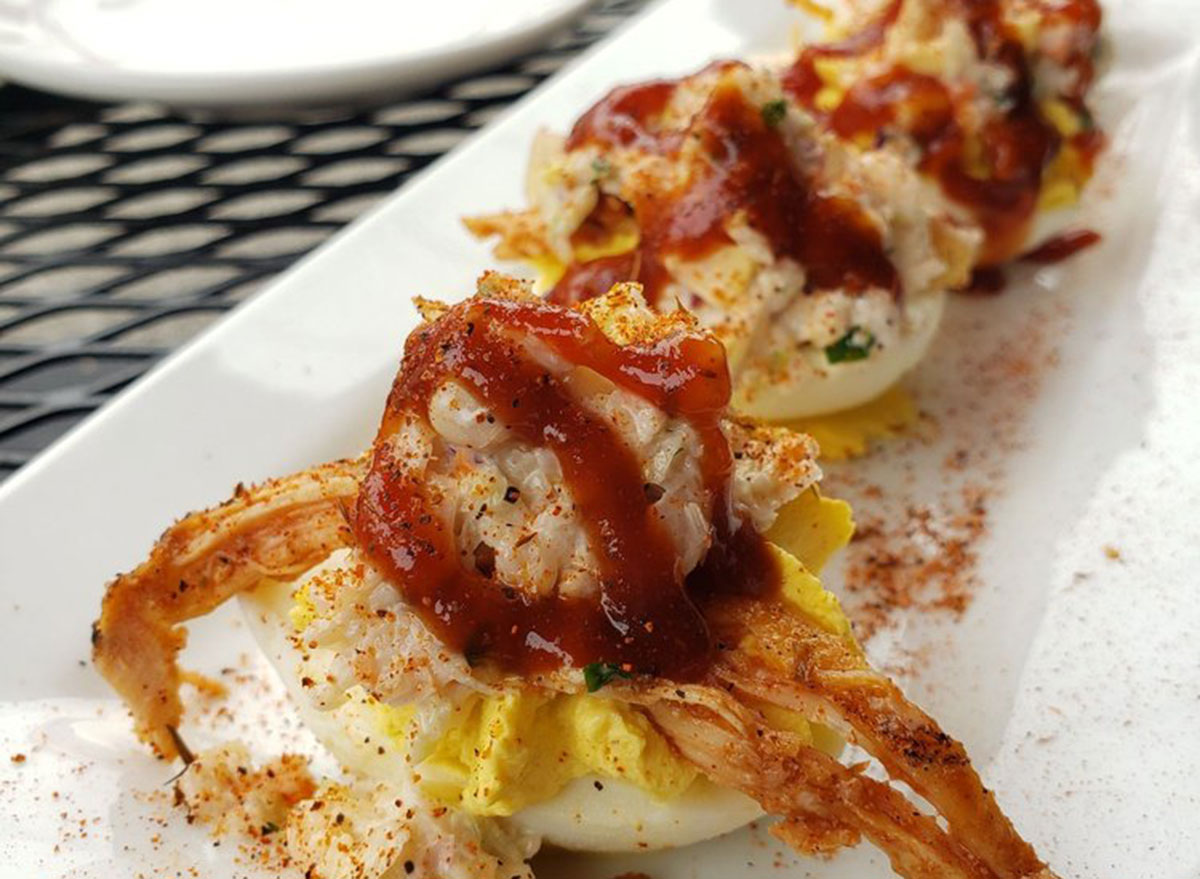 With popular locations throughout Maryland, Miss Shirley's Cafe has become synonymous with good food in a welcoming environment. If you stop by for breakfast be sure to try out their Southern Slammer sandwich, which is piled high with a fried egg, fried green tomato, smoked bacon, white cheddar cheese, and avocado smash.
MASSACHUSETTS: The Friendly Toast in Boston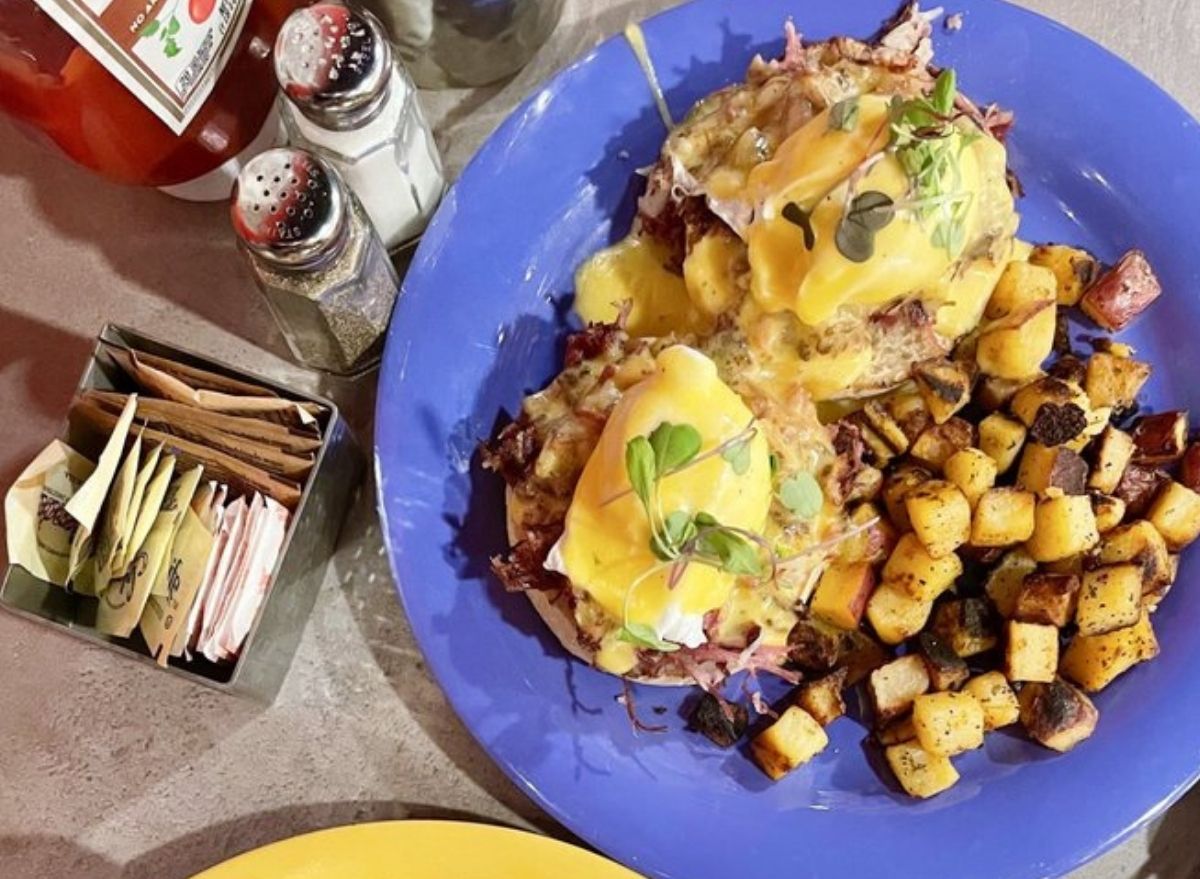 The Friendly Toast is the quirky Boston eatery that is part bar and part restaurant. Visit for a quick drink with friends or spend a morning enjoying their extensive menu of delicious breakfast foods. One dish that people rave about is their Irish Benny, which is a special twist on a traditional eggs benedict that features housemade corn beef hash.
MICHIGAN: Dime Store in Detroit
Detroit's Dime Store has a special dish called the Duck Bop that you have to give a whirl. Made using house-confit duck leg, spinach, onion, pickled vegetables, sriracha sauce, and Korean barbecue sauce, this tasty dish blows all the other breakfasts you've had before out of the water.
MINNESOTA: Hot Plate in Minneapolis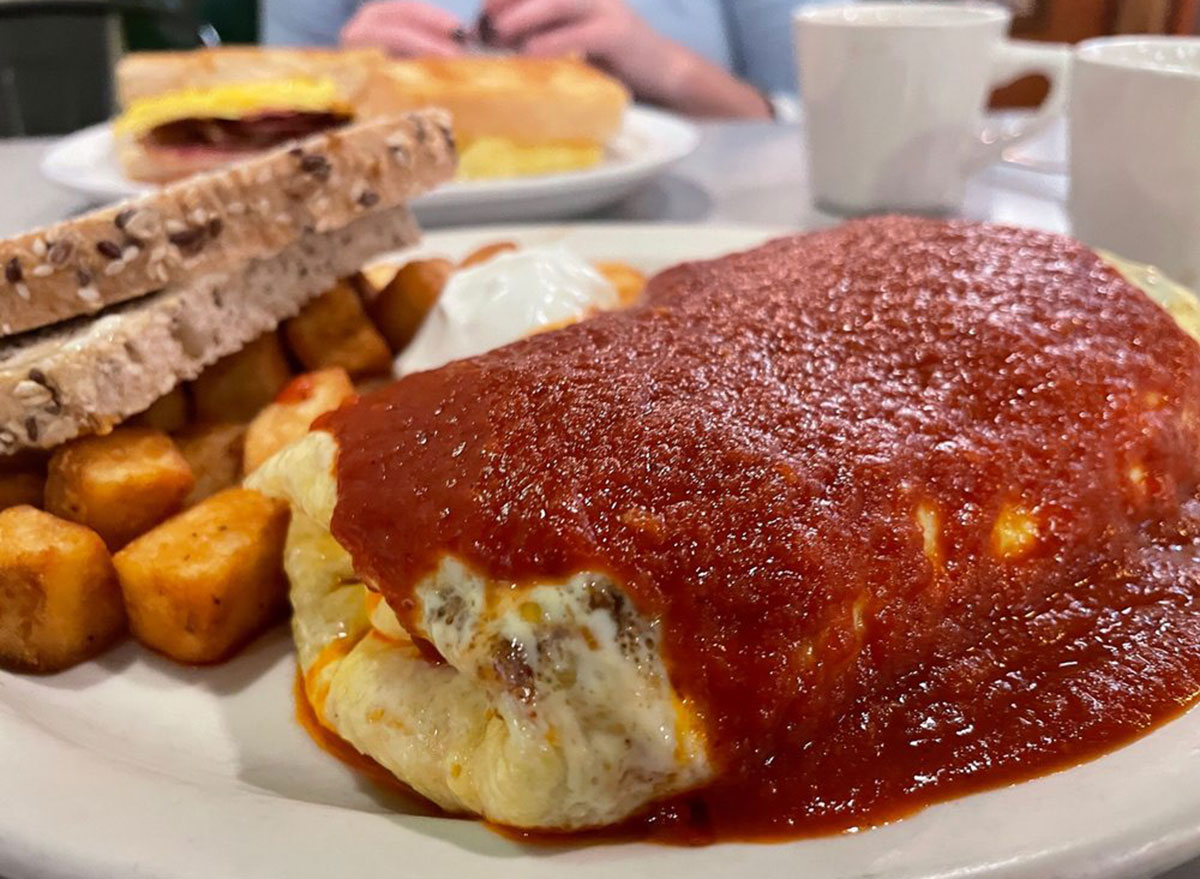 Minnesota's retro family restaurant, Hot Plate, serves an old-school eggs benedict that is the best in town.
MISSISSIPPI: Another Broken Egg Cafe in Ridgeland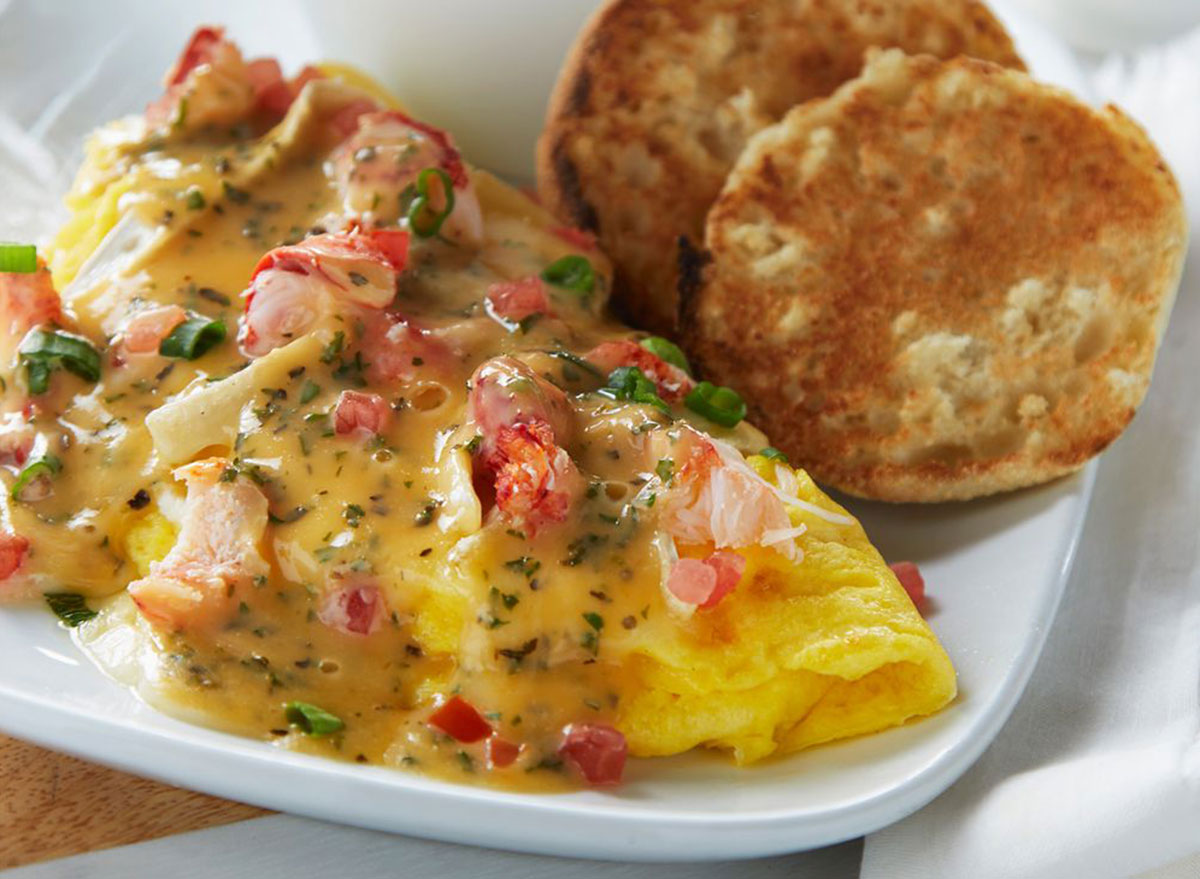 The locally owned and operated Another Broken Egg Cafe in Ridgeland is the go-to spot for flavorful breakfast fare in an inviting setting. A sought-after dish of theirs is The Floridian, which is an omelet stuffed with cream cheese, and then served with sauteed crab meat, cheese, and chopped green onions.
MISSOURI: Egg in Saint Louis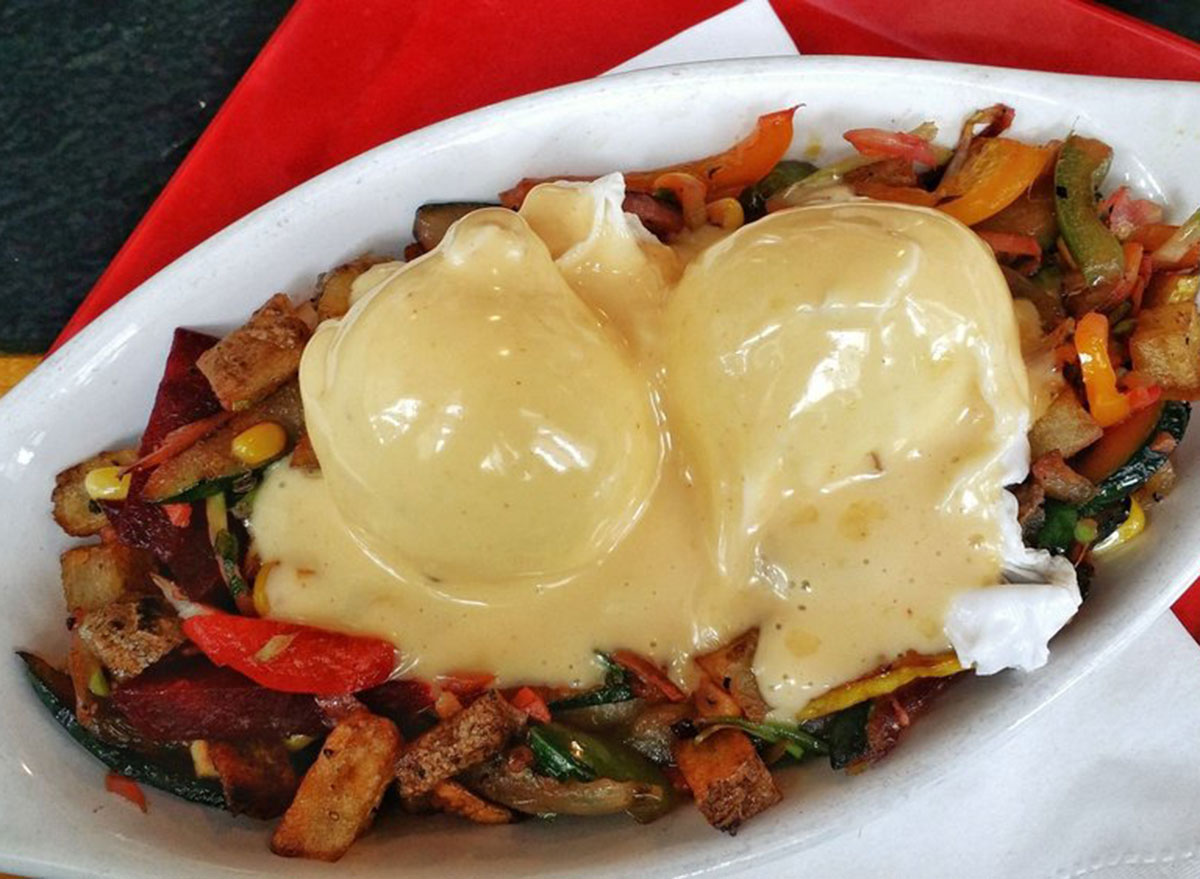 From expertly made cocktails to perfectly prepared traditional dishes, Missouri's Egg restaurant has all bases covered. A breakfast item of theirs that blows people away is the El Cerdo, which is a poached egg dish plated with potatoes, spinach, jalapenos, chipotle salsa, and tasty carnitas.
MONTANA: Main Street Overeasy in Bozeman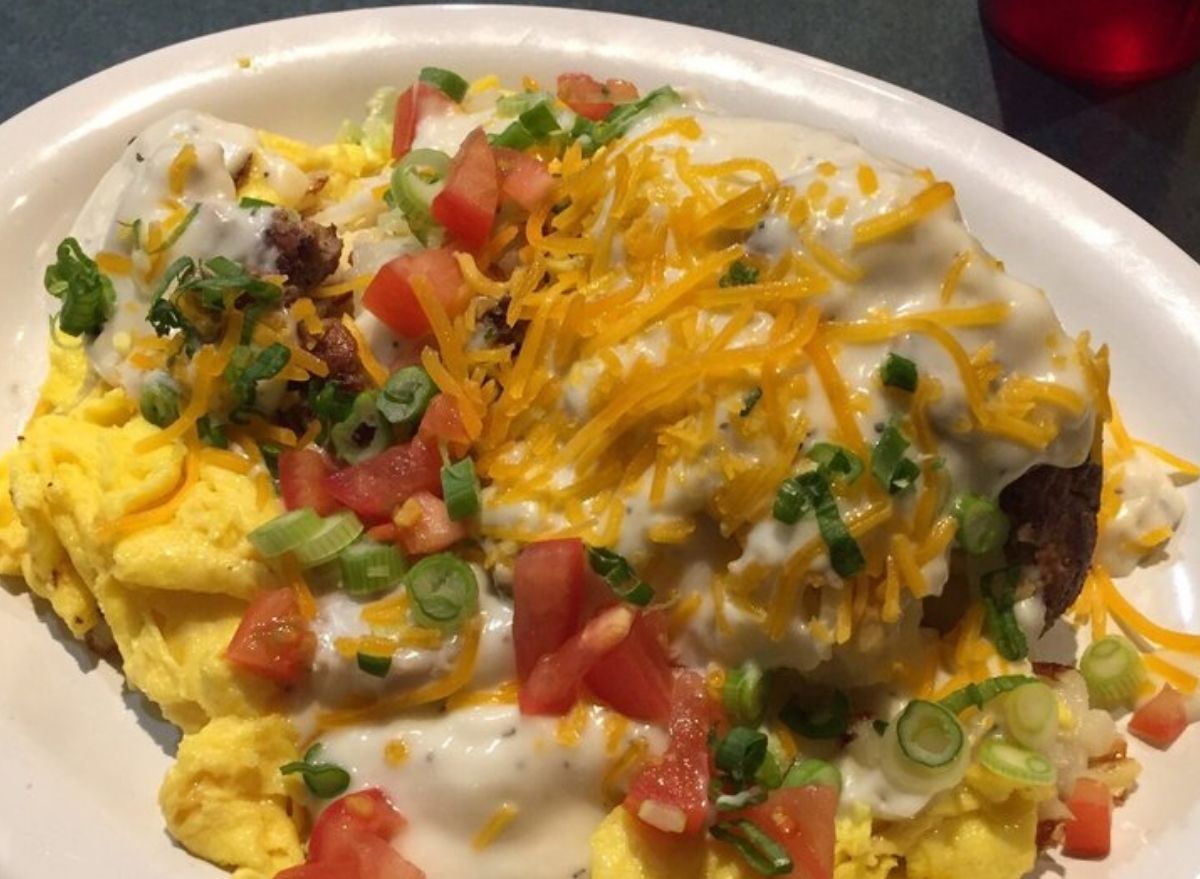 Main Street Overeasy's Yellowstone Bison Scramble is a protein-packed dish full of scrambled eggs, homemade bison sausage, mushrooms, spinach, and cheddar cheese. An added bonus? It's also served with a hollandaise sauce, hash browns, and toast.
NEBRASKA: Bailey's Breakfast and Lunch in Omaha
Hop into Bailey's, which has been serving the Omaha community since 2007, anytime between 7 am and 2 pm to enjoy one of their many scrumptious breakfast dishes. A favorite is their crab benedict, which is filled with hollandaise sauce, rock crab, and fresh avocado.
NEVADA: Omelet House in Las Vegas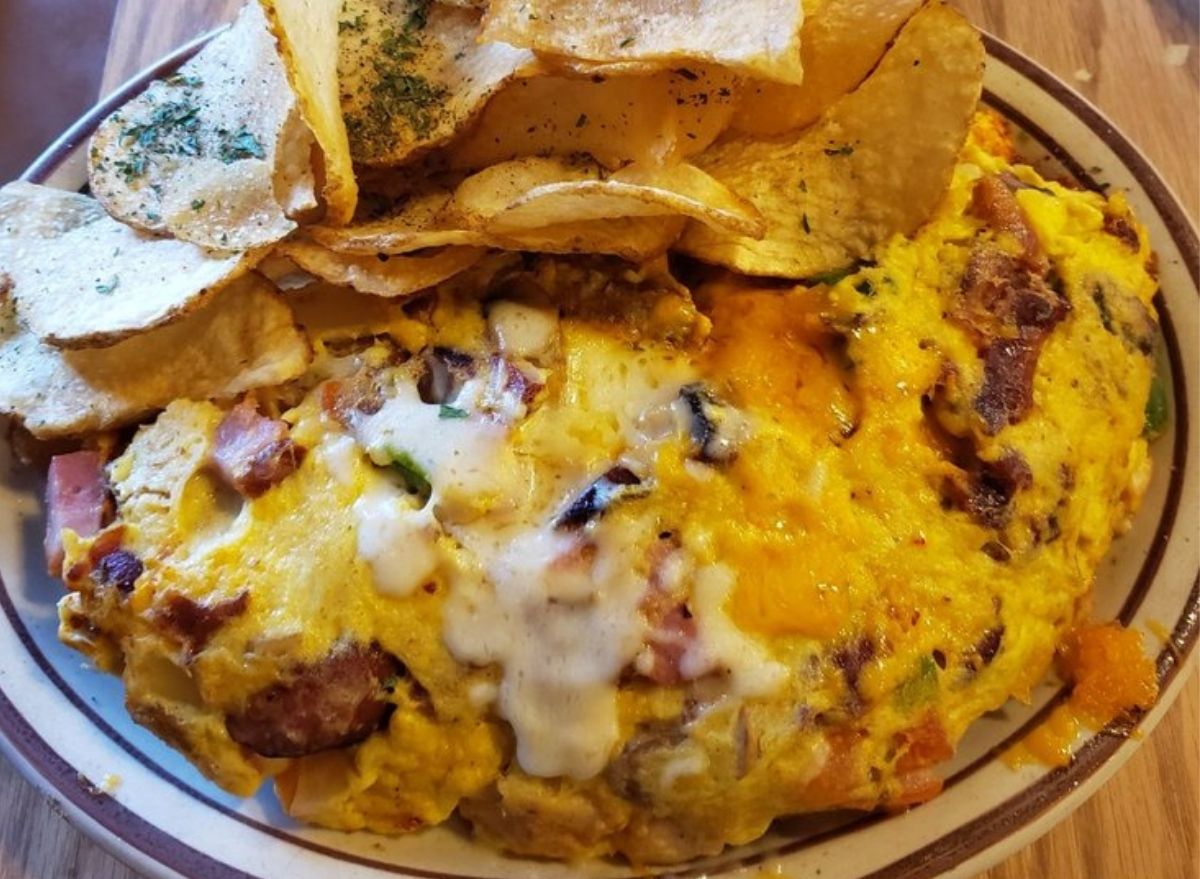 What better place to get an egg dish in Las Vegas than the famous Omelet House on Charleston Boulevard? Since 1979, the Omelet House has been preparing the best breakfast specialties in town hands down. A menu item you have to try is their Kitchen Sink egg dish, a giant egg omelet packed with an array of deliciously prepared meats and vegetables.
NEW HAMPSHIRE: The Red Arrow Diner in Manchester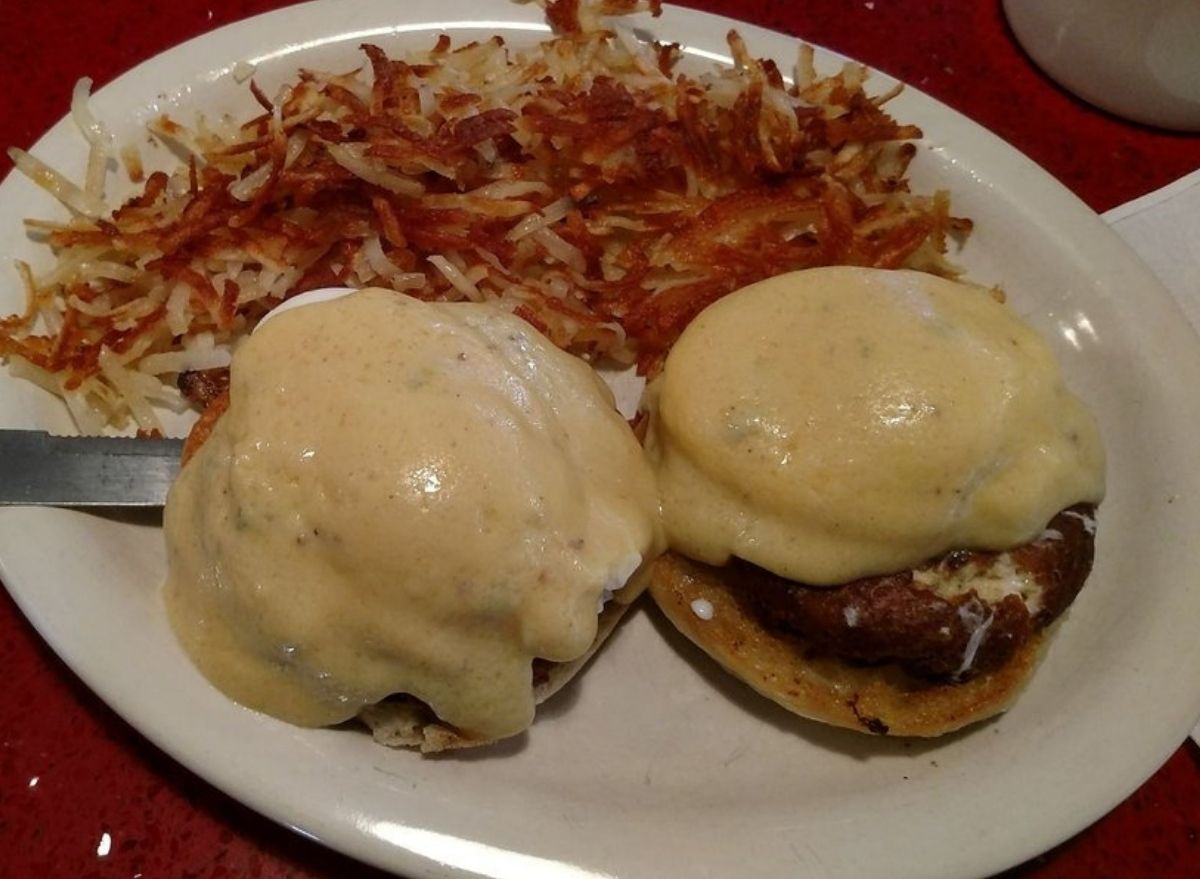 Since 1922 The Red Arrow Diner has been a beloved dining establishment in the Manchester community. People love their breakfast menu, which includes tasty dishes such as their Crabcake Benny, and welcoming environment.
NEW JERSEY: Egg Mania in Jersey City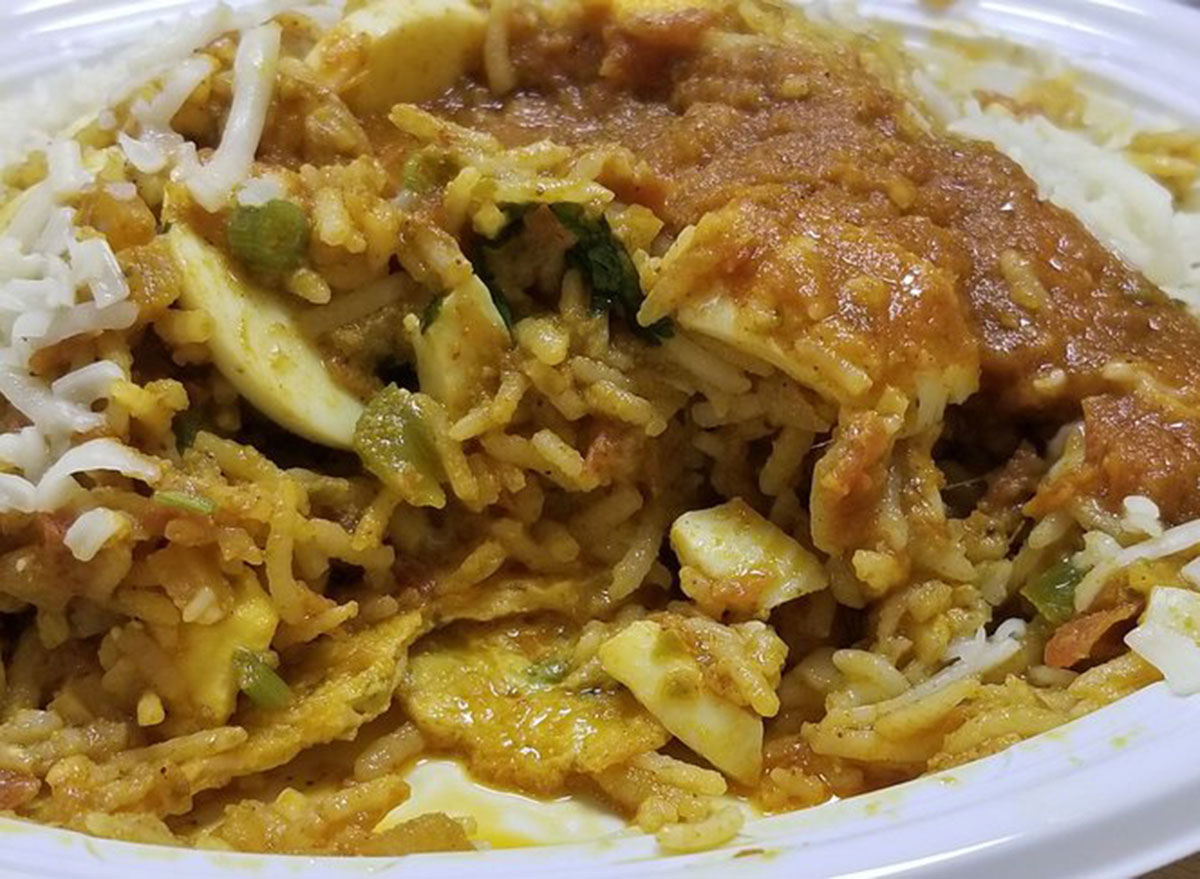 If you find yourself in Jersey City be sure to check out Egg Mania. Their Indian-Style Masala Omelet may just be the most delicious breakfast you've ever had.
NEW MEXICO: Frontier Restaurant in Albuquerque
Since the 1970s Frontier Restaurant has been serving up delicious food for the Albuquerque community and its surrounding areas. Functioning as part art gallery, this popular eatery also has the best egg dishes in all of New Mexico. A menu highlight is their Western Omelet, which is made with green chile, cheddar cheese, tomato, hash browns, and a tortilla. Be sure to enjoy it with a glass of their homemade lemonade or fresh-squeezed orange juice.
NEW YORK: Egg Shop in New York City
Since 2014, Egg Shop in New York City's trendy Soho neighborhood has been crafting egg-focused dishes that are the talk of the town. Among one of their most ordered dishes is the Spandex, a flavorful combination of poached egg, miso quinoa, avocado, mustard seed, and goji berry. If you stop by don't skip out on their specialty cocktails—their Morning Mule is a great drink to enjoy during a weekend brunch.
NORTH CAROLINA: Early Girl Eatery in Asheville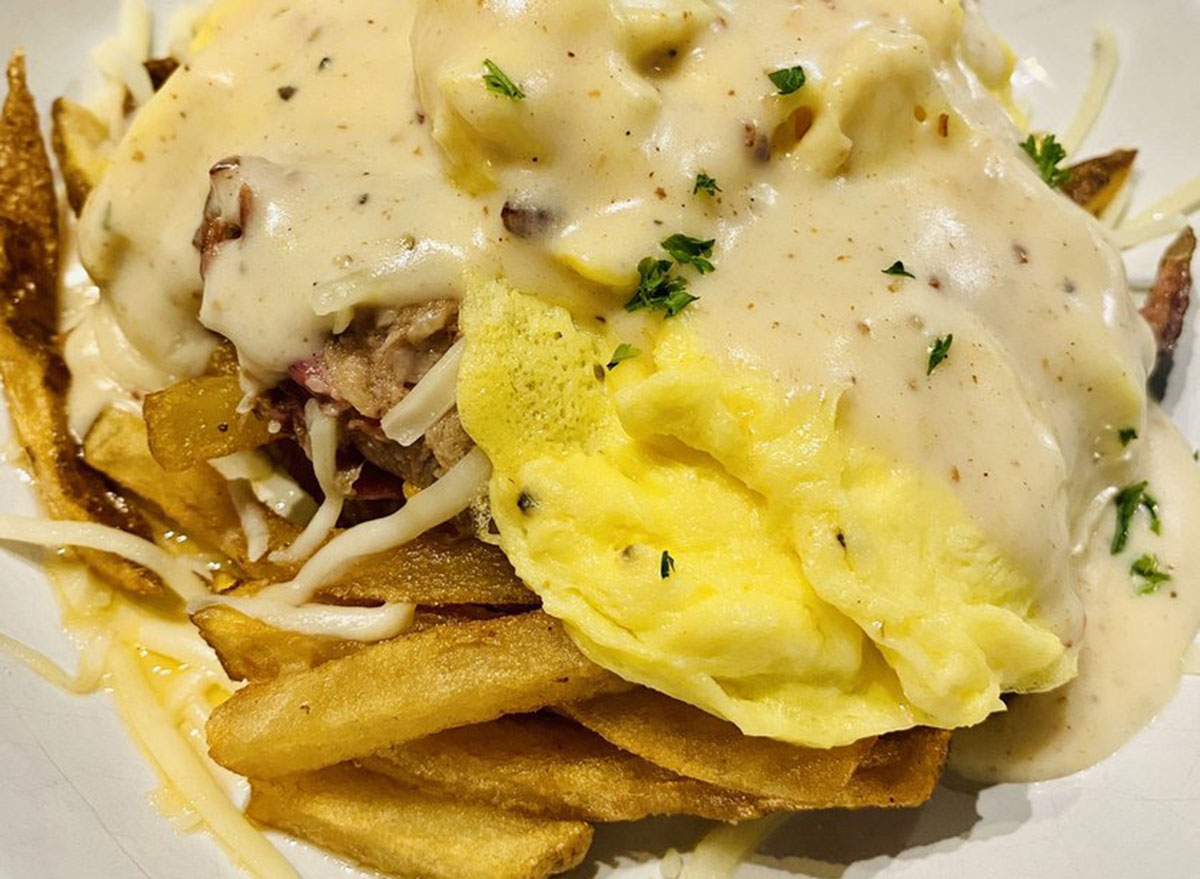 Since 2001, Early Girl Eatery in Asheville has been making homemade farm-to-table dishes that are not only healthier but also are full of flavor. Their Yam Scram, which is a gluten-free egg scramble made with local pork sausage, shiitake mushrooms, sweet potatoes, and bacon, is particularly exceptional.
NORTH DAKOTA: The Shack on Broadway in Omaha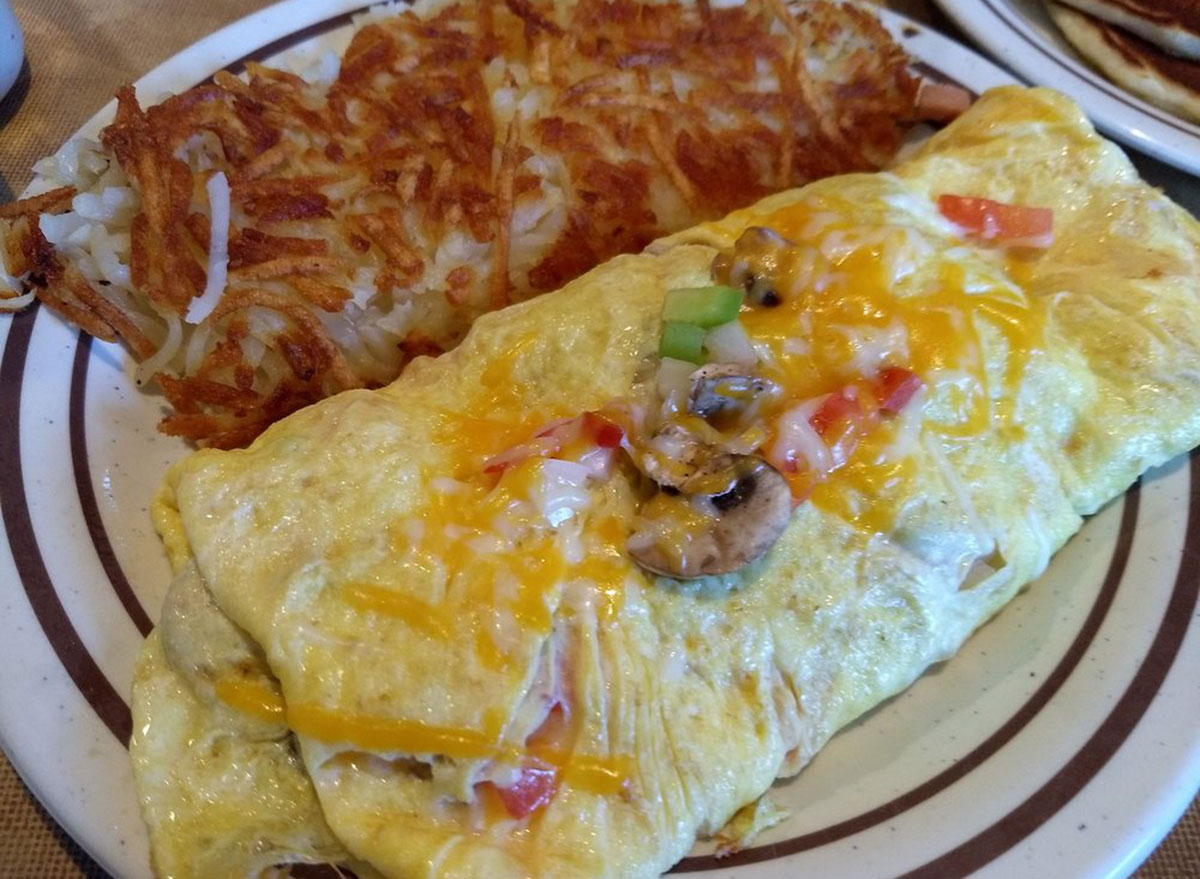 Meat lovers unite—The Shack on Broadway in Nebraska has the breakfast of your dreams. The Meat Lovers Omelette, which is a customer favorite, is made using juicy cuts of sausage, ham, and bacon.
OHIO: City Egg in Columbus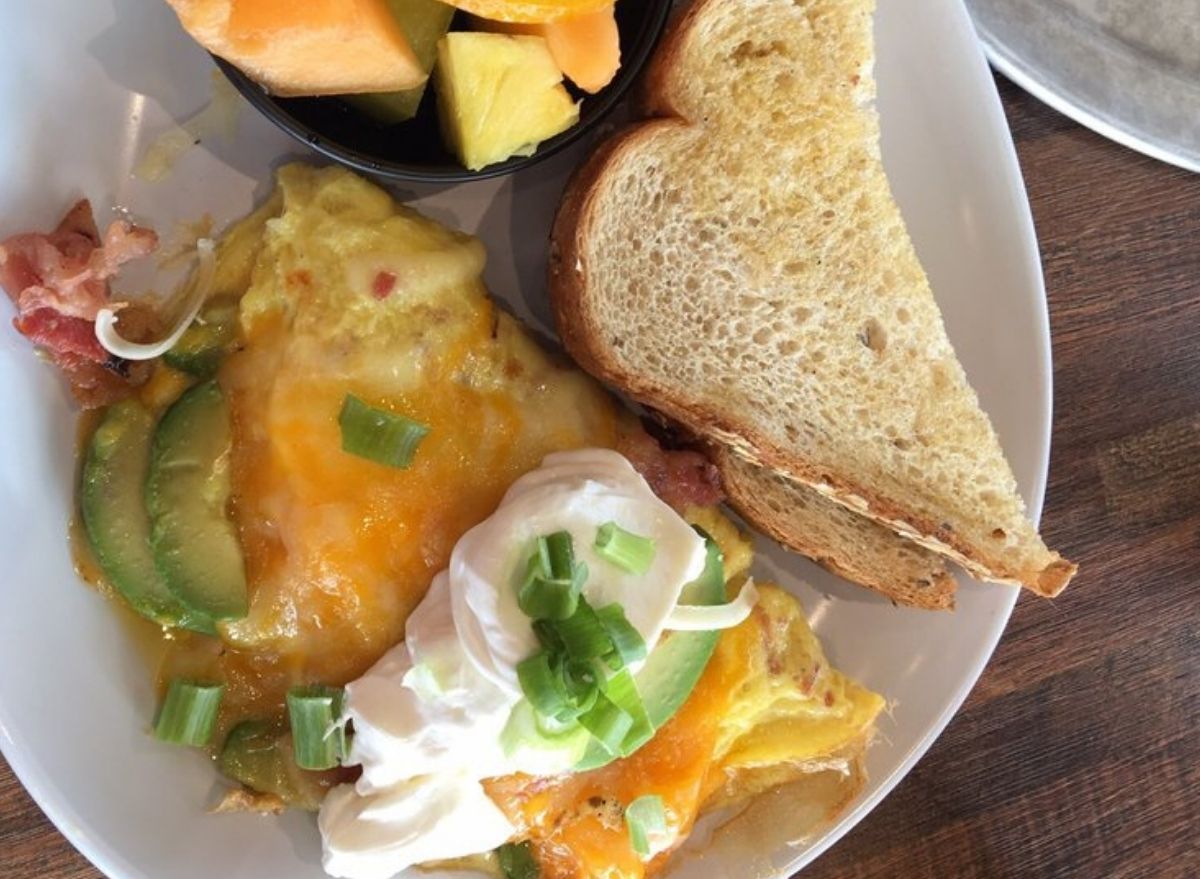 Made with fresh avocado, salsa, and melted cheese, City Egg's Awesome Avocado dish checks off all the boxes in what we are looking for in a delicious egg-based breakfast.6254a4d1642c605c54bf1cab17d50f1e
OKLAHOMA: Waffle Champion in Oklahoma City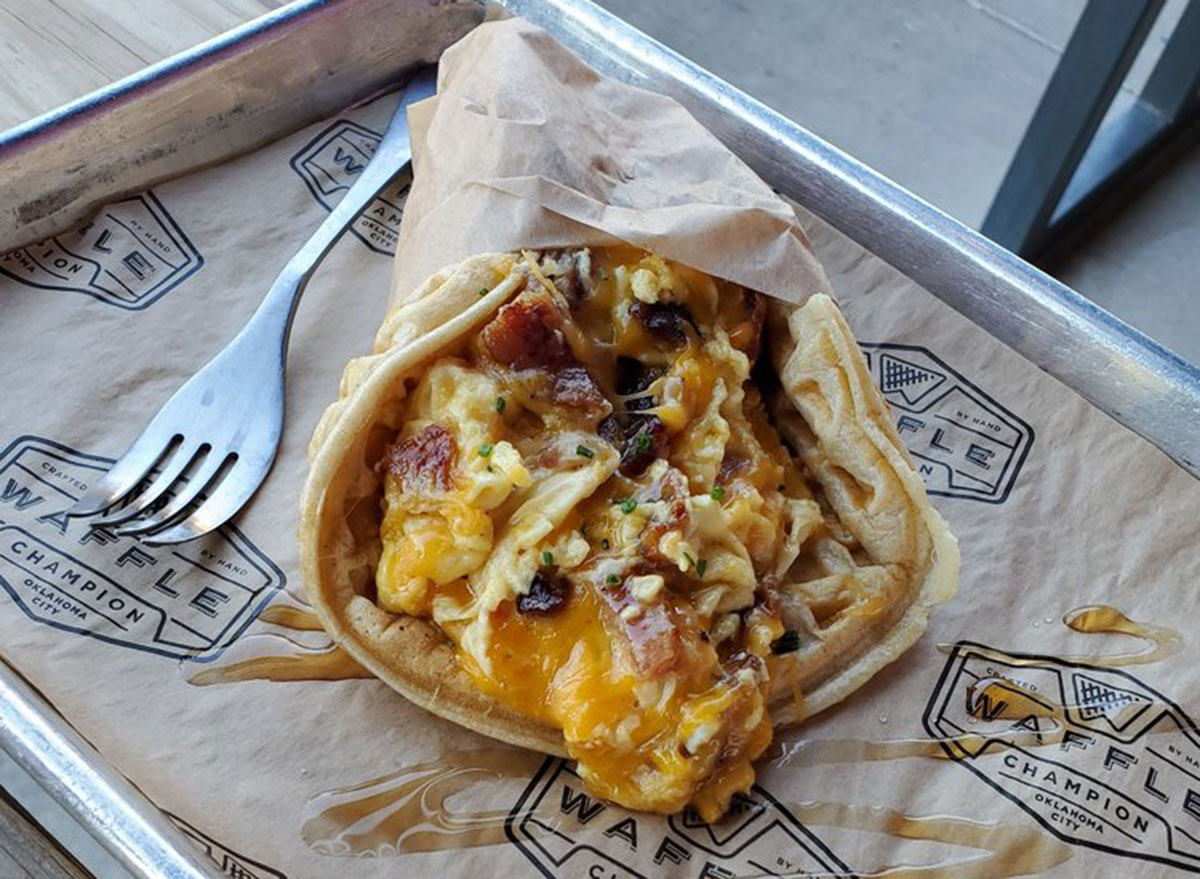 Not only does Waffle Champion have the best waffles in Oklahoma, but they have pretty great egg options, too. Be sure to pick up one of their bacon, egg, and cheddar sandwiches which are made using savory thick-cut bacon.
OREGON: McKay Cottage in Bend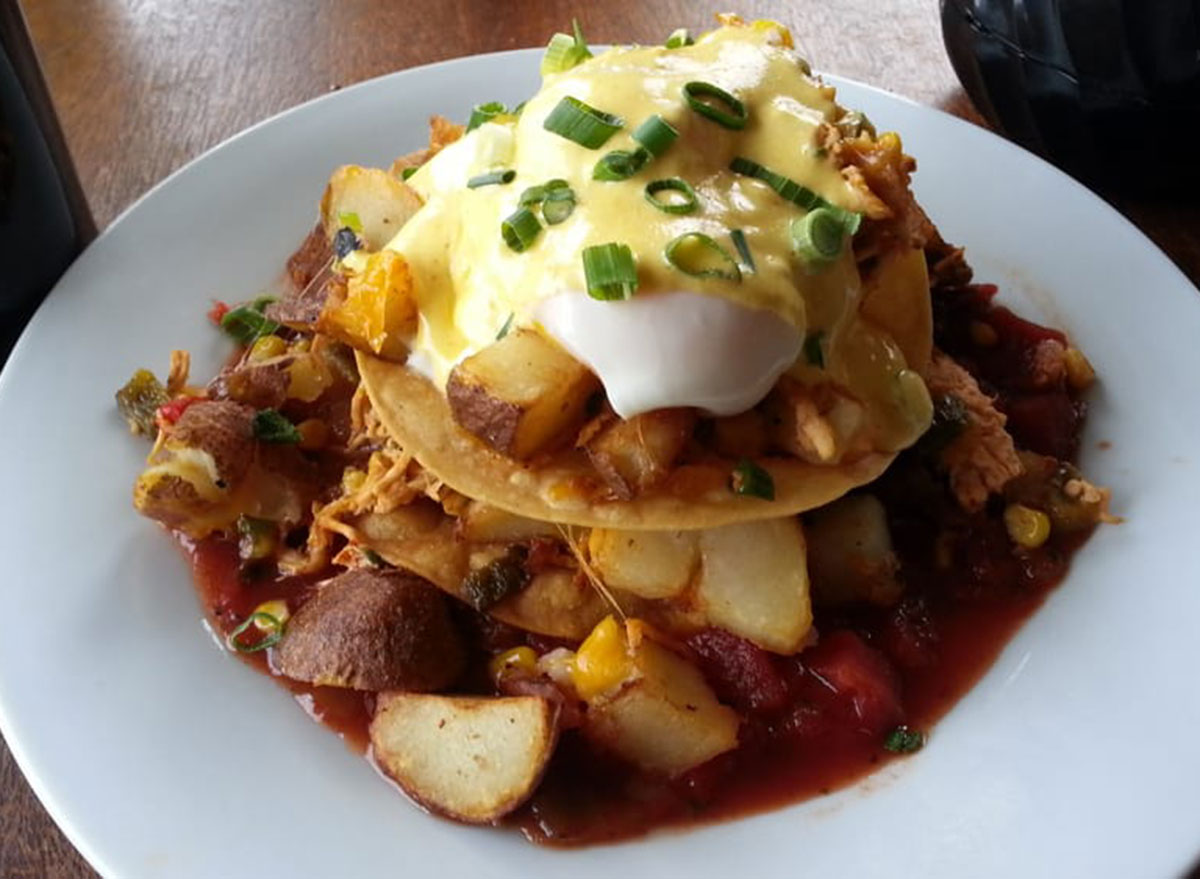 Housed in a classic 1916 craftsman bungalow, McKay Cottage in Oregon is a must-visit destination for delicious food in a homey setting. If you visit you must try a customer favorite, the Baja Chicken Hash Stack, which is made using crispy corn tortillas, pulled chicken, potato, poached eggs, and hollandaise sauce.
PENNSYLVANIA: Green Eggs Cafe in Philadelphia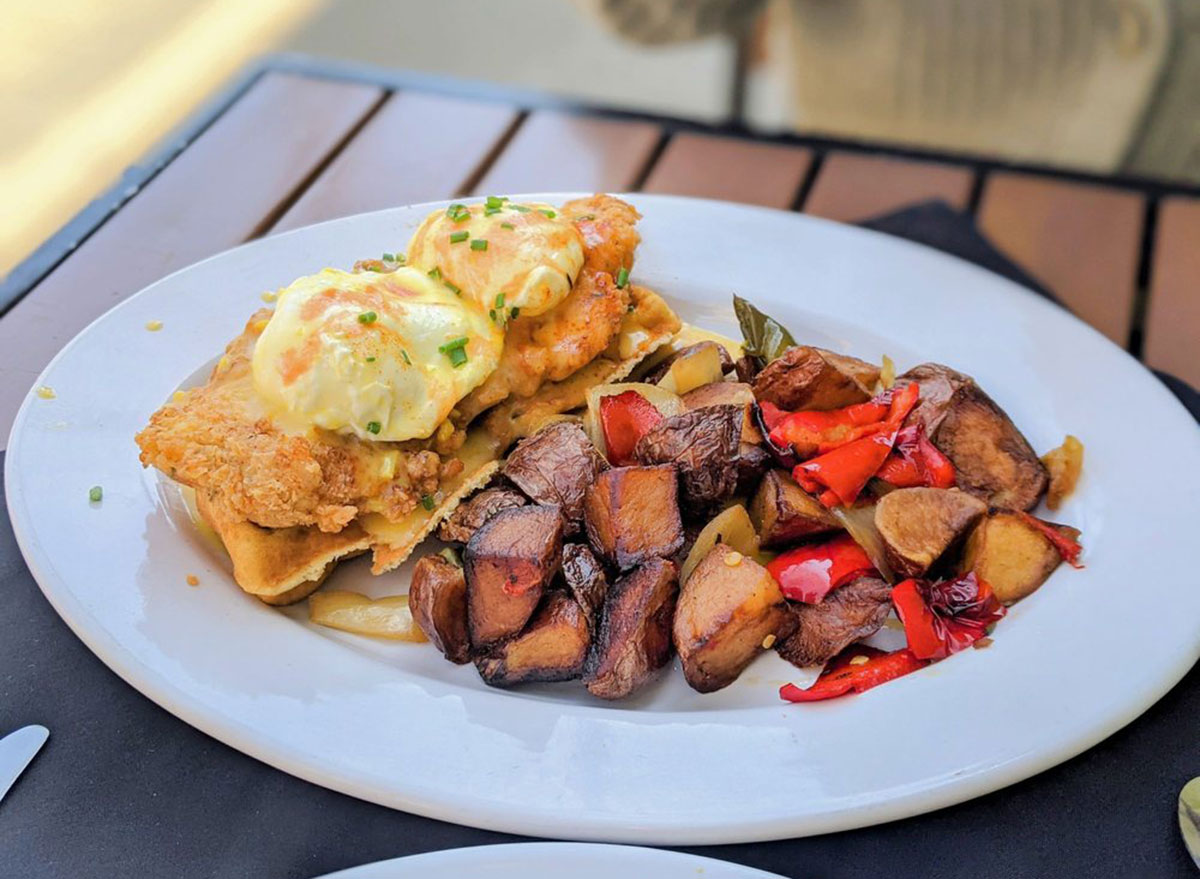 Green Eggs Cafe's Short Rib Benedict, made with braised short rib and a horseradish hollandaise sauce, sounds like a dream come true. Also don't miss out on their exciting menu of specialty drinks which has mouthwatering options such as Oreo lattes and tropical smoothies.
RHODE ISLAND: The Cozy Grill in Warwick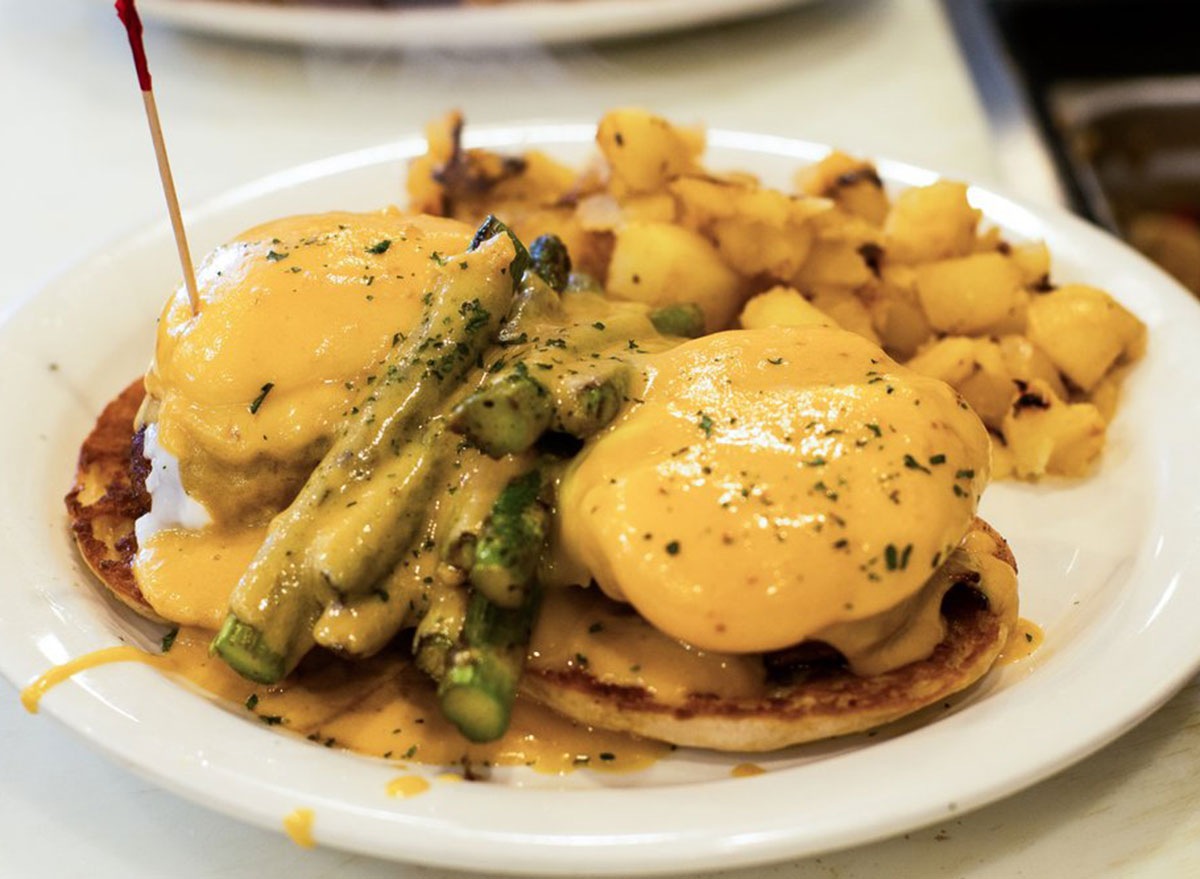 No breakfast visit to the Cozy Grill is complete without an order of their superbly seasoned eggs Benedict.
SOUTH CAROLINA: Eggs Up Grill in Myrtle Beach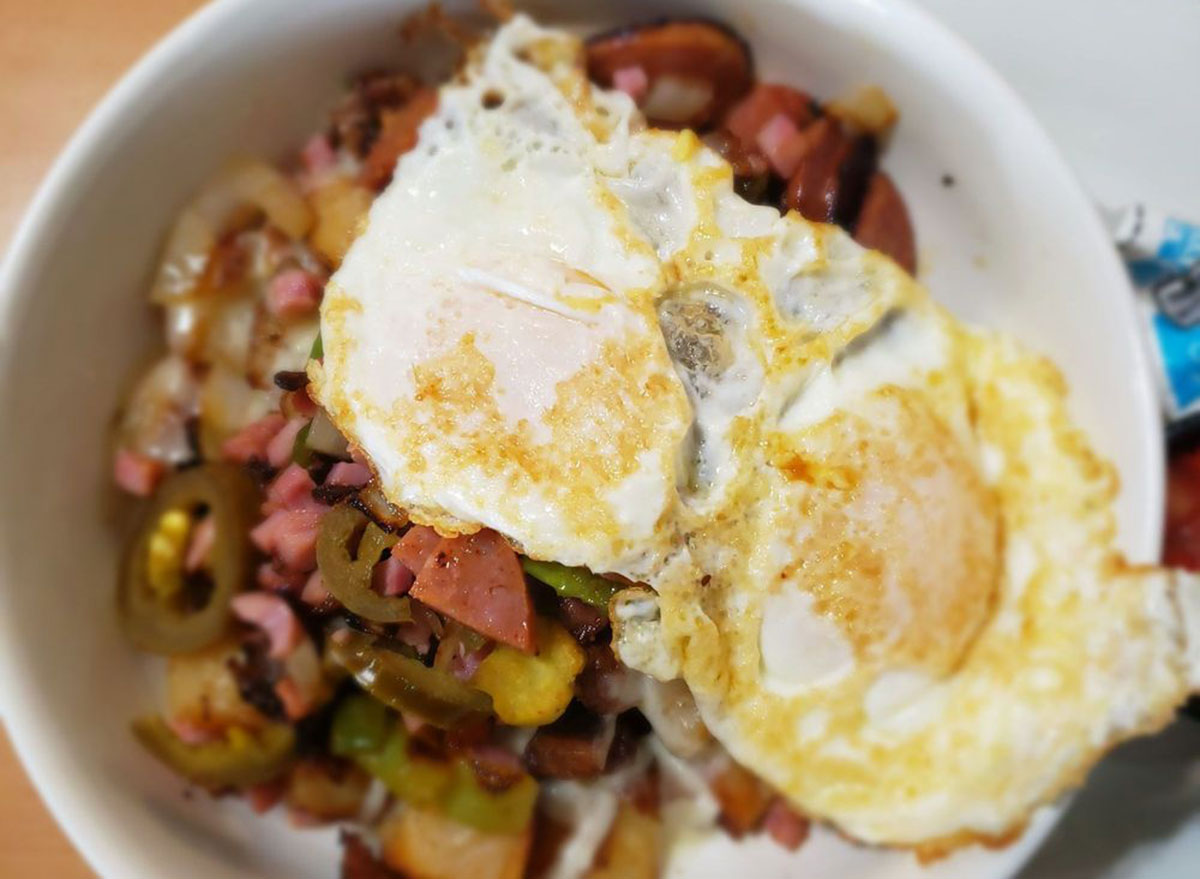 If you love steak for dinner then why not let loose and order it for breakfast, too? South Carolina's Eggs Up Grill in Myrtle Beach has a steak and eggs dish that has people talking. Made using a 6-ounce sirloin steak, grilled tomatoes, and garlic toast, this may just be the best way to start any day.
SOUTH DAKOTA: Baker's Bakery and Cafe in Custer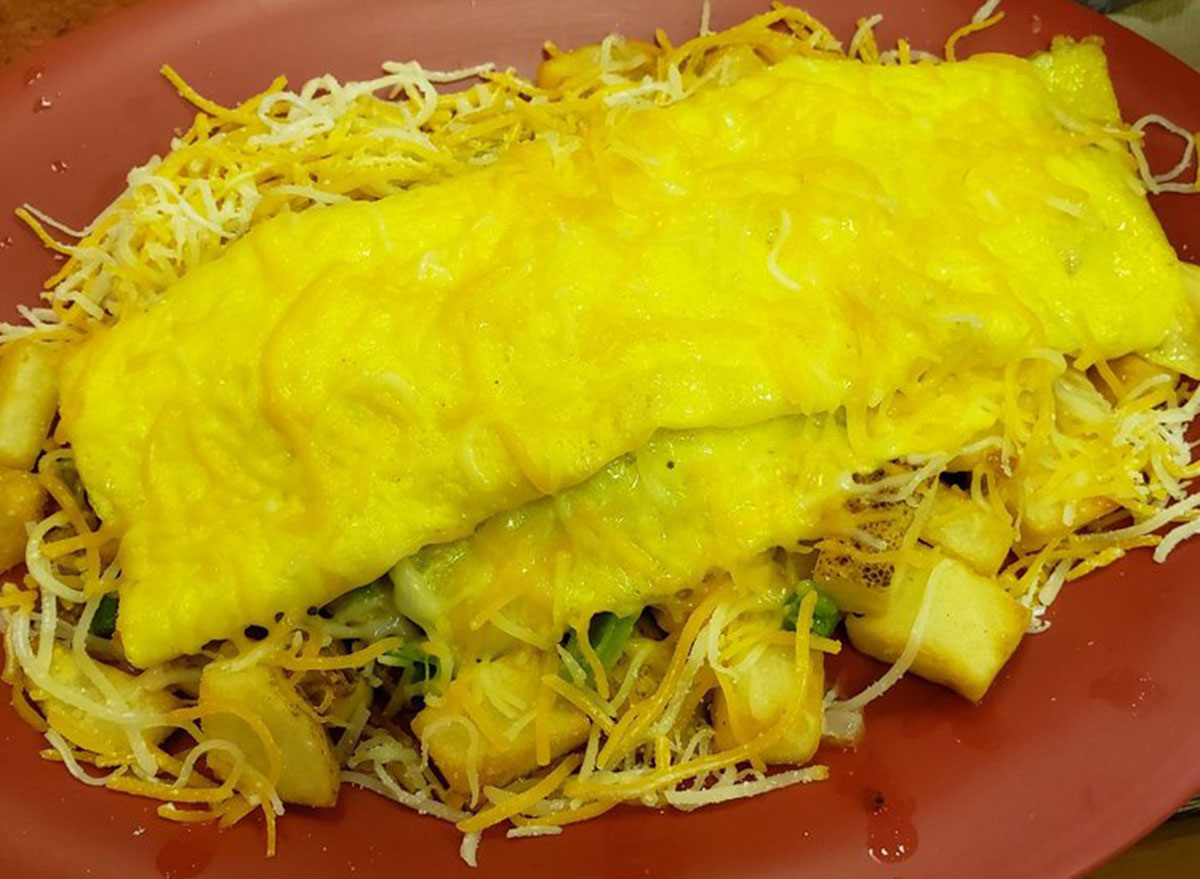 According to Everyday with Rachael Ray Magazine, the Baker's Bakery in South Dakota serves up the state's best breakfast—and it's no surprise. Their Western Omelet, which is served with salsa and is oozing with melted cheese, keeps people coming back.
TENNESSEE: Sky Blue Cafe in Nashville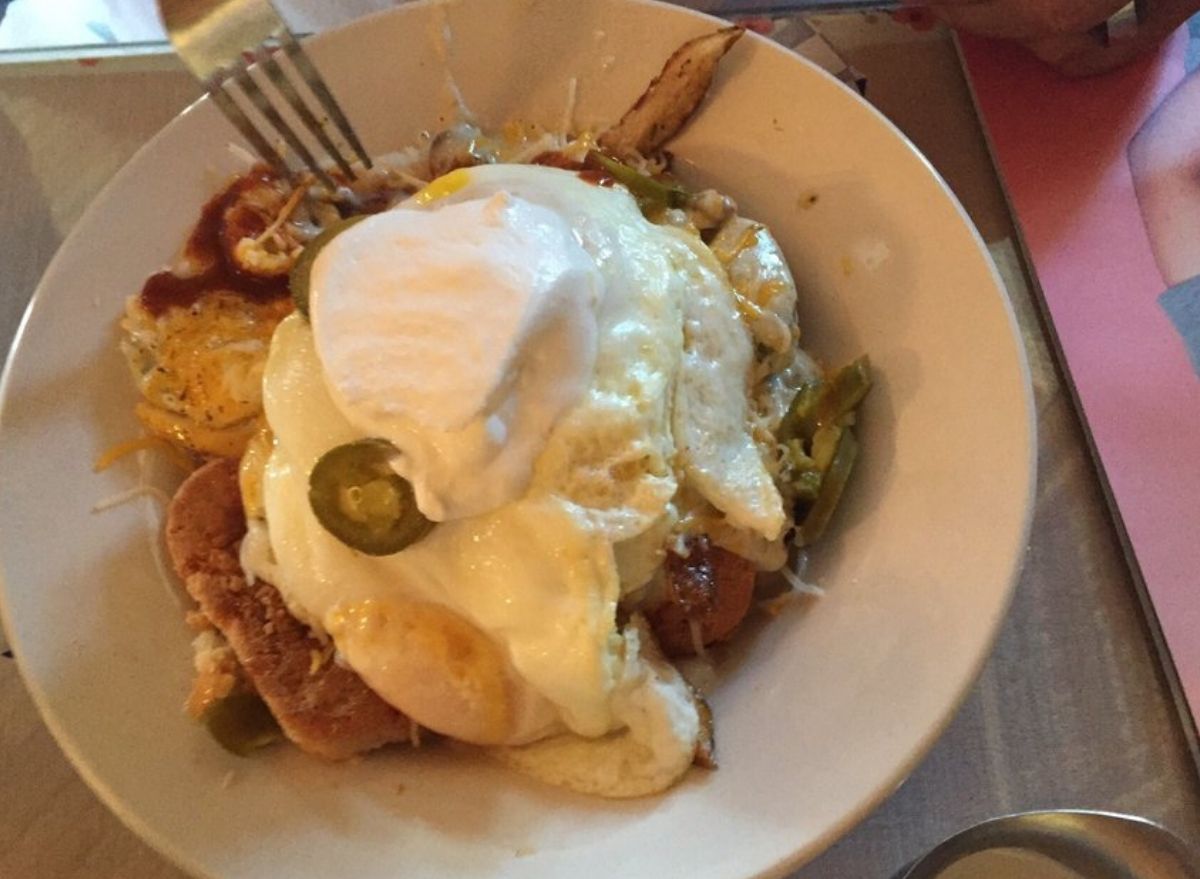 Em's Bowl, the breakfast bowl that is piled high with eggs, home fries, sausage gravy, and Colby jack, is the way to go at Sky Blue Cafe in Nashville.
TEXAS: The Breakfast Klub in Houston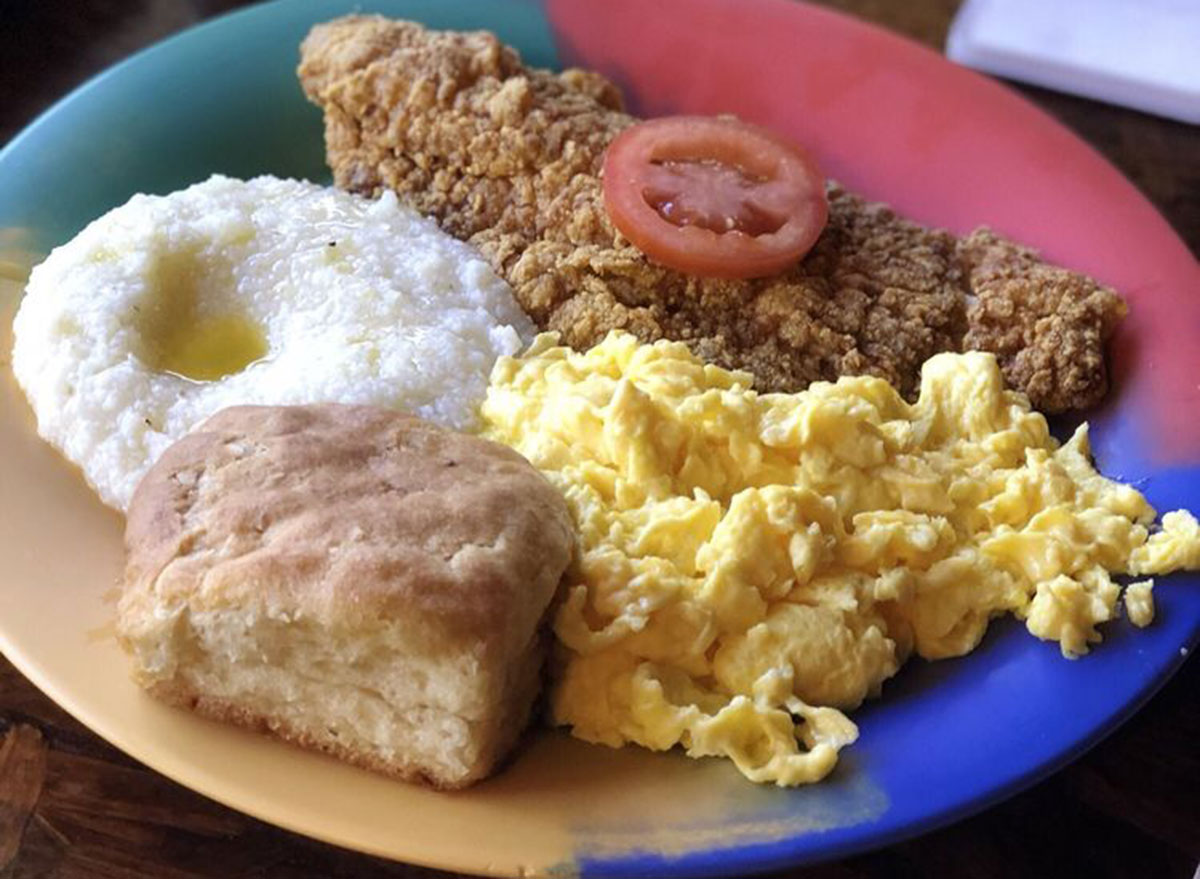 Everyone needs a little Breakfast Klub, and its pork chops and eggs breakfast option, in their life. Served with either potatoes or grits, this breakfast is top tier.
UTAH: Eggs in the City in Millcreek City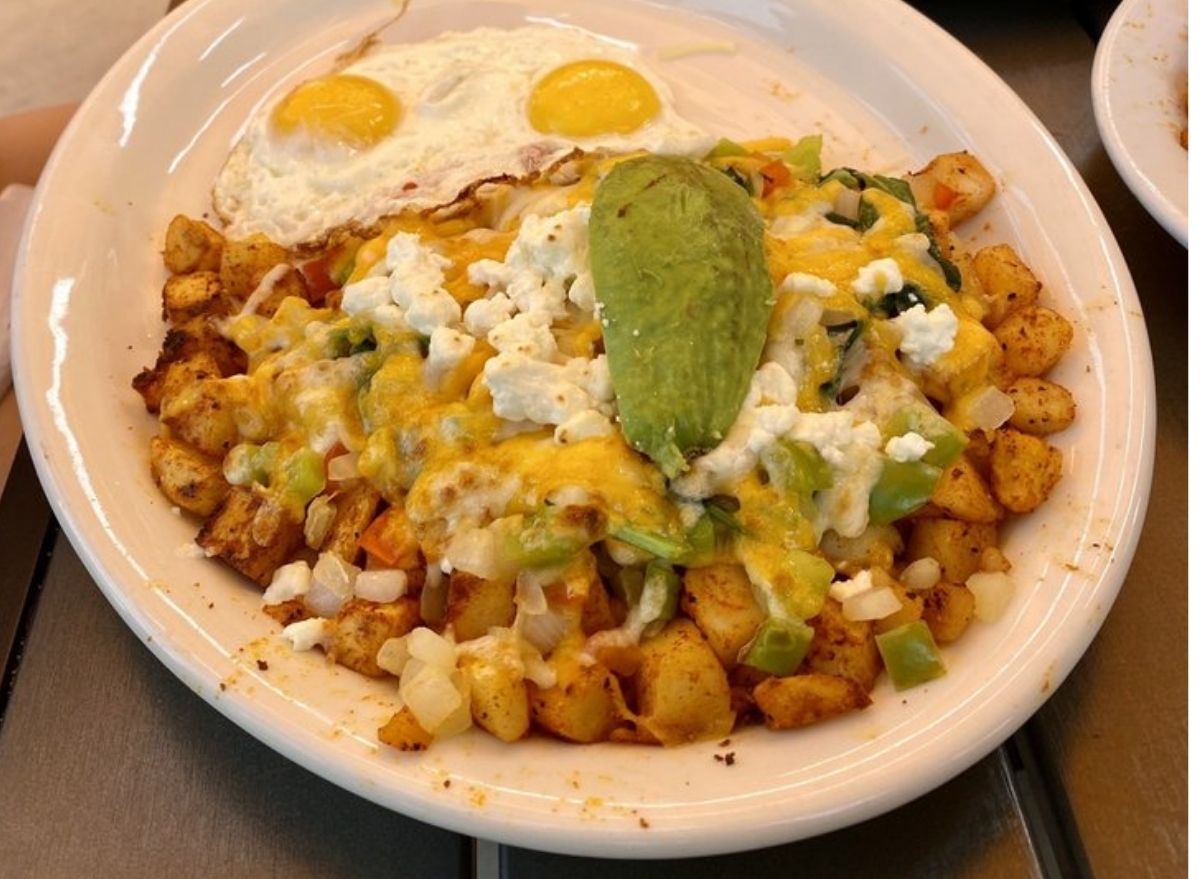 Right in the heart of Salt Lake City is Eggs in the City, a well-loved eatery that is housed in a former gas station. Greek salad ingredients make a welcome appearance in Eggs in the City's highly-rated Greek Skillet omelet, which is composed of fresh chopped vegetables, feta cheese, and an egg.
VERMONT: Sneakers Bistro in Winooski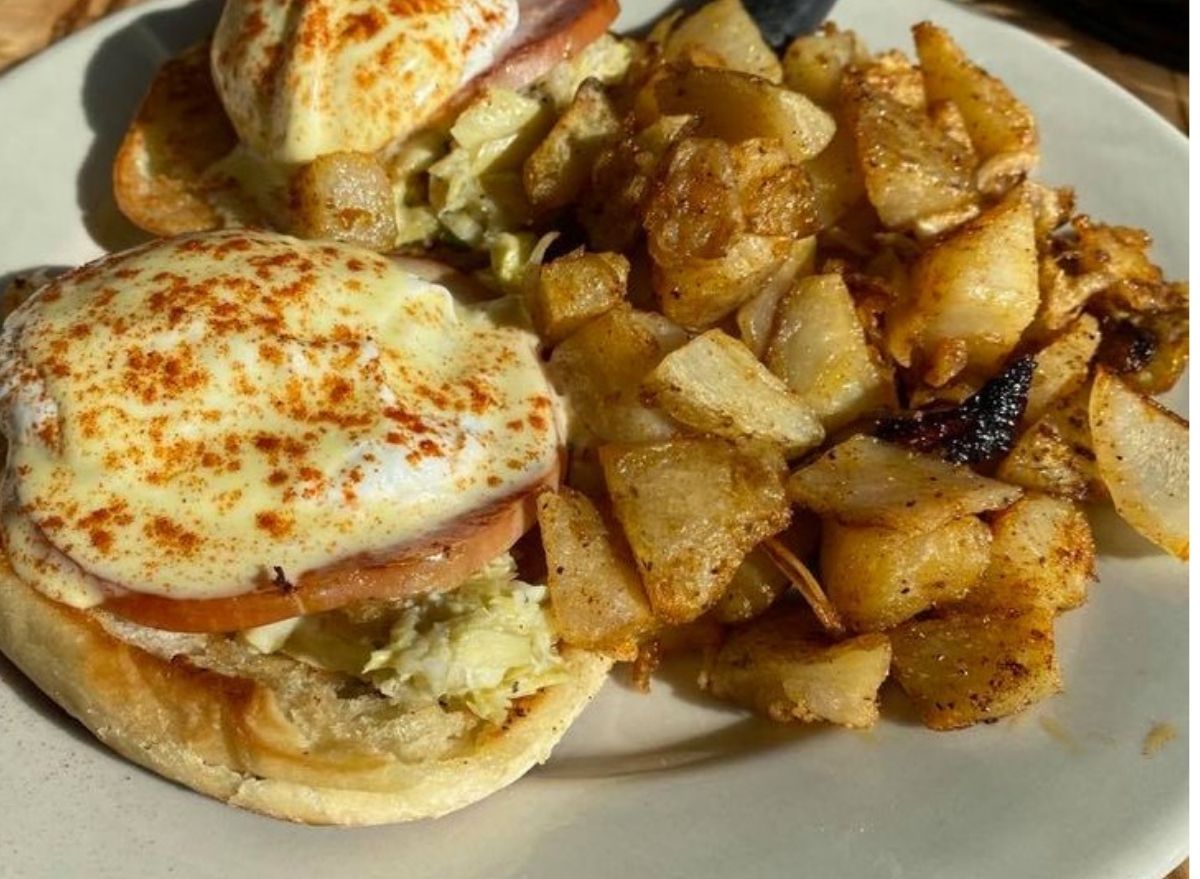 For over forty years, Sneakers in Vermont has been impressing customers with its eclectic breakfast menu and edgy bistro-style atmosphere. Anything you order will be delicious, but next time you go try out their famous Eggs Benedict—it's served with an artichoke pesto that really packs a punch.
VIRGINIA: The Egg Bistro in Virginia Beach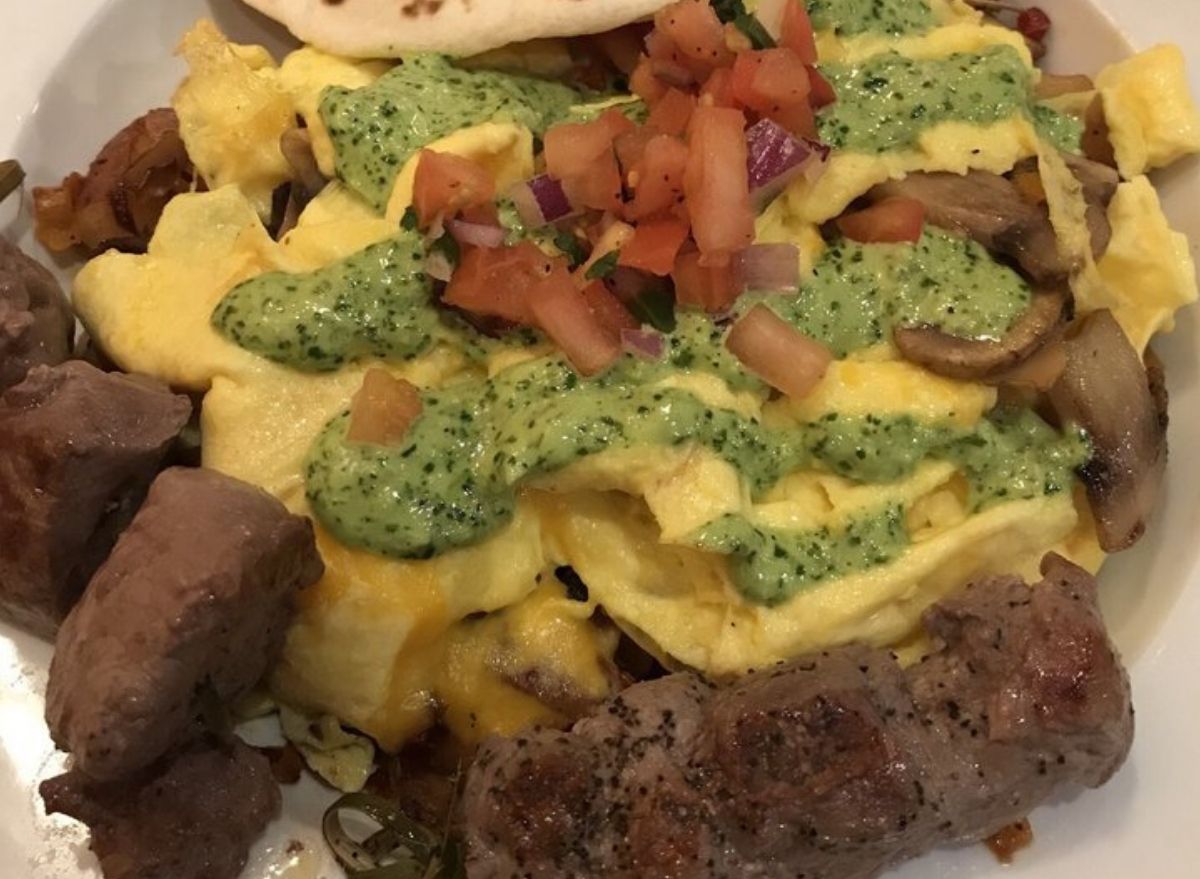 The Egg Bistro has won awards for their Bloody Mary cocktails, but it's their Dig In egg bowl that you need to try. Made using three eggs scrambled with fresh diced vegetables and cheese, and then served with home fries and your choice of meat, this highly recommended dish will keep you satisfied throughout the day.
WASHINGTON: Glo's in Seattle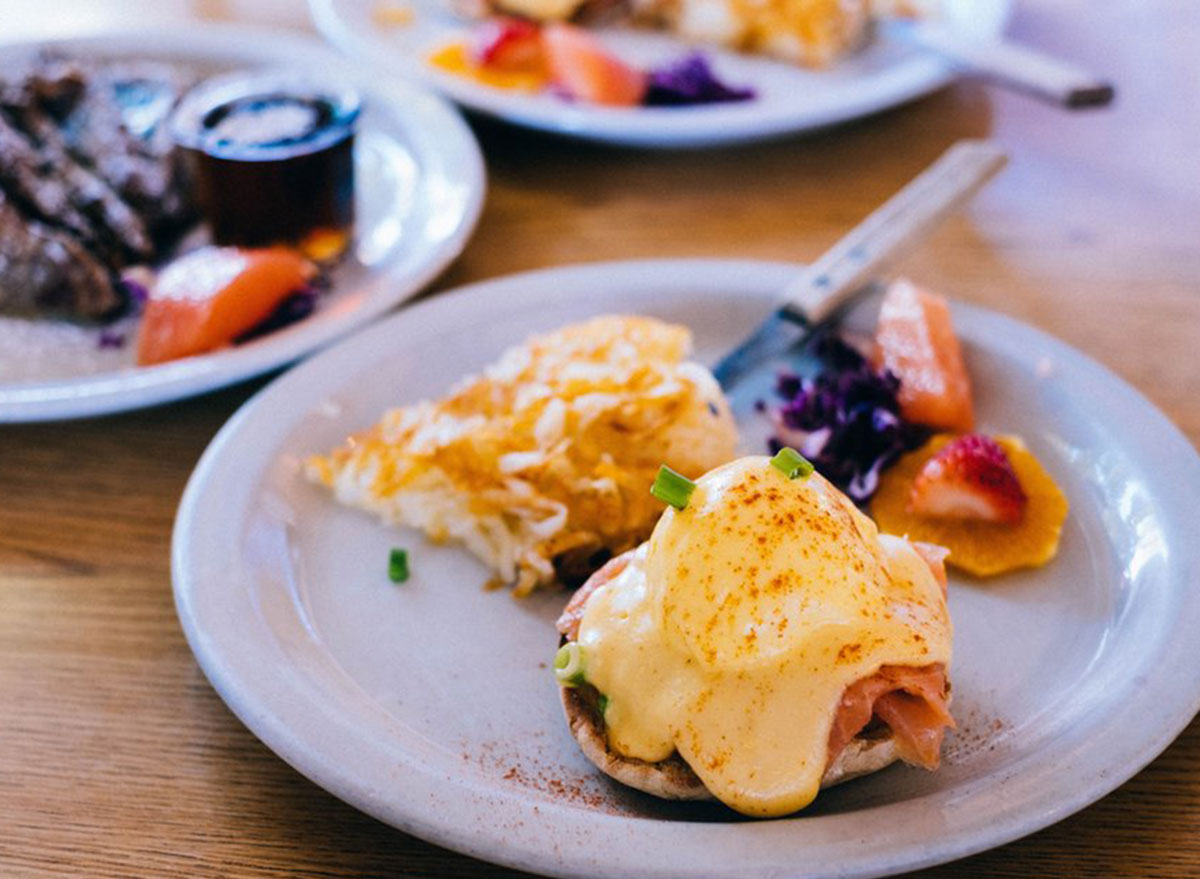 In 1987, Glo's opened up in Seattle and quickly became the spot for exceptional breakfast fare in a retro setting (we love their neon sign). They're famous for their variety of signature eggs Benedict options, so don't hold back. Hint: Their smoked salmon version has quite the following, so maybe start there.
WEST VIRGINIA: Iron Horse Tavern in Morgantown
Found just steps away from Morgantown's waterfront is Iron Horse Tavern, a buzzy West Virginia mainstay that serves fusion dishes, such as Bulgogi Pulled Pork Tacos, Tomato Basil Pierogies, and Roasted Poblano Hummus. Up there on their list of most coveted dishes is their Colonel Eggs Benedict, which includes a buttermilk biscuit, fried chicken fritters, honey
baked ham, and jalapeno gravy.
WISCONSIN: Blue's Egg in Milwaukee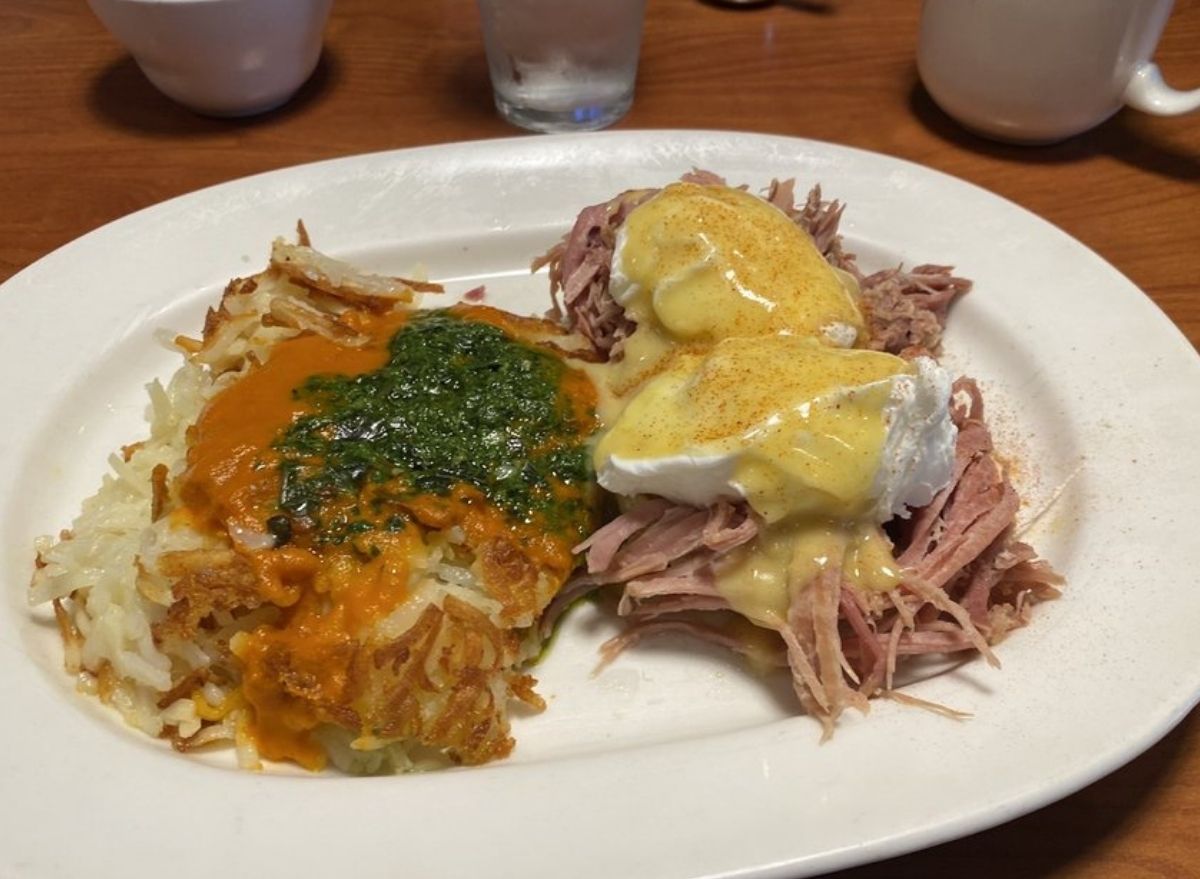 Located right in the bustling city of Milwaukee is Blue's Egg, the Wisconsin eatery that prides itself on crafting homemade American fare using Old World ingredients. During your visit here you can count on lip-smackingly good breakfast dishes, such as their Blue's Classic Benedict option that includes pulled ham and is served with hash browns.
WYOMING: Cafe Genevieve in Jackson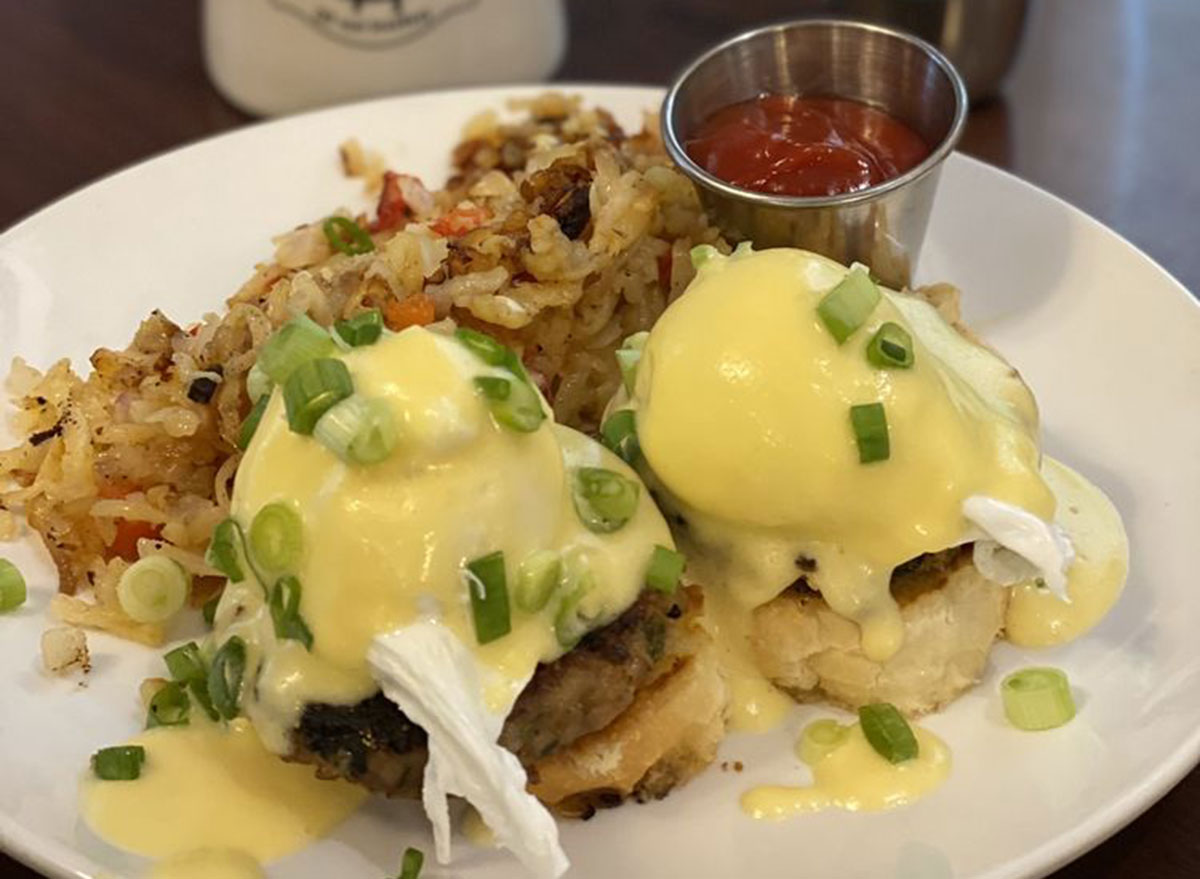 The highly-rated Cafe Genevieve, which is housed in a quaint log cabin in Jackson, has a breakfast menu filled with fantastic options. Among their items is Cajun Eggs Benedict, which comes with eggs, homemade Boudin sausage, a French baguette, and hash browns.
Read more: