The Best Farm-to-Table Restaurant in Every State
These restaurants work with local farms to bring the freshest produce, cheeses, and meats to your table.
Farm-to-table dining has picked up steam over the past few years as people have become more conscious about where their food comes from and want the same at restaurants. As you travel around the country, or if you're looking for something new to try in your own backyard, consider trying a farm-to-table restaurant. These restaurants work with local farms and purveyors, and sometimes even have a farm onsite, to bring the freshest produce, cheeses, meats, and specialty items into the kitchen and onto your table. These are the best farm-to-table restaurants in every state.
And if you're looking for something fun, check out The Best Themed Restaurant In Every State.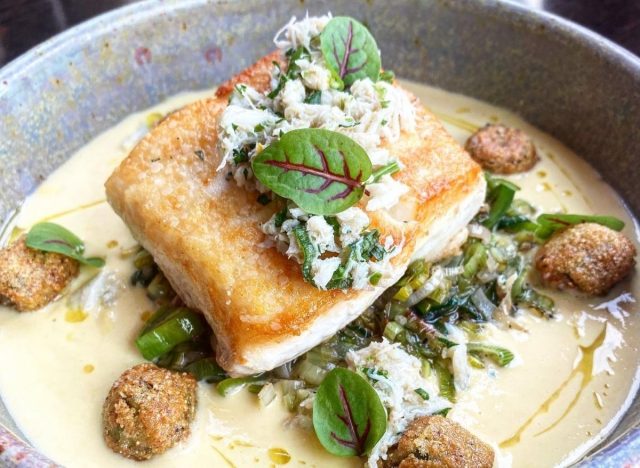 Acre is a southern restaurant with deep traditions, including having its own Toomer's Oak Tree, which is a genetic clone of the original tree that welcomes people to Auburn. The restaurant has an on-site garden where many of the vegetables for the kitchen are grown. Other items like meat and fish come from local fishermen and ranchers, and help to solidify Acre as an eco-conscious restaurant. Fans can't use enough superlatives. "Fantastic," "phenomenal," and "amazing," are thrown out in nearly every review.
ALASKA: Snow City Cafe in Anchorage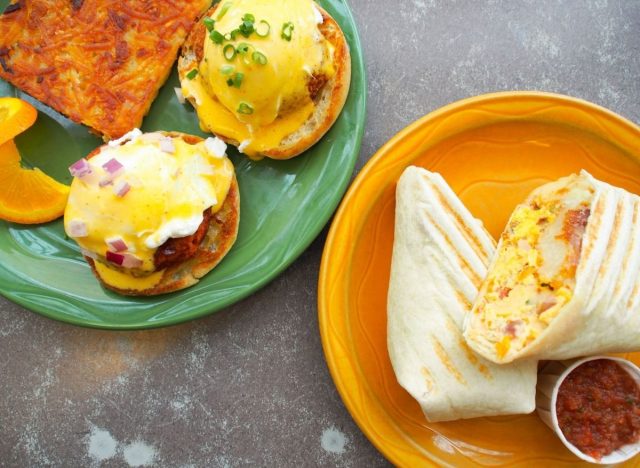 Snow City Cafe is a modern diner and brunch spot that has been visited by locals and U.S. presidents alike. The menu is filled with sustainably-minded dishes that are always prepared from scratch. Two items that guests can't seem to order enough are the salmon and crab eggs benedict and the sweet stuffed French toast. The restaurant is always busy, but don't be put off if you have the time. "There is always a line out the door at Snow City and, let me tell you, it's clear why. The food is SO good," gushed one reviewer.
ARIZONA: Harvest Restaurant in

Morristown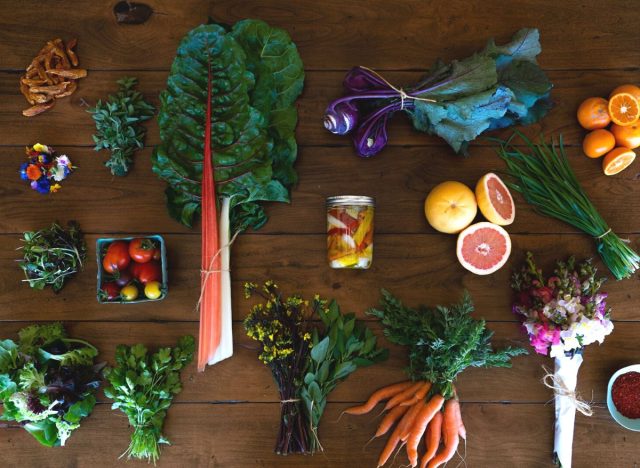 Harvest Restaurant is located at the wellness resort Castle Hot Springs. The grounds near the restaurant feature a farm and greenhouse, where most of the produce for Harvest Restaurant is grown. The greenhouse grows more than 30 types of heirloom tomatoes, and 36 types of citrus trees. Each night the menu changes based on what was picked that day from the gardens.
ARKANSAS: Bombadil's Cafe in Eureka Springs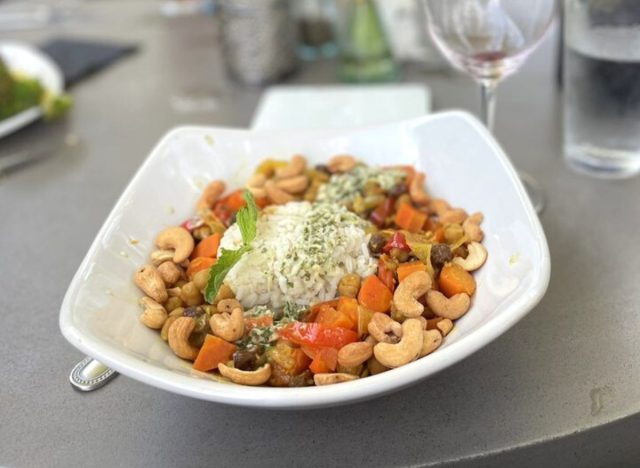 Bombadil's Cafe is known for its dishes made with fresh, sustainable ingredients along with humanely raised proteins. The restaurant's menu rotates frequently but some dishes that may appear include date and brie ribeye sliders, fried catfish with house-cut fries, or Caprese lasagna with three different cheeses and roasted tomatoes. The reviews are glowing, like this one, "Great food, great service, great atmosphere. Definitely recommend! Awesome vegan and pescatarian options."
CALIFORNIA: FIG in Santa Monica
FIG is located inside the Fairmont Miramar Hotel & Bungalows in Santa Monica. The restaurant is just one block away from the Santa Monica Farmers Market, which allows for 75% of all of the produce used in the restaurant to be locally sourced from the market. Dishes that continuously get praises are the sweet corn agnolotti with summer truffles and the diver scallops with delicata squash.
COLORADO: Bird and Jim in Estes Park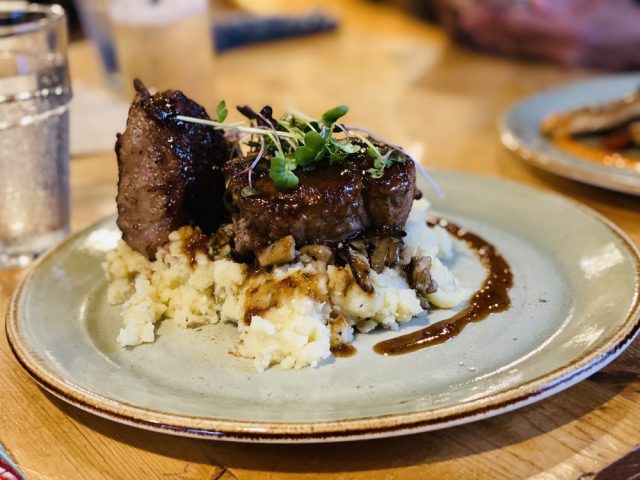 Bird and Jim is a farm-to-table dining experience where the menu is influenced by the farmers that the restaurant partners with. Each dish on the menu uses local, sustainable, and healthy ingredients by sourcing from local farms and ranchers. The menu has featured dishes like charcuterie boards with house-made pickles, and a white cheddar cheeseburger with hand-cut fries. The reviews are glowing overall but this one sums it up, "One of my favorite dining experiences in Colorado! This place is top notch."
DELAWARE: Snuff Mill Butchery in Wilmington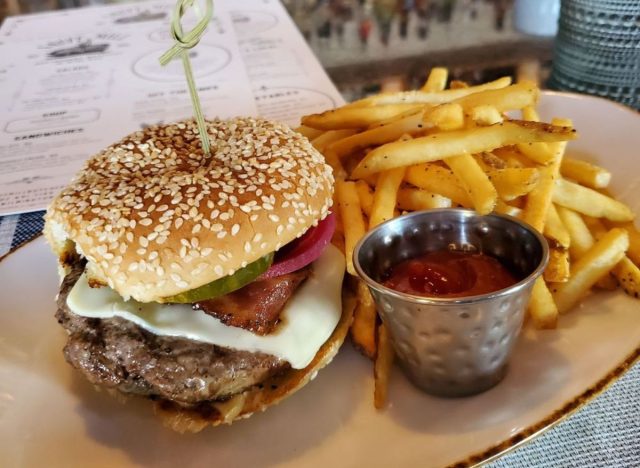 Snuff Mill Butchery is a restaurant and butcher shop. The restaurant works with local cheesemakers, farmers, and salumerias to create impeccable dishes that will keep you coming back for more. The menu has everything from gourmet burgers to bao buns with pork belly and a wide range of vegetables with an elevated twist. Do not leave without trying the truffled cream corn. This "hot spot" is all the rage and a reviewer confessed, "We were excited to see what all the fuss was about and to see if it was possible to live up to the serious and significant hype. Spoiler alert – it did. And then some."
FLORIDA: Whisper Creek Farm: The Kitchen in Orlando
The Grande Lakes Orlando hotel complex is home to Whisper Creek Farm: The Kitchen. The farm-to-table restaurant serves dishes like flatbreads, salads, and burgers, all of which use produce that is grown just steps away at the hotel's onsite garden. On occasion, the farm opens to guests to have a meal where they pick the produce and watch the chef make a meal out of it too. Reviewers can't get enough, one wrote, "​​The short ribs were the best piece of meat I've ever eaten in my life."
GEORGIA: Harvest on Main in Blue Ridge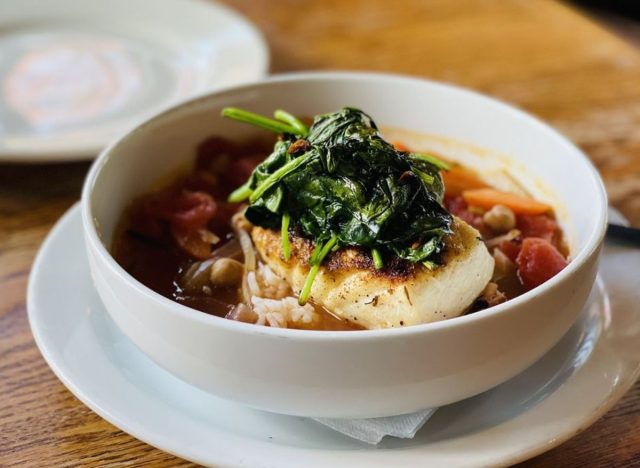 Harvest on Main is a beautiful restaurant with a lodge feel where you can get everything from an afternoon snack to an entire meal. The menu has globally inspired dishes including confit garlic and roasted red pepper hummus to share, and wild-caught gulf shrimp and grits as an entree. "Harvest on Main is a Blue Ridge must try. The atmosphere and service was second to none," wrote one reviewer.
HAWAII: The Kaimana Farm Cafein Honolulu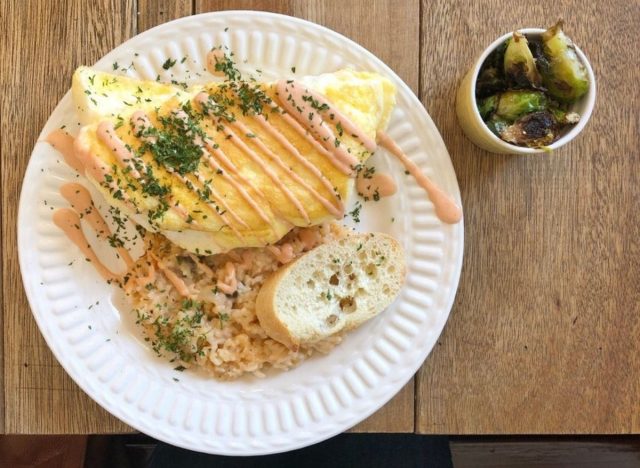 The Kaimana Farm Cafe is a farm-to-table fusion restaurant where American and Japanese cuisine is on full display. The restaurant uses all-natural, locally sourced ingredients for each of its dishes. The big draw at the restaurant is the bento boxes, which come with your choice of croquette or meat like purple sweet potato croquette or braised pork along with your choice of sides, rice, or a salad. Reviewers gush about the food but caution that this tiny place is easy to miss.6254a4d1642c605c54bf1cab17d50f1e
IDAHO: Fork in Boise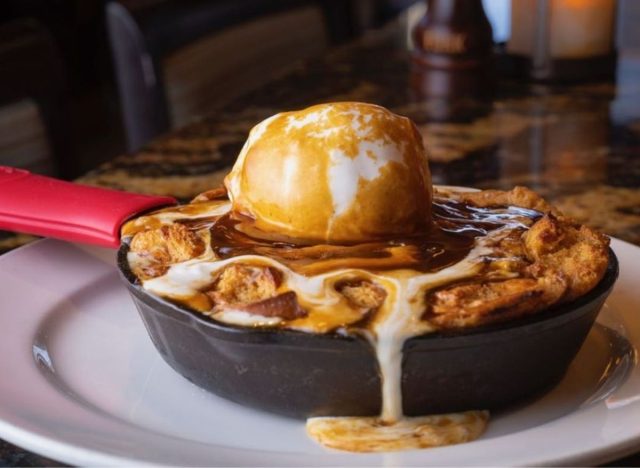 Fork is a farm-to-table restaurant in Boise. The restaurant focuses on bringing in ingredients from Boise and Northwest Idahoan farmers, distillers, brewers, cheesemakers, and more. Favorite menu items include the asparagus fries served with ranch, and the grown-up grilled cheese with artisan white cheddar and house-made smoked bacon and tomato jam. Reviewers rave about the photogenic food, but as one reviewer put it, "Fork is one of my favorite restaurants in Boise! The food is always prepared to perfection—photos don't do it justice."
ILLINOIS: Found Kitchen and Social House in Evanston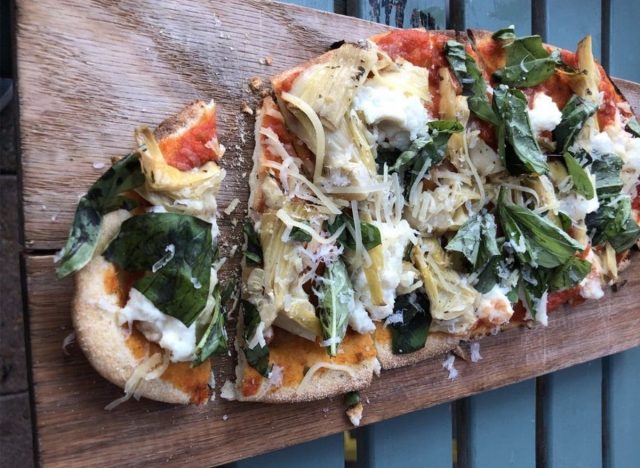 Found Kitchen and Social House is a shared plate, farm-to-table restaurant in Evanston. The menu is considered "flexitarian" with items like watermelon and heirloom tomato panzanella salad, and trout chilaquiles with tomatillos, pepitas, crema, and salsa verde. And diners love it, "Found is exceptional in just about every way. The food, the ambiance, the service – everything here has been masterfully designed and implemented by pros."
INDIANA: Eggshell Bistro in Carmel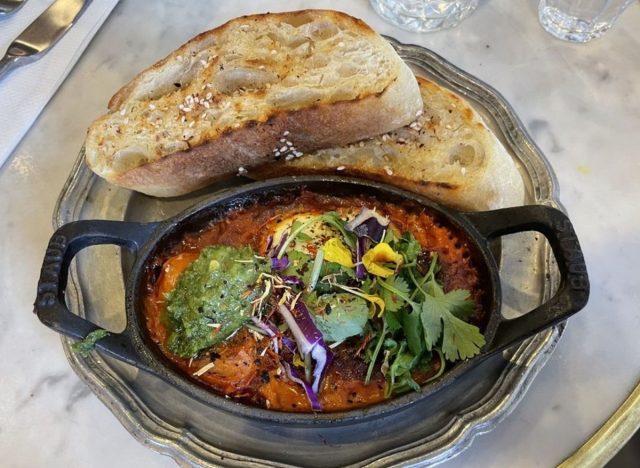 Eggshell Bistro is a farm-to-table brunch spot in Carmel. The globally-inspired menu rotates regularly with dishes like shakshuka made with kale and goat cheese, and an artichoke tart made with marinated artichokes, pancetta, and gruyere cheese. Besides the food, the espresso bar is a highlight for many where unique coffee experiences are part of the joy of going to Eggshell Bistro. "To say that the place is eclectic might be an understatement. It's unique, fun, and quirky," mused one reviewer.
IOWA: HOQ in Des Moines
Des Moines is home to HOQ, a restaurant dedicated to sustainability and local ingredients. In fact, approximately 90 percent of the ingredients used come from locally sourced purveyors. Start with the pierogies with local potatoes, white cheddar, and caramelized onions, and always ask about the weekly dinner feature that's an off-menu item curated each week by the chef. "The food was divine," raved one reviewer. "A gem in the Des Moines restaurant scene that the community definitely needs to support!"
KANSAS: Public at the Brickyard in Wichita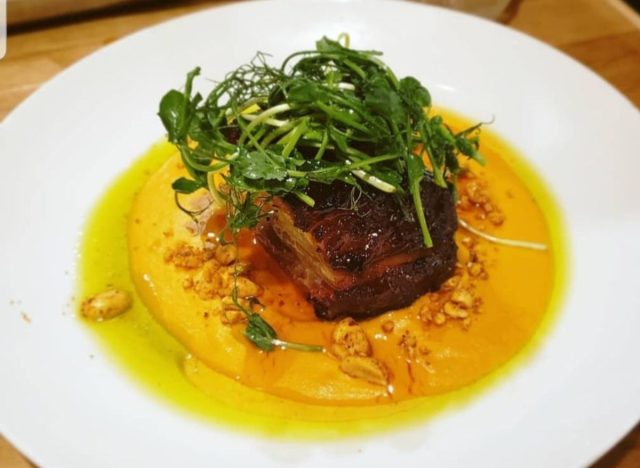 Public is a family-owned, farm-to-table restaurant that serves regionally sustainable ingredients with all of its dishes. Dinner is the main draw at the restaurant with dishes like smoked brisket with tortillas and pickled vegetables, and a chef's charcuterie board. Sunday brunch is a real treat here with items like biscuits and gravy made with cheddar and chive biscuits, and pastrami sandwiches served on rye bread with sauerkraut and Swiss cheese. "I have never had anything that wasn't wonderful," wrote one reviewer.
KENTUCKY: The Table in Louisville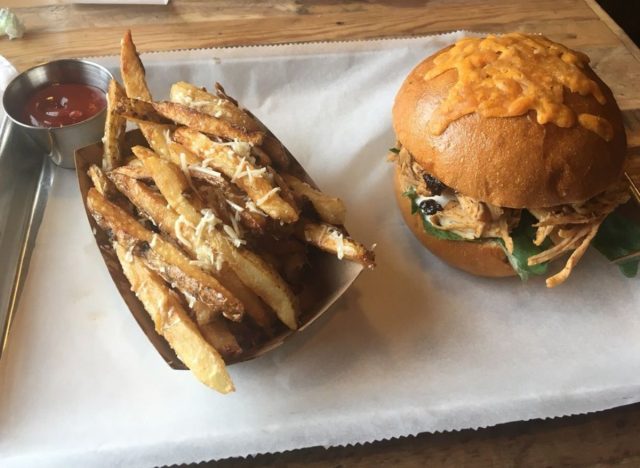 Louisville is home to The Table, a farm-to-table restaurant that doesn't have set menu prices. The restaurant is a pay-what-you-can establishment that strives to bring in people from all walks of life. The menu consists of dishes like smoked chicken sandwiches with bacon jam and smoked pork sandwiches with chow chow. "10/10 wow the food is yummy and the business model is wonderful. The food is insanely under priced for how scrumptious It was," wrote one satisfied customer.
LOUISIANA: Fat Calf Brasserie in Shreveport
Fat Calf Brasserie is a French-inspired Southern restaurant that uses locally sourced, seasonal ingredients when possible. Signature dishes at the restaurant include the Whipped Burrata Tartine, Mushroom-Stuffed Rabbit Leg, and the ultra-rich Butterscotch Pot de Creme. "What an amazing dining experience in Shreveport. This place is the real deal. Food is superb," gushed one reviewer.
MAINE: Earth at Hidden Pond in Kennebunkport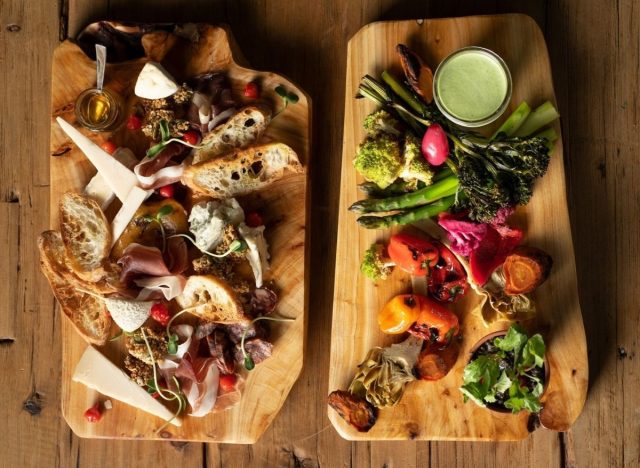 Earth is known for utilizing organic, seasonal ingredients in each of its dishes. The restaurant partners with local farmers and foragers to bring in a plethora of produce and specialty items that the restaurant can't source from its two on-site organic gardens. Dishes that have been featured on the menu in the past include mushroom toast with Boursin cheese and black truffle, and ricotta gnudi with squash. With a name like Earth, the place better live up to expectation, and it does according to reviewers, "Everything was absolutely incredible. Hands down the best dining experience I have ever had."
MARYLAND: Elkridge Furnace Inn in Elkridge
The Elkridge Furnace Inn is located in a historic building complex that dates back to 1744. The team at the farm-to-table restaurant has planted an array of fruits and vegetables in an on-site garden, all of which are featured on the menu. A few favorite items on the menu include the Farm-to-Table Tart, which is currently a black cherry tomato tart with housemade herbed ricotta cheese, and the gnocchi with house-smoked bacon. "Absolutely 100% amazing. One of the best dining experiences I've ever had," raved one reviewer.
MASSACHUSETTS: Deadhorse Hill in Worcester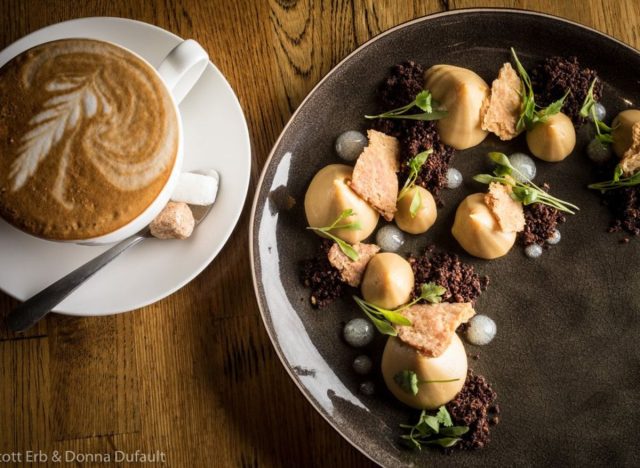 Deadhorse Hill is known for its creative menu with dishes that lean in almost every culinary direction from French to Japanese and Italian. The seasonal menu changes often based on what's available to the chefs. Dishes that have been featured in the past include grilled swordfish with Asian pears and rice and duck confit with garlic and grapefruit. Diners don't have enough nice things to say. "Some of the best service and best tasting food I've experienced, maybe ever," gushed one.
MICHIGAN: Sylvan Table in Sylvan Lake
Sylvan Table is known for its rustic, global cuisine made from ingredients sourced from the on-site gardens and local purveyors. The restaurant is housed in a 300-year-old barn that's been completely refurbished into a warm and inviting restaurant. Some items that have been popular on the menu here are the roasted oysters with apple and kohlrabi slaw, and the trout with ginger black rice. Diners love the approachable, delicious food. "There are not many places in the area like Sylvan Table. The food is unique with a twist of confortability, so you are not eating dishes that are too weird to understand," wrote one.
MINNESOTA: Farmers Kitchen and Bar in Minneapolis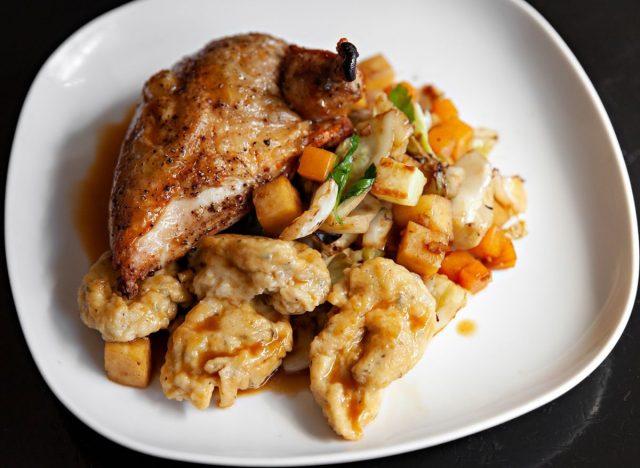 Farmers Kitchen and Bar is a unique concept because it's wholly owned and operated by the Minnesota Farmers Union. The restaurant serves breakfast, lunch, and dinner and has a nice selection of grab-and-go items from local food artisans. Favorite all-day dishes include the seasonal bruschetta, with toppings that were hand-selected that day, and fried chicken with herbed buttermilk dressing.
MISSISSIPPI: Relish Bistro in Vicksburg
Relish Bistro is a farm-to-table restaurant in Vicksburg. The team behind the restaurant strives to bring the freshest local ingredients from the farm to the plate for diners to enjoy. Menu items include everything from the sweet and savory fig and prosciutto flatbread to an oyster po'boy with roasted garlic aioli. "Amazing experience! The service was great and the food was delicious. Feels like fine-dining in a casual, comfortable environment," wrote one reviewer.
MISSOURI: Bulrush in St. Louis
Fine dining and the farm-to-table mentality come together at Bulrush. The restaurant uses almost exclusively located farmed and foraged products on its menu, including heirloom produce that hasn't been used in generations. They call this "hyper-seasonal." Besides being farm-to-table the restaurant is also zero-waste and only throws away about five to ten gallons of waste a week. Diners rave about the unique experience, "Bulrush is truly a gem in STL. They are redefining Ozark cuisine by exploring the late 18th and 19th century."
MONTANA: Horn and Cantle in Big Sky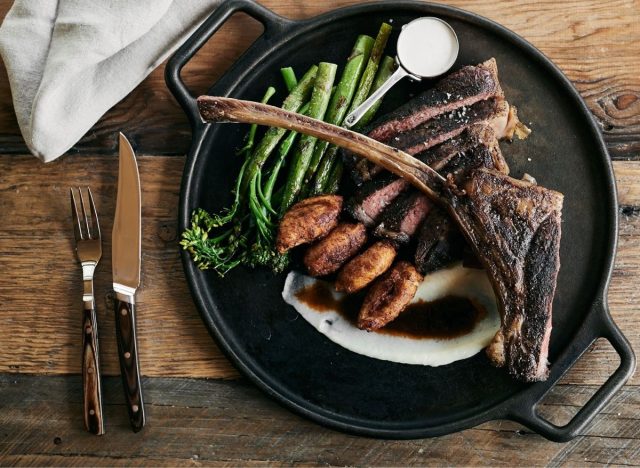 Horn and Cantle highlights the wild game of Montana including elk, lamb, and bison. The restaurant features floor-to-ceiling windows that allow the bright Montana skies to flood the restaurant with light. Highlights on the menu include Japanese A5 Wagyu tartare, elk meatballs, and a massive tomahawk steak which is served with the chef's choice of sides. "Easily one of the top and most memorable meals we've ever eaten! Every aspect, from the community fire pits out front to the twinkling string lights on the open-air patio, the Montana-perfect decor inside, and the thoughtfully-designed menu, is top-notch," rave one reviewer.
NEBRASKA: Hub Cafe in Lincoln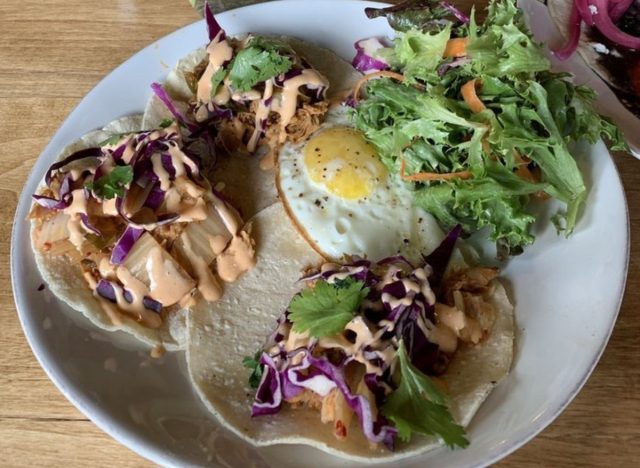 Hub Cafe is only open for breakfast and lunch, and locals line up for the farm-to-fork meals the restaurant is serving. While you can get the typical eggs or French toast here, all of which is sourced from local purveyors, other star menu items include Huevos Rancheros with freshly made feta cheese and pickled onions, and the Chicken Bulgogi Tacos with house-made kimchi.
NEVADA: Campo in Reno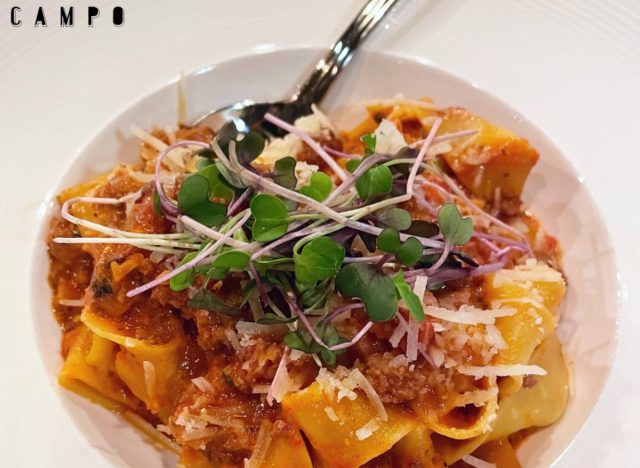 Campo is an Italian farm-to-table experience in Reno. The restaurant specializes in homemade pastas, house-made salumi, and wood-fired pizzas. Diners can't get enough of the Bucatini Carbonara and the Lobster & Scallop Risotto with saffron and sunchokes.
NEW HAMPSHIRE: Table and Tonic Farm Cafe in North Conway
Table and Tonic Farm Cafe sources its vegetables from the owner's farm, which is just up the road from the restaurant. The local favorite is only open for breakfast and lunch, and features everything from freshly pressed juices and sustainable beer and wine. For breakfast grab a breakfast sandwich which is made with organic eggs and sourdough bread, and for lunch get the classic BLT with locally sourced bacon. One review called it, "An oasis in North Conway crowds."
NEW JERSEY: 12 Farms Restaurant in Hightstown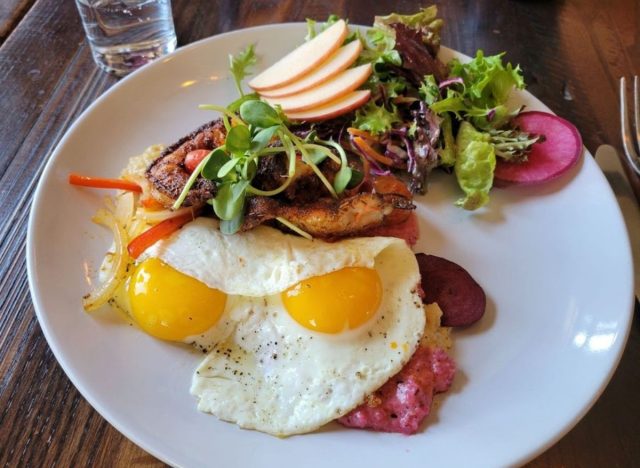 12 Farms Restaurant features ingredients from family-run farms to create dishes that continue to bring guests back time and time again. The restaurant will create custom meals for most diets including vegan, vegetarian, and gluten-free. Brunch is the real star of the restaurant with dishes like Brioche Donuts, Wild Boar Benedict, and Baked Cinnamon Custard French Toast. One reviewer dubbed it, "A foodies dream."
NEW MEXICO: Farm and Table in Albuquerque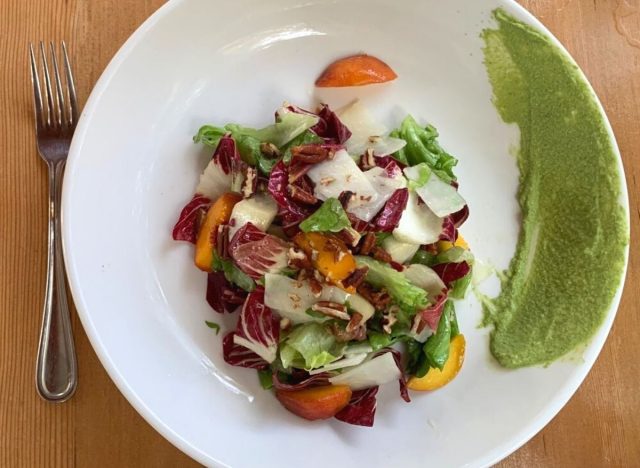 If you're traveling through Albuquerque consider a stop at Farm and Table. The 12-acre property features a large farm where the chefs can grow produce and raise cows to make milk and cheeses for the menu. The menu leans modern American, with ingredients being sourced from local farmers, ranchers, and artisans. Favorite dishes include pork tenderloin with farro and butternut squash and chicken with green chiles and polenta. Reviewers rave about the experience, one writing, "Understated restaurant name with top line menu, food preparation, service."
NEW YORK: North Fork Table and Inn in Southold
North Fork Table and Inn celebrates the harvest of Long Island's farms, waterways, and vineyards. While the main dining room does require reservations, bar seating is first come, first served and each has its own farm-to-table menu. One dish that's a highlight on the dining room menu is the Grilled Maitake Mushroom, which is served with tomato miso risotto, roasted peppers, and herb relish.
NORTH CAROLINA: Asheville Proper in Asheville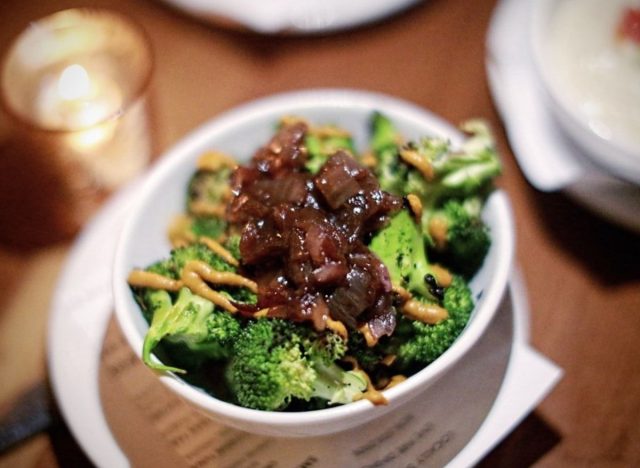 Asheville Proper is Asheville's only steakhouse, but when it's the best the city doesn't really need another one. The menu boasts seasonal, farm-to-table dishes that are made over a hardwood-fueled grill and often change nightly. Locals can't get enough of the Charred BBQ Watermelon which is served with shrimp, goat cheese, and a balsamic reduction, along with the open fire-grilled New York strip steak.
NORTH DAKOTA: Butterhorn Restaurant in Bismarck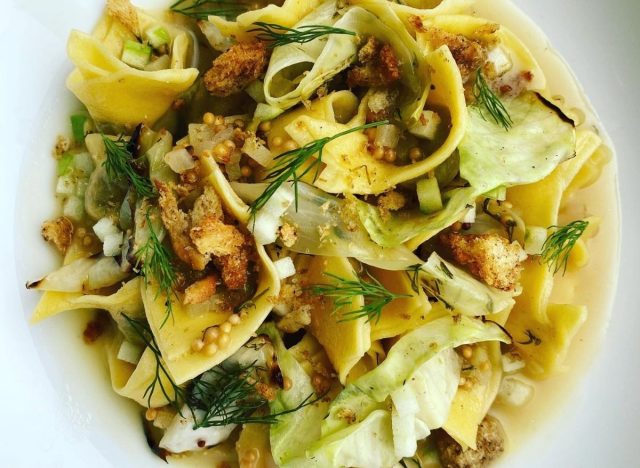 Butterhorn Restaurant is located in Bismarck, and has been bringing fresh farm-to-table cuisine to the area since 2017. The dinner menu features hearty dishes like beef stroganoff pappardelle pasta and a seared filet mignon with celery root, asparagus, and horseradish cream sauce. Diners agree that this is the best spot in Bismark. "This is the place you dreamed about stumbling upon in Bismarck if you are a foody like me," wrote one.
OHIO: The Flying Fig in Cleveland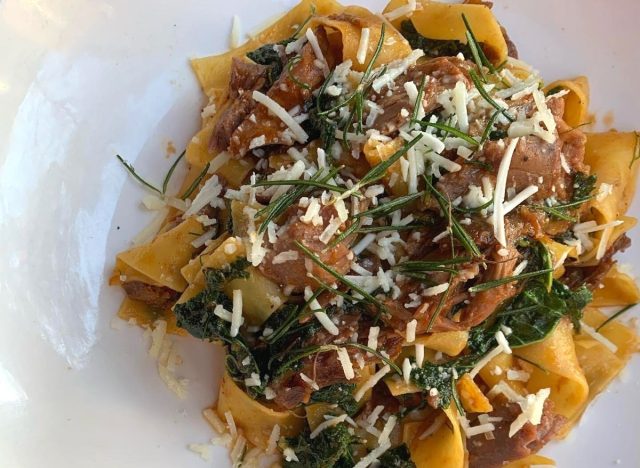 The Flying Fig is helmed by Chef Karen Small, who has been locally sourcing ingredients since 1999. The restaurant uses ingredients from local farms, orchards, butchers, and food artisans to create dishes like lamb pappardelle with fried rosemary, and corn and andouille cioppino with heirloom tomatoes. "We were just blown away by the quality and marriage of flavors of what seemed a simple order," wrote one reviewer.
OKLAHOMA: Juniper in Tulsa
Juniper is an award-winning farm-to-table restaurant in Tulsa. The modern restaurant leans into seasonal menus that change weekly, along with craft cocktails that use house-infused spirits. The menu has featured dishes like Autumn Risotto with squash and root vegetables, and Fig Glazed Duck Breast in the past. Fans raved about the place, one writing, "This place is fantastic. The food is out of this world and the service is superb and the atmosphere is upscale yet comfortable."
OREGON: MÄS in Ashland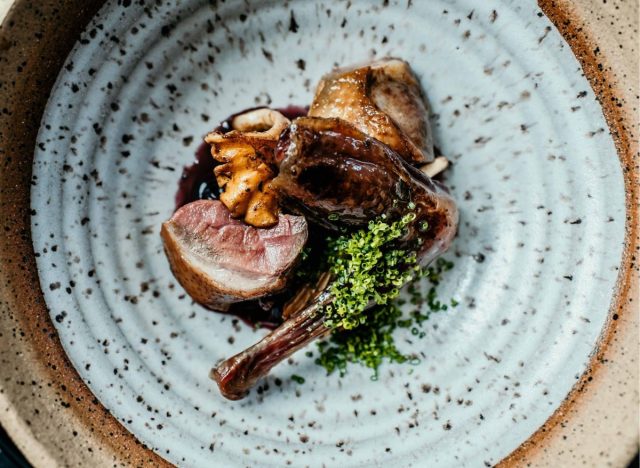 MÄS is all about celebrating the seasonal ingredients that grow in the Cascadia region of Oregon. The restaurant offers a few dining experiences including a tasting menu in the main dining room or a chef's counter for a completely personalized experience. A few dishes that have appeared on the tasting menu include spot prawns with cucumber and chili, eggplant that's been braised in dashi broth and uni with brioche and caviar. This place is for serious foodies, says one reviewer, "If you want a memorable, unique-for-Southern-Oregon, curated bite-by-bite, culinary experience, where each entree is meticulously crafted with tweezers and eye droppers, then you ought to give MÄS a spin."
PENNSYLVANIA: Old Tioga Farm in Stillwater
Old Tioga Farm is a real working farm where seasonal ingredients are turned into a prix fixe tasting menu. Each night only 18 guests are served, which allows for high-quality Italian-centric food to be presented with plenty of attention to detail. Each month the menu is updated with what's in season, and features dishes like braised mushrooms with polenta and ravioli with butter and sage.
RHODE ISLAND: The Salted Slate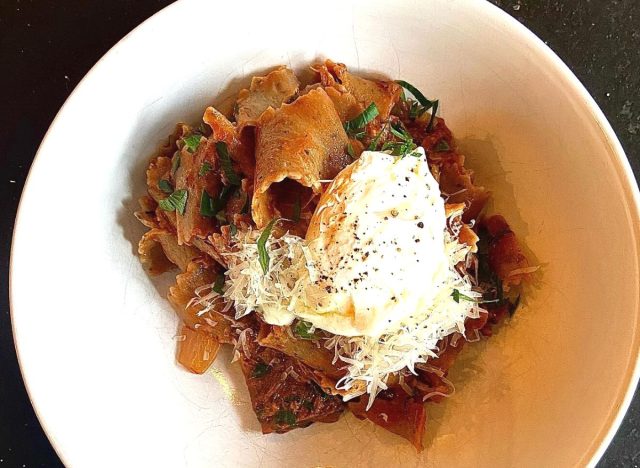 The Salted Slate is known for using as much of the animal and produce as possible and not cutting corners when it comes to flavor. The restaurant serves lunch, dinner and weekend brunch. One dinner item that's a must-get is the Slow Roasted Sweet Potato with miso and brown butter, maple-soaked feta cheese, bruleed citrus, crispy onions, toasted almost and soaked raisins. Talk about a flavor and texture explosion. One reviewer summed it up, "This place was perfect."
SOUTH CAROLINA: FARM in Blufton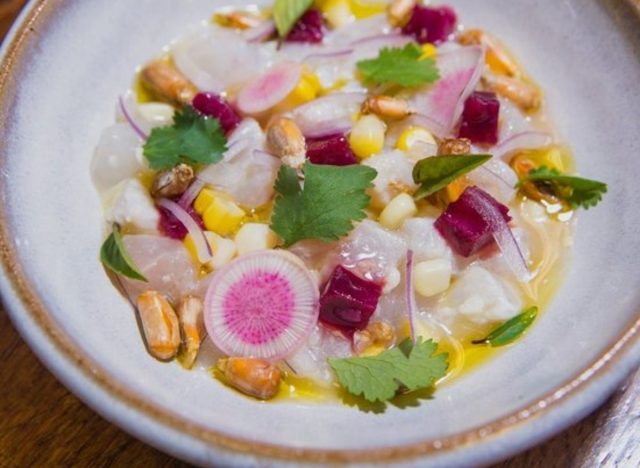 Bluffton is home to FARM, which is open for dinner and Sunday brunch. The chef works with local farmers and specialty food producers to bring in the best that the season has to offer. The menu changes frequently with dinner options like Peaches and Burrata a dish served with lavender honey and ham or a whole grilled snapper with all the fixin's to make fish tacos with blue corn tortillas. Reviews praise the focus on quality and flavors, "Short menu means one thing: focus on doing a really great job! And Farm delivers!!"
SOUTH DAKOTA: M.B. Haskett Delicatessen in Sioux Falls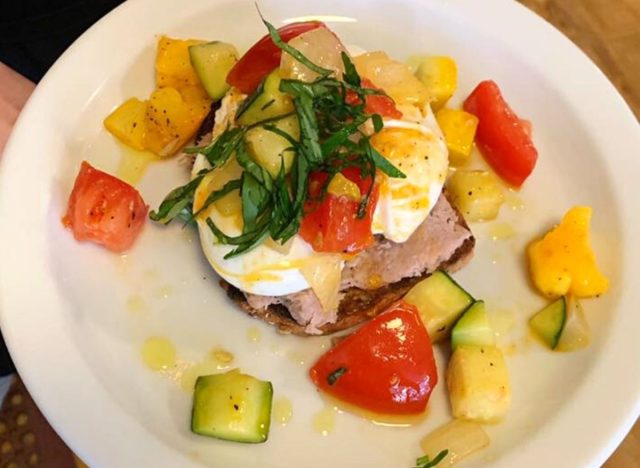 While South Dakota likely isn't the place you think of for farm-to-table meals, M.B. Haskett Delicatessen is just that. The chef is bringing in ingredients from his own garden, uses local eggs, and sources coffee from local roasters. Check the hours before going. The restaurant serves breakfast and lunch Wednesday and Thursday, breakfast, lunch and dinner Friday, breakfast and lunch Saturday, and breakfast only on Sunday.
TENNESSEE: Husk Nashville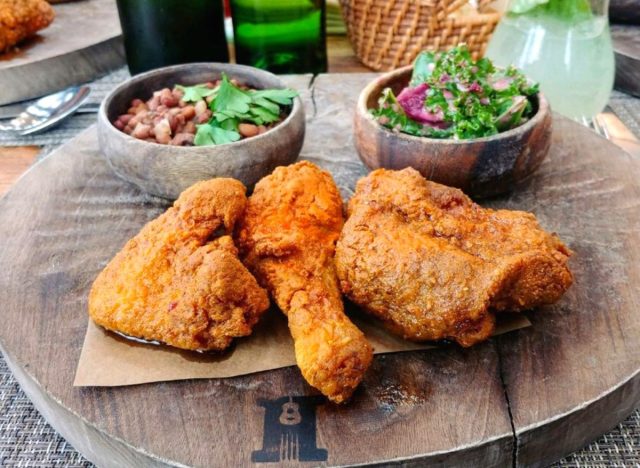 Husk Nashville highlights southern ingredients by working with local farmers to make a menu with exclusively-grown southern ingredients. Husk features an onsite garden, in-house pickling and a charcuterie program that continues to leave guests in awe of what the chefs can do with some of the ingredients. Some favorite dishes on the menu are the pimento cheese with house-pickled Serrano peppers and the New Orleans BBQ shrimp with grits and okra.
TEXAS: Season's Harvest Café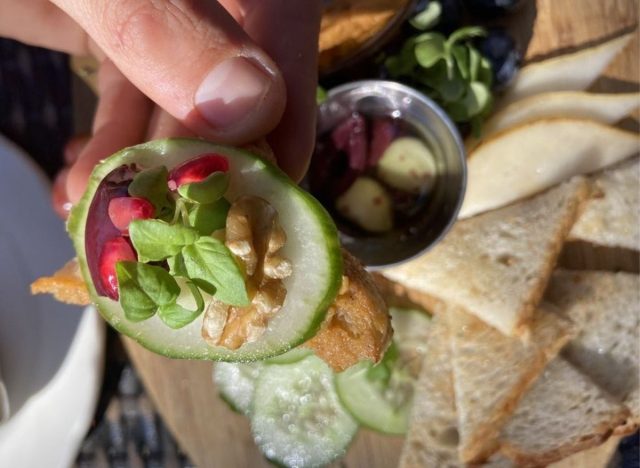 Season's Harvest Cafe in Cypress Texas is a true farm-to-table restaurant. The homestead and restaurant raises everything from chickens and goats to vegetables and fruits in a backyard garden. What the restaurant doesn't grow itself is brought in by other local farmers. The lunch menu changes monthly based on what's in season, and the dinner menu changes weekly based on the chef's inspiration. Dishes that have been featured on the menu include a grass-fed Wagyu patty melt with organic colby jack cheese, tomatoes, grilled onions and a roasted red pepper aioli.
UTAH: The Creamery in Beaver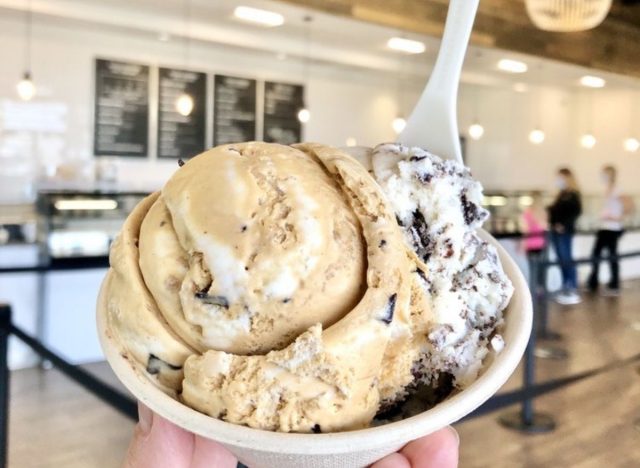 The Creamery is a farm-to-table spot that sources all of its dairy from local farms. The quick-service restaurant also boasts a fantastic ice cream parlor where everything is hand-made with 24 rotating flavors like bananas foster and huckleberry. The Creamery is also known for its cheese curds that can be savored over a meal or bought in the retail space and taken home with you for another time.
VERMONT: T.J. Buckley's in Brattleboro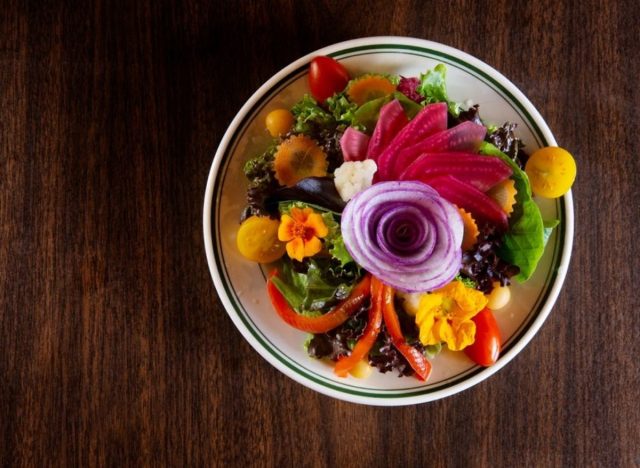 Peer into the open kitchen at T.J. Buckley's at once of six tables as you dine on a menu that changes nightly. The restaurant serves local, organic, and seasonal dishes that highlight the region. The Chef and Owner, Michael Fuller is also known for his foraging skills, which is highlighted on the menu with a wide range of mushrooms that were likely just picked that day. This place is small but mighty. Listen to this reviewer, "It's a very small Trolley Car that has been converted into a restaurant with about 7 tables. Don't let the cover of this book fool you. It was one of the best meals we have had in a very long time."
VIRGINIA: Vintner's Table at Pippin Hill
The Vintner's Table at Pippin Hill is meant to showcase the wines that Pippin Hill creates, while also showing off the farm-to-table dishes that Executive Chef Ian Rynecki is known for. The four or five course menu highlights produce from the onsite garden and other local ingredients that are sourced almost daily.
WASHINGTON: Restaurant Finistère in Port Townsend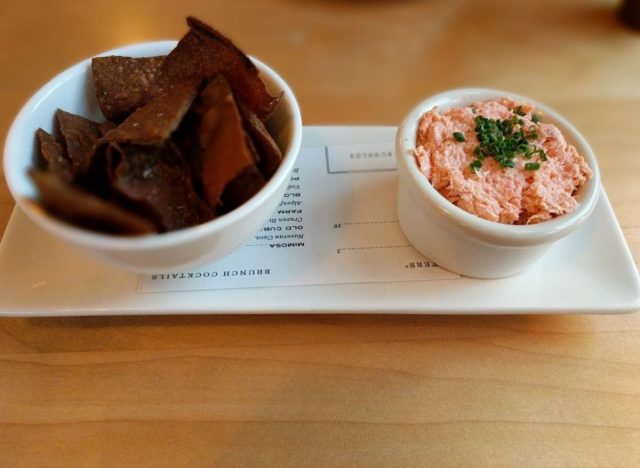 Port Townsend is home to Restaurant Finistère. The owners and chefs are known for sourcing ingredients from regional farms and harvesters in the area. The drink menu at the restaurant is also locally sourced and features drinks from local wineries, cideries, breweries, and distilleries. The menu is filled with shareable items like pork and ricotta meatballs and larger entrees like saffron and prawn risotto. Reviews are overwhelmingly positive, including this one, "The best meal we've had in years! EXCELLENT!! We are still raving about each dish we had—in particular the gazpacho, the pasta and clams, and the scallops."
WEST VIRGINIA: Table 9 in Morgantown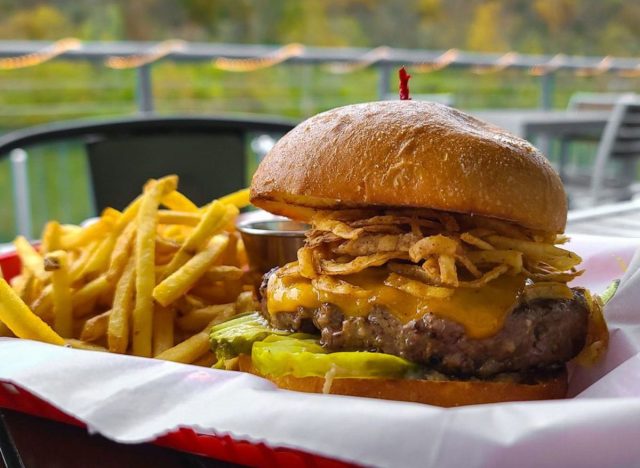 Table 9 is serving some of the best farm-to-table dishes in West Virginia. The restaurant focuses on seasonal dishes like watermelon salad with feta, lime, and basil to start, and shrimp and corn fettuccine with red peppers and spinach for an entree. Diners rave about the "delicious, inventive food" and the amazing view.
WISCONSIN: Aldo's Farm and Table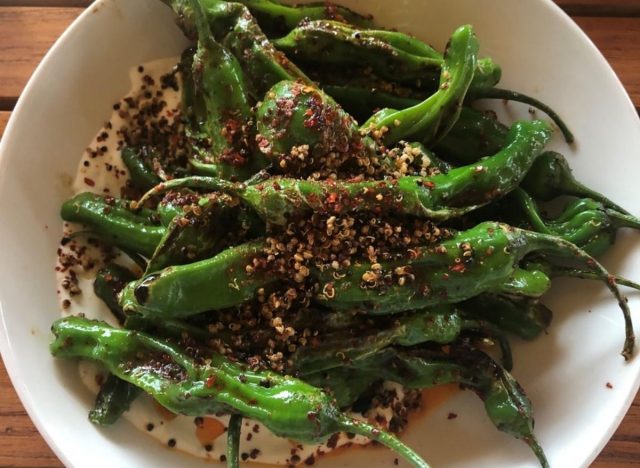 Aldo's Farm and Table is known for its stunning views of the Sand Valley golf course and dunes, and the amazing dinner it serves to guests. Most dishes on the menu say what farms or purveyors that ingredients came from, like the Clock Shadow Creamery cheese curds, which are served with shaved celery, pickled carrots, and house-made dill ranch.
WYOMING: The Middle Fork in Lander
Breakfast, brunch, and lunch are all served at The Middle Fork. The restaurant uses local ingredients where possible, and makes everything from scratch. Some local favorite dishes include the eggs benedict with local cottage bacon, and the fried chicken sandwich with house pickles. Local and out-of-towners alike gush about the food at this "super cool lunch spot with a trendy brewery-feel to it."
Megan duBois
Megan duBois is a travel and lifestyle journalist with bylines across the internet and in print at Delish, Conde Nast Traveler, Travel + Leisure, Yahoo Lifestyle, and more.
Read more about Megan