The Best Chicken Fingers in Every State
Salty, greasy, perfect for dipping...chicken fingers really hit the spot.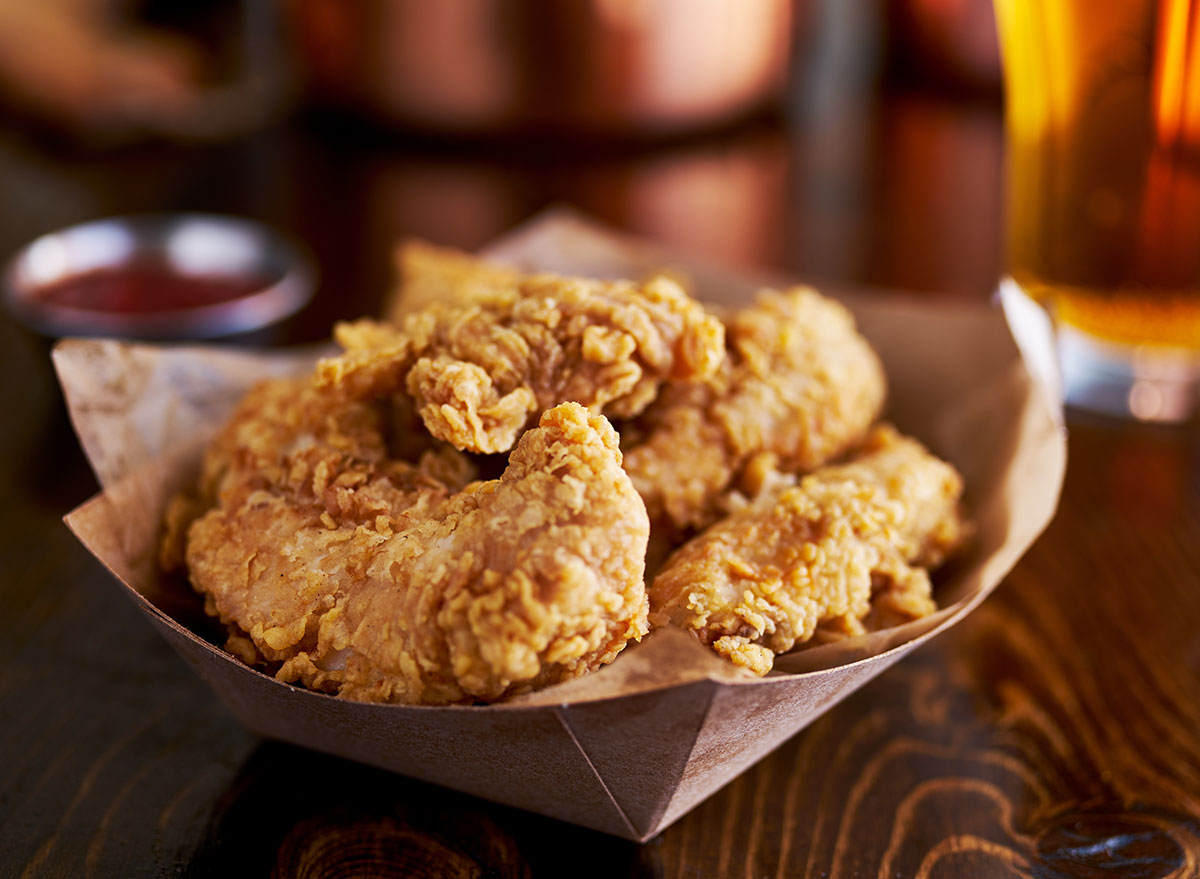 They are salty, usually slightly greasy, and great comfort food. You feed them to your kids because they never complain, but you'd secretly be just as satisfied to have them yourself. You know what I'm talking about: chicken fingers. The veritable childhood favorite is an easy dish—no messy bones to eat around but still full of the satisfying saltiness of fried food. Here are some of the country's best spots to try a basket of that salty, greasy goodness.
And for more, don't miss The Best Bar Food in Every State.
ALABAMA: Foosackly's in Mobile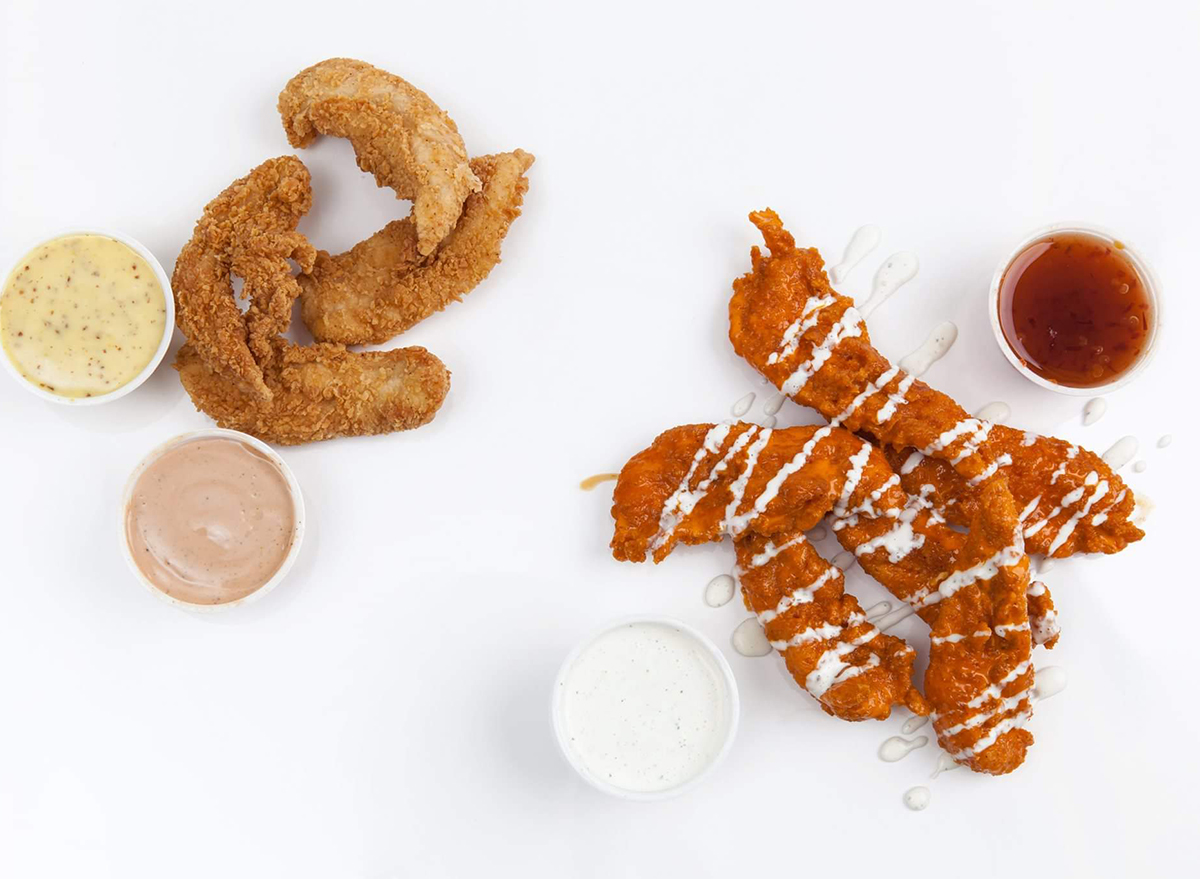 Sometimes, you can become the best by honing in on one goal. Foosackly's started as a fresh chicken finger joint with a full range of house-made dipping sauces, served with Southern hospitality. They have grown the chain across Alabama and Florida, satiating diners' appetite for well-prepared fried chicken. Wash it all down with some fresh-squeezed lemonade or iconic sweet tea.
ALASKA: Kriner's Diner in Anchorage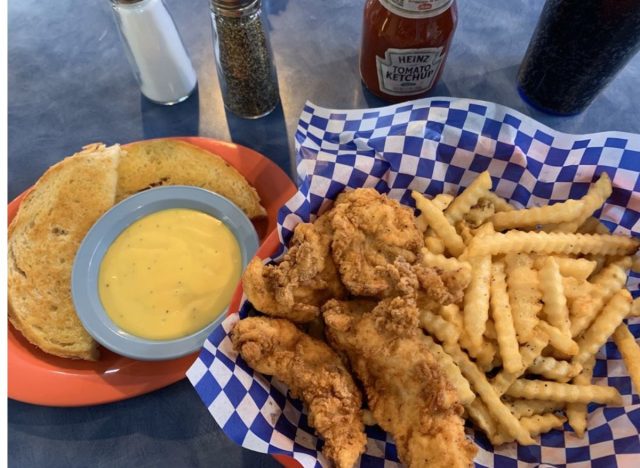 Kriner's Diner is the place to go for classic American comfort food in Alaska. They also happen to have amazing chicken fingers with a to-die-for honey mustard sauce on the side. One review even called them the "best chicken fingers in the world."
ARIZONA: Four Peaks Brewing Company in Tempe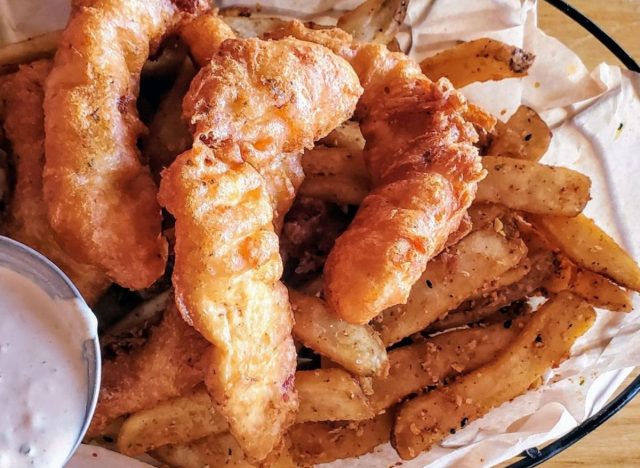 This brewery makes amazing beer, but people are coming back for the food. The chicken fingers here are no joke. They aren't merely breaded but coated in a shatteringly crisp beer batter spiked with their signature 8th Street Ale and served with beer battered fries and a chipotle ranch sauce.
ARKANSAS: Stickyz Rock n' Roll Chicken Shack in Little Rock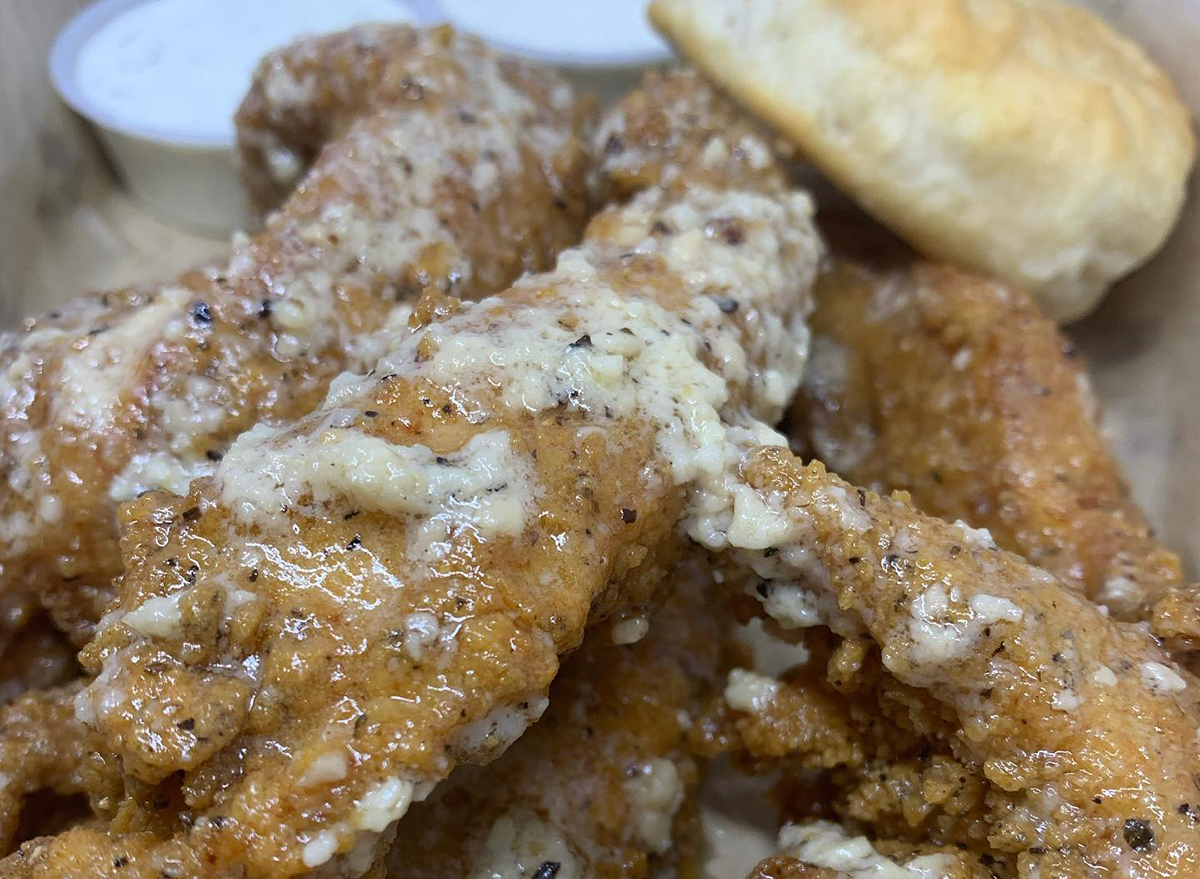 Hand cut, homemade chicken fingers take center stage on Stickyz' menu. You can't beat the Fingerz served on salads, in sandwiches, and accompanied by sauces and comfort food sides. Stickyz has tons of live music. They host many different genres to please all the music fans in your life.
CALIFORNIA: Birdies in Los Angeles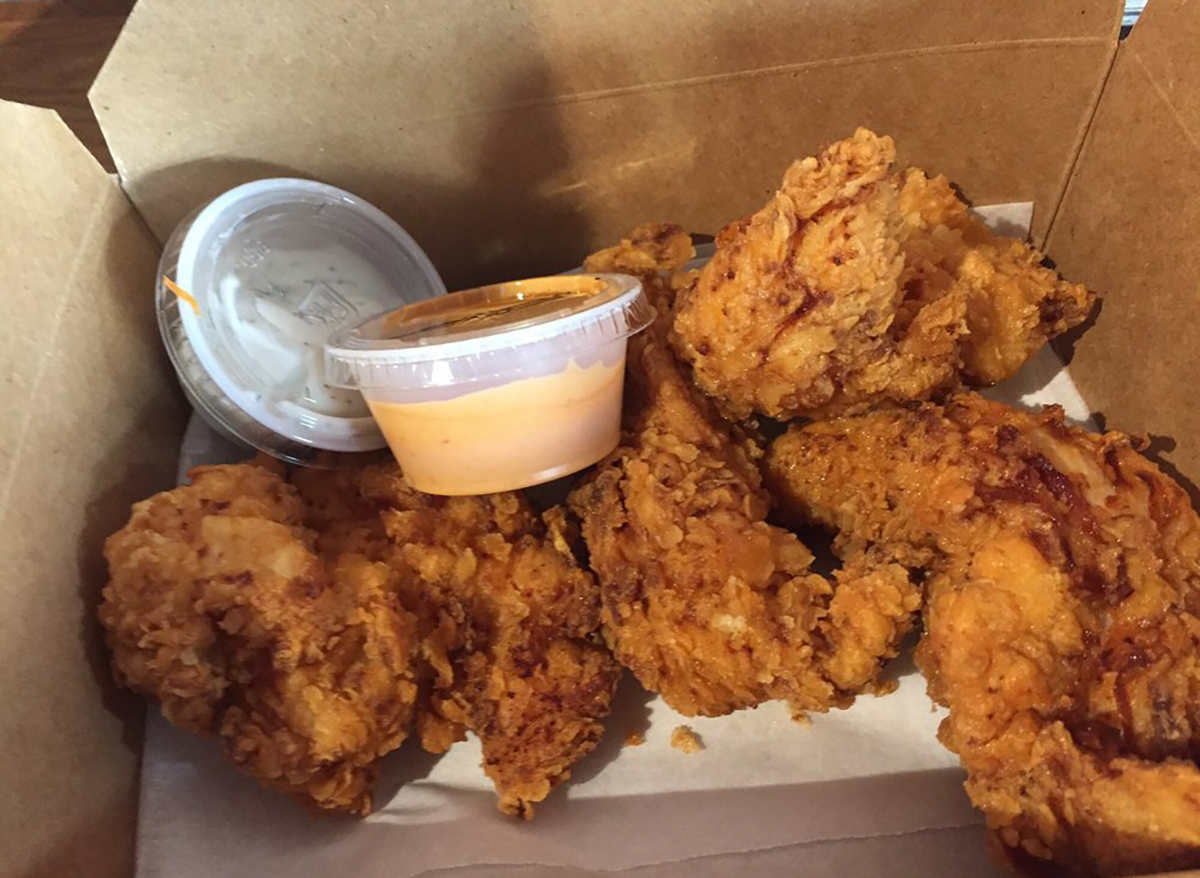 Birdies does coffee, donuts, and chicken. That's it. No elaborate menu, just a focus on doing a few things really well. The free-range fingers can be found on a breakfast sandwich accompanied by an egg, applewood-smoked bacon, and Tillamook Cheddar, or just ordered by the four-piece with your choice of sauces, including Ghost Chili Mayo. However you like them, they are always juicy and perfectly fried.
COLORADO: Birdcall in Denver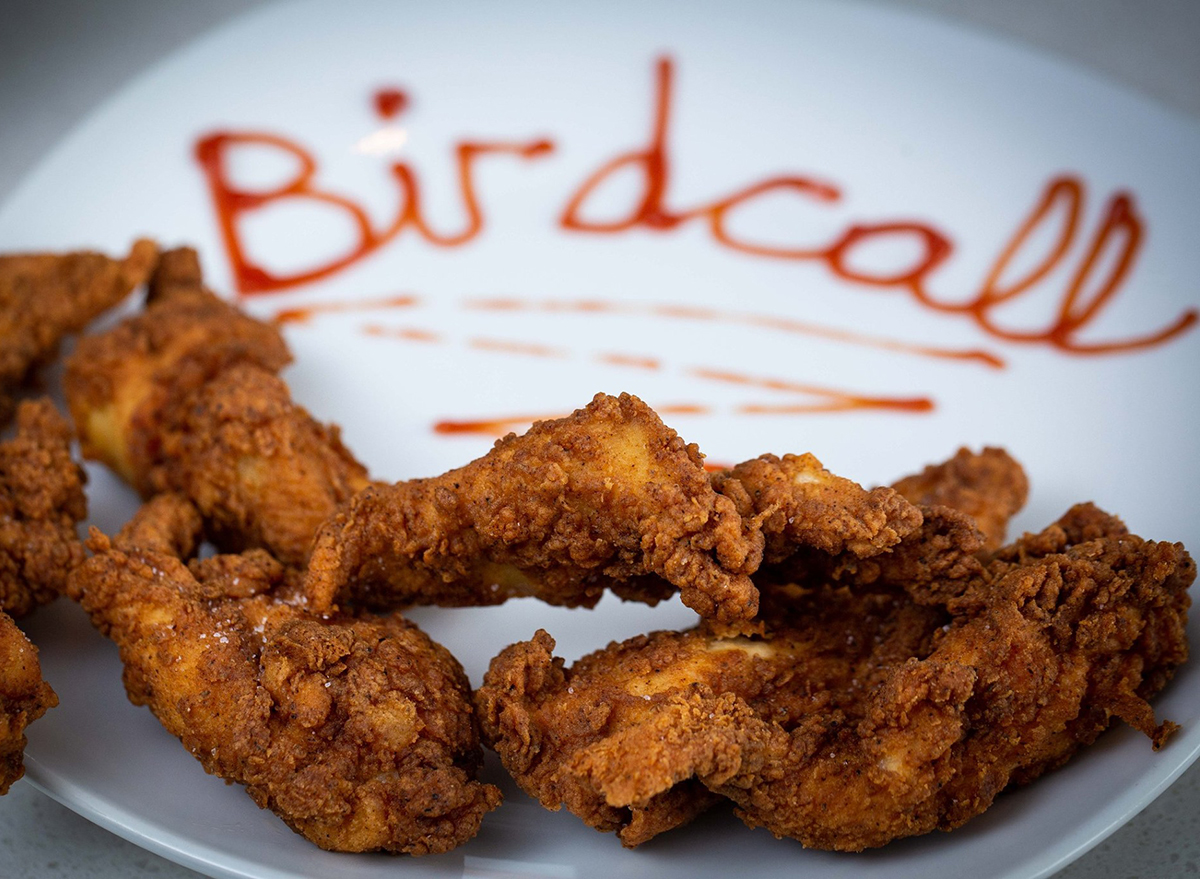 Birdcall offers its natural chicken strips in groups of three, five, seven, and even 15. You should go for the large amount; locals and visitors alike say they are delicious. Add some tater tots or a buttermilk ranch kale salad. As a bonus, the restaurant is focused on zero waste and givebacks to the local community.
CONNECTICUT: Mystic Pizza in Mystic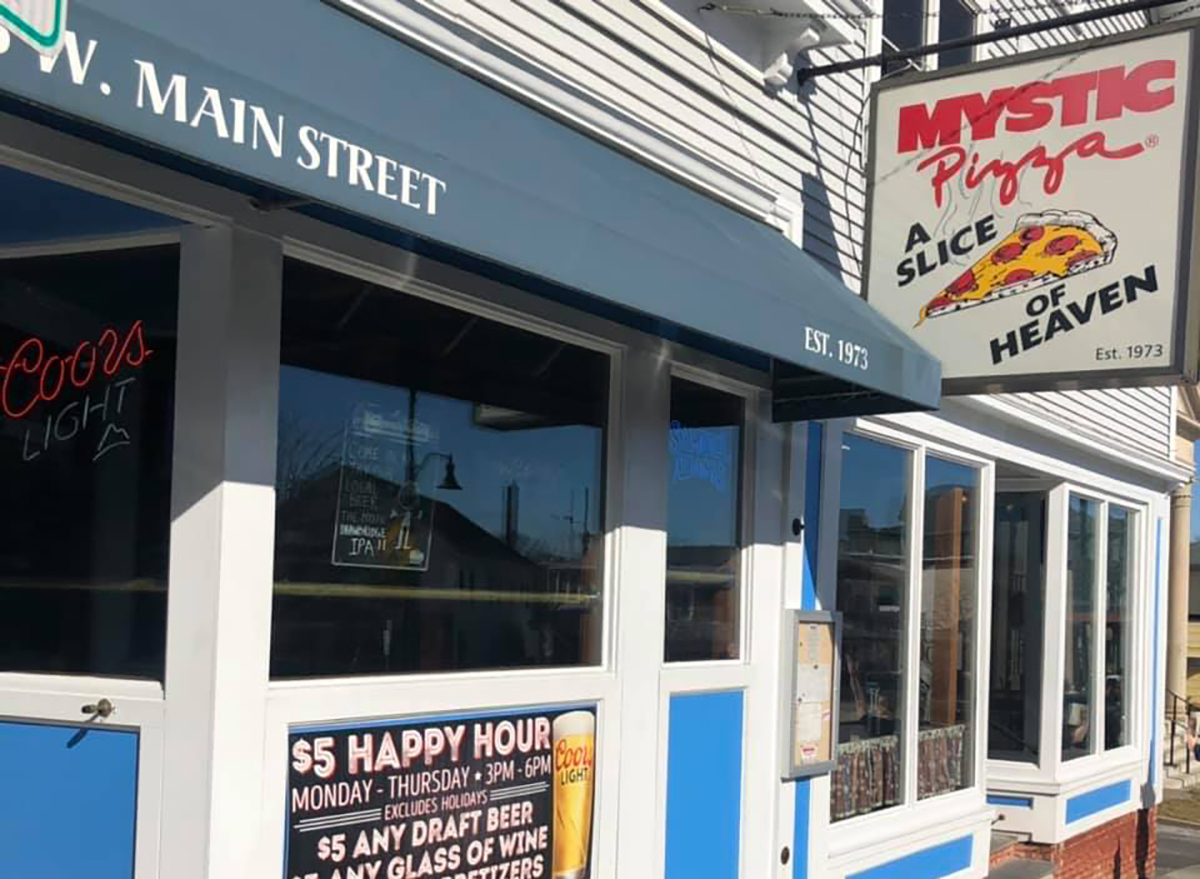 Any Gen-X readers out there will recognize the name of this iconic pizza joint that inspired a classic movie, but it turns out that Mystic Pizza also does fried chicken tenders very well. The golden tenders are crispy on the outside and juicy on the inside and are a slice of heaven, just like the pizza.
DELAWARE: The Farmer & The Cow in Wilmington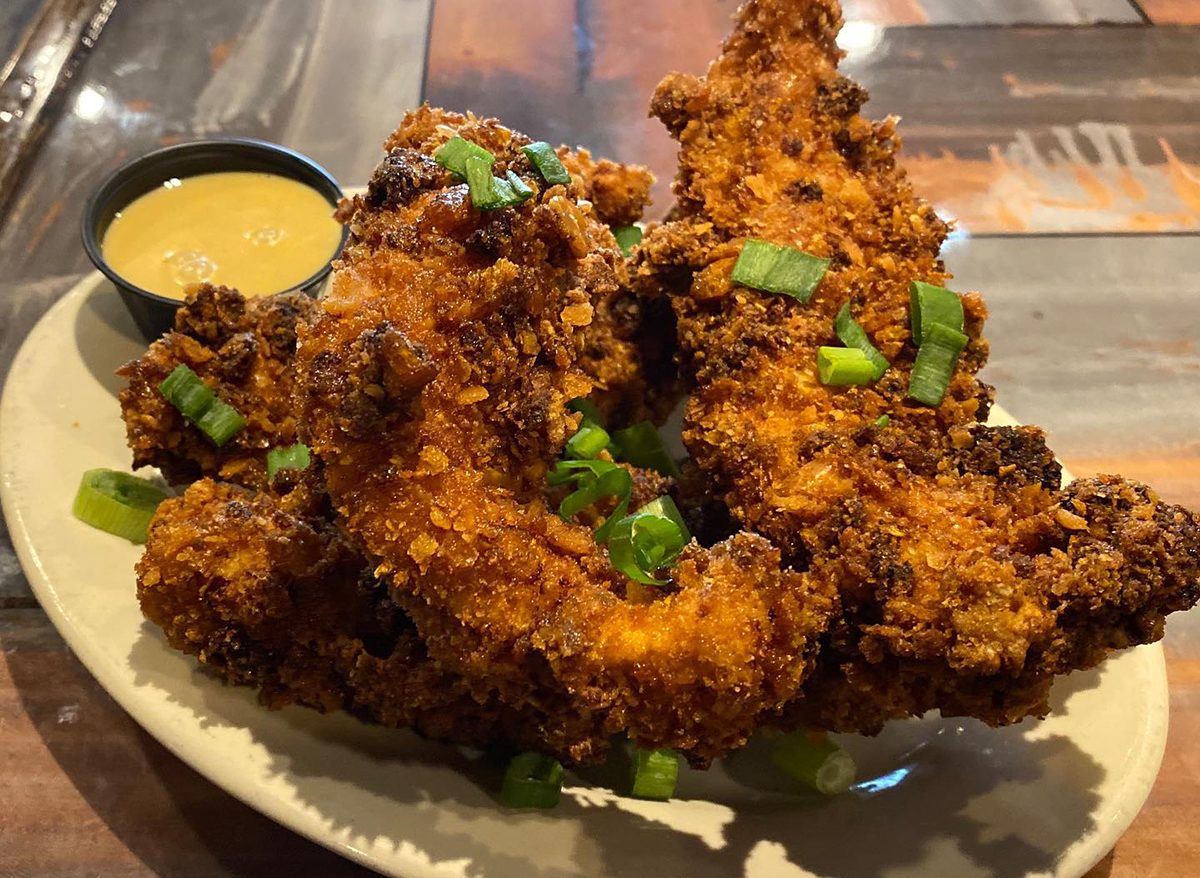 With a unique take on the batter for its delicious fingers, this go-to burger spot takes the award for Delaware's best. They coat each strip in Honey Nut Cheerios and Frosted Flakes and serve them with a side of Tabasco honey mustard. Compliment your meal by trying one of 300 varieties of whisky.
FLORIDA: Huey Magoo's in Orlando
With franchised locations all over Florida, the innovators around Huey Magoo's are set on taking over the chicken tender market one restaurant at a time. With a signature dip and plenty of satisfying sides, the delicious tenders are the star of the menu. They also have the solution for a big group—you can also order in quantities of 20 and 30 to satiate your craving.
GEORGIA: Spanky's Pizza Galley and Saloon in Savannah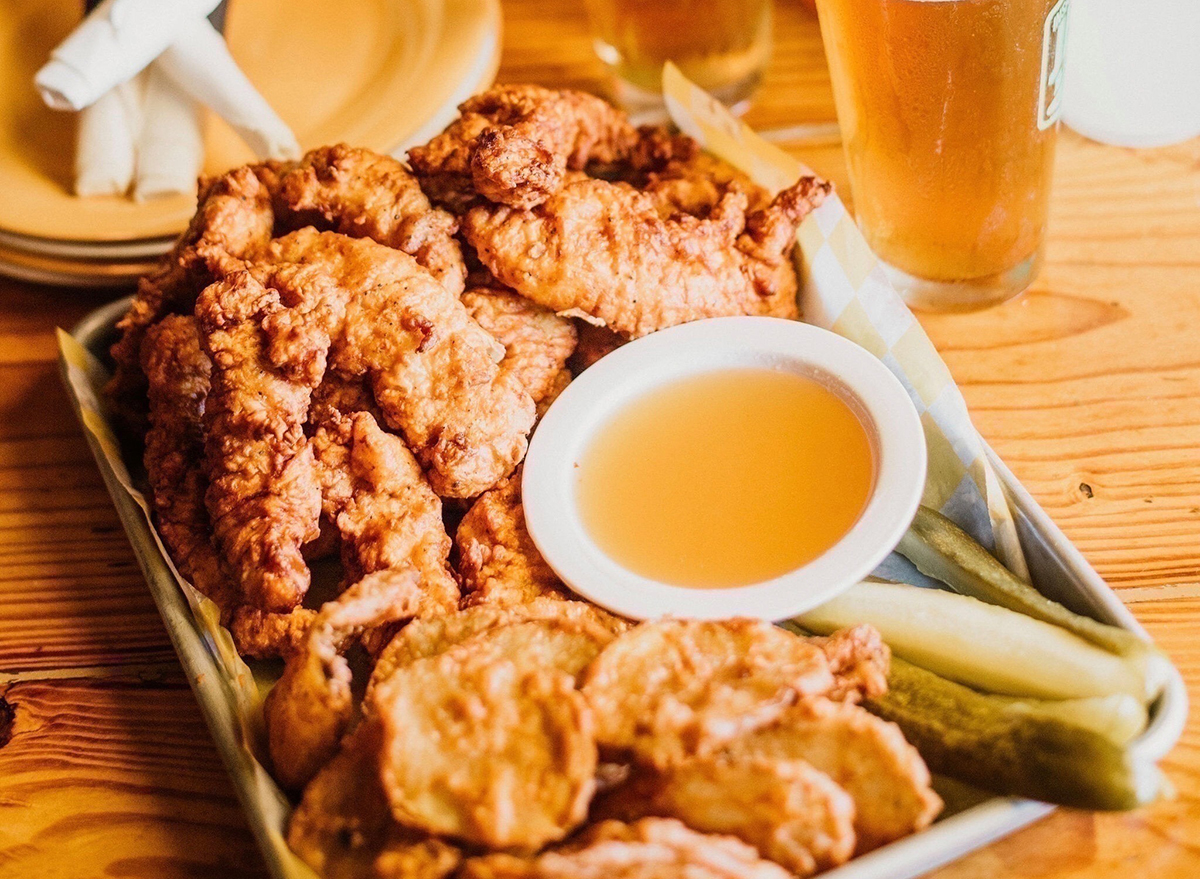 Look, I understand. What I'm about to say may spark some debate. The origin of the chicken finger is important. It's claimed by more than one innovative restaurateur. However, I'm born and raised in Savannah, so I'm certainly going to include Spanky's Original Chicken Fingers.
According to legend, one of the partners in the pizza spot decided to reduce the size of the large chicken breasts on the fried sandwiches. Never one to waste, he dredged them in Spanky's special batter, dropped them in the fryer, and served the pieces, thereby inventing the chicken finger. All this happened in 1976.
Whatever you believe about the origin of the chicken finger, you should travel down South and sample this version. Not only can you have a view of the river and River Street's famous bacchanalia while you eat, you can get a basket of fingers, spuds, and a pickle served with the best honey sauce this writer has ever tried. Visitors and locals are addicted and the Home of the Original Chicken Finger is certainly worth the trip.
Honorable mention for the Zaxby's chain, which originated in Statesboro, Georgia near Georgia Southern University in 1990. Also, Atlanta is the home of the original Chick-Fil-A. I guess Georgians really like their chicken fingers!
HAWAII: Down the Hatch in Lahaina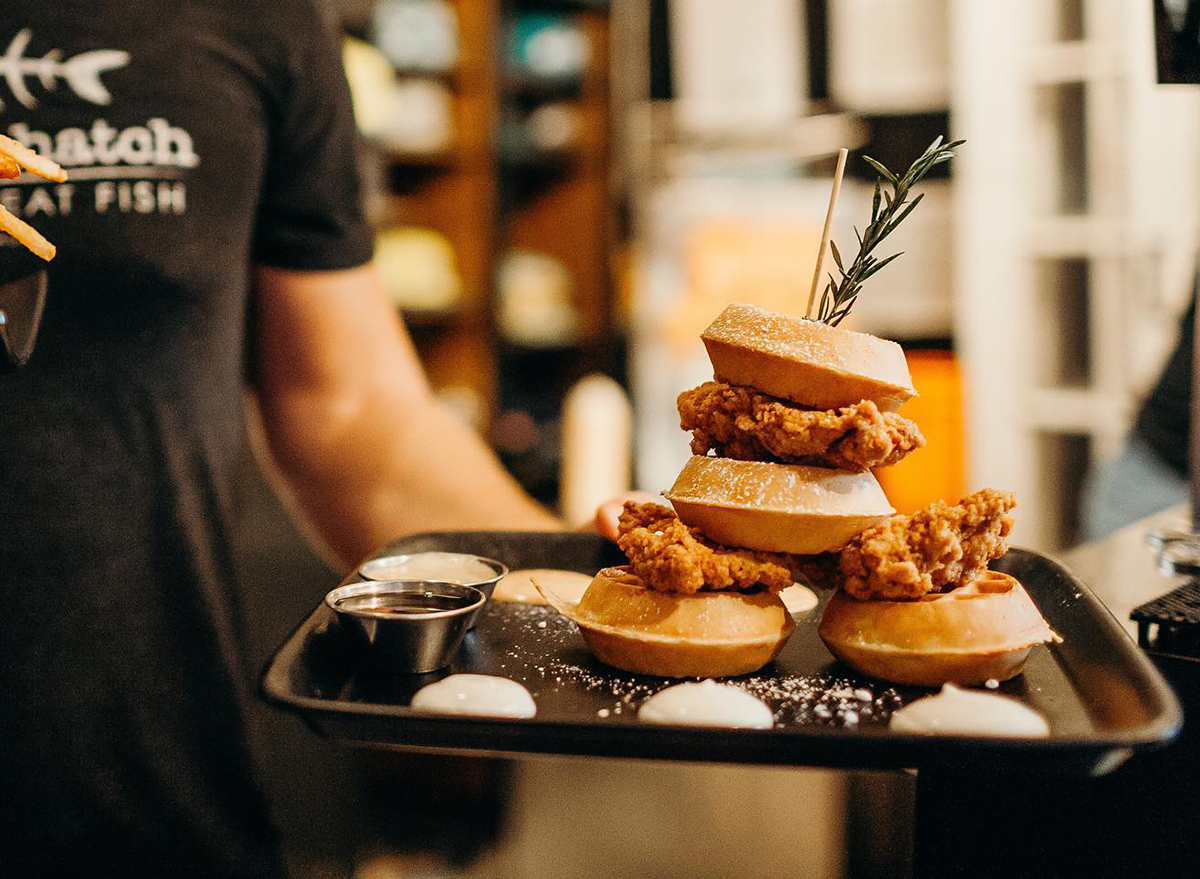 Two friends from Georgia created this go-to spot for "Southern Aloha." The restaurant serves its Mermaid Fingers with homemade Lava Lava sauce, so good the restaurant sells it by the jar. As a bonus, the Breakwall Shave Ice Company is attached for a little sweet to end your meal.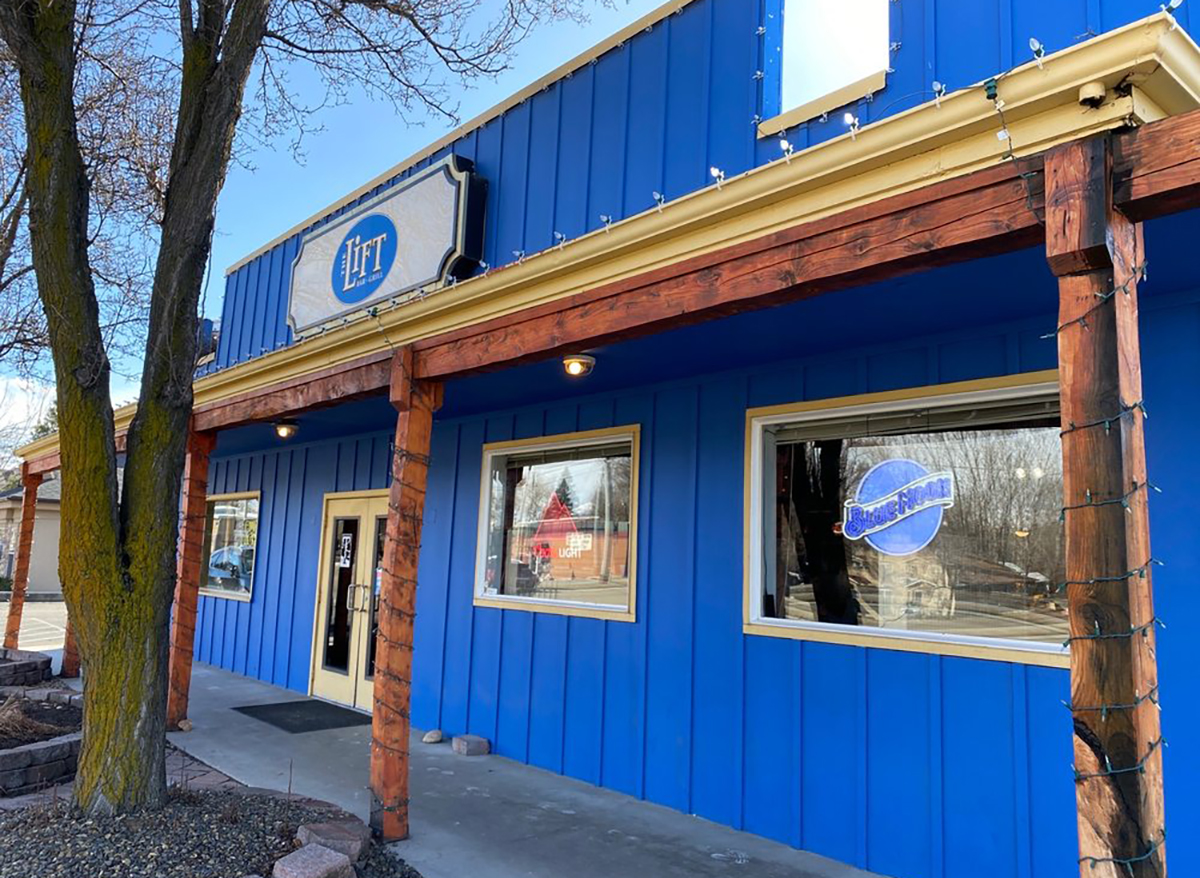 Eat Idaho's best buttermilk dredged, hand-breaded tenderloins on a flowering vine-shaded patio at The Lift. The adult version is served on cornmeal buns with mayonnaise and a pickle and complemented by a well-chosen wine list.
ILLINOIS: Chicken Lit Tenders & Wings in Naperville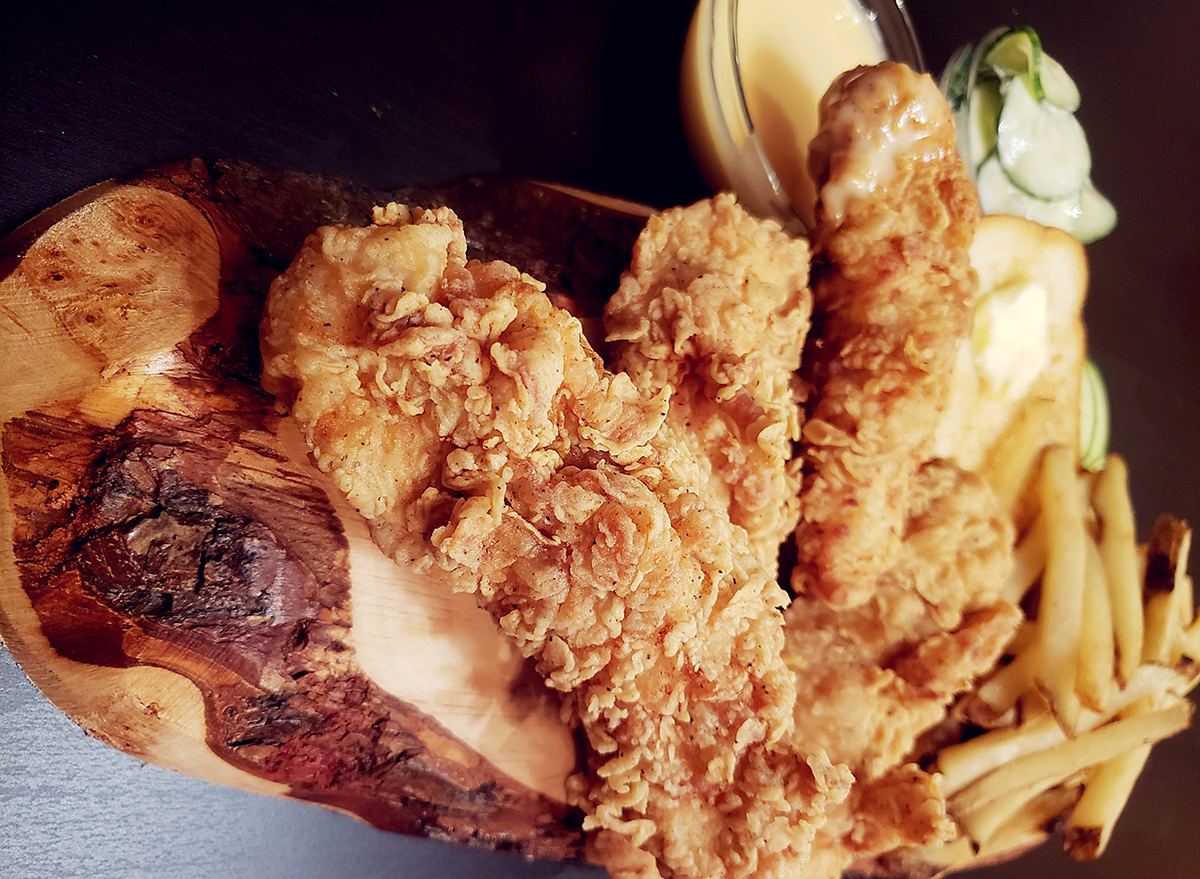 Lots of yummy fried comfort foods appear on the menu at Chicken Lit, including some of the best wings in Illinois. They come in three-, five-, and seven-piece packs, with or without fries and butter toast. Guests love the Yummy Sauce and recommend it highly.
INDIANA: Maxine's Chicken & Waffles in Indianapolis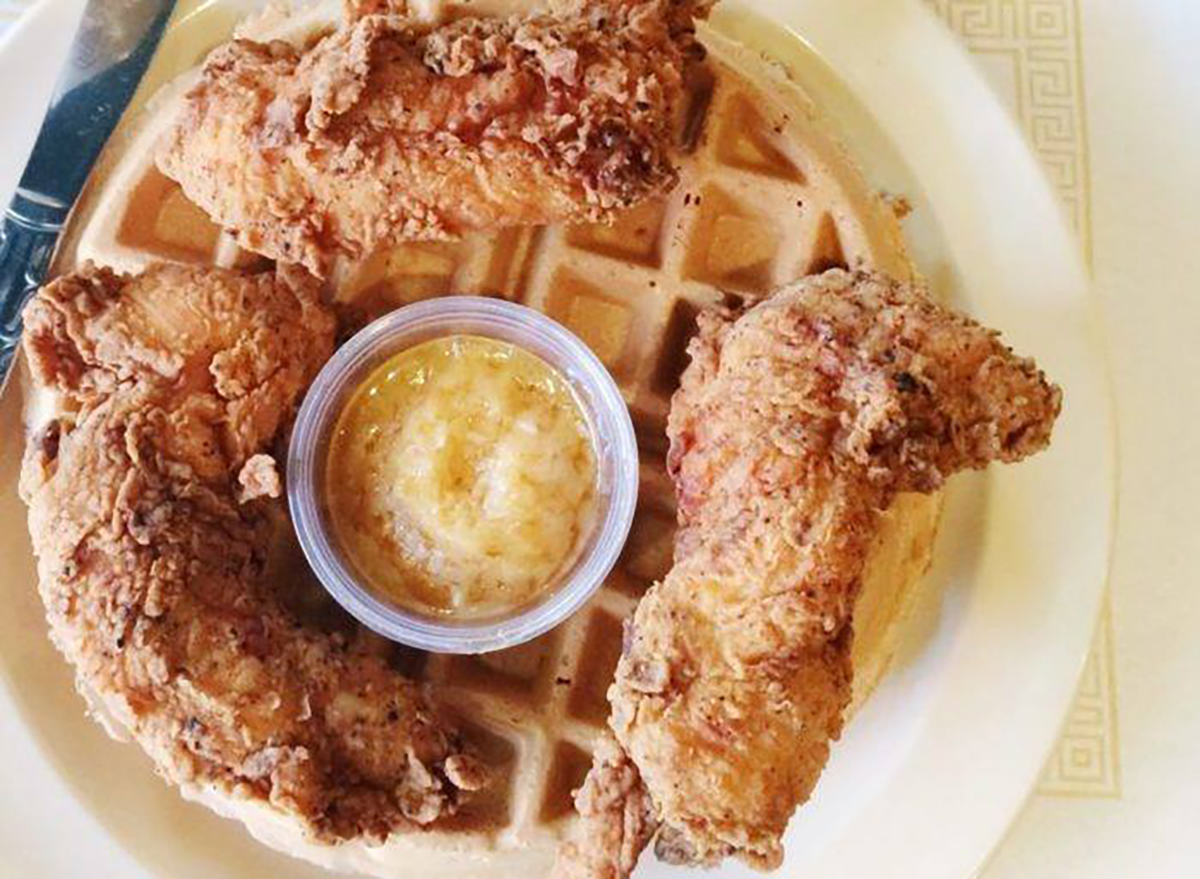 Chicken and pancakes! Yes, we all love chicken and waffles, but sometimes the fluffy, butter-infused pancake is an even better option. At Maxine's, they nestle three juicy tenderloins on top of this masterpiece and also serve them by the basket or as a dinner plate option with sides.
IOWA: Christopher's in Beaverdale
Points for creativity! Christopher's breading is made up of almonds and cornflakes with a dash of brown sugar for a signature sweetness. The homemade honey mustard complements the starter, and the rest of the menu is pure fine dining. Guests appreciate this high-end restaurant's take on the humble chicken finger.
KANSAS: Paul & Jack's Tavern in Kansas City
Established in 1948, this restaurant calls its chicken used to make tenderloins "planks." Offered with honey mustard, BBQ, or ranch dipping sauce, this version is a nod to the classic. Paul & Jack's is also a spot for locals to host high school reunions in the restaurant's "Hornet's Nest," full of memorabilia from the area.
KENTUCKY: Grimes's Fast Food Restaurant in Lexington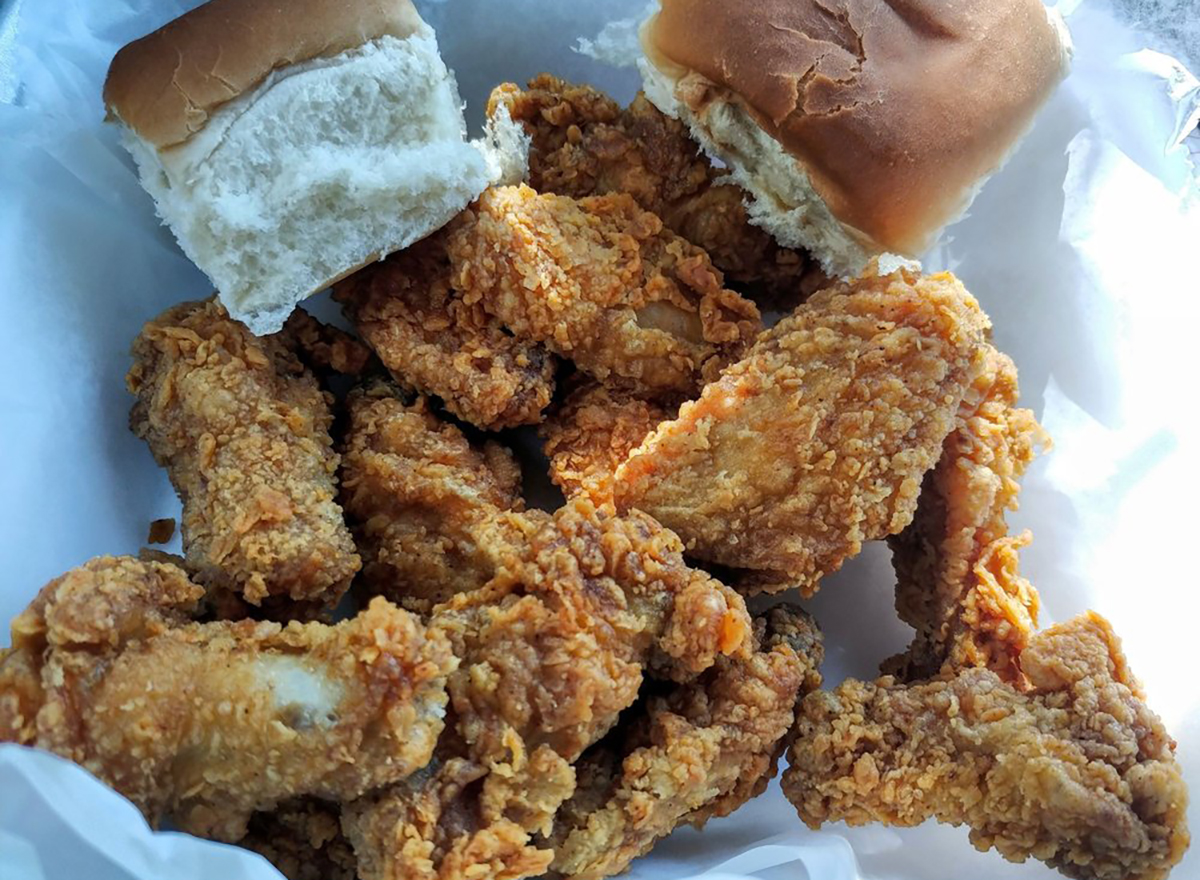 Grimes's makes tender chicken strips. The sides are delicious and well-prepared. Expect such staples as greens, sweet cornbread, potato wedges, and fresh okra. Delicious!
LOUISIANA: Raising Cane's in Baton Rouge
"The Mothership" of all Raising Cane's Restaurants, the Baton Rouge location opened in 1996. Started by Todd Graves, the concept of a chicken finger restaurant earned him a very bad grade in his business class. He worked 90 hours a week as a boilermaker to earn money to start the restaurant. It turned out to be a great gamble. There are over 400 locations of Raising Cane's in 24 states. The simple concept of breaded or fried fingers, Texas toast, crinkle fries, coleslaw, and a drink is delicious, wherever the location.
MAINE: Crown Fried Chicken in Portland
Maine's best chicken fingers belong to an international fusion restaurant with a diverse menu. A halal restaurant with fries, burgers, and chicken fingers, Crown Fried Chicken will satisfy every appetite. The six-piece fingers order appears in the list of everyday specials, able to be ordered alone or in a combo.
MARYLAND: Gino's Burgers & Chicken in Glen Burnie
Gino's serves up crispy, delicious chicken tenders with a side of 1950s burger joint nostalgia. Light appetites can get a Snak-Pak, while the three-piece dinner is complemented with onion rings, coleslaw, a dinner roll, and a choice of dips, like Golden BBQ or Bangin' sauce. Make sure to get one of the hand-spun milkshakes, too. It's the restaurant's specialty.
MASSACHUSETTS: Thornton's Fenway Grill in Boston
Nestled in the Fenway neighborhood of Boston, known for its baseball, college life, and performing arts, this sports bar is the spot for fresh food and lots of drink choices. During the warmer months, patrons soak in the view of the Boston skyline while enjoying this neighborhood mainstay. They present their crispy tenders traditionally, served with sweet honey mustard as an appetizer, or the hot version of sautéed Cajun fingers called "Jerry's Missing Fingers."6254a4d1642c605c54bf1cab17d50f1e
MICHIGAN: Uncle Joe's Chicken Fingers in Warren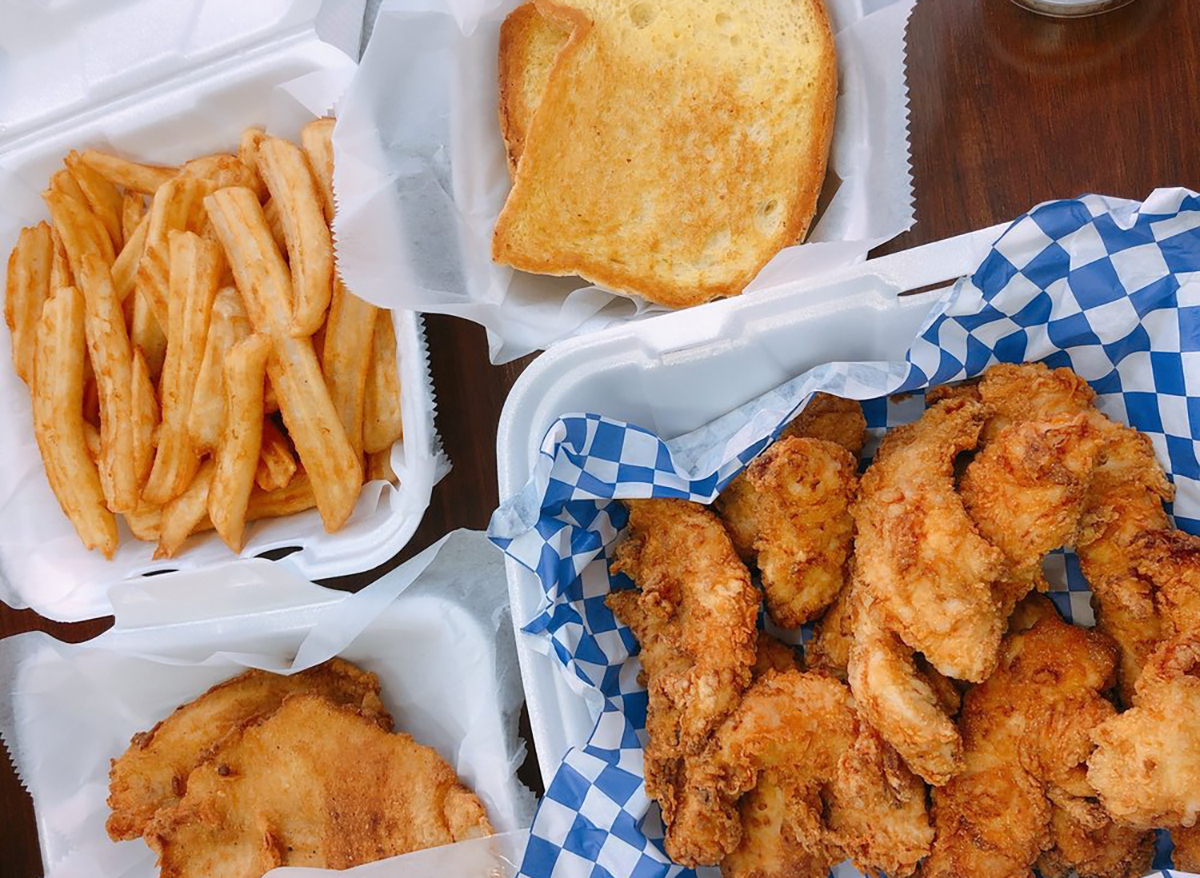 The chicken here is cooked to order and accompanied by Uncle Joe's famous, made-from-scratch dipping sauce. In fact, the sauce might even be more famous than the chicken fingers. They are masters of the fry game, though, with the crispy, juicy chicken ready for a drizzle of that finger-licking dressing.
MINNESOTA: The Coop in South St. Paul
Since 1963, The Coop has been feeding Minnesotans chicken, burgers, ribs, and coneys. The chicken strips are served in a basket, complete with fries, dipping sauce, and pop. You'll certainly leave full, especially if you indulge in the freshly made carrot cake or a basket of mini donuts to finish your meal.
MISSISSIPPI: Abner's Famous Chicken in Oxford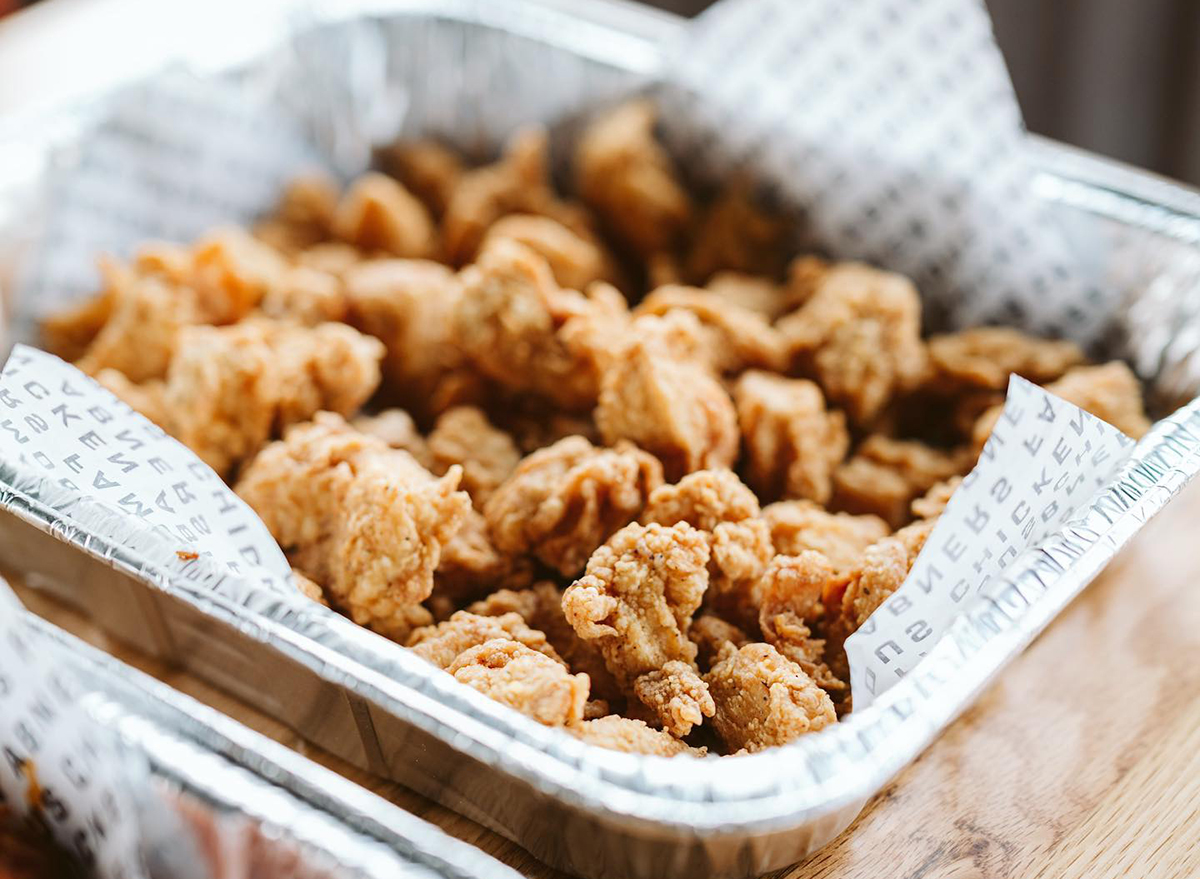 Abner's tender plates are served with a salad and your choice of side. The chicken is offered fried or grilled and is tasty either way. The spot has been serving its version of fingers for 25 years, catering to the diehard SEC football crowd. They even take same-day tailgate orders so that they don't disappoint any Ole' Miss fans.
MISSOURI: Civil Kitchen in Springfield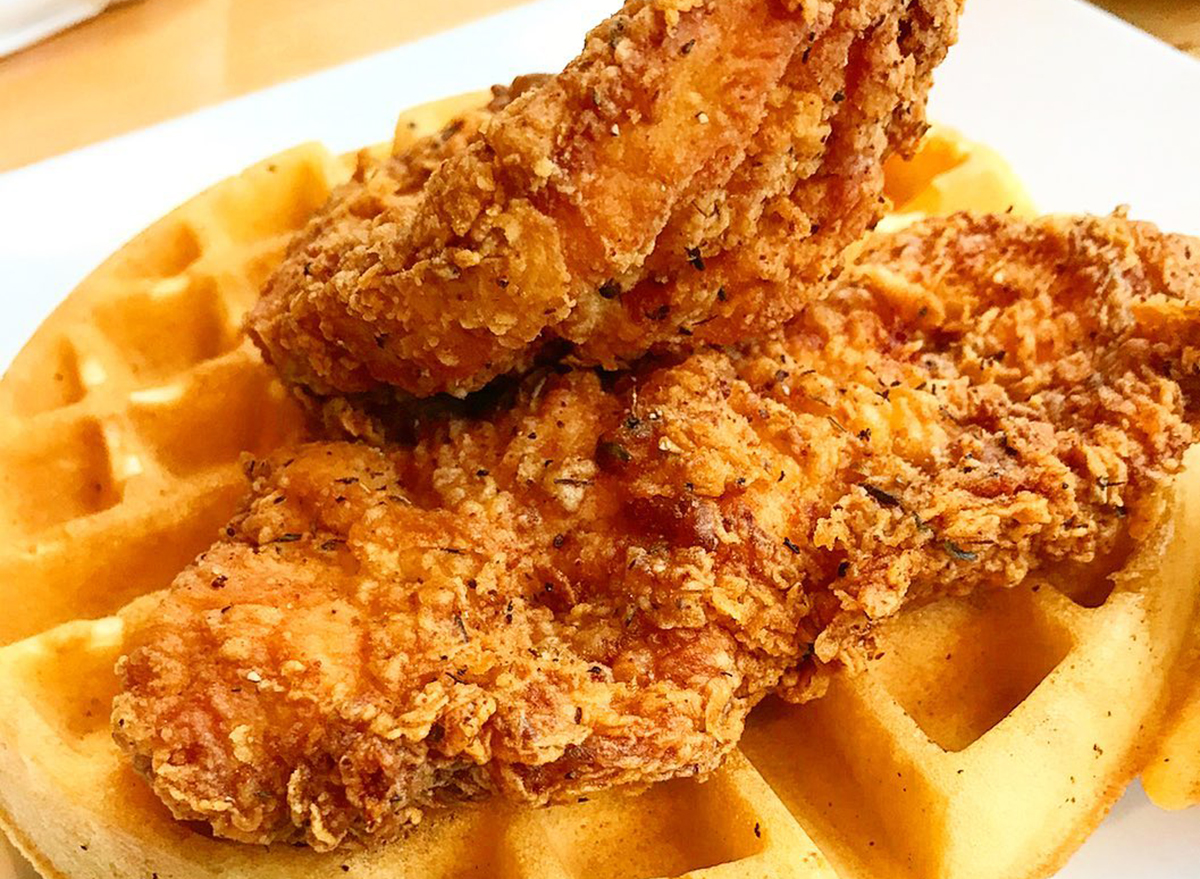 Hand-breaded, all-white-meat chicken strips take center stage on the entrée menu at Civil Kitchen. They are served with house fries and flash-fried kale and sauces like cinnamon vanilla syrup, peppered bacon gravy, or maple balsamic reduction. Everything at Civil is made-from-scratch, making this one of Missouri's best.
MONTANA: Roost Fried Chicken in Bozeman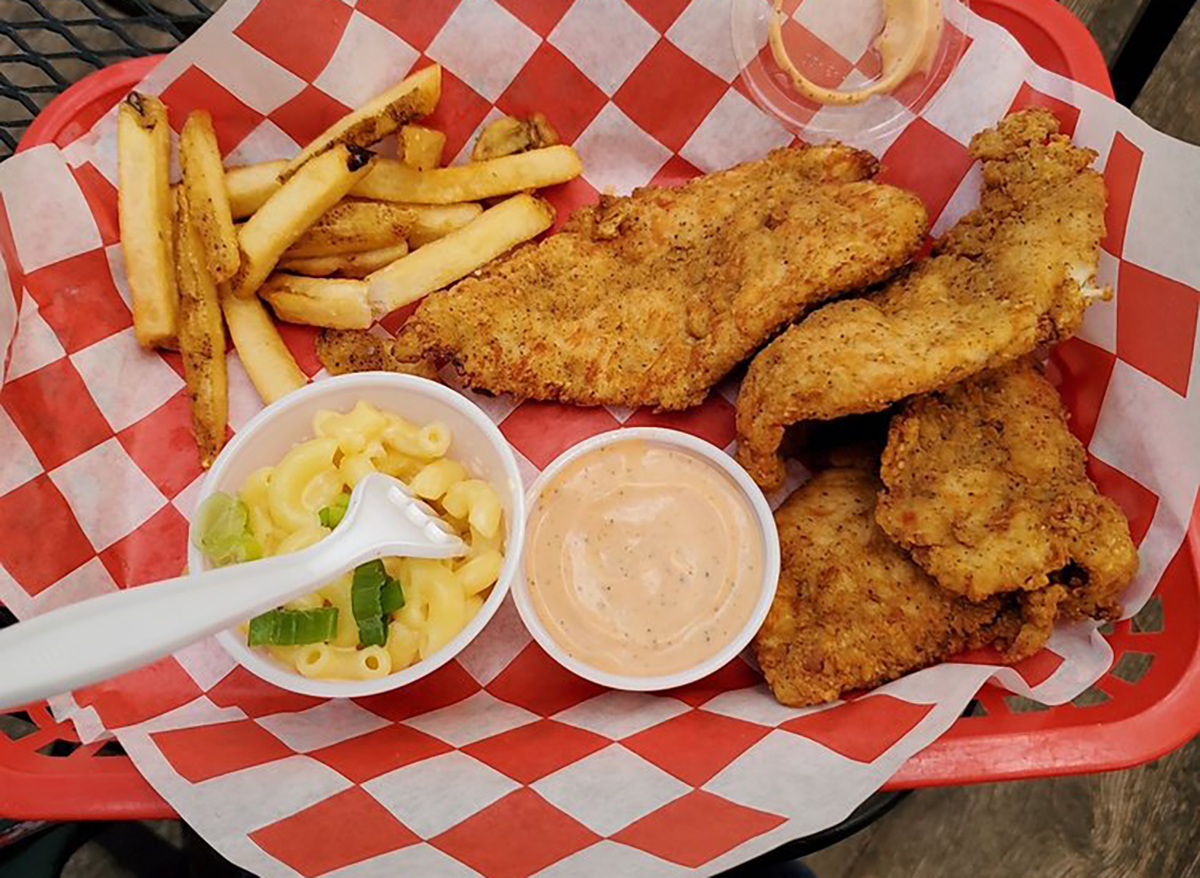 Roost has been featured in The Los Angeles Times and on Diners, Drive-Ins, and Dives on the Food Network. Visitors and locals alike appreciate the Southern take on fried chicken, flocking to the restaurant for chicken gear, all-white meat strips, and fried chicken on a stick topped with a biscuit.
NEBRASKA: Blatt Beer & Table in Omaha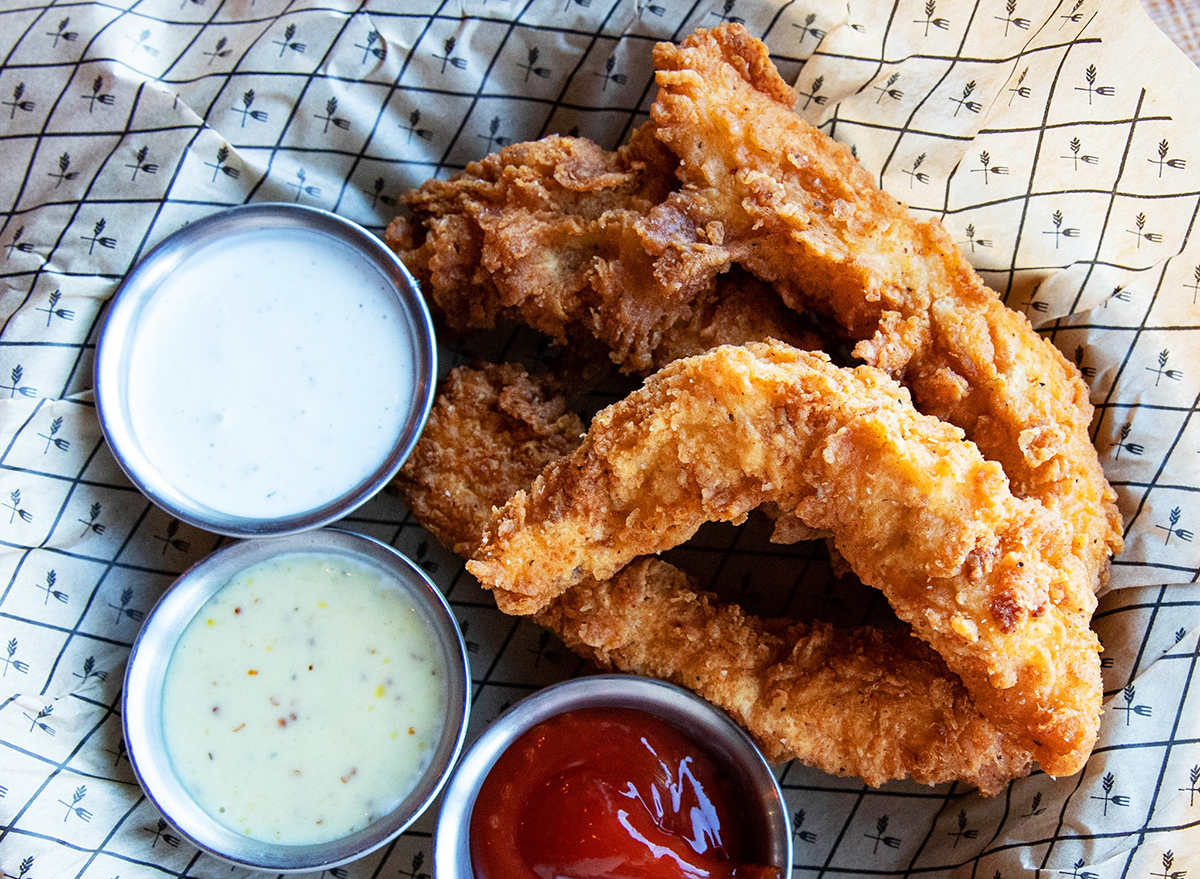 The Blatt offers what they call "curated pub food," which translates to comfort food favorites with an adult spin. The restaurant is located near games and entertainment in the North of downtown Omaha. The rooftop beer garden is a great spot for summer gatherings, and the 32 rotating beers on tap complement the fried chicken strips with Texas toast.
NEVADA: Original Chicken Tender in Las Vegas
Chicken tenders are the superstar of this restaurant found in three hotel locations in Las Vegas. Nestled inside the Luxor, the MGM Grand, and the Monte Carlo, this fast-food counter is known for the best chicken strips, well, on the strip.
NEW HAMPSHIRE: The Puritan Backroom in Manchester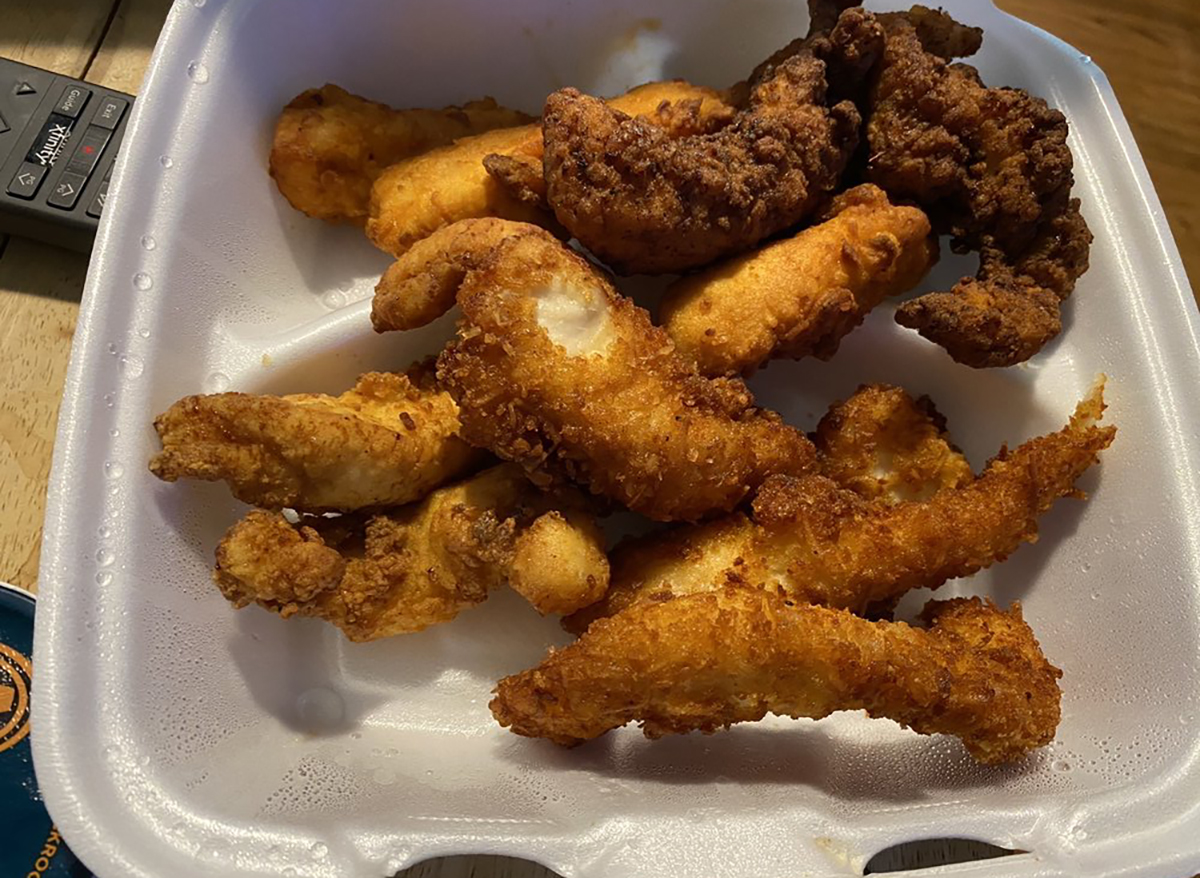 Semantics are important here. The Puritan Backroom also has a claim to fame about inventing the chicken tender. Not the finger, the tender, in 1974.
Owned by Greek immigrants, The Puritan Backroom has an enormous menu full of spanakopita, hummus, and Greek salad. And it expands to pizza, burgers, and fresh seafood, too. The popular tenders come in four flavors: regular, spicy, Buffalo, and coconut. Their origin story is familiar kitchen ingenuity: trimming the breasts for other recipes left strips of chicken that shouldn't be wasted.
NEW JERSEY: Urban Chicken in Montclair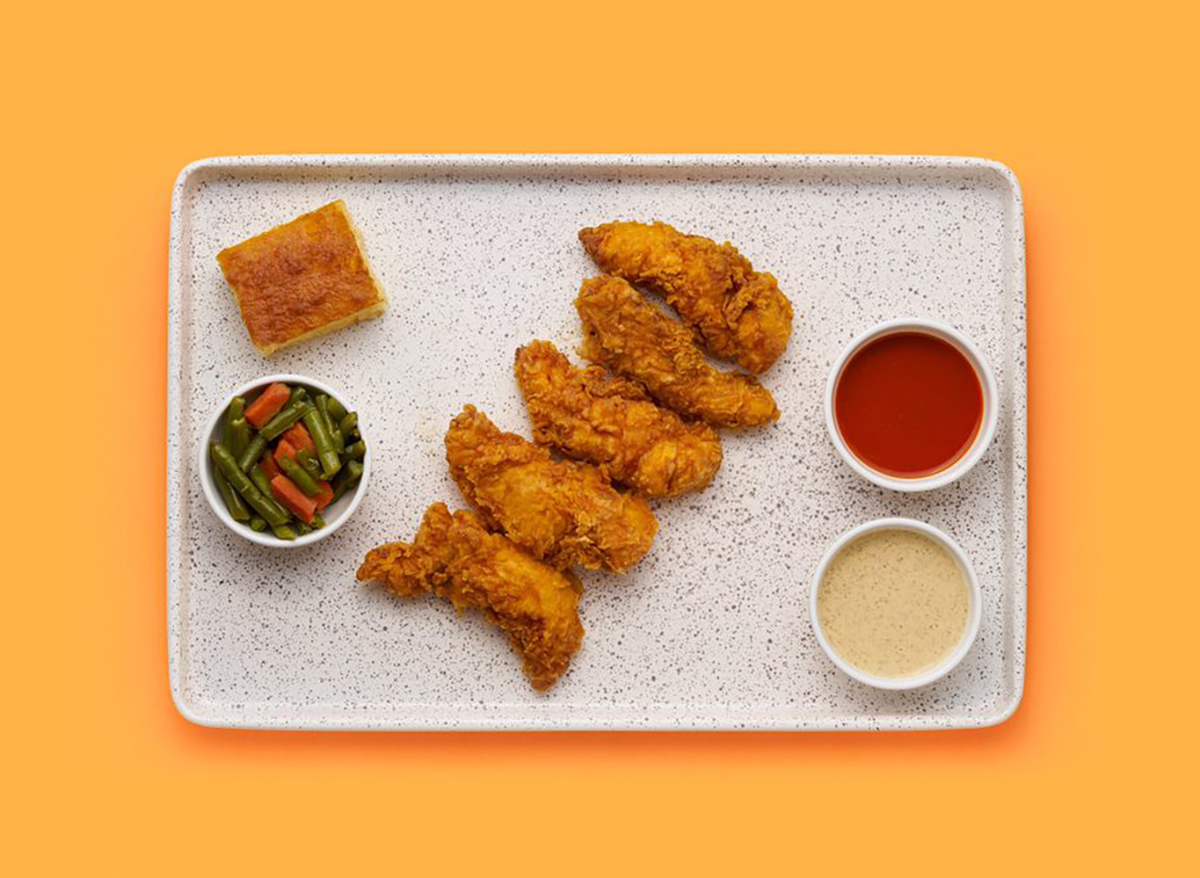 Known for its jumbo chicken tenders and generous portions, Urban Chicken also has delicious cornbread and excellent mac and cheese. Diners recommend the 24 Carat Gold Sauce to go with your strips.
NEW MEXICO: Frank's Famous Chicken & Waffles in Albuquerque
You can get Frank's version of crispy tenders on a platter, served with waffles, or even à la carte. The Chicky Dee Sandwich pairs chicken fingers with lettuce, tomatoes, cheese and special sauce. Check the "Fame-us Frank-a-delics" for some selfies with celebs who have visited the New Mexico spot. You may even catch one of your favorite Doggs.
NEW YORK: Sticky's in New York City
Farm-raised, antibiotic-free chicken with quite a few sauce choices? The innovators at Sticky's know how to please customers in New York. Start with your choice of size and let the team add Thai Fiesta, General Sticky Tso, or the garlic-infused Vampire Killer.
NORTH CAROLINA: Rocky's Hot Chicken Shack in Asheville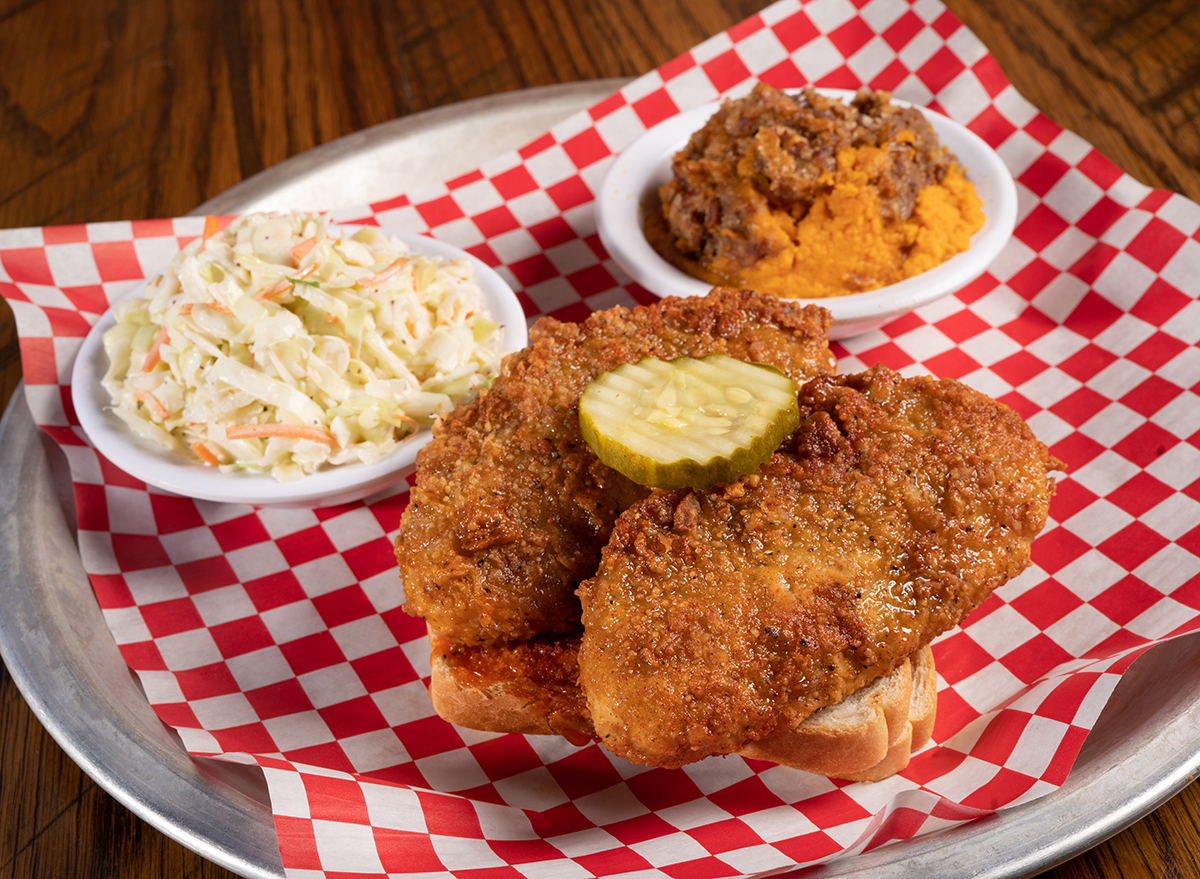 Rocky's serves from-scratch dishes with locally sourced ingredients, including the specialty Nashville hot chicken. But when you're looking for delicious chicken fingers, you can't beat the crispy, juicy, perfectly seasoned version. You can get them to your own taste, ranging from mild to hot. Try the fingers with some of the best mac and cheese around and for a deal, if you have ink, try the "Tattoo Tuesday" for 10% off of your order.
NORTH DAKOTA: No Bull Steakhouse in Fargo
This state's best chicken finger comes buttermilk-infused and fried and is served family-style. The menu at No Bull Steakhouse is pure comfort food: lots of BBQ, corn muffins with honey butter, homemade potato salad, corn casserole, and mac and cheese. There is also a porch for your dining pleasure, making this dinner stop feel like home.
OHIO: Tender Towne in Cincinnati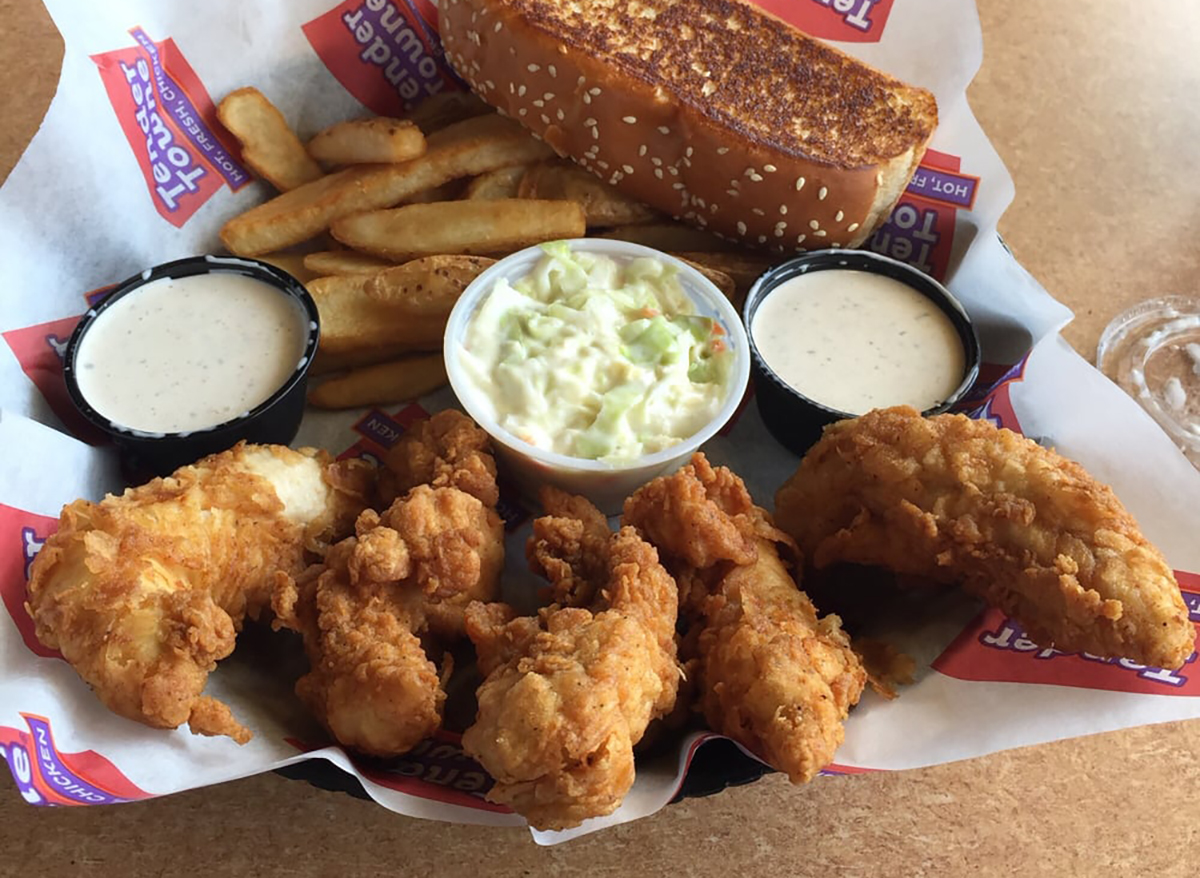 While Ohioans seem to like Raising Cane's restaurants, this local chain gives that franchise stiff competition. Tenders are the focus on the menu, and the Three Lip Smacker seems just the right amount, filled out with garlic toast, fries or chips, a drink, and a choice of dip. The bonus in this Buckeye State best is the funnel cake fries for dessert, which are dusted with a generous portion of powdered sugar.
OKLAHOMA: The Drum Room in Oklahoma City
The tagline on this restaurant is "fine fowls and fixin's." Sounds good to us. They check all the boxes for a great chicken tender spot: crispy fresh fried chicken, sauces, and delicious sides. Check them out if you are in Oklahoma.
OREGON: Bae's Fried Chicken in Portland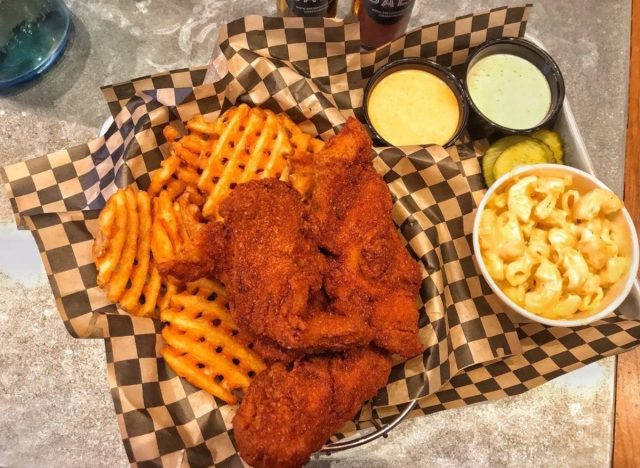 Fans of the massive chicken strips at this chicken joint rave about the large size and the spot-on honey mustard and spicy peach sauces. They also warn that the hot chicken strips truly live up to their name, so be careful when you order.
PENNSYLVANIA: Love & Honey Fried Chicken in Philadelphia
Visitors to Love and Honey consistently rate the chicken as excellent, describing it as golden brown, fried to perfection, and juicy. The tenders are soaked in buttermilk, fried, and drizzled with just a little honey for a salty and sweet combo for your palate. All of the sauces are made from scratch, as are the cookies, sweet potato pie, and cornbread muffins with honey butter.
RHODE ISLAND: Royal Fried Chicken in Pawtucket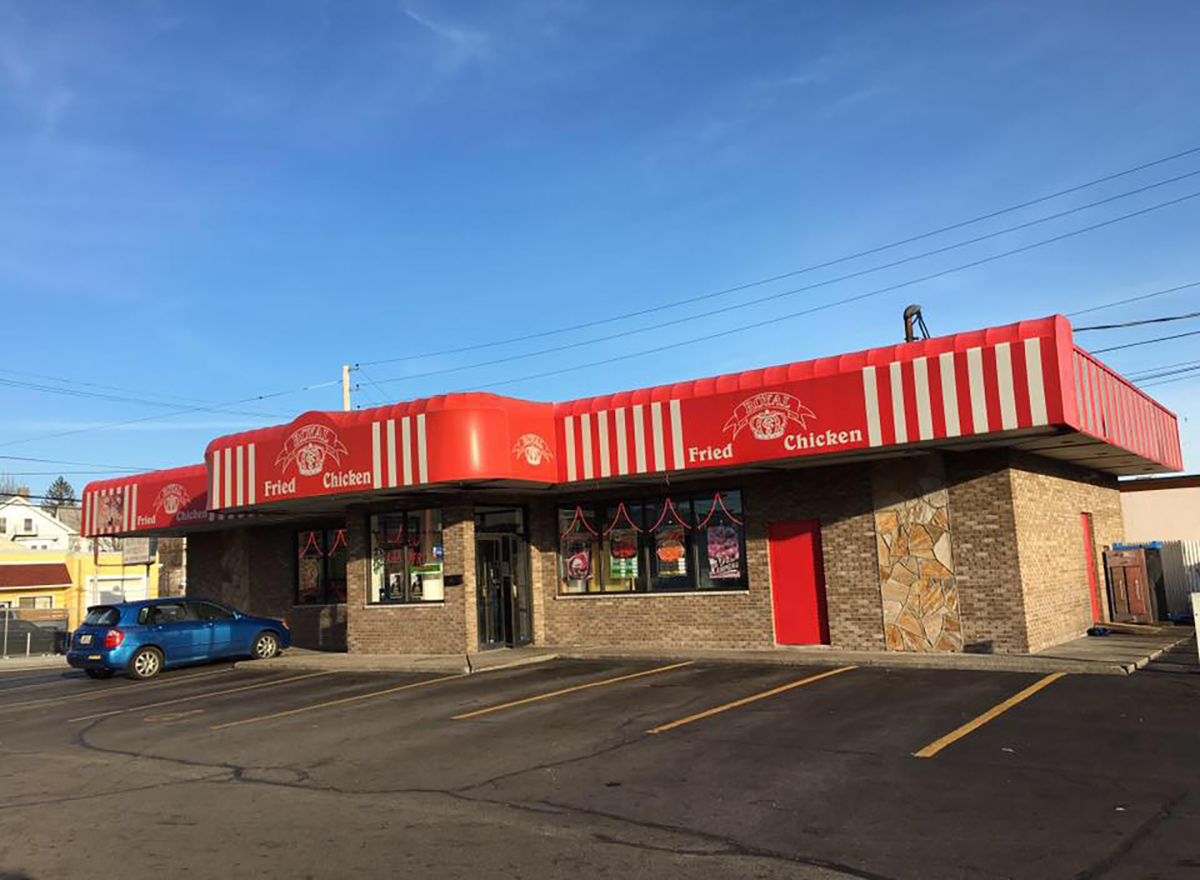 Very simply, this perfect chicken finger is available for carryout every day of the year at Royal Fried Chicken in choices of three, six, or nine pieces, served with fries and a roll.
SOUTH CAROLINA: Boxcar Betty's in Charleston
Diners at Boxcar Betty's rave about the delicious chicken fingers. They pride themselves on serving All-natural, cage-free, antibiotic-free chicken.
SOUTH DAKOTA: The Keg in Sioux Falls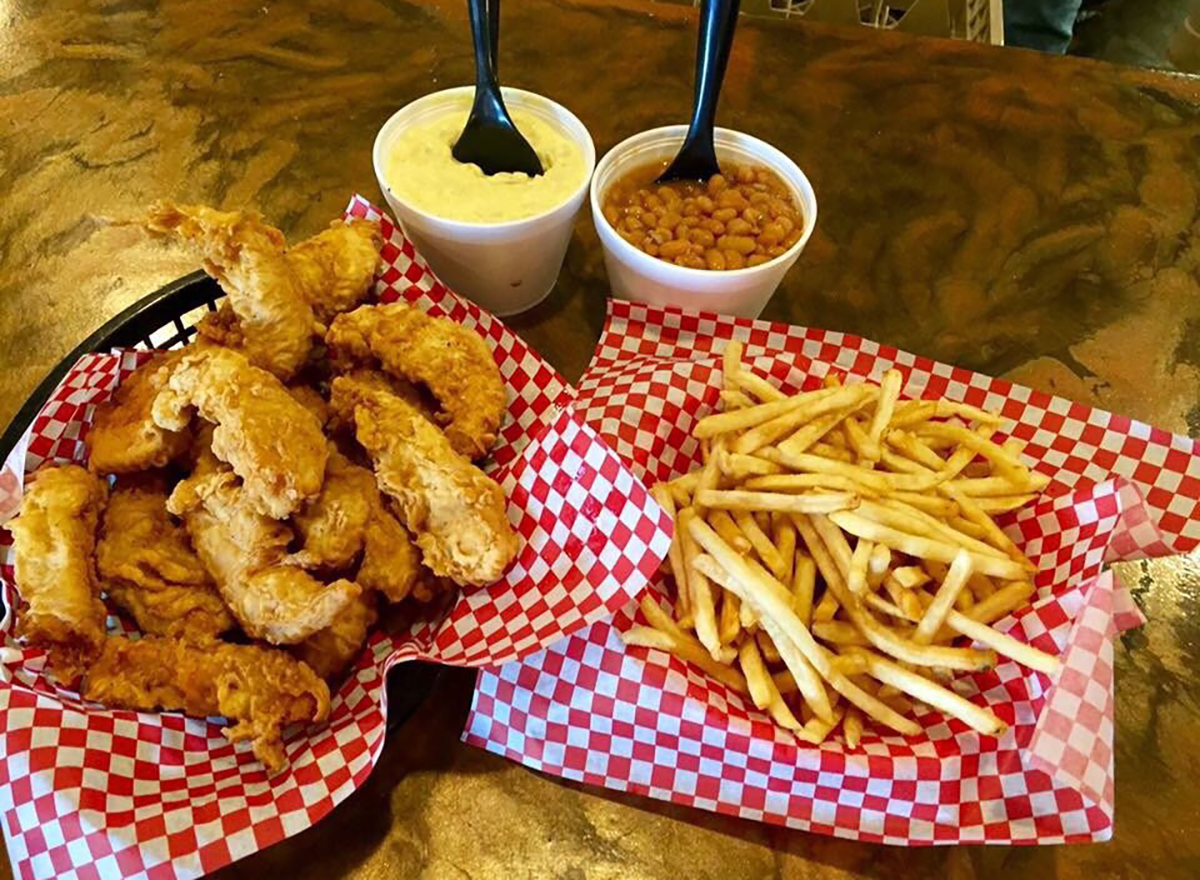 The tenders at The Keg are marinated, wet-batter-dipped, and placed carefully in the fryer one piece at a time to maximize the crispy texture. The restaurant shares a fun fact about its long chicken history, too: The Keg has fried almost 14 million pieces of chicken in 35 years. We guess that practice makes perfect.
TENNESSEE: McDougal's Chicken Fingers and Wings in Nashville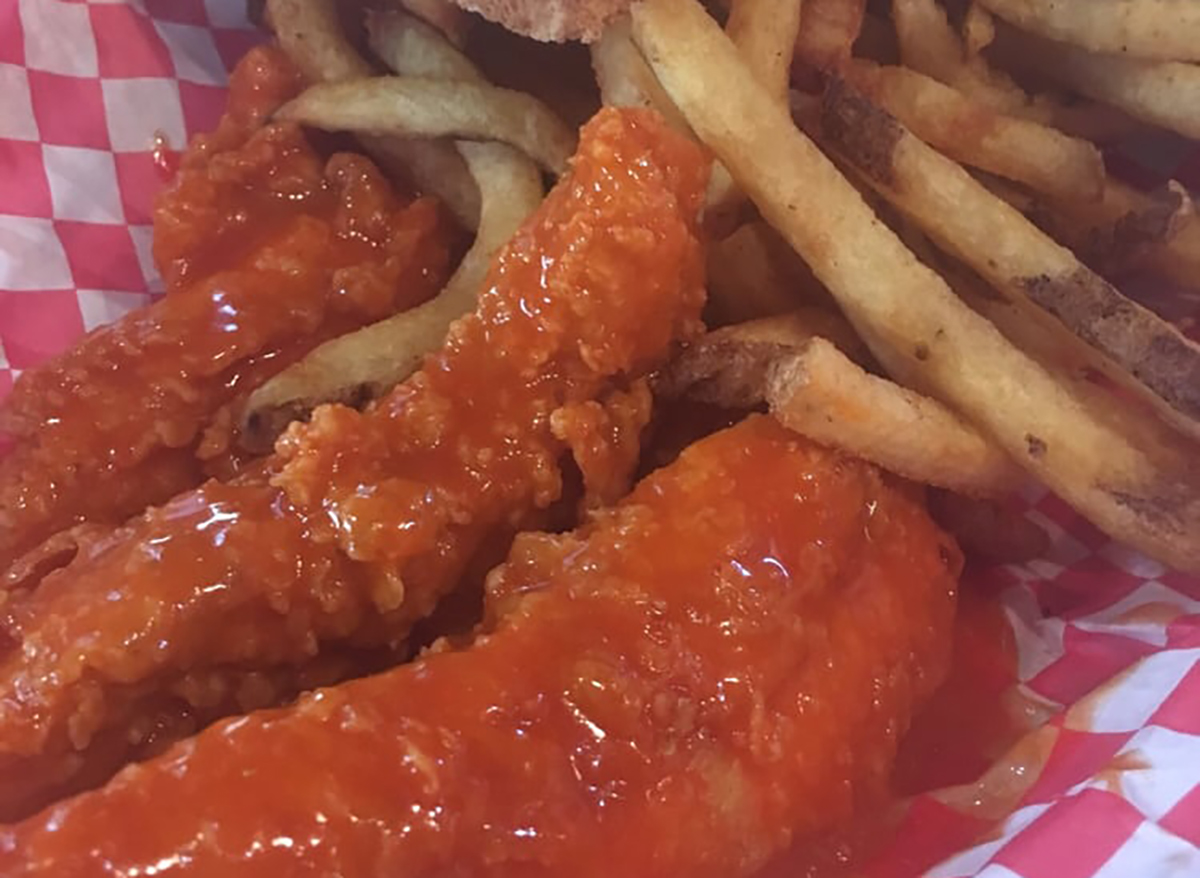 McDougal's doesn't allow freezers, making room for some of the freshest chicken fingers around. They claim "not fast food, fresh food." The chicken comes grilled, fried, or tossed with a nice variety of sauces like the popular Honeybee or, for those who can stand it, the Tearjerker. Sides include fresh pickles, mandarin oranges, or a basket of fries.
TEXAS: Street's Fine Chicken in Dallas
All of the fried chicken at Street's is brined in the restaurant's special mix of herbs, lemon juice, and brown sugar to bring out the ultimate juicy chicken finger. Three or four tenders are served with a side like apple jicama slaw or Tabasco cheddar goat cheese grits. Top all that delicious flavor with a sauce choice from an extensive list and a honey butter biscuit. You just can't beat this choice.
UTAH: Riverside Corner in Riverside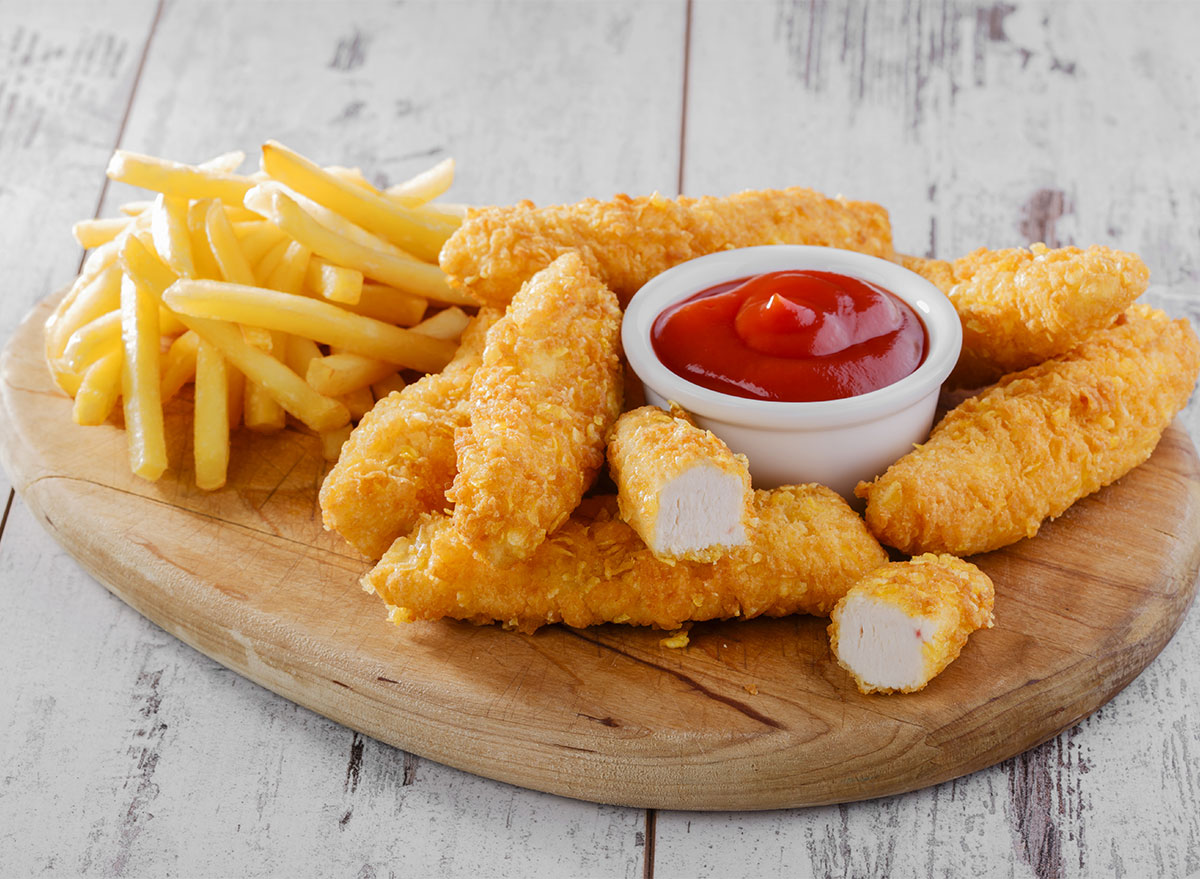 Yes, this is a gas station. It has great chicken tenders. What can we say? The fresh, from-scratch menu is delicious and easy on your wallet. Try the tenders with the potato wedges, the Bear River Special, for just $4.
VERMONT: Chicken Charlie's in South Burlington, Vermont
Chicken Charlie's doesn't stop with a regular chicken tender. They make chicken tender poutine complete with golden fries, house-made gravy, and jumbo tenders. They have a very specific method for its chicken, marinating the meat, lightly dusting it in flour, and frying it with 100% vegetable oil. Diners also have the option of grilled tenders with sides, gravy, and a roll, with a choice of more than 15 sauces.
VIRGINIA: Sweetwater Tavern in Centreville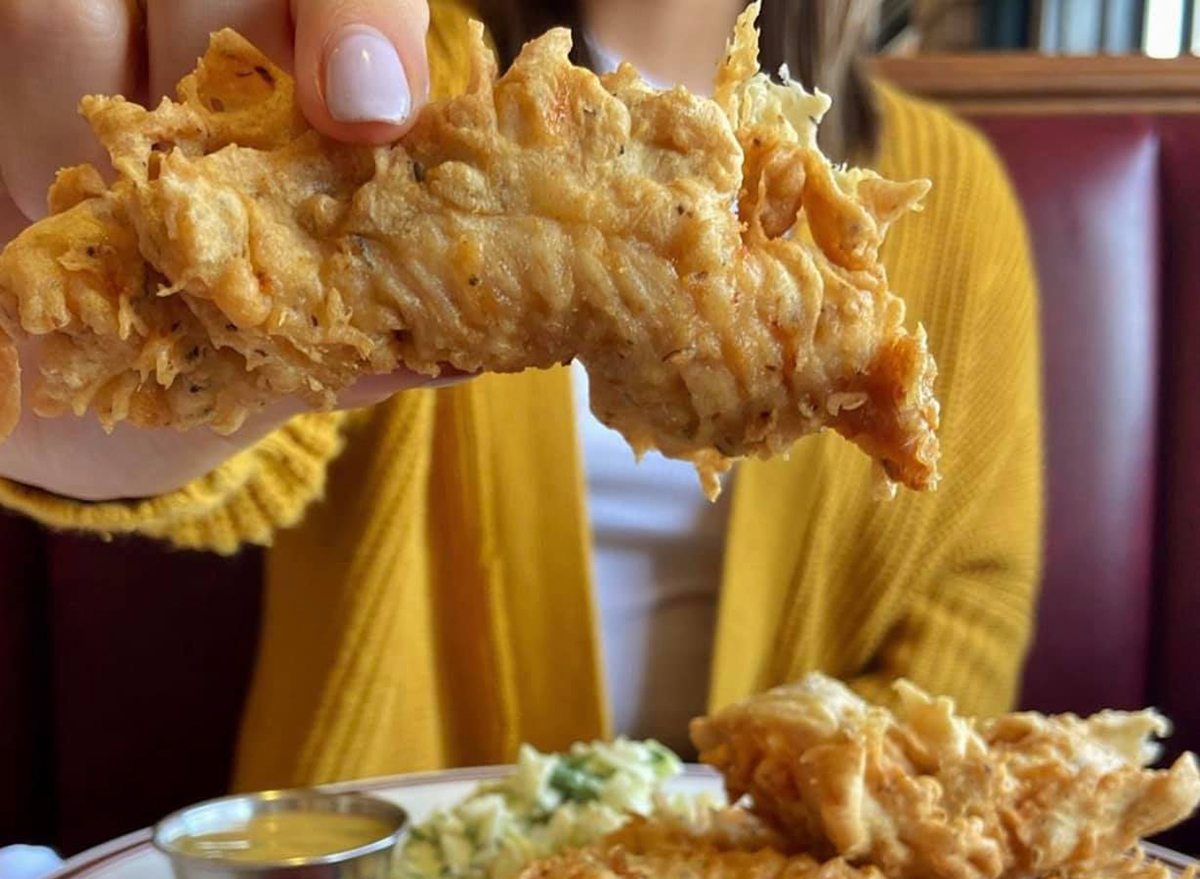 Sweetwater Tavern is well-known for its fried chicken tenders, served traditionally with fries, slaw, and honey mustard sauce. In another win for the tavern, they offer meals to those who are food insecure across the area through the restaurant's delivery service. At checkout, there is an option for customers to make a contribution to be delivered locally.
WASHINGTON: Heaven Sent Fried Chicken in Everett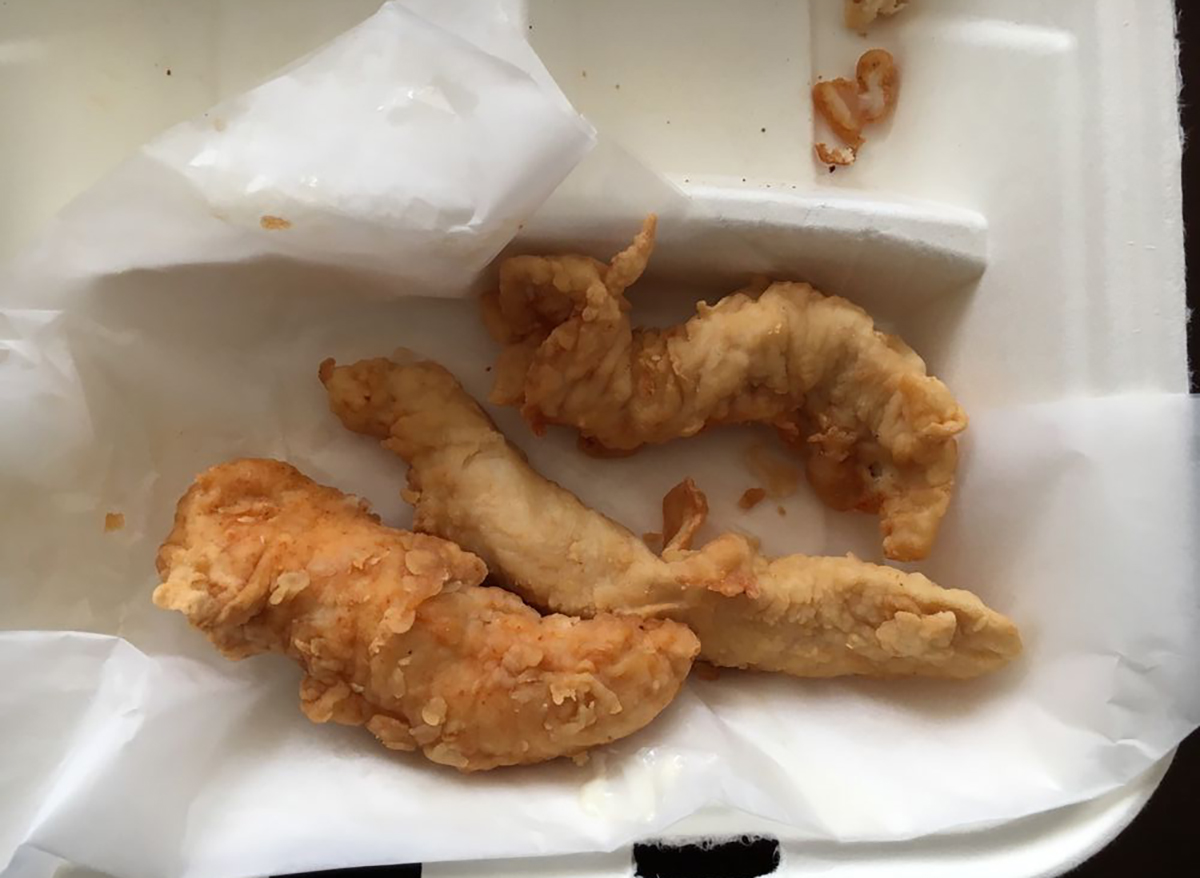 The name says it all: These fried chicken tenders are Heaven Sent. Pick from small or large strips, with a side, roll, and a drink. Chef Ezell Stephens has even served Oprah Winfrey his chicken—she loved it so much that she ordered more for her 40th birthday.
WEST VIRGINIA: Quaker Steak & Lube in Charleston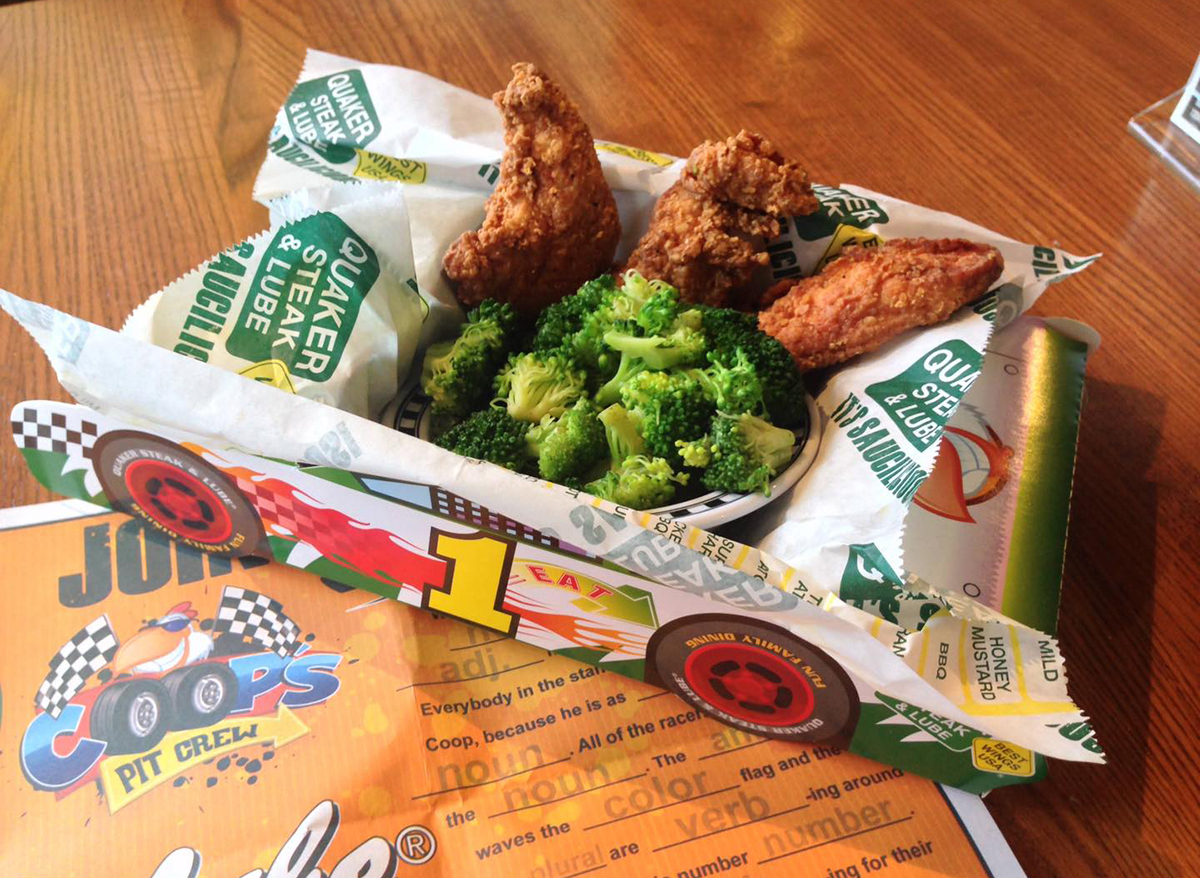 While wings are the specialty at this nod to muscle cars and meat. At this spot, known as "The Lube," visitors will not leave hungry, with items including the Top Gear Tenders offered on the combo menu. Sides are hearty—try the Bavarian pretzels, fried mozzarella, or loaded fries with ranch for a few hunger-annihilating options.
WISCONSIN: Cream City Cluckery in Milwaukee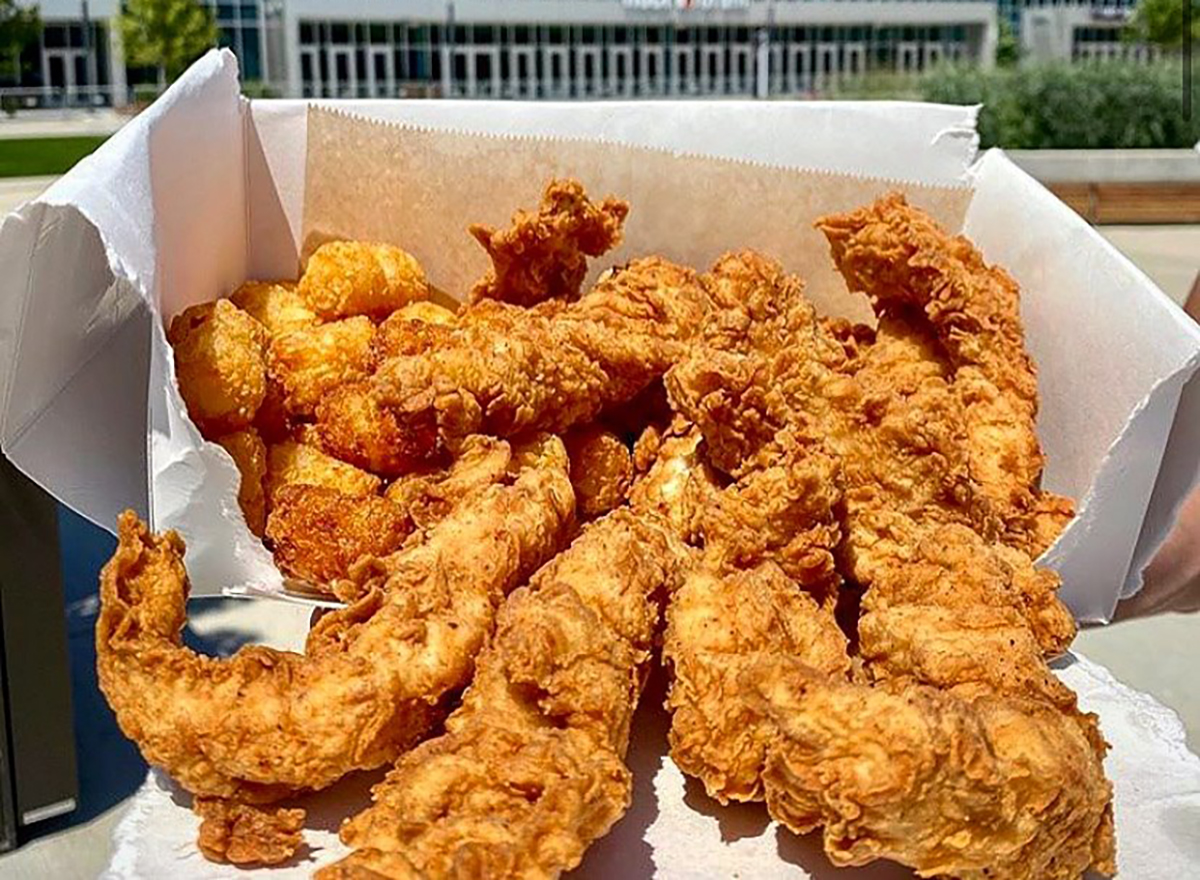 Perfectly fried tenders with crisp fresh pickles take center stage on the limited menu at this gourmet chicken spot. The ingredients are fresh and the dishes are served fast, making these hot chicken strips the best in The Badger State.
WYOMING: Peaches' Family Restaurant in Casper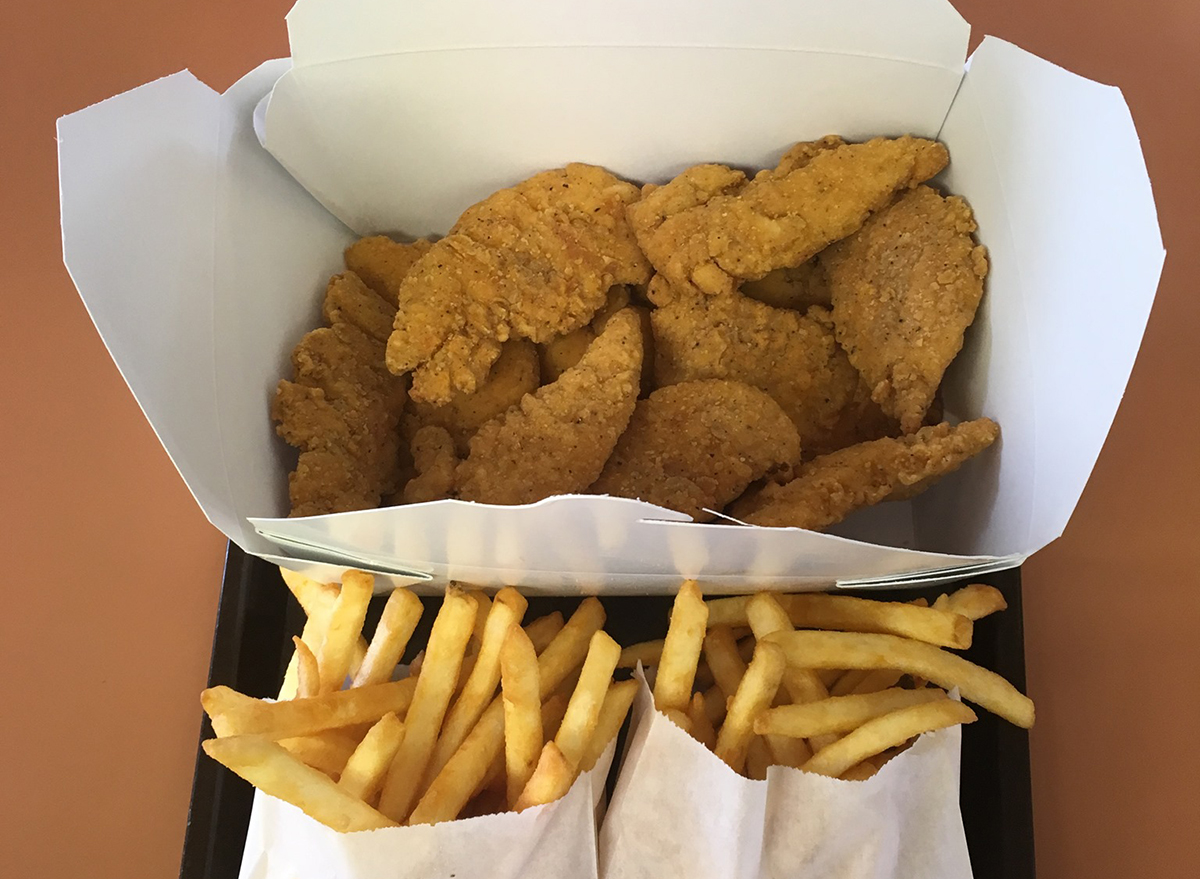 Peaches' is the go-to family restaurant in the area, serving locals since 1965. Sometimes, longevity helps you perfect certain skills, and these chicken strips are a great example. Breaded tenderloins are served with dipping sauce choices, though locals highly recommend the famous ranch dressing.
More local spots you shouldn't miss:
The Best Grilled Cheese in Every State
The Best Mozzarella Sticks in Every State