The Best Ramen in Every State, According to Yelp
Ramen is the perfect comfort food, no matter the season.
Whether ramen is a bowl of inexpensive noodles served up in a college dormitory or a gourmet's delight of fresh veggies and add-ons, the warm brothy umami inspires fans. It's the perfect food in many ways: Ramen is fast, affordable, and a building block for creativity. Bowls at ramen-ya, or ramen restaurants, can resemble art projects with perfect soft-boiled eggs, the pink swirl of a fishcake, and verdant green of herbs and vegetables.
If you're searching for the perfect ramen bowl, a great place to start your research is Yelp. They've let us use their results from tons of diners' reviews, resulting in a great list of the best ramen in America. We expect you'll visit more than one of these restaurants for a taste!
And for more, check out The Best Asian Restaurant in Every State.
ALABAMA: Kamado in Huntsville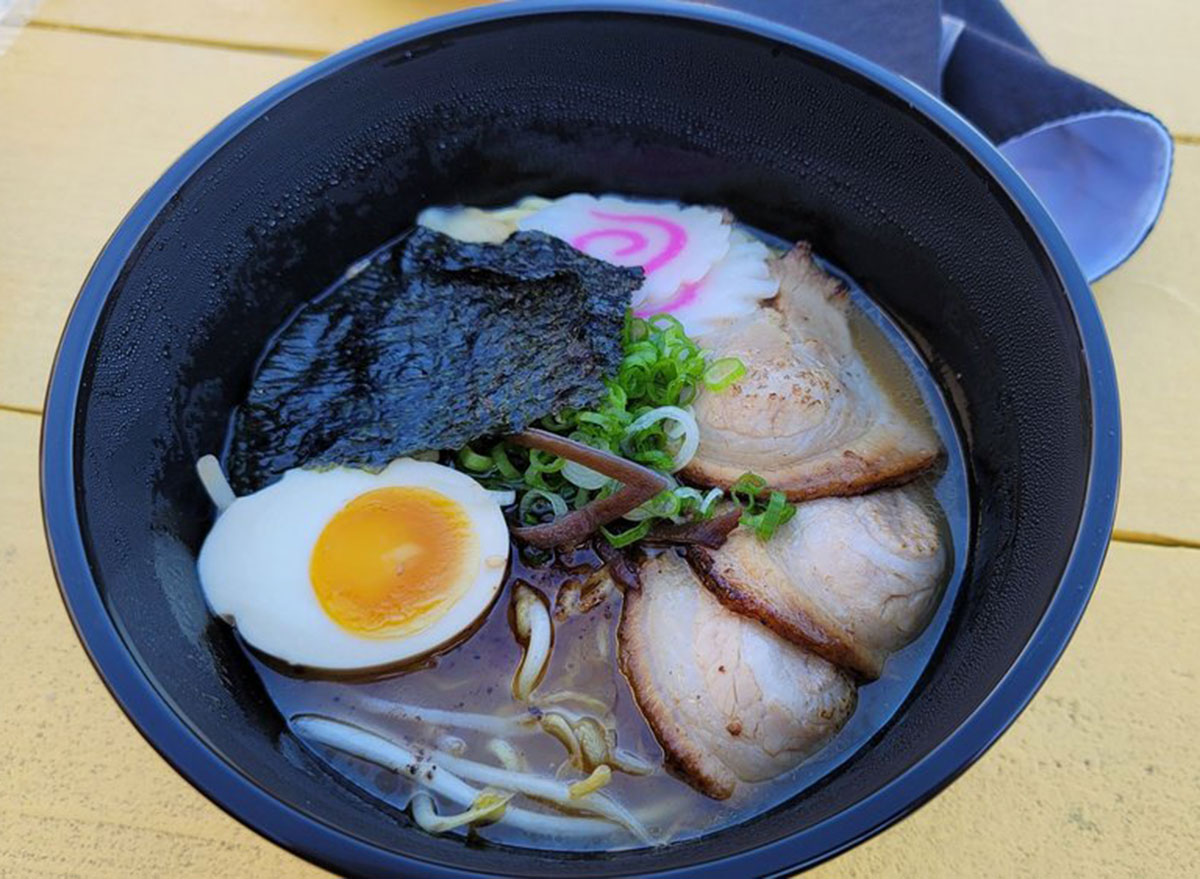 The handmade soup at this Alabama spot garners many five-star reviews. The bowls are generously sized with fresh additions like bamboo shoots, mushrooms, corn, and an assortment of proteins. Try the spicy tonkatsu version for a quick warm-up or the host of small appetizers to complement your dish.
ALASKA: Naruto Japanese Restaurant in Anchorage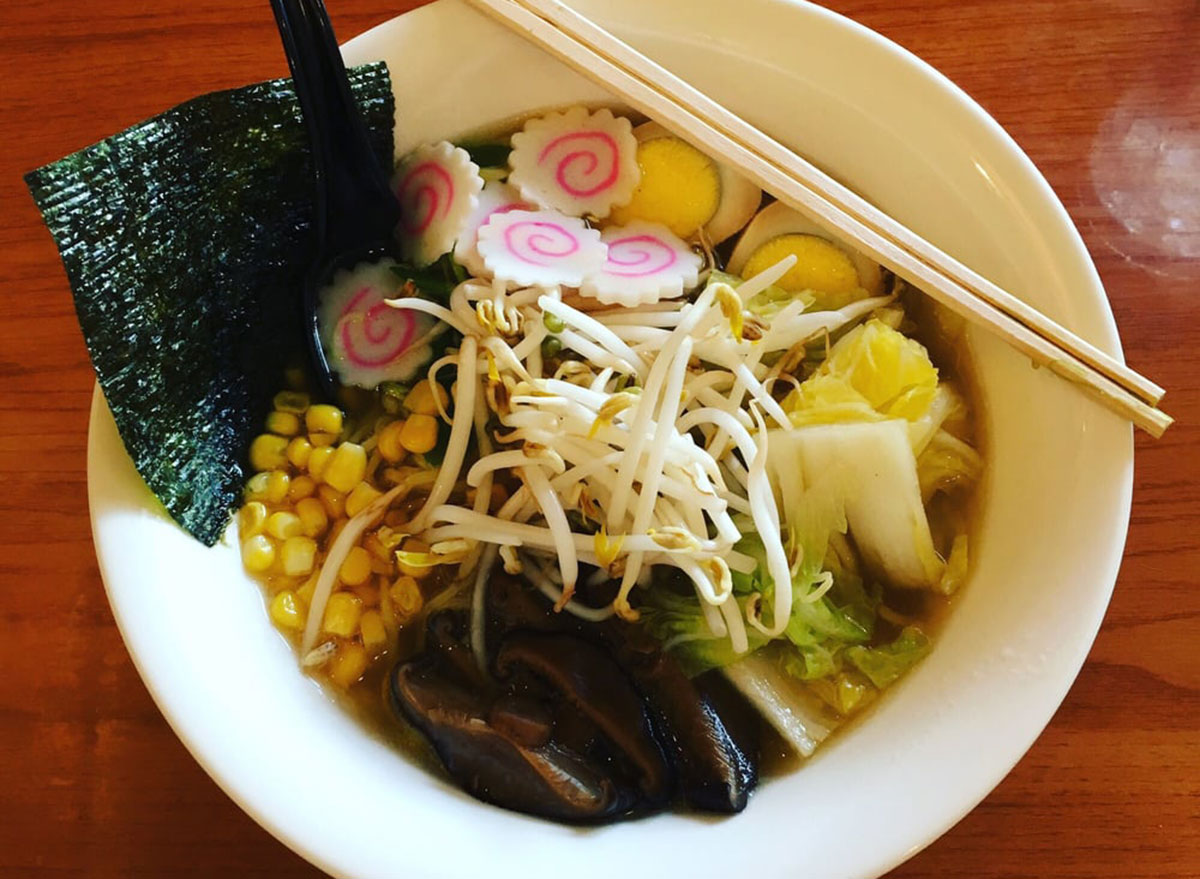 Yelpers rave about the 'spicy dangerous meat,' a meatball made from pork, chili oil, and spicy peppers, though there are just as many reviews mentioning the balance of Naruto's ramen broth. This spot is a must for animé lovers, with the decor reflecting the name. The shelves are full of manga and the television is usually playing Naruto for diners' enjoyment. The meal ends with a bite-sized custard, a sweet bite to finish a delicious meal.
ARIZONA: Yutaka Japanese Restaurant in Phoenix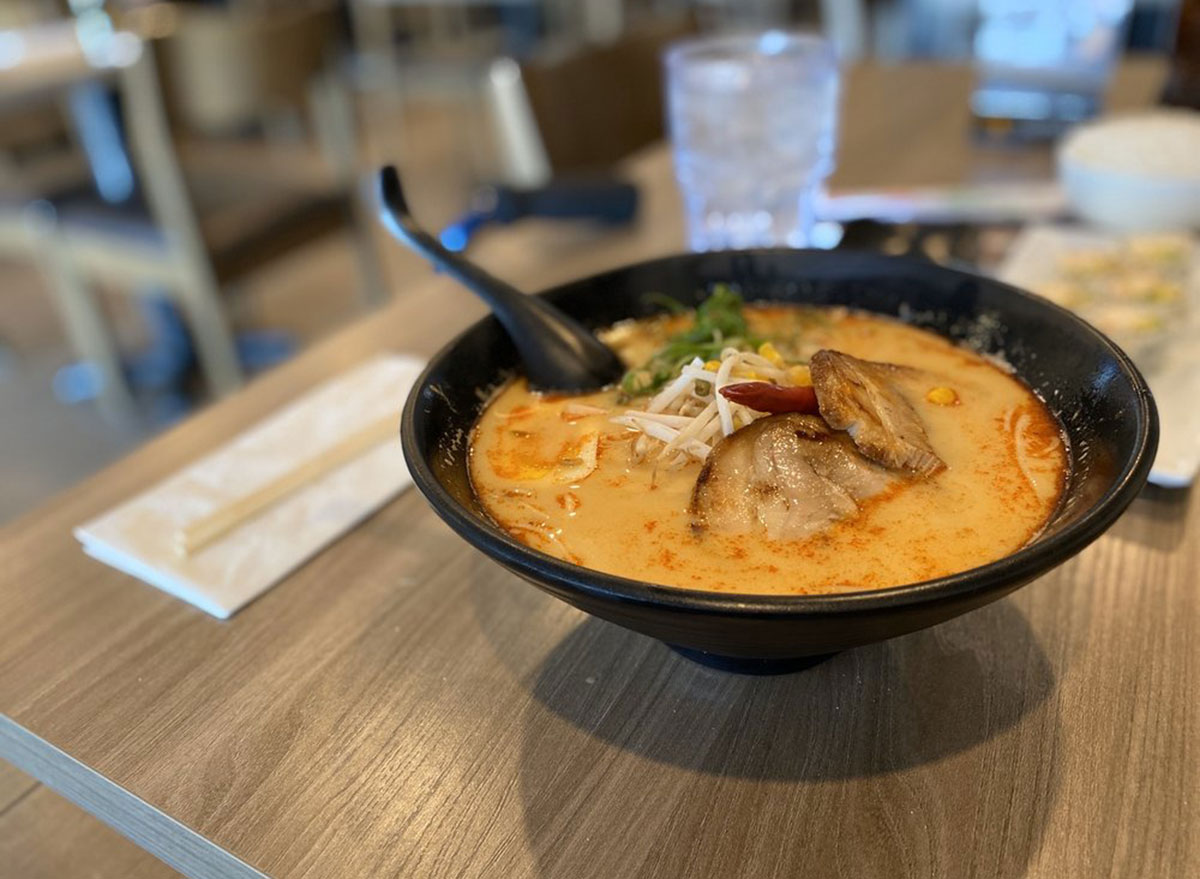 Part ramen-ya and part sushi bar, Yutaka serves incredible small plates to complement the ramen offerings. Try the 'Monkey Brain' deep-fried mushrooms stuffed with cream cheese, crab, and spicy tuna with the highly regarded spicy miso ramen. Diners appreciate how fresh the food is and the attention to cleanliness and ingredient quality.
ARKANSAS: Ramen Nara in Rogers
This restaurant crafts its ramen with real bone broth and handmade noodles made right in the kitchen. The Seafood Shio stands out with a base of fish stock and lots of shrimp, clams, and scallops, topped with fried shallots, scallions, and bamboo shoots.
CALIFORNIA: Pisces & Ramen in Los Angeles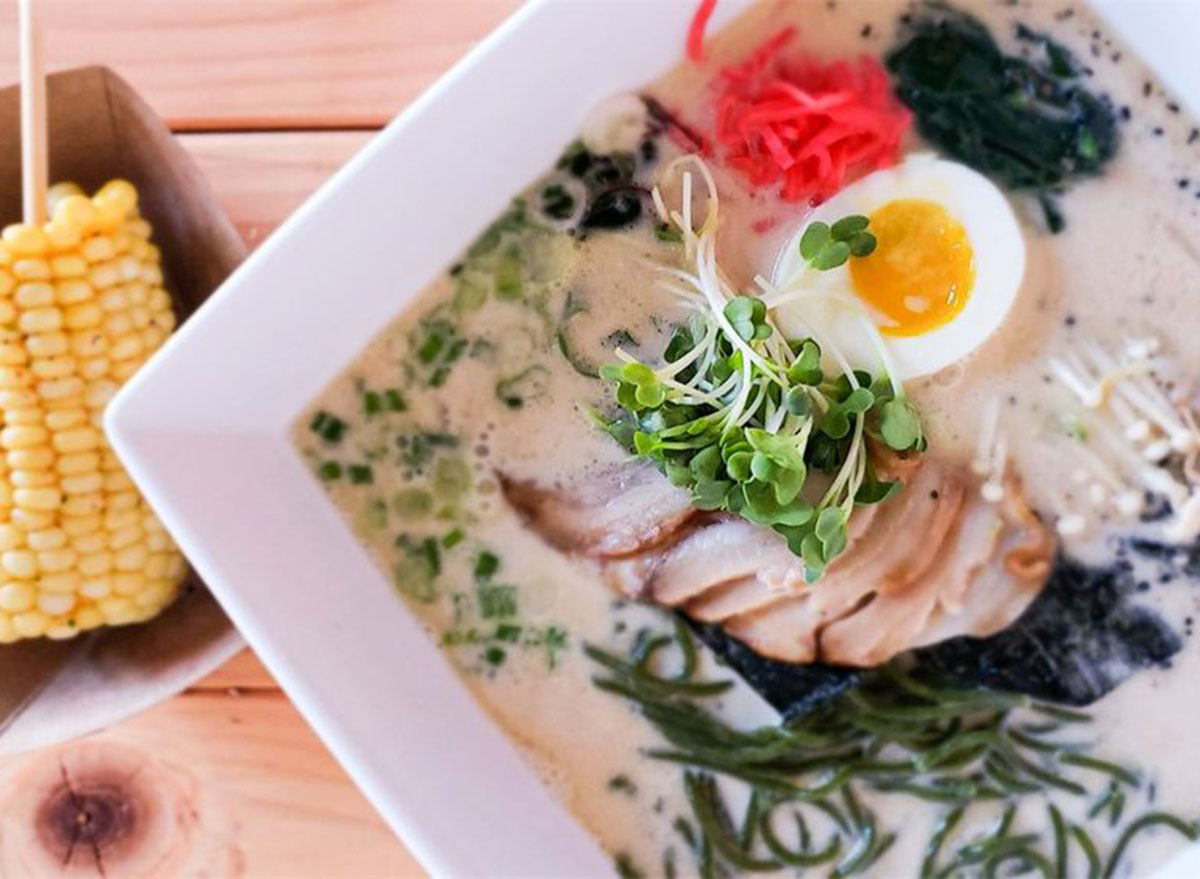 Pisces & Ramen has such a following that it was voted the #2 restaurant in the entire country. Chef Joshua You blends the flavors of market-fresh fish and seafood, ramen bone broth, brined chashu pork, and his homemade sauces to perfectly complement each other. For a unique option, try the Butter Truffle Ramen with Radish Sprouts; the bowl comes with a full range of vegetables and sauces. The restaurant focuses on making each individual experience epic. When ordering, diners can choose everything from the firmness of the noodle to the saltiness of the dish.
REALTED: The Best Seafood Restaurant in Every State
COLORADO: Tatsu Izakaya in Denver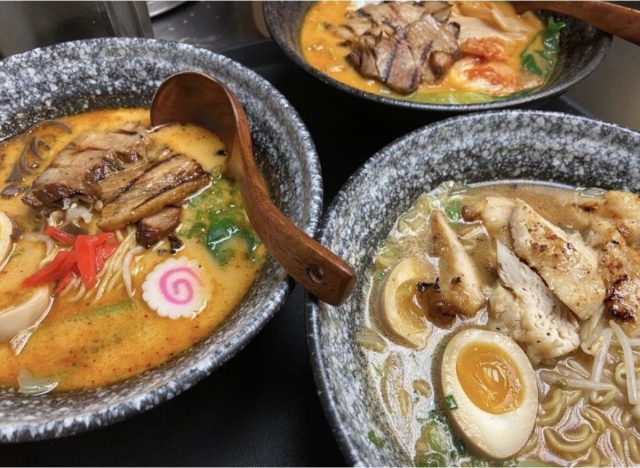 Diners rave about the ramen at this Japanese spot in Denver that opened in 2019. The broth makes it, said one reviewer, "The broth here is the star of the show…The rich broth was perfectly balanced from the spiciness, umami, hints of garlic, and creaminess. There was not a drop left."
CONNECTICUT: Haruki Ramen and Izakaya in Norwalk
Izakaya, or Japanese small plates, fill the menu as a complement to Haruki's eight-hour ramen. The ramen is full of juicy, well-prepared meat, vegetables, and a perfectly cooked egg, just soft enough to enjoy. The restaurant also makes its chili oil in-house.
DELAWARE: Ramen Kumamoto in Newark
Tucked away on a side alley in Newark's downtown, Ramen Kumamoto is usually packed with diners. They offer vegetarian options as well as a whole list of choices like the popular Mayu Ramen, made with oil from a roasted leek blended with crushed garlic oil, or Spicy Ramen, blending seafood and chicken broth for a flavorful impact.
FLORIDA: 107 Taste in Miami
Chef Yu at 107 Taste offers an Asian fusion menu drawing from her travels. She has created delicious ramen choices: Korean Spicy Ramen, Miso, Shoyu, and a dish called The Hell's Ramen that lives up to its name. Finish off your meal with the Zombie Plant dessert, an amalgamation of Oreo cookies, fruits, and cake, for a sweet finish.
GEORGIA: JINYA Ramen Bar in Atlanta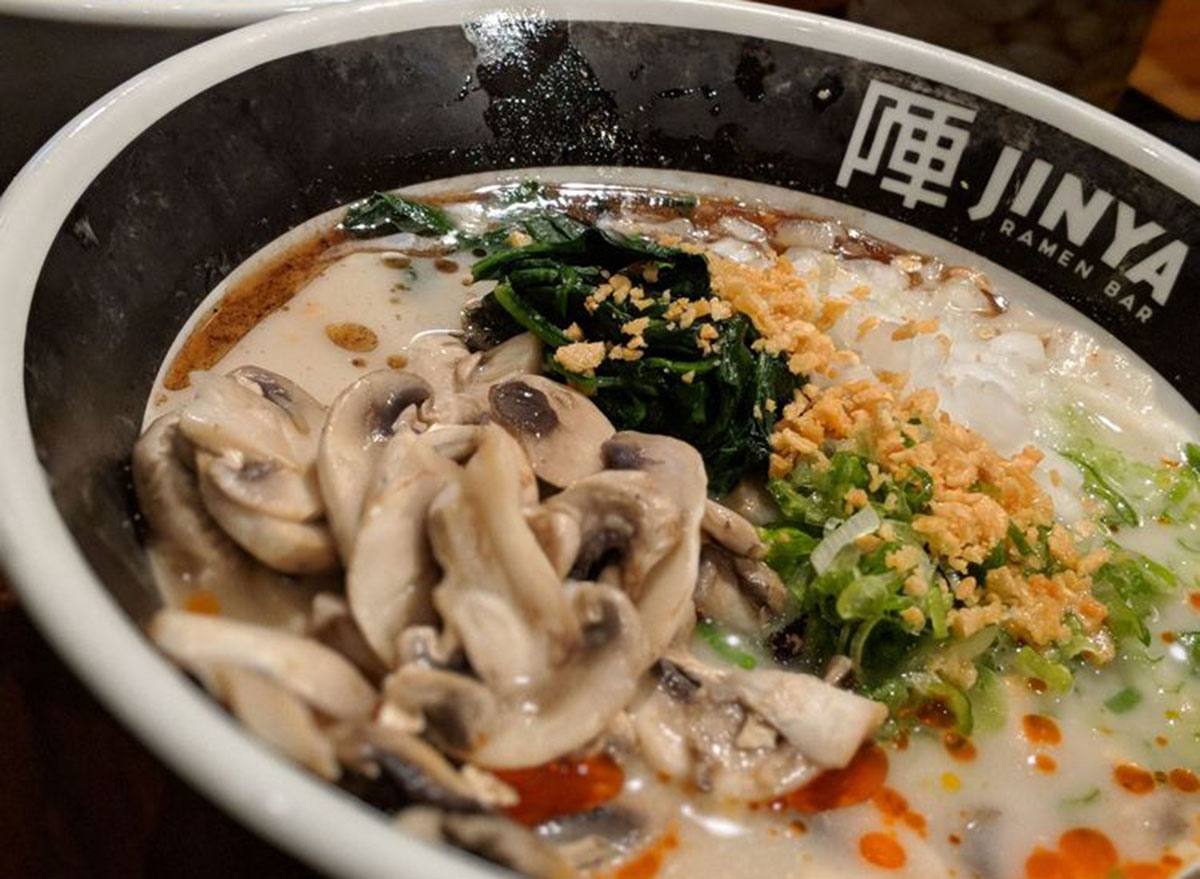 You can't go wrong with the ramen at this favorite Atlanta spot. The best part is that the flavorful dish comes in large portions, leaving plenty for the next day. JINYA Ramen Bar in Atlanta serves ramen bowls with melt-in-your-mouth meats, creamy broths, and delicious noodles. If there aren't enough in your big bowl, you can add more for a nominal fee. You won't go hungry at this busy Buckhead spot!
HAWAII: Wagaya in Honolulu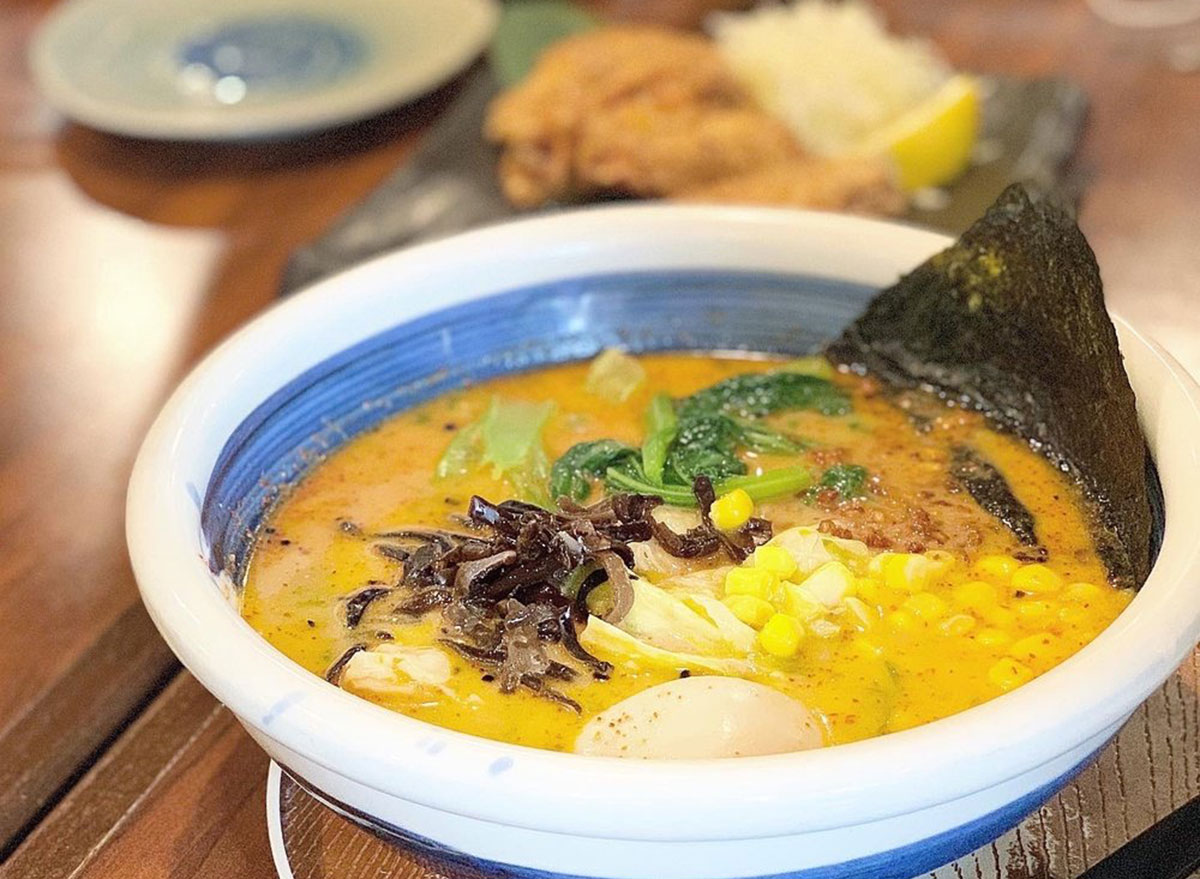 Wagaya is owned by a husband and wife team who believe in bringing the taste of their home to their guests. They focus on comfort and good food, crafting organic and locally-sourced ingredients into their small-batch broths and sauces. Everything is crafted with attention to detail, from house-ground pork to organic chicken and pork bones that are simmered for two full days to make a rich umami flavor. Simply delicious.
IDAHO: Island Sushi and Ramen in Boise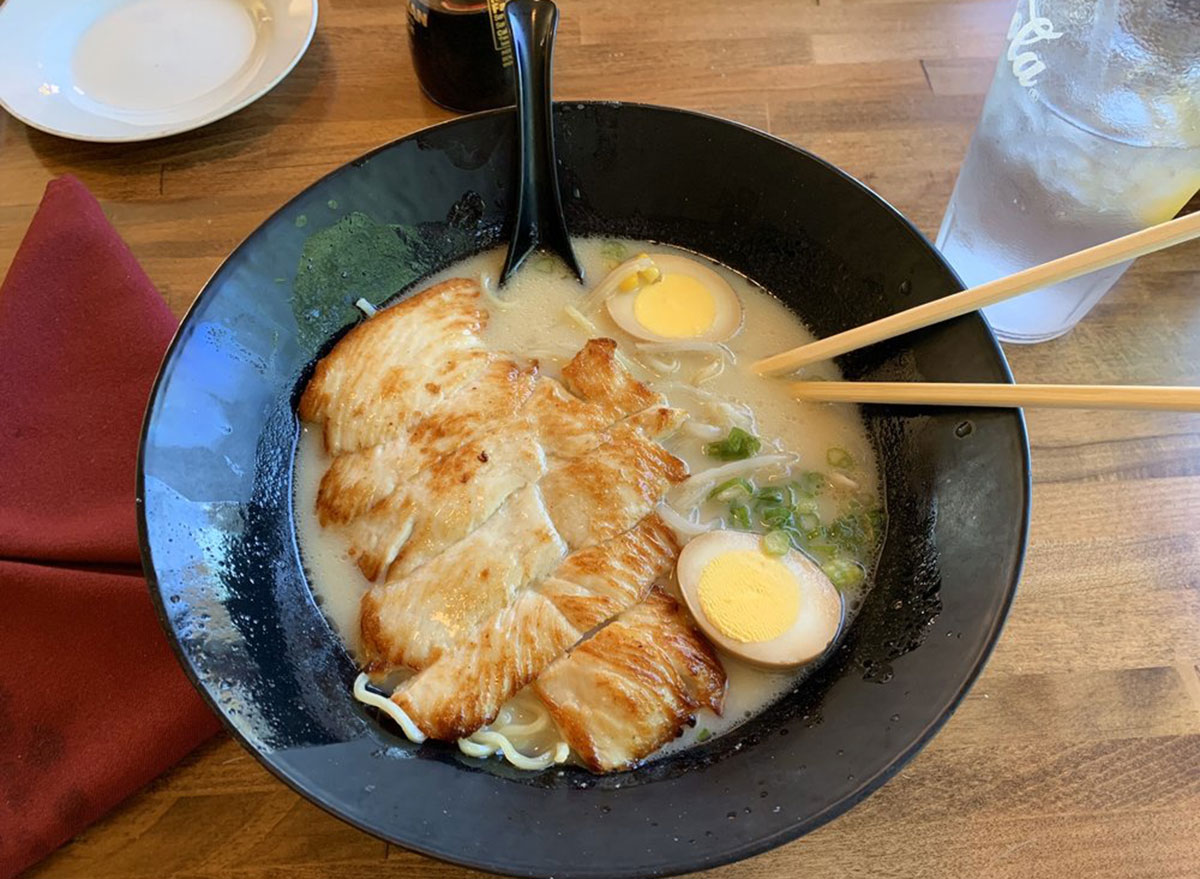 With a full range of Japanese cuisine choices, the ramen at this Boise spot might get overlooked. Their flavorful versions are worth saving room for, though. Try the Island Special Ramen, with chicken, pork, shrimp, ham, and fishcake, or the spicy, sour Kimchi Ramen to fill you up.
ILLINOIS: Kitakata Ramen Ban Nai in Hoffman Estates
Kitakata's ramen is a standout. Hand-crumpled, aged noodles are added to a light, flavorful broth. Soft toro-chashu is made fresh daily in the restaurant. The servings of pork belly are never stingy. They drape across the dish, hiding a nest of noodles to curb any hunger. This popular restaurant does a lot of takeout business as well, packaging their delicious meals for convenient home dining.
INDIANA: Meet Noodles in Indianapolis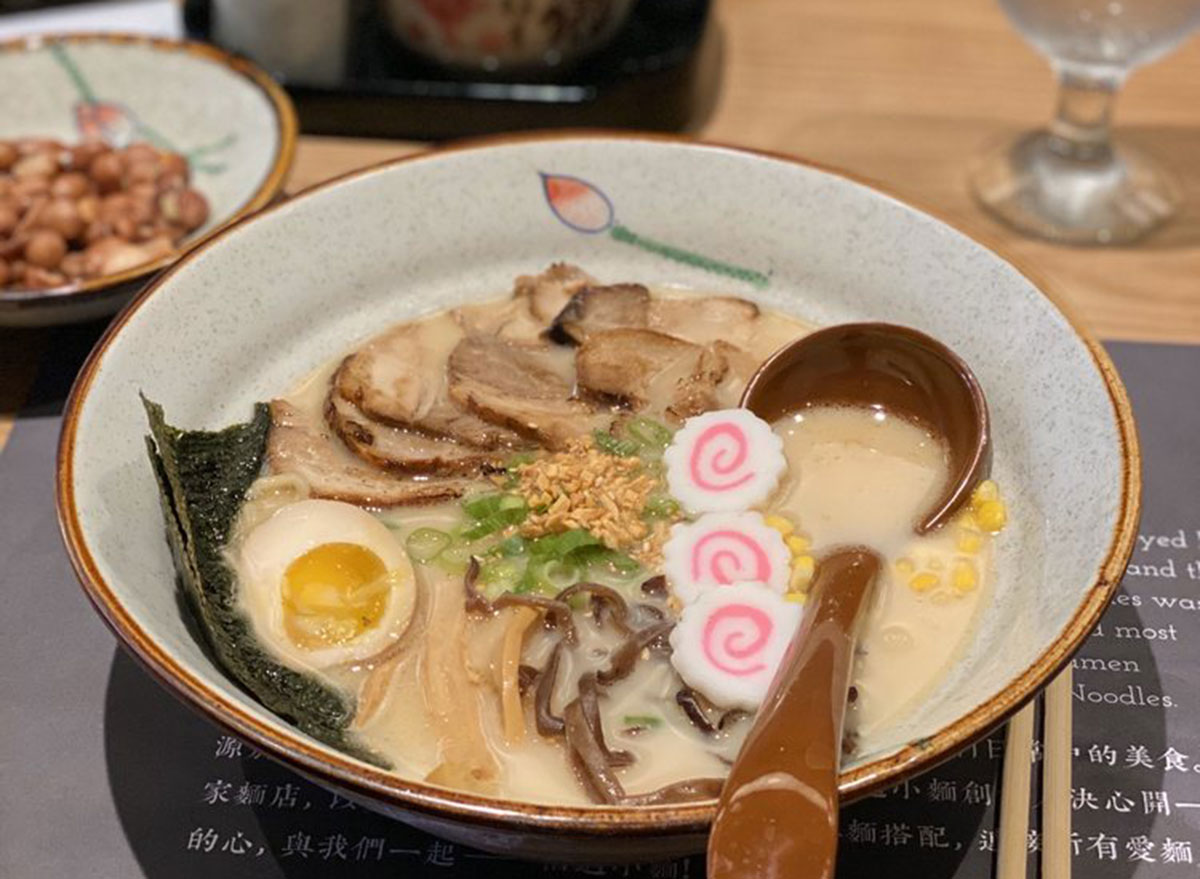 Sometimes, you just can't go wrong with the original. At Meet Noodles, you can take that approach and try the Tonkatsu Ramen for the traditional experience. The restaurant's pork bone broth is topped with pork belly, baby corn, scallion, black fungus, bamboo shoots, and a soft egg. There's also stir-fried beef udon ramen with black pepper sauce and teriyaki ramen. Diners love their fresh made noodles and tasty broths. A little secret: The napkins and forks (if you give up slurping noodles from your chopsticks) are stored in a little drawer in your table.
IOWA: Hana Ramen Sushi in West Des Moines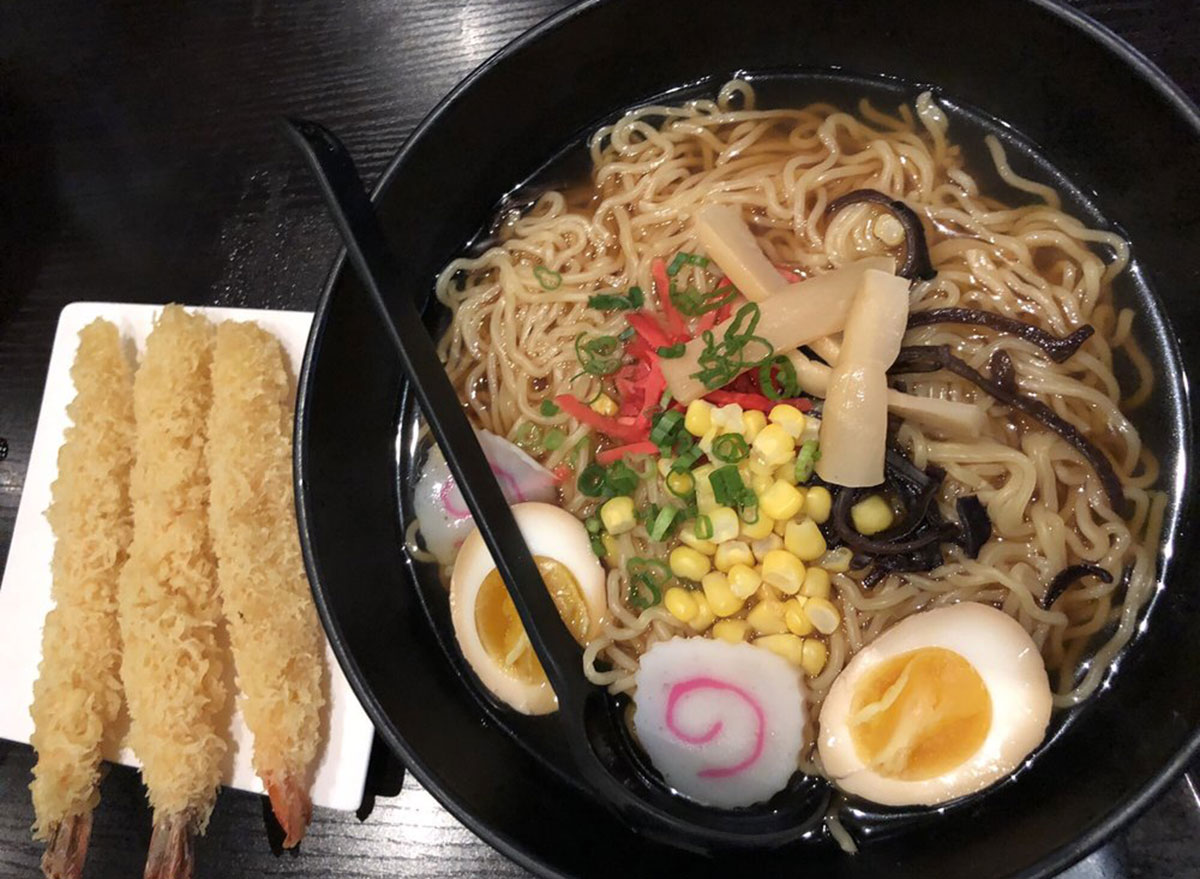 Hana Ramen Sushi offers diners a fast, delicious food option with a focus on fresh, natural ingredients. The Tonkotsu broth is made from Berkshire pork and filtered water, monitored carefully and cooked slowly for more than 15 hours to get a rich, flavorful, super-creamy broth.
KANSAS: Yokohama Ramen Joint in Wichita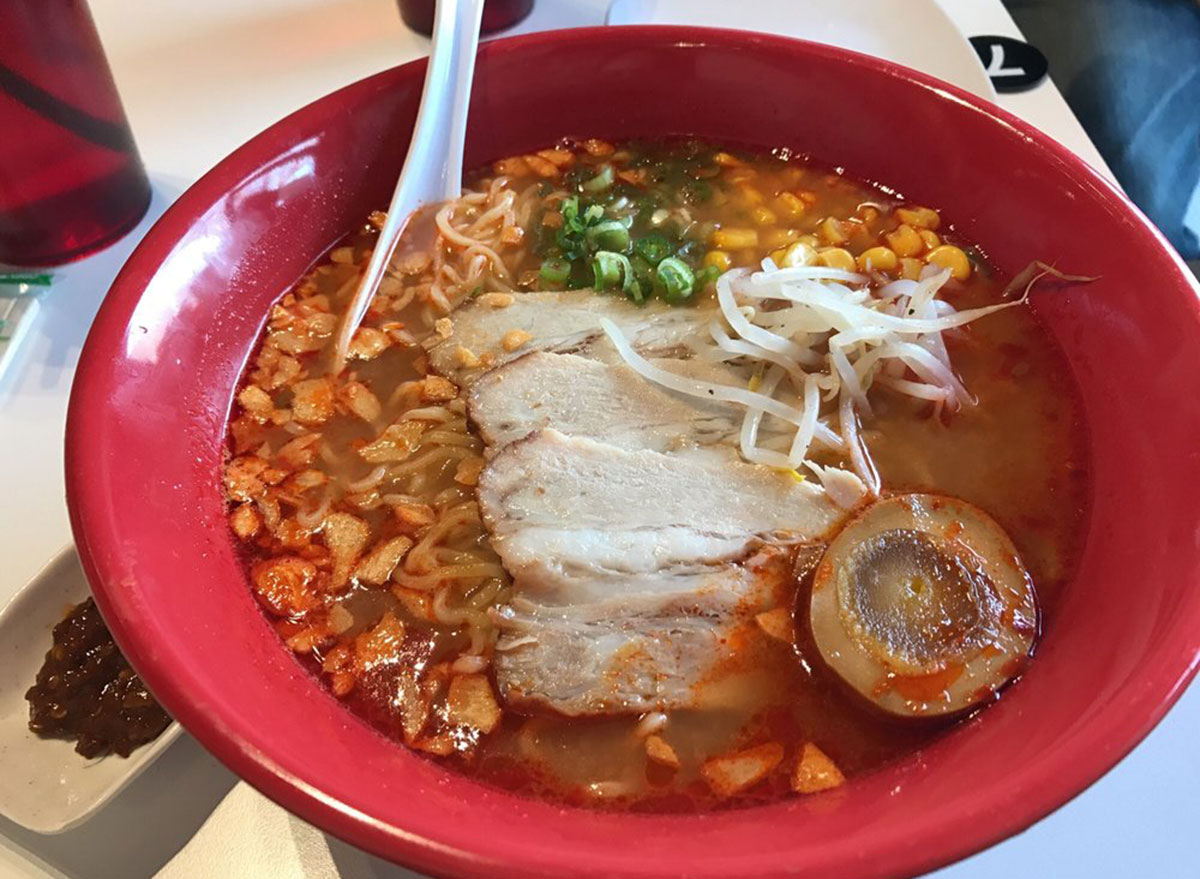 Yasunari Fukuda, the owner of this Ramen spot, believes in bridging cultures through the unique flavors of his hometown of Yokohama. The menu has been featured on the Food Network and written about in USA Today, no surprise to Wichita locals. There are tons of ramen options, including a Black Garlic Tonkotsu Ramen, a mix of complex flavors that is recommended by the guests and staff alike.
KENTUCKY: Ramen House in Louisville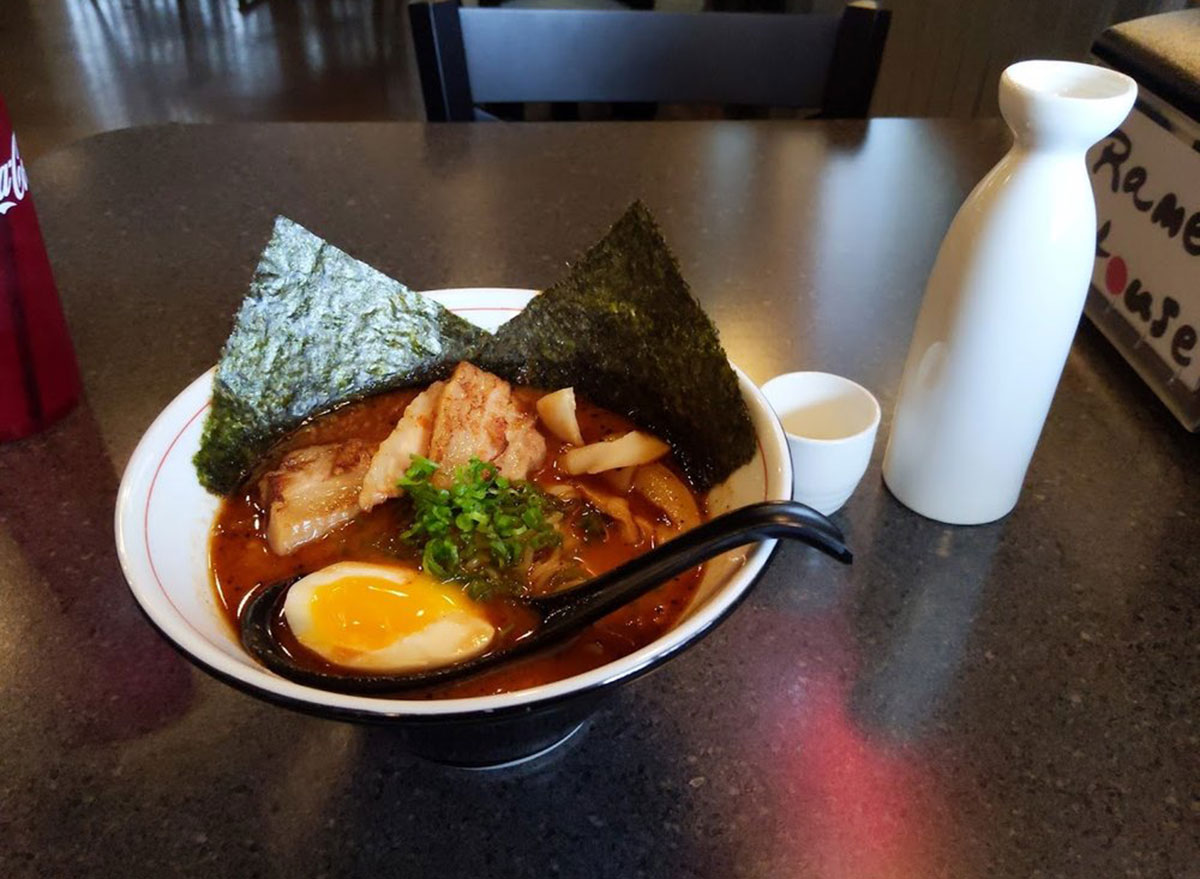 Ramen House specializes in traditional ramen, much to the delight of the Kentucky guests. They top their dishes with ChaShu pork or chicken and bring some local flavors in their broth with a Kentucky bourbon barrel-aged soy sauce. They have all the varieties of ramen that a diner could expect, all made with an eye for freshness.
LOUISIANA: Journey East in Mandeville
A local favorite, this restaurant serves excellent ramen with noodles or homemade dumplings. The Creamy Chicken Ramen is a cult favorite in the area, guests raving about the flavorful broth. Try it with a cup of rose green tea, a blend made with the petals and buds of a rose bush.
MAINE: Crunchy Poke in Portland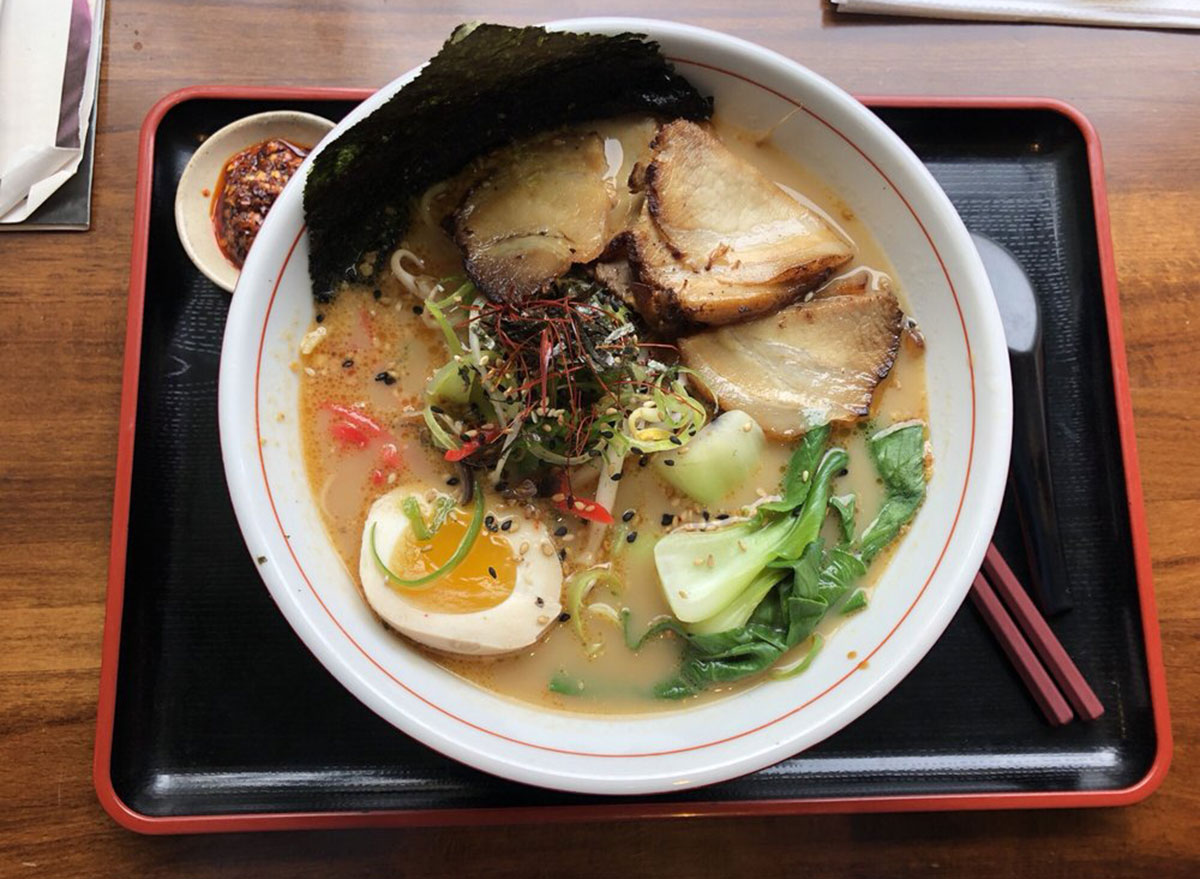 A restaurant that specializes in fresh ingredients, has delicious ramen, and gives back to charity? Yes, please. Last year, Crunchy Poke gave more than $10,000 to non-profits and small local organizations in Portland. If that isn't enough to make them a favorite, try the Tonkotsu or veggie ramen. They have just the right balance of salty and savory flavors, and visitors rave about the broth.
MARYLAND: Ramen Utsuke in Baltimore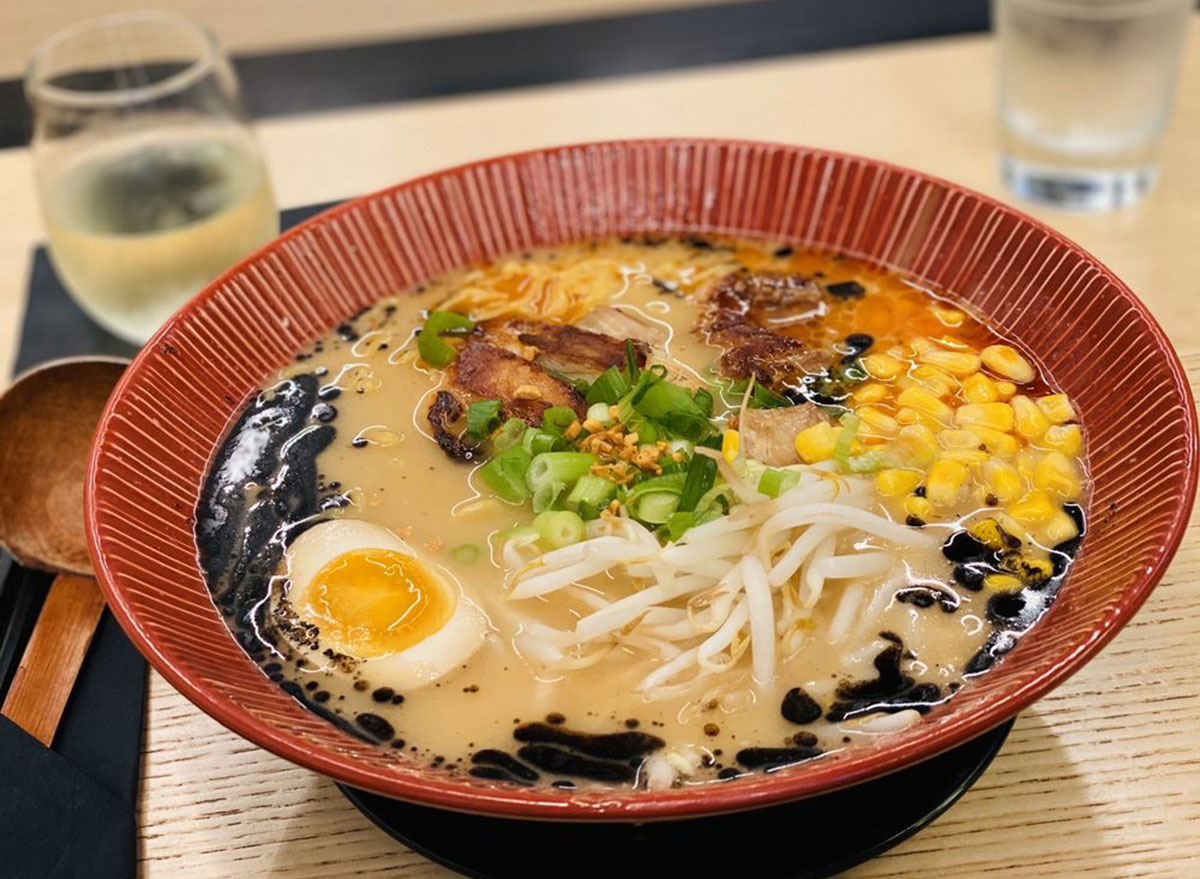 Japanese comfort food doesn't get any better than the ramen at this Baltimore restaurant. Start with a choice of Tonkotsu, chicken, or vegetable broth and pick your flavors—miso, black garlic oil, shoyu, or spicy oil, to name a few. The flavors are complex and delicious and deeply brewed into the ramen dish for a satisfying meal.
MASSACHUSETTS: Doragon Ramen in Ashland
Everything is made from scratch at Doragon Ramen. In fact, the restaurant calls its creations the 'art of ramen.' This spot also has influences from the farm-to-table movement, using local, sustainable ingredients. With a diverse selection of ramen and options for vegetarian and gluten-free bowls, this place will satisfy every palate.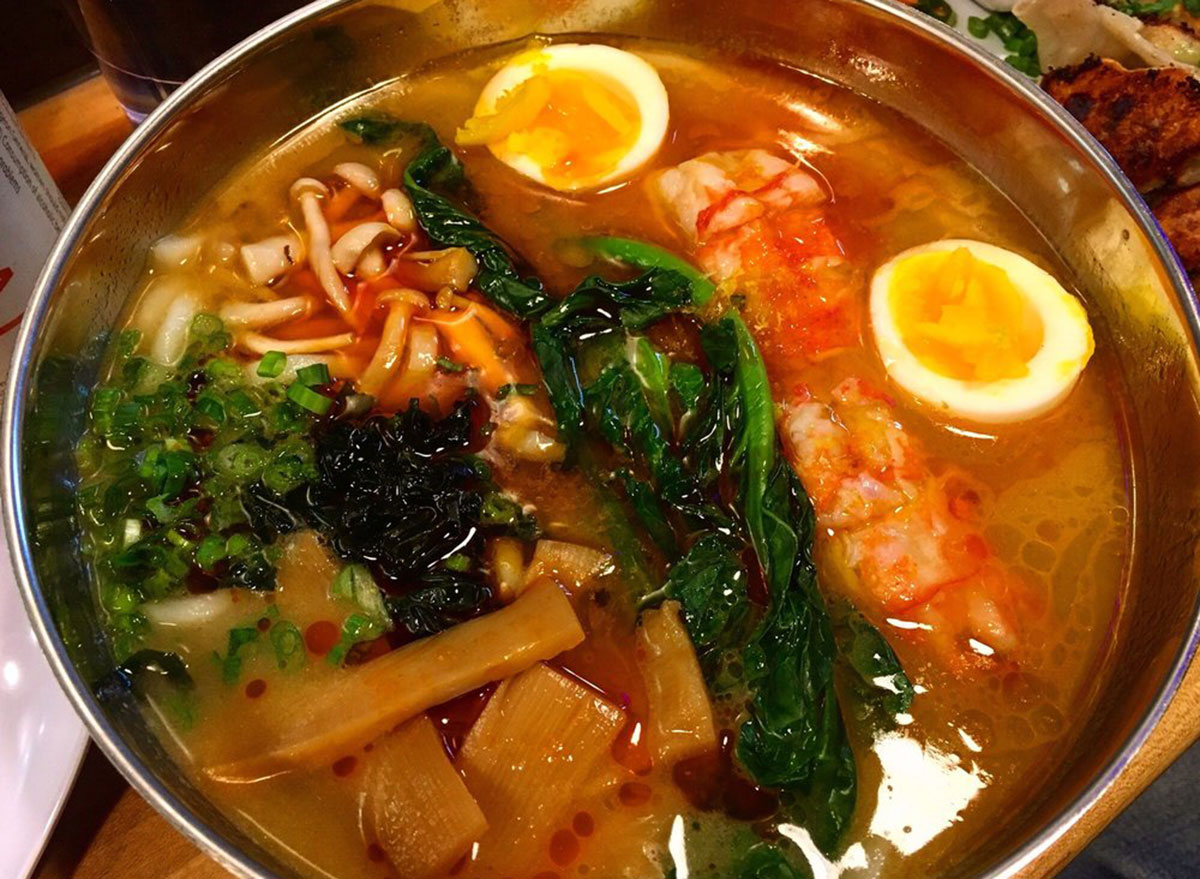 Try the glazed pork belly, a crispy and flavorful addition to a ramen bowl. Eat the spicy kimchi in a seafood broth. Maybe order the porcini mushroom and vegetable broth with roasted tofu. Whatever the choice, the ramen at Ima is a creative exploration of flavor and texture. Diners report that the spicy dishes have just the right amount of kick, satisfying but not scalding. The portions are reasonable amounts that won't leave you feeling too full.
MINNESOTA: Ichiddo Ramen in Maple Grove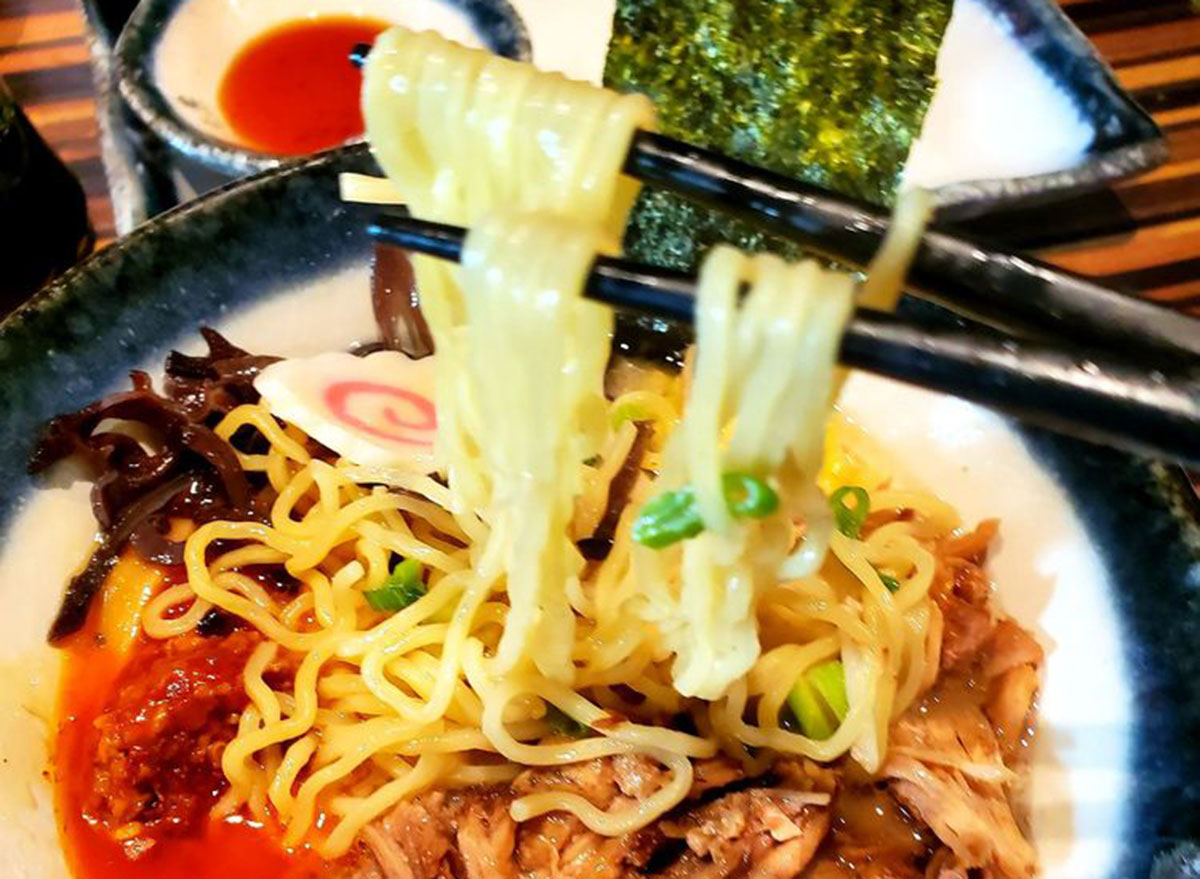 The ramen at Ichiddo starts with Japanese noodles that are made to stay firm and delicious in the ramen broth. They combine these with a rich, clear bone broth and up to fifteen different topping choices. Guests seem to love their personalized approach to ramen flavor combinations, making their own versions according to individual taste.
MISSISSIPPI: SoLa in Oxford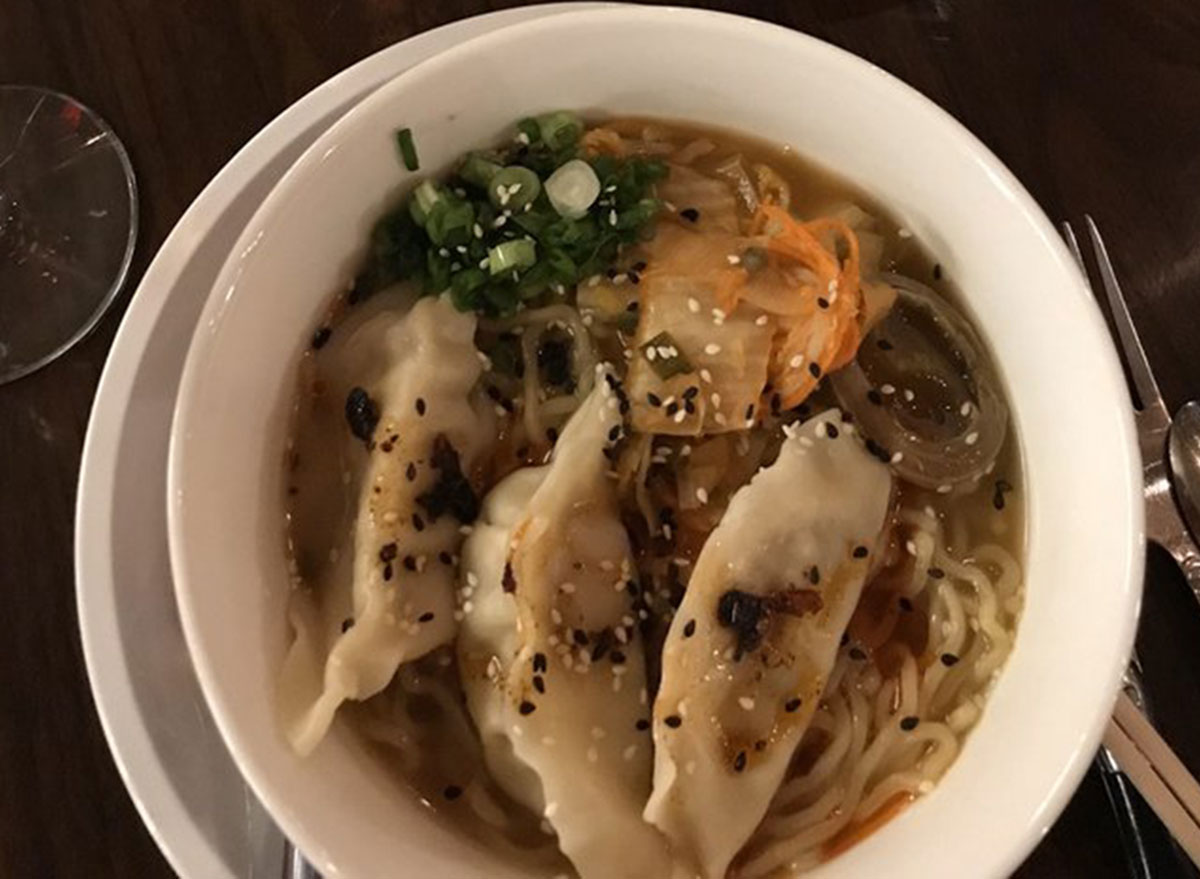 The Ole Miss college crowd knows their ramen and thoroughly approves of SoLa's "twisted cuisine and lifted spirits." The menu is often updated to reflect seasonal flavors, and the Ramen Thursday is an event that should be on your calendar. How about a Chicken yakitori ramen with lemongrass chili broth, sweet peppers, soy roasted green beans, crispy shallots, and saffron-coconut creme? Yes, please!
MISSOURI: Nudo House STL in St. Louis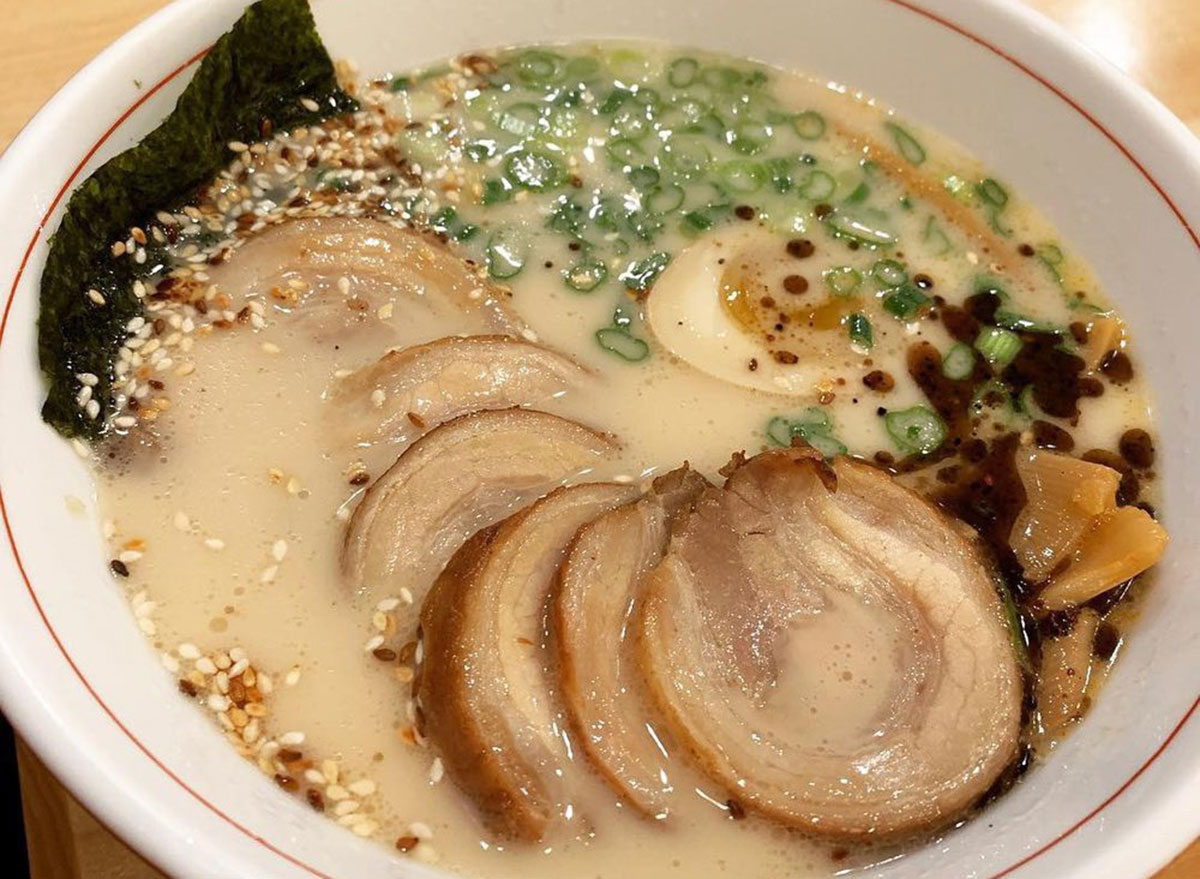 Nudo specializes in amazing ramen and pho, all in the same spot. The classic ramen starts with a Tonkotsu broth with shoyu, chashu pork, menma, ajitsuke tamago, and black garlic. They even have curry ramen, with flavors of turmeric, lemongrass, garlic, and ginger for a twist.
MONTANA: Bozeman Hokkaido Ramen House in Bozeman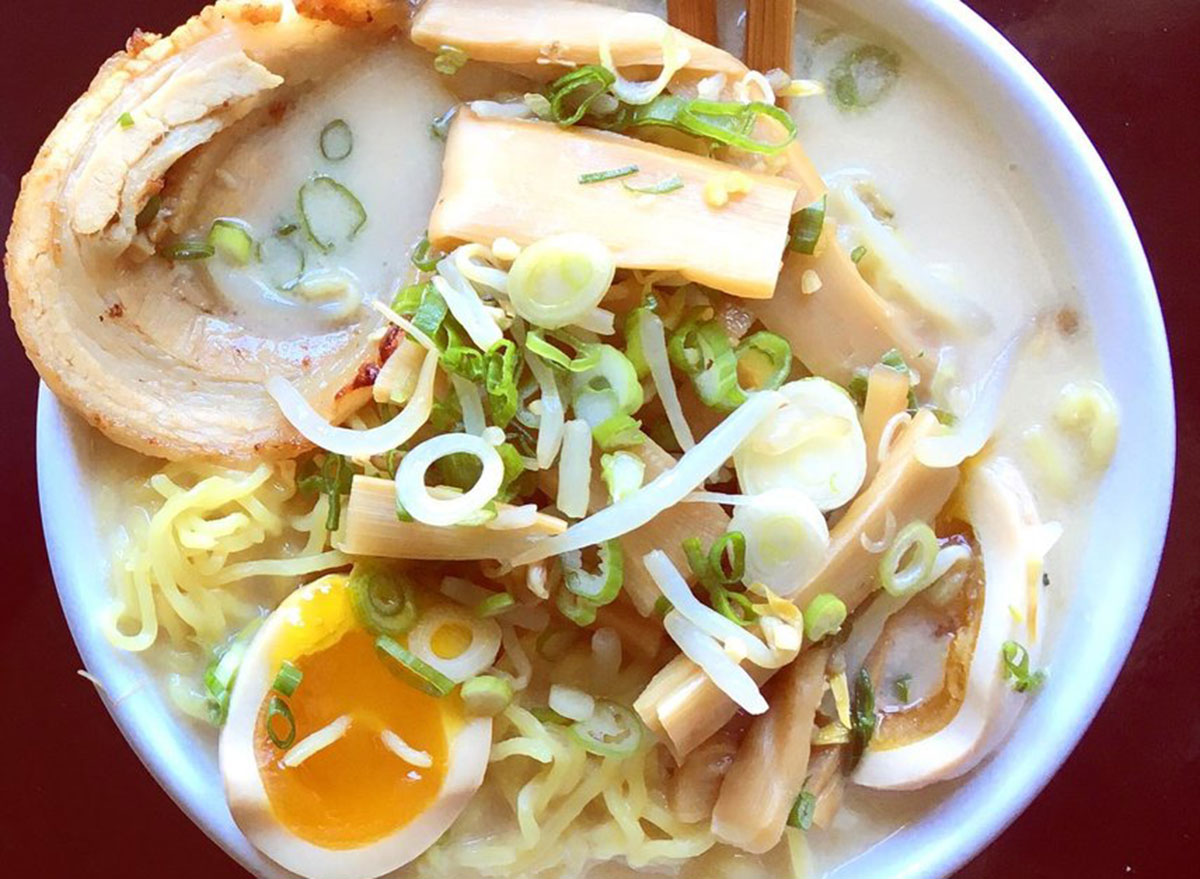 Sometimes, ramen isn't the most economical dish. However, at this casual Japanese eatery, they've chosen to make the dish a more budget-friendly option rather than breaking the bank. They didn't cut back on the ingredients. The ramen here is on the gourmet side with fresh vegetables and flavorful broth. All in all a great ramen option in Montana.
NEBRASKA: IkaSan in Omaha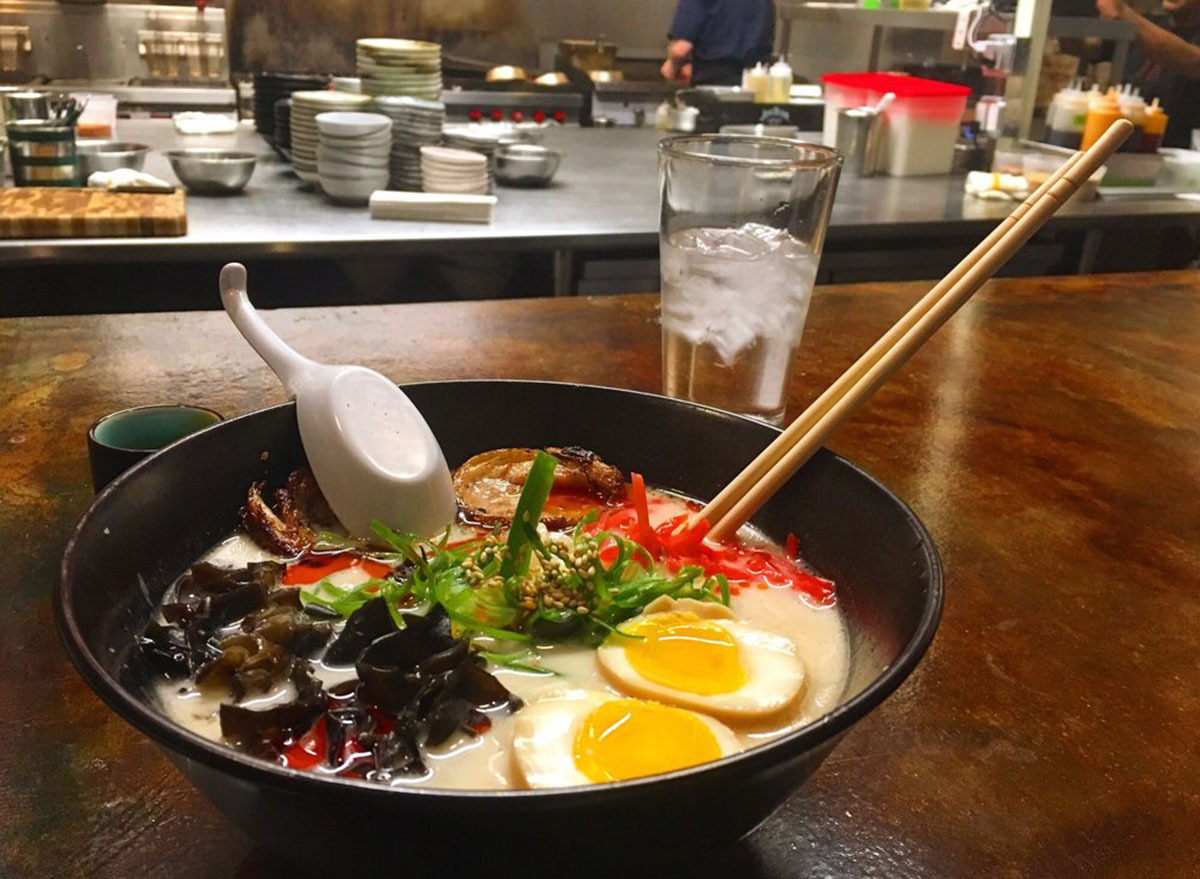 There are so many tasty options at this ramen spot. The Mary Jane makes the most of its chicken base, and the Purple Kush has braised beef in basil and paitan broth. The menu is full of choices for small plates, and you may get lucky and catch a rerun of Avatar: The Last Airbender on the TV.
NEVADA: Sojo Ramen in Las Vegas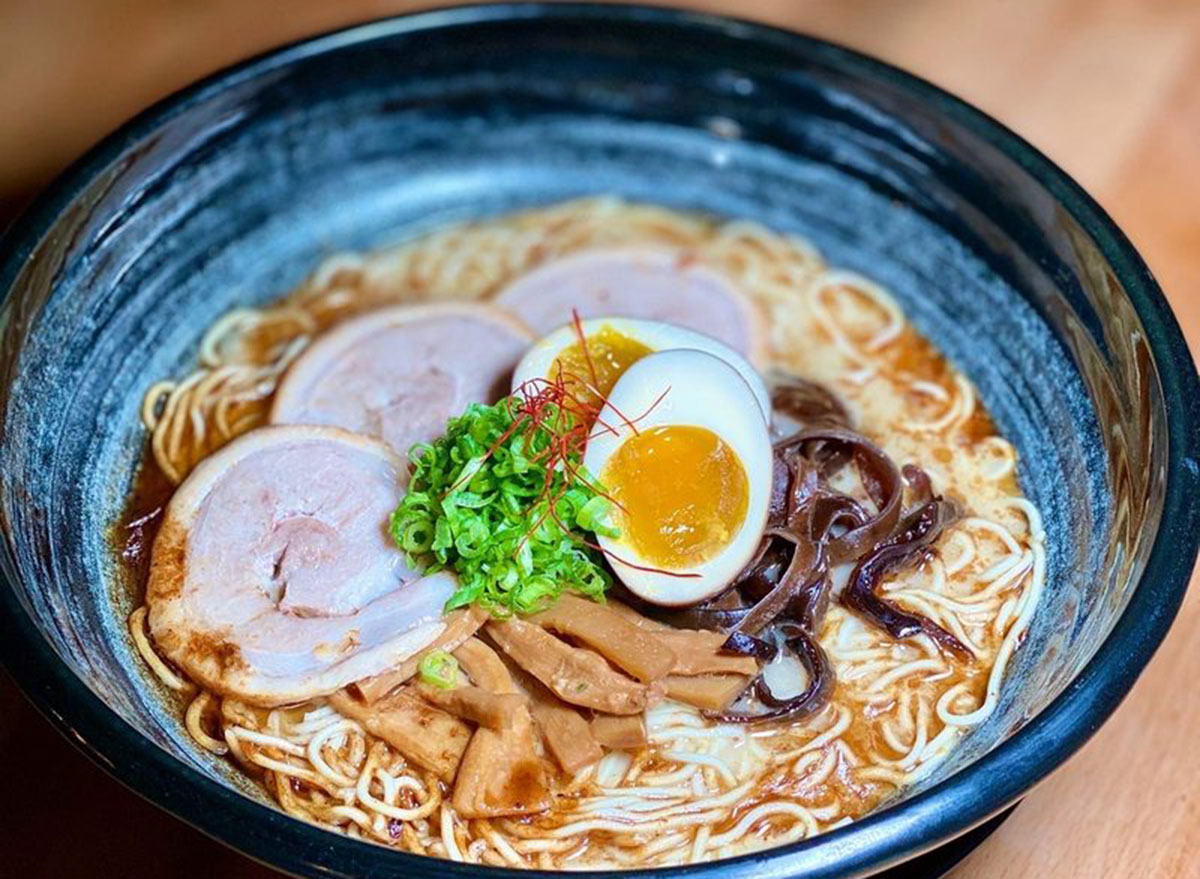 This spot is known for its great service, treating customers like family while they dish up delicious, savory ramen. Some popular versions are the Squid Ink, Black Garlic, or Black on Black Ramen. Finish it off with Green Tea Churros as a sweet treat.
NEW HAMPSHIRE: Buba Noodle Bar in Manchester
This Asian Fusion restaurant draws heavily on its Vietnamese influences with its popular pho but also masters the art of ramen for the Manchester population. Pick from Spicy Miso, Shoyu, and Tantanmen bowls for a well-rounded offering of ramen favorites.
NEW JERSEY: Rai Rai Ramen in Mount Laurel Township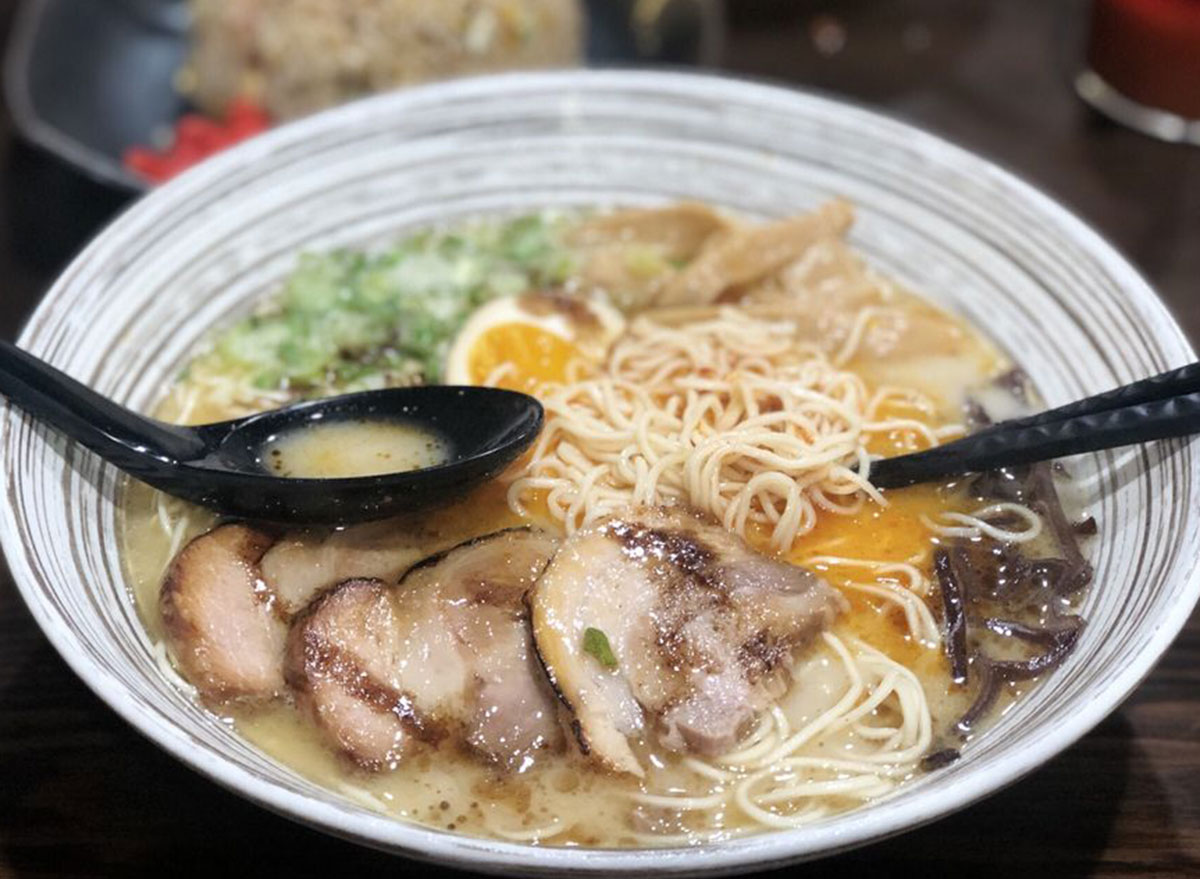 Spicy Curry Ramen is a favorite at Rai Rai Ramen. Visitors rave about the variety of flavors with just the right amount of heat. The restaurant has all the standard options with filling additions and a tasty broth. Excellent!
NEW MEXICO: Naruto in Albuquerque
You can order your ramen "super-rich" or try the light and tasty Tanmen ramen, full of seafood umami, at this hakata-style ramen bar. Located near the University of New Mexico, the restaurant draws heavily on the college crowd, serving up satisfying soups to fortify students. Visitors also like the pineapple saki.
NEW YORK: Zen Ramen and Sushi in New York
With so many choices, Zen Ramen rises to the top of the New York ramen spots by serving an excellent selection, especially their tonkatsu ramen. They focus on the experience of their customers and serving consistently delicious food, making this restaurant the go-to of locals and tourists alike.6254a4d1642c605c54bf1cab17d50f1e
NORTH CAROLINA: Sheng Ramen in Charlotte
Sheng Ramen's use of seasoned egg, cabbage, ginger, and plenty of other veggies help win fans from diners in Charlotte. The portions make a great leftover lunch the next day. Also of note—the pork buns are rated delicious!
NORTH DAKOTA: Noodlezip in Bizmarck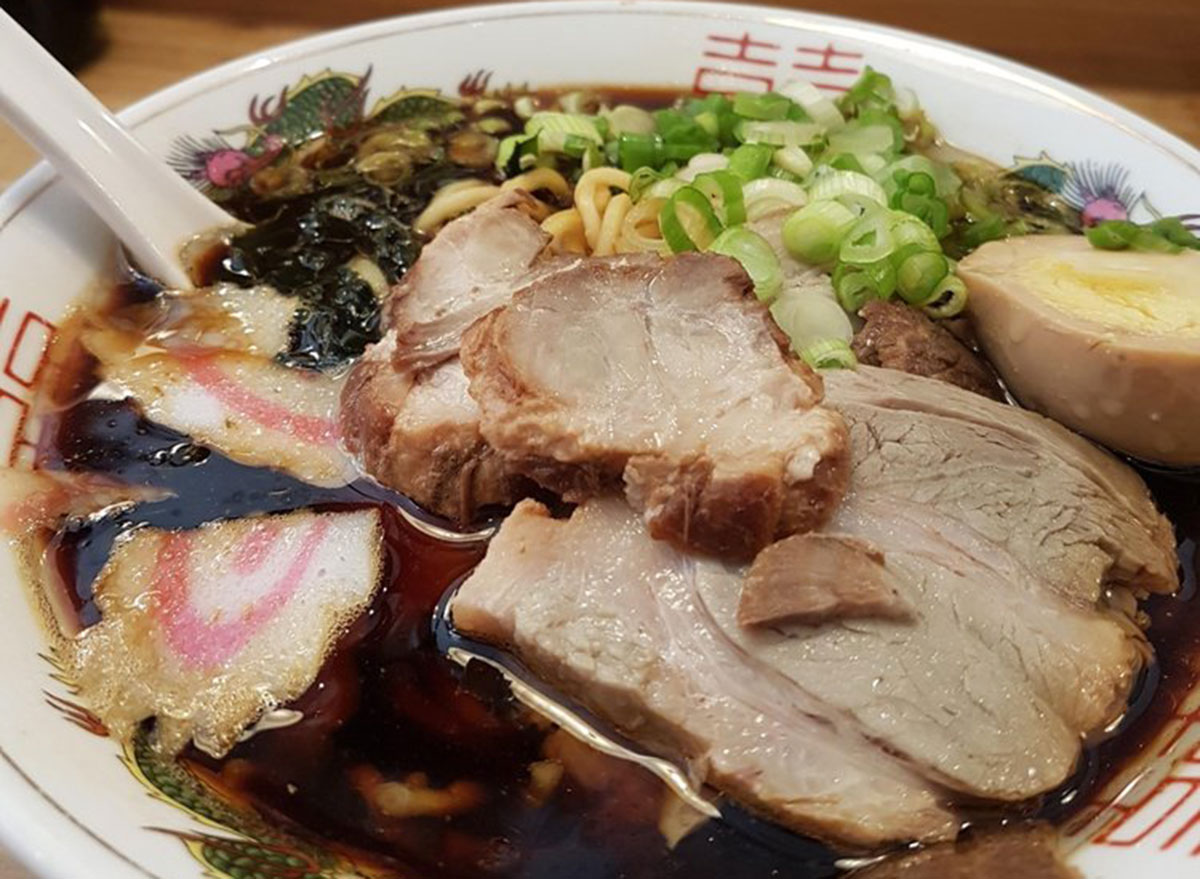 Noodlezip is an Asian-food mashup, offering Japanese, Korean, Chinese, and Vietnamese dishes made from scratch. They offer Shoyu, with seaweed and fishcake and Spicy Seafood Ramen. The small menu is crafted with care, and the restaurant is known for its great atmosphere.
OHIO: Speakeasy Ramen in Springfield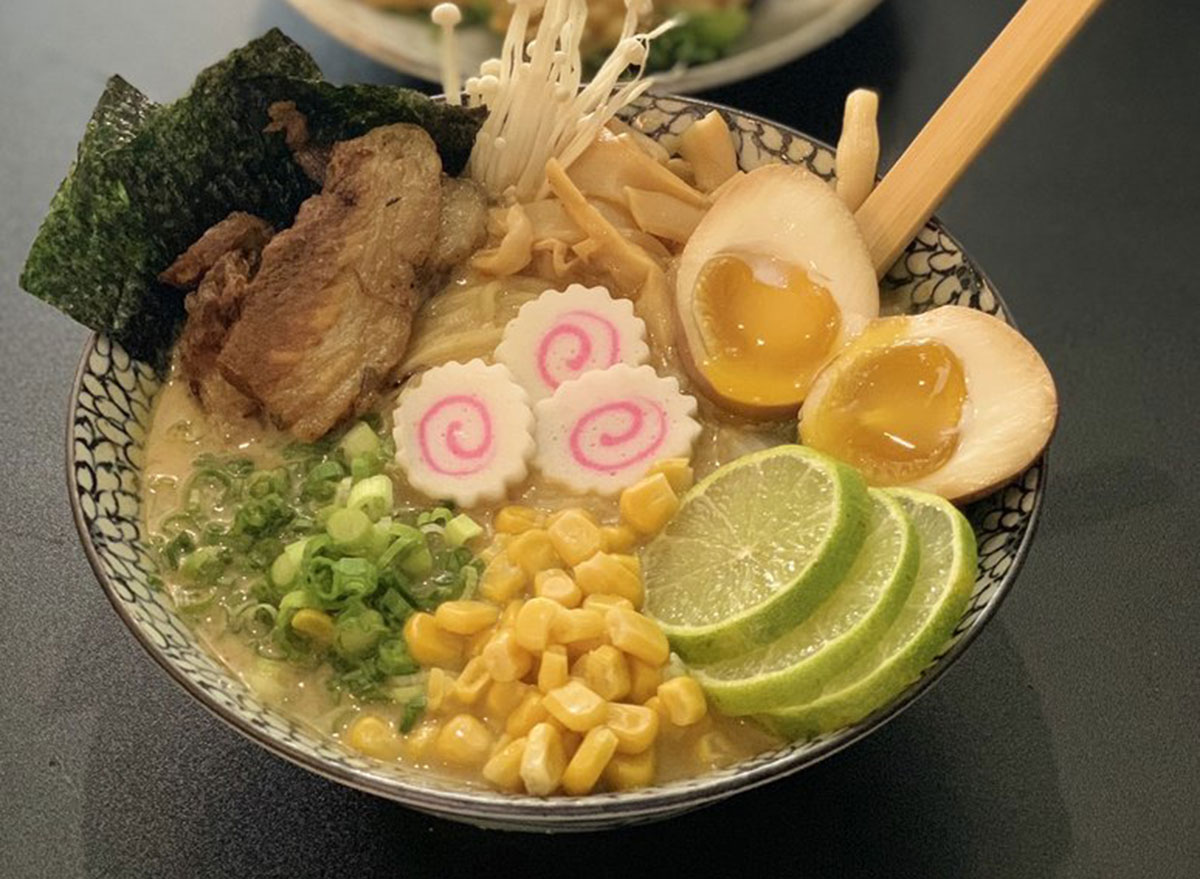 The restaurant is located out of the way of major traffic areas in Springfield but is no secret to local diners looking for good ramen. The menu changes near-daily to reflect fresh, local ingredients. The food is good, gourmet, and complemented by an innovative drink menu.
OKLAHOMA: Goro Ramen and Izakaya in Oklahoma City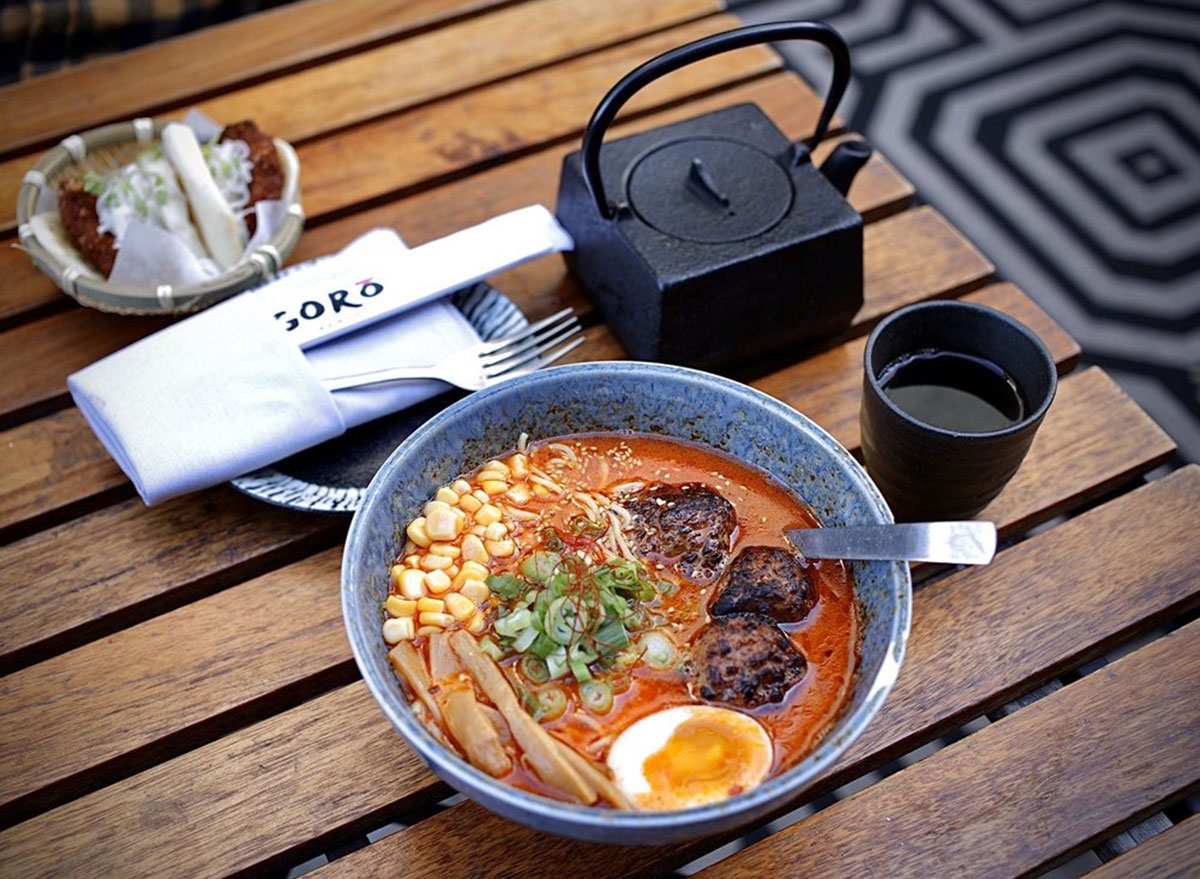 Goro Ramen in the thriving Bohemian area of the Paseo Arts District makes for a wonderful day in Oklahoma City. The Yasai Ramen isn't the only vegan option and can be gluten-free. The Chilled Ramen has cooled noodles for an innovative take on the dish. The restaurant focuses on a satisfying chicken-based ramen broth.
OREGON: Mugen Noodle Bar in Tigard
This ramen bar specializes in tori paitan broth. The style is made with chicken and is white and creamy, popping with flavor. The family-owned business offers new, seasonal organic dishes and plenty of dining options for vegetarians. Visitors consistently give this spot five-star reviews.
PENNSYLVANIA: Terakawa Ramen in Philadelphia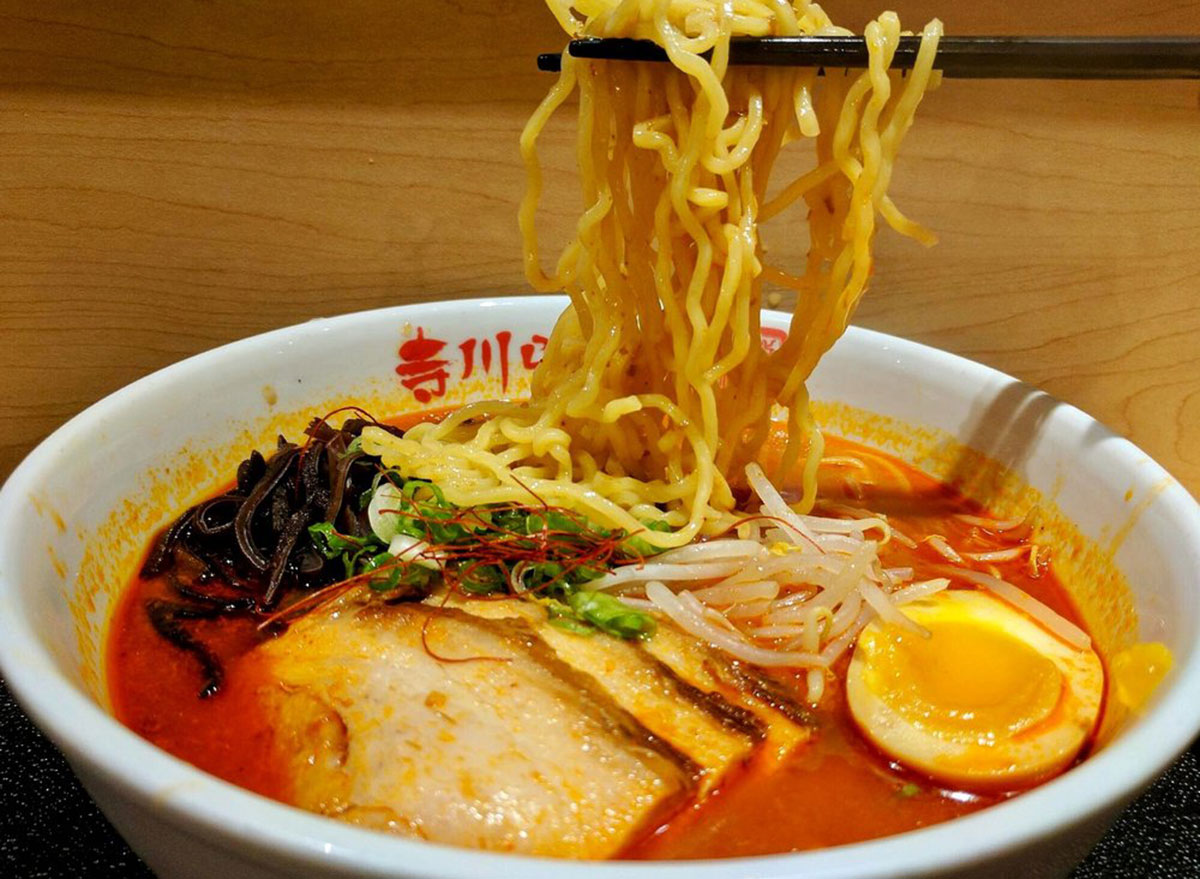 Ramen broth cooked for two full days starts the perfect ramen bowls at Terakawa Ramen. The recipes hail from the Kumamoto region of Japan. The handmade noodles hit the broth al dente, cooking slightly to maintain the perfect consistency when it's time to eat. The restaurant is located in the vibrant Chinatown district, packed with delicious restaurants and fascinating culture.
RHODE ISLAND: Sakuratani Ramen & Izakaya in Bristol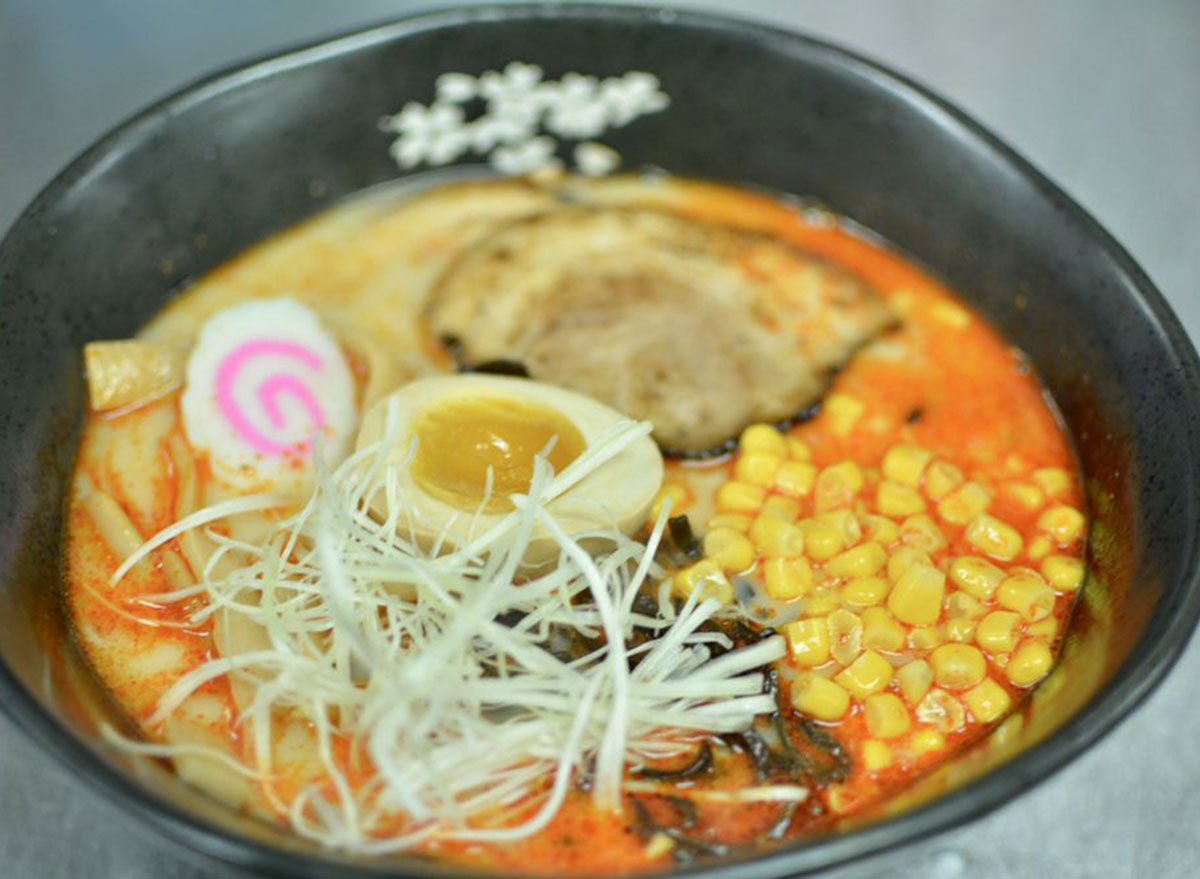 Popular options at Sakuratani Ramen & Izakaya include the Miso Ramen and the Tonkotsu Ramen. Consistently delicious ramen and fast considerate service get diners fed and happy. The restaurant is artsy, with a wall-length mural offering homage to a mouthwatering ramen meal.
SOUTH CAROLINA: Menkoi Noodle House in Greenville
Japanese street food comes alive in this downtown Greenville restaurant. Their chili sauce is housemade, ready to adjust the level of seasoning that you prefer.
SOUTH DAKOTA: Ramen Fuji in Sioux Falls
Patrons at Ramen Fuji call the Crispy Chicken Ramen "amazing," and further reviews rave about the beef ramen. They also get approval for their delicious selection of appetizers.
TENNESSEE: Two Ten Jack in Nashville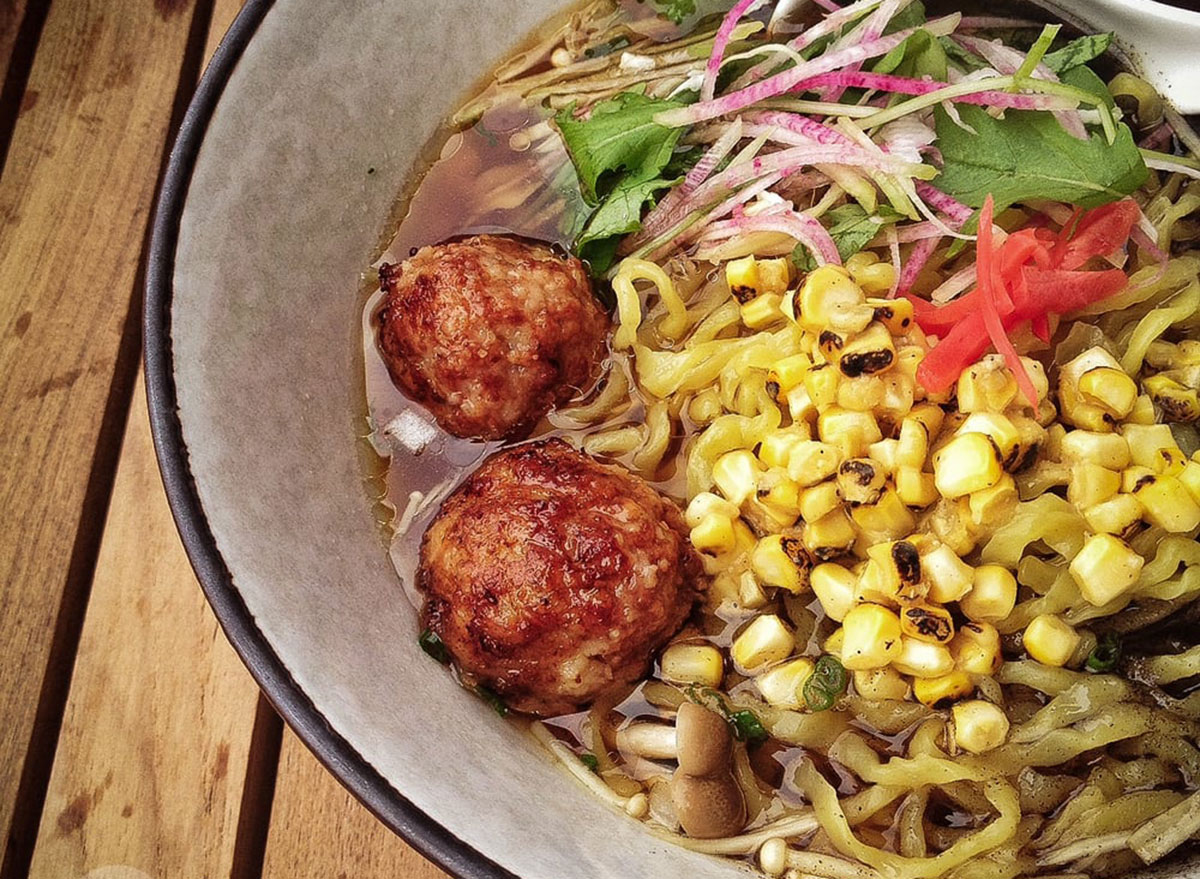 In the hip neighborhood of East Nashville, this spot is one part cocktail bar and one part ramen joint. The concept of the menu is diverse, a blend of gastropub and Japanese noodle bar blending the culture of Nashville and Japan. Two Ten Jack has all the standards available, plus a brothless option with ham and chashu.
TEXAS: Ichigoh Ramen Lounge in Dallas
The flavorful ramen at Ichigoh Ramen Lounge is chef-crafted with care. The small plates make snacking fun and there is a great selection of beverages complete with quite a few Japanese whiskies. Diners note the "clean" taste of the broth.
Asa has a simple menu that focuses on quality ramen. The broths are tasty and seasoned correctly, and the noodle texture is on point. Prices won't strain the pocketbook, either.
VERMONT: Gaku Ramen in Burlington
Gaku Ramen has two locations world's away, one in Burlington and the other in Boulder, Colorado. That says something about what they are doing right. The restaurants were started by three friends who wanted to blend their passion for ramen with their love of college towns. One of the three studied Japanese and Japanese history for over 20 years and is the owner of the highly-praised Q Sushi in Los Angeles.
VIRGINIA: Tanpopo Ramen in Newport News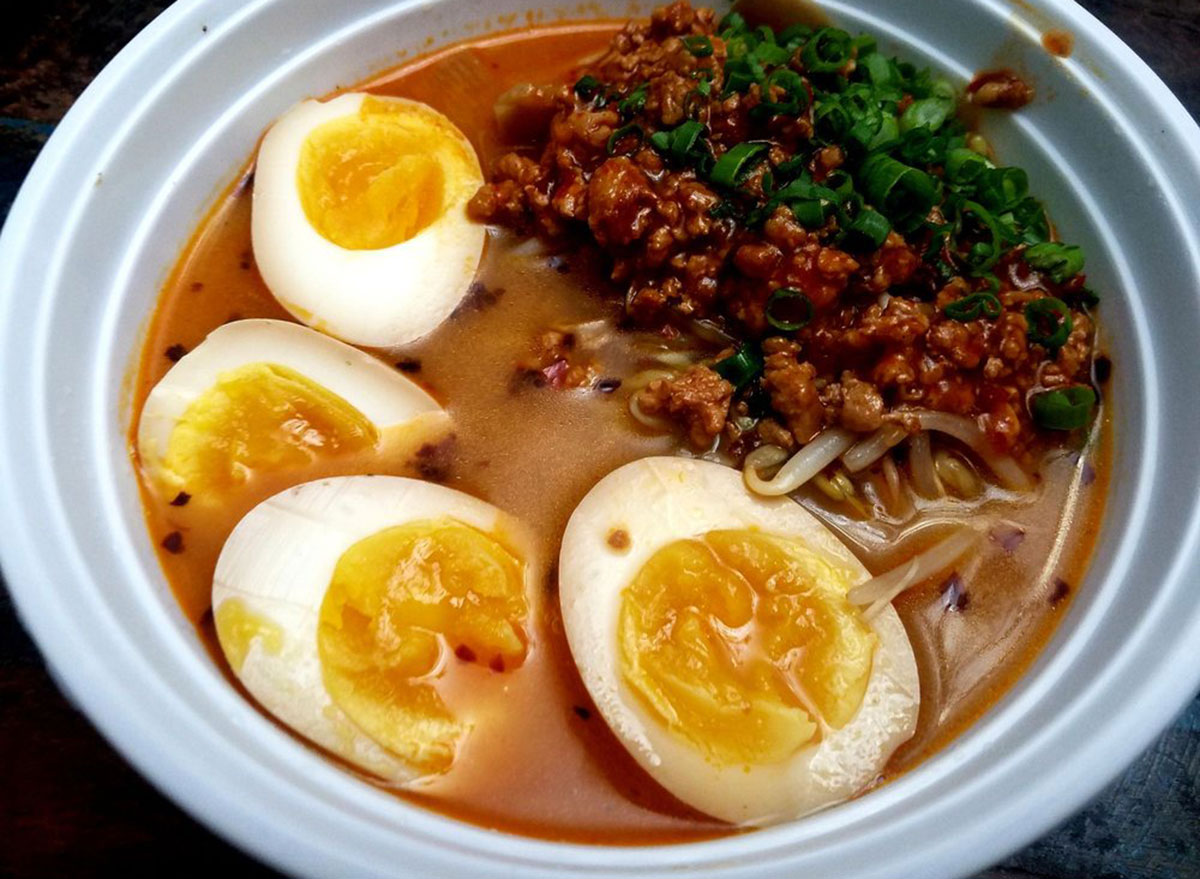 The broth is the focus of Tanpopo Ramen. Dining is intimate in the small location, but all of the dishes are highly rated, making this ramen spot dependable for all palates.
WASHINGTON: Ramen Danbo in Seattle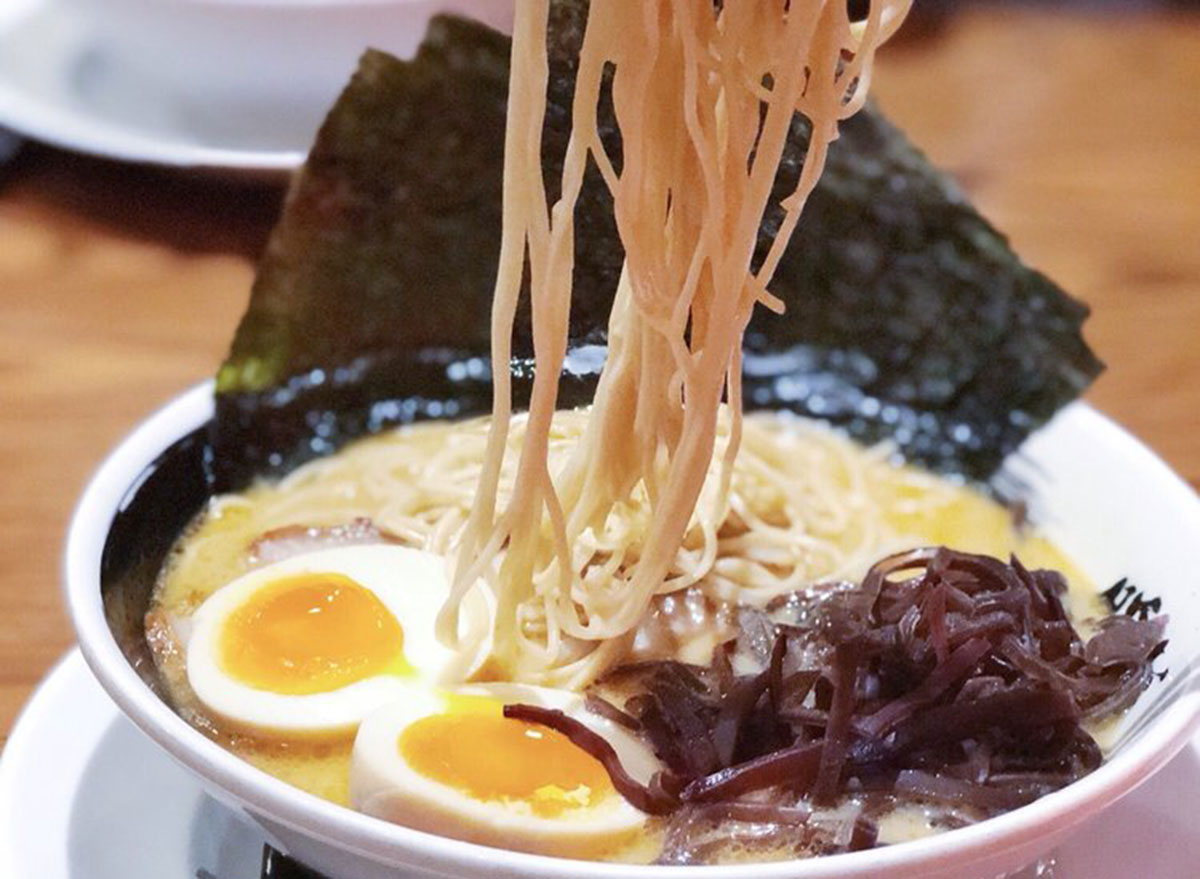 Originating as a chain restaurant from its anchor spot in Japan, Ramen Danbo has a signature Tonkotsu broth, serving traditional Fukuoka-style ramen. The noodles are artisan-crafted and thin for a spin on more familiar ramen noodles. They also have a "top-secret" spicy tare sauce that features Chinese spices and medicinal herbs.
WEST VIRGINIA: Yama in Morgantown
Yama is a tiny jewel of a restaurant where the owner is hands-on, greeting customers and ensuring their satisfaction with his ramen dishes. The friendly atmosphere is a plus, and the ramen is considered some of the best.
WISCONSIN: Kawa Ramen & Sushi in Milwaukee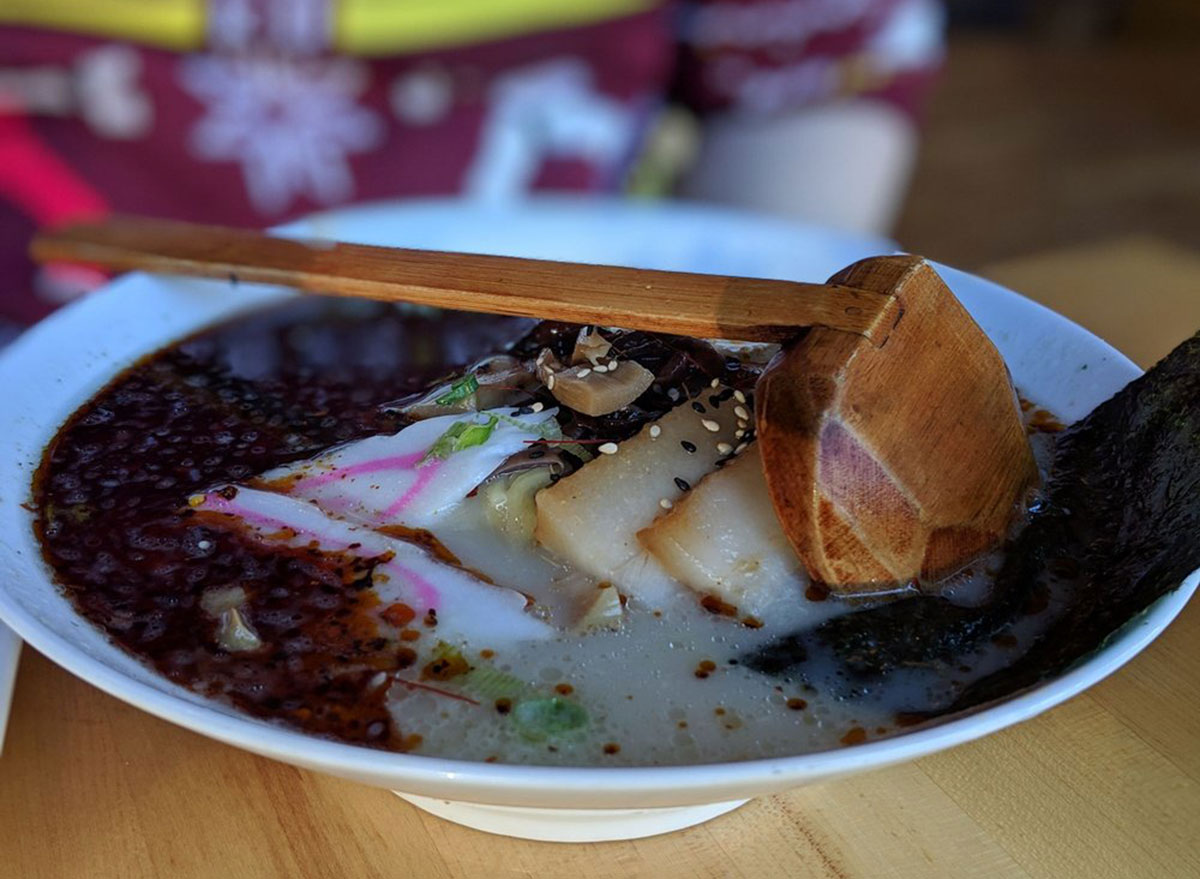 This ramen spot has a limited number of bowls served per day, only serving 120 diners daily. Diners get there early to make sure they have a taste of Japanese dining. The menu has classic options, though you can tailor your spice level from mild to extra-spicy.
WYOMING: Honolulu Poke & Ramen in Cheyenne
The ramen at this spot is complemented by fresh poke dishes and boba tea choices. From spicy pork to vegetarian ramen, Honolulu Poke & Ramen has all your cravings covered for ramen bowls in Cheyenne.
For more, check out The Best Restaurant Tasting Experiences in Every State.