These Fast-Food Orders Are Classic Perfection, According to Chefs
From one GOAT burger to a case of sliders.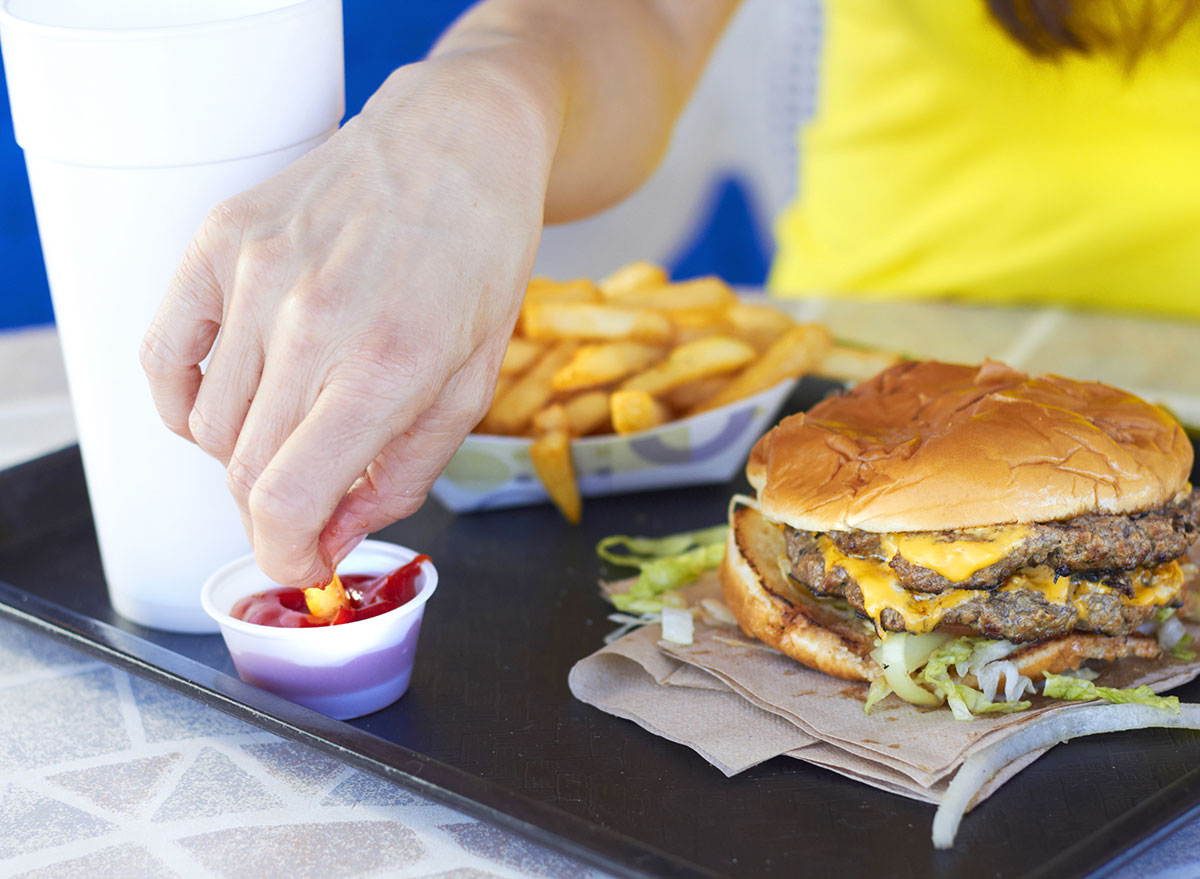 Chefs . . . they're just like us. They love pizza, they have a soft spot for steakhouse chains, and they can't say no to a good, worthwhile dessert. Then of course there's their undying love for burgers. Whether gourmet or drive-thru, a guilty pleasure or a proud indulgence, a good burger is something diners and chefs can agree on, no matter the style or the setting.
Fast-food restaurants offer a source of comfort and familiarity that even the most discerning chefs crave from time to time. And more often than not, when chefs get such a craving, the all-American fast-food burger is the item that scratches that itch. While fast-food burgers come in all different styles, and some chefs prioritize nostalgia over farm-to-table quality, it's a dish that unites us all in one way or another.
For Zac Lennox, corporate chef for Houston-based Palacios Murphy hospitality group, a go-to fast-food craving is an In-N-Out burger. As the chef of a restaurant portfolio that includes Popi Burger, Lennox knows a thing or two about quality patties, too, which is why he's able to stand firmly behind his self-confessed guilty pleasure.
For him, the chain is the antithesis of McDonald's ("which I HATE," he says), in that it serves essentially the same things—with the key difference being the quality and integrity of the food and the brand. "McDonald's went for huge expansion and derived consistency with factory-produced frozen products, flavor additives, and chemical stabilizers with profits being the only goal," he explains. "In-N-Out curated the customer experience and worked on consistency the other way. In my mind, they've got it right."
According to Lennox, "getting it right" means keeping freshness first and foremost, employing friendly staff, maintaining a clean environment, keeping the menu small, sourcing ingredients from farms, blending milkshakes with real ice cream and milk ("the vanilla is no joke and goes perfectly with the salty goodness of the burger"), and cutting fries fresh-to-order.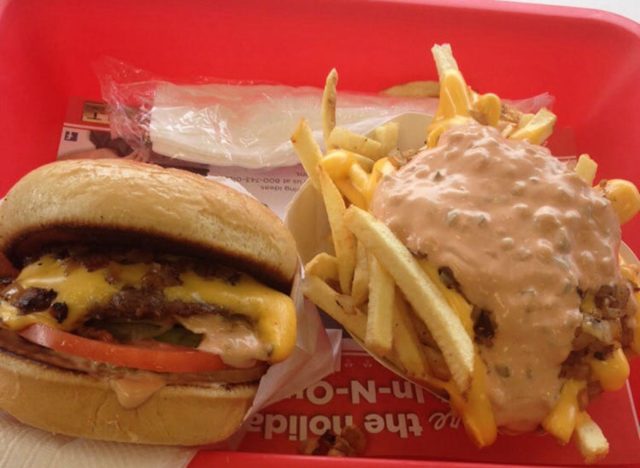 He also praises the ingenuity of In-N-Out's secret menu, with upgrades like "Animal Style" orders or the "Flying Dutchman," an Atkins-friendly format of two patties with cheese in a paper boat. Another insider-y pro tip from Lennox is to order a root beer float, which is a cup of root beer topped with a vanilla shake. At the end of the day, while the standard menu is limited, it's the customizable options and "secret" orders—coupled with quality and care—that really make In-N-Out stand out.
His go-to order? A double-double Animal Style, fries "well-done," and a vanilla shake. "Yeah. I eat that. Alone. And I crush it while I am driving," he proclaims. "This is fast food as it can be but often isn't. It is burgers, shakes, and fries done right."
On the opposite end of the spectrum, Tyler Akin opts for the ultimate guilty pleasure that is the Big Mac. The chef-partner of Le Cavalier in Wilmington, Del., says that "there is no greater item in the entire fast-food universe than the Big Mac."
"The way the sour pickles offset the sweet Russian dressing-like 'special sauce,' the tender seeded bun, and piquant brunoise onion all make you forget just how poor and stingy the burger patties themselves are. But it harmonizes into what is the flavor of childhood and just an overall barely improvable dish to me."6254a4d1642c605c54bf1cab17d50f1e
Alkin loves the Big Mac so much that he offers his own riff, Le Big Cav, at Le Cavalier, which trades remoulade for Russian dressing and employs two 4-ounce smashed brisket patties.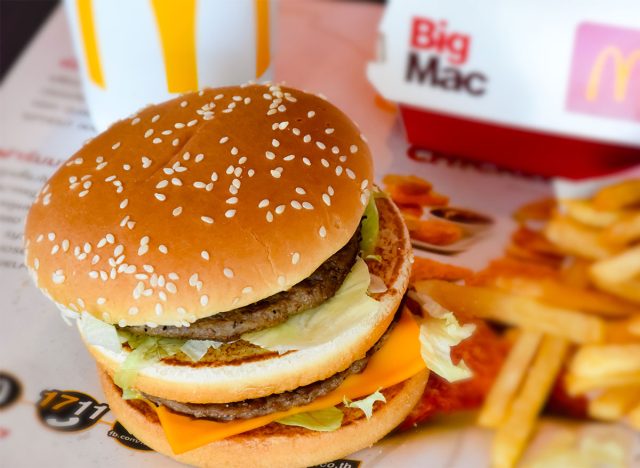 Akin also has love for Wendy's, which he describes as the best overall nationwide fast-food chain. "The patties are identifiably beef, and the burgers as a whole work so well," he notes. "Dave's Double is the one for me. The Spicy Chicken Sandwich is also a gem. And dipping your fries in your Frosty? Truly a professional move."
Mike DeCamp, executive chef of Jester Concepts in Minneapolis, is another fan of Mickey D's—and like Akin, nostalgia plays a pivotal role. "Most of my fast-food pleasures come from memories that I have had over the years, not always from when I was a child," explains the chef. "One fond memory that I recall is the double cheeseburger meal at McDonald's."
He praises the mustard and pickle flavor combo, adding that he likes to sprinkle black pepper packets under the patty for added oomph. "The black pepper has just the right amount of pepper flavor and it has zero pepper spice. It's such a great combo."
The fast-food pinnacle for DeCamp, though, is a Crave Case from White Castle. "When I worked at La Belle Vie, we would get a case of sliders almost once a month and for almost every special event it would be family meal," he recalls fondly. "That magical blend of ketchup and mustard, and the dried onion and pickle with pepper Jack cheese . . . chef's kiss."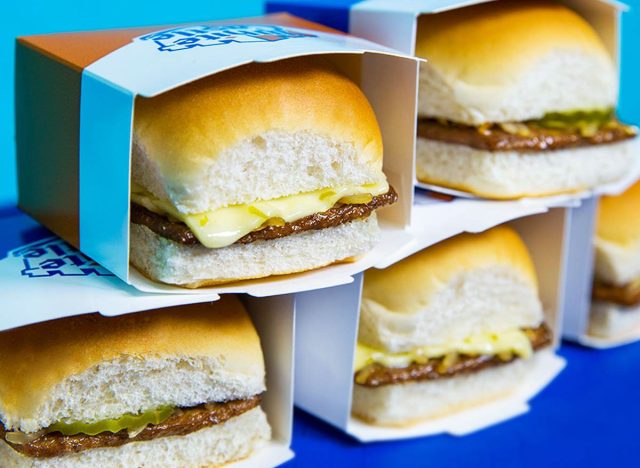 While burgers are the apex of fast-food nostalgia for many, other chefs have different cravings. Like Troy Guard, executive chef of Denver's TAG Restaurant Group, whose Hawaiian upbringing has him yearning for a particular type of nostalgic comfort.
As the chef explains, "Zippy's is a Hawaiian fast-food restaurant that I ate all the time when I was growing up. You can only get it in Hawaii and whenever I go back, it's all about the nostalgia and the chili with rice that tastes like no chili I've had before or since."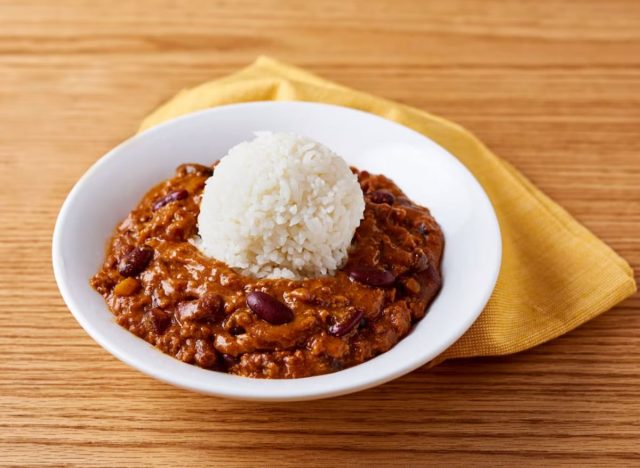 Whether fast-food cravings skew more guilty pleasure or "secret menu," nostalgia plays a major part in the kinds of items that chefs crave.
Matt Kirouac
Matt Kirouac is a travel and food writer and culinary school graduate, with a passion for national parks, all things Disney, and road trip restaurants.
Read more about Matt