4 Fast-Food Chains That Serve The Best "Snack Wrap"
Is there another brand that can replace McDonald's legendary menu item?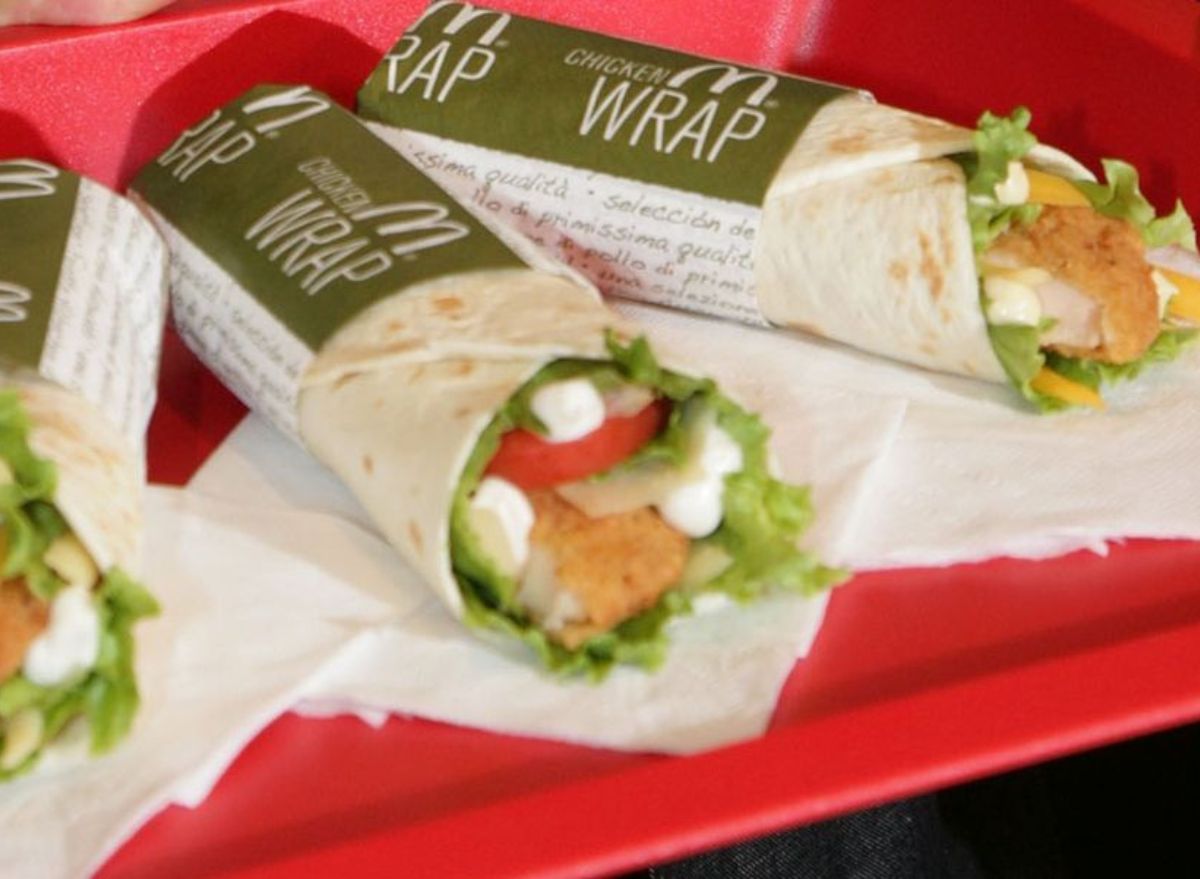 McDonald's snack wrap was an unforgettable menu item last seen in 2016. Fans adored how the warm, soft tortilla held together crispy chicken strips, shredded lettuce, sharp cheddar jack cheese, and a creamy spread of ranch dressing in perfect flavor harmony. Even though McDonald's has yet to bring the iconic menu item back—despite public outcry—a few other fast food chains have taken a stab at this iconic menu item in their own way.
While these chains don't call their items "snack wraps" per se, we're calling them that because they resemble and remind us of the beloved McDonald's item. And, despite the 8,000+ signatures stacking up on Change.org and the cult following on social media, McDonald's confirmed they wouldn't be making a comeback anytime soon, these are the wraps that can scratch that itch for the original.
For those who have been desperately missing the taste of a McDonald's snack wrap these four fast food chains serve up the best alternative versions.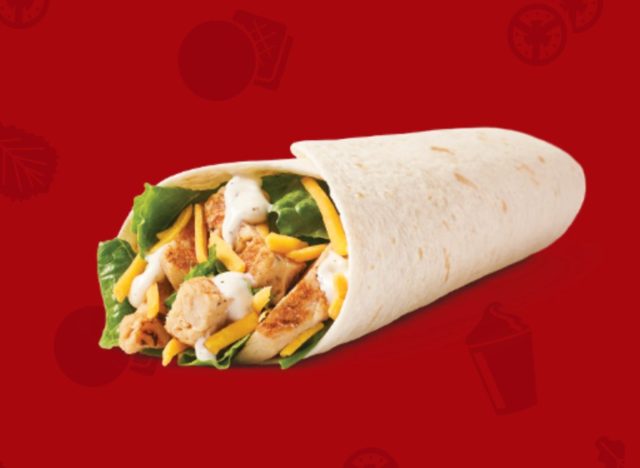 Entering 2023, Wendy's was already kicking fast-food butt in revenues with the help of its record-breaking breakfast sales. However, the year has only gotten better as the chain introduced an eye-catching spring menu featuring the Wendy's Grilled Chicken Ranch Wrap. 6254a4d1642c605c54bf1cab17d50f1e
Looking inside Wendy's take on the snack wrap, there's a nearly identical list of ingredients compared to McDonald's OG offering. A tortilla gets heated up and filled with herb-marinated grilled chicken breast, shredded cheddar cheese, chopped romaine, and a generous drizzle of the chain's signature creamy ranch sauce. This wrap costs around $5-$6 a pop, which is far more expensive than McD's version for $1.59 (back in 2016). 
The Grilled Chicken Ranch Wrap is relatively new to Wendy's fans, since joining menus in late March, but that hasn't stopped them from giving it a try and sharing a number of mixed reviews.  Many were surprised by how large it was, noting that it was at least twice as big as the old Wendy's wraps and McDonald's snack wraps.
On the opposite side, there have been customers reporting these wraps have far too much tortilla and not quite enough fillings. Some would even go so far as to say that the flavor is close to non-existent and a waste of time.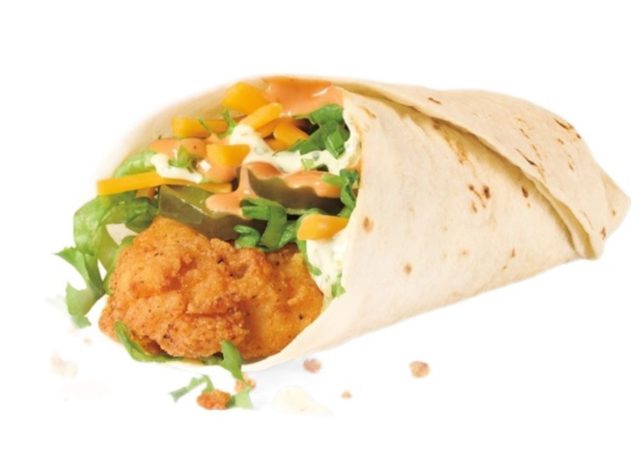 Jack in the Box recently announced that it too will be adding a chicken wrap in June 2023. The chain will be releasing The ​​Crispy Chicken Jack Wraps in both classic and spicy varieties. 
These two wraps start off the same, coddled in a warm tortilla is a 100% all-white meat crispy chicken strip, shredded cheese, lettuce, pickles, plus, buttermilk ranch dressing. The key difference between the classic and spicy is inside the hot one, there are also jalapeños and Jack in the Box's Spicy Good Good sauce. Jack in the Box is currently testing the items at select locations in San Diego, CA, according to Fast Food Post, and are priced at $3 for each. 
Not only is Jack in the Box's chicken snack wraps close to McDonald's when it comes to price, but they've also been said to be quite similar in size and taste. Able to take part in the testing period, one TikToker made a point to say that these wraps are "saucier, and crispier, and obviously bigger than KFC's," and found them to be thoroughly enjoyable. The rest of the Jack in the Box fanbase will have to wait until late June to see how these snack wraps stack up to the McDonald's version.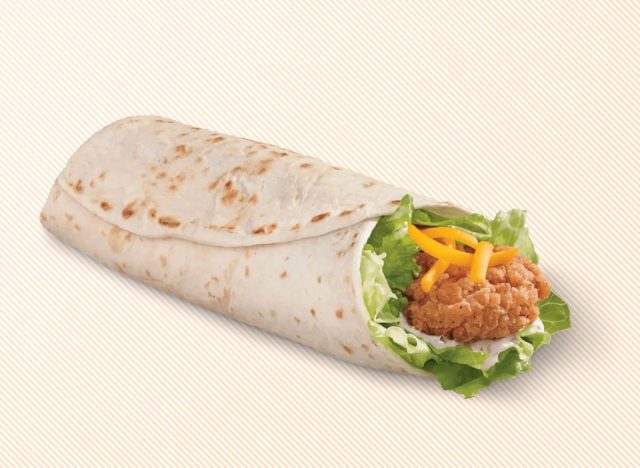 Dairy Queen isn't only good for dessert, the brand also has savory food like deluxe burgers, chicken tenders, and more. While Dairy Queen has been in the snack wrap game for several years, the chain's Ranch Chicken Wrap shares a bit more resemblance to McDonald's than it gets credit for. 
Offered in both grilled or crispy varieties, Dairy Queen's chicken wraps feature seasoned tenderloin chicken strips, fresh lettuce, shredded cheddar cheese, and smooth ranch dressing wrapped in toasted flour tortillas. In the past, the fast food chain has offered these snack items in part of a lunchtime $5 box deal, but they can also be purchased individually for $2-3 (prices vary by location).
The chicken wraps from Dairy Queen are "to die for" say some customers, who love the top-tier flavor-packed chicken and the larger size.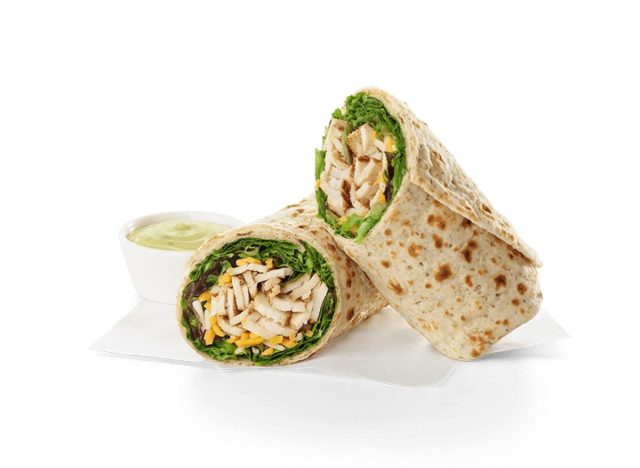 In 2001, Chick-fil-A added the Cool Chicken Wrap to its nationwide menu and it's been going strong ever since. When compared to the rest on this list, this may be the healthiest of the bunch, considering it's made with a flaxseed flour flatbread and green leaf lettuce (versus less nutritious white flour tortillas and iceberg lettuce).
But Chick-fil-A's wrap is no less delicious. The flatbread surrounds sliced grilled chicken, green leaf lettuce, shredded Monterey jack and cheddar cheeses, and a side of the chain's signature Avocado Lime Ranch dressing. On its own, the cool chicken wrap is on the menu for $10.49 (depending on location)—the most expensive and nearly 10 times the cost of McDonald's.
This wrap is worth it. Chick-fil-A has a trick for folding the wrap so that the ingredients are uniform throughout—a fault with many wraps. Reviewers agree that with every bite, you get hit with a mouthful of chicken. There's also a big pro to Chick-fil-A offering a dressing on the side, as many customers of this item enjoy customizing it with the sauce of their choice—whether that be a ranch dressing, honey mustard, barbecue sauce, or even balsamic dressing. So, even though there is no crispy chicken version, to be more closely interchangeable with McDonald's snack wrap, it isn't a bad idea to take the grilled chicken approach.
An Honorable Mention: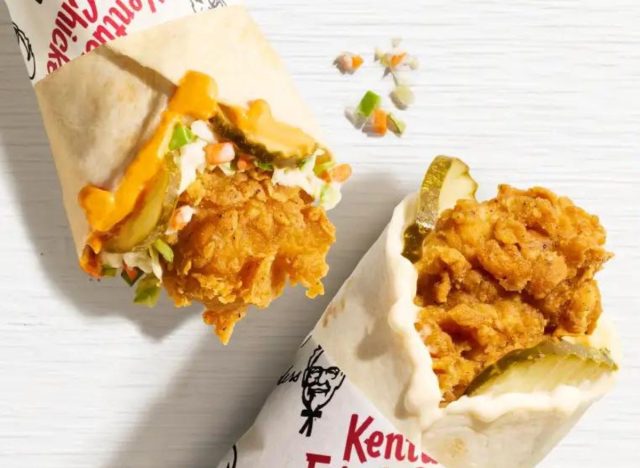 Home of fried chicken and Southern-style cooking, KFC, has also entered the snack wrap race this year. In February, the chain launched Kentucky Fried Chicken Wraps in two varieties: classic and spicy. 
In line with McDonald's, KFC decided to include "craveable," hand-breaded crispy tenders but varied the fillings. The classic wrap comes with the signature chicken, a few crunchy pickles, and rich mayo, layered in a warm tortilla. For the spicy wrap, KFC uses the same warm tortilla and stacks crispy chicken tenders with the chain's classic slaw, pickles, and a spicy sauce. 
Many big KFC fans were thrilled about this temporary addition and got their hands on the fried chicken wraps immediately for a taste (including us!).  Overall, we thought that these wraps had the potential to be amazing if the ratio of ingredients was better, and the tasty Kentucky fried chicken saves the day. Redditors and reviews online claimed that KFC's spicy version is the better one of the two. Hopefully, these come back soon!
Jordan Summers-Marcouillier
Jordan Summers-Marcouillier was born and raised in San Jose, California and now works as a writer in New York, NY.
Read more about Jordan