9 Big Changes You'll See at McDonald's This Year
Upgraded burgers, celeb collabs, and lots of chicken are on the 2023 menu.
McDonald's is working to make 2023 its best year ever, with big plans already in progress for global expansion, refining its legacy menu, making technology and innovation a central focus across the board, and a few sweet and savory treats in between.
The Golden Arches are about to blast further into the future, with diners getting treated to more personalized and convenient experiences, like digital ordering and convenient order-ahead, grab-n-go locations. It's in part thanks to the popularity of the McDonald's loyalty program, which is currently offered in 50 markets, with over 25 million active digital customers in the US alone.
"As our customers' needs continue to change, we are committed to finding new ways to serve them faster and easier than ever before," Max Carmona, senior director of global design and restaurant development at McDonald's, said regarding some of the upcoming changes the company has already begun to implement. 
While making improvements to the customer experience, McDonald's also wants to improve what drew customers to the brand in the first place: the food. The company is leaning into classics, improving signature items, and launching fun new twists on its core menu for customers.
So get ready to have it your way, way more this year. Here are some of the big changes you'll see at McDonald's this year.
Upgraded burgers from bun to beef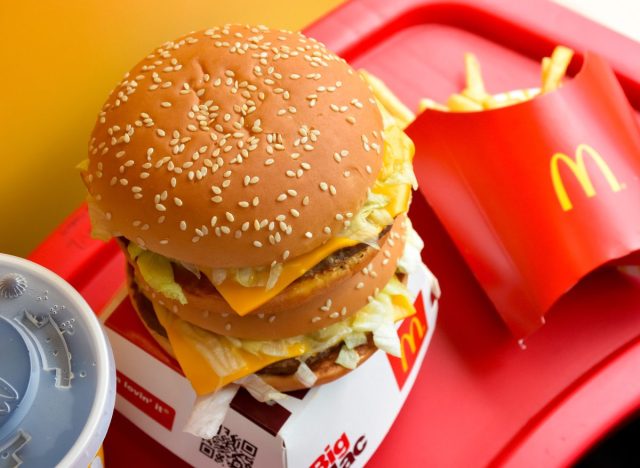 The smallest tweaks can elevate an average burger to a great burger, and McDonald's is trying to reach its highest potential by rolling out several major upgrades for its signature burgers this year. These upgrades include using softer toasted buns, ensuring cheese is perfectly melted, cooking white onions directly on burger patties, and adding extra special sauce to its famous Big Macs. McDonald's is also paying extra attention to detail during the actual cooking process
"We found that small changes, like tweaking our process to get hotter, meltier cheese and adjusting our grill settings for a better sear, added up to a big difference in making our burgers more flavorful than ever," Chef Chad Schafer, the senior director of culinary innovation for McDonald's United States arm, said in a statement in April.
McDonald's plans to implement the upgrades at all of its restaurants in the United States by 2024, though some lucky cities on the West Coast are already starting to see the changes. The chain also called in a nostalgic, red-gloved spokesperson, the Hamburglar, to help promote them.
Faster, more efficient operations
McDonald's is a truly massive fast-food chain, with more than 38,000 locations across more than 100 countries. But while this wide footprint is positive in many ways, McDonald's CEO Chris Kempczinski said in a January memo to employees that company operations had become so divided that they were hindering innovation.
"Today, we're divided into silos with a center, segments, and markets. This approach is outdated and self-limiting—we are trying to solve the same problems multiple times, aren't always sharing ideas and can be slow to innovate," Kempczinski wrote. "Our customers and people don't think of our brand from the viewpoint of markets or segments, and neither can we."
These issues became the basis for the "Accelerating the Organization" tenet of McDonald's larger Accelerating the Arches growth strategy. Kempczinski said that the company will adopt more collaborative, modern ways of working in order to better solve problems for customers and make the entire McDonald's system faster, more innovative, and more efficient.
McDonald's took a major step forward in this initiative in early April when it shut down its offices as part of reported mass corporate layoffs and a major company restructuring.  Exactly how these changes will affect actual customers remains unclear for now, but fans can hope that streamlined company operations translate to more seamless McDonald's experiences.
Hundreds of new locations
You're about to see a lot more McD's, both domestically and abroad. The fast-food chain is planning to open 1,900 worldwide restaurants, with 400 locations in the United States alone. The numbers were released in an earnings call back in late January, where McDonald's President and CEO Chris Kempczinski and CFO Ian Borden shared new, exciting information about the company's expansion plans.
It's all thanks to fantastic growth, with domestic sales up over 10% at the end of 2022 versus the same period in 2021, almost 6% for the year overall. Where the locations will pop up is yet to be revealed, as Kempczinski explained that Mcdonald's is focusing on "getting a granular look where we would build and what pace and what types of restaurants" will be part of this year's expansion.
Old classics, with a twist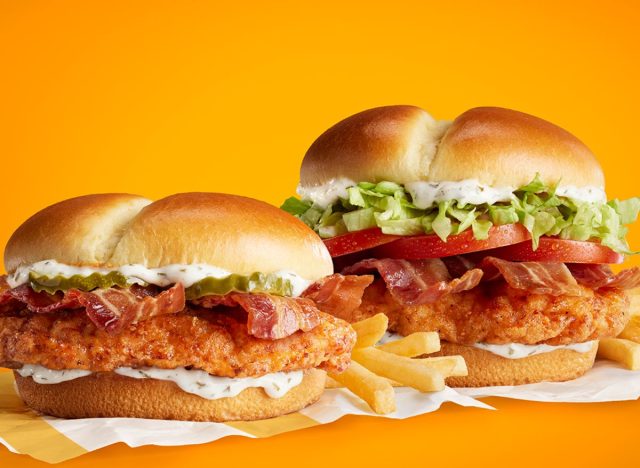 A central component of the Accelerating the Arches initiative from McDonald's is creating innovation, without compromising its foundation. One way to do this is by elevating existing menu items to reflect current needs and fast food desires. "Our customers crave simple and familiar favorites like Big Macs and World Famous Fries," the official landing page states. "We continue to improve on our classics, stepping up our game on the menu items that built our heritage." 6254a4d1642c605c54bf1cab17d50f1e
Chicken especially will become a central focus, especially in terms of the company's global market share. Domestically, McDonald's has already delivered on that promise with two new chicken sandwiches: the Bacon Ranch McCrispy and Bacon Ranch Deluxe McCrispy, which will debut on March 13.
Robots at the drive-thru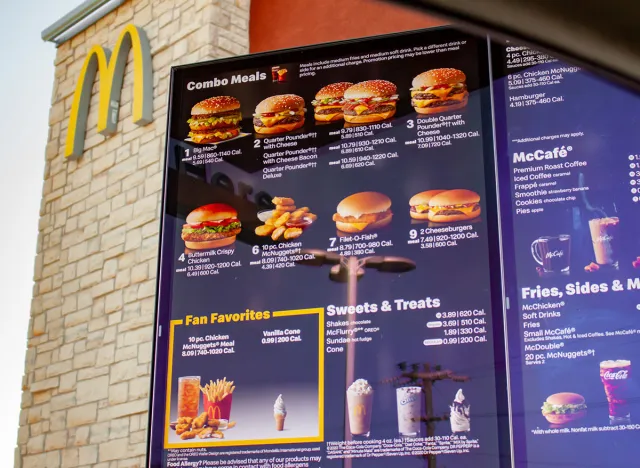 McDonald's is looking for new ways to incorporate technology into the customer experience, Soon you might have it your way with help from artificial intelligence. Some lucky customers have already begun to order food through new AI-powered voice bots, currently being tested at select McDonald's drive-thrus. But even robots aren't perfect, which is probably good news for fast-food workers everywhere; TikTokers are sharing hilarious videos of how the process is going so far, and the head-scratching moments might have you parking your car and walking up to the counter instead.
More celebrity collaborations
Celebrities, they're just like us! And that means they also have fast-food cravings, which McDonald's has been successfully able to capitalize on. This started ramping up in 2020 when they worked with Travis Scott on the second celebrity-inspired menu since the Michael Jordan menu from 1992. The company has been more consistent with its celeb offerings and shows no signs of stopping. Most recently they released a Valentine's Day meal that highlighted the date-night favorite of Cardi B and Offset.
"We're focused on putting McDonald's at the center of culture," Tariq Hassan, chief marketing and customer experience officer for McDonald's USA, said in a statement. "Artist collabs have helped reignite fans' love for our food and fueled significant business momentum." 
Plastic waste reduction
The global leader in fast food sales is looking to take their sustainability efforts to the next level, one straw at a time. "McDonald's is currently testing strawless lids for our cold beverages in select U.S. markets," a company rep explained in a statement to Restaurant Business.
"These lids help optimize our packaging and eliminate the use of small plastics. New lids in the test phase have a pullback tab that can be kept closed to help prevent spills, especially for McD's fans on the go. A small opening allows for easy sipping to quench your thirst between Big Mac bites. Along with plastic straw reductions, the company is also looking to potentially phase out plastic toys as well.
More digital and automated services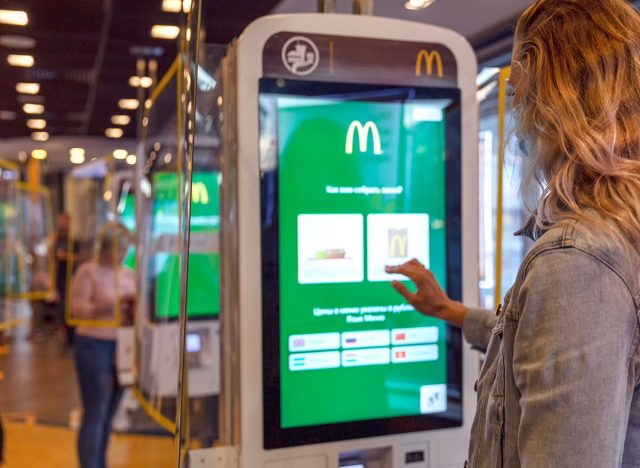 Digital ordering kiosks are becoming the norm for McDonald's locations worldwide, and now the company is looking even further into the future with some space-aged drive-thru designs. McDonald's announced in late 2022 that Fort Worth, Texas will be the home for a test location featuring advances in fast-food efficiency, like a food conveyor belt, an order ahead lane, a pickup room for delivery workers, and a shelf where people can grab their orders.
It all comes after pandemic numbers drove up the desire for a more convenient McDonald's experience; before the pandemic, drive-thru represented 70% of the order for McD's, after the figure is close to 90% for mobile ordering, delivery, and takeout.
Donuts (and other outside company crossovers)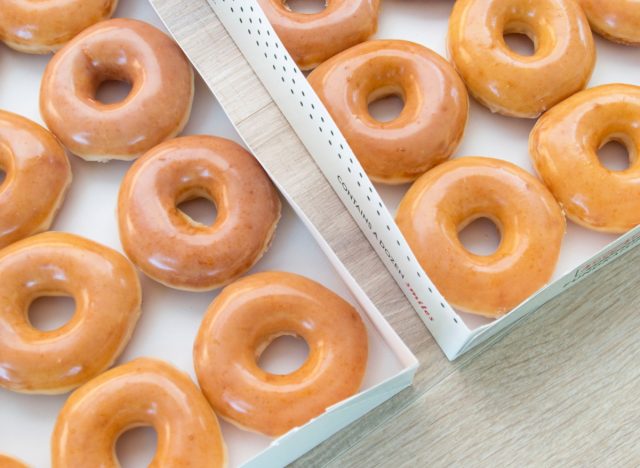 Move over, baked apple pies—McDonald's is testing out new treats, and going off-brand to do so. The company is experimenting with new brand partnerships, such as their latest test with donut dynasty Krispy Kreme. The fast-food company went in this direction to see if off-brand sweet treats moved the sales needle at all, and so far, the results are satisfying. In March, McDonald's expanded its Krispy Kreme test from nine to roughly 160 Kentucky locations to get more insight about customer demand and the operational impact of offering the donuts on a larger scale.
This Krispy Kreme partnership and other limited-time offers will help refine what kinds of outside companies the Golden Arches works with in the future, meaning your favorite food brand could be next.
A version of this article was originally published in March 2023. It has been updated with new information. 
Zoe Strozewski
Zoe Strozewski is a News Writer for Eat This, Not That! A Chicago native who now lives in New Jersey, she graduated from Kean University in 2020 with a bachelor's degree in journalism.
Read more about Zoe