I Tasted 8 Store-Bought Frozen Cheese Pizzas & This Was the Best
Every freezer's got one—but is your go-to frozen pizza as good as this?
There's nothing better than tossing a frozen cheese pizza in the oven and turning on your favorite movie. We've all been there: Sometimes you just don't feel like cooking dinner, and nothing sounds more appetizing than some bready, cheesey, saucey goodness. I'll admit, it's been a hot minute since I even had a frozen cheese pizza, but when I was asked to sample the best frozen cheese pizzas and report on my findings, I was up for the challenge. So on my last trip to the grocery store, I grabbed every option I could get my hands on.
As a cheese lover, I could not wait to try each of these and rank them—not only for selfish reasons, but also to make your next stroll down the freezer aisle a little bit easier. With so many brands out there, you want to know what pizza is worth the money. During my taste test, I looked for a frozen cheese pizza that was cheesy, had a semi-thick crust, and a homemade taste. Of course, everyone's taste buds are different, so these pizzas are all worth trying for yourself, because you never know what you may like!
Without further ado, here's how the store-bought frozen cheese pizzas ranked in my taste test, ordered from worst to best.
What I tasted:
Cali'flour Foods Classic Cheese Pizza
Daiya Cheeze Lover's Pizza
DiGiorno Rising Crust Four Cheese Pizza
Milton's Craft Bakers Four-Cheese Cauliflower Crust Pizza
Banza Four Cheese Pizza
Red Baron Classic Crust Four Cheese Pizza
Freschetta Brick Oven Crust Five Cheese Pizza
Talia di Napoli Four Cheese Pizza
Cali'flour Foods Classic Cheese Pizza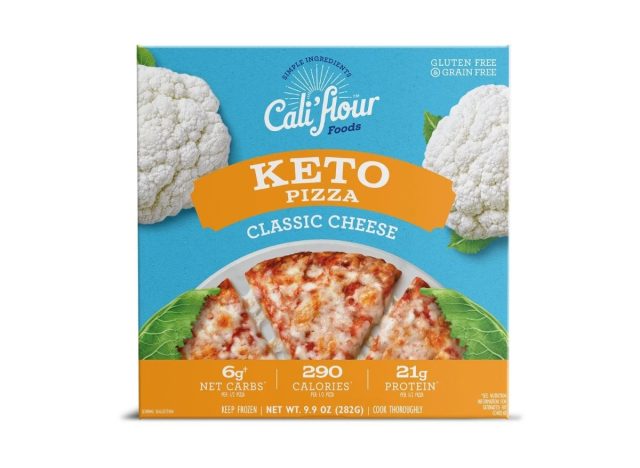 The Look:6254a4d1642c605c54bf1cab17d50f1e
With its thin crust, this pizza looked more like a flatbread than a traditional frozen cheese pizza, but you can't tell that from the box. Also, it's pretty tiny, similar to a personal pizza in size, so it's perfect for a solo meal, or as an appetizer with a group. The crust was super thin and almost appeared burned by the time I took it out of the oven (despite following the instructions). Since it was so thin, it barely held its shape and spilled all over while I tried to eat it.
The Taste:
This pizza was not my favorite, and in fact, I'd have to say it was the worst of the frozen cheese pizzas I sampled. While the mozzarella cheese was flavorful, it was overpowered by an excess of sauce. Plus, the crust was super thin and mushy; it was not like a traditional pizza crust so it did not satisfy that craving. If you have dietary restrictions (like a gluten- or grain-free diet), you may like this one, but it wasn't for me.
Daiya Cheeze Lover's Pizza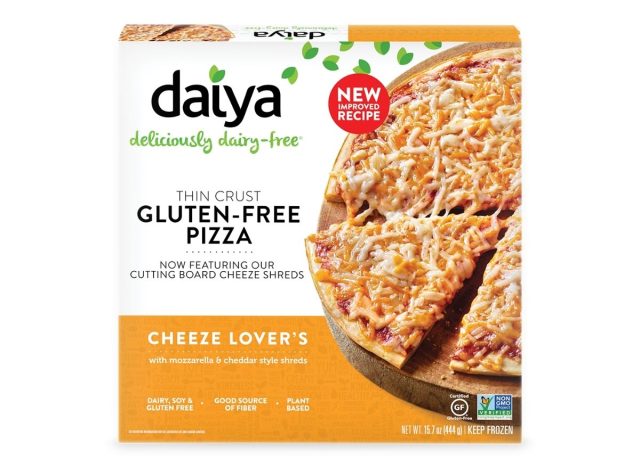 The Look:
Upon taking this pizza out of the box, I could not wait to dig into what looked like cheese heaven. Similar to the pizza above, this pie was pretty thin and did not have that thick crust I was looking for. However, I didn't want to count it out solely based on looks.
The Taste:
I could instantly tell that this pizza was made with cheese-flavored shreds instead of actual cheese. There was simply no compensating for the fact that it's dairy- and gluten-free. Nothing wrong with that in theory, but if you're looking for a classic frozen cheese pizza, this is not it. It had the slight sharpness that cheese tends to have, but that faded almost instantly after the initial bite. While the crust was thin, it didn't taste bad. It was more so the sauce, which was somehow both salty and bland.
DiGiorno Rising Crust Four Cheese Pizza
The Look:
I was ecstatic to see that this pizza looked like the one at my local pizzeria, with its thick crust and melted cheese. My favorite part? I could smell it all the way from my bedroom on the second floor of my house—divine. The slices are shorter than a standard pizza shop slide, but they are also quite dense, which makes up for it.
The Taste:
I grew up eating DiGiorno pizzas, so the taste instantly transported me back to childhood. Still, compared to the other pizzas, the cheese was pretty bland. It tasted…heavy. It was very one-note, despite having four kinds of cheese, so I was a bit disappointed. However, the crust is the redeeming factor here—it's super soft yet thick, just how I like it.
Milton's Craft Bakers Four Cheese Cauliflower Crust Pizza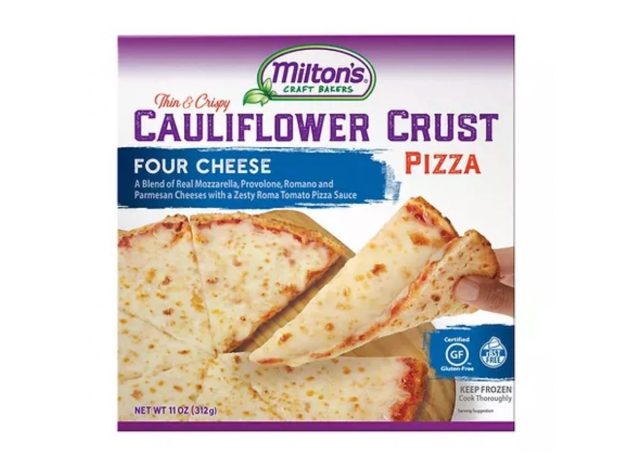 The Look:
This pizza is similar in appearance to the ones I tried from Cali'flour Foods and Daiya. There's an even layer of cheese atop the pie and the sauce peeks out by the crust. Like the packaging says, it did have a thin and crispy appearance, and even though I was looking for something thicker, I tried to keep an open mind embrace thin crust too.
The Taste:
What I loved about this pizza is that I could taste all of the four cheeses (mozzarella, provolone, romano, and parmesan) with each bite. The gluten-free crust wasn't as soft and mushy as its counterparts, giving it extra brownie points in my book. My only complaint was that it could have used a bit more sauce to balance out the cheese.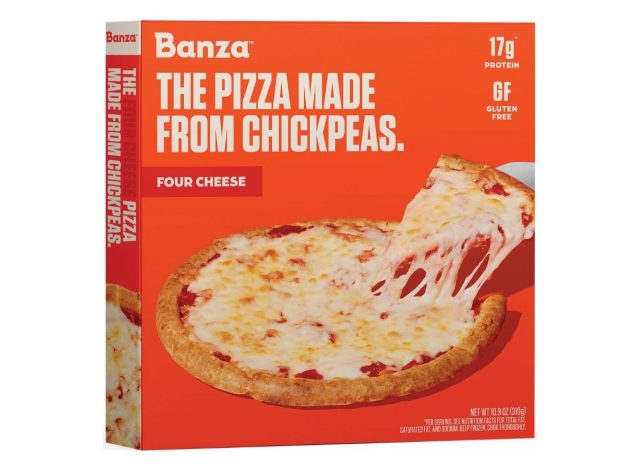 The Look:
I know the brand's pasta looks and tastes nearly identical to the "real thing," so I was expecting nothing less from this frozen pizza, and fortunately, my expectations were met and even exceeded. This pie is slightly larger than a few of the others previously mentioned, and has a soft, thin layer of cheese distributed across the top.
The Taste:
If you didn't tell me that this pizza had a chickpea-based crust, then I would never know—that's how good it tastes. The crust is thick just like a New York slice and is extremely cheesy with its blend of four cheeses (mozzarella, white cheddar, provolone, and parmesan.) The sauce complements both the cheese and the bread very well, and I nearly finished the whole pie in one sitting.
Red Baron Classic Crust Four Cheese Pizza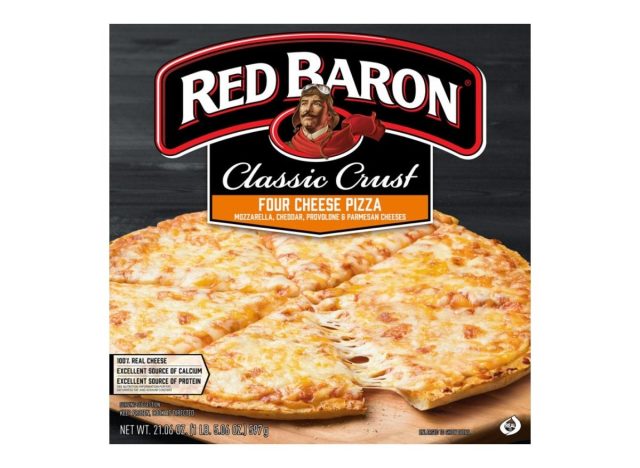 The Look:
When you think of a frozen cheese pizza, one like this option from Red Baron likely comes to mind—perfectly round, covered in cheese, with a thick crust. It's golden-brown and looks almost too good to eat, seriously.
The Taste:
I never thought I'd be the person to say this, but this pizza was almost too cheesy. Don't get me wrong, cheese is great, but I feel like the amount of cheese on this frozen pizza was borderline excessive. It did taste delicious, but it was just a lot. That said, if you're a cheese enthusiast, I'd say you'd be missing out if you didn't try this. The sauce was sweet and tangy and the crust was thick and dense. Let's just say I stocked up on this one after my test was complete.
Freschetta Brick Oven Crust Five Cheese Pizza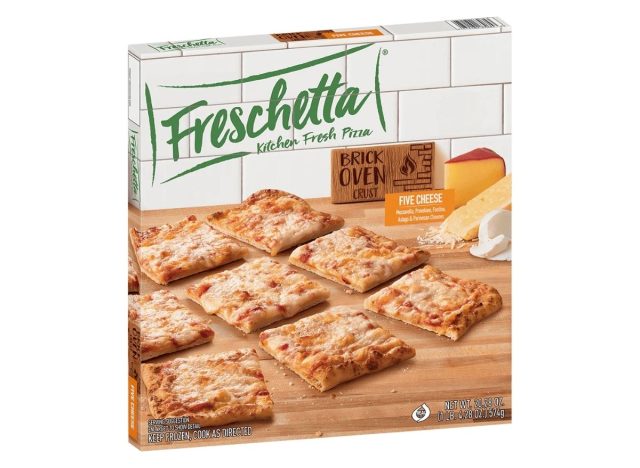 The Look:
This Sicilian frozen cheese pizza appears to be thin, like many of the other brands. It was more cheese-heavy though, so you couldn't really see any sauce at first glance. It looked like a pizza you'd get at an upscale Italian restaurant.
The Taste:
I absolutely loved the taste of this five-cheese pizza. The cheese was delicious—so flavorful, piquant, and sharp. There wasn't much sauce, but that didn't bother me because the cheese was insanely good. I went back for seconds and even thirds of this one.
Talia di Napoli Four Cheese Pizza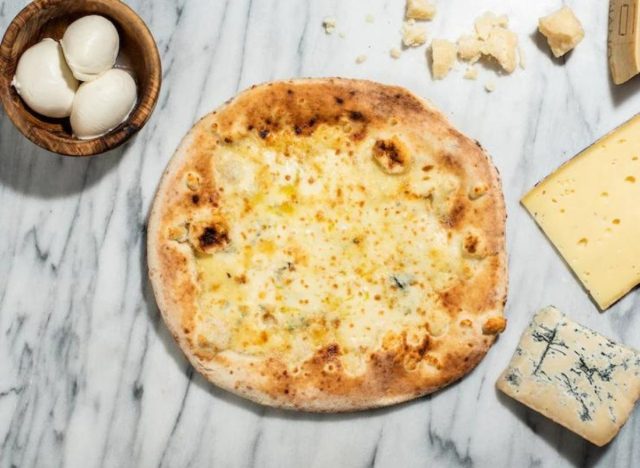 The Look:
Like the runner-up, this pie looks like one you'd be served at a really fancy Italian restaurant (maybe even in Italy!). It's round and has a golden brown coating, which gives it visual appeal. Plus, the cheese glistens from the moment you take it out of the oven, so you know it's going to be good.
The Taste:
I've never been to Italy, but this is probably the closest I'll get for quite a while, and it was hands-down the best on the list. When I tell you it's not like any frozen pizza I've ever had, I mean it. The cheese is next-level, and the sauce is scrumptious. As soon as I took a bite, I could tell this wasn't some canned tomato sauce, but an authentic homemade sauce, like someone's grandma would make. It's a bit thin, but that can be overlooked since the rest of it is delicious.
Casey Clark
Casey Clark is a current journalism student at Hofstra University with a passion for food, beauty, and entertainment.
Read more about Casey