Best Healthy Foods To Bring on Hikes, Approved by a Dietitian
Snack and beverage ideas for all-day treks or casual walks at your local park.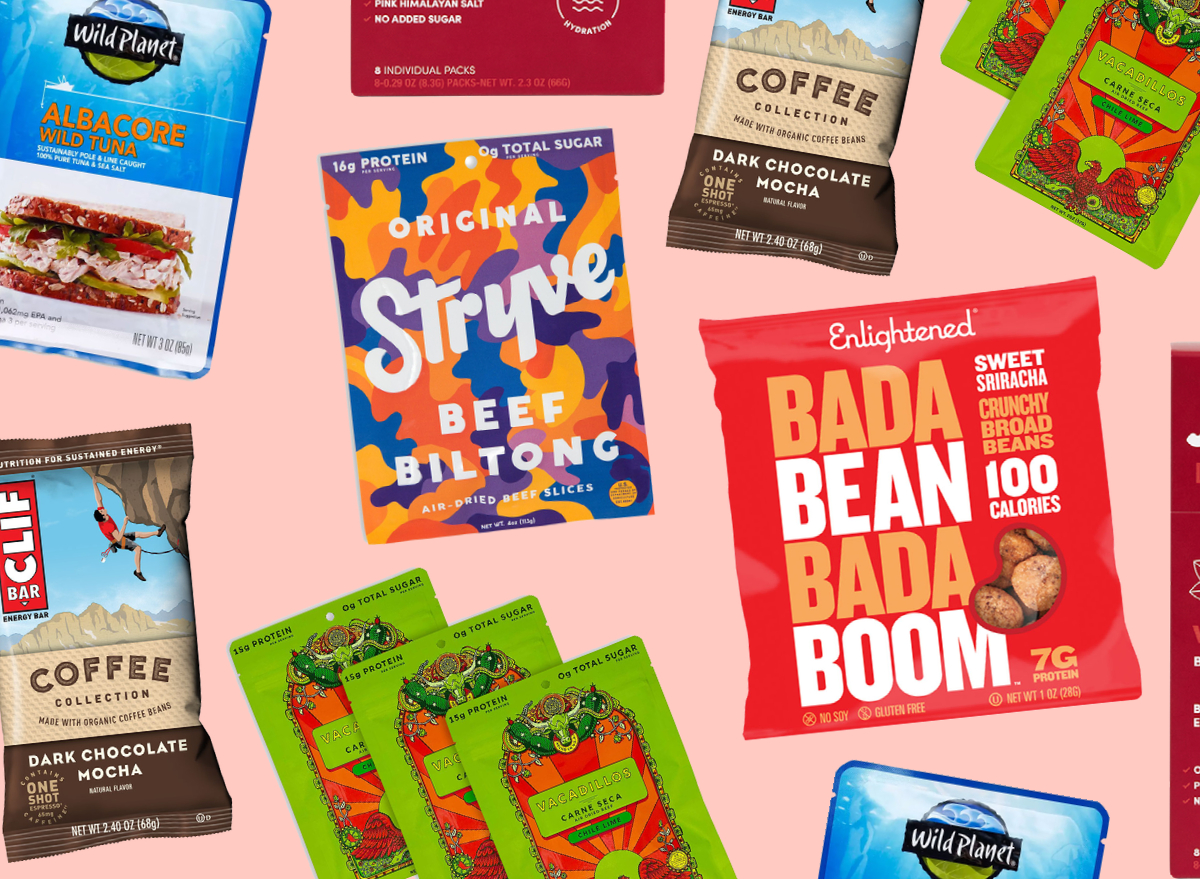 This post contains affiliate links. If you use these links to buy something, we may earn a commission.
Whether you're going on an overnight backpacking trip or you're doing a loop at your local reservoir, you should be thinking about two things before you head out for a hike: making sure you have enough water, and being sure to stock up on the best healthy snacks for hiking.
Staying hydrated and replenishing spent energy stores is key when it comes to hiking to help your body get the nutrients it needs to go the distance. There are a few different healthy snack ideas that can help you do this:
"Healthy carbs can help give your body sustained energy, and protein and fiber can help you feel satisfied (so you won't be reaching for more snacks shortly after snacktime). And for strenuous hikes, replenishing key electrolytes like sodium and potassium is important to maintain your fluid balance," says Lauren Manaker MS, RDN, LD, founder of Nutrition Now Counseling and author of Fueling Male Fertility.
"Hiking is not the time to go low-cal. Calories help fuel your body for what lies ahead," she adds.
We're way past the days where our only options for hiking snacks are GORP (good old-fashioned raisins and peanuts) and gas-station jerky. While these foods can get the job done in terms of delivering calories and macronutrients, there are so many better options out there now that nourish your body with more than just sugar or protein. Rather, healthy hiking snacks now deliver clean energy from whole fruits (with no added sugar), protein from organic, grass-fed beef, and healthy fats from nuts.
So what are the best snacks for hiking?
"When deciding on which snacks to bring along with you on your trek, you want to avoid anything too heavy. While foods like fried potato chips and pre-packaged pastries are many people's go-to snacks, they don't have the right balance of nutrients to sustain a hiker and can make a person feel sluggish shortly after snack time. Instead, people should shoot for nutrient-dense foods that give them sustained energy — think fresh or dried fruit, nuts, seeds, and oats," recommends Manaker.
Food isn't the only thing to focus on when hiking; it's also essential to pay attention to your fluid intake. "When planning for a hike, never underestimate the value of staying hydrated. For 'lighter' hikers, there is immense value of plain old water to meet your hydration needs; however, there are some excellent hydrating options on the market that not only provide fluid but also provide electrolytes too," says Manaker.
With Manaker's help, we put together this list of the very best healthy foods to bring on hikes. Bookmark this list for your next adventure! Read on, and for more on how to eat healthy, don't miss 7 Healthiest Foods to Eat Right Now.
ProBar Meal Blueberry Muffin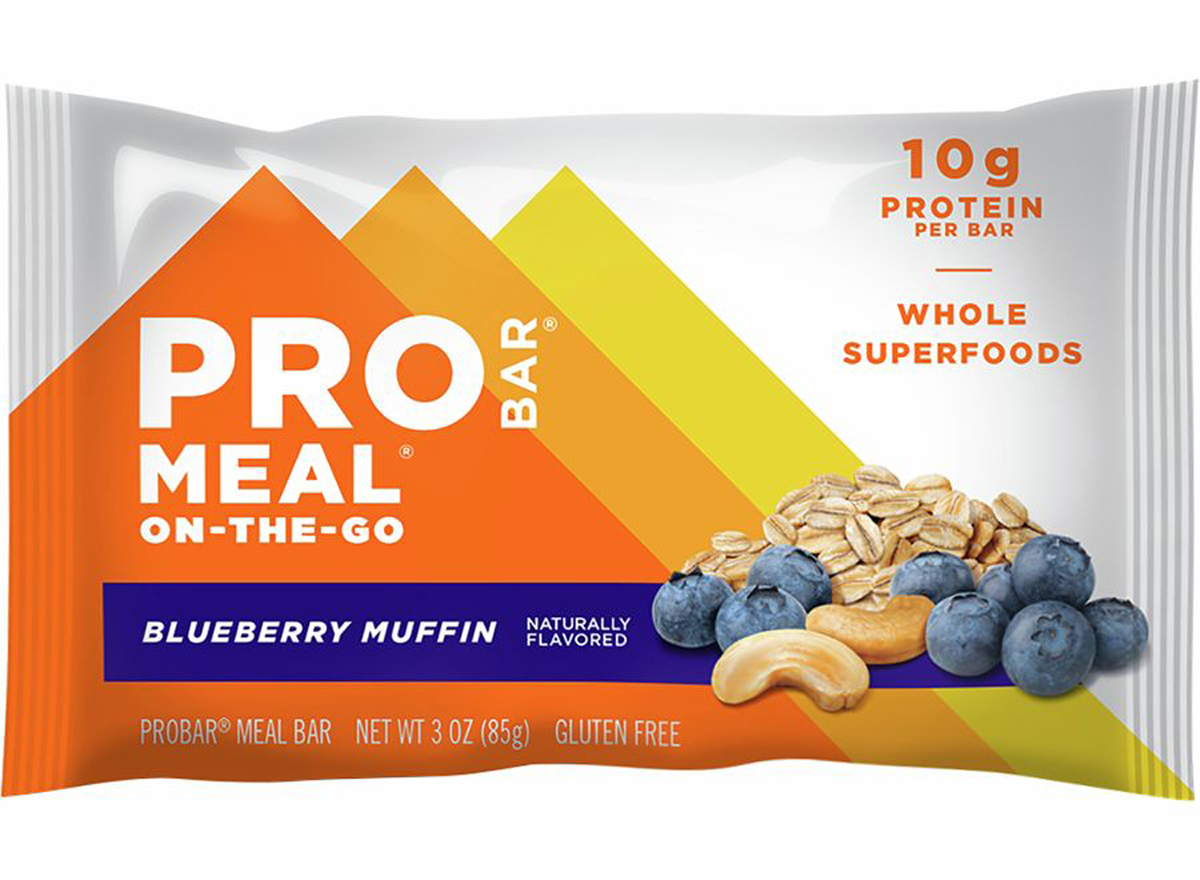 Craving a blueberry muffin for breakfast but about to set out on a 10-mile hike? This meal replacement bar is the answer. PROBAR's oat-based meal bar has as many calories as an entire meal—400 calories—with 10 grams of protein, 6 grams of fiber, and 21 grams of healthy fats from a combination of almonds, cashews, flax, and pumpkin seeds. Plus, you'll be able to keep your energy high with the help of 18 grams of natural sugar from blueberries, dates, and molasses.
CHOMPS Grass-Fed Beef Jerky Sticks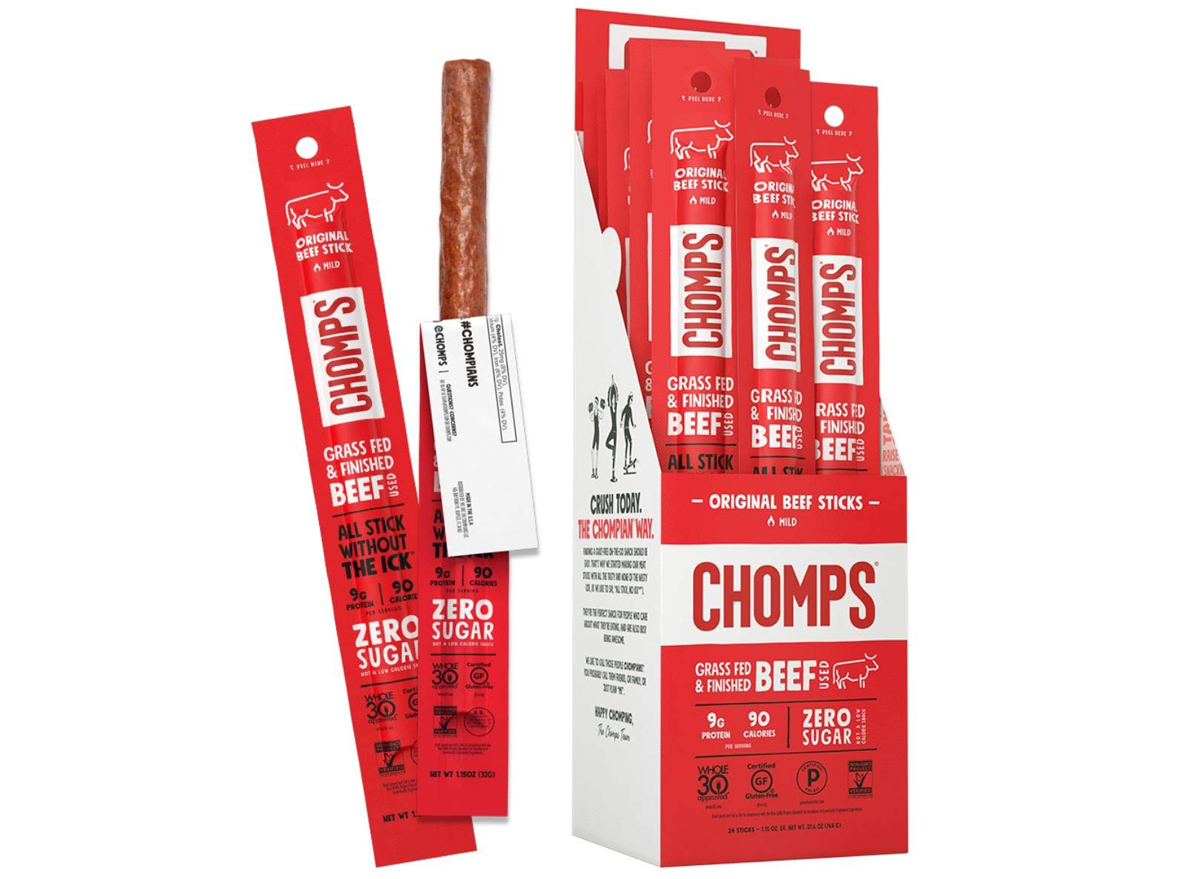 To satisfy your hunger pangs without being weighed down by a full stomach, opt for CHOMPS Grass-Fed Beef Jerky Sticks. Each stick has 9 grams of filling protein with a healthy 290 milligrams of sodium for electrolytes to help your body stay hydrated.
RIND Straw-Peary Blend Fruit Snacks
Whereas other dried fruit snack brands have the same amount of sugar (13 grams—all naturally coming from the fruit), most don't have the 4 grams of fiber that RIND has, which is thanks to them keeping the peel on. This bag is a blend of apples, strawberries, and pears that offers up whole-food-based sugars to keep your glucose levels even-keeled so you have the energy you need to fuel your hike.
Read more: What Eating Added Sugars Does to Your Body
Cure Hydration Wild Thing Mix, Berry Pomegranate
Proper hydration is essential when it comes to hiking. While plain water is a great option to keep in your water bottle, consider upgrading your liquid to an electrolyte-rich beverage. According to the brand, Cure Hydration's individually packaged electrolyte powders will rehydrate your body more than three times faster than water—which they claim is as much as an IV drip. Their formula is based on the World Health Organization standard for Oral Rehydration Solution (ORS). Each packet is made with natural ingredients like coconut water and pink Himalayan salt and contains no added sugars like most other sports beverage brands do. Check out some other options here: 13 Healthy Sports Drinks for Weight Loss.
Split Nutrition Peanut Butter + Grape Jelly Packets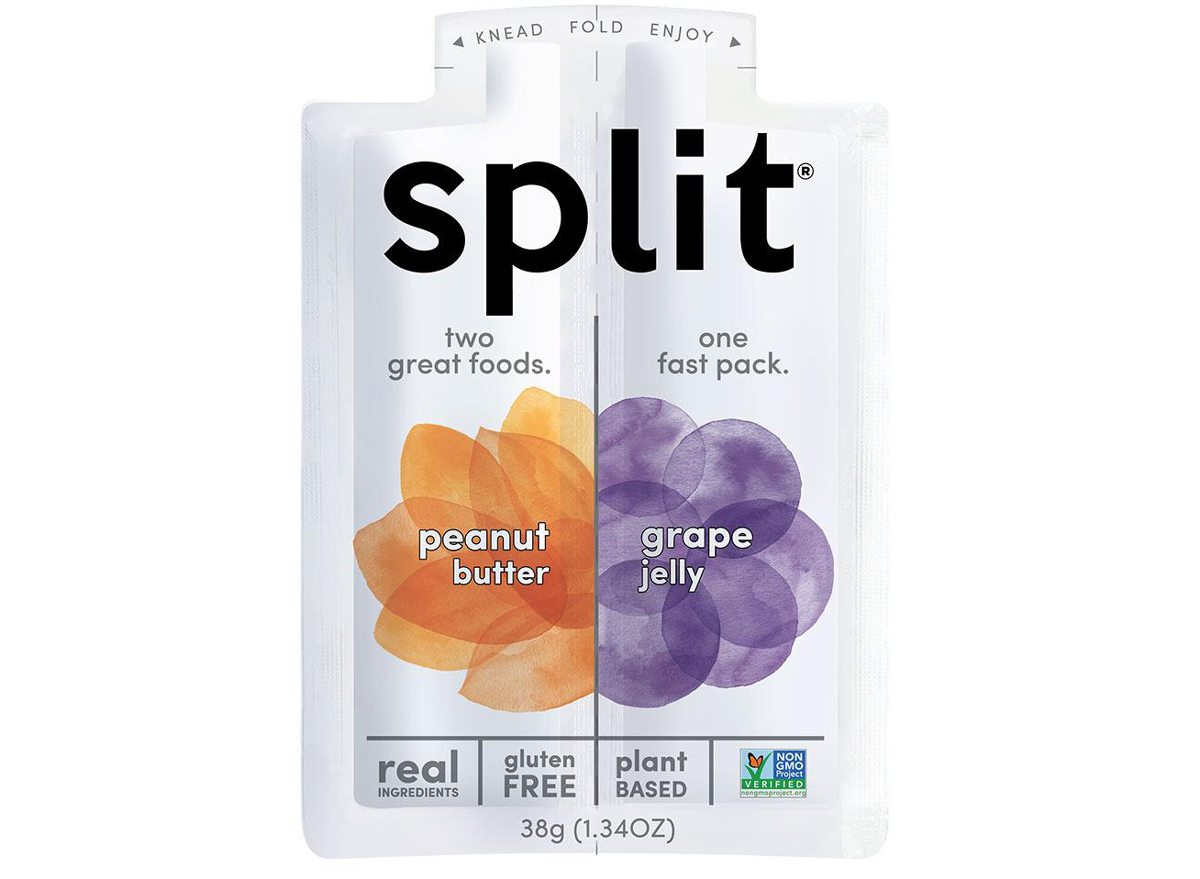 While we all love PB&Js, if you've ever taken one on a backpacking trip, you know that they can sometimes get mushed up in your bag or you may feel iffy about eating the sandwich if you've left it out of the fridge for multiple hours. For a shelf-stable version of a classic, throw a packet of Split in your bag. Each packet, which contains 6 grams of protein and 12 grams of natural sugars, is split into two separate sections: one with peanut butter and another with real grape jelly. It's nice to be able to just tear the packet apart rather than grab a sandwich with potentially dirty hands.
CLIF Coffee Collection: Dark Chocolate Mocha Flavor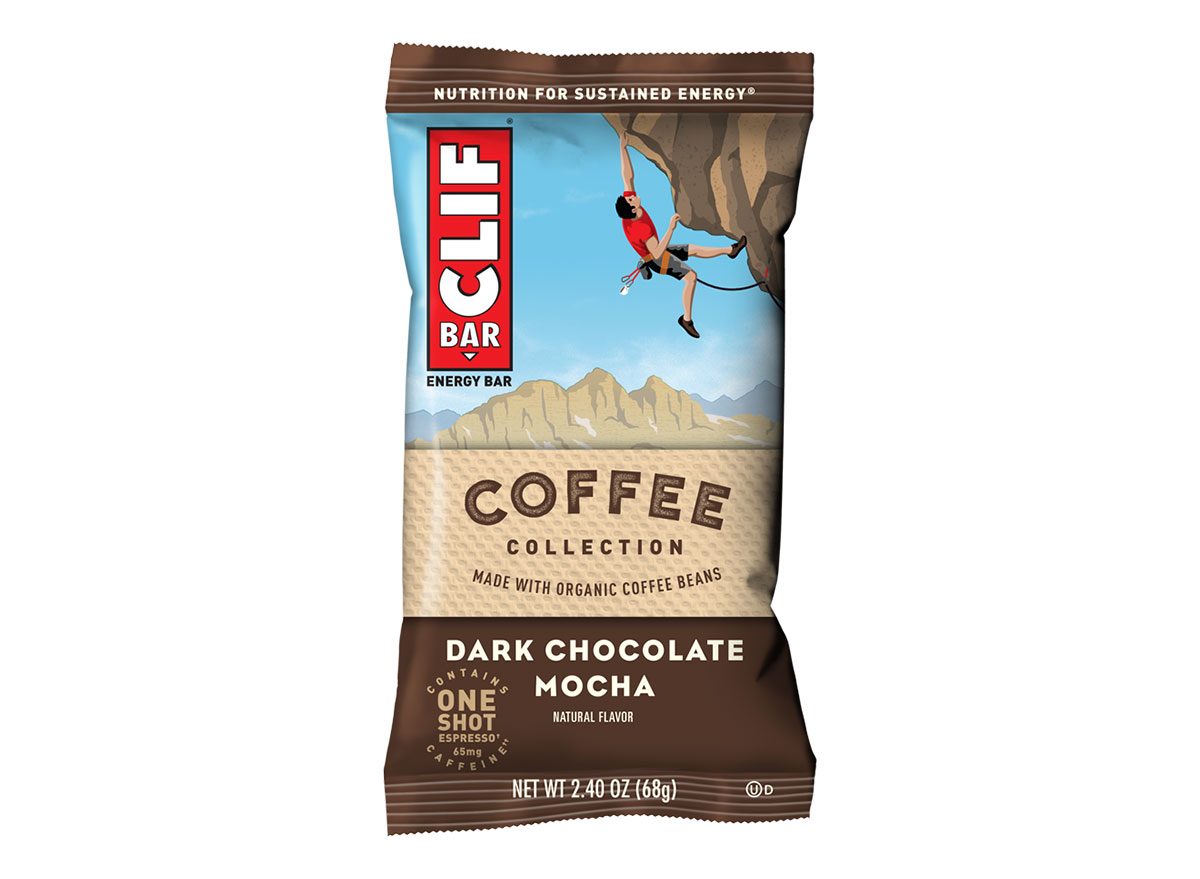 Waking up for a morning hike and don't have time to brew or pick up a cup of joe? CLIF Bar makes an energy bar with 65 milligrams of caffeine—as much as what's in one shot of espresso—so you can forgo your morning coffee. Plus, you'll get a solid breakfast in with 9 grams of protein, 4 grams of fiber, and 19 grams of sugar for 250 calories.
Over Easy Apple Cinnamon Breakfast Bar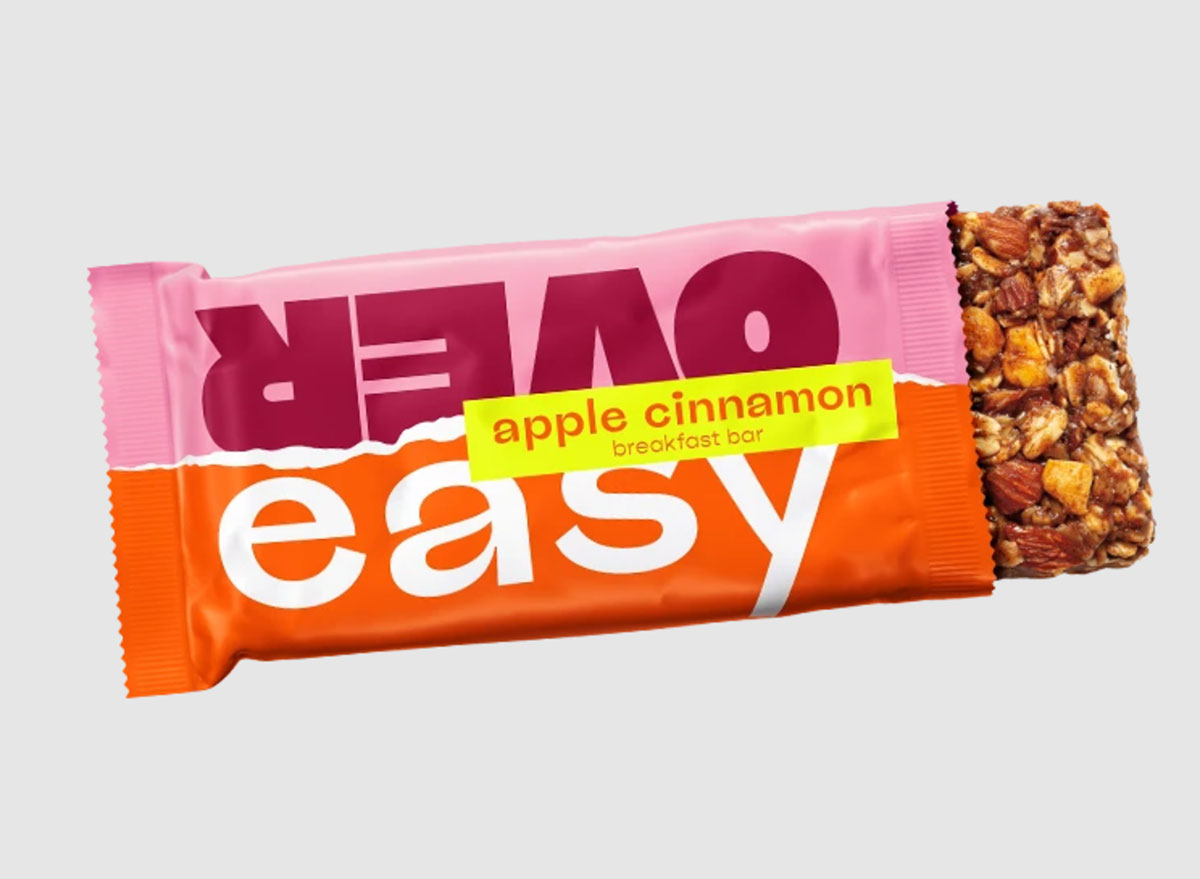 We can all agree that oatmeal makes a great pre-hike breakfast, but sometimes we just want to get out there without worrying about making breakfast. For that, there's Over Easy oatmeal breakfast bars that deliver 9 grams of protein and 7 grams of energy-sustaining fiber.
Stryve Beef Biltong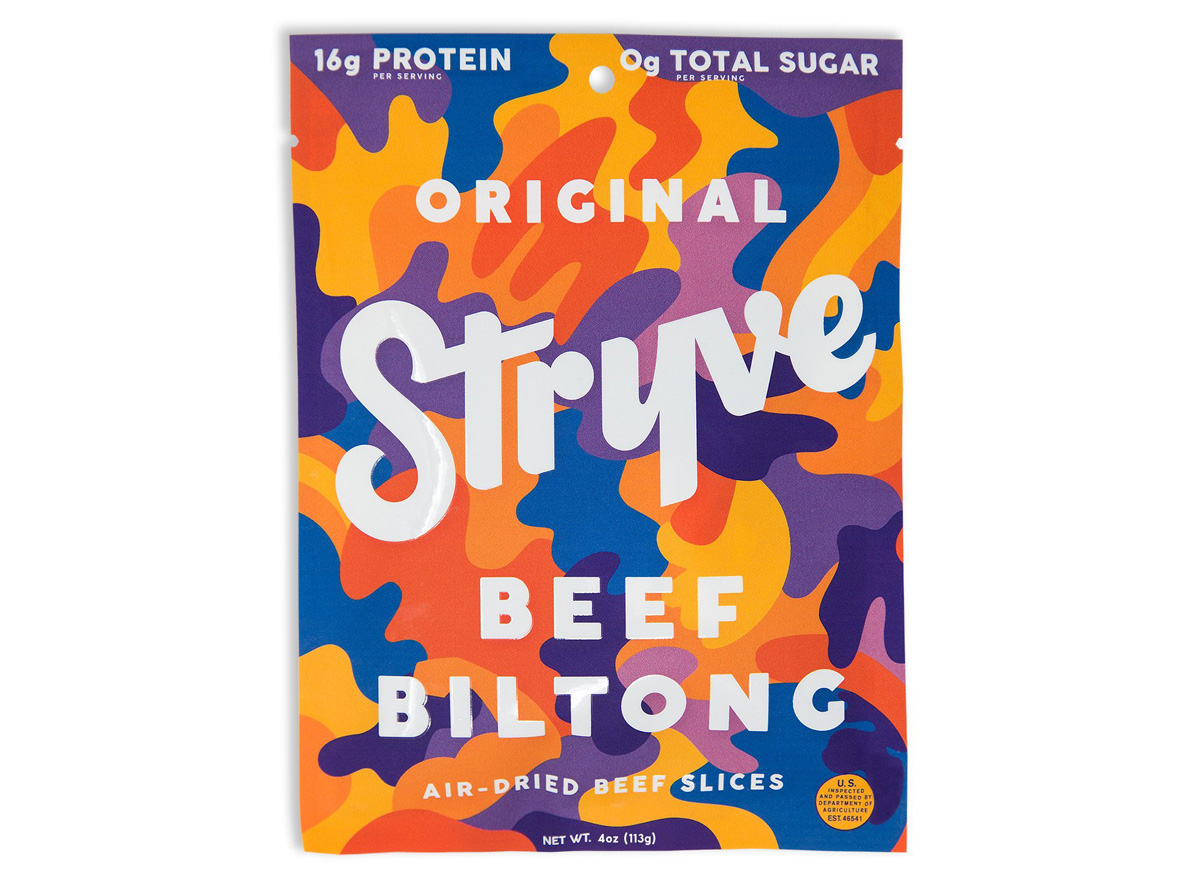 For a higher-protein, lower-sugar version of jerky, there's Stryve Biltong, which is a thinly-sliced version of jerky that is made with no refined sugars. With a stand-out blend of warming spices like pepper, coriander, clove, and nutmeg, this biltong is sure to satisfy your jerky cravings. Need some more options? Check out The Best and Worst Beef Jerky—Ranked!
Vacadillos Carne Seca Chile Lime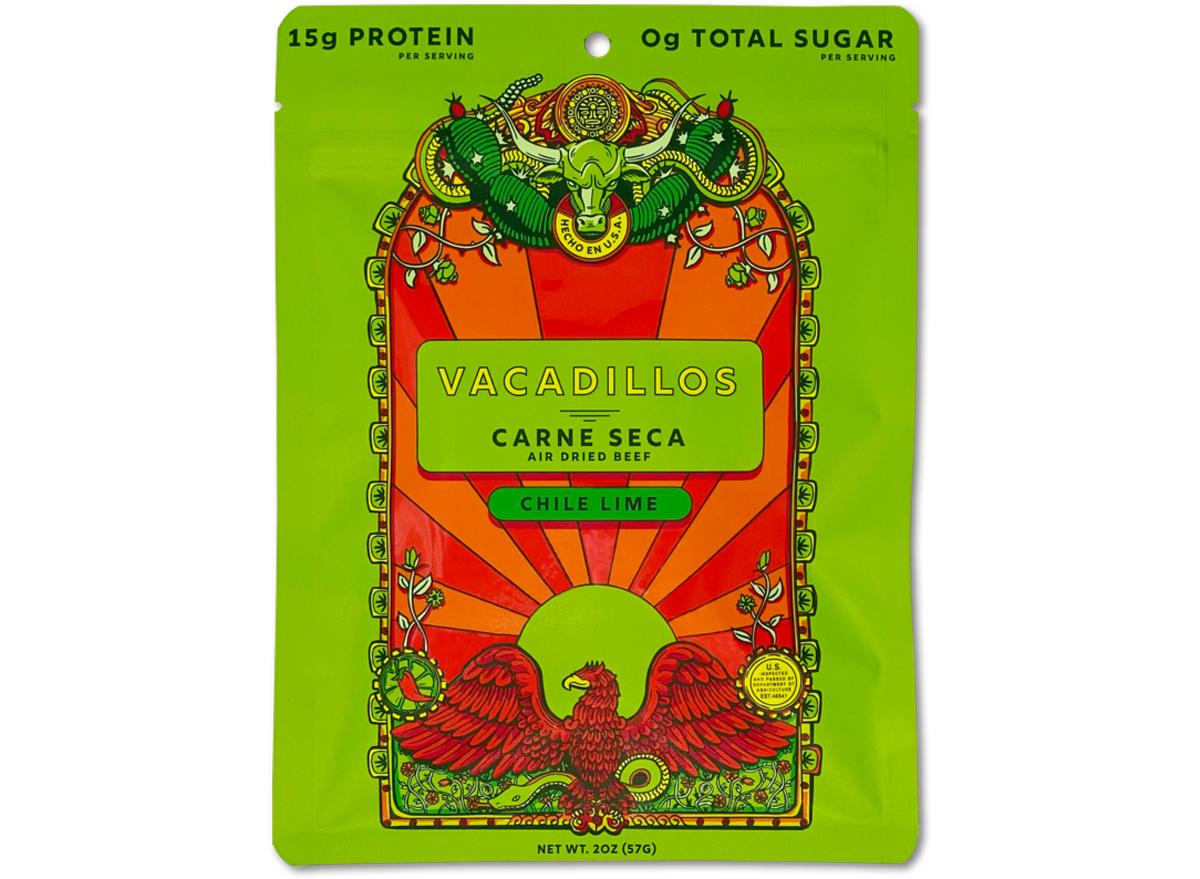 Looking for a fresh take on your go-to jerky? Vacadillos has your back. This air-dried beef is called Carne Seca, a Latin-influenced steak that is sliced, seasoned with various spices and flavors including chiles and lime, air-dried, and then sliced into delicious lean strips.
Daily Crunch Snacks Cherry Berry Sprouted Nut Medley
Upgrade your go-to trail mix with this innovative product from Diane's Kitchen: Daily Crunch Cherry Berry Nut Medley. The almonds, walnuts, and cashews are put through a 4-day process, which results in sprouted and dehydrated nuts that are more nutrient-dense, easier to digest, and crunchier than raw or roasted nuts. Paired with antioxidant-rich dried cherries and blueberries, these grab-and-go snacks are perfect for taking on hikes.
Karma Nuts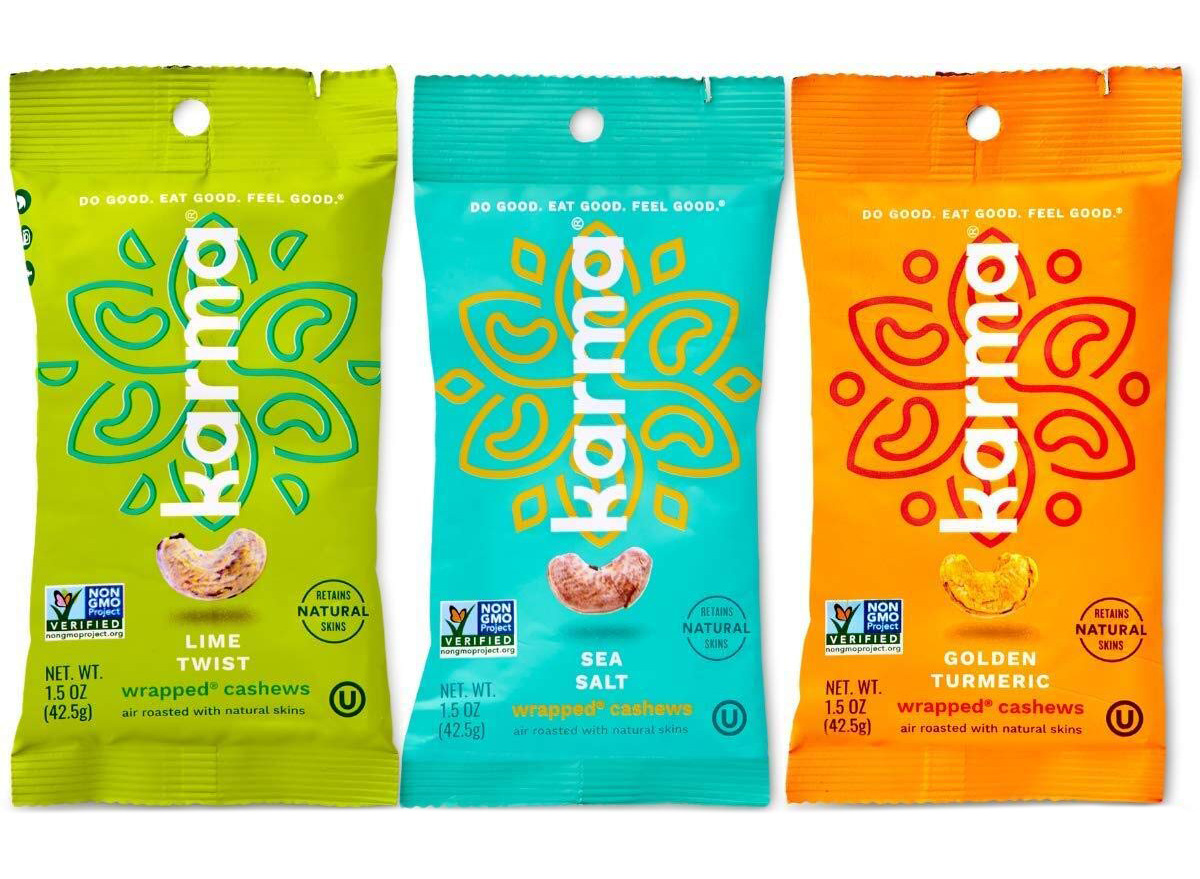 For some crunch on your hike, check out Karma's Wrapped Cashews. Karma leaves the skins on their cashews as these are both antioxidant- and fiber-rich, containing antioxidant activity comparable to blueberries and two times the fiber of plain cashews.
Solely Mango Fruit Jerky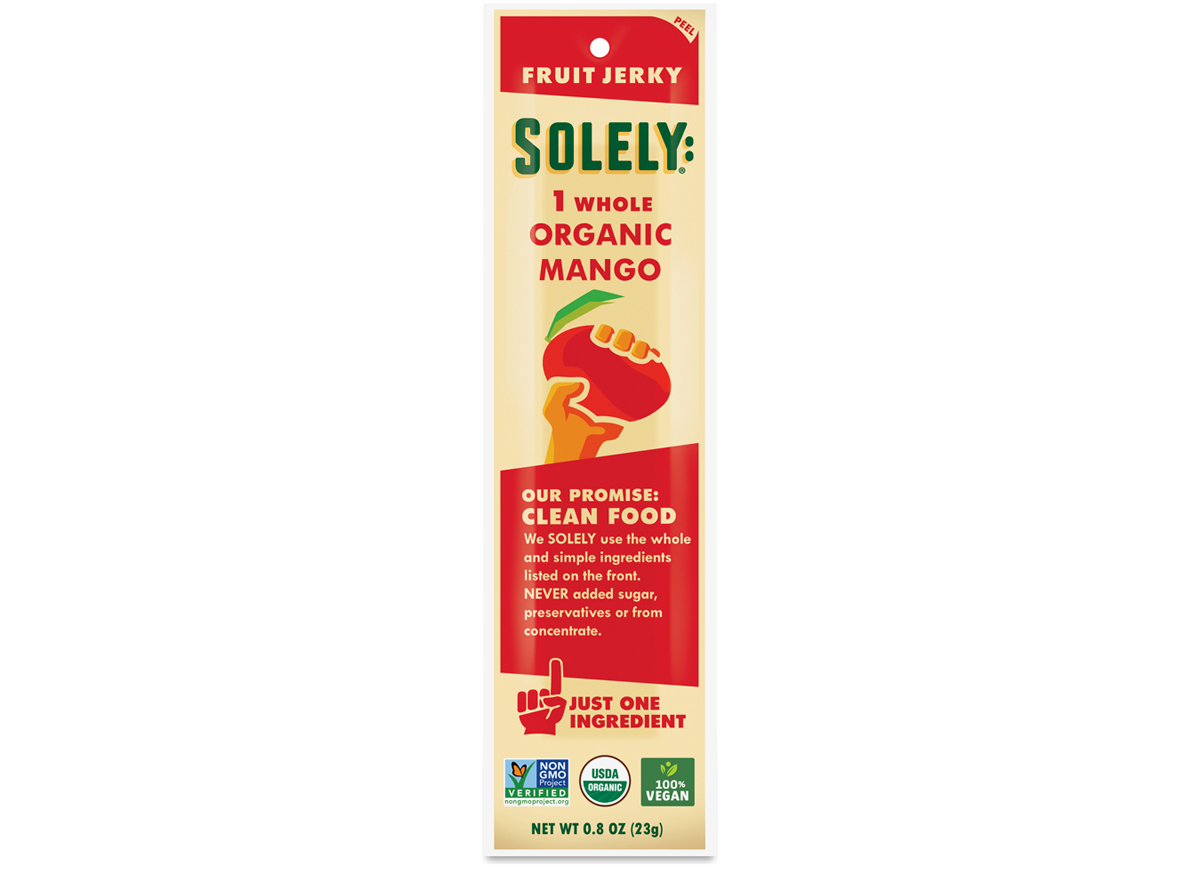 For a hands-free energy boost, Solely makes an incredibly delicious fruit jerky that's made of just one ingredient: mango. Each strip delivers 12 grams of natural sugar and one gram of fiber.
Bobo's Stuffed Oat Bites, Apple Pie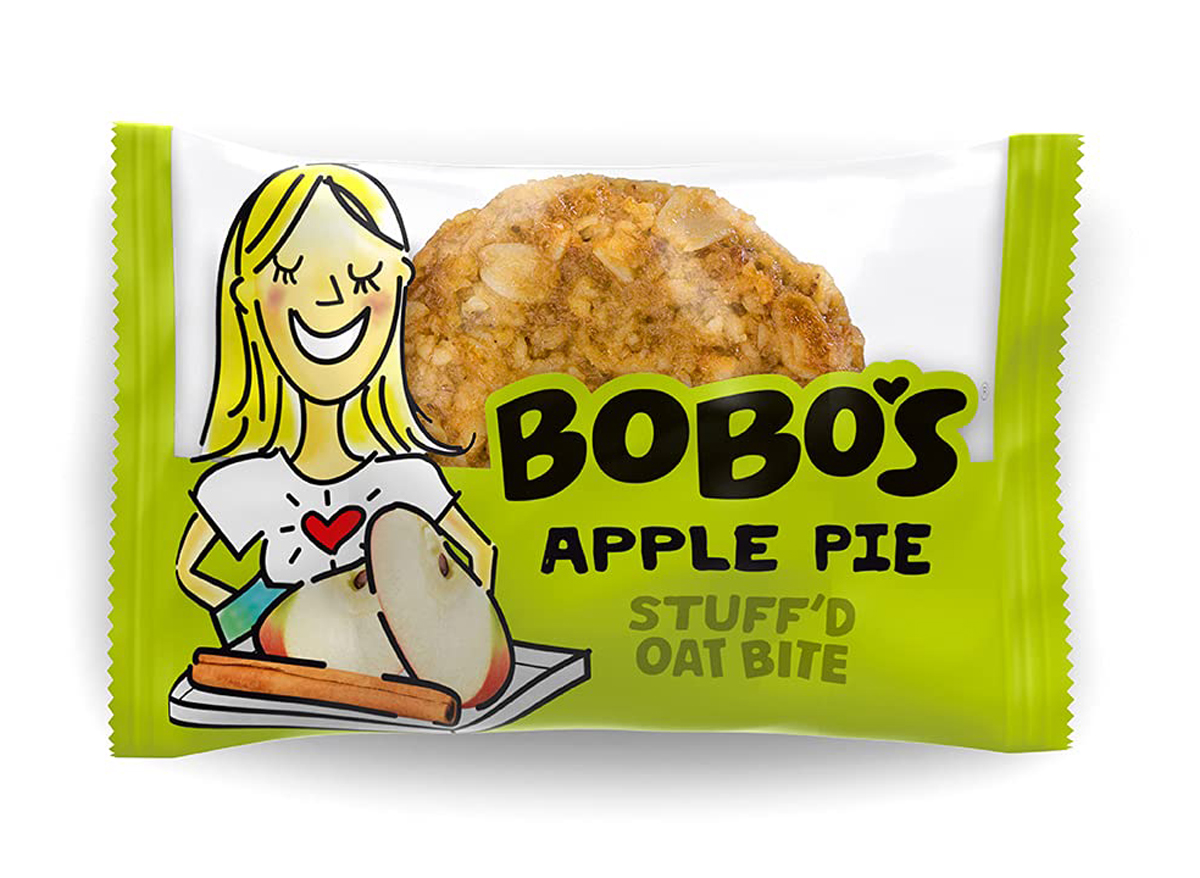 If you're the kind of person who only wants bite-sized, energy-boosting snacks for hiking because you're not a fan of walking with a heavy stomach, Bobo's Stuff'd Oat Bites are the perfect option. Each 140-calorie oat bite is stuffed with pureed organic apples flavored with cinnamon to create a treat with 9 grams of sugar, 2 grams of protein, and 2 grams of fiber.
Justin's Peanut Butter Packets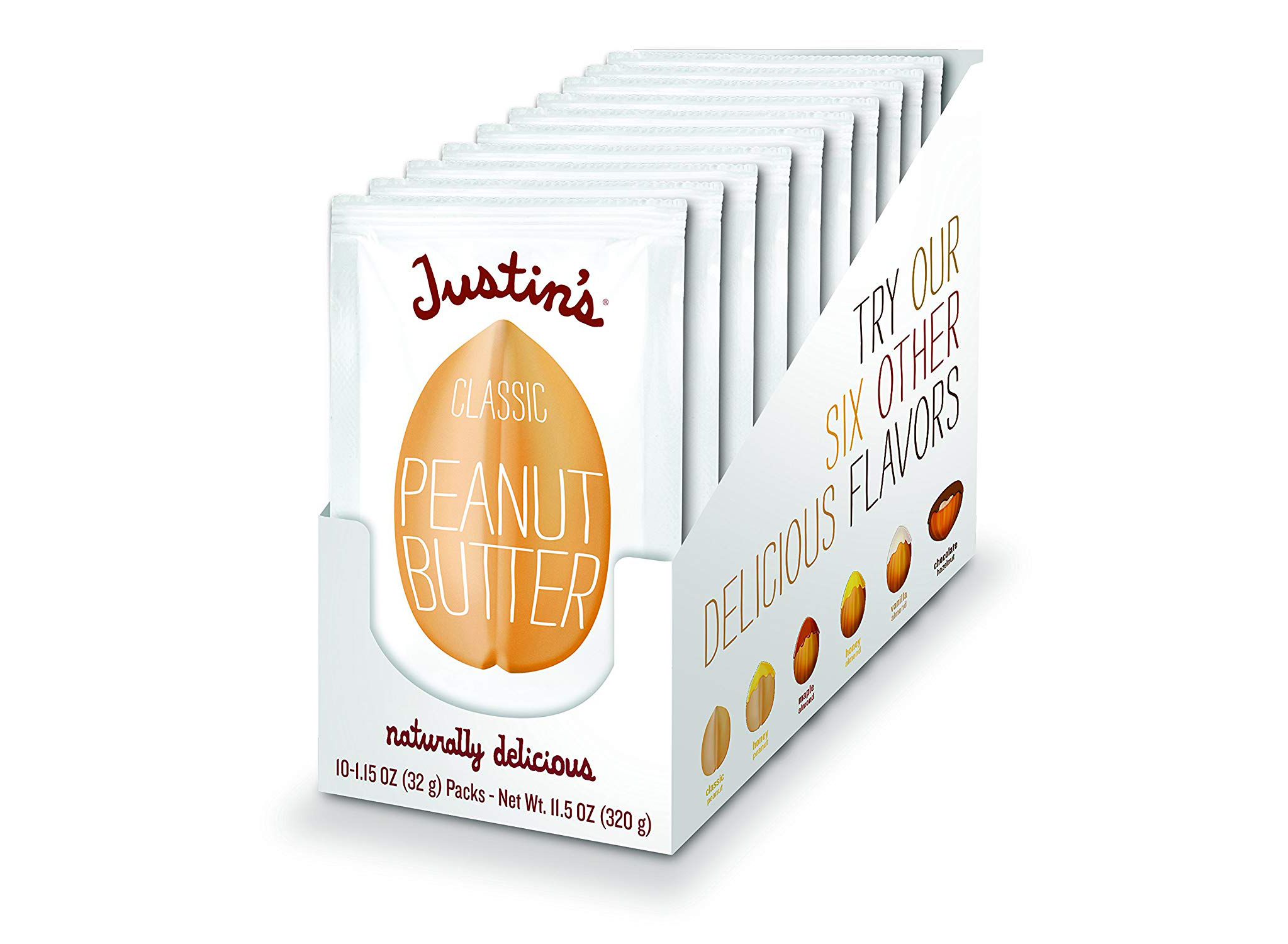 It isn't a list of best snacks for hiking without a peanut butter packet. We're superfans of this squeeze-free packet from Justin's that delivers 7 grams of plant-based protein and makes the perfect pairing with a banana.6254a4d1642c605c54bf1cab17d50f1e
Quinn Peanut Butter Filled Pretzels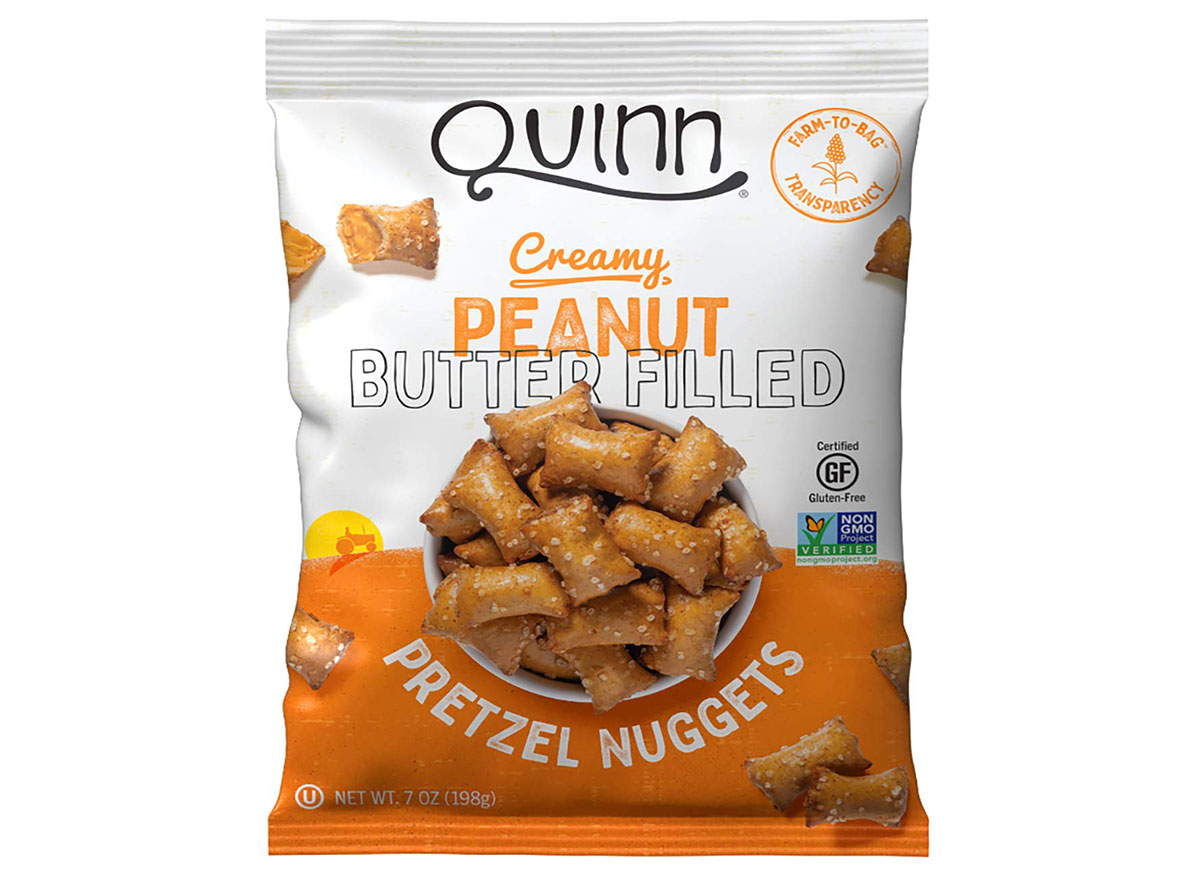 As we've mentioned, keeping your body hydrated is key when you're hiking long distances. Electrolyte drinks are a great option, as are pretzels! While any plain pretzel will do, we're particularly fans of these peanut butter-stuffed bites that add a bit of protein and healthy fats to a snack for extra staying power.
Vital Proteins Energy Collagen Smoothie Mix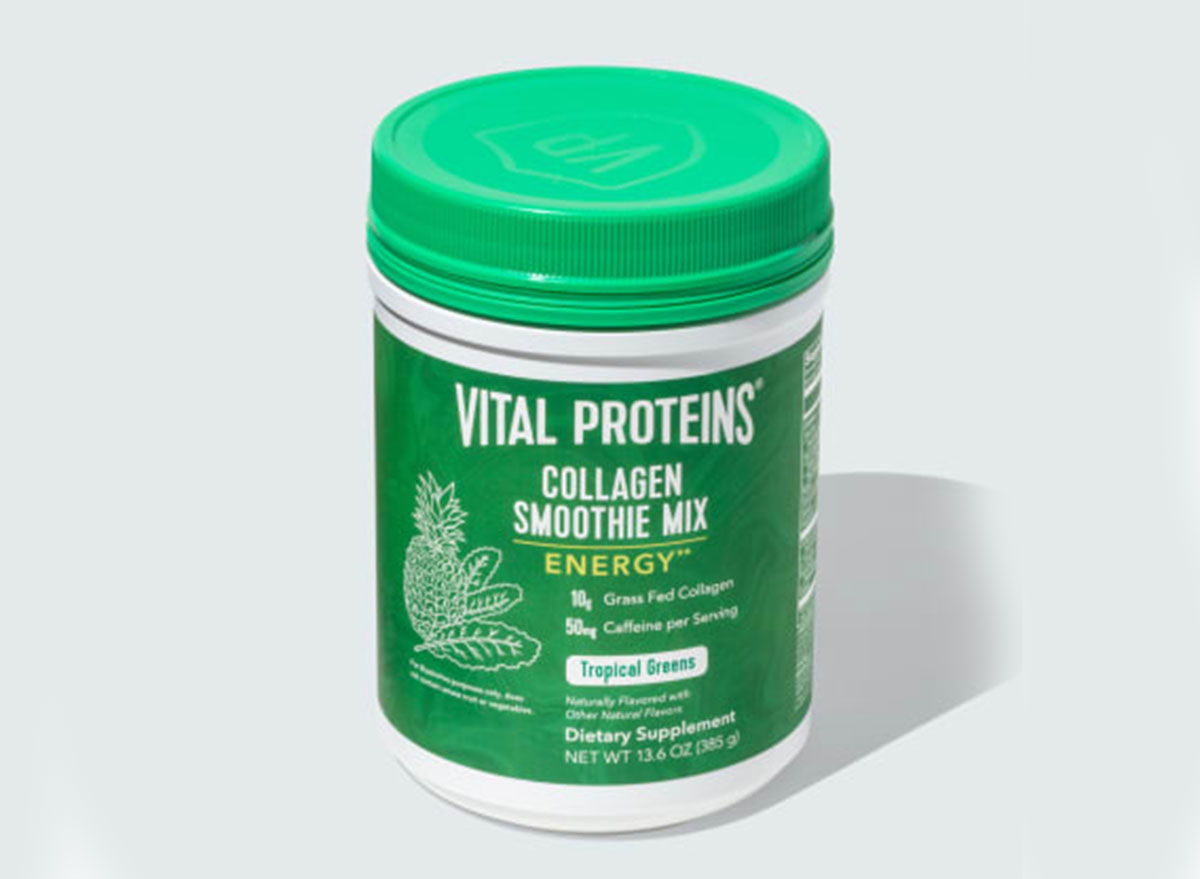 If you're starting your hike after a night of camping, you may not have a blender at your campsite. But that doesn't mean you have to go without your morning smoothie or matcha latte. Made with 9 grams of protein from grass-fed bovine collagen and energy-supporting ingredients, including 50 milligrams of caffeine from culinary-grade matcha tea powder and 200 milligrams of energy-balancing L-theanine, just add a scoop of this collagen powder to your water bottle before you head out for a sustained energy boost.
Wild Planet Tuna Packet
For day-long hikes, you'll likely want to stop somewhere for lunch. For that, tuna packets are the perfect option. They lay flat, so they take up less space in your backpack, but deliver 20 grams of protein per serving. Simply tear it open and pair it with some crackers for a filling mini-meal.
Related: One Major Effect of Eating Canned Tuna, Says Science
Poshi Artichoke Packs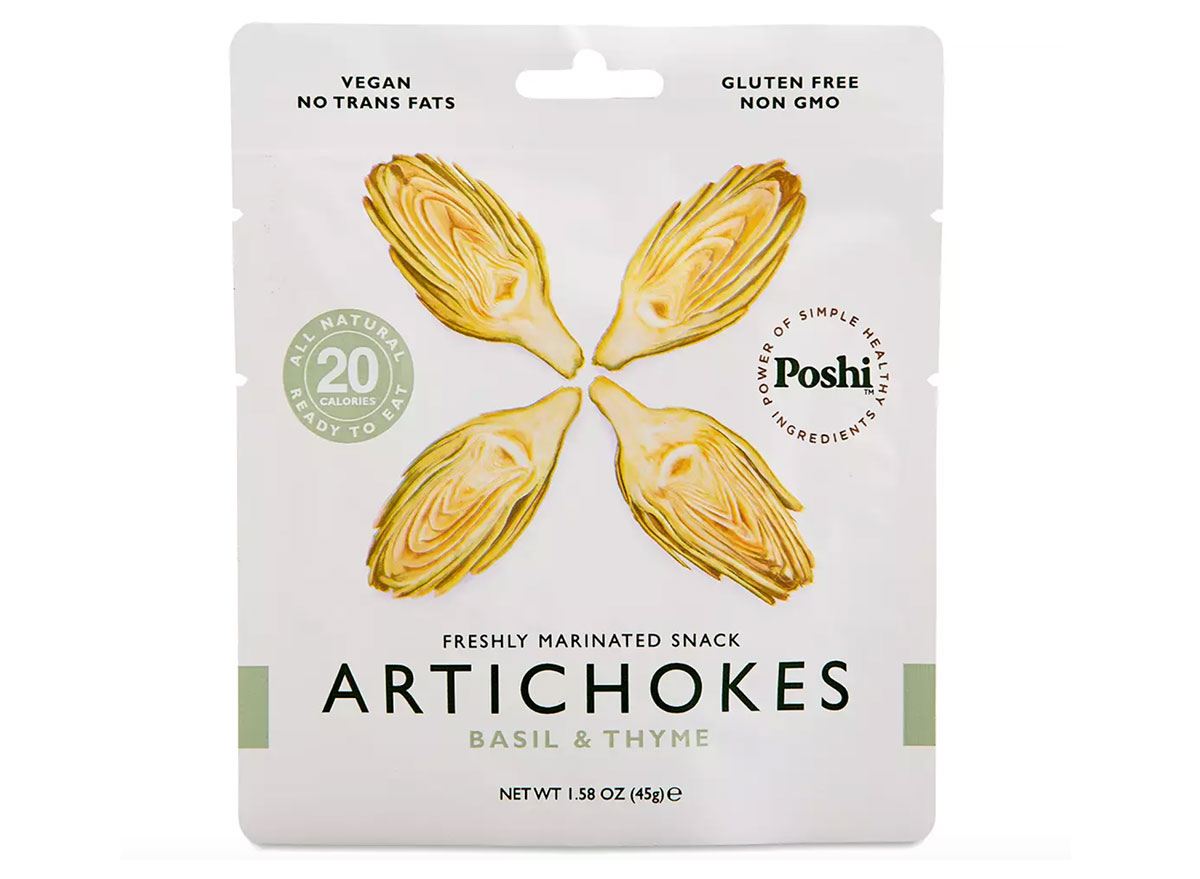 To make your hiking lunch feel a bit more posh, try Poshi's marinated artichokes. Soft artichokes are seasoned with a Mediterranean herb blend of thyme, basil, lime, and extra virgin olive oil.
Whisps Parmesan & Cheddar Cheese Crisps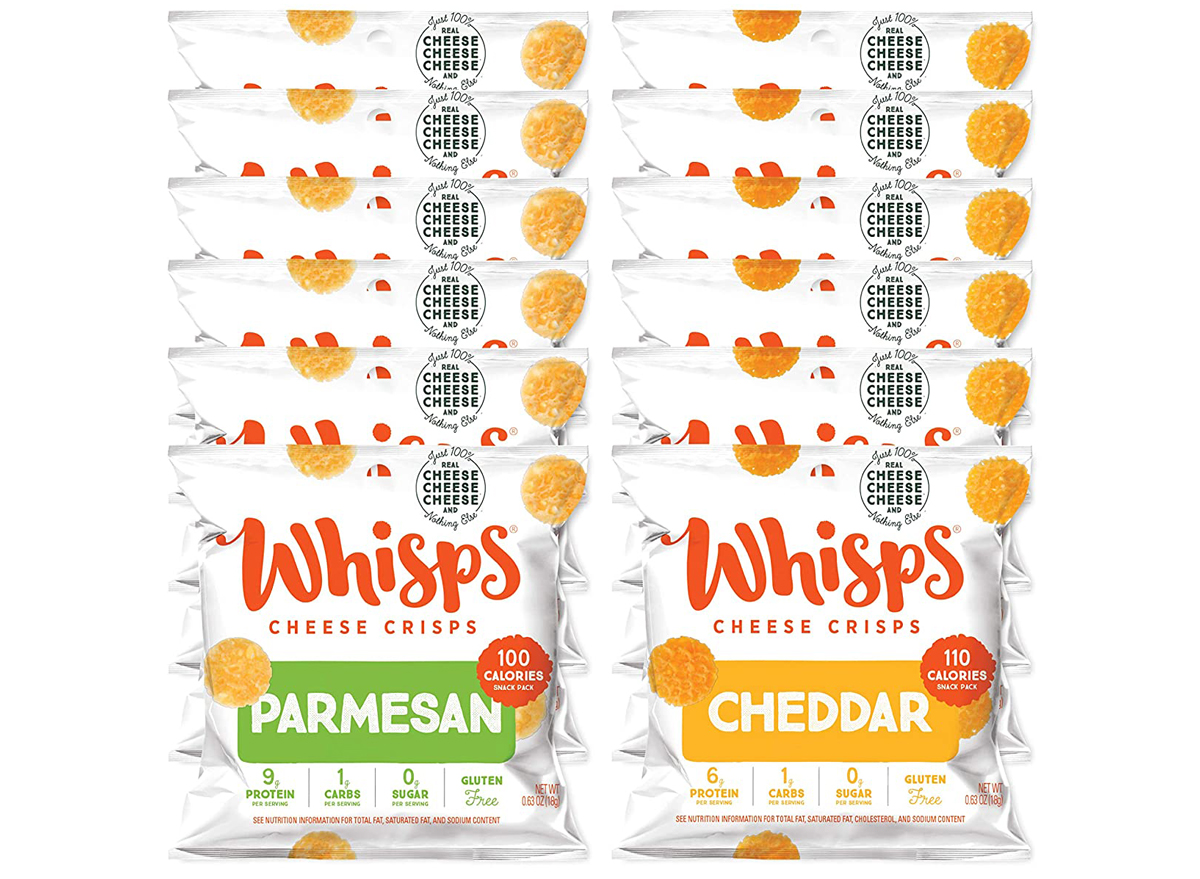 While we're on the subject of hiking snacks for lunch, add a bit of cheese to the mix in the form of these dried, crunchy cheese crisps!
Thrive Market Pitted Green Olives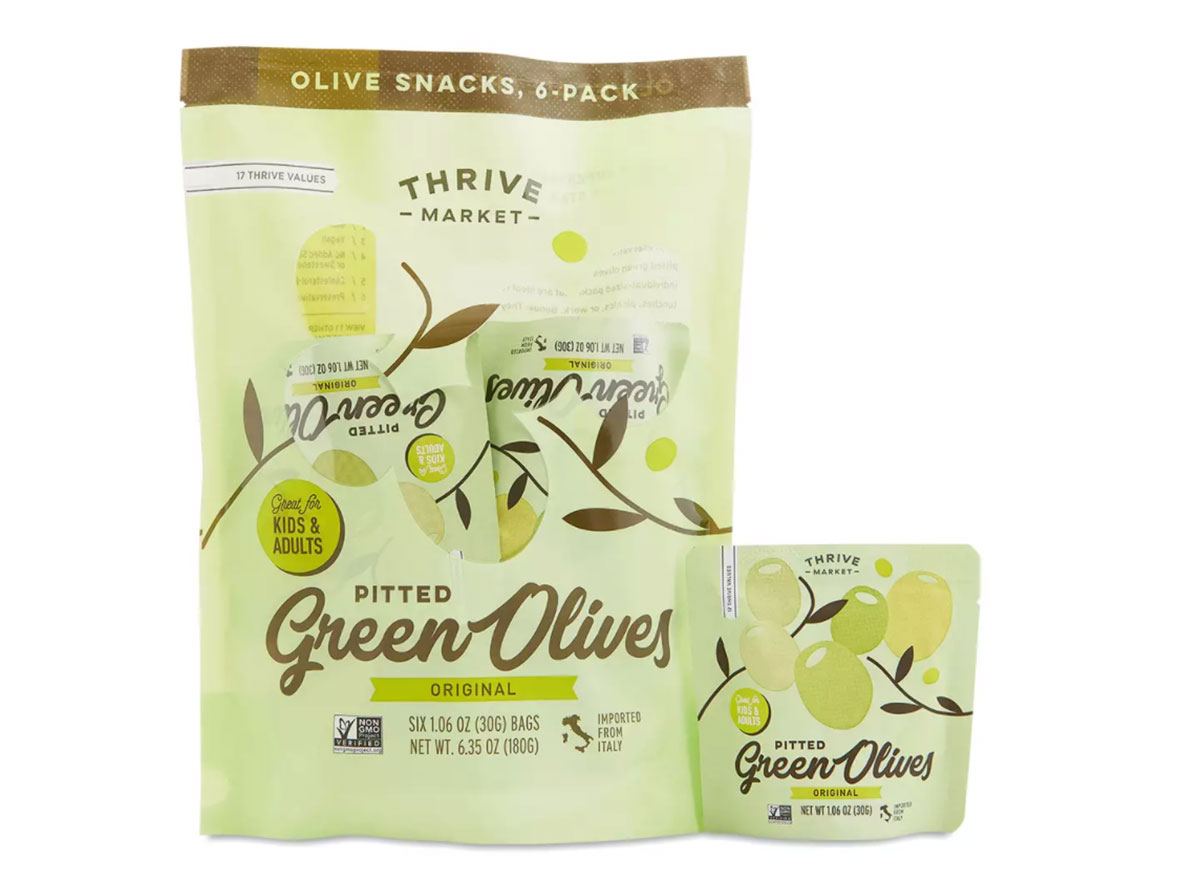 Round out your hiking charcuterie board with single-serve bags of Italian olives. These olives contain zero preservatives—just pitted green olives and salt. Bonus: They're easy-to-open and liquid-free, making it super easy to snack at your favorite view without fear of spilling!
Bada Bean Bada Boom Crunchy Broad Bean Snacks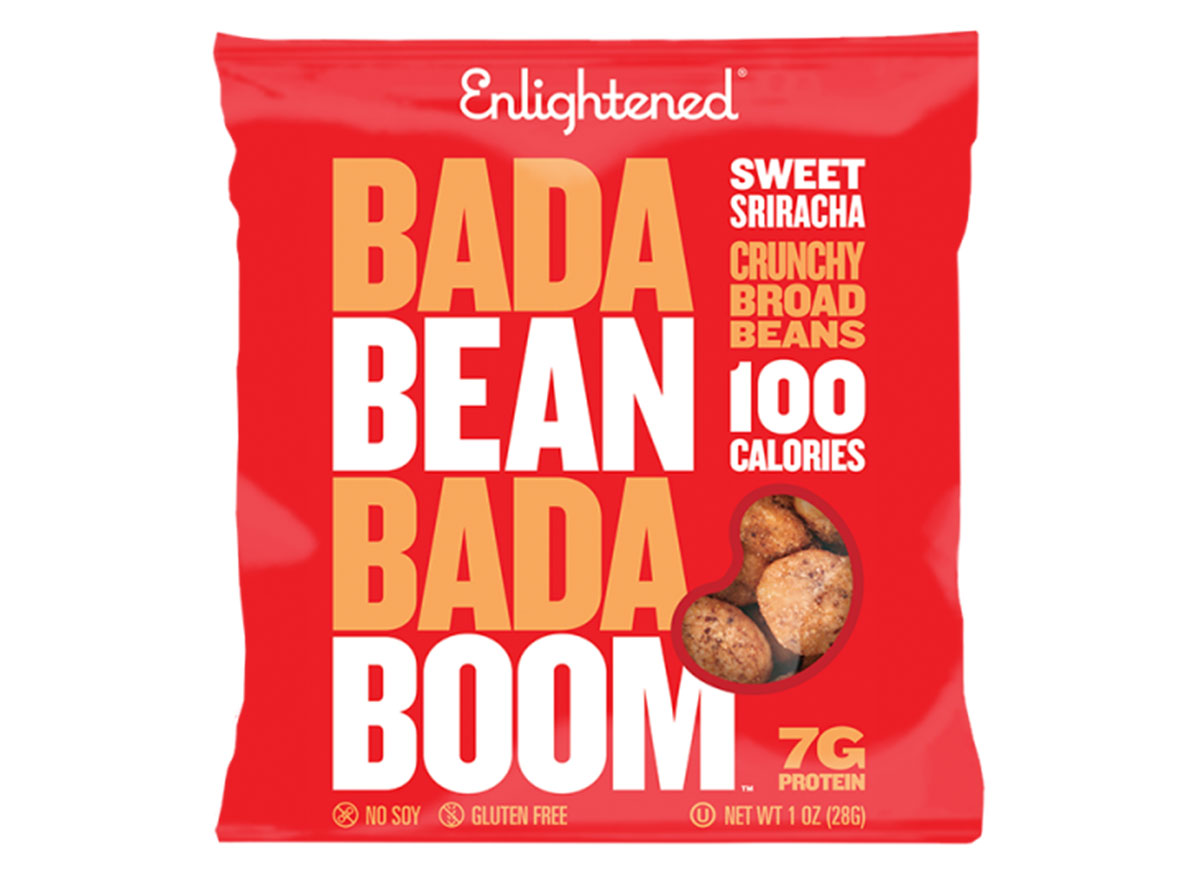 Hike that extra mile with the help of these crunchy bean-based snacks which contain an awesome 7 grams of protein and 5 grams of fiber.
HiLo Super Cheesy Crispy Cheddar Cheese & Almonds Snack Mix
For those of us who like savory snacks or those on the keto diet, there are plenty of ways to fuel up for your hike, and hilo is a great option. These keto-friendly, low-carb snack mixes of cheese and seasoned almonds contain just 3 grams of net carbs, 12 grams of protein, and 0 grams of sugar.
Barnana Organic Chewy Banana Bites, Dark Chocolate Banana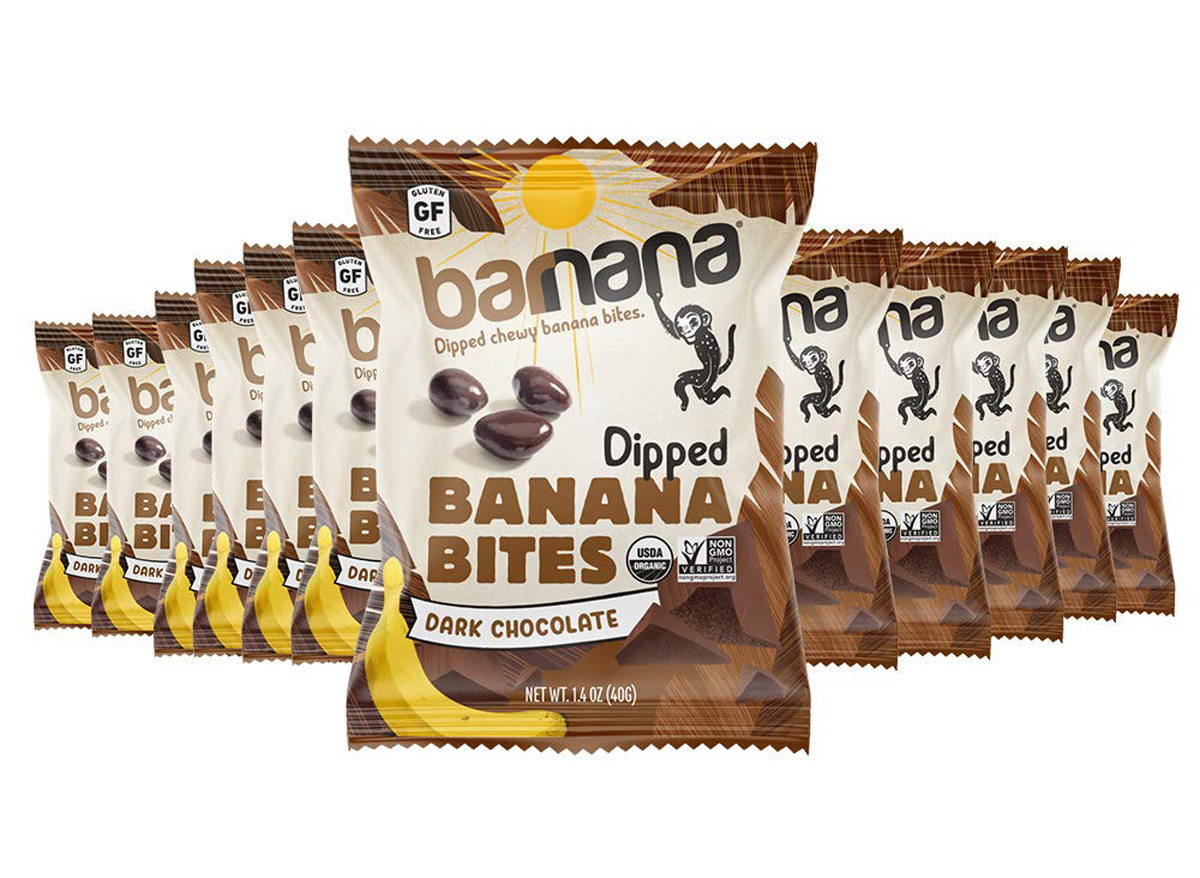 If you're sick of mushed-up bananas in your backpack, but can't bear to hike without them, there's Barnana. These banana bites will satisfy your banana cravings plus they're covered in a luxurious layer of organic, fair-trade dark chocolate—what can be better than that?!
Drink Simple Maple Water
"Maple water is a hydrating drink that is made from the sap of the maple tree. Naturally containing electrolytes, prebiotics, and a slightly sweet taste, this drink can help keep you hydrated while on the trail," says Manaker.
Rockit Apples
"Nothing beats fresh fruit when hiking. But sometimes, fruit can be hard to pack and can be bulky. Rockit apples are a perfect addition to your hiking bag if you want a piece of fresh fruit that is the size of a golf ball — easy to eat and the core is totally biodegradable too! If you need a quick boost of nutrition, try these on for size," says Manaker.
And for more healthy tips, be sure to check out What Happens To Your Body When You Eat an Apple Every Day.
Olivia Tarantino
Olivia Tarantino is the Managing Editor of Eat This, Not That!, specializing in nutrition, health, and food product coverage.
Read more about Olivia