The 9 Best Pancake Mix Brands That Are Worth Buying (And Brands to Avoid)
Pancakes and weekends go together like peanut butter and jelly. How does your short stack stack up?
This post contains affiliate links. If you use these links to buy something, we may earn a commission.
It's hard to say no to a stack of pancakes, but it's also no secret that a plate full of carbs topped with sugary syrup isn't exactly great for your waistline or overall health. However, there are several store-bought pancake mix brands available on the market today that can make you feel a lot less guilty about chowing down on the guilty pleasure food.
We consulted with a team of dietitians and nutritionists to find out why it's important to care about what's in your pancakes, why it's totally fine to eat pancakes on occasion, and the criteria they use to separate the best store-bought pancake mixes from the worst.
Why should you care about what's in your pancakes?
"People should care about what's in their pancake mix simply because what we eat directly affects our physical and mental health. The food we eat gives us energy, different nutrients for different body functions, and influences the microbes in our gut," says Alayna Horvath, RD, CPT.
"What we eat can also alter how we feel. We feel full of energy when we eat mostly nutritious foods and may feel a bit lousy when we aren't filling up on nutrient-dense foods. This is why it is important to choose a pancake mix with nourishing ingredients."
Can you eat pancakes on occasion?
While most dietitians wouldn't recommend eating pancakes every day, there's certainly nothing wrong with digging into a hearty stack every now and again.
"First, my school of thought as a dietitian is 'everything in moderation'", says Samantha Bartholomew, MS, RDN. "The reason being, I do not believe in labeling foods as 'good' or 'bad', there can be a place for all foods in a generally healthy person's diet. That is why it is OK, in my opinion, to eat pancakes every once in a while but why not choose a mix with better-for-you ingredients?"
How do dietitians choose the best store-bought pancake mixes?
If you've taken a stroll down the pancake mix aisle at your local supermarket recently, you likely spotted at least a dozen different boxed pancake mixes, maybe more. We know it can be overwhelming to separate the good from the bad. However, there are definitely some ingredients you can look for that will put you on the right track.
"Everyone loves pancakes. But most people don't have the time or desire to make them from scratch, so I'm often asked about which store-bought pancake mixes are the best options for different dietary needs," says Lauren Harris-Pincus, MS, RDN, founder of NutritionStarringYOU.com and author of The Protein-Packed Breakfast Club.
When choosing the best pancake mix, dietitians came up with specific criteria.
Simple ingredients. "I always look for trusted brands with simple, wholesome ingredients, ease of preparation and of course, great taste," says Harris-Pincus. It's important to look for easy-to-recognize ingredients that people would find in their own kitchen.
Low in sugar. "One of main elements I look for when choosing my favorite better-for-you mix are grams of added sugar," Bartholomew says. She notes that the list of ingredients should be short and added sugar should be low, or even better, nonexistent.
High in fiber and protein. Horvath pays attention to the amount of fiber in her pancake mix by looking for whole grains. "Whole grains add fiber and protein, which are two essential nutrients to have in a pancake mix. Fiber and protein slow the absorption of a meal, which helps stabilize your blood sugar. Pancakes are typically higher in carbohydrates and added sugar, so having fiber and protein from whole grains is a key element in choosing a nutritious pancake mix." More specifically, Horvath considers a pancake mix that has at least 3 g of fiber and 5 g of protein to be "optimal."
Here are the 9 best pancake mixes, broken into several categories.
"The main elements I look for when choosing my favorite better-for-you mix are grams of added sugar as well as what the actual ingredients list looks like for the mix," says Bartholomew. "Which is why my favorite is Swerve Pancake and Waffle Mix. This mix is made with ingredients including almond flour, coconut flour and Swerve instead of sugar, which is why this mix has 0 g of added sugar and 11g of net carbs. And did I mention it is DELICIOUS (and keto, gluten and grain free)?!"
"Bob's Red Mill high protein pancake mix is packed with a hearty 15g of protein per serving," says Harris-Pincus, who consults with the brand. "Featuring their own stone-ground whole wheat pastry flour, whey and pea proteins, and sweet cream buttermilk, it's the perfect recipe for a satisfying breakfast or snack that will fuel your body and keep hunger at bay. With 5 grams of fiber (20 percent of the daily value) and 1 gram of added sugar per serving it's a nutritious way to start the day. And prep is easy – you only need the mix, water and butter or oil!"
6254a4d1642c605c54bf1cab17d50f1e
As a rep for the feel-good brand notes, this mix is made with "a blend of nutrient-rich flours and seeds including: teff flour, organic buckwheat flour, almond flour, organic chia, hemp and flax seeds." It also boasts 7 g of protein is certified non-GMO, gluten-free and vegan.
Available from Purely Elizabeth.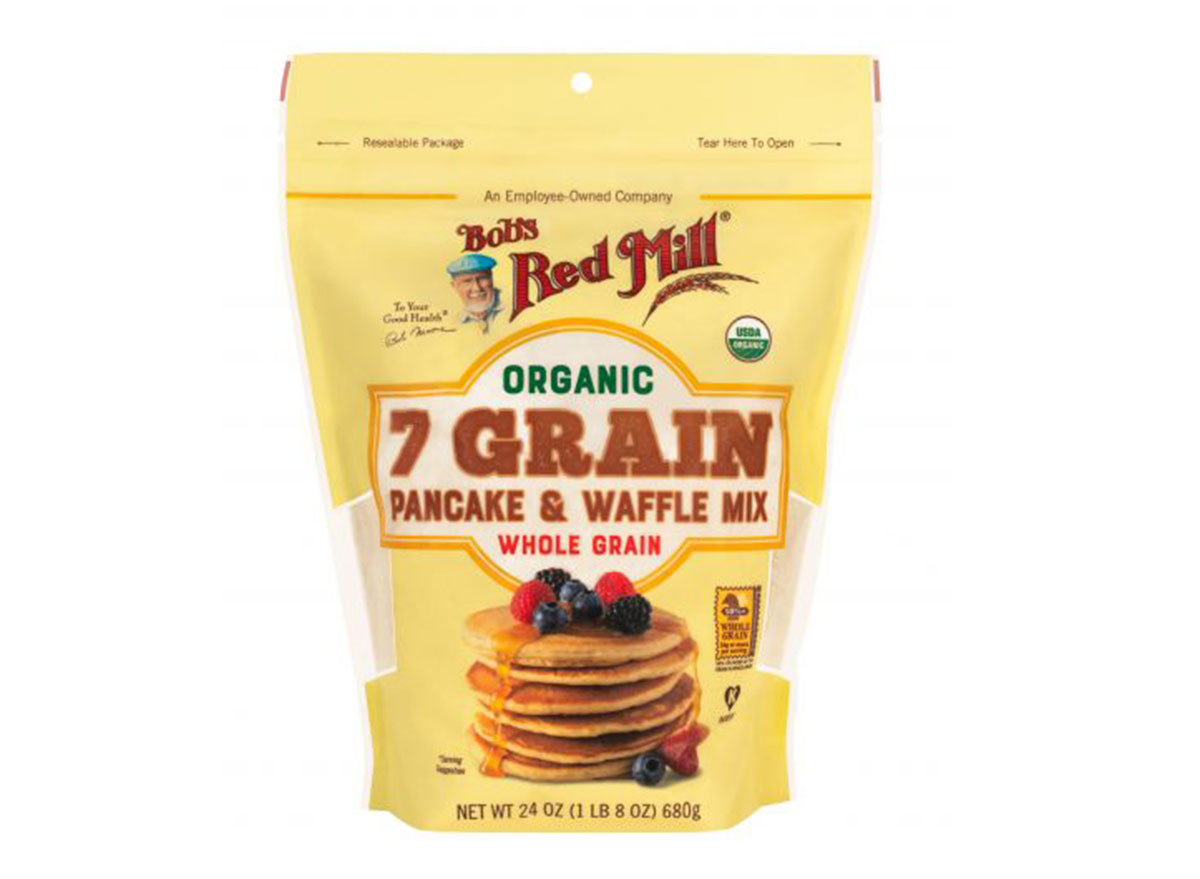 "Another great brand for pancake mix is Bob's Red Mill Organic 7 Grain Pancake and Waffle Mix," says Hovarth. "This mix is made with a variety of whole grains providing 5 g fiber and 7 g protein per serving. It is also very low in sugar, only 2 g per serving!"
Amanda Baker Lemein, MS, RD, LDN loves this mix because it has a whopping 14 g of protein (and 5 g of fiber) per serving. "This mix is simple enough that you can personalize with mix-ins like berries or chia seeds for extra fiber, or top with a nut butter for a dose of healthy fats and plant-based protein," she says.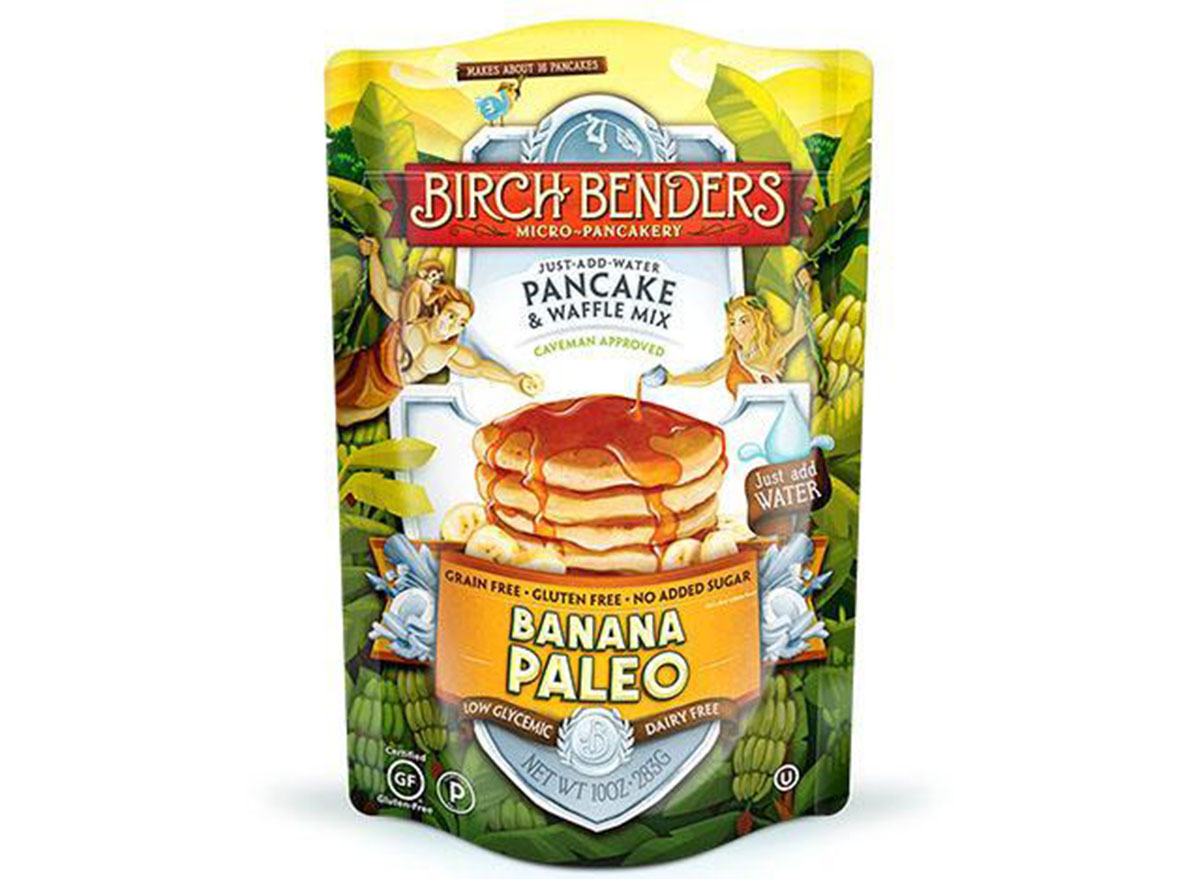 "The thing I like about this mix is their fiber and protein content," says Lemein. "Although I am not paleo and don't follow a specific diet, I do like the emphasis on simple ingredient lists, more than 3 grams of fiber per serving and good source of protein." She says, "My family loves to use this mix to make waffles or pancakes when we have more time on the weekends. I like that they are nutrient-rich enough that we can make a large batch and freeze for use during the week, too."
"Bob's Red Mill's new Homestyle Pancake & Waffle mix blends the ease of just-add-water with rich flavor and terrific texture," says Harris-Pincus. "Made with real buttermilk, butter, eggs and flour, this mix contains ingredients you can feel good about. Compare the taste and texture to traditional just-add-water pancake mixes to prove that you don't have to cook from scratch to make delicious pancakes the whole family will love."
"If whole grains are not your thing, Simple Mills has a pancake mix that is still very nutritious made with almond flour," says Horvath. "This mix provides 3 g fiber and 4 g protein per serving, so a little bit low on protein, but in regards to added sugar, it only has 5g per serving!"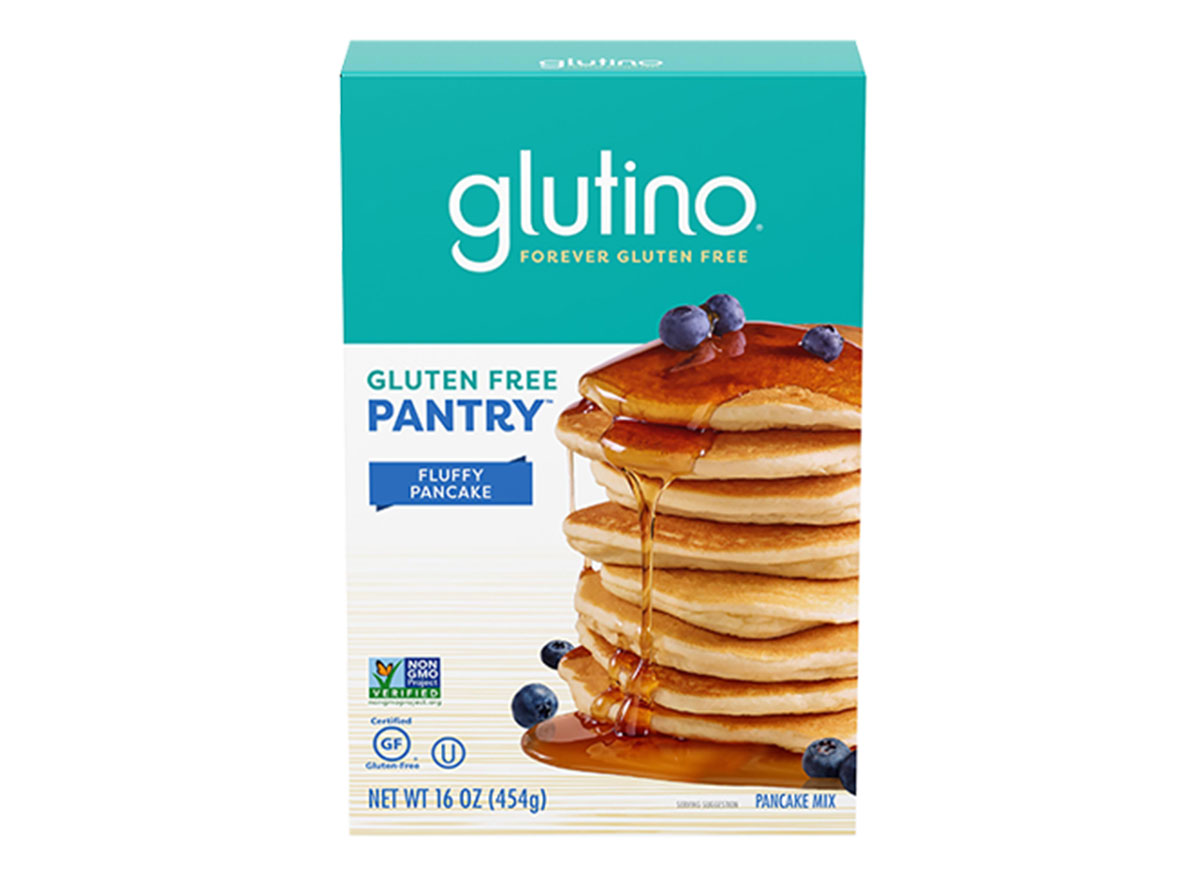 "When choosing pancake mixes, think about what you prioritize most. Since many basic mixes provide similar nutrition, it may make sense to simply consider your taste and texture preferences," says Katherine Pett, RD. "For people with dietary restrictions, however, the key is to find a mix with ingredients that work for you. Glutino Fluffy Pancake Mix is just one example; making authentic pancakes an option for people with gluten-free lifestyles."
How do dietitians choose the worst store-bought pancake mixes?
When it comes to pancake mixes that don't deserve a spot in your pantry or your diet, dietitians tend to steer clear of those varieties that are low in a lot of the good stuff we just mentioned (like protein and fiber) while being packed with belly-bloating added sugars and an array of ingredients you probably can't even pronounce.
"Mixes I would steer clear of for regular use are probably those with very little fiber, high added sugar, refined flour and any hydrogenated oils," says Lemein. "It's fine to have these once in a while, but definitely not something we want to reach for regularly."
Horvath also recommends steering clear of mixes that are packed with added sugar. "Added sugars are the sugars and syrups added to a food product. Sugar raises blood sugar and can reduce heart health over time if eaten in excessive amounts. Added sugar is okay to have in a pancake mix to help with flavor, but it is imperative to be aware of the amount you are eating regularly," she says. "The American Heart Association recommends eating no more than 25 g added sugars for women and 36 g added sugars for men daily. It is OK to intake more added sugars than this on occasion, but again, it is important to be aware of the added sugars you are typically eating."
Those pancake mixes that are packed with carbs (and little else) also don't get Horvath's seal of approval. As she says, "If we are eating pancakes regularly that only provide carbohydrates and not fat or protein as well, it may be difficult to keep our blood sugar balanced and stay satisfied."
With that all in mind, here are the three of the worst pancake mixes you can buy.
While popular, this mix is a no-go for many dietitians. It has less than 1 gram of fiber but 4 grams of sugar. (Lemein does not approve.) It also features bleached flour and sodium aluminum phosphate: two ingredients that are not essential to a healthy pancake mix.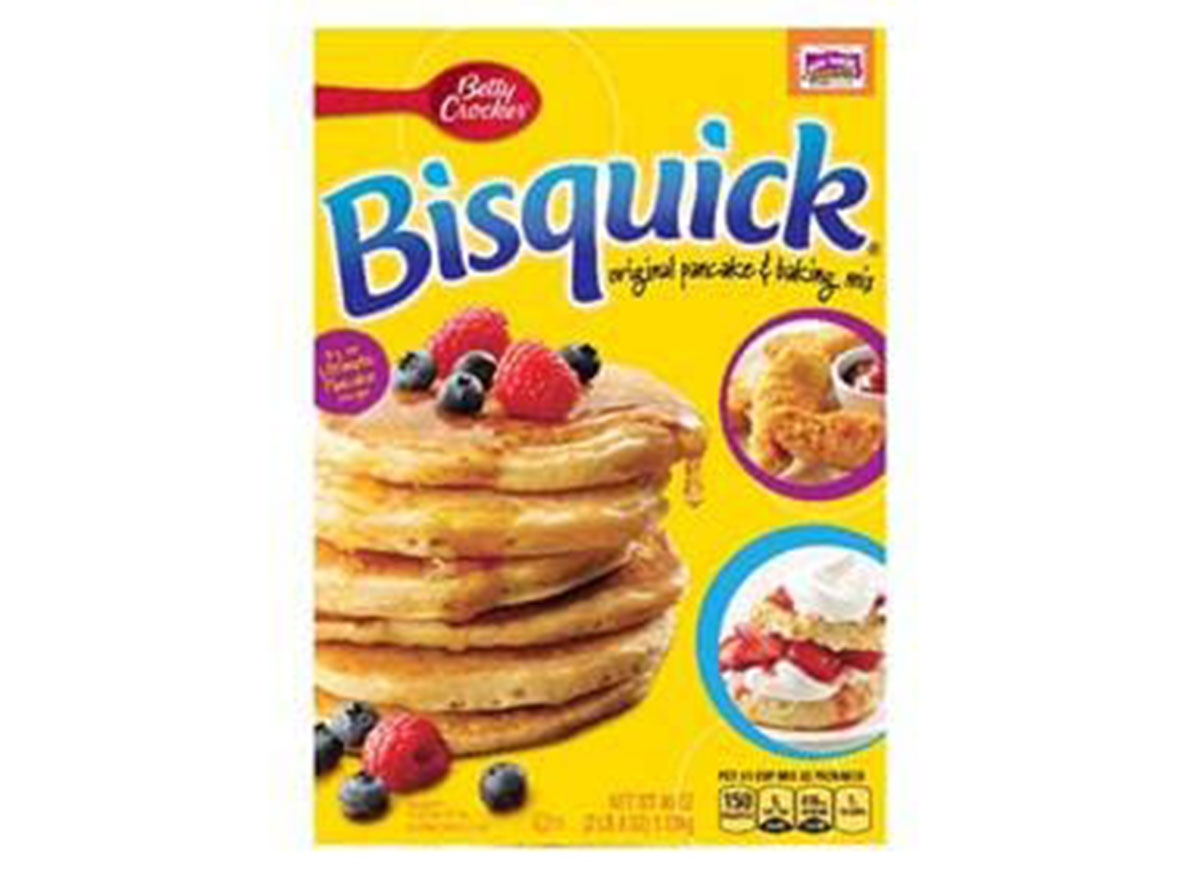 If you're looking for a pancake mix that has zero nutritional value, this one likely takes the cake. Aside from having virtually no fiber to speak of while boasting 2 g of added sugars per serving, this mix features a whopping 28 grams of carbohydrates per ⅓ of a cup.
Just kidding, we spoke too soon. Not only does this pancake mix from Cracker Barrel have 37 grams of carbohydrates per serving, but there's also 5 grams of added sugars. That's particulary bad as there's absolutely zero fiber and just 4 grams of protein. As if that wasn't bad enough, this mix somehow also has room for 800 milligrams of sodium per serving. Who would have thought that pancake mix could be one of the foods high in sodium?