The #1 Best Protein Shake to Drink, According to a Dietitian
To satisfy your hunger pangs and muscle-building needs, check out this expert-approved, store-bought protein shake.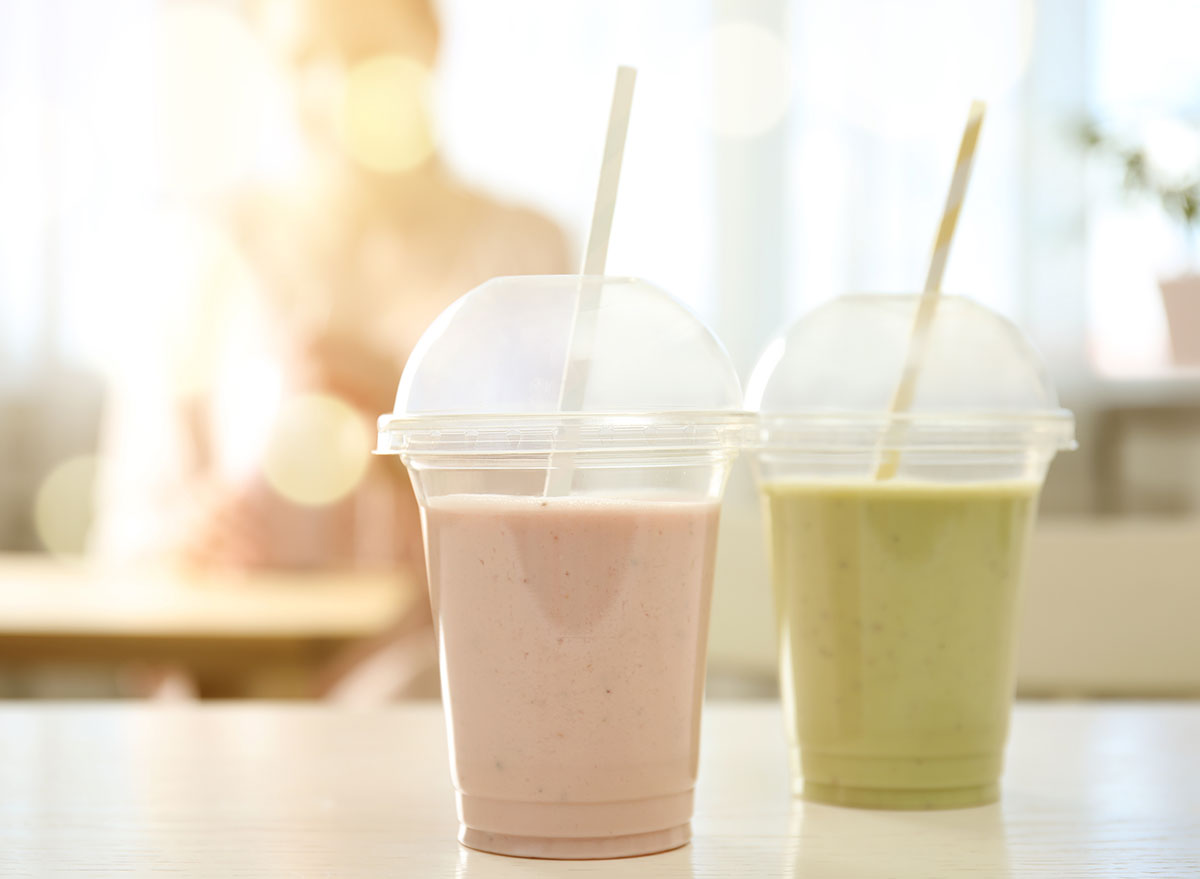 Protein shakes are heaven-sent for the on-the-go crowd who understands the importance of the muscle-building macro. But, understanding why people need to boost their protein intake and actually getting in the right amount of protein are not always one and the same. (Related: This Is Exactly How Much Protein To Eat A Day For Weight Loss.)
Yes, cooking up a chicken breast or other piece of meat will give your body muscle-building protein. But in reality, most people don't have the time (or energy) to do that every single day.
For people who don't have the time to whip up a protein-rich breakfast or other meal, protein shakes are the convenient alternatives that can help them stay on track.
But while protein shakes can sound like all-around healthy choices, there are some key things you should take into account when choosing the right one for you.
What makes a good-for-you protein shake?
Protein shakes are, as the name implies, rich in protein — a nutrient that is essential for many functions in the human body, including supporting immune health, helping with muscle development, and supporting a healthy metabolism. Not to mention, it provides structure to your body.
READ MORE: Amazing Side Effects of Using Protein Powder, According to a Dietitian
Depending on your health goals, you may need a certain amount of protein to help your body do what it needs to do. Typically, protein shakes provide around 18-20 grams of protein per serving to meet the higher protein needs of the health-conscious crowd.
And along with ensuring that your protein shake actually provides enough protein, choosing the protein source can get a little confusing.
While there are nuances in the ways that certain protein sources metabolize and build muscles, generally speaking, all protein sources will fuel your body just fine. What it really comes down to, is whether the protein source meets your personal lifestyle.
If following a vegan lifestyle is your jam, choosing a pea-based or soy-based protein powder will be your best bet. If you are focused on dairy-based protein powders, then casein and whey will be the right choice for you.
But finding a protein shake doesn't stop at finding one that contains the right amount and type of protein. Along with these factors, the shake should check additional boxes in order to be considered a good-for-you choice:
Low or free from added sugars like corn syrup or glucose
Low or free from saturated fat
Free from artificial colors or flavors
Free from potentially harmful artificial sweeteners like acesulfame potassium
Free from potentially inflammatory fats, like canola oil
Sweetened with natural sweeteners like monk fruit and stevia
And depending on personal preference, the shake should be free from items like animal products, non-organic ingredients, and emulsifiers like carrageenan.6254a4d1642c605c54bf1cab17d50f1e
Most importantly, the shake needs to taste good to you.
You can have all of the key components included in your shake, but if it tastes like chalk and you don't enjoy sucking it down, then what's the point? Food should be enjoyed – even if it is a healthy food that supports your overall health.
Should you DIY your protein shake?
If you have some time on your hands, you can absolutely whip up your own protein shake quite simply. (For that, we have these 13 Best Protein Shake Recipes for Weight Loss.)
Combine a scoop or two of protein powder with healthy and tasty ingredients (like berries, coconut water, almond milk, etc.), and you've got yourself a refreshing gourmet protein shake.
If you don't have protein powder on hand, other protein sources like nut butter, milk, and Greek yogurt can be used as a protein source, as are any of these 24 Ways To Add Protein To Your Smoothie Without Powder.
But most people don't have a blender laying around in their car or when they are at their office. Nor do they have fresh ingredients handy when they are out and about. Or perhaps you don't want to mess up your blender when craving a protein shake (no shame in wanting a clean kitchen!).
This is where other store-bought protein shake options can come into play.
The best protein shake for busy people
Among the sea of protein shake choices out there, there are a few diamonds in the rough.
And while some check some of the boxes that make a "good-for-you" choice, only a select few are worthy of being called the "best".
And as a registered dietitian, the one protein shake that I am enjoying is Naked Nutrition's Strawberry Banana Protein shake. This protein shake fits the bill for a number of reasons.
The most important reason why this shake is a top choice is that it actually tastes good. Loaded with real banana juice and freeze-dried strawberries, this shake has no weird artificial funky "fruit-like" tastes. The shake tastes like it is made with real fruit because, well, it is made with real fruit.
Naked Shake is made with vegan-friendly pea protein, MCT oil to support weight maintenance goals, and only contains 5 grams of sugar per serving.
Plus, since it is a blend of powder instead of a ready-to-feed pre-mixed drink, busy folks simply need to add water to two scoops in a shaker bottle and give it a good shake – easy breezy and super-convenient if you are limited on space too.
The blend is certified gluten-free, GMO-free, soy-free, and is made with "real" ingredients—nothing fake.
The pea protein, sourced from US/Canada grown split yellow peas, is third-party tested for heavy metal contaminants. That means you can feel confident about what you're putting in your body.
Mixing up a Naked Nutrition Strawberry Banana Protein Shake is a go-to choice when an extra protein boost is needed without any questionable ingredients added. When your body needs a dose of protein when you are running out the door or when you are on the move, including this shake into your overall healthy lifestyle can be the addition that you have been needing all along. You can also try these 35 Best Store-Bought High-Protein Snacks.
For more healthy eating news, make sure to sign up for our newsletter!
Read the original article on Eat This, Not That!
Lauren Manaker MS, RDN, LD, CLEC
Lauren Manaker is an award-winning registered dietitian, book author, and recipe developer who has been in practice for almost 20 years.
Read more about Lauren