The 5 Best Restaurant Orders for Abdominal Fat Loss, Says Dietitian
Don't fear dining out any longer with these go-to restaurant orders.
Restaurants get a bad rep for being high in calories, sodium, and added sugar. If you want to learn how to make your restaurant order meet your fat loss goals, we've got you covered.
Regardless of where you go, you can absolutely eat out and reach your weight loss goals. When dining out, there are a few simple rules of thumb to consider to make your choice as balanced as possible:
Start with a lean protein option: Protein is filling, satiating, and the most important food group to emphasize when you are focused on weight loss.
Fill half your plate with veggies: Veggies create meals that are higher in volume, and thus, more filling!
We've done the heavy lifting for you at five major chains. So let's dive in!
Panera Bread Napa Almond Chicken Salad Sandwich and Ten Vegetable Soup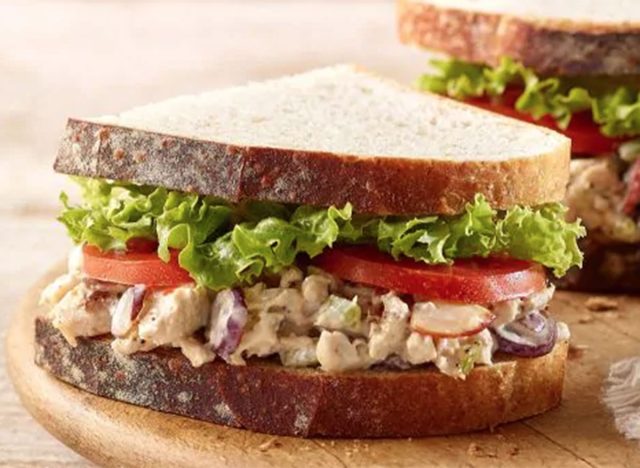 Per meal
: 330 calories, 14 g total fat (2 g saturated), 1,160 mg sodium, 40 g carbs (5 g fiber, 10 g sugar), 14 g protein
Panera's pick-two option offers the best of both worlds: soup and a sandwich. Their Napa Almond Chicken Salad Sandwich (half) and Ten Vegetable Soup (cup) offer a filling balance of protein from chicken salad, hearty carbs in the form of sourdough bread, and tons of fiber and color to keep you full longer.
If you need an extra boost for this meal, get an apple on the side for some natural sweetness and extra fiber! In total, this order clocks in at about 330 calories.
It's hard to beat that bang for your calorie buck!
Outback Perfectly Grilled Salmon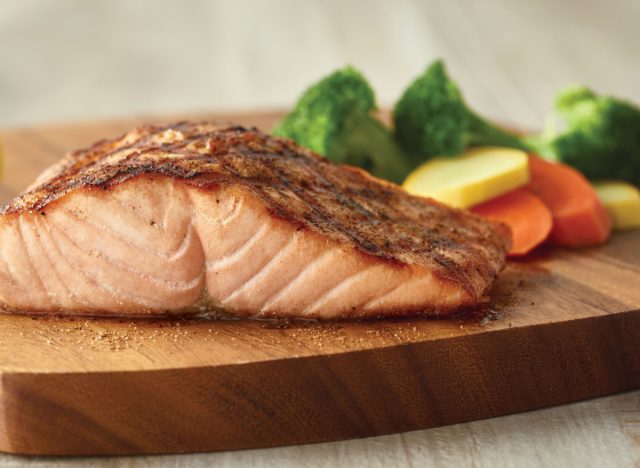 Per serving
: 600 calories, 46 g total fat (8 g saturated), 800 mg sodium, 3 g carbs (<1 g fiber, 1 g sugar), 43 g protein
I know the Bloomin' Onion is on your mind here, but consider changing it up this time!6254a4d1642c605c54bf1cab17d50f1e
Swap out the turf for the surf with Outback's Perfectly Grilled Salmon in their classic remoulade sauce. If you opt for asparagus as your side here, this filling meal will provide just 600 calories.
You'll be hard-pressed to find a better choice on the menu when you consider that the Bloomin' Onion is nearly 1,000 calories!
P.F. Changs Ginger Chicken with Broccoli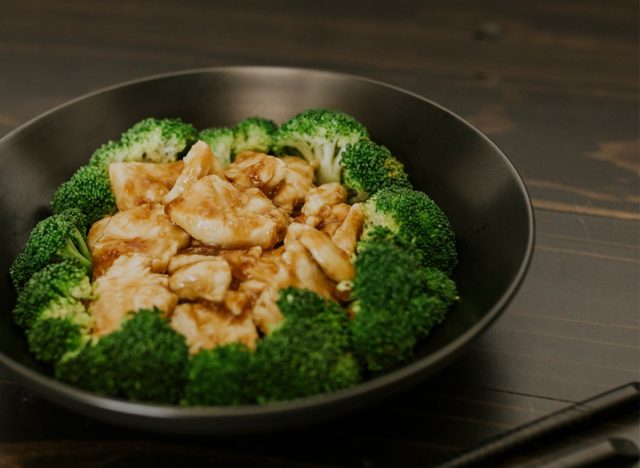 Per serving
: 480 calories, 12 g total fat (2 g saturated), 1,370 mg sodium, 41 g carbs (6 g fiber, 26 g sugar), 57 g protein
Consider lighter fare at P.F. Changs with their Ginger Chicken with Broccoli. This dish is similar to the beloved Orange Chicken, but you'll get a delicious ginger-based sauce over your chicken for only 480 calories for the entire meal.
Considering how low the main dish is in calories, you might still have room to split an appetizer with your company! Start your order with steamed dumplings (460 calories) or spring rolls (390 calories) and walk away feeling super satisfied! Just be sure to take note of the high sodium content.
Olive Garden Shrimp Scampi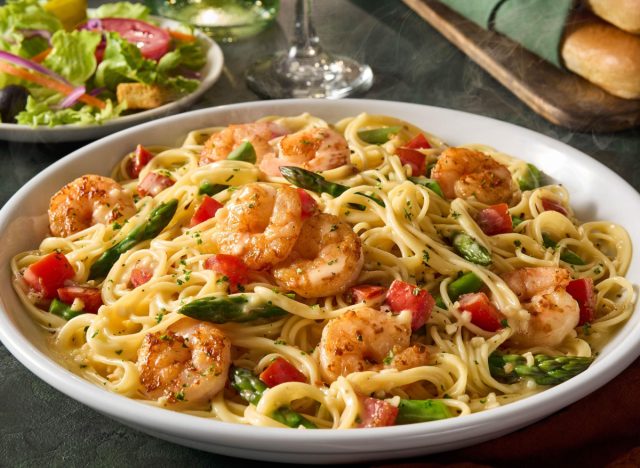 Per meal
: 480 calories, 19 g total fat (7 g saturated), 850 mg sodium, 53 g carbs (4 g fiber, 5 g sugar), 20 g protein
Don't miss out on your favorite Italian cuisine with the classic Shrimp Scampi. This dish delivers your classic pasta dish with a lighter twist. For 510 calories total, start with their famous house salad with dressing on the side. You'll be sure to feel full and satisfied here with plenty of room to start with a side salad if you'd like!
Applebee's 6 oz. Top Sirloin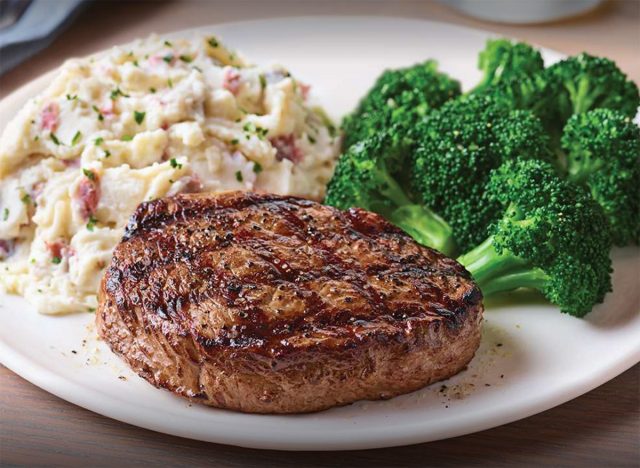 Per meal
: 550 calories, 23 g total fat (9 g saturated), 1,800 mg sodium, 43 g carbs (6 g fiber, 5 g sugar), 44 g protein
At other restaurants, steak usually means you're in for a high-calorie treat. Not at Applebee's with their 6-ounce Top Sirloin!
This lean steak choice and two fixed sides (garlic mashed potatoes and broccoli) provide just 550 calories for a super filling and hearty menu option! Just take note of the high sodium content of the meal, and make sure to adjust accordingly during the rest of your day.
You might even want to save room to split a brownie bite with a friend! They have a mini brownie with a scoop of ice cream on the menu that tallies up just 350 calories!
Looking for more? We've done the leg work for you to order at the 5 Best Fast-Food Restaurants.
Caroline Thomason, RDN
Caroline is a women's health Registered Dietitian and diabetes educator based in Northern Virginia.
Read more about Caroline