The #1 Best Snack to Eat If You're Trying to Lose Weight
Yes, you can snack and lose weight! Here's how.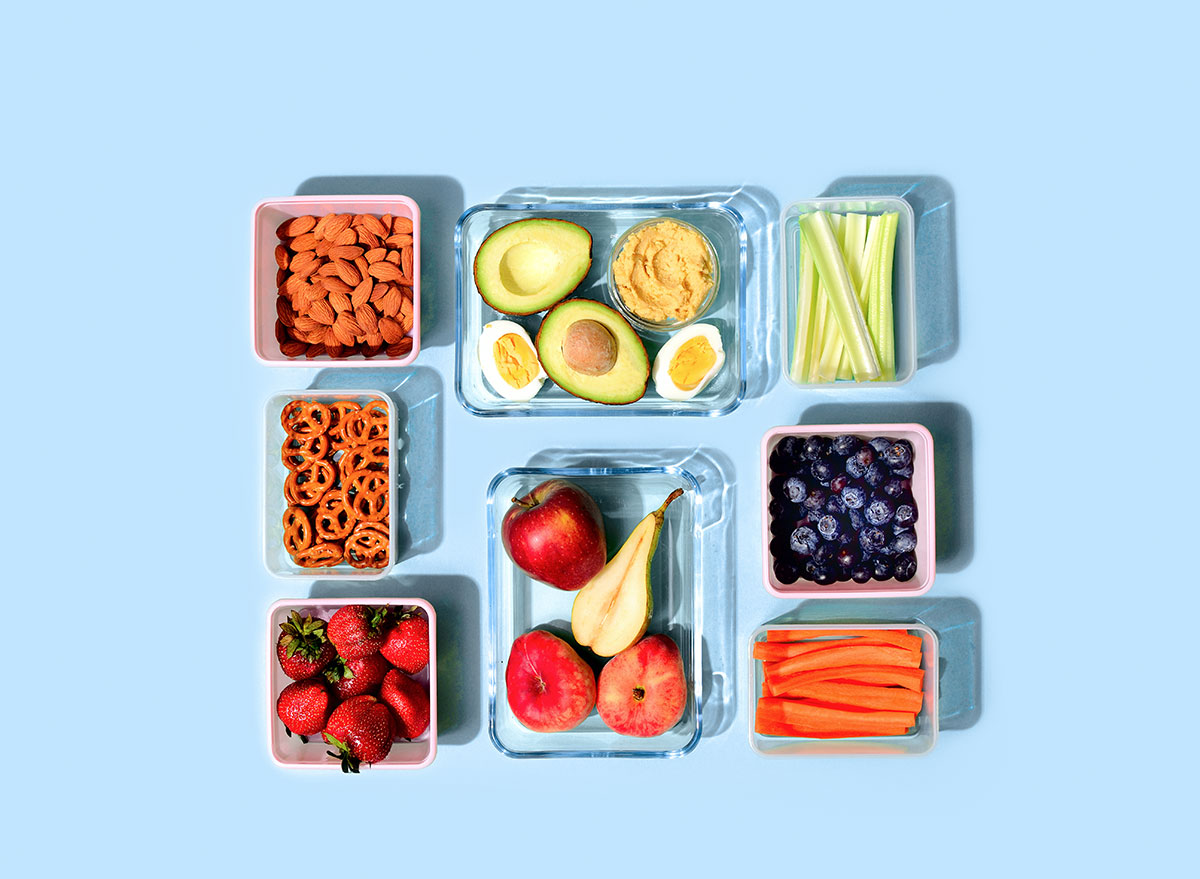 Just because you're trying to lose weight, doesn't mean you have to completely annihilate all extra snacks from your diet. In fact, many nutritionists actually recommend having a snack between meals as a healthy way to stay on track with your weight loss goals, while also keeping your body and full and satisfied. But what kind of snack would be considered the best snack to lose weight?
While there is a myriad of healthy snacks on grocery shelves to choose from, we consulted a registered dietitian regarding the best snack to lose weight so you can take the guesswork out of snack time. Here are the types of snacks you should stock up on, and for even more healthy meal tips, be sure to check out our list of the 100 Easiest Recipes You Can Make.
The best snack to lose weight is the one that keeps you full.
Snacks wouldn't be very helpful if they left you feeling hungry after, right? If you choose to have a snack in between your meals, it's important to include proper nutrients in your snack that will leave your body feeling full and satisfied.
So, what are those particular elements to look for?
"Protein helps you get full faster and stay full longer, so including foods like cheese, lean meat, nuts, and nut butters, Greek yogurt, cottage cheese, and eggs are great options," says Amy Goodson, MS, RD, CSSD, LD, author of The Sports Nutrition Playbook.
While you wouldn't exactly imagine eating an egg or Greek yogurt as a snack—given that these foods are usually associated with breakfast—they actually can be considered the best snack to lose weight. The protein and healthy fat content of these items help with a longer digestion process, leaving you feeling fuller for longer. And that's the goal of the snack, right?
Look for protein & fiber.
While having a protein element in your snack is important, you can double the fullness and satisfaction factor of your snack if you also include a fiber element. Fiber is an important nutrient to have in your diet for fullness and, yes, even weight loss. The American Heart Association says you should be eating at least 25 to 30 grams of fiber a day, but the average American usually only gets 10 to 15.
Adding fiber into your snack is an easy way to boost those fiber numbers—and keeps you feeling full and satisfied until you hit your next mealtime.
In terms of putting together the best snack to lose weight, always look for those two elements. If your snack contains a source of protein and a source of fiber, you'll feel full and satisfied.
"Pairing protein with a high-fiber food fruit where you can eat the skin or 100% whole grain foods will help increase satiety," says Goodson. "For example, an egg, a few nuts, and an apple, while small in nature will help you feel full. Or try Greek yogurt with a few berries and nuts."
So next time you're getting those afternoon munchies, reach for a snack that contains these two important elements, and you'll be still on track to lose weight for good!
More Snack Stories on Eat This, Not That!