The Best Restaurant Bread In Every State
A stellar bread basket before a fabulous meal is one of the very few simple pleasures in life.
Getting served a stellar bread basket before enjoying a fabulous meal out is one of the very few simple pleasures in life. After all, doesn't the saying go something like, "nothing in life is certain except death, taxes…and bread baskets before restaurant dinners?"
All joking aside, bread can really make or break a meal. This introductory item that is usually the first to grace the restaurant table, can set the tone for the rest of your dining experience. Dry, stale bread can sour the whole evening whereas warm, fresh bread can bump up that 4.5-star review to a 5. Ah, the power of carbs.
To help guide you in making better bread choices, we put together a list of some of the best restaurant bread out there. From fresh crusty bread with butter to piping hot loaves served with delicious spreads, here's where to find the best restaurant bread in every state.
Plus, for the freshest food experience, check out The Best Farm-to-Table Restaurant in Every State.
ALABAMA: Perry's Steakhouse and Grille in Birmingham
Be sure to start off an amazing steak dinner at Perry's Steakhouse and Grille by indulging in some of their bread. Served fresh with a "delectable" butter, this meal starter is one that will leave you both impressed and full. As one Yelp reviewer puts it, "be sure to say yes to the bread!"
ALASKA: Moose's Tooth Pub and Pizzeria in Anchorage
Moose's Tooth Pub and Pizzeria, which won a TripAdvisor Travelers' Choice Award in 2021, is known for its fresh breadsticks. Basted with their own pipeline stout and served hot, this perfect appetizer is served with either a marinara or a house sauce. Hint: If you like your breadsticks made with a little something extra, try out their Diablo Breadsticks. They are baked with cheddar and pepper jack cheese and sprinkled with chili flakes.
ARIZONA: Arizona Bread Company in Scottsdale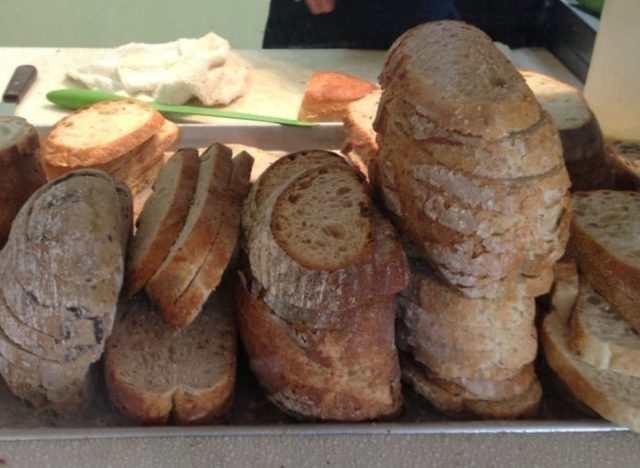 People rave about the bread over at Arizona Bread Company, and with good reason—it's delicious. "If you don't run over to Arizona Bread Company right this moment you are actually insane," writes one Yelp reviewer, "I mean seriously, go now!! Don't worry about your hair, outfit, anything just goooooo!"
ARKANSAS: Branding Iron BBQ and Steakhouse in Mena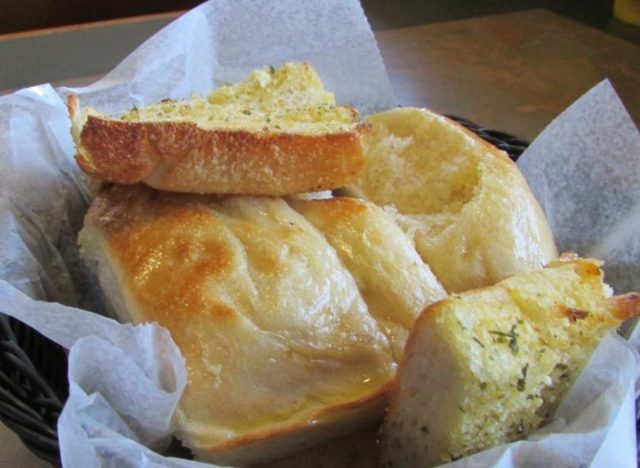 What's better than a bread basket? A bread bar. At Branding Iron BBQ and Steakhouse in Arkansas, restaurant goers are treated to an "all you can eat" bread buffet that features tasty items such as garlic bread and breadsticks. One reviewer was so pleased with their visit that they wrote, "The all you can eat bread bar was amazing. It was hot and fresh."
CALIFORNIA: Superba Food and Bread in Los Angeles
At Superba Food and Bread "bread" is in its name, so you know the bread is going to be good! "We got the bread, given the name, had to try, with their 4 spreads—fancy butter, trout, eggplant and cheese," one Yelp reviewer shares, "It's been quite some time since I've had such delicious crusty yeasty bread and all the spreads were top notch."
COLORADO: Tavernetta in Denver
One customer at Tavernetta in Denver loved their bread so much that they wanted to buy a loaf to take home. "Their focaccia bread, omg, how I love this bread," they wrote on Yelp, "I wanted to buy a loaf, but unfortunately they didn't sell it."
CONNECTICUT: Salute in Hartford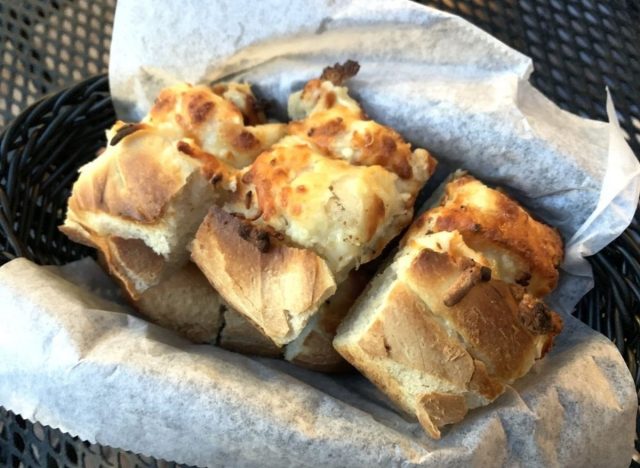 One item at Salute that just may be more famous than their incomparable Rose Pasta is their bread. "Their almost-famous garlic bread needs to be famous because it is the BEST garlic bread I've ever laid my eyes on!" one Yelp reviewer proclaims.
DELAWARE: La Fia in Wilmington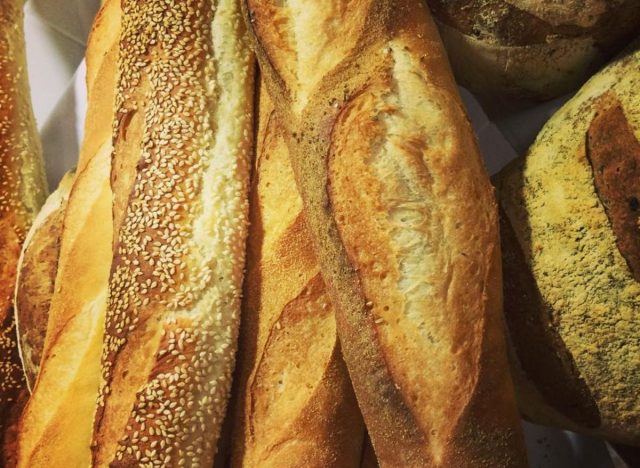 Expect the best of both worlds when it comes to La Fia's freshly baked table bread. Crusty on the outside and light and fluffy on the inside, this house bread is the perfect prelude to La Fia's pan-seared branzino or grilled strip loin.
FLORIDA: Whisk Gourmet Food and Catering in Miami
You have to start off your meal at Whisk Gourmet Food by first digging into an order of their fabulous homemade cornbread. Baked with crispy edges and served with a side of sweet and savory butter, this bread is definitely a menu highlight. It comes "highly recommended" by reviewers, so you know it is a must-try.
GEORGIA: Bone's Restaurant in Atlanta
Sure, the lobster bisque is delectable and the sauteed lemon chicken is amazing, but no meal at Bone's is complete without some of their complimentary house bread. "Complimentary bread was excellent," applauds one TripAdvisor reviewer, "Can't think of a single negative—from the valet parking to the dessert, everything was first rate."
HAWAII: Hy's Steakhouse in Honolulu
There is no such thing as boring bread over at Hy's Steakhouse in Hawaii. Their complimentary bread, which features soft bread covered in parmesan and then toasted to perfection, has been described as "delicious," "fantastic," and "irresistible," by restaurant reviewers.
IDAHO: Chandler's in Boise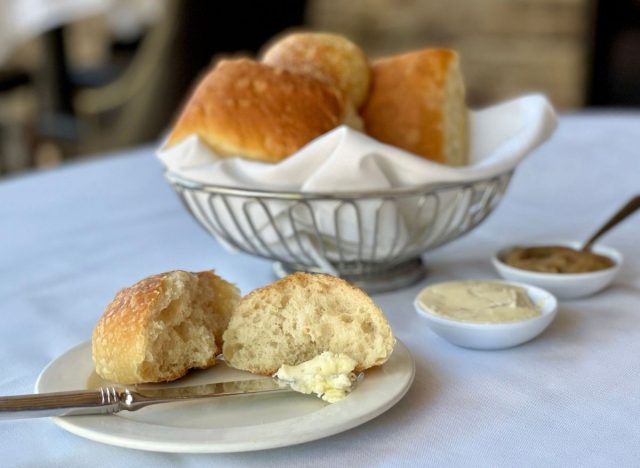 Steak is the name of the game over at Chandler's, but their bread is not to be missed either. Baked fresh and served hot, their bread basket is both delicious and filling. "The bread basket was filled with HOT bread to share and enjoy with the seasoned butter and another flavorful secret sauce! 🙂 Oh my!" one happy reviewer states.
ILLINOIS: Joe's Seafood, Prime Steak & Stone Crab in Chicago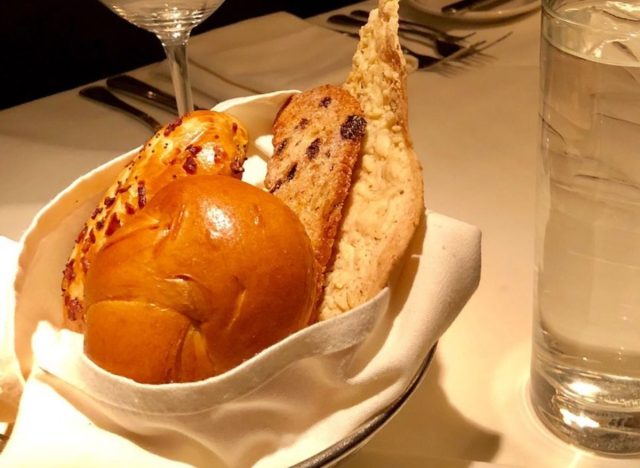 Joe's freshly baked bread baskets are filled with an assortment of warm bread, and are the perfect way to kick off any meal at this popular Chicago restaurant. One TripAdvisor reviewer loves the bread served at Joe's so much that they enthusiastically described them as, "incredible!!"
INDIANA: Conner's Kitchen and Bar in Indianapolis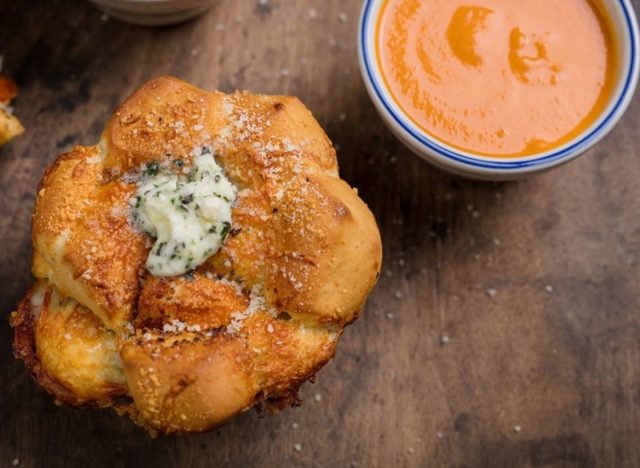 The monkey bread appetizer, which is made using melted cheese and soft, fresh dough, is quite the hit at Conner's Kitchen and Bar in Indianapolis. Enjoyed alone or paired with one of their many menu highlights, including the grilled salmon or hush puppies, this tasty bread is a must-have.
IOWA: Biaggi's Ristorante Italiano in Cedar Rapids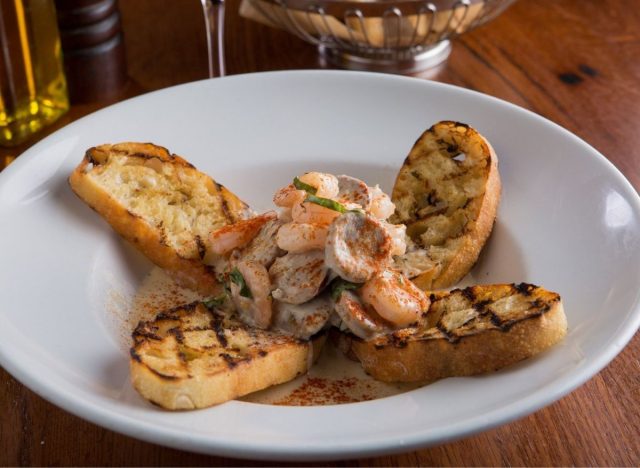 Live out all your focaccia bread dreams at Biaggi's Ristorante Italiano, the casual Italian restaurant that serves a long list of mouth-watering wines, pastas, and entrees. "You cannot beat the never ending fresh focaccia and Italian bread basket," writes one reviewer.
KANSAS: Paisano's Ristorante in Topeka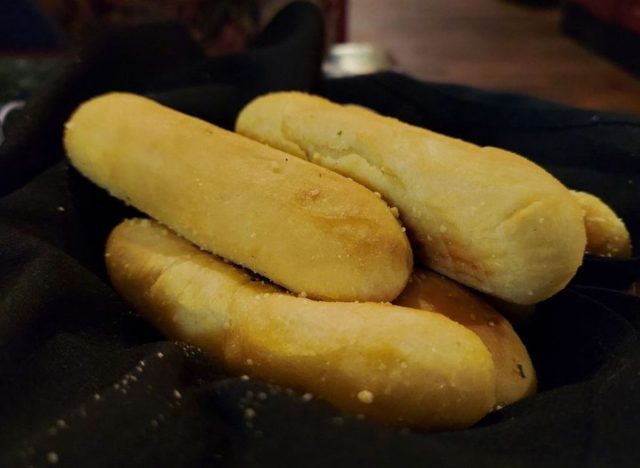 If you like the breadsticks and salad at Olive Garden, then you are going to love the ones at Paisano's in Topeka. The lively Italian establishment, which is especially known for its 15-layer lasagna, serves breadsticks that are to die for. One reviewer even shared that they feel that they are better than the popular Italian restaurant chains.
KENTUCKY: Jack Fry's in Louisville
Jack Fry's motto is "the best night in town"—and as it turns out, they may just have the best bread in town, too. Their bread basket, which might include options such as sourdough, French baguettes, or Irish soda bread, is a staple for any dinner at Jack Fry's. Hint: Look out for the cornbread, as it seems to be a customer favorite.
LOUISIANA: DiGiulio Brothers Cafe in Baton Rouge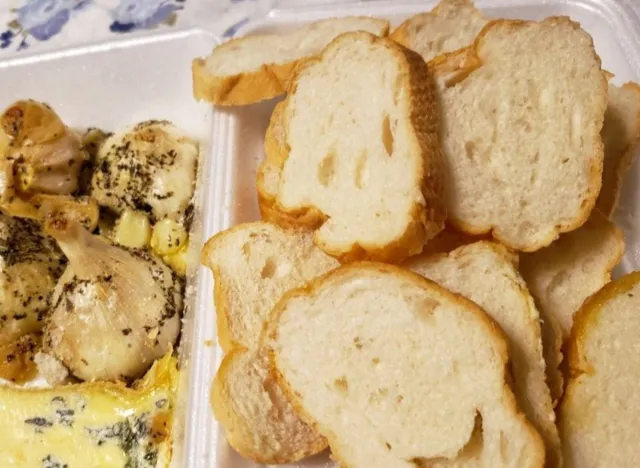 If you want to enjoy a tasty Italian dinner served with bread that tastes like it came straight from Italy, then DiGiulio Brothers Cafe in Baton Rouge is your place to go. "The accompanying bread was fresh, warm, and reminded us of breads we ate in Italy," reminisces one reviewer.
MAINE: Street and Co. in Portland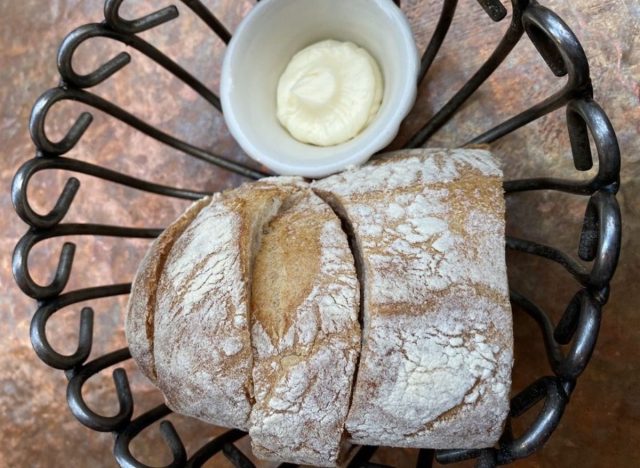 Put Street and Co.'s delicious bread to good use by using it to soak up any leftover pasta sauce or dipping it into an order of their sunflower seed hummus. "AWESOME crusty bread!!!" exclaims one TripAdvisor reviewer, "Perfect for slurping the rest of the white sauce, which appeared to be garlic, oil and stone ground mustard, from my linguine and clams."
MARYLAND: Il Pizzico in Rockville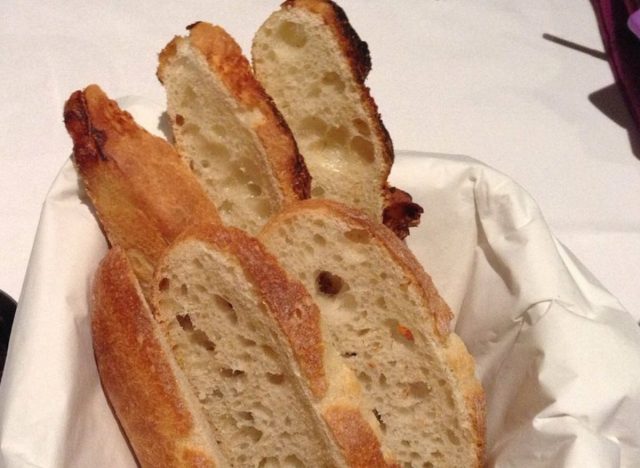 If you want a complimentary restaurant bread that is served with a bit of flare then may we suggest savoring some house bread at Il Pizzico? Served fresh with a lip-smackingly good black olive tapenade, this dinner precursor has been described by reviewers as "fantastic" and "tasty."
MASSACHUSETTS: Mamma Maria in Boston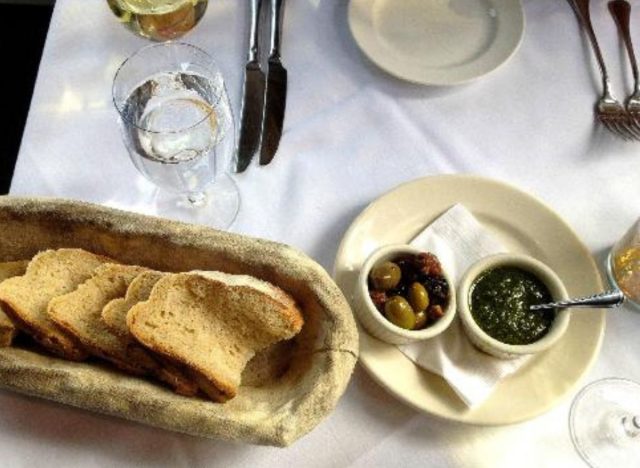 Not only is the bread served at Boston's Mamma Maria delicious, but it also comes with olives and a fragrant pesto on the side. One reviewer enjoyed it so much that they wrote, "The bread with pesto and olives was divine."
MICHIGAN: Selden Standard in Detroit
Whether you go for lunch, brunch, or dinner, Selden Standard has a long list of decadent menu offerings that will hit the spot. One of them is their housemade bread and butter, which has been described as "fabulous."
MINNESOTA: Spoon and Stable in Minneapolis
Housed in an early 1900's horse stable, Minnesota's Spoon and Stable serves some of the best restaurant bread in the state. "The bread and pastas are made from heritage grain flours," explains one reviewer, "Whatever that means it translates into some of the best bread (and butter) we've eaten!"6254a4d1642c605c54bf1cab17d50f1e
MISSISSIPPI: The Reef in Biloxi
If you have never tried Boudreaux bread before then run, don't walk, to The Reef in Biloxi. Boudreaux bread, made using Gulf shrimp, gator sausage, and crawfish all combined in a cheese sauce and then served over pressed French bread, is a Mississippi staple. It's so good you'll be thinking about it for days to come.
MISSOURI: Anthonino's Taverna in Saint Louis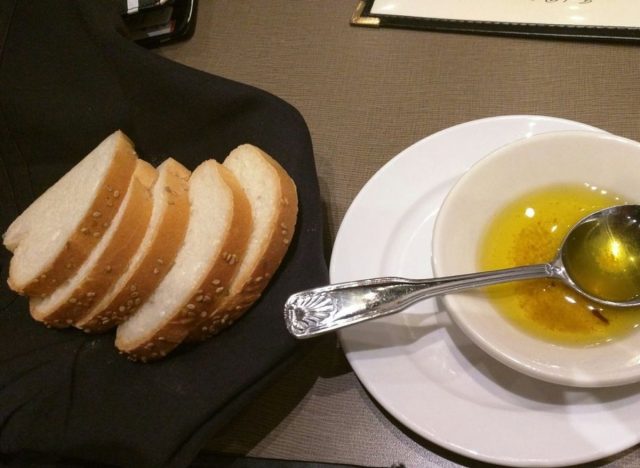 Fresh, warm bread and palate-pleasing olive oil is a match made in carb heaven at Anthonino's Taverna, the Saint Louis mainstay that prides itself on irresistible Italian dishes. Hint: They also won "Best Toasted Ravioli" 7 years in a row, so you may want to give that a try while you're there, too.
MONTANA: Montana's Rib and Chop House in Billings
Montana's Rib and Chop House, the popular restaurant known for its premium steaks and house specialties, serves a pre-meal bread basket that people come back time and again for. One reviewer enjoyed it so much that they took to TripAdvisor to write: "Try the bread before dinner, wow!!"
NEBRASKA: Spezia in Omaha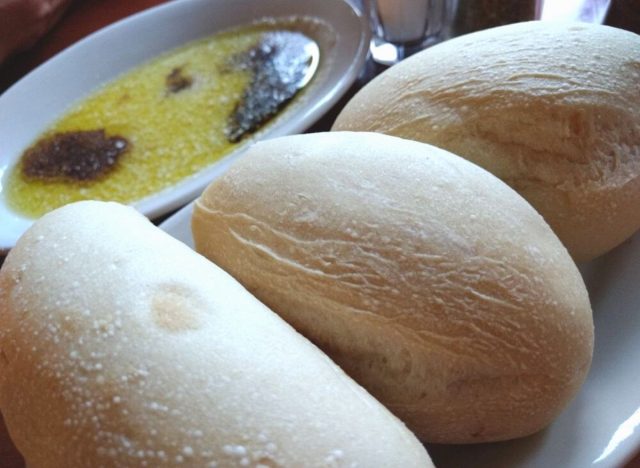 Enjoy Spezia's superb table bread with a fragrant dipping sauce comprised of parmesan, garlic, balsamic vinegar, and olive oil. It is the perfect snack to enjoy before digging into an order of their eggplant parmigiana or rack of lamb. Fun fact: Spezia, in Italian, translates to "spice."
NEVADA: Andiamo Italian Steakhouse in Las Vegas
Andiamo's in Las Vegas offers a delightful breadbasket that is served with a specially made tapenade. From cauliflower steak to gnocchi gorgonzola, this classic Italian restaurant also offers a long list of entrees to enjoy your bread with. Hint: They are open nightly from 5 pm to 11 pm, so make sure you plan accordingly.
NEW HAMPSHIRE: Ristorante Massimo in Portsmouth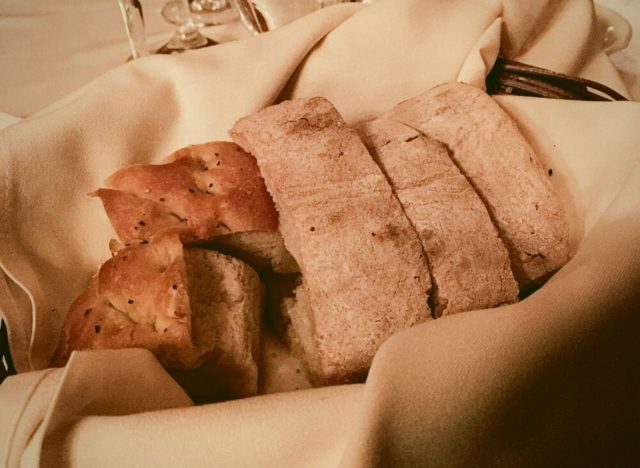 Since 1994, Ristorante Massimo has been cooking up delicious Italian cuisine that is beloved by the Portsmouth community. Even though the upscale eatery is known for its filling pasta dishes and amazing entrees, the housemade bread is where it's at. "All the food was excellent but the bread was exceptional," praises one reviewer.
NEW JERSEY: Piccola Cucina Osteria in Jersey City
Restaurant bread isn't just for buttering, it's for sopping up delicious leftover sauces, too. Piccola Cucina's wonderful bread is ideal to do just that. "The bread was yummy and perfect to sop up the juices from the fish," shares one reviewer.
REALTED: The Best Diner in Every State
NEW MEXICO: D.H. Lescombes Winery and Bistro in Albuquerque
Can't decide whether to have buttered or cheesy bread as a starter? Well then, why not have both! D.H. Lescombes Winery and Bistro, the buzzy New Mexico restaurant that is helmed by sixth-generation winemakers, serves a buttery, cheesy bread that will definitely leave an impression.
NEW YORK: Parkside Restaurant in New York City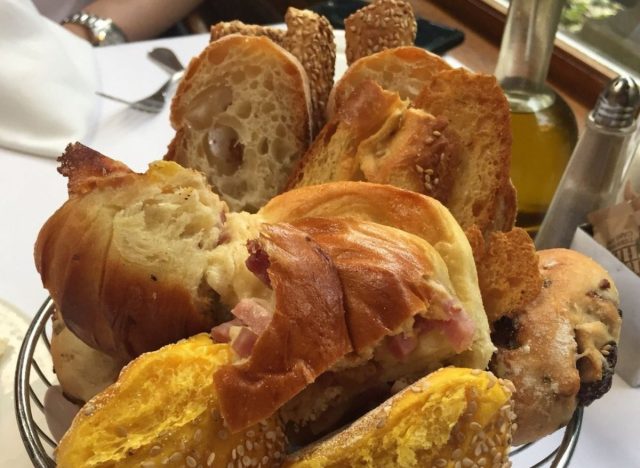 There is nothing quite like the house bread served at Parkside in New York City. Featuring a medley of drool-worthy options—including one type that is stuffed with large chunks of dried meats—Parkside does bread unlike any other restaurant out there. "Just taste the bread and you think you're in heaven," praises one reviewer.
REALTED: The Best Expensive Restaurant in Every State
NORTH CAROLINA: Sitti in Raleigh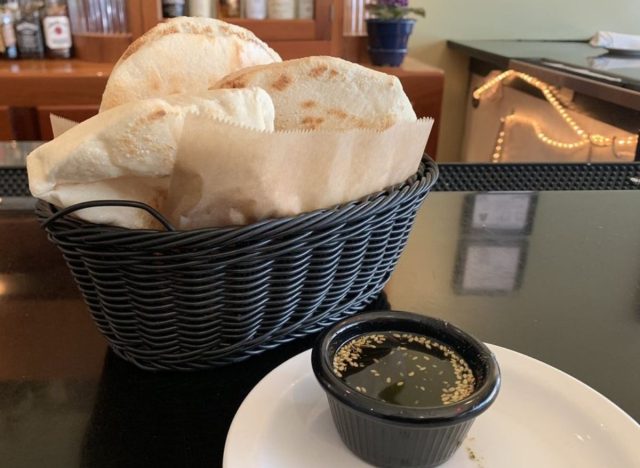 Warm pita takes center stage at Sitti, the Raleigh restaurant that makes some of the best Mediterranean dishes in the state. One reviewer thinks so highly of the sought-after bread that they wrote that "the bread is enough of a reason to stop and eat."
NORTH DAKOTA: Pirogue Grille in Bismarck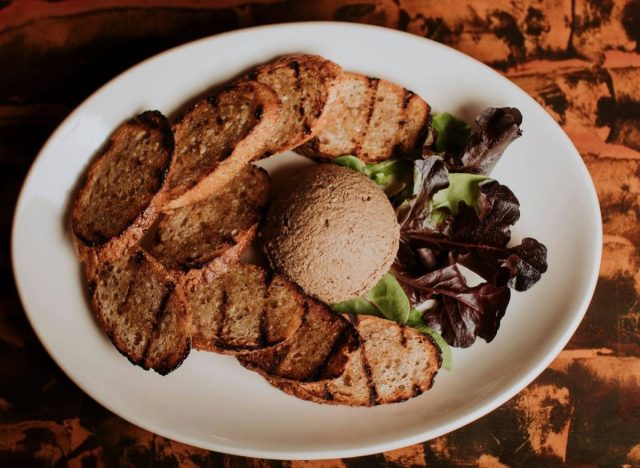 Picture this: A cozy winter evening at Pirogue's relishing in a dish of their juicy, grilled New York steak while using their fresh, homemade bread to soak up any remaining bourbon-mustard steak sauce. Delish! Hint: They are also known for their festive cocktails, which include options such as Pumpkintinis and Cranberry-Thyme Gin and Tonics.
OHIO: Z Cucina Di Spirito in Columbus
Warning: Once you try the bread at Z Cucina Di Spirito in Columbus, you may be hooked for life. "The bread was amazing," writes one reviewer, "The best I have ever had, and the dipping oil was sooo good, we had like 3 baskets of bread!!"
OKLAHOMA: Stella Modern Italian Cuisine in Oklahoma City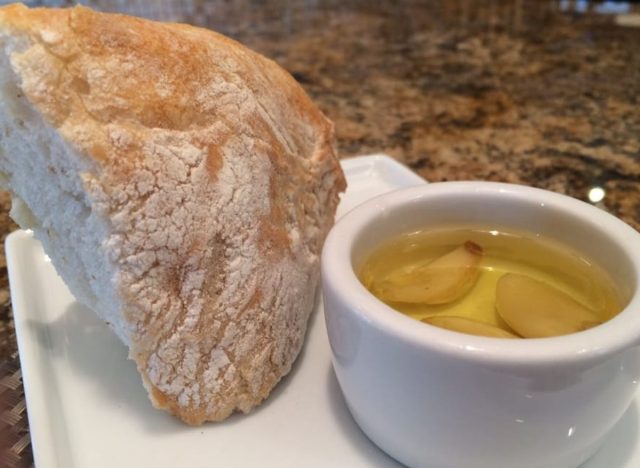 Expect top-tier bread alongside flavorful entrees and appetizers at Stella Modern Italian Cuisine in Oklahoma. "Top-notch service, beautiful place, perfectly cooked pasta, and did I mention the good bread?!!! Wow," exclaims one reviewer.
OREGON: King Estate Restaurant and Tasting Room
King Estate Restaurant and Tasting Room will have you, and all of your fellow diners, ooh-ing and ahh-ing when the bread comes out. The bread, which has been described as "A+++" by online reviewers, will have you wanting seconds (and thirds, and fourths…).
PENNSYLVANIA: Vino Italian Restaurant in Harrisburg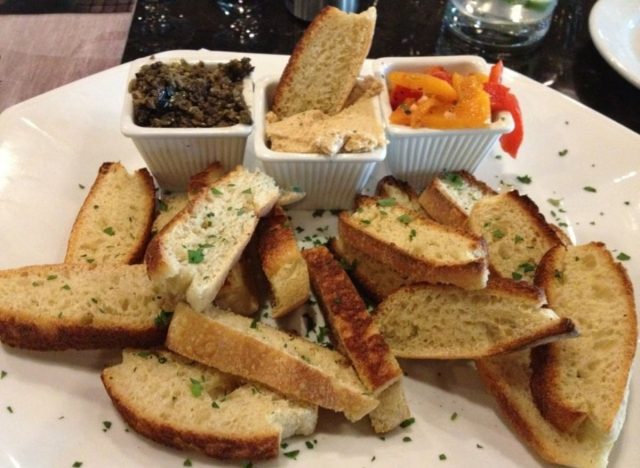 Enjoy an incredible piece of Vino's bread with an order of their Rigatoni Bolognese or a glass of pinot noir. It is a central part of a magnificent meal out, or delicious dinner ordered in.
RHODE ISLAND: Massimo Restaurant in Providence
Massimo in Providence was awarded the Best Restaurant in Rhode Island—so you know everything, from the bread to the desserts, is going to be good. "The meal began with bread and caponata," shares one TripAdvisor reviewer, "The bread appeared to be a focaccia crusted with cheese, and the caponata was out of this world."
SOUTH CAROLINA: Alodia's Cucina Italiana in Columbia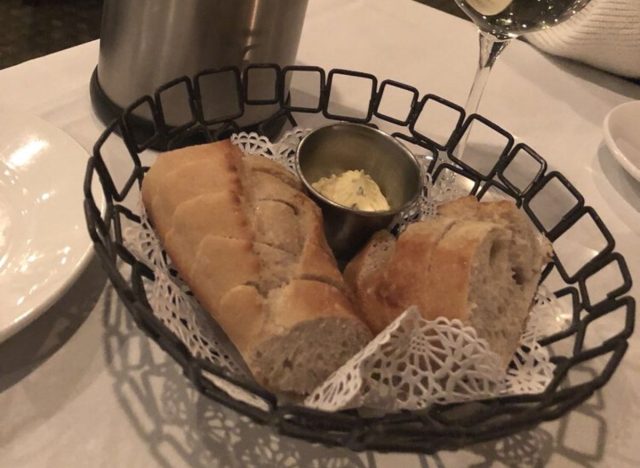 If you ever find yourself in South Carolina, make sure you carve out some time for a meal at Alodia's Cucina Italiana in Columbia. Founded in 2008, this restaurant has a table bread served with herbed butter that you won't soon forget.
SOUTH DAKOTA: Sanaa's Gourmet Mediterranean in Sioux Falls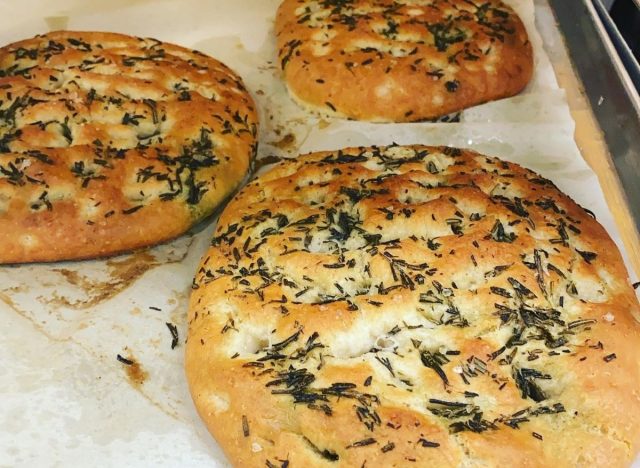 Pita is the house bread at Sanaa's and, much like Pringles, once you start eating them you may not be able to stop. Served fresh and warm, these pitas are perfect on their own or piled high with hummus and tapenade.
TENNESSEE: Trattoria Il Mulino in Nashville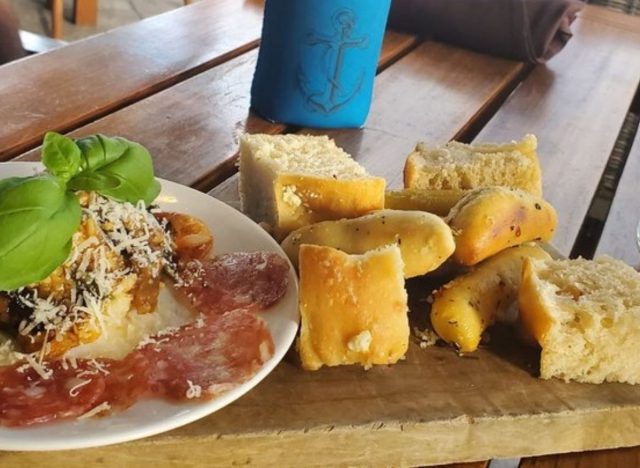 If you are a fan of Il Mulino in New York City, then you will love its sister restaurant, Trattoria Il Mulino, in Tennessee. Nestled right in the Arts District neighborhood of Nashville, this restaurant offers a high-quality dining experience in a beautiful atmosphere. Their bread is also next level. "​​Even the bread which was served with our appetizers was incredible," mentions one reviewer, while another points out, "By the way, the garlic bread is FABULOUS!"
TEXAS: La Griglia in Houston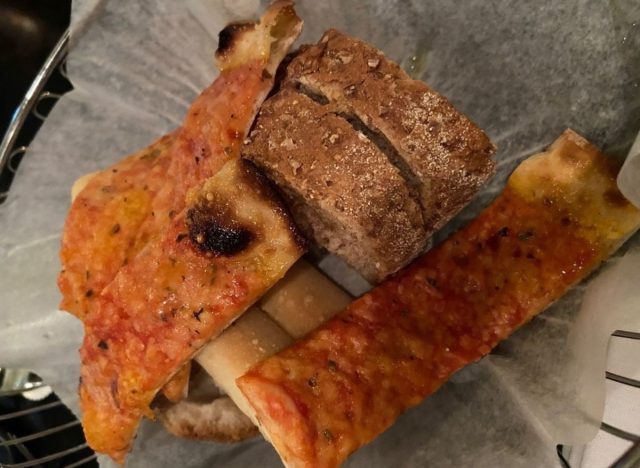 The bread basket served at La Griglia is so good that you may not be able to stop eating it—not only does it contain pieces of fresh bread but also strips of cheese pizza. "Excellent Italian food, bread at the beginning is exquisite," one TripAdvisor reviewer wrote. Another advises future La Griglia patrons to pace themselves with the delicious carb as it is just too tasty: "I just love the soft, warm long breadsticks they serve in this basket. But, be careful. You can fill up on this basket alone, especially if you are by yourself."
UTAH: Valter's Osteria in Salt Lake City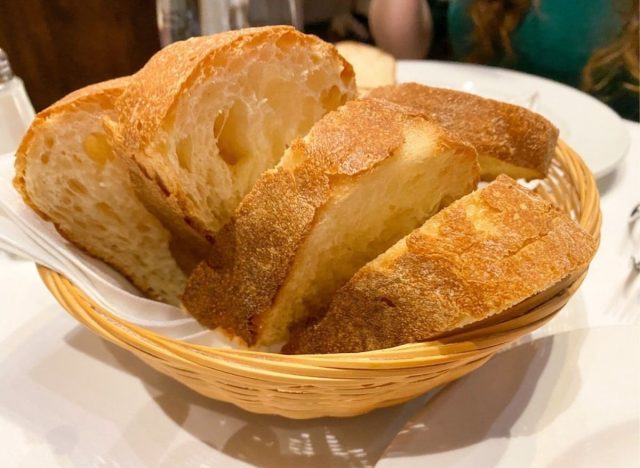 If you visit Valter's Osteria in Utah then you need to try the incredible pasta sampler, the tasty cioppino, and, of course, the bread. "​​And the bread…oh the bread!!! No idea what they do differently, but it is the absolute best bread you've ever had," one customer reports.
VERMONT: Trattoria Delia in Burlington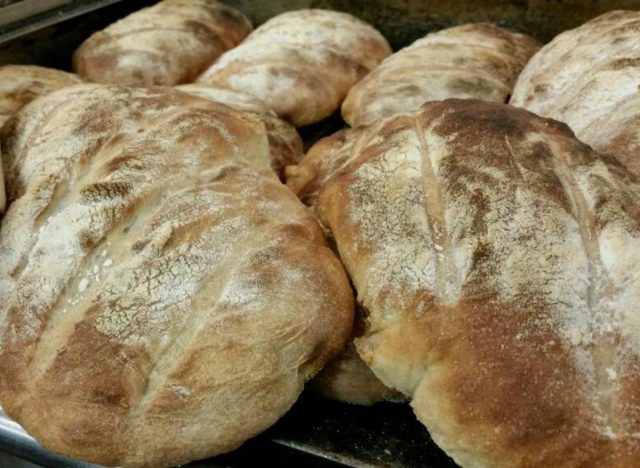 Trattoria Delia, the Burlington restaurant that has been crafting delicious Italian fare for almost 25 years, doles out a table bread that checks off all boxes. Restaurant goers love it so much they have described it as "wonderful," "delicious," "incredible," and "fantastic."
VIRGINIA: The Grapevine Greek and Italian Restaurant in Richmond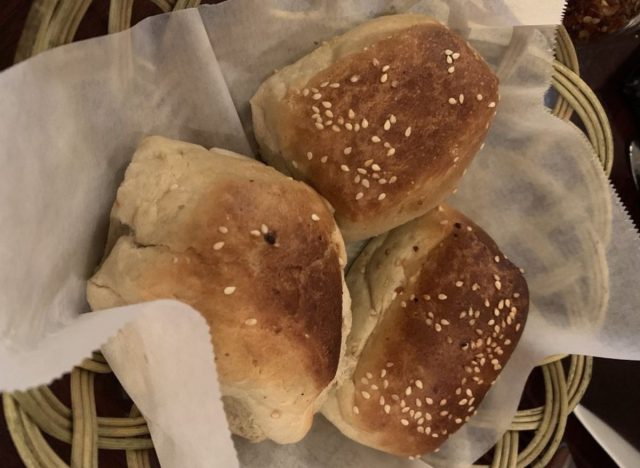 For almost three decades The Grapevine in Richmond has been serving up a perfect combination of Greek and Italian food inspired by old family recipes. On their menu, you will find traditional classics, such as moussaka and meat lasagna, alongside some modern options, including gluten-free pasta dishes. (Hint: try out their Aphrodite dish). No matter what you decide on, make sure you also get a serving of their complimentary bread which, according to reviewers, is made fresh daily.
WASHINGTON: The Pink Door in Seattle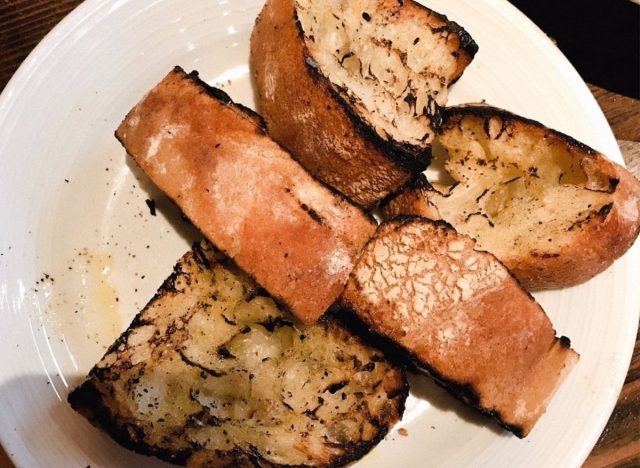 It is clear to see that The Pink Door in Seattle has mastered the art of the meal—everything from its appetizers to its entrees (which include their beloved bechamel sauce lasagna) is exquisite. Because of this, it is no surprise that they also serve some delectable bread.
WEST VIRGINIA: Oliverio's Ristorante in Morgantown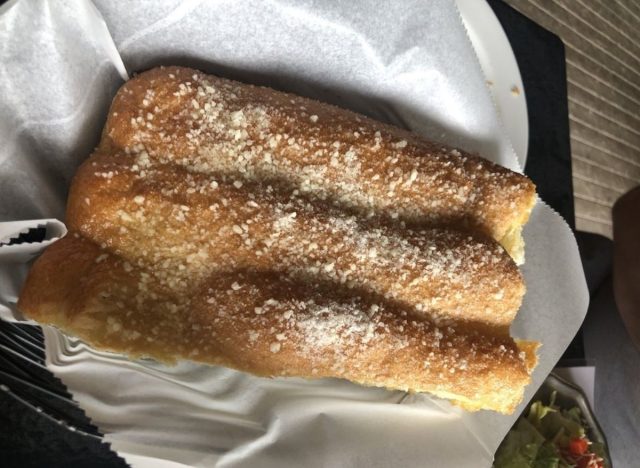 If Olive Garden is your go-to for pre-meal breadsticks, why not shake things up and give Oliverio's Restaurant in Morgantown a try? Reviewers are such fans of the tasty carb that they have described them as "amazing," "to die for," and "no ordinary breadsticks." One person even stated that they felt that they were in "breadstick heaven." We're sold!
WISCONSIN: Zarletti in Milwaukee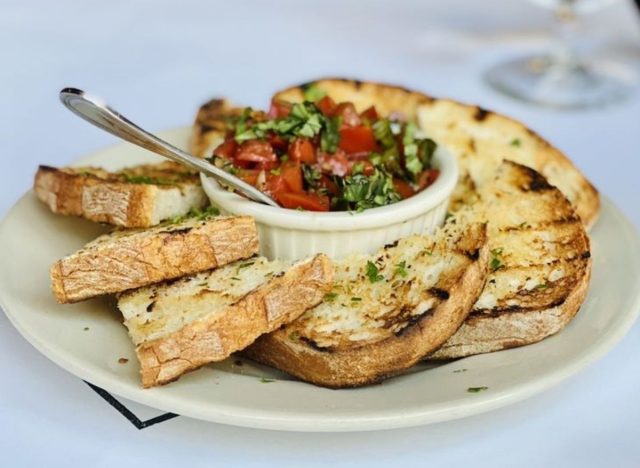 For nearly 20 years Zarletti has been cooking up amazing northern Italian cuisine for the downtown Milwaukee community. People come for their delectable dishes, such as the polpette di carne and the ossobuco, but really stay for the bread.
WYOMING: L'Osteria Mondello in Cheyenne
If you enjoy a meal at L'Osteria Mondello chances are you will not only be recalling their amazing antipasti and flavorful chicken entrees for days to come but their fabulous table bread, as well. Served hot with a side of olive oil for dipping, this tasty treat is the perfect way to kick off any meal at Mondello's.
Plus, don't miss The Best Themed Restaurant In Every State.