We Tasted 5 Beloved Costco Pastries & This Is the Best
Here are the ones to toss in your cart on your next trip.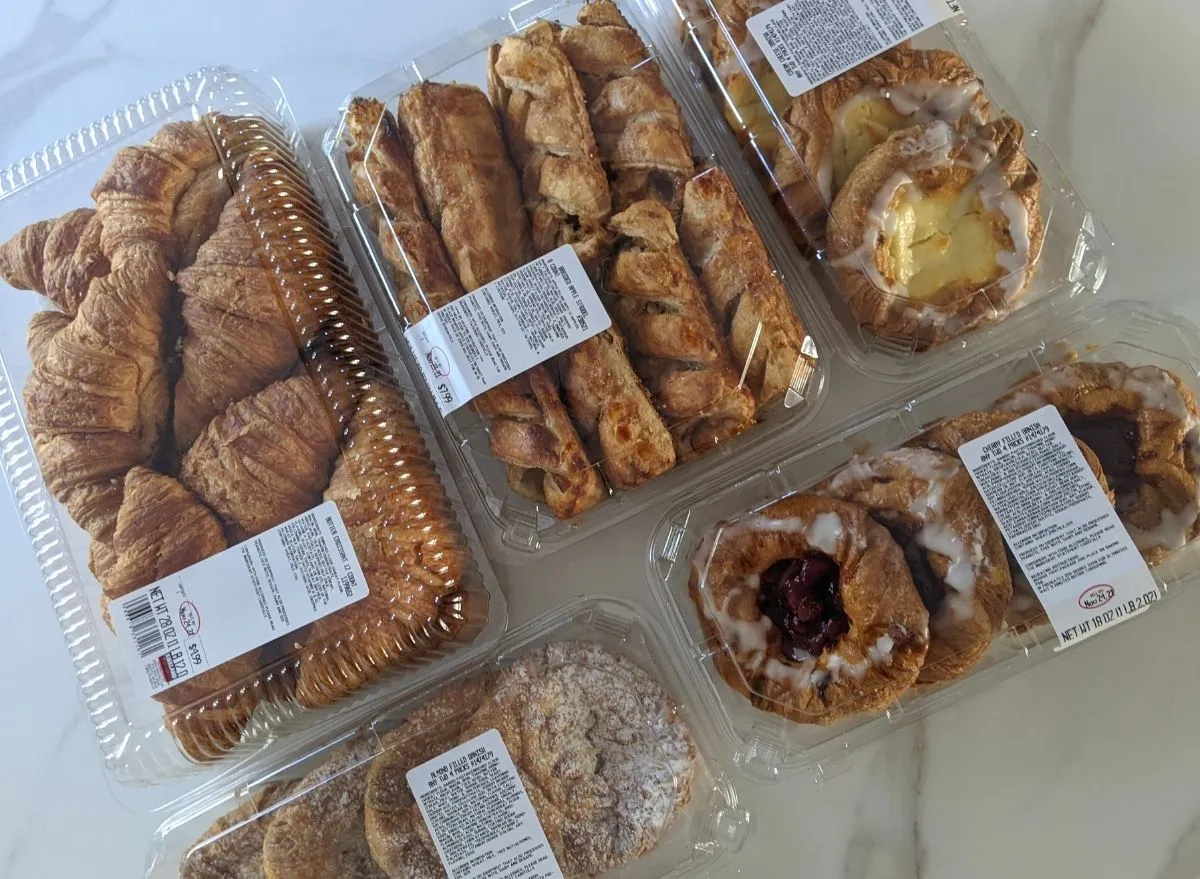 A trip to Costco often, whether intentionally or unintentionally, ends up with a few sweet treats finding their way into our carts. Costco is particularly famous for its buttery croissants, to-die-for danishes, and other baked goods. But which pastry or Danish is actually worth the extra calories?
Traditionally, Danish pastries from Denmark are sweet handheld treats made of laminated, yeast-leavened dough—that is to say, multilayered pastries with butter folded many times into each—or puff pastry prepared in the tradition of Austrian viennoiserie. They're flaky on the outside with a bit of a crisp, and butter-golden on the inside, both from copious use of that ingredient and the addition of eggs.
Here, you may know them as handheld rounds of soft buttery pastry featuring a shallow central well of fruit, jam, cheese, or chocolate. You might enjoy larger rings of that same name (or as Kringle), cut into slices and covered in confectioner's sugar glaze and chopped nuts, if you're so inclined. You may also have had strip danishes, baked as a cake in tins with stripes of sweet cheese or jam and crumbs atop. And if you've ever had a turnover or a flaky dry cinnamon roll, that's in the neighborhood as well.
Regardless of interpretation, when they're made right, they're glorious. However, they're labor-intensive and their ingredients are expensive, which makes store-bought often the best path to entry. And with so many pre-packaged baked goods rife with imitation flavors and butter stand-ins, you're not always guaranteed a good experience.
So with the fact that Costco is famous for using real butter in their fresh-baked daily croissants, we wanted to know: does Costco do danishes well? And how do they stack up against their simpler brethren?
We set to find out, embarking on a taste test of every flavor Danish they offer and pitting them against other laminated breakfast pastries. We tried the classic butter croissant, the braided apple strudel, and every flavor of danish we could get our hands on.
For your ultimate holiday brunch board or just another reason to actually get out of your cozy bed in the morning, these are the viennoiserie you should keep in your kitchen. (Plus, if you're looking for the perfect ice cream, check out We Tasted 10 Vanilla Ice Creams & This Is the Best One!)
Braided Apple Strudel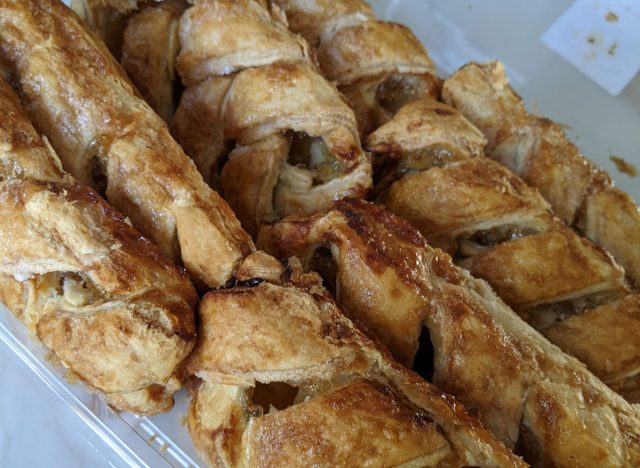 Technically, an apple strudel is Viennese and not Danish; it's traditionally unleavened, made with much less dough than we see here in the States; and stuffed with an apple filling that is typically on the drier side. However, we're not going for authenticity or accuracy here—which is good, because most American versions would fail miserably! For this taste test, our only qualifier was "flaky butter pastry" and Costco's readily available version made the cut as a common breakfast buy.
But this experiment led us to wonder … why? Because compared to the other pastries we tried, the apple strudel came in dead last for its lack of flavor balance and poor proportions. The dough the Costco bakers use for this felt different than the other layered pastries, and a quick look at ingredients told us why. It's the only one that uses oil spread rather than actual butter, and this is immediately apparent.
This results in a texture that's heavy, dense, starchy, and thick, and significantly flatter in flavor. But then, perhaps to make up for this dead zone of flavor, the braid is covered in sugar crystals, which is entirely unnecessary. Here's why: since they essentially semi-melt on the fresh bake as the liquid drips down, and kind of steam in their packaging, you lose flakiness and also don't benefit from the crunch we all enjoy on those iconic blue-tinned Danish butter cookies. Yet because the dough is so thick, neither does it absorb any of the sugar, making its only "benefit" a messy gloss.
Then again, it's a good thing that the sugar doesn't permeate the pastry, since the filling is way too sweet, in a canned manufactured way. The chopped apples in the filling are sparse, to put it mildly, and it's more cornstarch-thickened goo than fruit. There's some citric acid in the recipe, but definitely not enough to offer enough tartness to counter the saccharine sweetness.
TIE: Cherry Danish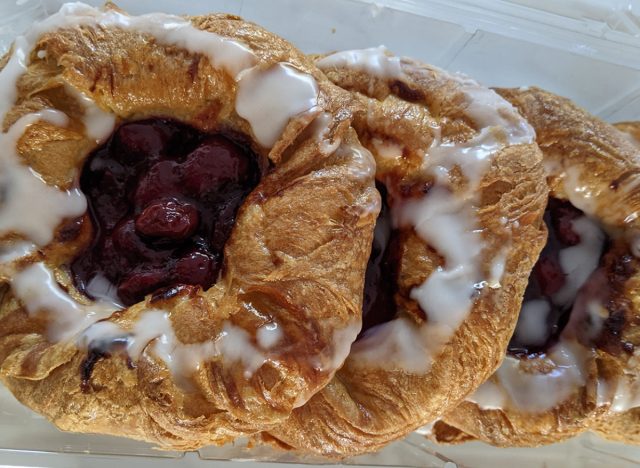 The old Costco pull-apart danishes used to have cherry, pineapple, and apple fillings in their mixed fruit option, but since they switched over to more traditional rounds, cherry is the only one that made the cut. We expected this—like the apple—to be premade, which makes the main sticking point, how good of a filling is it? Good canned cherry filling ought to have juicy whole cherries, a flavor that's sweet with a little bad-girl edge of tartness, and not too much or too thick of a gooey suspension.
Costco's recipe hits those marks, and their cherry danish is a model of diplomacy. Personally, I could do with a few more cherries and a slightly larger diameter of filling, but overall, nothing is overdone or overwrought. The filling is good and as it should be: not watery but not too thick, and mostly juicy, fragrant, whole fruits. Thanks to the preservation of a light undercurrent of the baked stone fruit's signature sour acidity, which can often get masked with sugar, it tasted natural. The mix played particularly well with the slightly overbaked and therefore actually kind of dry pastry base. We found this to be buttery and flaky, and even better warm, despite the trade-off of losing the flavor and visual appeal of the confectioner's sugar drizzle. We really appreciated that the glaze wasn't spooned over with a heavy hand and worked with the residual tartness of the fruit, making this a generally well-balanced pastry that while not being something to write home and rave about, is still nothing to complain about in the slightest. "It's fine," was the consensus.
TIE: Almond Danish
Sweet teeth, gird thyselves for a sensory explosion because Costco's almond danish comes in loud. If you've got a taste for almond paste/marzipan-type treats, this pastry is an eye-opening, jaw-dropping celebration of that flavor. A deep well of compacted yet still soft and crumble-able cream-based almond paste filling is accented with beautifully toasted slivered almonds, like a pond of filling surrounded by caramel-colored boulders nestled in powdered sugar snowbanks.
As joyous as this sugar bomb was to me personally, it was met with less enthusiasm from the rest of the panel, since you have to really love this set of flavors. "Wow, that's a lot of paste," was one immediate comment; "it's too much, too thick," was another; and felt "all piled up in the middle." Additionally, the fact that it was "kind of one-note"—even with the hint of pistachio one taster detected—can't be ignored, since the toastiness of the nuts was muted by the surplus of sugar. Therefore, the cherry was technically "better" since its balance was much more even-keeled, even if it was drier than this moister pastry. But if you're a fan of nut-paste pastries and want to really rev up your morning with a rushed start, this is dessert pastry is perfect to get your engine started with a big bang.6254a4d1642c605c54bf1cab17d50f1e
Butter Croissant
Like the apple strudel braid, the croissant isn't a true danish since they're A) truer to viennoiserie and B) commonly associated with France, despite their Austrian roots. But at a mass maker like Costco, one can only assume that they're using the same pastry formula for their danishes as they are their croissants. As such, it made sense to include the danish's foundation on its own to establish a baseline on which to determine if the additional accouterments helped, hurt, or didn't make a difference to the much pricier danishes.
As you can tell from its ranking, this dough is more than fine baked on its own. Although Costco recently changed over from a crescent shape to a straight croissant, the recipe is still all-butter, the outside is still flaky, golden, and crisp, and the inside is still light, layered, and absolutely addicting. The plain croissant actually holds its crunch much better than the danishes, which absorb moisture from the fillings, and the lack of distraction lets your olfactory senses really zero in on the fragrance of the butter that wafts out of the container as soon as you open it. We found that the lighter baked croissants performed better over the course of the dozen reheated in the toaster oven and eventually consumed. They retained moisture better than the more toasty ones, which can veer toward dryness.
"I like how bouncy it is," one taster remarked as they bit into it, exposing a plentitude of air-puffed layers—a key indicator of well-laminated pastry. The savoriness was a nice break for others, particularly on the heels of the almond danish, and provides it a more flexible range of use. "It has its own special element, as simple as it is," another taster said. "If this were a sandwich"—whether sweetly accented by preserves and more butter or with eggs or cold cuts—"it'd be a solid number one," they added with satisfaction.
Cheese Danish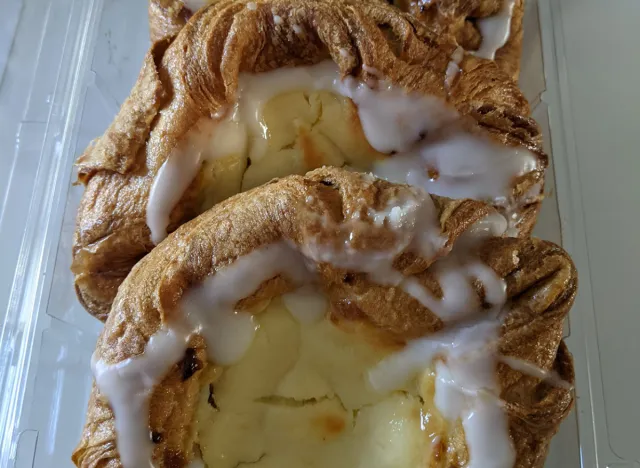 The glorious, the classic, the GOAT flavor of danishes once again reigns even in Costco's rendition of this imperial baking tradition. We tried this last and found that, true to the phrase, we'd saved the best for the grand finale. This pastry was truly flawless and executed to small bakery standards of excellence.
While the cherry filling seemed a bit sparse and the almond filling felt overwhelming, the generous cream cheese center hit just right. The amount and distribution provided plenty of cheese flavor to accompany every bite without being overpowering the pastry, even in the deepest part of the well. "I really like this ratio of cheese," said a taster, while another chimed in, "It's smooth and spread across the pastry well."
Rich, creamy, and—most critically—tangy, this recipe relies on the drizzle of confectioner's sugar across its surface to impart bursts of sweetness rather than flooding the cheese with it. This resulted in subtle accents that allowed us to really taste the quality of the filling as well as the pastry dough, take in the fragrant scents of butter and baked cheese, and fill our mouths with a variety of layered flavors. This was the only flavor that tasters repeatedly went back to, cutting big bites of more danishes to taste against the other remnants to better "make sure" it was their favorite. (It was.)
Takeaway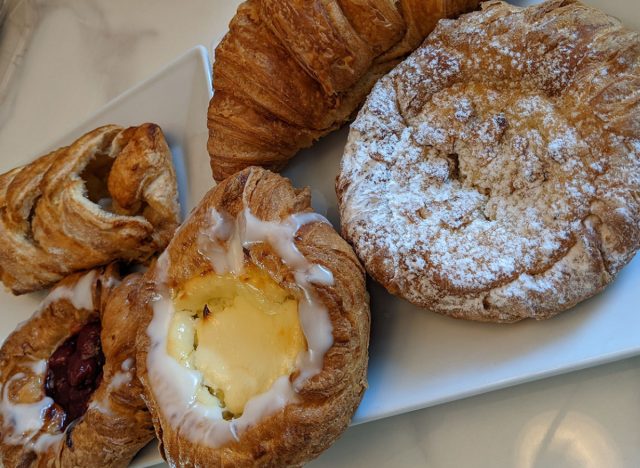 The Costco bakery mostly nails it yet again. When it comes to laminated pastry, a product that can get very expensive due to how labor-intensive the process is and how costly the ingredients are, you can't beat the price of $6 for a dozen croissants and just over a dollar each for a filled danish the size of my outspread hand. You do have to buy two packs of the danishes for the $9.99 price, and it's awkward to choose your bonus double flavor since it only comes in three varieties, but if you make it cheese, you'll find little to nothing to complain about.
For any gathering, we recommend cutting up these giant treats to avoid commitment to a single flavor, as they're as filling as their hefty, cringe-worthy nutritional profile would suggest. Their lack of healthiness aside, we can confirm that they are absolutely delicious and worth the splurge as a special occasion treat. Additionally, they rebake fairly well, and freeze easily, making their bulk packaging feel more manageable for smaller households.
On the whole, the danishes are by far a better value than the disappointing apple strudel, and the plain croissant continues to be an ideal, affordable breakfast standby, even against its dressier cousins. Although our picks are ranked, there really are no losers among the danishes and croissants at Costco.
Read more about the best things to seek out at Costco:
Costco Members Say These Are The Best Frozen Meals at the Warehouse
The Best & Worst Muffins at Costco—Ranked!
The Best & Worst Bulk Buys at Costco—Ranked!
Su-Jit Lin
Su-Jit Lin is a food and lifestyle writer whose work has been featured in Real Simple, HuffPost, and more.
Read more about Su-Jit