7 Best Supplements for a Longer Life, According to a Dietitian
These expert-recommended supplements support healthy aging and can even extend your longevity when taken regularly.
The product recommendations in this post are recommendations by the writer and/or expert(s) interviewed and do not contain affiliate links. Meaning: If you use these links to buy something, we will not earn a commission.
The average American is living longer than what was seen a century ago, with the average lifespan being around 76 years old—nearly 20 years older than those living 100 years ago. But even though, on average, people are remaining on this earth for a longer period of time, this does not guarantee that every person will live to see their 70s, 80s, 90s, and beyond. Outside of genetic factors, there are many environmental factors that exert influence on your longevity, from your choice of engaging in beneficial lifestyle habits to taking some of the best supplements for a longer life.
If you want to live a long life, there are certain habits you can adopt that may bump up your chances of accomplishing this goal. Participating in physical activity, avoiding tobacco, keeping your brain active, and eating a healthy, balanced, and varied diet may help you on your quest to live well into your golden years. Once you get these habits under your belt, adding some specific supplements to your regimen may offer some benefit in the longer life-promoting department.
While taking supplements won't be a surefire way to reach triple digits, as long as you get the green light from your doctor, it is unlikely that including them will hurt your chances of living a longer life. We asked a handful of dietitians which supplements people should consider taking if they want to live a longer life, and here are the seven that were recommended. Read on to learn more, and then don't miss learning about these 7 Foods That Can Help You Live Longer.
Astaxanthin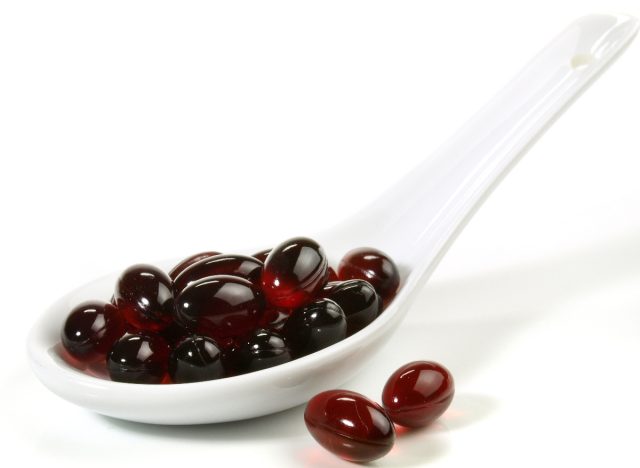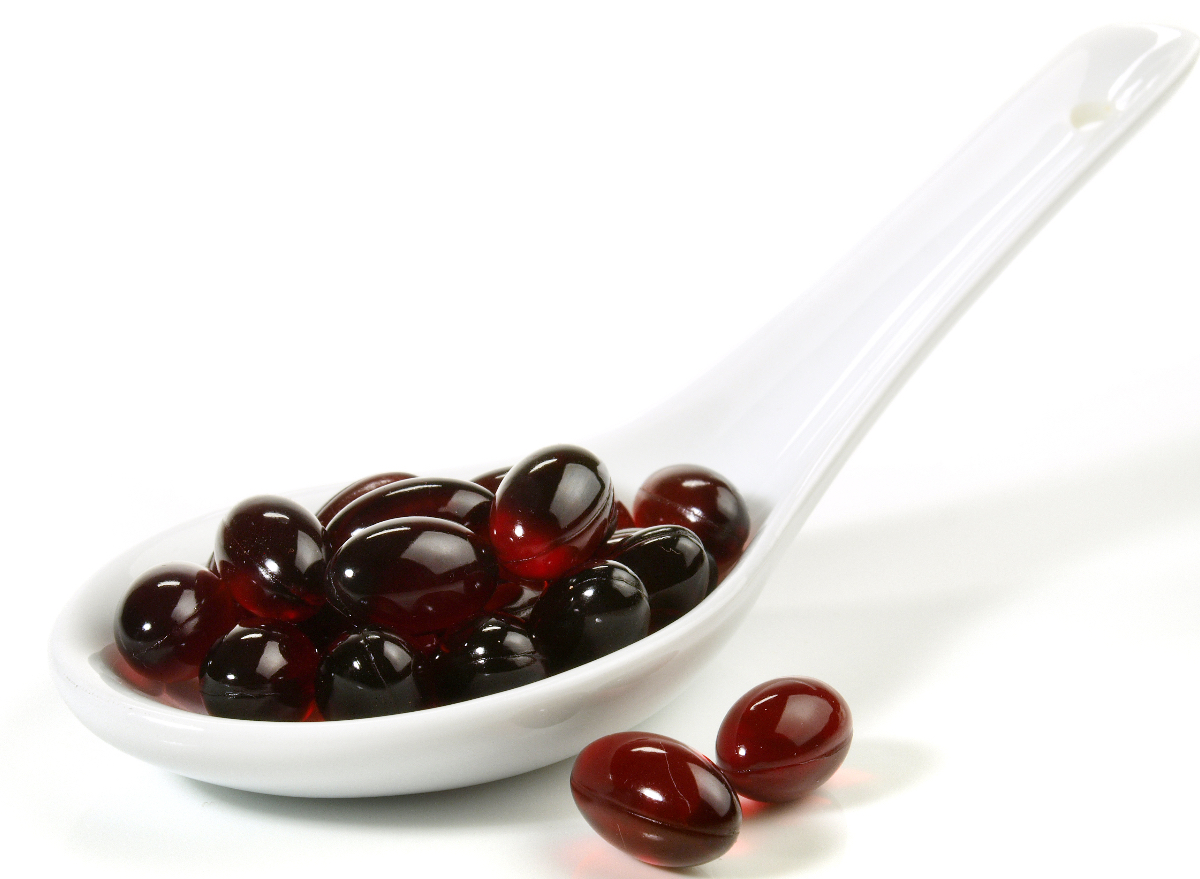 "Astaxanthin should be on your radar if it isn't yet when it comes to healthy aging (a key part of living a long life)," shares Elizabeth Shaw, MS, RDN, CPT, a registered dietitian, nutrition media authority, and author. Found in the flesh of pink-hued seafood such as salmon and crustaceans (like lobster, crab, and shrimp), this nutrient actually comes from the food these species eat. "Unfortunately, we aren't eating the recommended intakes of this type of seafood to meet desired intakes to reap the benefits astaxanthin offers, which is why a supplement may be your next best option," Shaw explains.
While research is evolving, what science shows is this nutrient may help support skin, muscle, and eye health, healthy aging, and enhance your immune system. Shaw also explains that "given its stellar antioxidant action, [astaxanthin] helps fight free radicals off in your body that over time can lead to chronic conditions that may become detrimental to your health." Studies show a range between 2 to 12 milligrams a day to be beneficial, and one 2014 study found just 3.6 milligrams a day to be effective.
Eat This! Top Pick: NOW Foods has a few different options for astaxanthin supplements depending on your dosage (a 4-, 10-, and 12-milligram dose). Shaw prefers NOW products as they're third-party tested and verified, which means what's on the label is actually in the bottle (a rarity often in the supplement market!).
Creatine monohydrate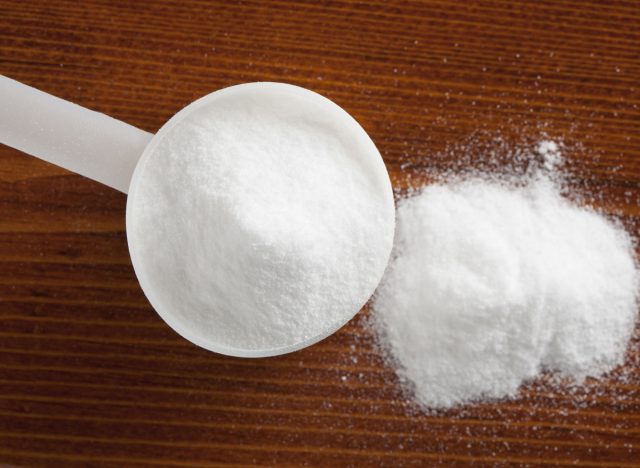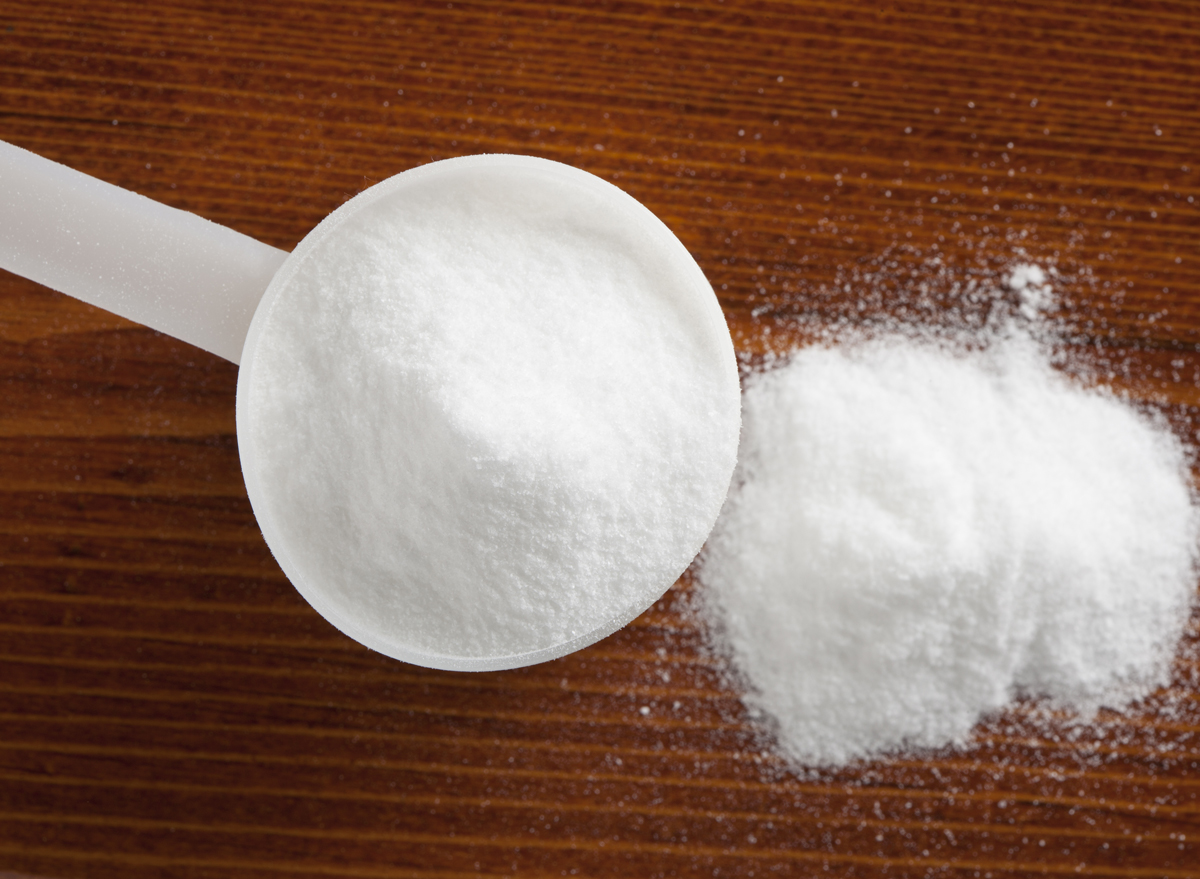 Popular among bodybuilders, creatine monohydrate is linked to muscle gain. But Kelly Jones, MS, RD, CSSD, performance dietitian for pro athletes and everyday exercisers tells us that "evidence on creatine's benefits past muscular power and muscle mass continues to surface."
She explains that research on creatine and the elderly may be preliminary, but the available evidence is promising for both cognitive and physical functioning. Jones recommends creatine monohydrate to older adults at risk of cognitive impairment as well as those hoping to maintain muscle mass "to enhance their physical capabilities as they age."
"A meta-analysis suggests aging individuals can benefit from creatine monohydrate supplementation for benefits associated with short-term memory and reasoning, while data on older adults has shown creatine supplementation, when paired with resistance training, to benefit sarcopenia risk," Jones explains.6254a4d1642c605c54bf1cab17d50f1e
Eat This! Top Pick: Her go-to creatine monohydrate choice is NOW Sports Creatine Monohydrate Powder and Klean Athlete's Klean Creatine. They are third-party tested by Informed Sport and NSF Certified for Sport, respectively. These certifications test for substances banned by sports governing bodies, such as anabolic steroids and prescription drugs. Jones finds these certifications important, "as muscle-building supplements may be at higher risk of adulteration."
EPA/DHA Omega-3 Fatty Acids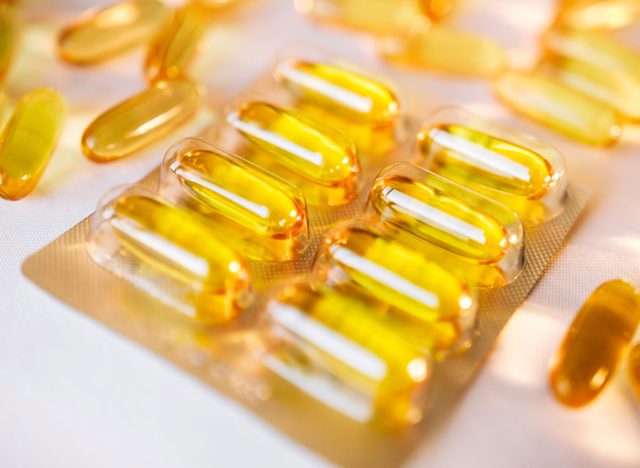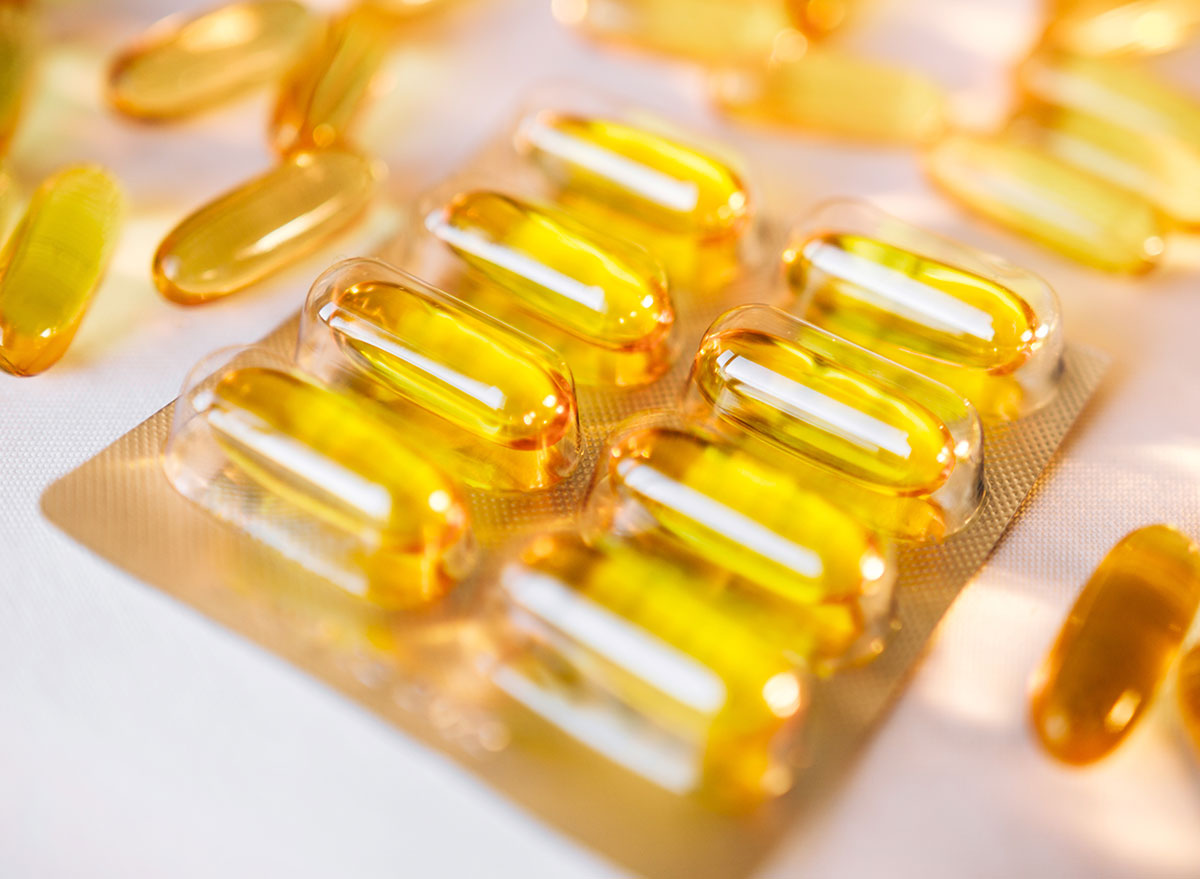 DHA and EPA omega-3 fatty acids are mostly found in fish and shellfish. Unfortunately, most Americans are not eating the recommended servings of seafood every week, leaving them missing out on these key healthy fats.
"Omega 3s have been shown to help maintain healthy blood pressure and healthy triglyceride levels," says Lauren Harris-Pincus, MS, RDN, founder of NutritionStarringYOU.com and author of The Everything Easy Pre-Diabetes Cookbook. She adds that "people with higher EPA+DHA intakes tend to be at lower risk for heart attack and all-cause mortality, so taking EPA and DHA omega-3 supplements may help with longevity (by reducing risk for early death)".
Harris-Pincus advises that, while there are many excellent brands of EPA/DHA, it's important to look at the label of the specific supplement and make sure that the highest amount of the omega-3 fats in the supplement comes from EPA or DHA or both, versus "other" omega-3s.
Nicotinamide Riboside (NR)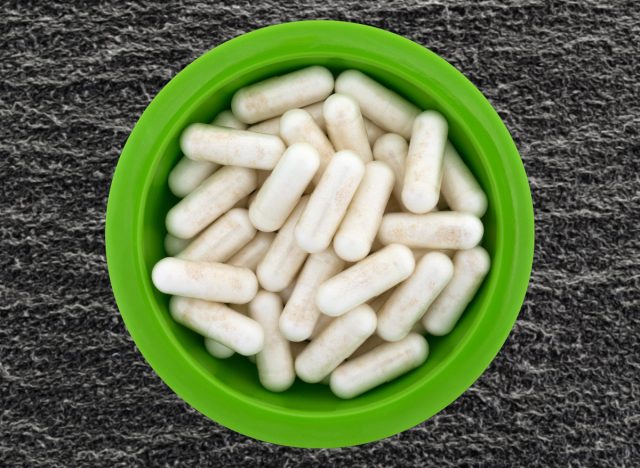 Nicotinamide Riboside (NR) is a precursor of NAD+, a molecule that plays a vital role in many cellular processes, including energy production, DNA repair, and cellular defense. Harris-Pincus explains that "NAD+ levels decline with age, and this decline has been linked to a number of age-related diseases. For example, healthy mitochondrial function (and proper brain function) is directly connected to the coenzyme NAD+." She adds that, without sufficient NAD+ levels, "our mitochondria are not able to produce the energy required by brain cells to survive and carry out their required functions."
NAD+ declines at the rate of 50% during adult aging. This may lead to less cellular energy, which can negatively affect cognitive function, and potentially lead to further brain health problems over time, Harris-Pincus shares. "More research is needed to determine the long-term effects of NR supplementation on human health and longevity. However, the available evidence suggests that NR may be a promising new compound for the prevention and treatment of age-related diseases."
Eat This! Top Pick: Harris-Pincus says that "over 75% of registered ongoing or completed nicotinamide riboside trials use the patented Niagen® form that can be found in TruNiagen supplements.
Collagen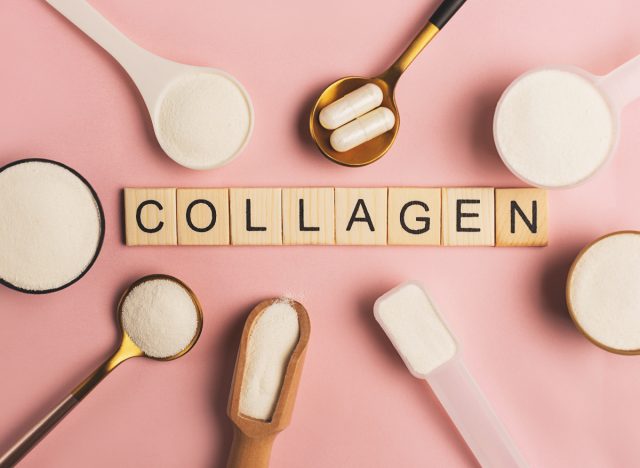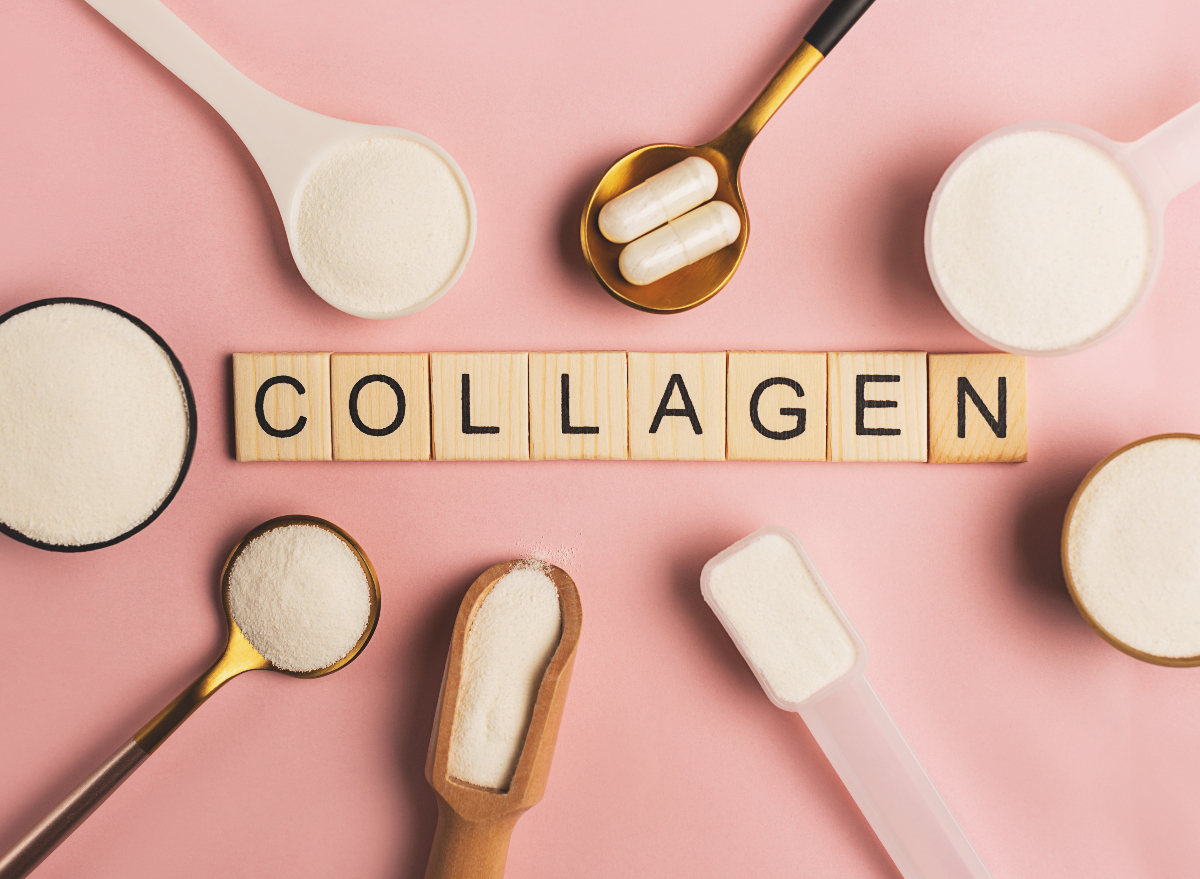 Collagen supplements have become popularized as a solution to reduce the formation of wrinkles and other signs of aging. But this must-have supplement may also impact joint and mobility health. And as Kathy Piper, RDN, LD, a registered dietitian tells us, "Keeping our joints healthy reduces the risk of falls, the leading cause of injury-related death among adults aged 65 years and older".
Collagen supplementation may be effective in reducing joint pain and stiffness, as well as improving motility. Collagen production decreases as you age, so supplementation may offer some benefits.
Eat This! Top Pick: Life Extension Collagen Peptides for Skin & Joints is an easily mixable, easily digestible collagen supplement that provides three different types of collagen.
Vitamin D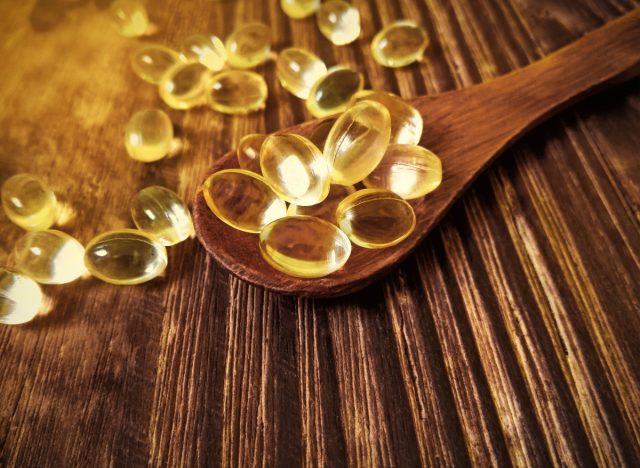 Known as the sunshine vitamin, vitamin D is a key nutrient that people who want to live a long life should have on their radar. "Vitamin D deficiency is linked to age-related diseases, like cardiovascular disease, cancer, and neurodegeneration," Maya Ibaa Oueichek, MBA, RDN, registered dietitian, tells Eat This, Not That!.
According to data published in the National Institute of Health database, vitamin D deficiency affects approximately 42% of the U.S. population. According to Oueichek, by addressing a deficiency, individuals may "reduce disease risk and potentially live longer."
Eat This! Top Pick: Thorne Vitamin D is a convenient option to help support healthy vitamin D.
L-Ergothioneine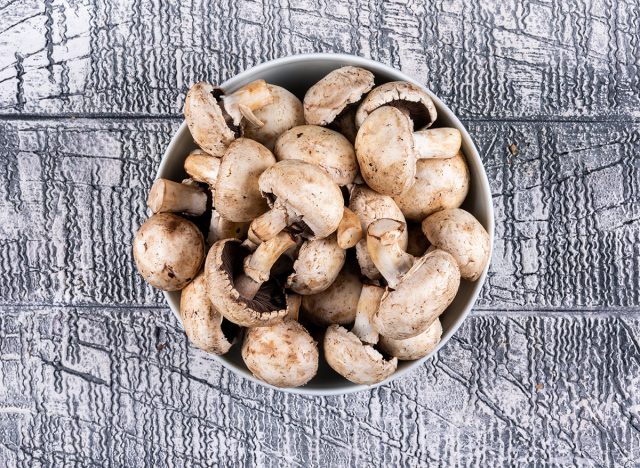 Ergothioneine is a dietary antioxidant amino acid found in many mushrooms. Evidence suggests this compound may prevent or mitigate chronic diseases of aging. And some experts have gone as far as dubbing this compound a "longevity vitamin," thanks to all of the potential benefits it is associated with, so it's no wonder we've included it on our list of the best supplements for a longer life.
Some evidence goes as far as suggesting that ergothioneine consumption may be linked to greater longevity, a decreased risk of cardiovascular disease, and a reduced risk of early death.
Eat This! Top Pick: Life Extension Essential Youth L-Ergoteioneine contains 5 milligrams of ergothioneine in a convenient non-GMO vegetarian capsule.
Lauren Manaker MS, RDN, LD, CLEC
Lauren Manaker is an award-winning registered dietitian, book author, and recipe developer who has been in practice for almost 20 years.
Read more about Lauren
Sources referenced in this article