Top 10 Trending Recipe Searches on Google in 2021
TikTok took over the kitchen this year and more viral searches!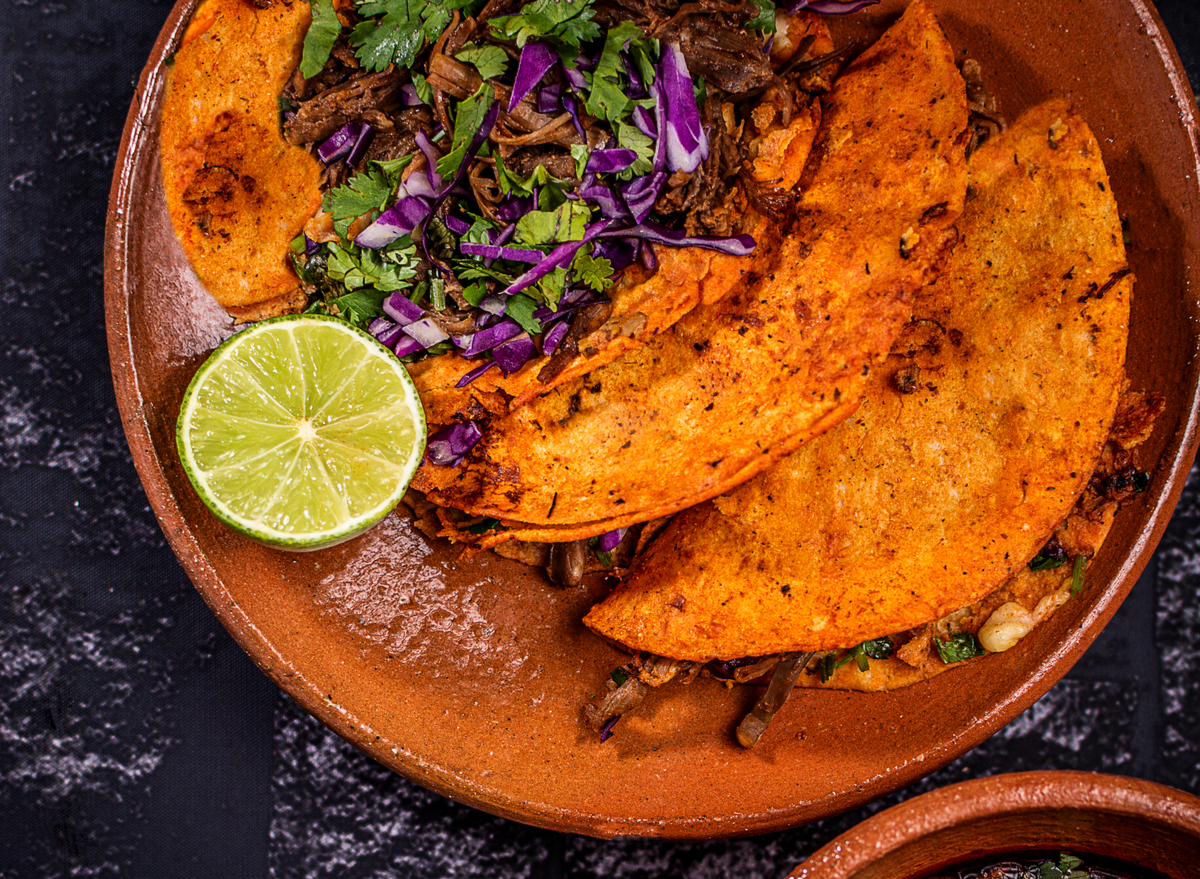 On Dec. 8, Google released its annual Year in Search for 2021, which revealed the top trending U.S. search terms for the entire year. Although these terms aren't the most-searched-for on Google, they did have the highest spike in traffic in 2021 as compared to 2020. The data covers an array of categories, ranging from news stories and celebrities to movies, memes, and of course recipes.
When it comes to this year's highest-trending dishes, it's evident that social media paved the way. From viral TikTok trends to reinvented classics, here are the top 10 recipe searches of 2021, according to Google.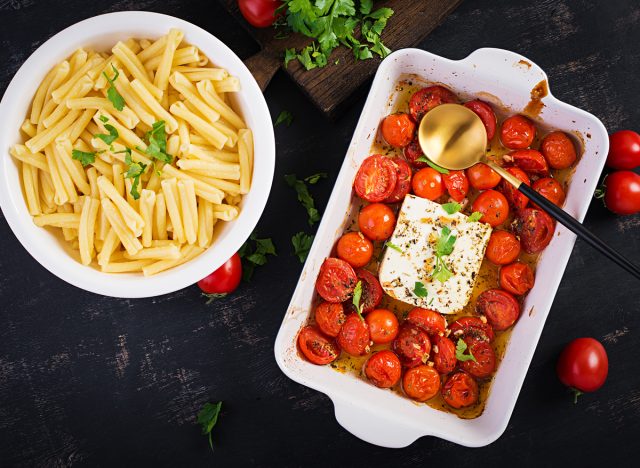 It's no surprise that the dish that caused a national feta cheese shortage in Finland completely took over the search engine. Solely calling for cherry tomatoes, a block of feta, olive oil, garlic, herbs, and pasta, this TikTok dish drew people in with its simplicity and kept them coming back with its deliciousness.
Looking to put a healthier, low-carb spin on the viral trend? We've got you covered with this baked cherry tomato and feta dip recipe.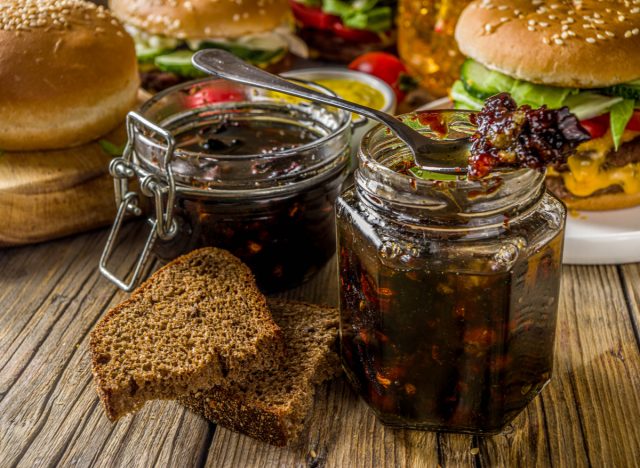 Made with slow-cooked bacon, brown sugar, onions, and spices, this sweet, salty, and smoky relish exploded in popularity after Gordon Ramsay posted a TikTok of his bacon jam-topped toast with soft scrambled eggs.
In addition to being a breakfast spread, bacon jam can be used to elevate burgers, sandwiches, baked potatoes, and charcuterie boards.
This Mexican dish has been sweeping the nation over the past few years—especially thanks to the food truck scene—and lots of people wanted to make it this year.
Tracing its origins back to Jalisco, Mexico, birria is a sweet, sour, and savory slow-cooked Mexican stew known for its tenderness. The meat, which is usually beef, lamb, or traditionally goat, is placed in a tortilla that's dipped in a thin layer of fat from the stew. It's then tossed onto the griddle for added crispiness.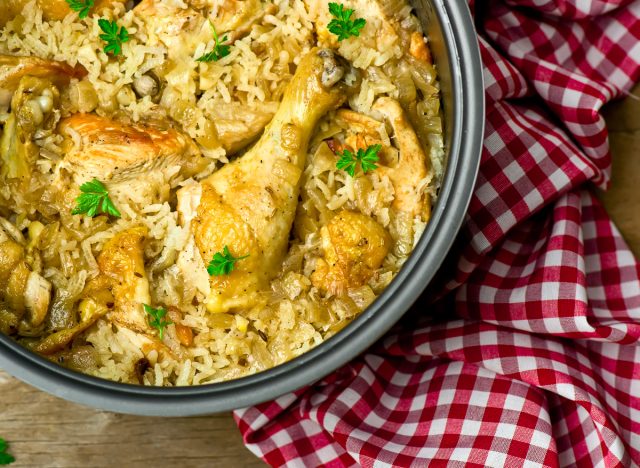 When you're pressed for time, crockpots can be a lifesaver in the kitchen. And this year, an easy and hands-off, slow-cooked chicken recipe was top of mind for countless people, Google says. Simply toss in your chicken and other desired ingredients, step away for a few hours, and let the magic happen.6254a4d1642c605c54bf1cab17d50f1e
If you're looking for a simple meal that can also help you in your weight loss journey, check out the 9 Best Healthy Crock-Pot Chicken Recipes for Weight Loss.
These triangle-shaped treats made during the Jewish holiday of Purim garnered quite a bit of attention this year. Hamantaschen (pronounced "hah-min-tah-shin") are shortbread-like cookies typically folded over a sweet filling, such as jam, chocolate, or "mohn" (poppy seed paste). But since Purim is a celebratory holiday that calls for fun and creativity, the filling options can truly be endless.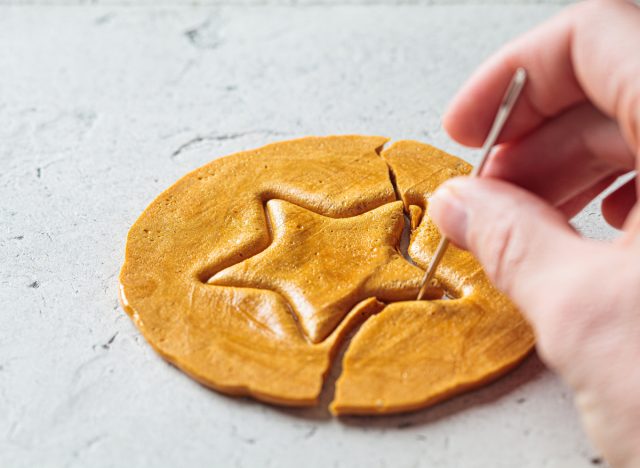 If you've seen episode 3 of Netflix's hit survival drama Squid Game, then you're familiar with the challenge where contestants must carve shapes into a piece of dalgona (honeycomb toffee) without letting it break.
Made with just sugar and baking soda, the traditional South Korean street food also known as "ppopgi" has sparked immense interest, with people taking to TikTok to share how to create the treat—and survive the challenge.
RELATED: Walmart Worker's Emotional Rant on Loudspeaker Goes Viral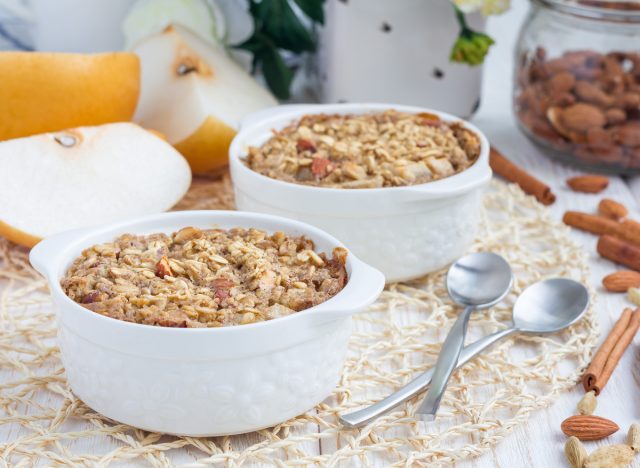 Oatmeal may be tried and true, but TikTok took it up a notch, with many even comparing this oat-based breakfast to cake. Simple, sweet, and satisfying, baked oats will not only keep you full with their high source of fiber, but the carbohydrates will also give you a boost of energy for the day.
For some healthy, protein-packed breakfast inspiration, check out our peanut butter and banana baked oats recipe.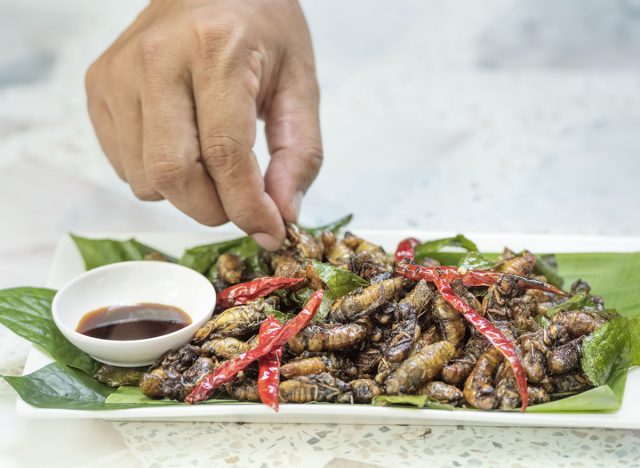 Yes, you read that correctly. After 17 years, the Brood X cicadas emerged in the eastern U.S., and as per usual, they were making a lot of noise—even in the food scene.
While they may not sound appetizing to many, cicadas are a low-fat, high-protein, gluten-free delicacy. And are they appealing to the palate? According to Bon Appetít, they have the "taste and texture of soft-shell crab, but with subtle overtones of boiled peanuts, the kind only a backroads gas station can really do right." Whether they're fried, grilled, or covered in chocolate, one thing is for sure: these bugs will always make a statement.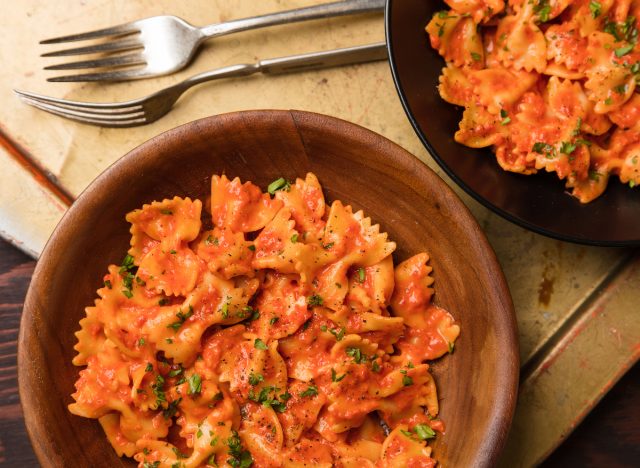 Back in May, model Gigi Hadid posted a tutorial for her spicy vodka pasta sauce on her Instagram story—and it went absolutely viral on TikTok.
Like your standard vodka sauce, this creamy dish calls for sautéed garlic and onions, tomato paste, heavy cream, vodka, and butter—with the addition of red pepper flakes for a spicy kick.
To bring things up a level, make sure you add in some of your pasta water to thicken the sauce, sprinkle with parmesan, and top with freshly chopped basil.
Whether mashed, roasted, baked, or fried, potatoes never fail to please the masses—and smashed potatoes were a favorite this year, too. Unlike mashed potatoes, the flattened version starts off by simmering in boiling water with their skin still on. Once tender, they are smashed, seasoned, and baked until crispy.
If you're craving a potato side dish that isn't chock-full of calories, check out these healthy vegan smashed potatoes.
For more info about what's happening right now in the food world, read these next:
Popeyes Is Getting Rid Of This Restaurant Feature For Good
Brianna Ruback
Brianna is a staff writer at Eat This, Not That! She attended Ithaca College, where she graduated with a degree in Journalism and a minor in Communication Studies.
Read more about Brianna