The Best Trader Joe's Foods of 2021
According to lovers of the cult favorite grocery chain.
Trader Joe's is known for providing shoppers with everything they need, along with everything they never knew they wanted. It's the frontline for finding new seasonal specialties and dependable staples that make the grocery list week after week.
Fans have raved about these grocery items all year long. Some products being gushed over are new to the shelves, while others are long-standing or rediscovered favorites. In case you're looking for ways to shake things up in the kitchen or to simply reminisce on 2021, here are the top 10 Trader Joe's items of the past year.
Related: I Tasted 8 Trader Joe's Frozen Desserts & This Is the Best
Trader Joe's is a creative powerhouse, cranking out fun new ways to flavor your food year after year. This time around, they released some new spice blends: Cuban Style Citrusy Garlic, Za'atar, and a Cheesy Seasoning Blend.
The jar always comes with a few recommendations for making your dishes pop with these flavorings. Use the Cuban Style Citrusy Garlic on your Spanish-inspired dishes, Za'atar on your creamy bases like hummus, or even a bagel with cream cheese and Cheesy Seasoning Blend on anything that needs a little cheddar sprinkled on top.
Steamed Chicken Soup Dumplings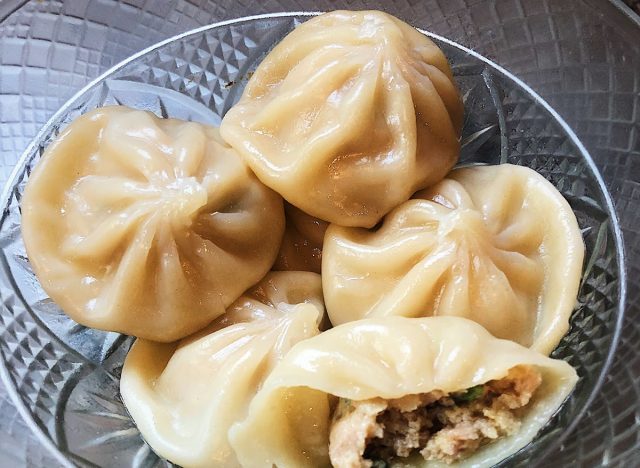 Trader Joe's has a formidable selection of frozen premade Asian dishes, which is convenient when you don't have the time to wrap a whole bunch of dumplings by hand. The Steamed Chicken Soup Dumplings went viral on TikTok at the end of summer, @traderjoesfoodsreviews on Instagram notes. They're fun to eat (bite a small hole in the dumpling, slurp out the soup, and pop the rest in your mouth!) and one of the best-tasting frozen options that TJ's offers.
Commenters recommend steaming these for the best results, but microwaving is also an option. @traderjoesfoodsreviews warns that the 6 dumpling package is "more of a snack than a meal," so you may want to pick up a few boxes if you're planning on sharing.
Related: To get all the latest Trader Joe's news delivered right to your email inbox every day, sign up for our newsletter!
Taiwanese Green Onion Pancakes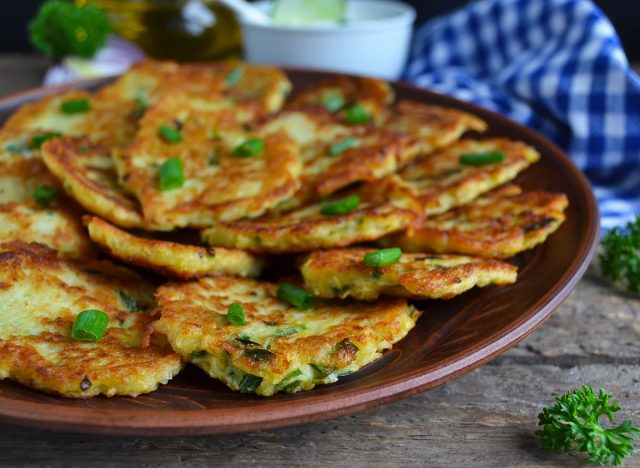 Another Asian-cuisine hit this summer was the new Taiwanese Green Onion Pancakes. Flaky and crisp, the doughy rounds were designed to be pan-cooked from frozen in a few minutes, and they do not disappoint.
There was lots of excitement for these savory pancakes in the comments of Instagram reviewer @traderjoesobsessed's post. They recommend a recipe for a homemade dipping sauce: rice vinegar, soy sauce, sugar, sesame oil, chili onion crunch sauce, and fresh chopped green onions. Others on Reddit shared more tips, such as serving it alongside eggs and gojuchang (Korean red chili paste).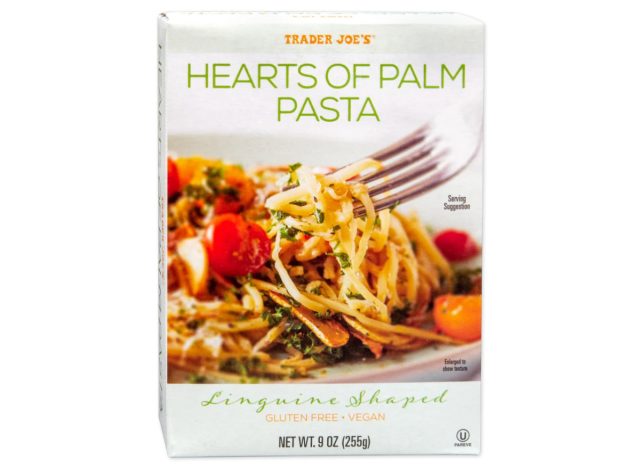 Delicious, sustainably produced, and nutritious—what could be a better foundation for a gluten-free meal than the Hearts of Palm Pasta? Named the #1 seller in October, the vegetable-based linguine stand-in suits anyone following a low-carb, vegetarian, or vegan diet.
For the best way to prepare it, @traderjoeslist on Instagram recommends rinsing the pasta in cold water, then sauteing it with oil and garlic to cook off excess moisture and add in some flavor.
Peppercorn-Garlic Boneless Pork Tenderloin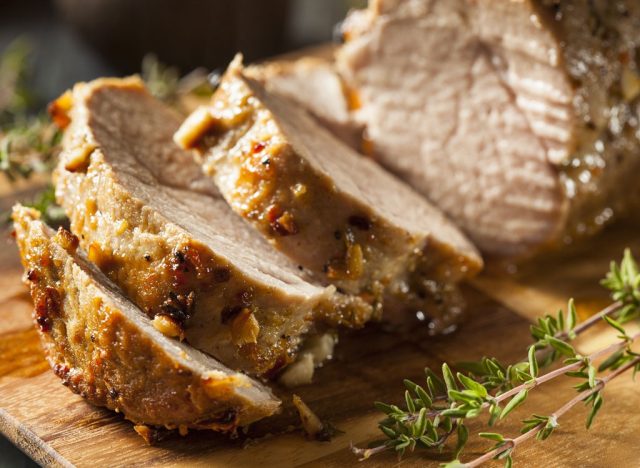 No need to make your own marinade for this flavorful cut of meat. The Peppercorn-Garlic Boneless Pork Tenderloin can be found already steeped in a blend of spices for easy and versatile dinners.
In October, Reddit users raved about this lesser-known gem and listed their recipe ideas, such as serving the sliced tenderloin alongside green beans and roasted potatoes or piling it onto a sandwich. One writer on the fan blog traderjoesrants.com cuts it into strips to add to an Asian stir-fry or tacos. However you choose to dish it, this juicy, tender pork will leave you (and your guests) impressed by your culinary prowess.
Almond Butter Filled Pretzel Nuggets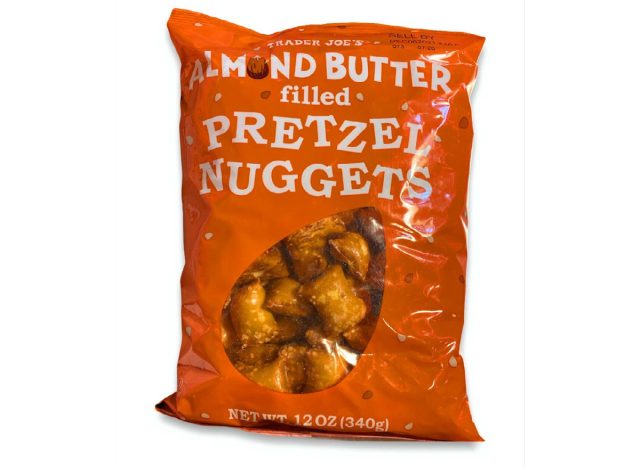 For those who can't partake in the peanut-butter version of America's favorite snack from Trader Joe's or just have a hankering for something different, the brand-new Almond Butter Filled Pretzel Nuggets hit shelves in April to a warm reception.
Even if you usually prefer peanut butter over other nut butters, you might pick this one over the original, according to a review by whatsgoodattraderjoes.com. "The almond butter…is softer and creamier than most…[peanut butter] scrapings. It's just better, with a milder flavor, that accentuates the toasty crispiness of the pretzel shell just differently, with perhaps a lighter touch," the blog said.
The options are endless for this addictive snack. A few ideas from grocery blog twocousinshaulitall.com are crumbling the savory nuggets over ice cream, dipping them in melted chocolate, adding them to a trail mix, or turning them into Puppy Chow.
Whether on their own or as a component for dessert, shoppers and reviewers alike give this one a resounding yes.
Coffee Bean Mini Hold The Cone Ice Cream Cones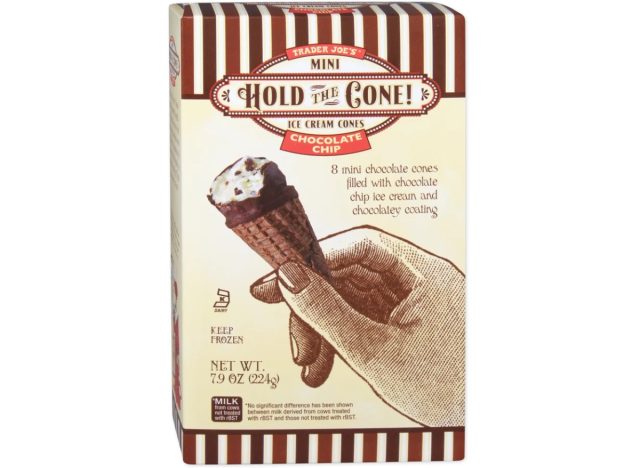 For a tasty twist on one of Trader Joe's top desserts with built-in moderation, look no further than the Coffee Bean Mini Hold The Cone Ice Cream Cones. Customers loved the treat when it was introduced last March, and it's easy to see why. The tiny wafer cone is filled with coffee-flavored ice cream and then smothered with chocolate.6254a4d1642c605c54bf1cab17d50f1e
The best part? These adorable little ice cream cones are a relatively healthy dessert option, especially considering that one serving size is three cones.
Organic Banana Fruit Spread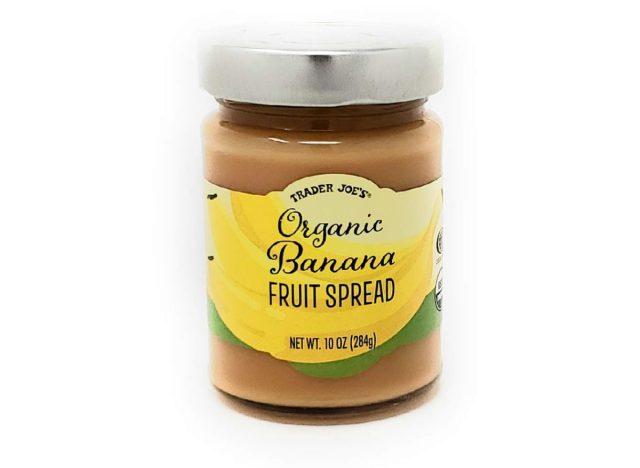 The Organic Banana Fruit Spread stirred up some controversy upon its February release. Despite many speculating that the banana-flavored jam was too similar to baby food, @traderjoesobsessed highlighted the product for its smooth texture and mild flavor as a topping for toasted brioche. Other commenters said that it worked well on a peanut butter sandwich or inside a baked popover.
Shoppers went wild over the Brazil Nut Body Butter last summer, a limited-time addition to the grocer's beauty section. The luxurious pistachio and salted caramel scented body cream contains acai and guarana. Commenters on Reddit compared it to the similar but higher-priced  Sol de Janeiro Brazilian Bum Bum Cream.
It even made a back-by-popular-demand reappearance in September. According to @traderjoeslist, the store allowed each customer only two to keep up with demand.
Though it's not currently available, it seems Trader Joe's is releasing new scents with the changing seasons. In the fall, they came out with a Pumpkin version. The original Coconut also seems to be sticking around in most stores, so you can still try out a variation of the impressive moisturizing cream if you keep your eyes peeled.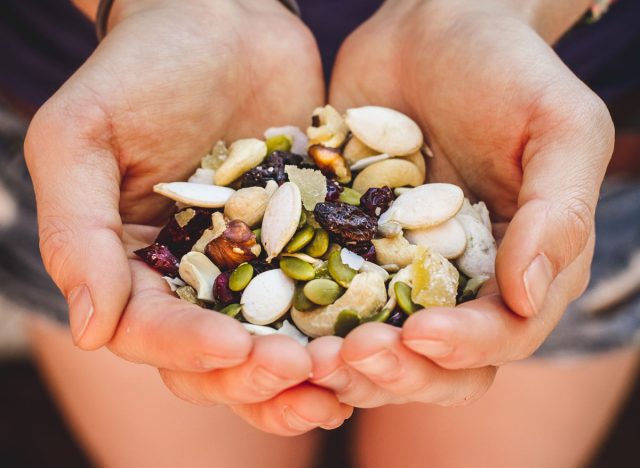 Filled with an assortment of peanut butter pretzel nuggets, potato chips, Virginia peanuts, and caramel popcorn, the Sweet & Salty Snack Mix was hot off the press in the winter of 2020, according to @traderjoeslist. Shoppers fell head over heels for it, so when Trader Joe's brought back the savory and chocolatey seasonal treat this November, commenters clamored to buy it while they still could. Perfect for holiday munching into the new year.
For more info about what's happening at the Trader Joe's near you, check out:
This Town Desperately Wants a Trader Joe's, But It's Not Happening

At Least 21 People Are Sick After Eating This Trader Joe's Item, CDC Says
Sarah Wong
Sarah studied at Northwestern University, where she received a bachelor's degree in computer science and experimented with mixing tech and journalism.
Read more about Sarah