10 Best Foods to Buy at Walmart for Weight Loss
Attention, Walmart shoppers: Here's what to buy for weight loss.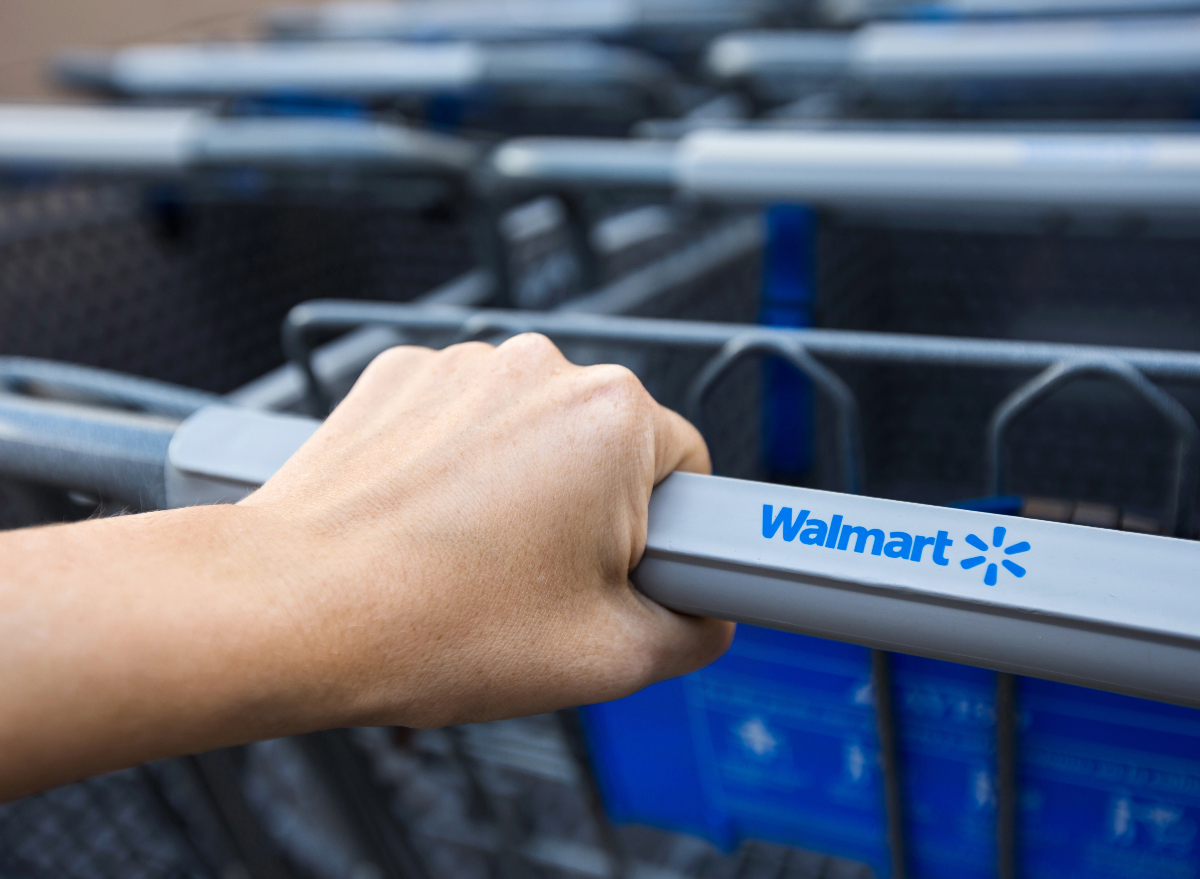 The next time you head to Walmart for groceries, know you'll find plenty of tasty options to support your weight loss goals. With many brands you'll recognize, and others that may be new to you, there are numerous items you should add to your shopping cart. We compiled 10 of the best Walmart foods for weight loss you should check out ASAP.
While there's not just one single way to approach weight loss, there are certain characteristics to look for in your food choices that could help your progress. Swaps for traditional items are a good place to start. You'll see a few foods on this list that can take the place of less nutritious alternatives and may boost your weight loss efforts. In addition, a low sugar content and a reasonable calorie count are beneficial for weight loss. All foods can be enjoyed, even while working toward weight loss, but the majority of your food choices should be chosen with wellness in mind. This means selecting carb-based foods that contain fiber, incorporating protein into each meal, and loading up on nutrient-packed fruits and veggies.
To simplify your next shopping trip, here are the 10 best Walmart foods for weight loss. Once you fill your cart with these items, use the tips listed to navigate your way through the rest of the store. Read on to learn more, and when you're finished, get inspired by the 10 Best Costco Frozen Foods for Weight Loss.
Zoup! Chicken and Riced Cauliflower Soup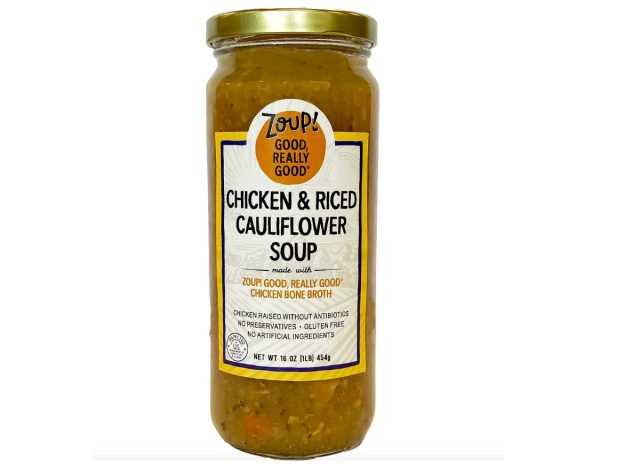 Canned and jarred soups make for an easy meal, requiring that you only heat before enjoying. Not all soups are created equally, but this Chicken and Riced Cauliflower Soup is a great selection. This soup may only contain 150 calories per jar, but it still provides 4 grams of fiber and 13 grams of protein. A cup of this tasty soup can make for a great snack on its own, or serve it alongside a salad for a well-balanced meal.
Skinny Dipped Dark Chocolate Cocoa Almonds
Almonds make for a great snack because of their healthy fats, fiber, and protein content. If you have a craving for something sweet, Skinny Dipped Dark Chocolate Cocoa Almonds are a great choice. Compared to other chocolate almonds, they contain a mere 3 grams of added sugar per serving. While other sweet treats can pack a high calorie count and excessive added sugar, these will satisfy your sweet tooth while providing valuable nutrients and limiting empty calories. They have several flavors and nut varieties to choose from, all of which provide less sugar than traditional flavored nuts.
NUT-rition Wholesome Nut Mix with Cashews, Almonds, Macadamias & Sea Salt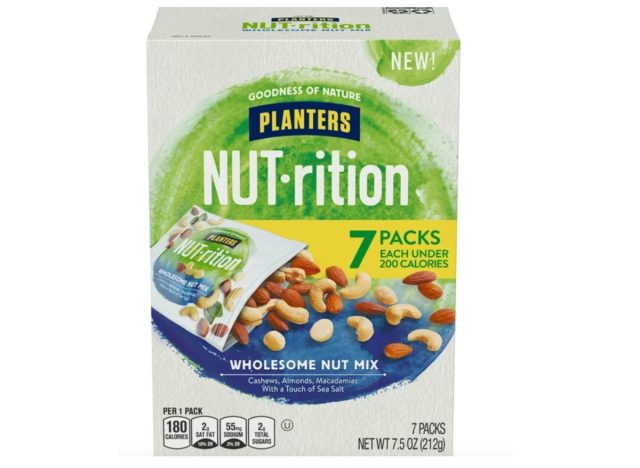 Nuts provide plant-based protein and are a convenient snack that requires no prep. Enjoy them on their own, or pair them with fruit for a sweet and salty snack option. This NUT-rition Wholesome Nut Mix is individually portioned, making it easier for you to manage your portions. Additionally, this snack provides less sodium than many other salted nuts, making it an all-around healthier choice. Incorporate these nuts into your weight loss diet as a hearty snack or meal addition that provides filling fiber and protein, and contains no added sugar.
RXBAR Minis Variety Pack Chewy Protein Bar
It can be hard to find a protein bar that contains zero grams of added sugar, but RXBAR is a tasty solution. With a wide range of flavors available, this protein bar option is known for its simple ingredients like egg whites, nuts, and dates. Their tagline is "no B.S." and this holds true for these bars made with 100% "real food ingredients." These mini bars provide 6 grams of protein and 2 grams of fiber packed into only 100 calories. This is a great snack, and the full-size bars make a hearty base for a quick meal.
The Only Bean Crunchy Roasted Edamame Beans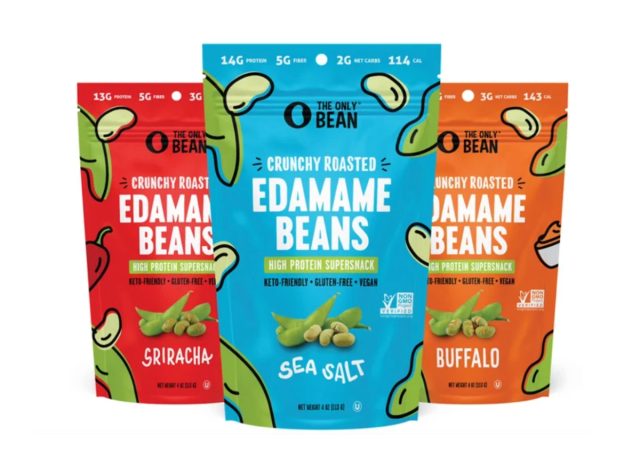 Edamame is another source of plant-based protein, and it can be eaten in many ways. While you may be familiar with the steamed pods offered at your favorite sushi restaurant, The Only Bean Crunchy Roasted Edamame Beans are the perfect crunchy snack. With a few flavor options, each variety contains at least 13 grams of protein and 5 grams of fiber per serving. This makes them a more filling alternative to other crunchy snack options, like traditional chips and crackers. Consider topping your salad with roasted edamame as a protein source, or combining your edamame with dried fruit for a take on trail mix.
RELATED: How To Lose One Pound—Adding Up to Gradual Weight Loss That Lasts6254a4d1642c605c54bf1cab17d50f1e
Magic Spoon Cocoa Grain-Free Breakfast Cereal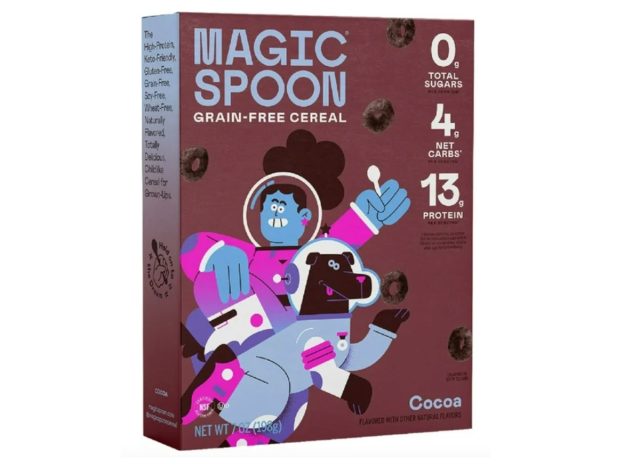 Cereal is a go-to breakfast for many, but unfortunately, most varieties don't make for a balanced breakfast. Not only are many options low in fiber and protein, but they can pack more than 10 grams of sugar per serving. This can make weight loss more challenging. Magic Spoon cereals are high in protein and contain 0 grams of added sugar while providing the familiar fruity and cocoa flavors of nostalgic cereals. Pair this cereal with your milk of choice for a more balanced, filling breakfast option that still won't take much time to prepare.
Banza Four Cheese Pizza
Frozen pizza is not usually synonymous with weight loss, and that's because of the high calorie count, low fiber content, and high grams of fat. Although this Banza Four Cheese Pizza does provide 17 grams of fat per serving (which is half of a pizza!), it comes with 6 grams of fiber and 17 grams of protein. This impressive fiber and protein content is thanks to chickpeas being the main ingredient in the crust. Even better, the 400 calories you'll get from a serving can fit into a wide range of calorie budgets. Top your pizza with sliced tomatoes and arugula to boost nutrients and add produce to this meal.
Chomps Grass-Fed Sea Salt Beef Jerky Snack Sticks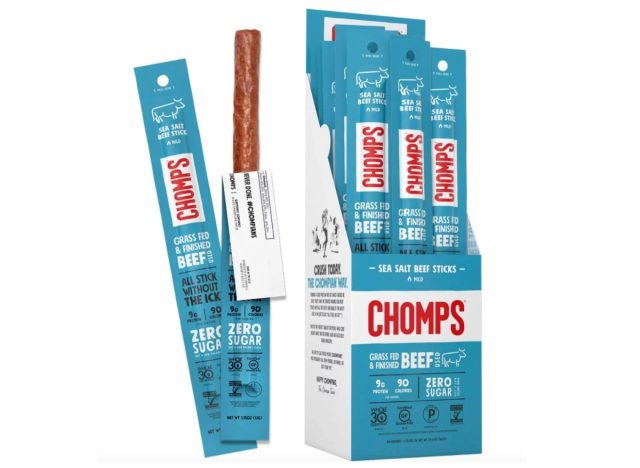 Protein is an important nutrient for many reasons, and it can be beneficial for weight loss. All of your meals should include protein, and adding protein to your snacks can make them more filling. Chomps Grass-Fed Sea Salt Beef Jerky Snack Sticks may be one of the easiest ways to incorporate protein into a snack. Each serving packs 9 grams of protein and is only 90 calories. Pair these snack sticks with a serving of fruit for a balanced snack that provides both protein and fiber for fewer than 200 calories.
Veggies Made Great Spinach Egg White Frittata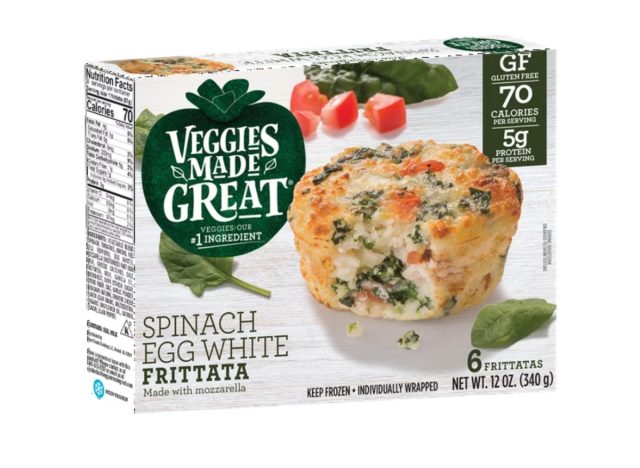 If you're looking for a protein-packed snack or an easy way to incorporate protein into your breakfast, Veggies Made Great Spinach Egg White Frittata is a great selection. Egg whites are loaded with protein and provide very little fat, making them lower in calories than traditional eggs. One frittata is just 70 calories, yet includes 5 grams of satiating protein. Heat up a couple for a snack, or pair them with fruit and toast for a nutritious breakfast.
Strong Roots Cauliflower Hash Browns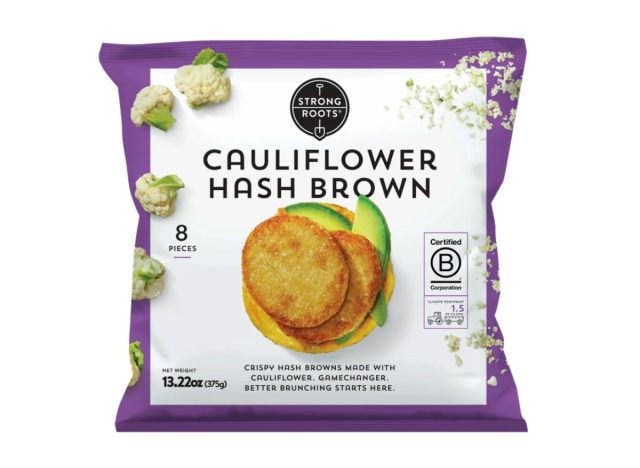 Cauliflower has been used to create lower-calorie alternatives to many of your favorite items. Strong Roots Cauliflower Hash Browns are no exception with cauliflower as the first ingredient. While there is potato in these breakfast favorites, they provide just 15 grams of carbs per serving and an impressive 6 grams of fiber. They are also lower in fat than traditional hash browns, allowing them to be lower in calories than the hash browns you may be used to. Pop a serving into the air fryer to crisp them up, and serve them alongside protein and fruit for a full breakfast. Alternatively, use them as a carb and veggie source paired with your favorite protein for dinner.
Melissa Rifkin, MS, RDN, CDN
Melissa is a Connecticut-based registered dietitian with over 15 years of experience, including clinical and outpatient settings, and runs the popular nutrition education Instagram account, Confessionofadietitian.
Read more about Melissa