20 Shocking Foods With More Calories and Fat Than a Big Mac
It may weigh a half-pound and pack a staggering 28 grams of fat, but believe it or not, McDonald's iconic double-decker burger isn't the restaurant realm's most fattening dish...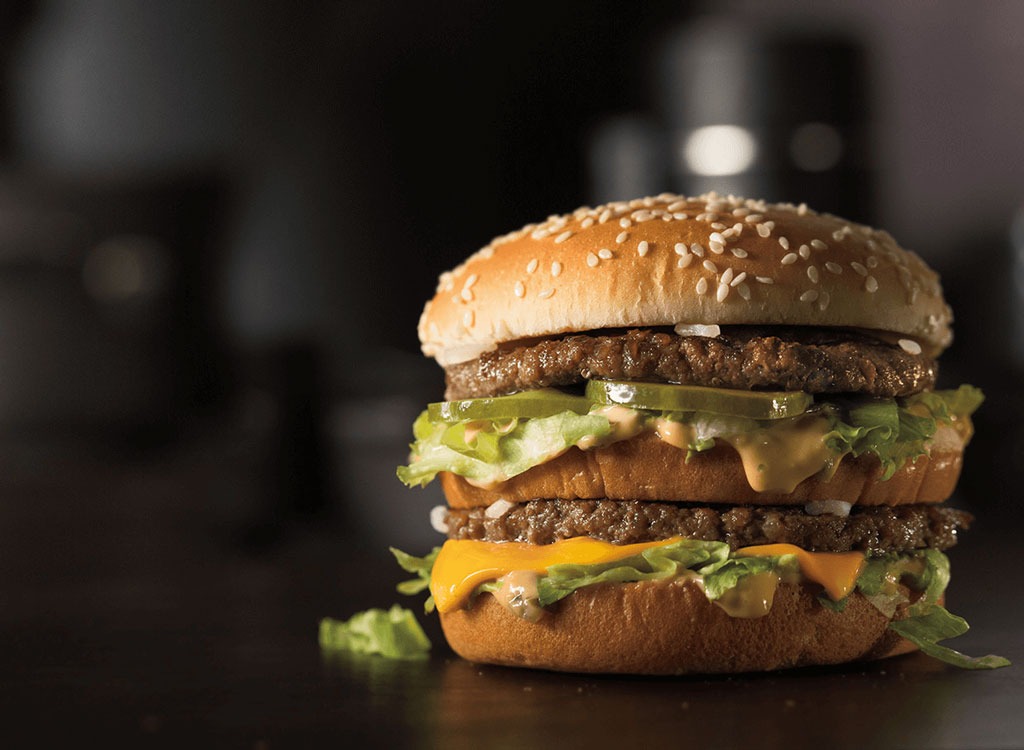 Despite all the negative press surrounding the Big Mac over the years, it's probably worth revisiting just how bad the burger is, nutritionally speaking.
Despite the fact that the McDonald's Big Mac contains 540 calories, 28 grams of fat, and 10 grams of saturated fat (which accounts for 44 percent and 50 percent of the day's recommended intake, respectively) there are actually far worse things you could gobble down at a restaurant.
The scariest part: Many of the most heart-harming dishes are seeming healthy choices, like salads and lettuce wraps. Since these diet bombs can be tough to spot, we've rounded up 20 examples of restaurant dishes that have more calories and grams of fat than a Big Mac. Stay away from the villainous dishes below (as well as these #1 worst order from every popular restaurant) to stay on track toward the weight loss winner's podium.
The Competition: McDonald's Big Mac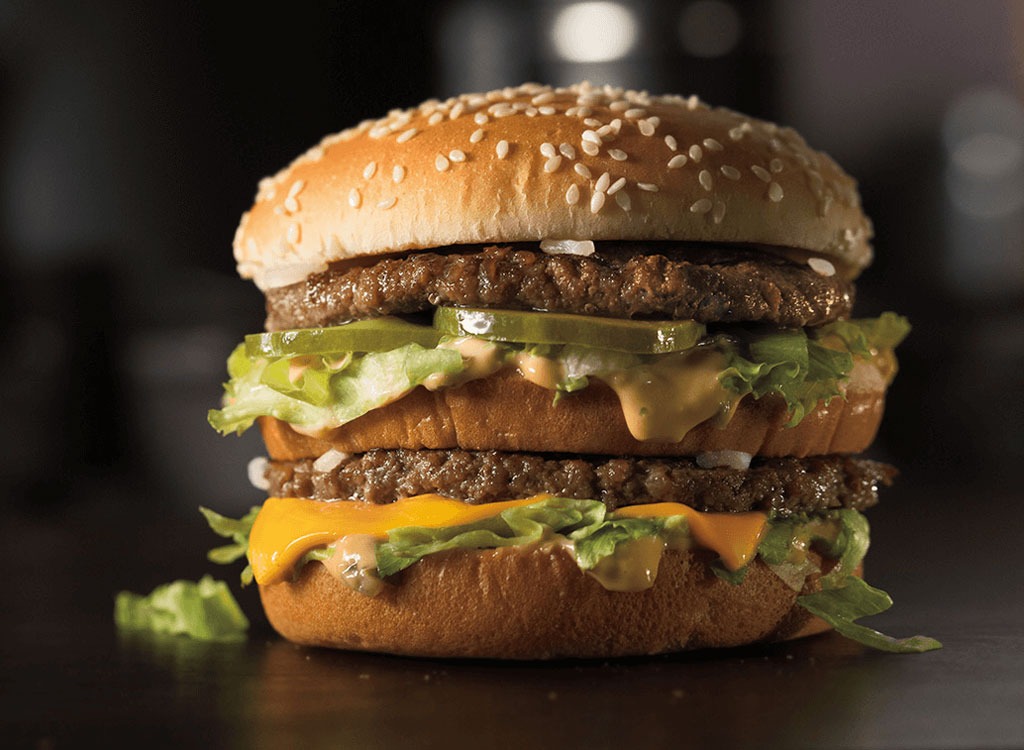 540 calories, 28 g fat, 10 g sat fat, 940 mg sodium, 46 g carbs, 3 g fiber, 9 g sugar, 25 g protein
Chick-Fil-A Cobb Salad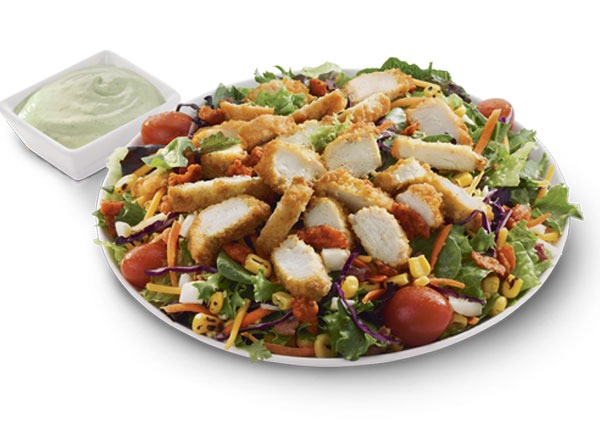 810 calories, 59 g fat, 12 g saturated fat, 1,880 mg sodium, 30 g carbs, 6 g fiber, 7 g sugar, 41 g protein
After you slather this salad with its avocado lime ranch dressing, you'll be sitting down to a lunch with more than twice the amount of fat that's lurking in a Big Mac. Its salt content is also straight up shameful. Thanks to the Chick-fil-A nuggets cut up and tossed over it, this salad has nearly an entire day's worth of sodium. To find out how all of your favorite Chick-Fil-A items stack up, check out our special report, Every Item at Chick-Fil-A—Ranked.
Applebee's Kid's Cheesy Bread Pizza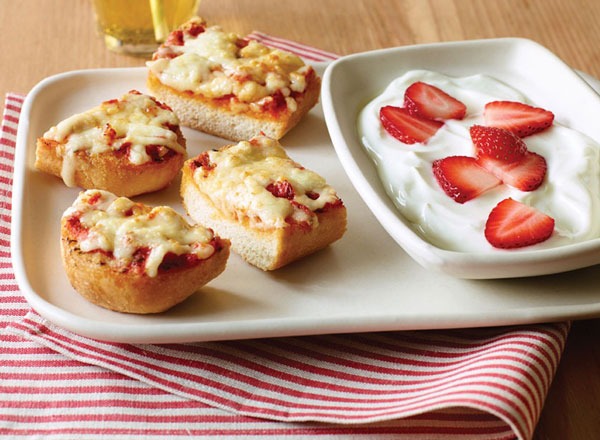 610 calories, 31 g fat, 17 g saturated fat, 1 g trans fat, 1,610 mg sodium, 61 g carbs, 4 g fiber, 9 g sugar, 24 g protein6254a4d1642c605c54bf1cab17d50f1e
If you're reading this while standing up, I suggest you find a seat, because the fat content of this kid's menu dish would make any parent woozy. Not only does this cheesy bread dinner contain more fat and saturated fat than a Big Mac, it contains more calories, too. Though a growing child needs fat in his or her diet to absorb certain nutrients and help sustain their hormones, a kid that's 2 to 3 years-old should only be consuming 350 calories from fat a day. That breaks down to about 39 grams of fat—or just 8 grams short of what's in this meal. Shame on you, Applebee's.
Starbucks Old-Fashioned Grilled Cheese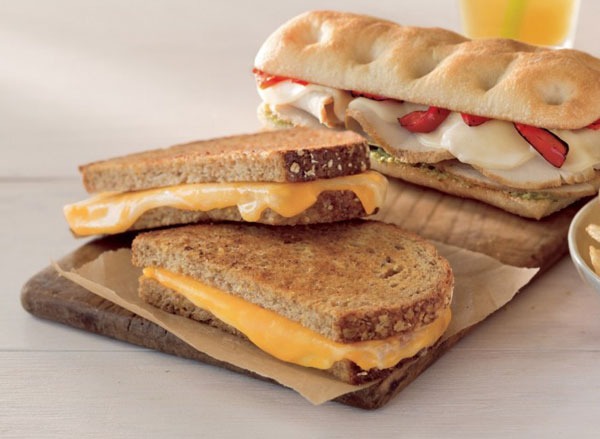 580 calories, 29 g fat, 13 g saturated fat, 0.5 g trans fat, 1,110 mg sodium, 57 g carbs, 5 g fiber, 7 g sugar, 23 g protein
It's super easy to whip up this classic, cheesy sandwich at home, so we're not quite sure why anyone would think to buy it from a coffee shop—especially one as fatty at Starbuck's. Made with a blend of aged white cheddar, yellow cheddar, and mozzarella cheese, this sammy has more fat, saturated fat and trans fat than a Big Mac. In terms of lunch options, there are far better ones at the coffee shop chain. We like their reduced-fat turkey bacon breakfast sandwich (230 calories, 6 g fat, 2.5 g saturated fat) and their Zesty Chicken & Black Bean Salad Bowl (360 calories, 15 g fat, 2.5 g saturated fat). For even more of our favorite coffee shop picks, check out our report, Starbucks breakfast menu—ranked.
P.F Chang's Chang's Chicken Lettuce Wraps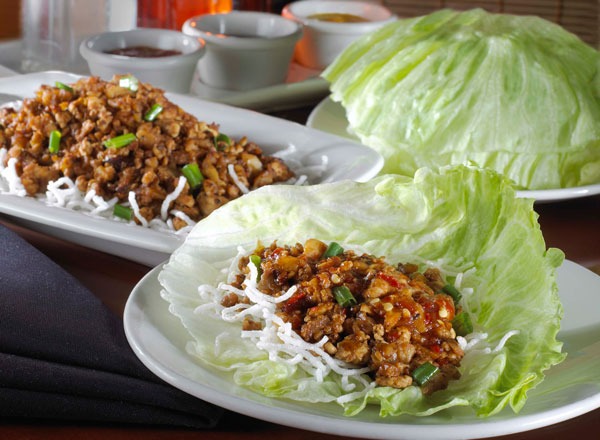 580 calories, 29 g fat, 6 g saturated fat, 2,590 mg sodium, 48 g carbs, 6 g fiber, 22 g sugar, 34 g protein
When you're on a diet, ordering a lean appetizer and a side salad in lieu of an entree is typically a smart move—but not at P.F. Chang's. While the calorie count is totally reasonable for a meal, the sodium and fat contents are a bit out of control, especially for something with such a healthy sounding name. Just say no to this belly-bloating dish.
McDonald's Bacon Ranch Salad & Buttermilk Crispy Chicken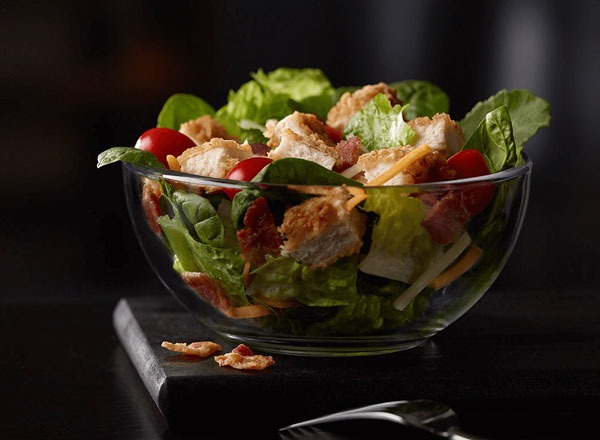 490 calories, 28 g fat, 8 g saturated fat, 1,120 mg sodium, 28 g carbs, 4 g fiber, 4 g sugar, 33 g protein (does not include dressing)
If you were to ask anyone on the street which order was the healthier pick, the Big Mac or this salad, I bet nine out of 10 people would say the salad—and they'd be wrong. Sure, it may seem like the fat content is equal to that of a Big Mac, but that's without the dressing. Once you squeeze a packet of ranch atop that bed of greens, any redeeming health qualities it carries are bound to be negated.
Baskin Robbins Brownie Sundae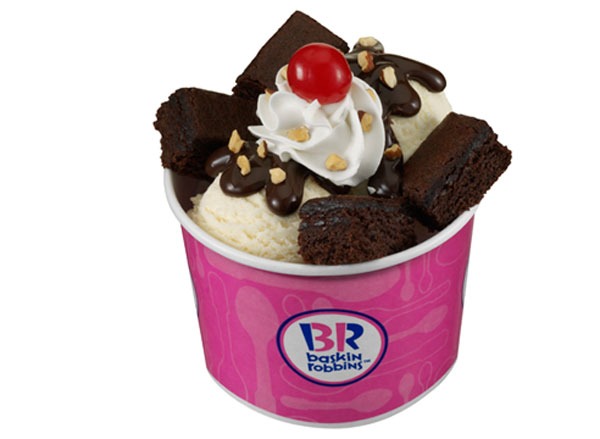 800 calories, 43 g fat, 22 g saturated fat, 340 mg sodium, 95 g carbs, 2 g fiber, 72 g sugar, 11 g protein
While it's not exactly a secret that ice cream is indulgent, it's the sugar content of the frozen treat that typically sends people abuzz—not the fat content. But since it's made with milk and cream, two dairy products that pack a substantial fatty punch, it's a dessert that's bound to be high in fat. But really, more than a Big Mac?! Even that surprised us!
Olive Garden Grilled Chicken Flatbread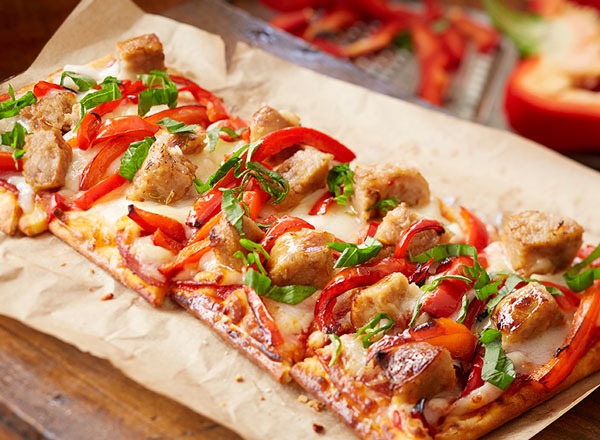 760 calories, 51 g fat, 19 g saturated fat, 0.5 g trans fat, 2,110 mg sodium, 42 g carbs, 2 g fiber, 4 g sugar, 34 g protein
Many people assume flatbread is better than pizza, and even more people think that pretty much anything and everything topped with grilled chicken is a low-fat, healthy choice. But none of these assumptions could be further from the truth, especially in the case of this greasy, sodium-packed disaster from Olive Garden. If you're going to dig it, split it with a friend to keep the fat content at a slightly more reasonable amount. Oh, and pair your slices with a giant glass of H20 because that salt content is no joke; it's almost a day's worth.
McDonald's Sausage McMuffin with Egg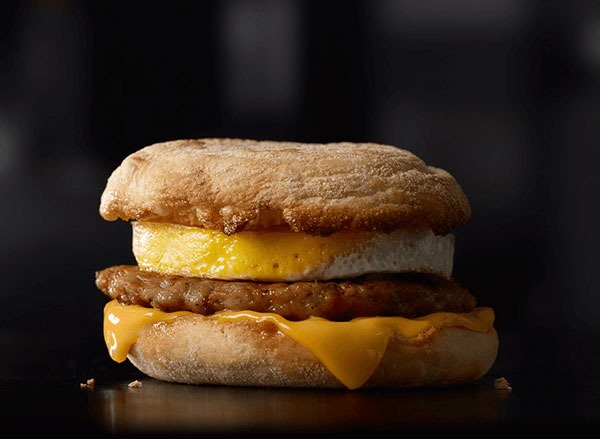 470 calories, 30 g fat, 12 g saturated fat, 790 mg sodium, 29 g carbs, 2 g fiber, 3 g sugar, 21 g protein
If you're an avid Eat This, Not That! reader, you likely know that we're big fans of the classic McMuffin for its ideal protein:fat:carb ratio. Its sausage-topped cousin? It doesn't get the same stamp of approval. With more fat than a Big Mac and as much saturated fat as you'd find in 11 slices of sizzling bacon, this is one McDonald's breakfast sandwich that will send you right into a food coma.
IHop New York Cheesecake Pancakes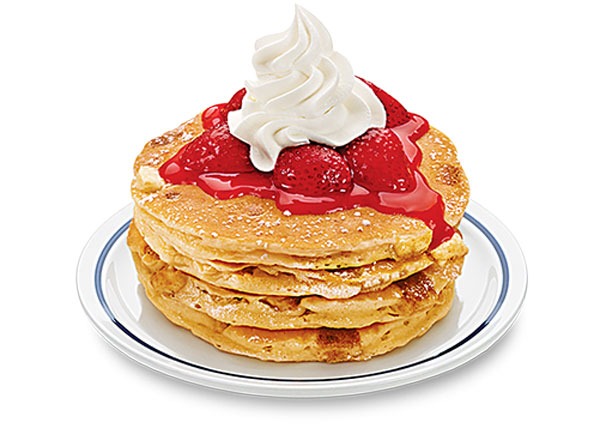 940 calories, 35 g fat, 16 g saturated fat, 1 g trans fat, 2,040 mg sodium, 135 g carbs, 5 g fiber, 55 g sugar, 22 g protein
If you don't want to derail your diet before noon, stay away from this fattening stack. Not only does it have more fat and saturated fat than a Big Mac, it serves up the carb equivalent of nine slices of white bread. Next time you find yourself at iHop with a hankering for flapjacks, ditch this fatty order and get two Original Buttermilk Pancakes with a side of fruit instead. Doing so will cut 570 calories and 21 grams of artery-clogging fat from your order.
Panera Italian Combo Sandwich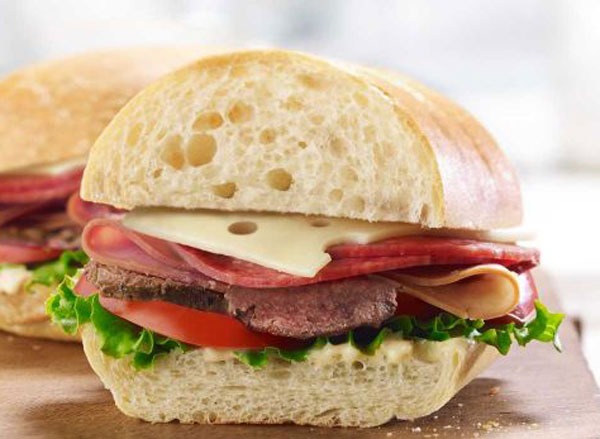 1,000 calories, 41 g fat, 16 g saturated fat, 2,810 mg sodium, 97 g carb, 6 g fiber, 6 g sugar, 42 g protein
Your mom made you sandwiches and packed them in your lunchbox when you were a kid, so all of them have got to be wholesome, right? Wrong. Restaurants don't care about your health like your mom does and their portion sizes are much larger, too. This sandwich (which we named the absolute worst sandwich from Panera), for example, has as much fat as seven slices of bologna—and 13 more grams of fat than a Big Mac. Try Panera's Roasted Turkey Avocado BLT on sourdough (540 calories, 22 g fat, 4 g saturated fat) for a healthier 'wich that provides more healthy fats (from the avocado) than health-harming ones.
Applebee's Grilled Chicken Caesar Salad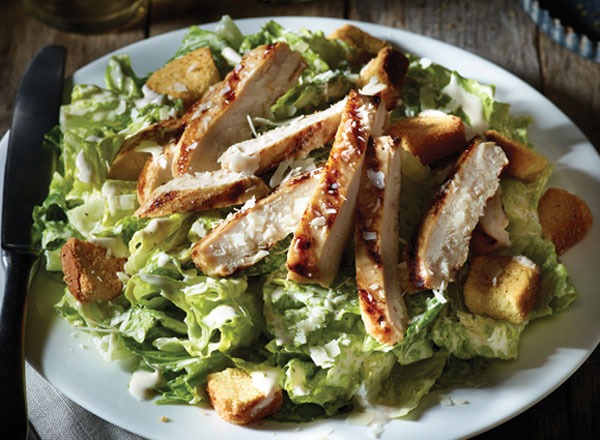 790 calories, 56 g fat, 11 g saturated fat, 1 g trans fat, 2,020 mg sodium, 26 g carbs, 6 g fiber, 7 g sugar, 49 g protein (includes dressing)
Nearly half of the fat on this salad comes from the dressing. To nix a fair portion of the fat from this order, ask for the dressing on the side and then dip your fork in it before you load it up with lettuce and protein. (A strategy dubbed the 'Fork Dip' method.) This way, you get a little taste of the creamy stuff you crave without going overboard. For even more ways to shave off unnecessary calories and fat from your restaurant order, check out these tips for eating healthy at restaurants.
Romano's Macaroni Grill Parmesan Crusted Chicken Salad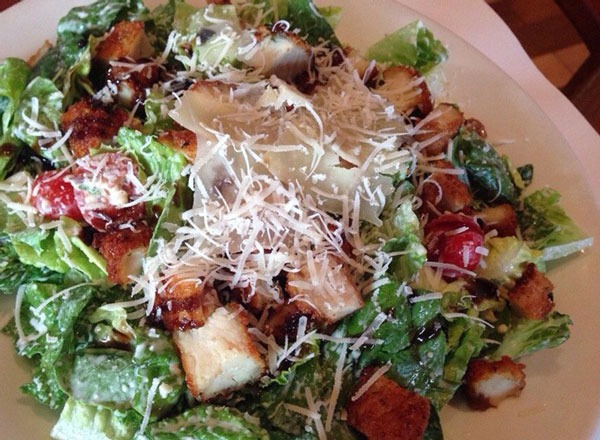 1,080 calories, 48 g fat, 9 g saturated fat, 910 mg sodium, 100 g carbs, 7 g fiber, 16 g sugar, 64 g protein
While Romano's has been making an effort to improve the nutrition content of their menu offerings in recent years, there are still covert diet bombs such as this one that still lingers on the listings. This salad—which has as many calories as two Big Macs and more fat-laden than four orders of Mickey D. fries—should be one that's one everyone's "Do Not Eat" list, regardless of if they're trying to lose 10 pounds or not.
Panera Mac & Cheese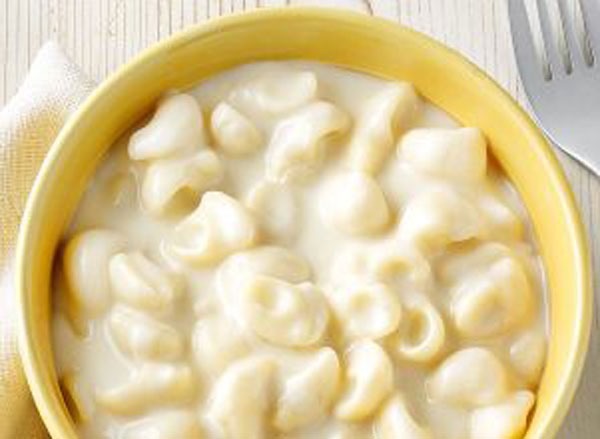 980 calories, 61 g fat, 26 g saturated fat, 2,030 mg sodium, 75 g carbs, 3 g sugars, 12 g protein
Before the globs of "processed cheese spread" came along and drowned them half-to-death, this wasn't a half-bad dish. The poor noodles didn't even see it coming. The adult portion of pasta has twice the amount of fat and saturated fat as a Big Mac—and even the kid's portion even carries a shameful 30 grams per serving. There are far learner options at this popular lunchtime eatery. We suggest sticking to one of those if you want to keep your waistline trim and your ticker in tip-top health.
Chili's Fried Pickles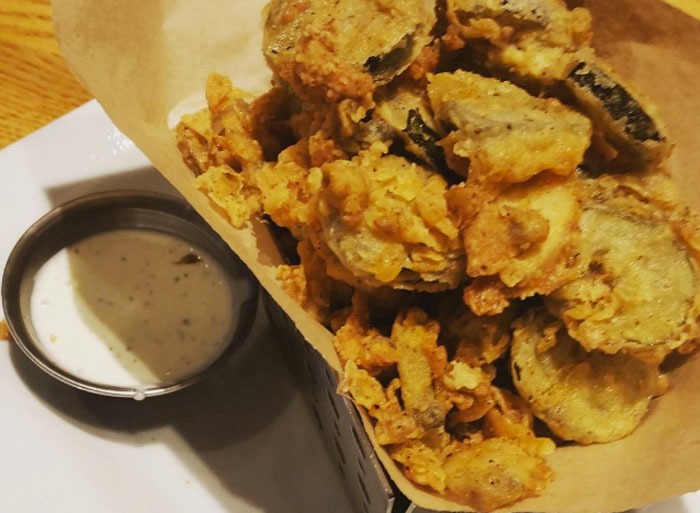 670 calories, 50 g fat, 8 g saturated fat, 3,500 mg sodium, 46 g carbs, 6 g fiber, 6 g sugar, 8 g protein
Take a good, long look at that nutritional information and then consider this fact: One medium pickle has 7 calories and absolutely no fat. That means all of the fat in this greasy app is coming from the fat bath it took before it wound up on your plate. Even if you split this dish with a friend, you'd still take in nearly the same amount of fat as you'd find in a Big Mac—a meal that will at least leave you relatively full and satisfied, unlike this dish.
Cinnabon Classic Roll
880 calories, 37 g fat, 17 saturated fat, 820 mg sodium, 2 g fiber, 58 g sugar, 13 g protein
This dangerously bloated bun contains far too much fat to be considered a snack—regardless of how many steps you got in at the mall! The fact is that this roll has more fat and saturated fat than Ronald's famous duel-patty burger. Since we do understand the allure of the cinnamon smell, buy the Cinnabon CinnaSweeties instead. One order contains five smaller buns, and will cost you just 260 calories, 13 grams of fat, and just 13 grams of sugar. For more simple ways to dial back on the sweet stuff, check out these ways to stop eating so much sugar.
Arby's Roast Turkey, Ranch & Bacon Sandwich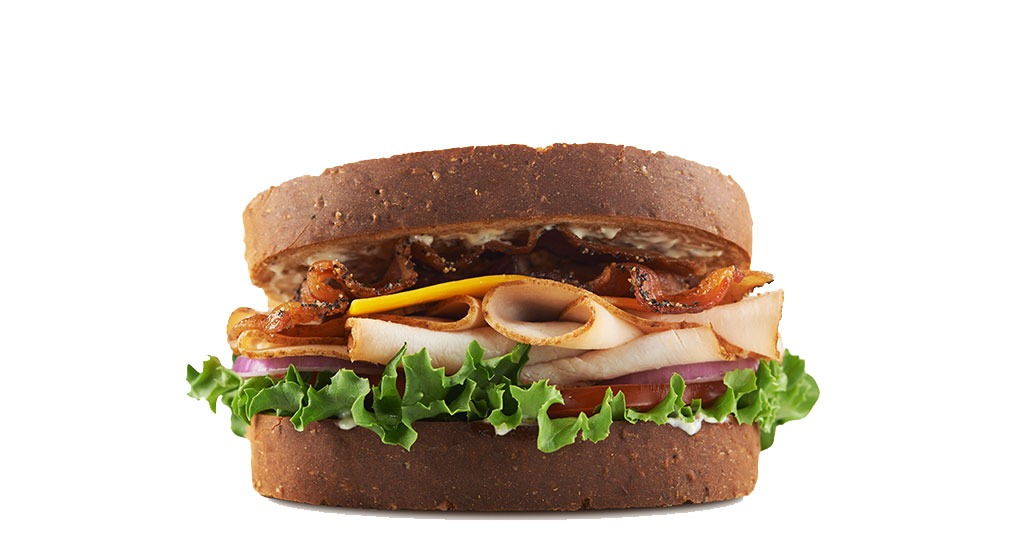 800 calories, 34 g fat, 10 g saturated fat, 0.5 g trans fat, 2,240 mg sodium, 79 g carbs, 5 g fiber, 16 g sugar, 45 g protein
In theory, a turkey sandwich should be far from the worst thing on a restaurant's menu, but Arby's spin on the classic lunch dish proves that there are always exceptions to the rule. Thanks to a heavy smattering of peppercorn ranch sauce and thick-cut pepper bacon, this sandwich winds up with more fat between it's (not-so-wholesome) bread than one might imagine. Despite its healthy-sounding name, the honey-wheat bread contains a staggering 380 calories and the same amount of sugar as a Hostess Ho Ho!
McDonald's Steak, Egg & Cheese Biscuit
520 calories, 30 g fat, 14 g saturated fat, 1230 mg sodium, 37 g carbs, 2 g fiber, 3 g sugar, 25 g protein
This sandwich may be built on a "warm biscuit brushed with real butter," but don't let that distract you from the cold, hard facts: it has nearly as many calories as a Big Mac and more fat, saturated fat, sodium, and carbs than the iconic burger. Looking for a smarter order? Check out our in-depth report, every fast food breakfast ranked.
Starbucks Chocolate Chunk Cookie
370 calories, 19 g fat, 12 g saturated fat, 250 mg sodium, 50 g carbs, 2 g fiber, 31 g sugar, 4 g protein
While you could probably stack four of these cookies on top of each other before it reached the height of a Big Mac, you'll only need to gobble down one before consuming the saturated fat equivalent. That right there is a sign of a truly scary cookie monster.
Chili's Terlingua Chili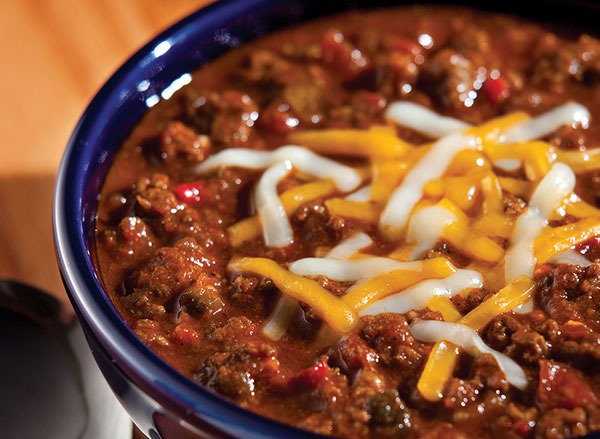 450 calories, 31 g fat, 14 g saturated fat, 1.5 g trans fat, 1,290 mg sodium, 16 g carbs, 2 g fiber, 5 g sugar, 28 g protein (bowl)
Not only is this meaty appetizer overflowing with fat thanks to the beef, sour cream, and cheese in its signature recipe, it's also spattered with dangerous trans fats. You probably already know that this scary type of fat can clog your arteries and slow blood flow, but its effects extend beyond your heart. Ingesting too much of the stuff has been shown to impact everything from brain function to sexual function. No steaming bowl of soup is worth that risk—especially when you can easily whip up a protein-packed soup in your very own kitchen.
Dairy Queen Chocolate Xtreme Blizzard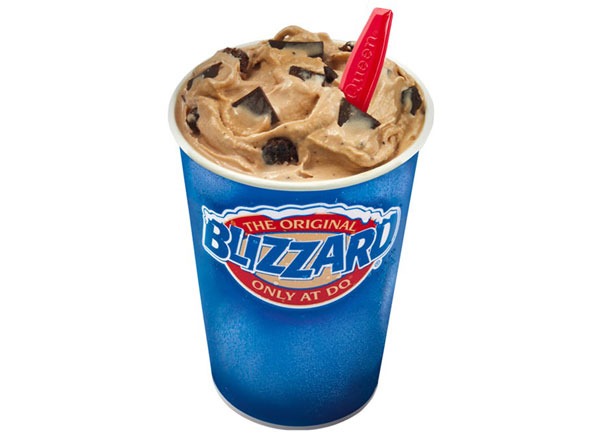 Small: 630 calories, 28 g fat, 16 g saturated fat, 0.5 g trans fats, 360 mg sodium, 88 g carbs, 2 g fiber, 68 g sugar, 12 g protein
With more sugar than 24 Ande's Mints, and more fat and trans fat than a Big Mac, this Blizzard is "xtremely" unhealthy. It's loaded with palm oil, a source of bad-cholesterol-increasing palmitic acid and visceral-fat-inducing fructose. Yikes! If you want to curb your chocolate cravings, break off a piece of 70 percent dark chocolate and nibble on that instead, or indulge in one of these high-protein ice creams.