7 Canned Soups With the Highest Quality Ingredients
Cozy up with these deliciously healthy soups.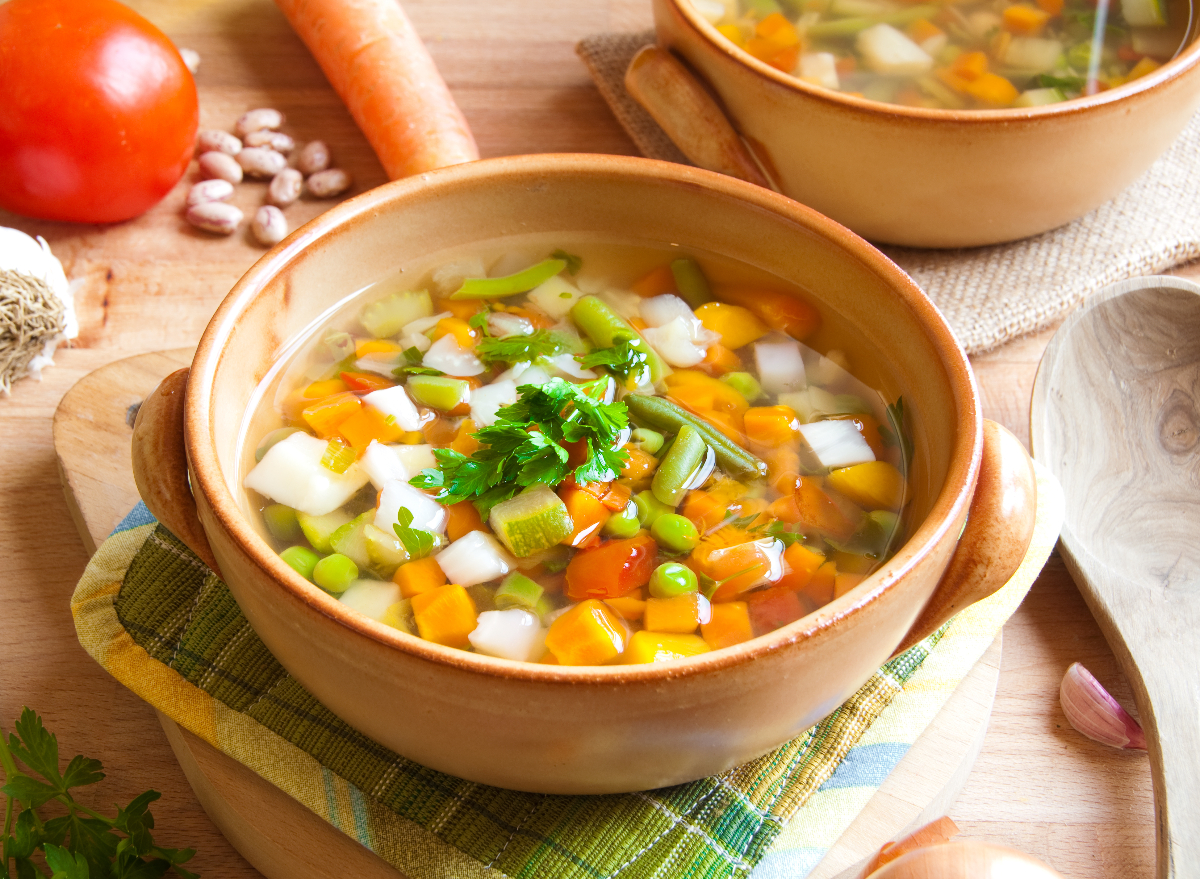 This post contains affiliate links. If you use these links to buy something, we may earn a commission.
There is no doubt that homemade soups are one of the best things to cozy up to when you are craving something warm and nourishing. And because you have complete control over what you put into your soup recipe, you never have to wonder whether your recipe is made with high-quality ingredients—you decided what went into your soup!
But in a pinch, canned soups can be a nutritious addition to your diet. In fact, data published in Nutrients in 2015 suggests that many canned foods provide nutrient-dense dietary options, often at a lower price, with longer storage potential.
The trick is to find pre-made soups that are not loaded with sodium and don't contain high quantities of unhealthy fats. As a general rule of thumb, your soup should have less than 500 milligrams of sodium and no more than 2 grams of saturated fat. Ideally, your soup will be made with quality ingredients like vegetables, whole grains, and beans to fuel your body with fiber, vitamins, and minerals.
Consider it a bonus if the can used to store the soup is not lined with BPA, a chemical used to coat the inside of the cans to prevent corroding. BPA has been recognized as an endocrine disruptor, and excessive exposure has been linked to negative hormonal-related health outcomes.
If you are ready to stock your pantry with shelf-stable soups that are made with quality ingredients and are totally "dietitian-approved," read on to find our top 7 picks. Then read up on 13 Chocolate Brands That Use the Highest Quality Ingredients.
Pacific Foods Organic White Bean Verde Chili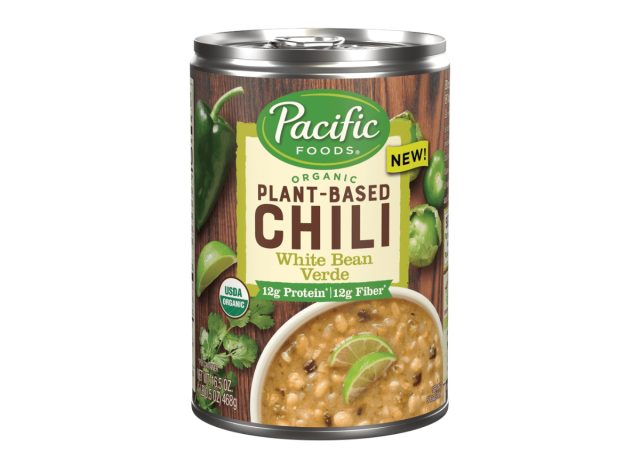 Plant-based chili that doesn't require hours of simmering is a welcomed addition to many kitchens. With no preservatives, additives, and GMOs, these soups are a winner for people who are focused on quality, but they want some yummy chili ASAP. Leaning on flavorful ingredients like roasted poblanos, tomatillos, and lime, this zesty chili is a canned soup option that will satisfy any chili lover out there. And the addition of white beans, chickpeas, and farro help create a soup that is packed with fiber, plant-based protein, and a slew of micronutrients.
Tomato Bliss Tomato Basil Soup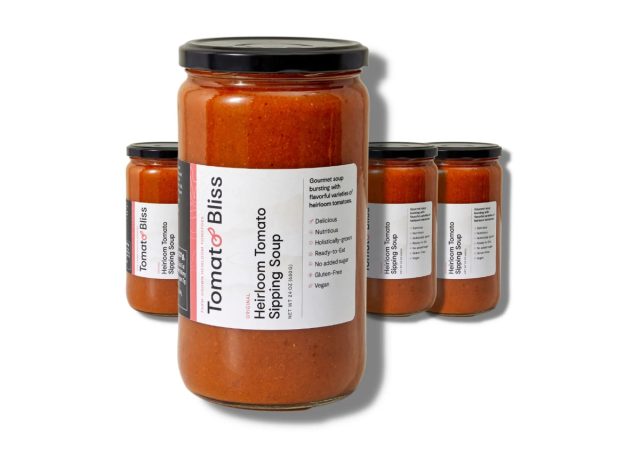 Tomato soup is one that many can agree is a must on chilly evenings. Tomato Bliss Tomato Basil Soup is one tomato soup option that deserves a spot in kitchens that prioritize quality ingredients. Made with regeneratively grown, biodiverse heirloom tomatoes, this low-sodium and gluten-free soup is packed with natural nutrients like vitamin C. This soup is free from added sugar and dairy, and it is also gluten-free. This soup uses only the most quality ingredients, like extra virgin olive oil, roasted onion, and real basil—a far cry from some other options that are made with cream, sugar, and yeast extract.
18 Chestnuts Asparagus Shiitake Soup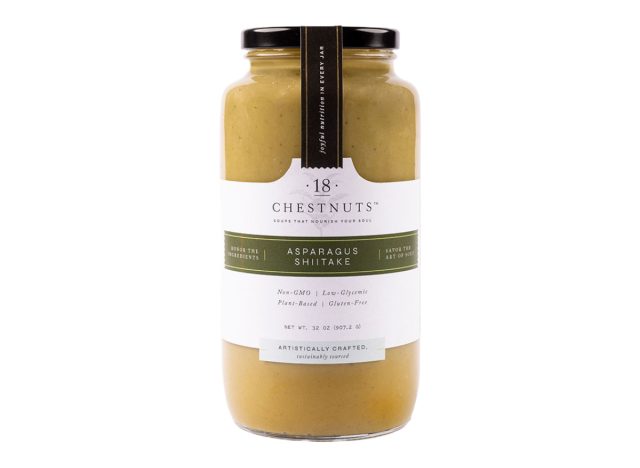 Creamy mushroom soup can sometimes be loaded with low-quality ingredients, like modified food starch and soybean oil. But the 18 Chestnuts Asparagus Shiitake Soup is made with only top-notch ingredients, allowing mushroom soup lovers to feel free to indulge. Totally vegan-friendly and made with a variety of mushrooms, leeks, and even truffle oil, this restaurant-quality soup is a fantastic solution for people who want the taste and quality of homemade soup without messing up their kitchen.6254a4d1642c605c54bf1cab17d50f1e
Rao's Vegetable Minestrone Soup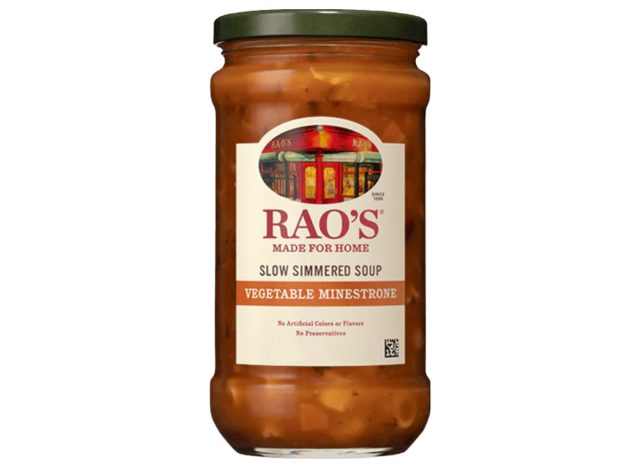 Made with no preservatives and packed with real veggies like carrots and zucchini, this soup is made with only quality ingredients. Just keep in mind that this soup may not be the best match for people who have high blood pressure, as this soup provides 30% DV of sodium.
Pacific Foods Chicken and Organic Wild Rice Soup
Having a can of chicken soup on hand can be a lifesaver for days when you are feeling under the weather. While many varieties of canned chicken soup are filled with preservatives and low-quality ingredients, like Great Value Chicken and Rice Soup, which is made with sugar, chicken fat, and modified food starch, Pacific Foods Chicken and Organic Wild Rice Soup is made with organic real chicken, wild and brown rice, and organic vegetables for a soothing combo that is just what the doctor ordered when you are craving this classic soup.
Amy's Organic Lentil Soup, Light In Sodium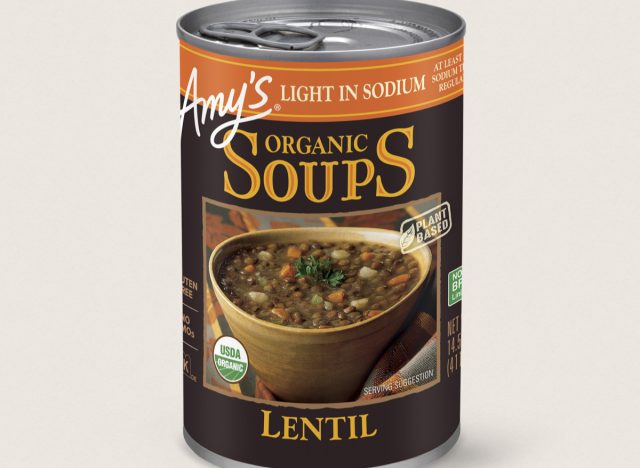 Slow simmered and lower in sodium, this soup is made with quality ingredients like organic celery and organic green lentils. Just note that even though the sodium content is lower than the original version, one serving still provides 31% of the daily value of this mineral.
Health Valley Organic No Salt Added Vegetable Soup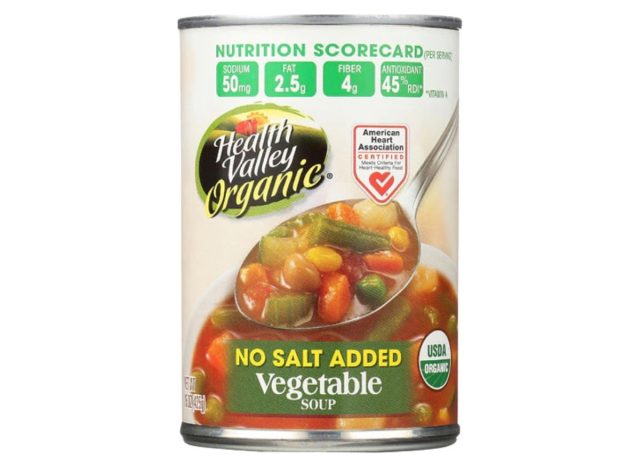 Flavored with herbs and spices instead of salt, this soup is jam-packed with quality ingredients that you would likely include in a homemade veggie soup recipe, like organic potatoes, organic carrots, and organic celery. No questionable ingredients and quality ingredients make this soup a must-have. One can of this soup only contains 45 mg of sodium, vs. a whopping 890 mg of sodium found in a serving of Campbell's Vegetable Soup.
Lauren Manaker MS, RDN, LD, CLEC
Lauren Manaker is an award-winning registered dietitian, book author, and recipe developer who has been in practice for almost 20 years.
Read more about Lauren