16 Quick & Healthy Soup Recipes That Could Help You Lose Weight
All you need is few minutes to throw together a hot lunch or dinner.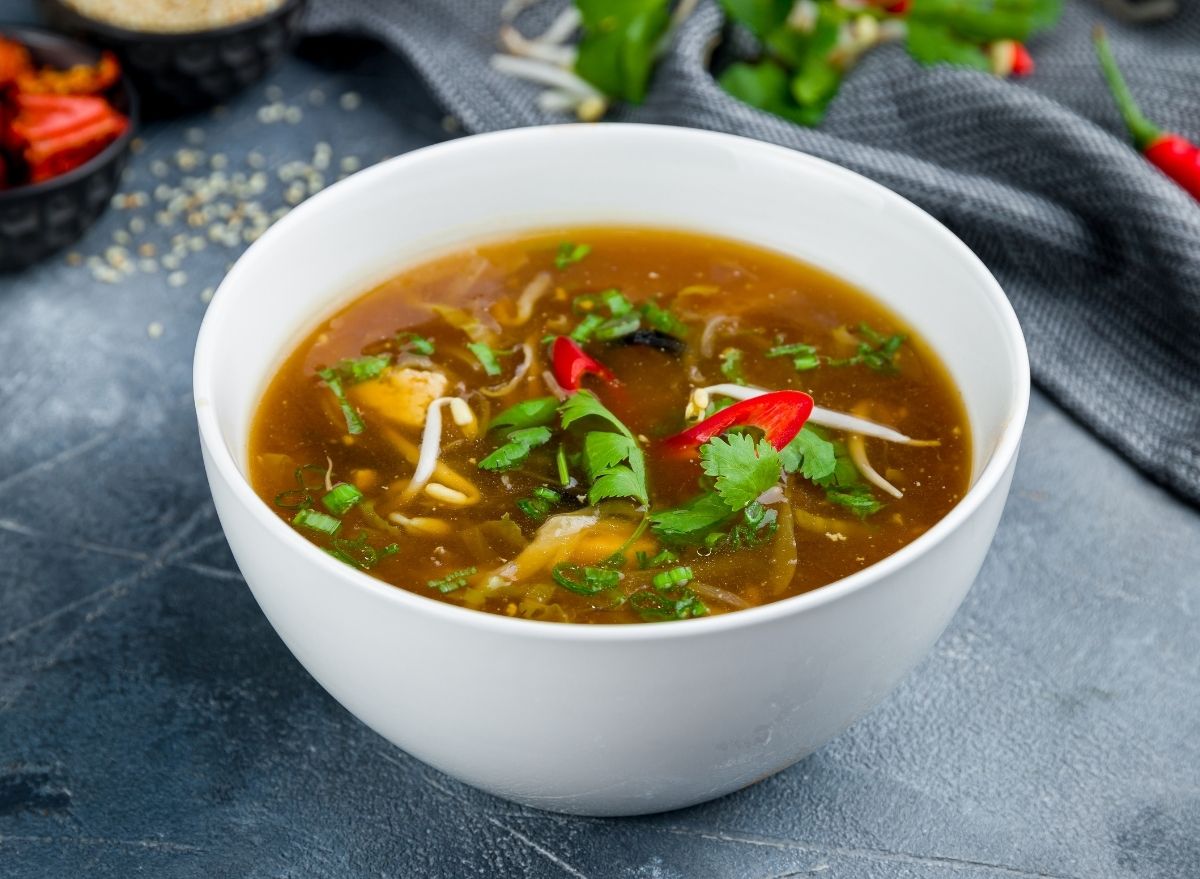 When the weather takes a turn for the sub-zero sometimes the only that hits right is a bowl of hot soup. While a quick canned soup can hit the spot in a pinch, if you want to avoid excess sodium, having a few great soup recipes in your back pocket is essential. If you plan ahead, using your slow cooker or Instant-Pot can result in an easy, healthy soup after a few hours. But what if you want something right now?
We've gathered together a bunch of healthy soup recipes that take 15 minutes or less so you can warm up in no time at all. First, here are some of the staple ingredients you should have on hand to make these recipes. The most obvious is a good stock, which you can make and freeze yourself or buy (as long as it's an organic canned or boxed brand that's low in sodium). You should also have organic beans, corn, chopped tomatoes, onions, garlic, and some small, quick-cooking pasta shapes or noodles, plus a variety of spices. Finally, soy sauce, sesame oil, or miso can add a ton of flavor, and your favorite frozen vegetables can make any soup both healthy and filling. Now, you're good to go! Plus, don't miss Cozy Soup Recipes Perfect For Weight Loss This Fall.
Just a few quick pantry ingredients and some choice aromatics bring this soup together in minutes. Have a grilled cheese cooking on the side while you throw this together and you have a comfort-food lunch that will relax and sustain you through a cold day.
Get the recipe from Lil' Luna.
The Easiest Potato Soup Recipe (In A Mug!)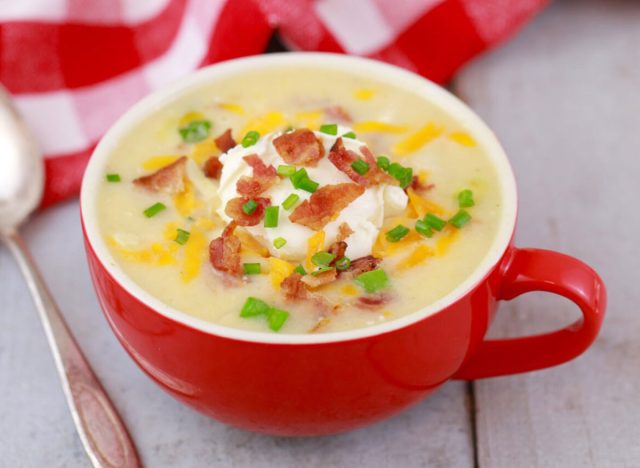 Don't shy away from the microwave when you want something quick and satisfying. This baked potato in a mug comes together in minutes.
Get the recipe from Bigger, Bolder Baking.
Coconut Curry Zoodle Soup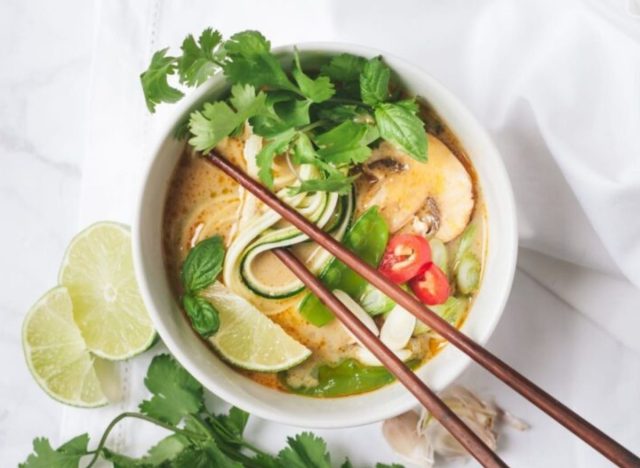 This curry-spiced soup is filled with vibrant veggies and takes just minutes to throw together. If you're craving more protein, toss in some shredded rotisserie chicken or tofu.
Get the recipe from A Healthy Slice of Life.
Chicken Tortilla Soup in Just 15 Minutes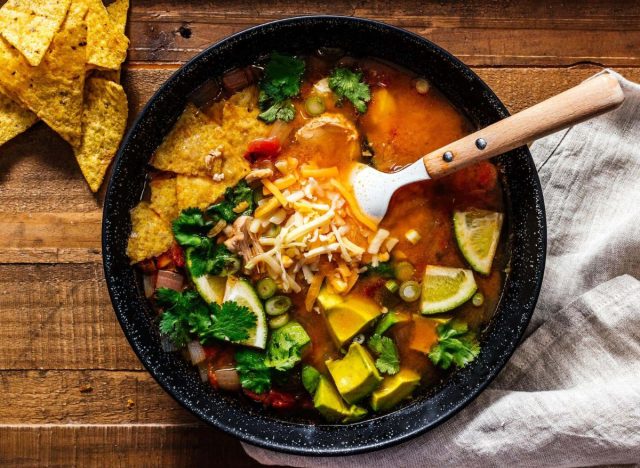 The key to getting real tortilla soup flavor in this quick soup is a dried ancho chile and, of course, all the flavorful toppings. If you have the sniffles, this soup will make you feel better in an instant.
Get the recipe from I Am a Food Blog.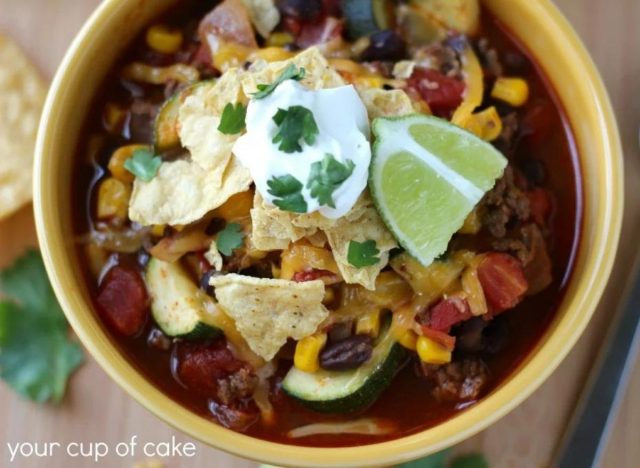 Taco soup is everything you love about taco in a bowl. Like the tortilla soup, the toppings make the meal, so use your favorite combination of crunchy, tart, and creamy.
Get the recipe from Your Cup of Cake.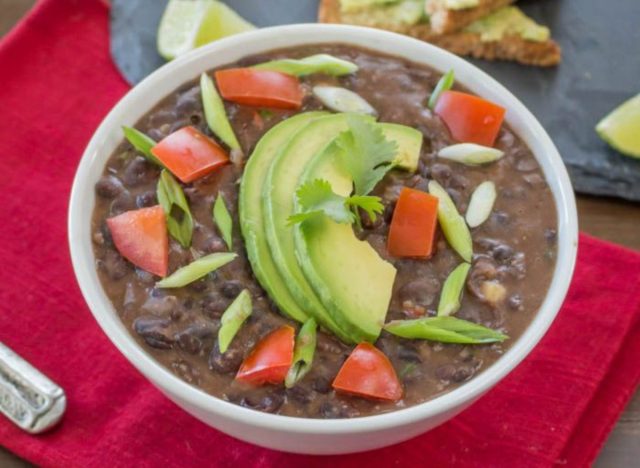 The blogger swears that this perfectly spiced soup takes just 8 minutes.
Get the recipe from One Ingredient Chef.
Quick Spicy Tomato Vegetable Soup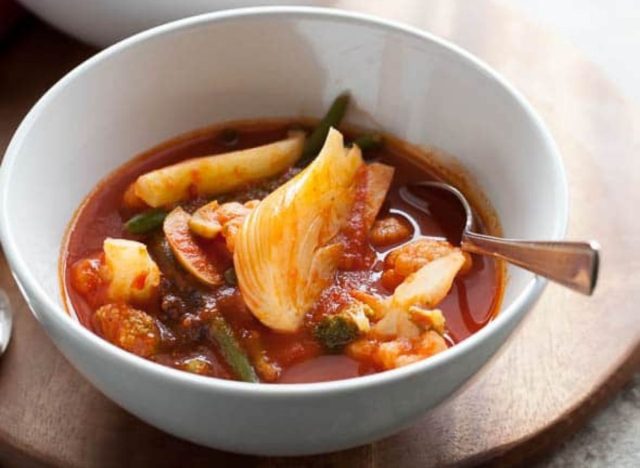 This hearty veggie soup is inspired by the flavors in a Puttanesca sauce. The key to a quick soup is to start with strong-flavored ingredients that will shine without needing time to open up. Tomatoes, garlic, capers, olives give this vegetable-filled soup tons of flavor without adding extra fat.
Get the recipe from Gourmande in the Kitchen.
10-Minute White Bean Soup with Parmesan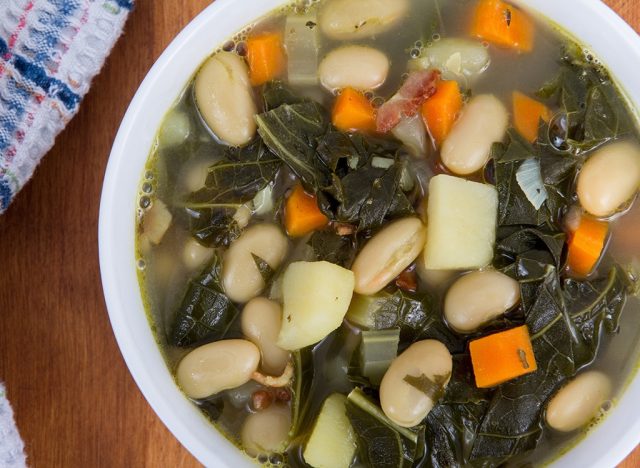 This super simple soup is the classic combo of beans, greens, and Parmesan cheese, in just 10 minutes!
Get the recipe from Cafe Delites.6254a4d1642c605c54bf1cab17d50f1e
Homemade Microwave Ramen in a Mug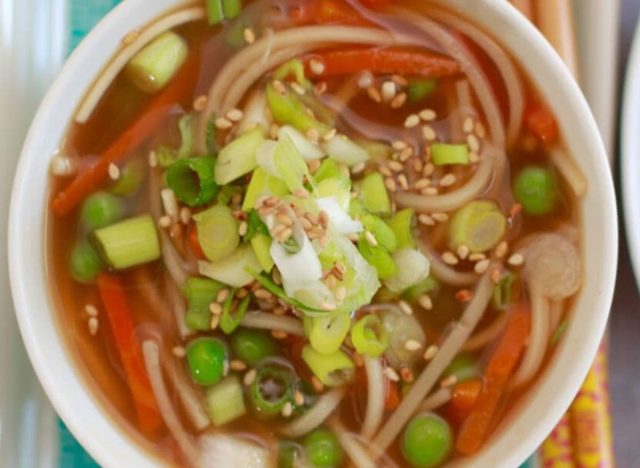 Skip the packages of ramen and use frozen mixed vegetables and a couple of other ingredients to make something light years healthier.
Get the recipe from Bigger Bolder Baking.
10-Minute Creamy Tomato Soup
This plant-based creamy tomato soup uses cashews instead of dairy to add texture and amazing flavor.
Get the recipe from A Beautiful Mess. 
10-minute Hot and Sour Soup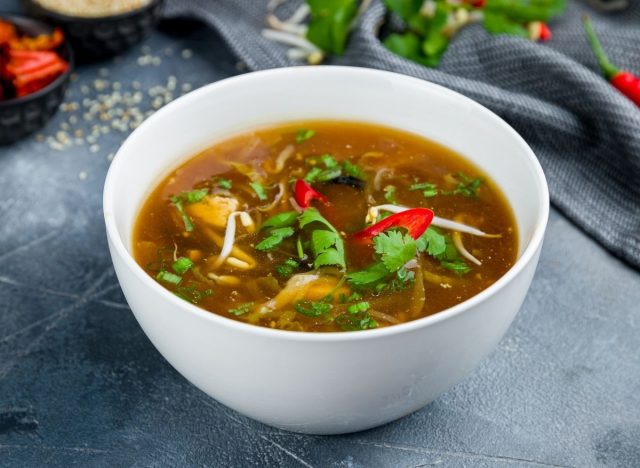 It's hard to believe a flavorful soup like this can come together in 10 minutes, but here we are! Shredded rotisserie chicken, mixed mushrooms, tofu, and bamboo shoots combine with soy sauce, vinegar, and lots of pepper to make this a soup you won't forget. You can watch the video of the process too.
Get the recipe from Marion's Kitchen.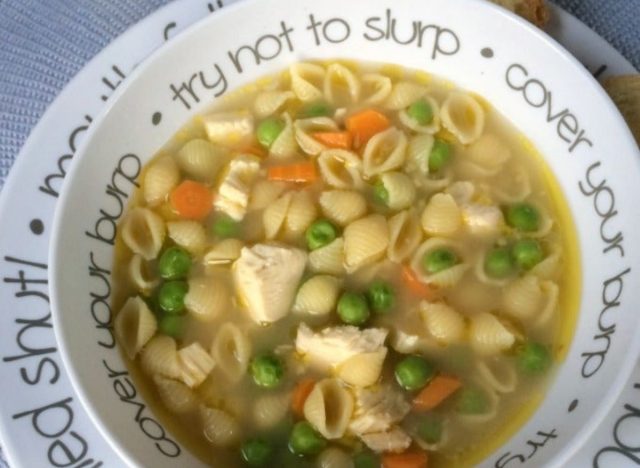 Soup doesn't have to be complicated. For instance, this soup takes small pasta, carrots, frozen peas, the essential rotisserie chicken and brings it all together with some garlic for an all-in-one meal that will feed everyone in the family.
Get the recipe from Satsuma Designs.
Keto-Friendly Creamy Ham and Broccoli Soup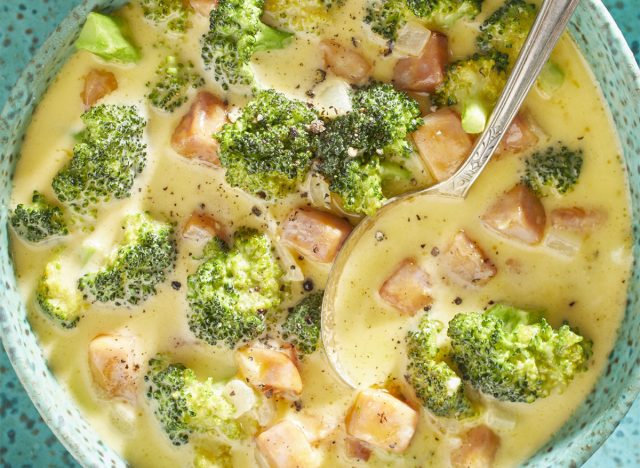 This mouth-watering dish is made up of chunks of ham and broccoli florets, which are swimming in a rich, creamy broth that features full-fat cheddar cheese. Checks every keto-friendly box, doesn't it?
Get our recipe for Keto-Friendly Creamy Ham and Broccoli Soup.
10 Minute Minestrone Soup
Wine adds tons of quick flavor to this classic Italian veggie-packed soup.
Get the recipe from Teaspoon of Spice.
Easy 10-Minute Wonton Soup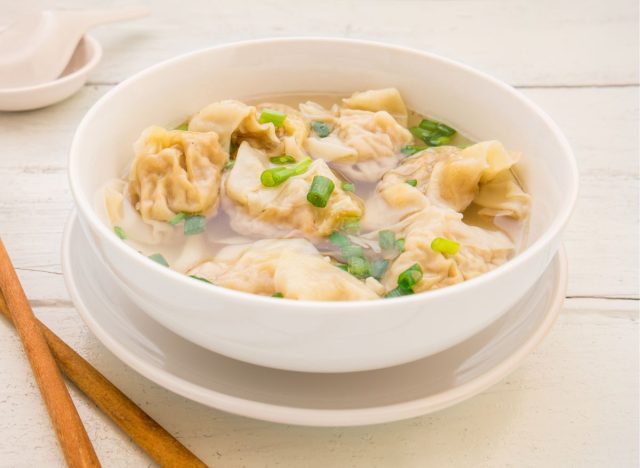 Use your favorite frozen or homemade wontons to make this insanely quick soup. Green onion, soy sauce, and sesame oil add all the flavor you need.
Get the recipe from Ahead of Thyme.
10-Minute Vegan Black Bean Soup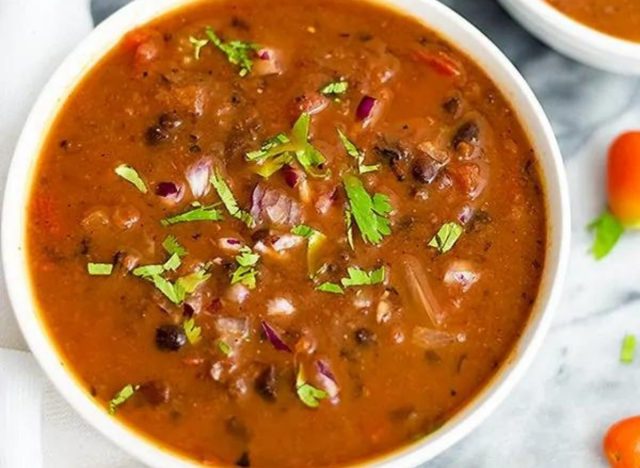 Black beans, tomatoes, and red onion combine with a few choice spices to make an incredibly simple lunch or dinner. 
Get the recipe from Bites of Wellness.
Soup is one of the best foods for weight loss and a chilly fall morning. It's the best of both worlds.
A previous version of this article was originally published on January 18, 2022.