You Can Eat Healthy on a Budget With These Cheap, Healthy Meals
Stay slim without breaking the bank with these wholesome meals.
When it comes to meal prep, "healthy" and "affordable" should be synonymous. And most of the time, the two goals go hand-in-hand, but most people just aren't sure how to eat cheap healthy meals on a budget. That's why we've put together this go-to list of breakfast, lunch, and dinner options that prove you can eat healthy on a budget.
How to pick cheap healthy meals
When you're looking to cook cheap and healthy meals, you want to start with cheap, healthy ingredients. To cut costs, you should opt for frozen over fresh, canned items, and foods bought in bulk. Examples of cheap, healthy foods include:
Canned beans
Dried beans
Frozen fruits
Frozen vegetables
Uncooked pasta, rice, oats, grains
Canned tomatoes
Canned tuna
All of our cheap meals are jam-packed with these healthy ingredients without skimping out on flavor. Next time you're in need of a quick and easy meal, try your hand at one of these simple recipes!
Cheap & Healthy Breakfast Ideas
Breakfast is the easiest meal to make cheap, but it's not as easy to be healthy. (Think: bacon, bagels, pastries, etc.) Luckily, we've put the healthy and cheap together for these top three picks you can start your day with when you need to eat healthy on a budget.
1. High-Protein Fruit, Granola, & Yogurt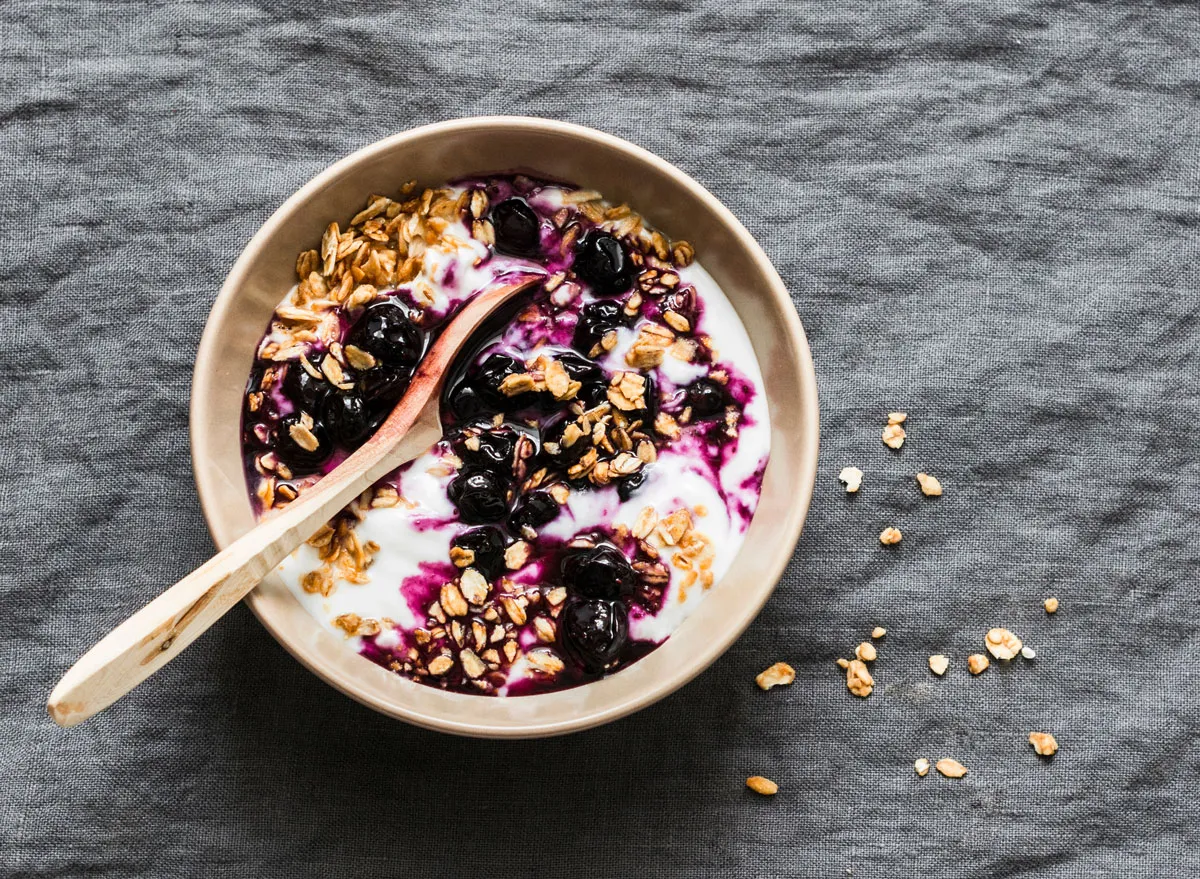 Blueberries are a great source of anti-inflammatory antioxidants. For a cheap, healthy meal, instead of purchasing fresh blueberries by the pint, opt for a frozen bag instead. To prep the berries for breakfast, zap them in the microwave for a few seconds to turn them into a jammy topping.
Layer creamy skyr and a high-fiber granola like Kind's Cinnamon Oat Clusters with Flax Seeds on top. You'll get a double dose of fiber from the sweet berries and the oat clusters, in addition to brain-boosting omega-3s from the flax seeds in the granola. What's more, the thick skyr serves up about 15 grams of muscle-building protein that will help keep you full past lunchtime.
Eat This! Tip: Save money by purchasing larger tubs of yogurt instead of individual containers. For example, siggis 24-ounce tub is $5.49 compared to $1.59 for a 5.3-ounce single serving. That means you save $1.71 by opting for the larger serving container.
2. Veggie Scramble With Gouda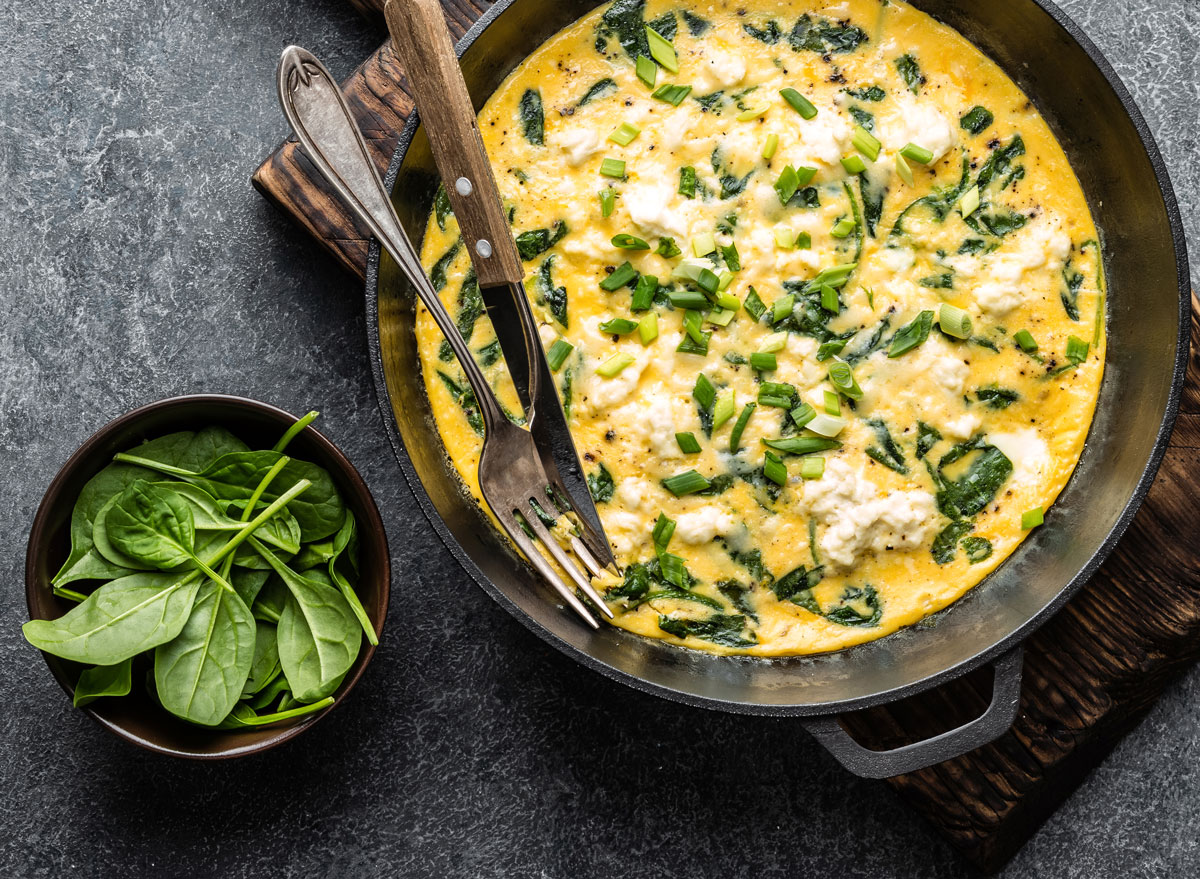 For a protein-packed breakfast that's as filled with healthy nutrients as it is cheap, whip up a cheesy veggie scramble. We like to use a blend of fiber-rich frozen broccoli and spinach as well as a sprinkle of shredded Gouda cheese, which adds creaminess. Start by steaming the veggies in the microwave while scrambling two whole eggs and one egg white in a bowl. Then, pour the eggs into a heated and oiled pan. When the scramble is halfway done, fold in the veggies and sprinkle in the cheese. Cook until the Gouda is fully melted and the eggs are firm.
3. Cinnamon Oats with Banana and Nuts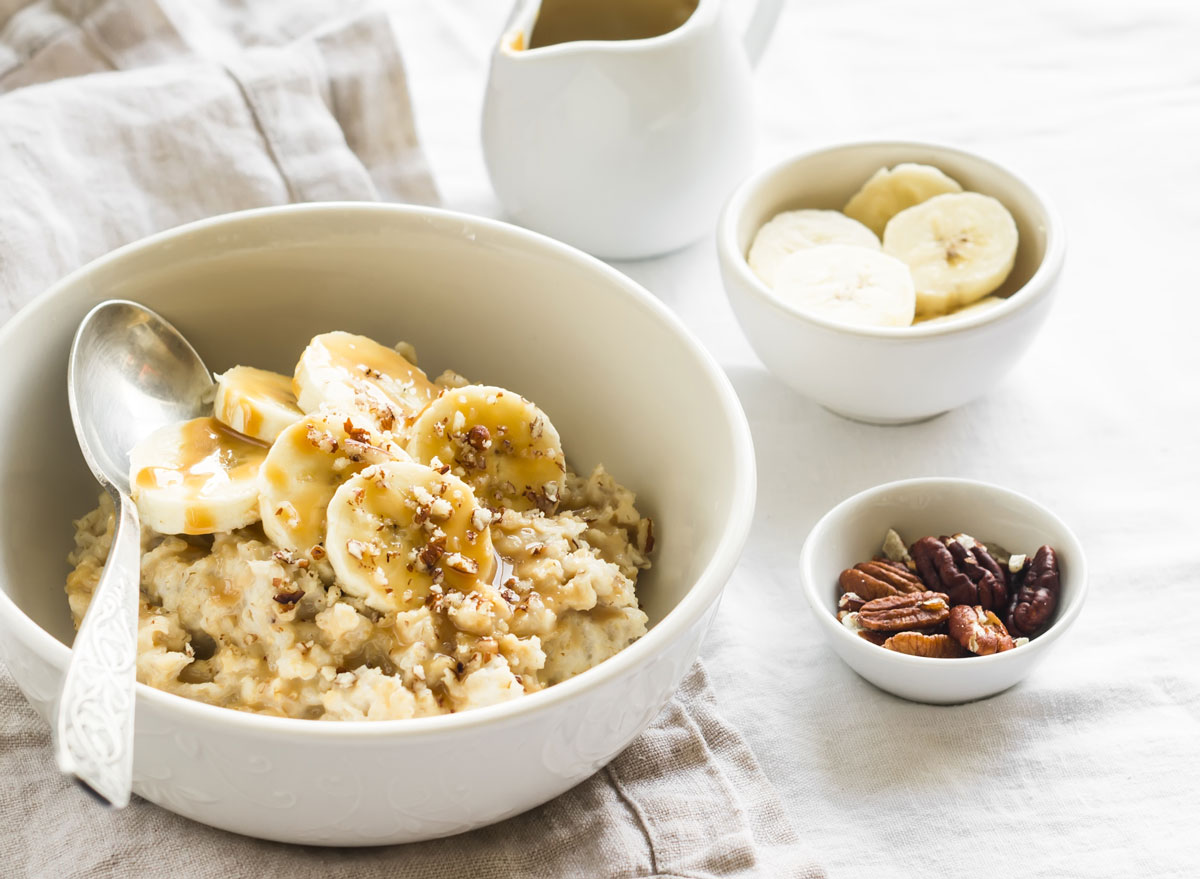 When it comes to cheap breakfasts, it's hard to beat instant oats. Buy a bag in bulk and dish out servings as you go instead of buying them individually wrapped. To make fiber-rich oatmeal even healthier, pair with energy-packed bananas and healthy fats from nuts.
Cheap & Healthy Lunch Ideas
These lunch meals are easy to put together and portable: perfect for when you need to take lunch to work.
4. Open-face Tuna Salad Sandwich
6254a4d1642c605c54bf1cab17d50f1e
Tuna is the star of cheap protein. Make a healthier tuna salad by cutting the tuna with extra veggies like celery, shredded carrots, pickles, and olives. Serve on a slice of sprouted grain bread with a layer of lettuce.
5. Mexican Black Bean, Corn, and Tomato Quinoa Salad
With a nutritious mix of fiber-rich black beans, frozen corn, and anti-inflammatory tomatoes, this quinoa salad will keep you slim and satiated. One serving of Lundberg Farms' Garlic Herb Quinoa boasts 6 grams of fiber and 8 grams of complete plant protein coming from the amino-acid-rich quinoa. Plus, it cooks in just 18 minutes! Cook one cup of quinoa with 1/4 cup of crushed tomatoes and 1-3/4 cup broth or water. Then, when the quinoa is 3 minutes from being done, add frozen corn, and beans. Add a touch of chipotle peppers if you like it spicy!
6. Whole Wheat Pesto Pasta Salad with Arugula, Roasted Red Peppers, Mozzarella
For a cheap, healthy meal, you can't get any better than a pasta salad. This mix has healthy fats and protein from the mozzarella cheese plus nutrient-rich arugula and vitamin-c rich red peppers.
7. Chickpea Bean Chili
Chili is one of the easiest meals to throw together. Make a cheap, healthy version by skipping out on fresh meat and opting for canned beans instead. Chickpeas, black beans, kidney beans all work. Follow our hearty turkey chili recipe and just sub out the turkey for beans!
Cheap & Healthy Dinner Ideas
Dinner is always the most expensive meal of the day. Keep cash in your wallet with these budget-friendly recipes.
8. Baked Salmon Fillet With Zucchini and Carrot Ribbons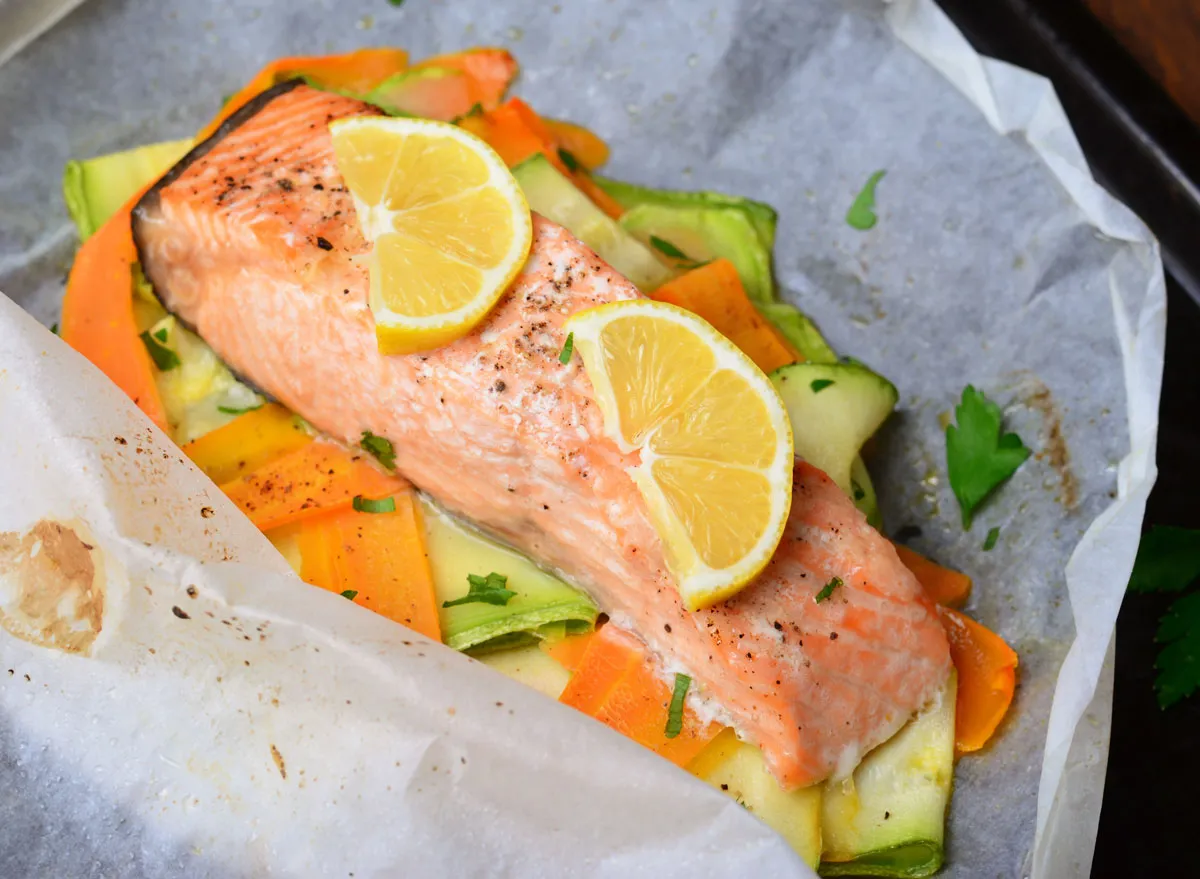 Need to add some heart-healthy omega-3s to your diet, but don't know where to start? Take a potato peeler and shred off slices of carrot and zucchini into thin ribbons and then place on parchment paper or in a foil packet. Place a six-ounce salmon fillet ($3.75 from Whole Foods) on top of veggies and then coat with a teaspoon of olive oil, salt, and lemon pepper seasoning. Bake at 350 degrees until the salmon is thoroughly cooked through.
9. Cauliflower Gnocchi Bolognese with Spinach
There's a reason why Trader Joe's cauliflower gnocchi is a dietitian favorite. It's lower-carb than other gnocchi, it's versatile, and you can keep it in your freezer! Buy some ground beef, cook until browned, then add in your favorite marinara sauce. Allow to simmer for 10 minutes until the flavors blend together. Toss in some spinach to wilt, and serve on top of package-direction-cooked gnocchi.
10. Vegan Chickpea Curry with Rice and Naan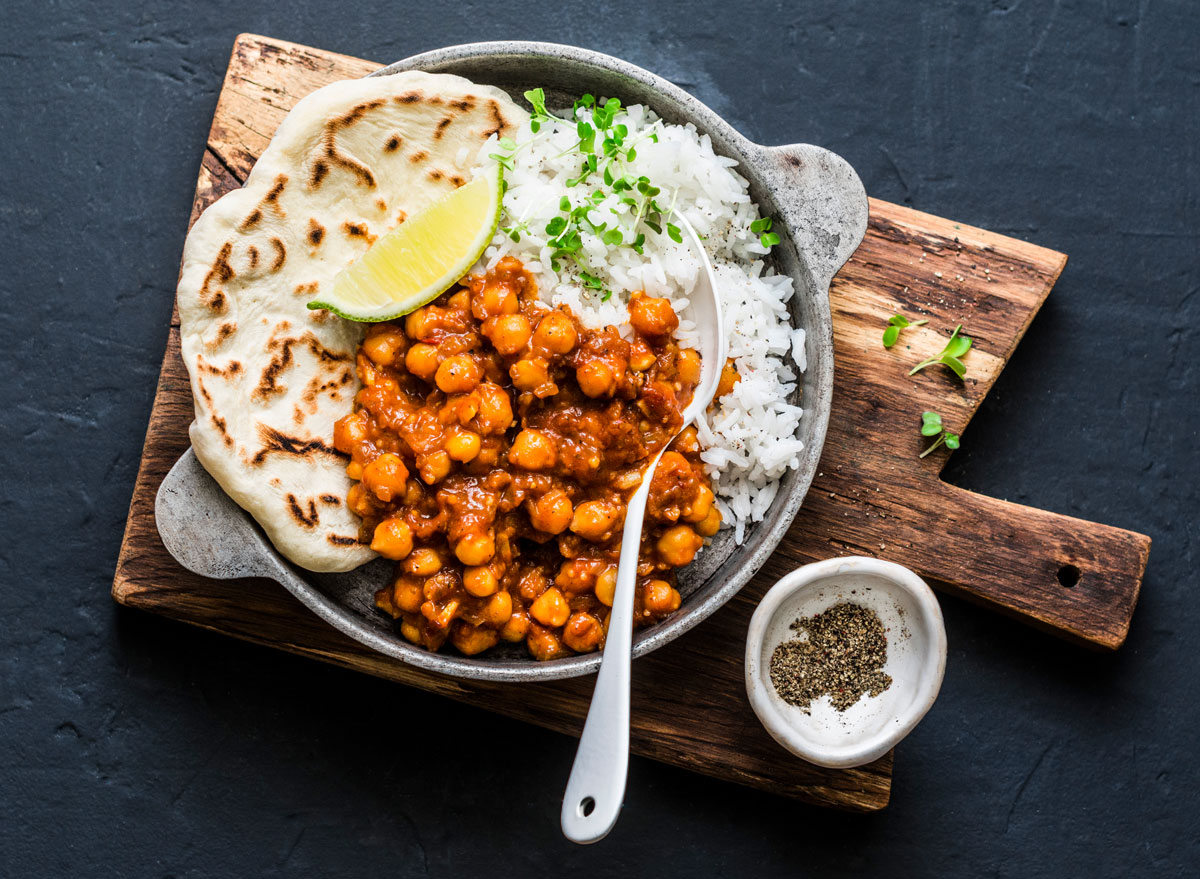 By cheap, healthy meal standards, you can't do better than a chickpea curry. All you need to do is saute some onion and curry spices in olive oil. Once the flavors bloom, add a can of coconut milk, and chickpeas and simmer for 15 minutes. Toss in some frozen green peas for the last two minutes of the simmer. Serve alongside rice and naan.
April Benshosan
April is a born-and-raised Brooklynite who has a passion for all things health, wellness, and tastebud-related.
Read more about April