I Tried the New Cheetos Popcorn and Was Seriously Unimpressed
There are two flavors, and neither hit the mark.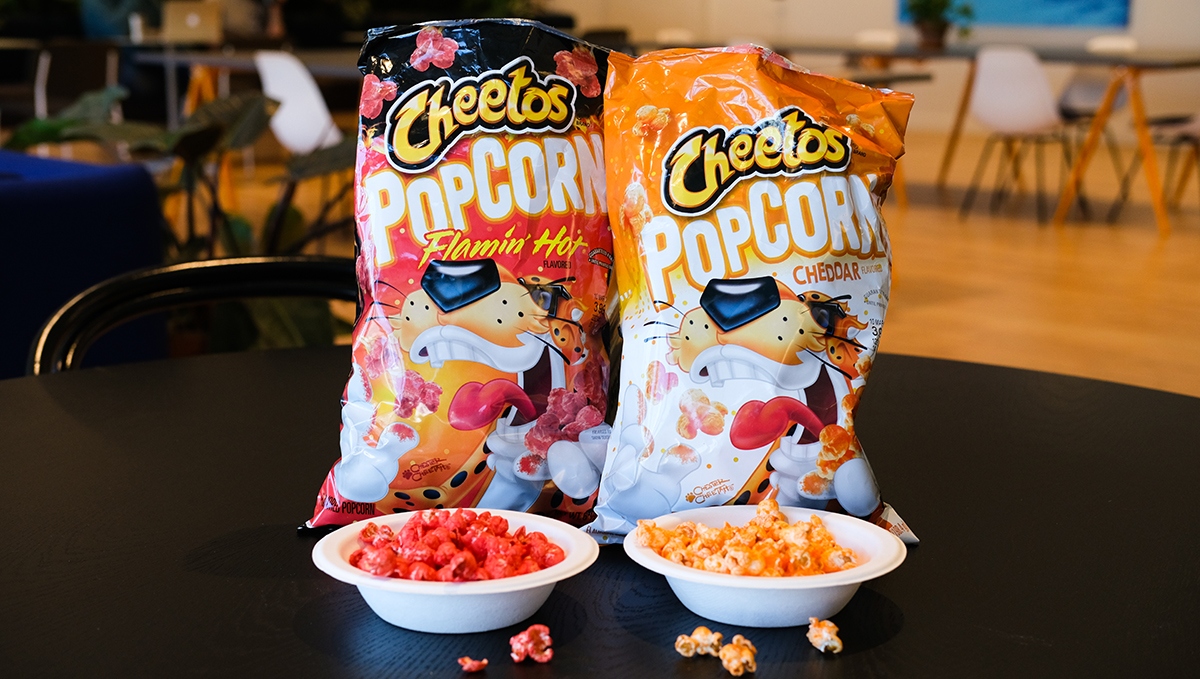 You no longer need to eat Cheetos to get your hands covered in Cheetle (that's the brand-official name for Cheetos dust). Last week, Frito-Lay announced that Cheetos Popcorn is hitting supermarket shelves. At first, we were optimistic. This snack really sounded like the bee's knees. Then, we grabbed a few bags. Unfortunately, to the collective disappointment of Eat This editors, Cheetos Popcorn wasn't nearly as tasty as anticipated.
Personally, I was under the impression that Cheetos Popcorn would bear resemblance to Mikesell's Puffcorn Delites, the popular popcorn-like snack that's made out of cornmeal. (Pro tip: If you don't like eating actual popcorn because you hate mistakenly clipping your teeth and gums on a popcorn kernel, this type of faux popcorn allows for a smooth snacking session.)
However, when I opened the bag, I was shocked to see that it was just traditional popcorn that's been dusted with the classic Cheeto flavoring. Cheetos Popcorn comes in two flavors: standard Cheddar, and the ever-popular Flamin' Hot. And before you write the stuff off as yet another unhealthy snack, you should know that's it not as bad as other snacks out there. One serving, which is about 2 cups, of either flavor contains 160 calories and between 260 and 320 milligrams of sodium. While it's not exactly nutritious, there are some positives: neither flavor contains any trans fat or added sugars.6254a4d1642c605c54bf1cab17d50f1e
Nutrition aside, I was still intrigued and wanted to try both flavors. The short version: I found both to be fairly underwhelming.
As far as taste goes, I wasn't particularly enthralled by either offering. The cheddar popcorn didn't taste like the true Cheetle that coats the traditional snack. In fact, it actually tastes kind of like Kraft Mac N Cheese Cheddar Cheese Powder. And the Flamin' Hot popcorn is fine, but I noticed it doesn't pack as much heat as the original snack does. Ultimately, I wasn't terribly impressed with the new product, and neither were my colleagues.
"The cheddar cheese one tastes exactly like Smartfood," one editor exclaimed. Another editor compared the cheddar popcorn to the kind you stumble upon in a conventional trail mix bag describing it as, "super salty … deflates in one bite."
The Flamin' Hot wasn't as disappointing. It could even  But, as one editor pointed out, "if you eat too much of it, you kind of get a stomach ache."
The standard 6.5-ounce bags retail for $3.99 and are now available nationwide where snacks are sold.