Chick-fil-A Goes After KFC with Family-Style Meals
Watch out Boston Market and KFC — there's a new way to avoid cooking for a family, and fast-food chain is really raising the bar.
No you're not dreaming! Chick-fil-A recently announced they are now testing family style meals — and they even offer an Eat This! approved option.
After a recent roundup of consumer data, Chik-fil-A realized that a large portion of their customers were taking their meals to-go. They heard from their customers that they needed help getting dinner on the table. So, America's favorite fast-food chain launched a trial run testing out family-style meals in 3 cities, hoping to figure out whether or not this new offering should be served nationwide. We know having dinner taken care of can help take a load off when you're having an anxiety-ridden day, but while you're at it, also check out these 30 Ways to Avoid Getting Stressed Out.
The chicken chain will start offering family meals at $30 including an entree, two sides, and eight of their famous mini rolls. Geared to a family of four, options of either 30 chicken nuggets, 12 chicken strips, or 4 chicken breasts grilled or fried stand as the entree. The chain then invites the family to decide on a combination of sides including two new offerings: mac and cheese and bacon baked beans. (Two options we recommend steering clear of.)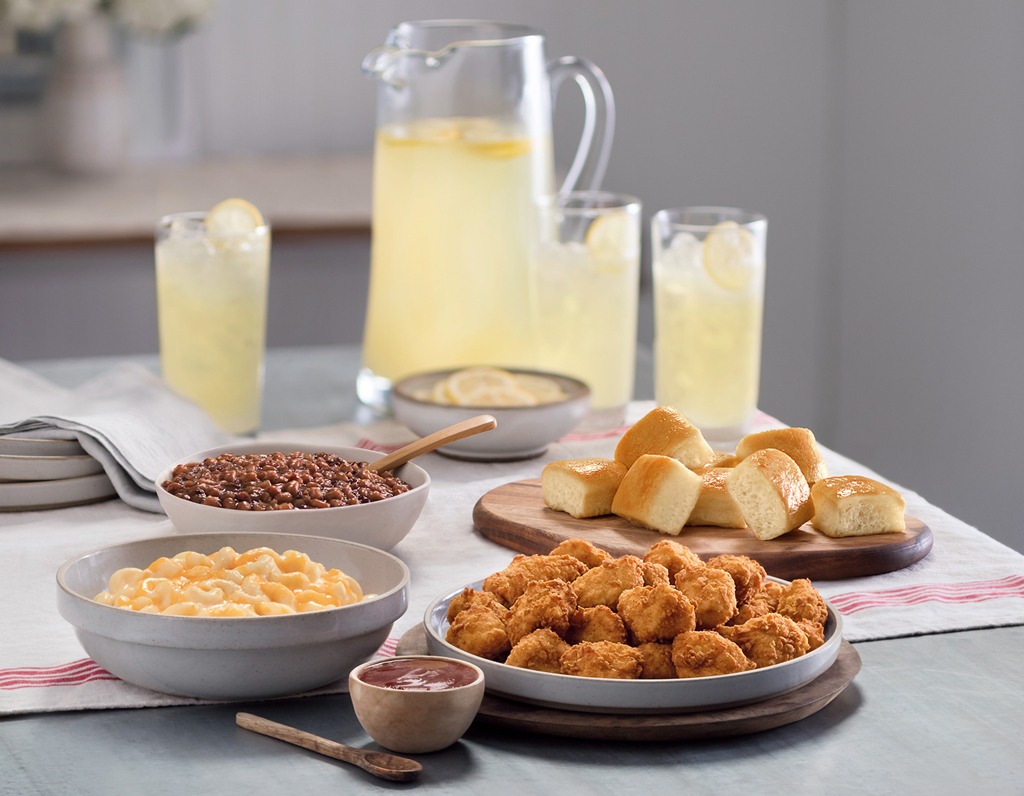 Courtesy of Chick-fil-A
Meals can be made flat-belly friendly by choosing some of our favorite items on the Chick-fil-A menu. You can't go wrong if you choose the grilled chicken and healthy sides like their fruit salad and vegetable offerings. The chain explains that a meal with Grilled Chicken Breasts, a Side Salad, Fruit Cup, and two Mini Rolls has less than 300 calories per serving!
But it doesn't stop there! The chain did more than just surpass nutritional offerings of its competitors, the brand really took the extra step to bring the win home. To create the most ideal on-demand take out option, the chain worked with families to make dinner time even more enjoyable.
The outcome? Say goodbye to phones at the dinner table. Chick-Fil-A will provide 5 unique conversation starter cards in every home-style package. Matt Abercrombie, manager of menu development, explains that helping their customers connect with their families over meal time was one of their main goals, "Mealtime should be an enjoyable experience that brings family and friends together, not an extra stress in the day."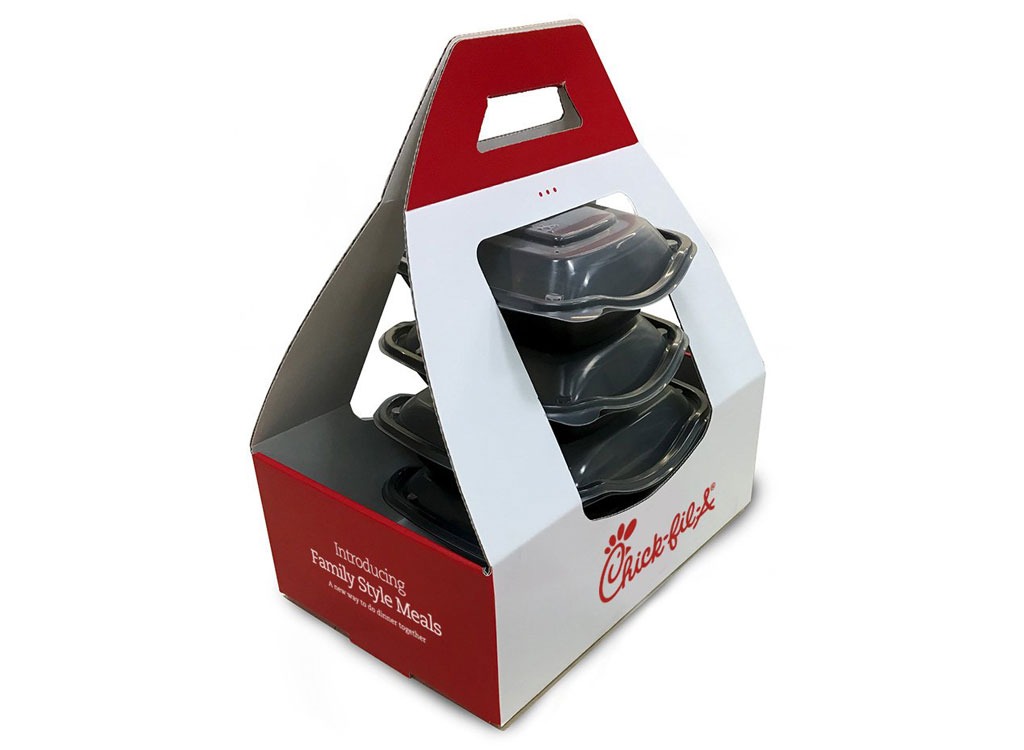 6254a4d1642c605c54bf1cab17d50f1e
Courtesy of Chick-fil-A
Sounds great, right? Believe it or not, it gets even better. Abercrombie, strategically noted in the brands PR release that throughout its trial run, the chain will do everything to keep waiting time the same. Yup, the chain is striving for no additional wait time for the meals, despite its larger size.
Our waiting time for these meals may be a little longer, however, as the family meal option has yet to hit Chick-fil-As accros the country. We'll be waiting until then, but if you're in Greensboro, North Carolina, Phoenix, Arizona, or San Antonio, Texas, please enjoy them so they can come to us next!
Lead Image Courtesy of Chick-fil-A
More content from
Restaurants